Chocolate-Espresso Icebox Cake
This post may contain affiliate links. Please read my disclosure policy.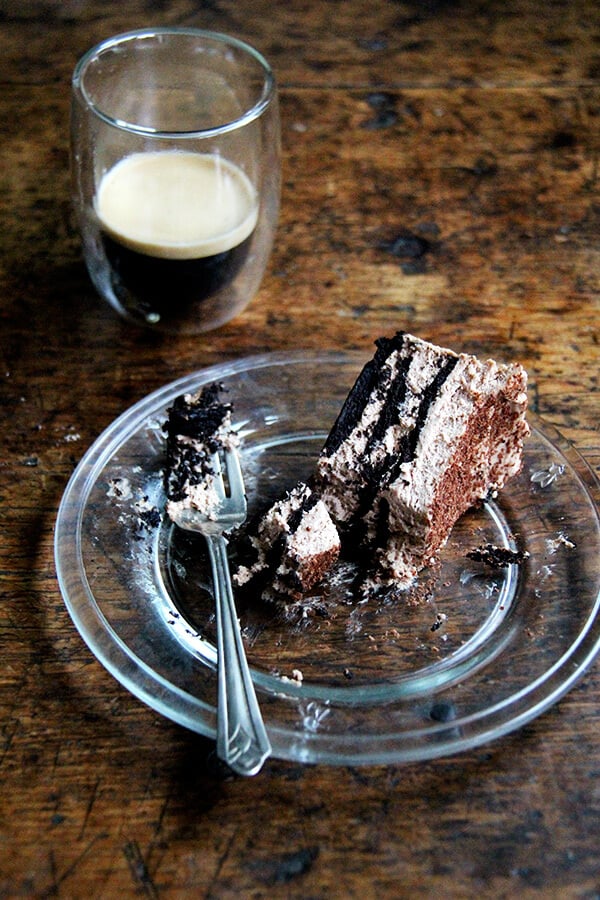 Yesterday I made a pie for the first time — gasp! — all summer. I went all out, too, loading it up with 3 pints of local blueberries, massaging lemon zest into the sugar, and making a lattice crust, egg-washed and all. After an hour in the oven, it emerged bubbling and golden, and it tasted, well, good, not great. It was kind of a mess of blueberries and not enough crust, which mostly disappeared beneath the mass of stewy fruit.
There are worse things for sure, and though I couldn't resist picking away at it, each successive bite filled with the promise of something spectacular, there was a real positive: I gained a serious appreciation for the chocolate-espresso icebox cake I had made a few weekends ago, which took all of 20 minutes to throw together, which received rave reviews from our guests, and which I, too, found irresistible, impossible, in fact, not to sneak a little spoonful of every time I opened the fridge.
I learned about this Barefoot Contessa icebox cake from one of you who had been making a meyer lemon version, flavored with limoncello, lemon juice, and zest, which sounds as delicious as the original, which is made with coffee liqueur, cocoa, espresso powder, and Tate's Bakeshop chocolate chip cookies. I replaced the espresso powder and coffee liqueur with an equal amount of brewed espresso, which worked beautifully. For a second I contemplated making chocolate chip cookies or wafers, something like Thomas Keller Oreos, then quickly came to my senses and picked up two boxes of Nabisco Famous Chocolate Wafers, which always work well in these applications.
If you're heading to a bbq tomorrow, this icebox cake might be something to keep in mind. It's not nearly as festive as pie, but for the effort, it's hard to beat.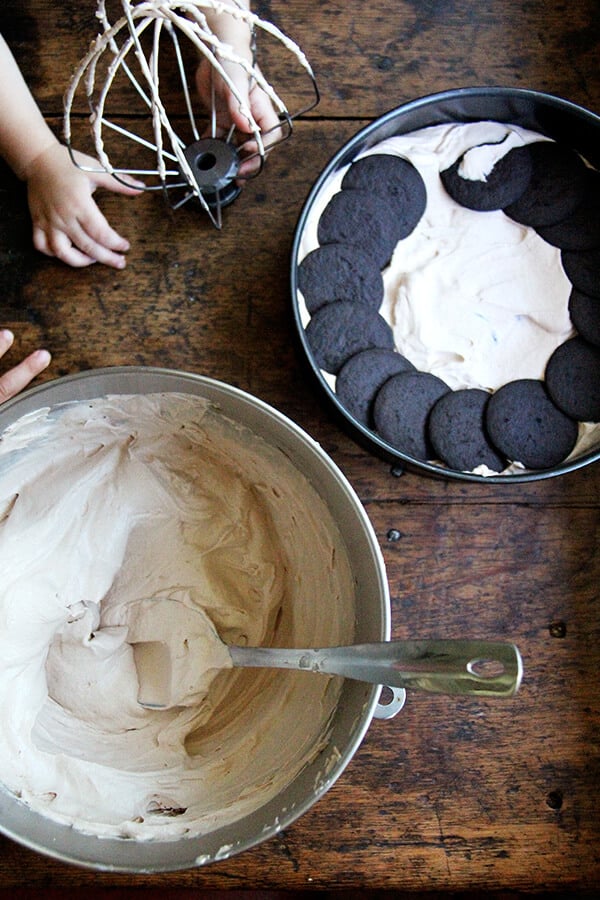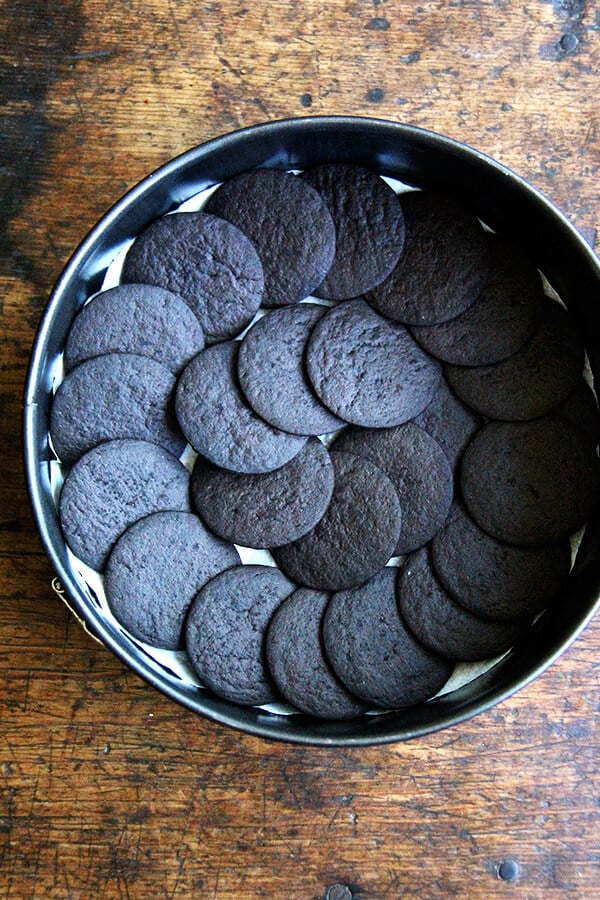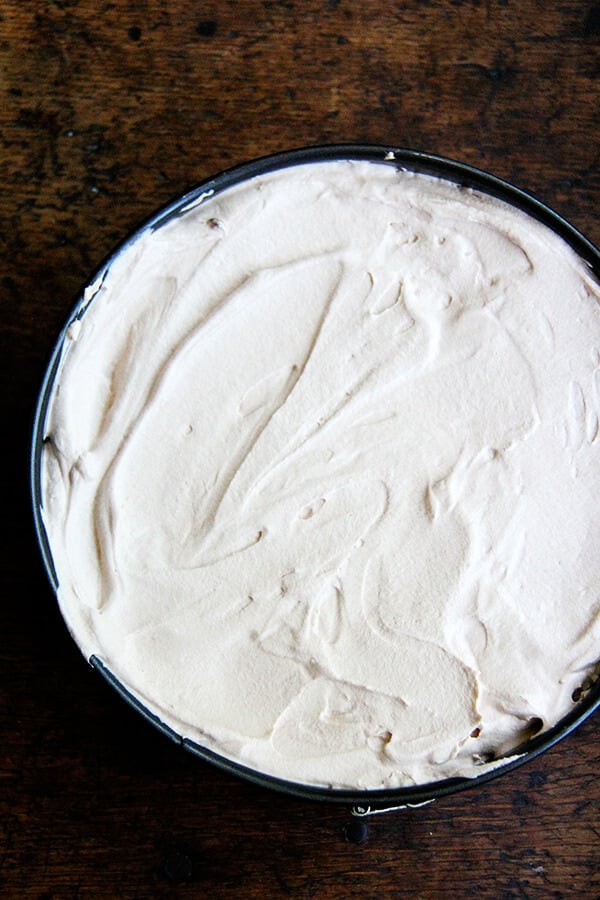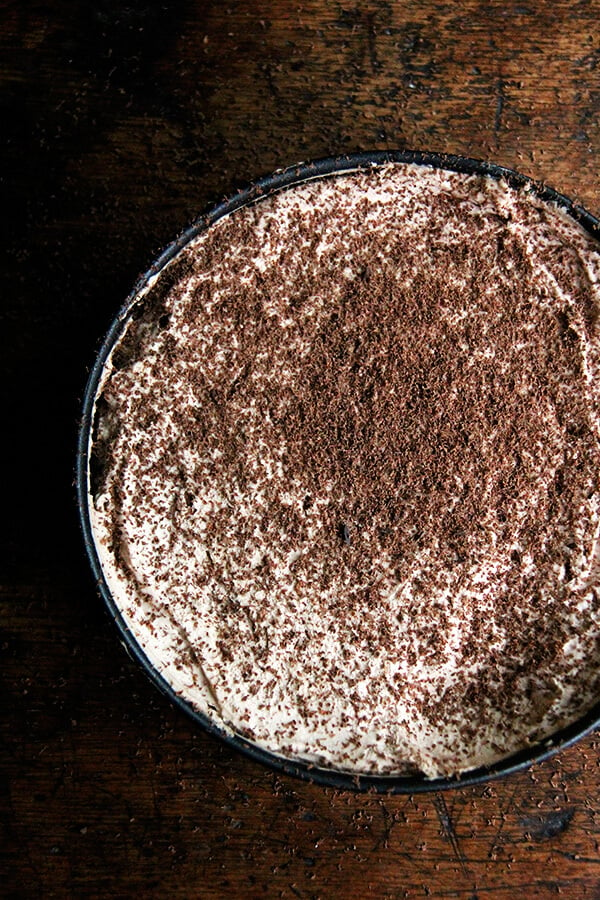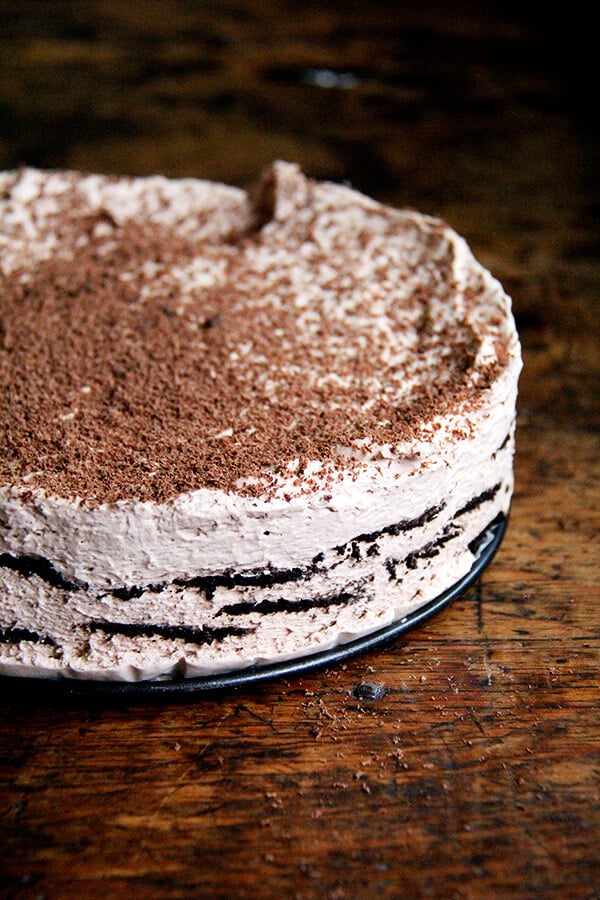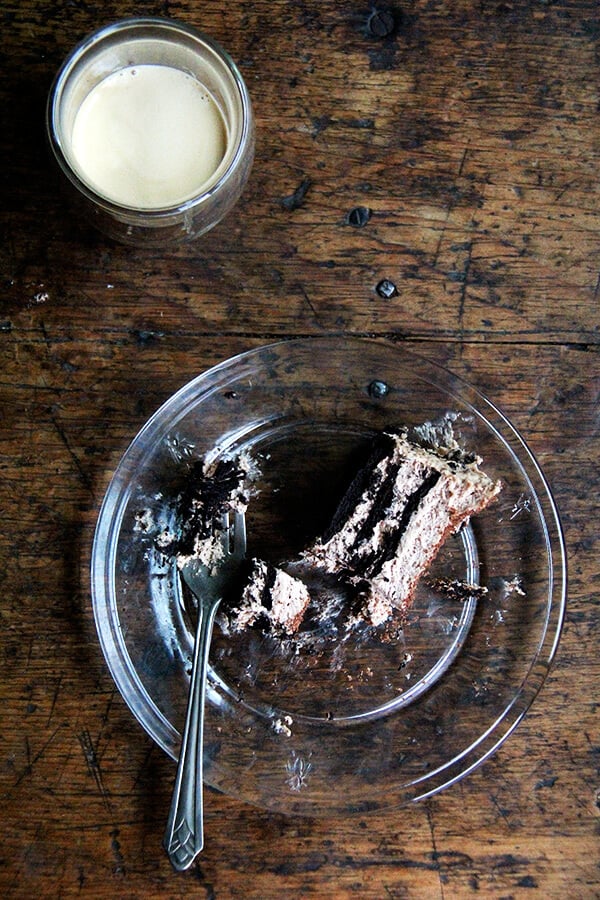 Print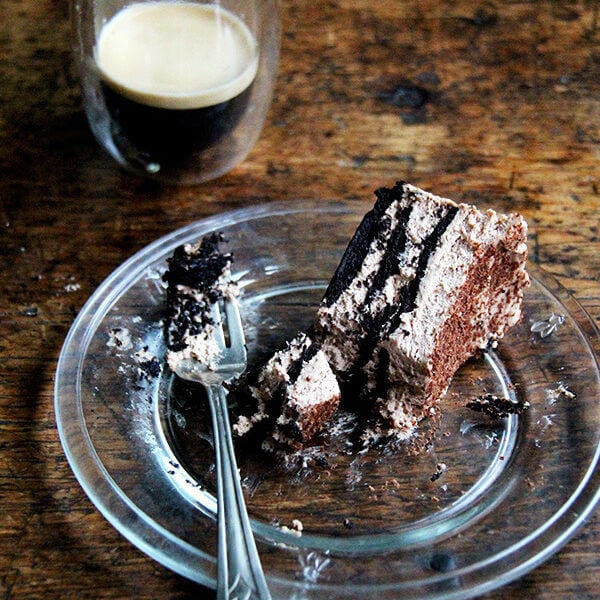 Chocolate-Espresso Ice Box Cake
---
Author:

Alexandra

Total Time:

12 hours 20 minutes

Yield:

12
Description
Source: Barefoot Contessa How Easy is That?
The Original recipe calls for Tate's Bakeshop chocolate chip cookies, which I'm sure are delicious, but if you can't find them, Famous Chocolate Wafers work like a charm.
Original recipe also calls for 5 layers of cookies — probably because the Tate's choc chip cookies are big, so you need fewer per layer. I ran out of steam—so lazy!—after making 3 layers of cookies, but do as you wish. Four layers of wafers probably would have been fine, but I think 5 would have been too many. I don't think you can mess this kind of thing up. Also, original recipe called for coffee liqueur, which I'm sure would be delicious, but I didn't have any, so I used brewed espresso instead, which I made with my Nespresso Pixie, which, by the way, I love. Such a luxury, but really great.
If you don't want to use booze and don't have a Nespresso, you could use instant espresso with 1/4 cup boiling water or strong coffee. If you want to use both coffee liqueur and espresso, you can use 1/4 cup liqueur and 1 teaspoon instant espresso powder. This meyer lemon variation looks fantastic, too.
---
2 cups

cold heavy cream

12 ounces

Italian mascarpone cheese

1/2 cup

sugar

2 tablespoons

unsweetened cocoa powder

1 teaspoon

vanilla extract

1/4 cup

espresso, cooled, or

1/4 cup

coffee liqueur, such as Kahlua, see notes above

2

9-oz boxes Famous Chocolate Wafers, see notes above, I used 1.5 boxes
semisweet chocolate, for garnish
---
Instructions
In the bowl of an electric mixer fitted with the whisk attachment, combine the heavy cream, mascarpone, sugar, cocoa powder, vanilla, and cooled espresso. Mix on low speed to combine, then slowly raise the speed, until it forms firm peaks.
To assemble the cake, arrange the cookies flat in an 8-inch springform pan (I lined it with parchment paper, probably unnecessary) covering the bottom as much as possible — see photos for reference. Spread 1/3 to 1/4 of the mocha whipped cream evenly over the cookies. Place another layer of cookies on top, lying flat and touching, followed by another layer of cream. Continue layering cookies and cream until there are 3 to 4 layers of each, ending with a layer of cream. Smooth the top, cover with plastic wrap, and refrigerate overnight or for 12 hours.
Run a small sharp knife around the outside of the cake and remove the sides of the pan. Shave chocolate over the top of the cake using a microplane or a peeler. Cut in wedges, and serve cold.
Prep Time:

20 minutes

Cook Time:

12 hours
This post may contain affiliate links. Please read my disclosure policy.