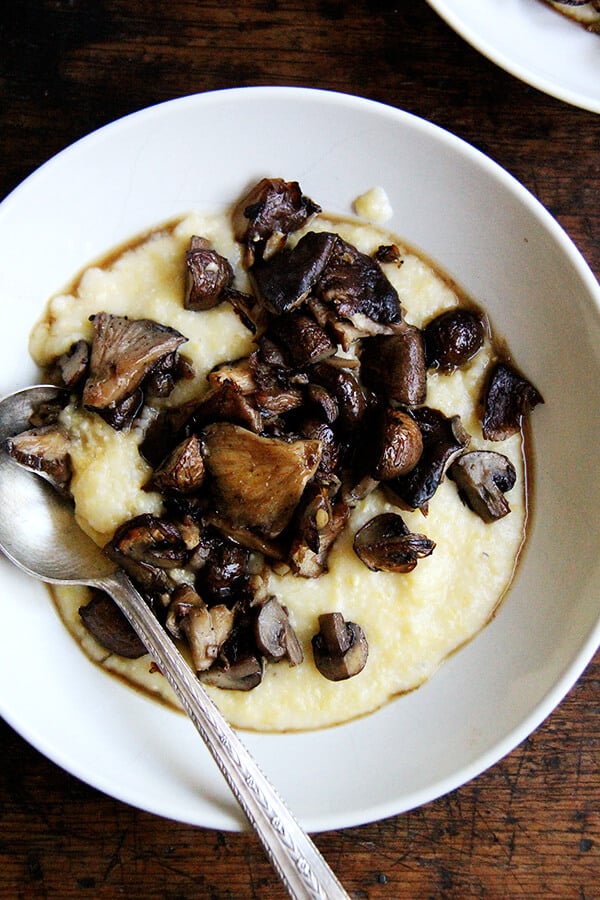 There was a period over a decade ago now (yikes) when I was cooking almost exclusively from Sally Schneider's A New Way to Cook , one of about five cookbooks I owned at the time, a departing gift from my mother when I moved away from home to Philadelphia. While my cookbook collection has since grown considerably, I still find myself returning to A New Way to Cook often to reference a technique or method, to see how Sally made it — the book, if you are unfamiliar, is nearly as comprehensive as the How to Cook Everything books.
Recently I revisited her roasted mushroom recipe, which is part of her recipe for coq au vin, which I made once and remember loving, the mushrooms especially. It's a two-step process — the mushrooms roast first covered in foil — then uncovered until their edges brown. I love the technique because during the initial roasting a flavorful broth materializes, giving you two products for one effort. The mushrooms and sauce are especially good spooned over polenta.
Read more about the method and find the recipe over on Food52. Have a wonderful weekend!