Vegan Chocolate Mousse (Aquafaba + Almond milk)
This post may contain affiliate links. Please read my disclosure policy.
If you have never experienced the miracle that is aquafaba — whipped chickpea cooking water — this is the recipe to start with: in just about 15 minutes, you will see chickpea water transform into stiff, glossy peaks, ready to be folded into anything you please. I suggest chocolate. This vegan chocolate mousse is so light, so tasty, and so satisfying!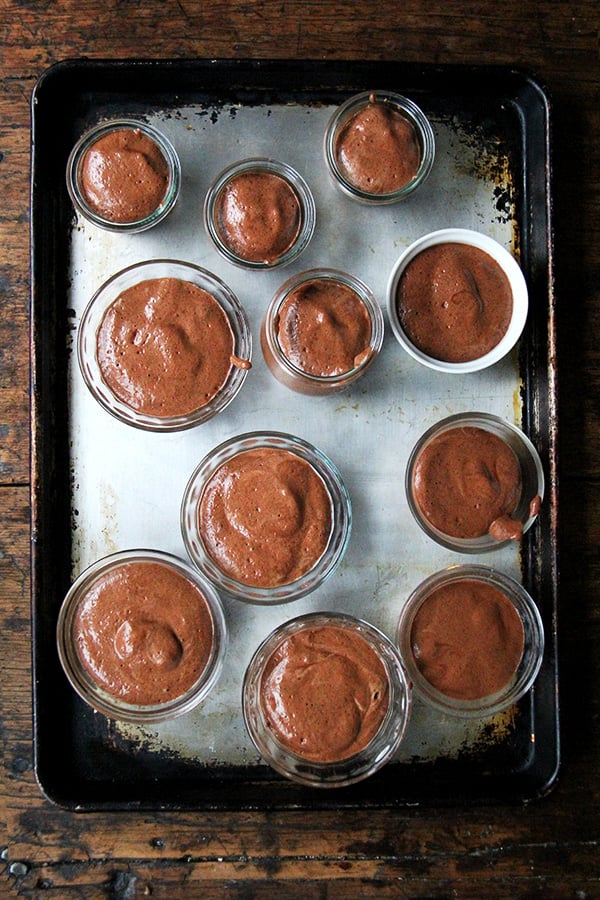 My French Canadian neighbor, Isabelle, is an experienced nurser of babies with food intolerances. Her youngest, a 6-month old with the most squeezable thighs, a tuft of dark curly hair that fades to baldness, and cheeks as big as grapefruits, will not, at the moment, allow her to eat dairy or eggs. Such a rascal! (The most adorable rascal I will add.)
But, she told me one day, she can indulge in chocolate mousse, as long as it's made with chickpea water. Excuse me? Francois, her husband, piped in: It's really good.
Of course, I asked for the recipe, made it immediately, then spent the rest of the evening marveling at the miracle that is whipped aquafaba—a name coined by an Indiana software engineer, a combination of the Latin words for water and bean.
With about 15 minutes of vigorous beating, chickpea water triples in volume, resembling in the end whipped egg whites. It can be baked into a meringue or whipped into mayonnaise, and when it's folded into a mix of melted chocolate and almond milk, it makes the lightest-textured chocolate mousse, which, as Francois noted, also is delicious. What's more, it comes together more quickly than any I've ever made.
Before I made it again, I did some online research, and, shocker, discovered I had missed the onset of the ongoing aquafaba craze that seems to have begun with two French cooks, but has been popularized by chefs, Facebook groups, and big websites: the Kitchn, Slate, Food52.
I'd never paid much attention to this "waste" product, I suppose, because I generally don't have canned chickpeas on hand. And as exciting as this discovery was, I found myself thinking: Knowing what canned aquafaba can do, would I now have to stop cooking chickpeas from scratch? Or would homemade aquafaba whip up just as beautifully?
I gave it a try. I soaked my chickpeas overnight, then transferred them to a pot the following morning, soaking liquid and all, and cooked them without any seasonings—not even salt—until they were done. Then I stored them in their cooking liquid in the fridge for several days, thinking perhaps that a few days of chickpea-in-water togetherness might strengthen the powers of my homemade aquafaba.
When I dumped my chickpea cooking liquid into the mixer, I crossed my fingers, then watched the water transform: first into froth, then into foam, then, amazingly, into stiff, glossy peaks. Success!
The next step will be to brine the beans and cook them as I always do with salt, thyme, onions and garlic. Maybe a savory mousse is in my future? Or an eggless soufflé? I'll keep you posted.
Have a wonderful weekend everyone. I hope it takes you to aquafaba chocolate mousse and beyond.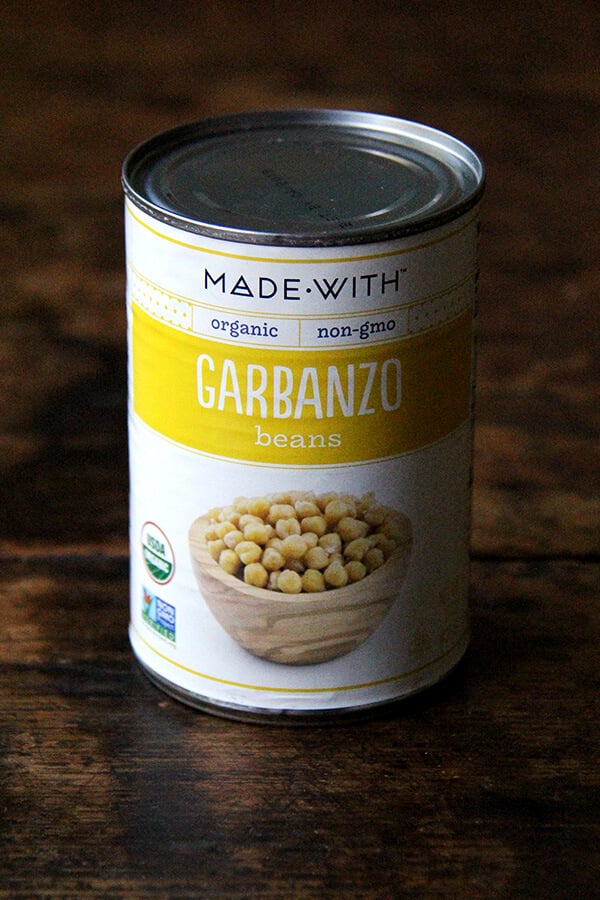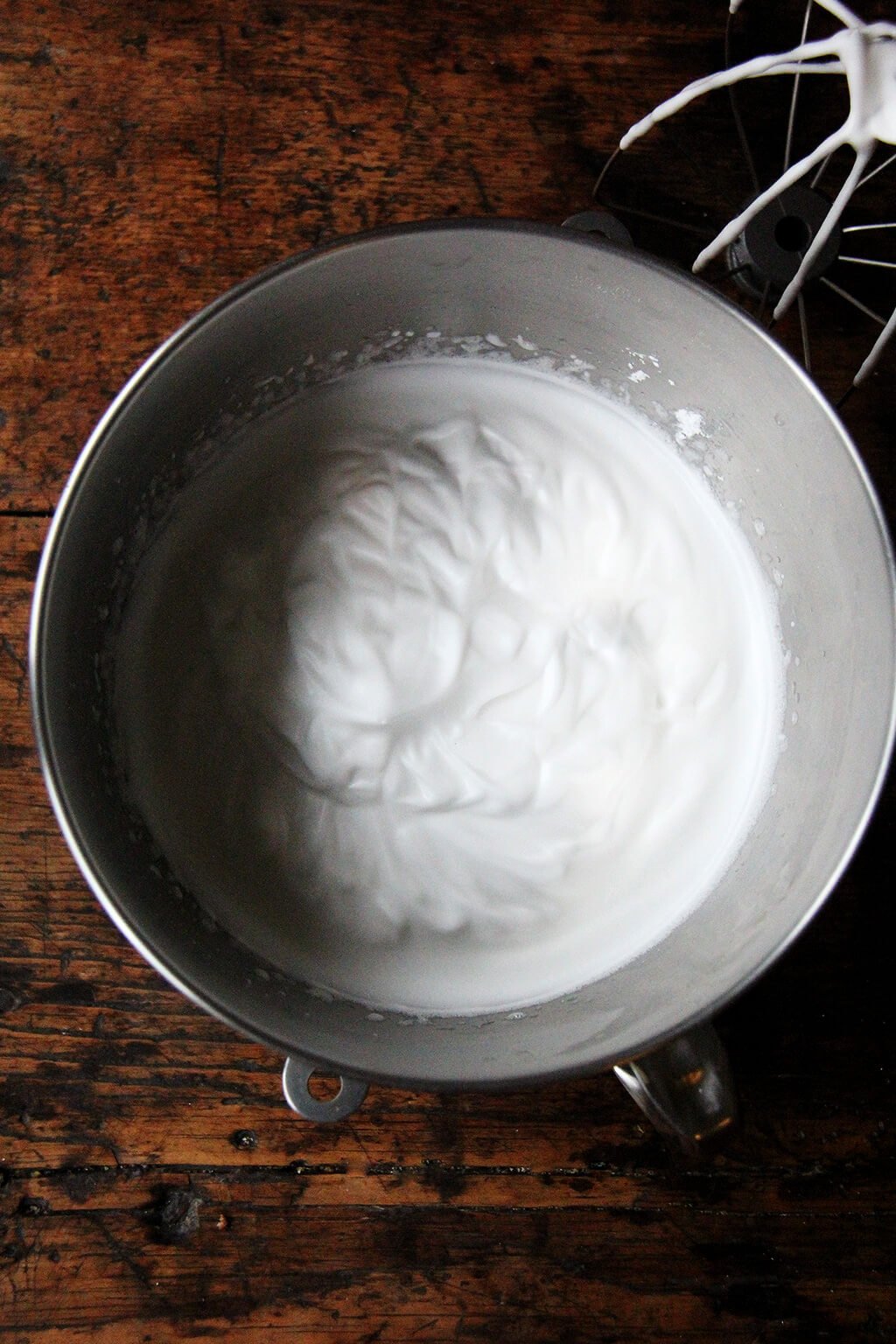 Whipped aquafaba: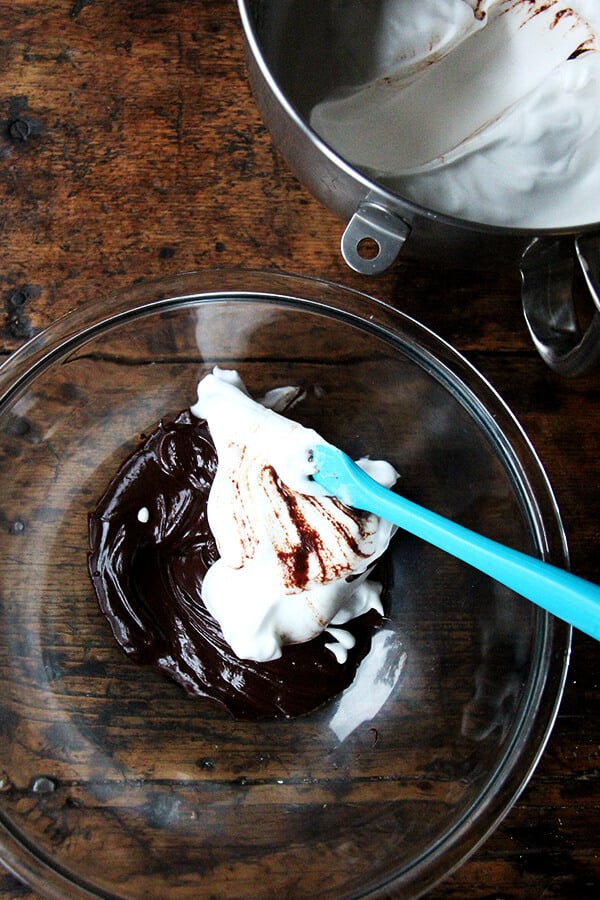 Gently folding the whipped aquafaba into the chocolate mixture: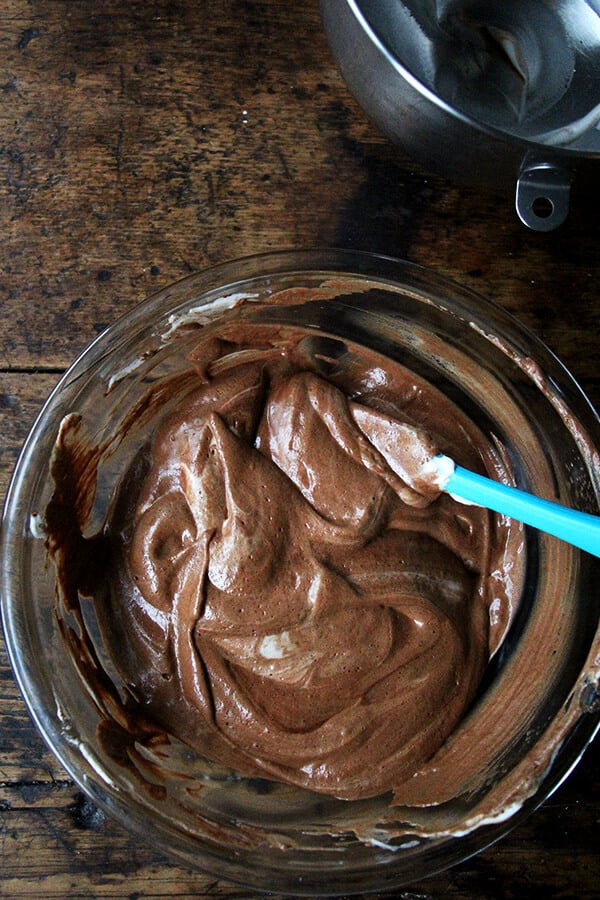 All folded in: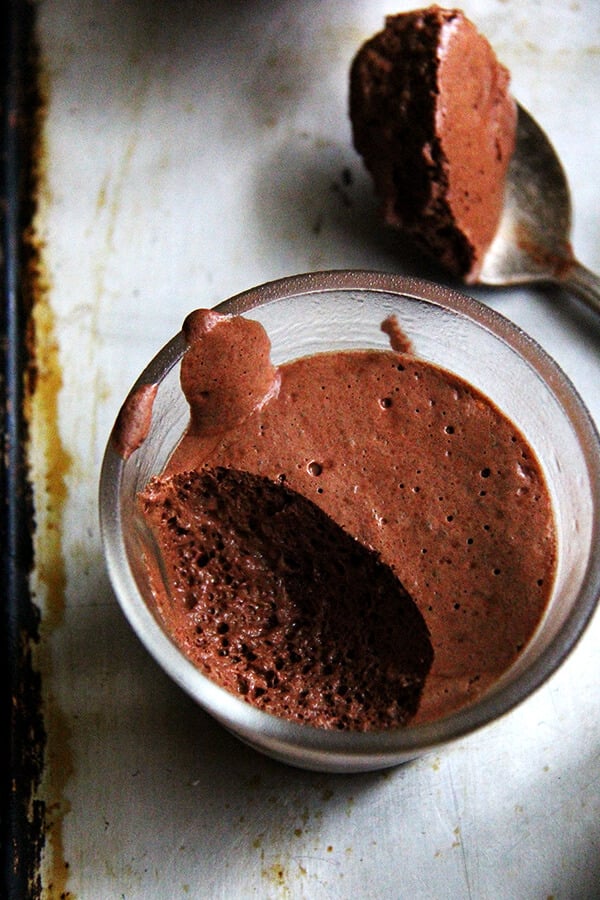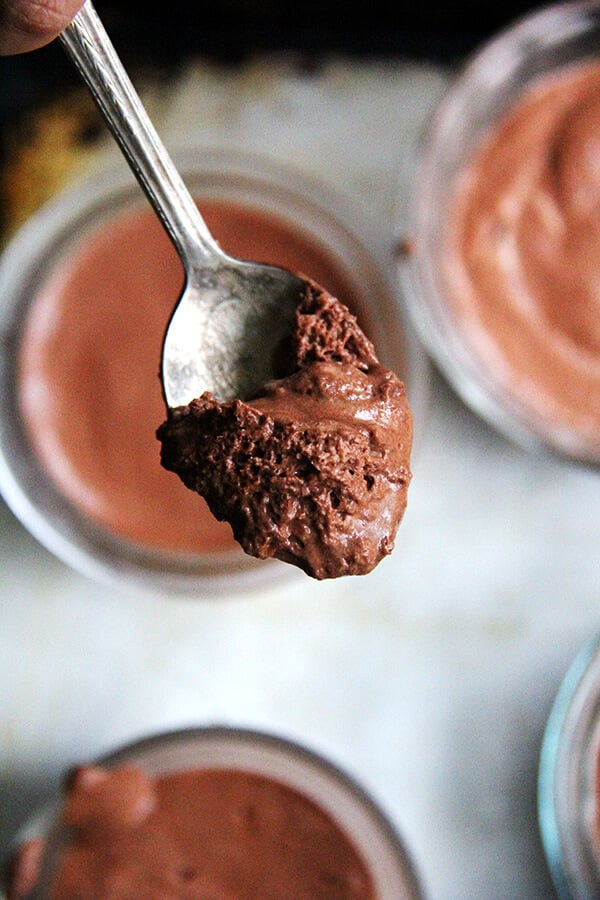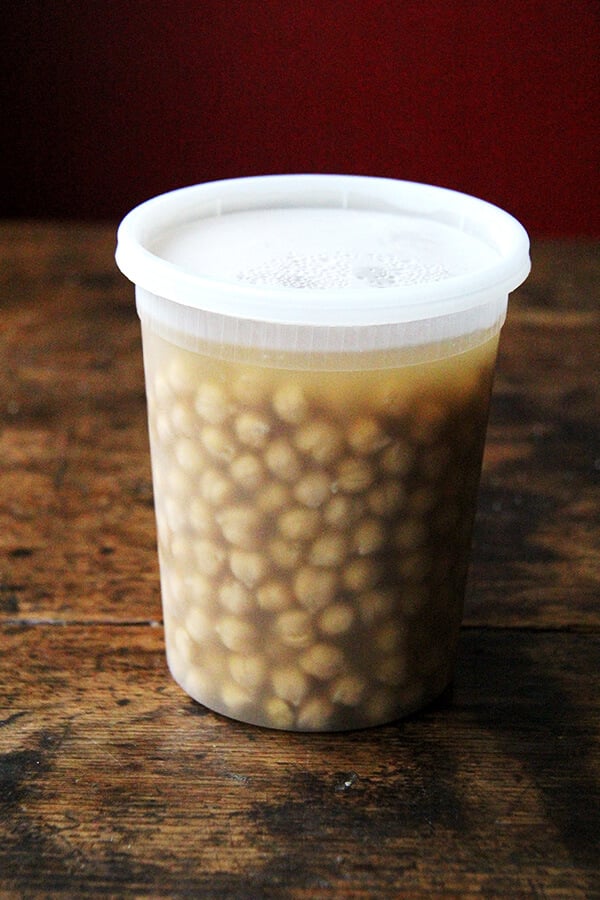 Chickpeas cooked from scratch: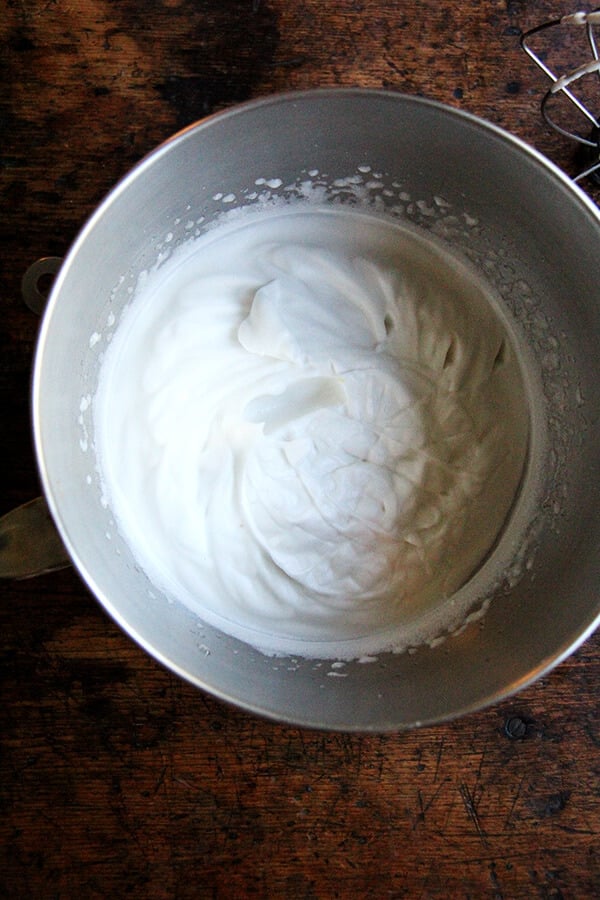 This is the whipped aquafaba made from cooked-from-scratch chickpeas: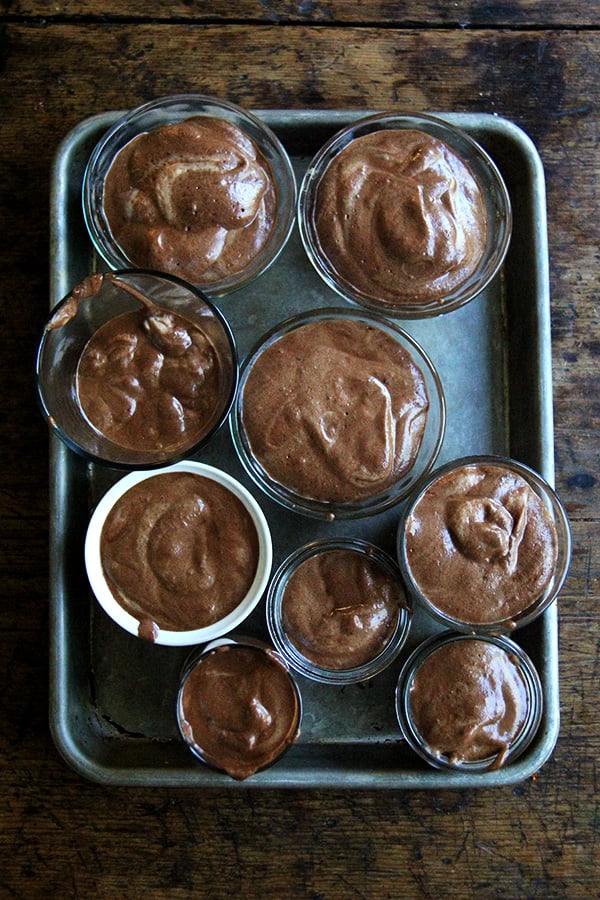 And the homemade aquafaba chocolate mousse: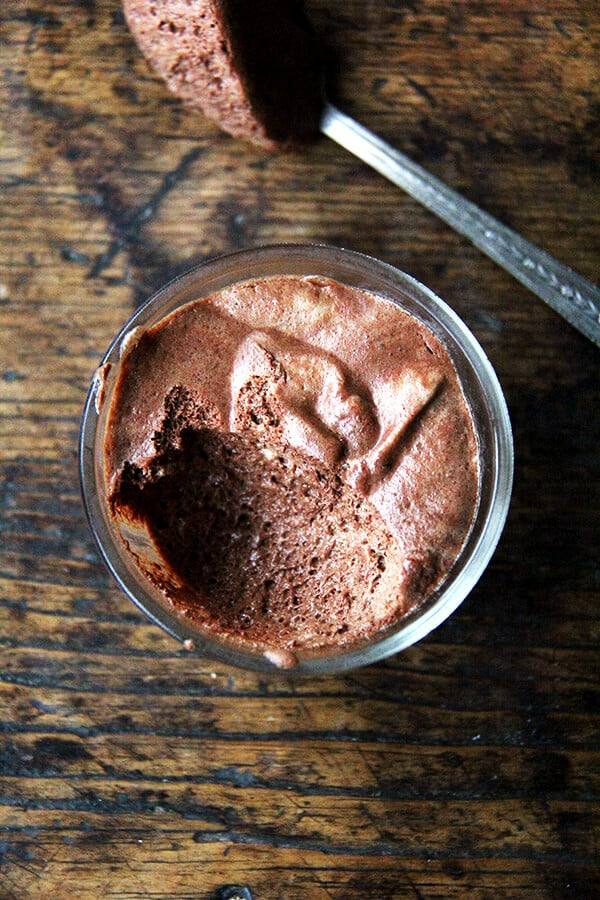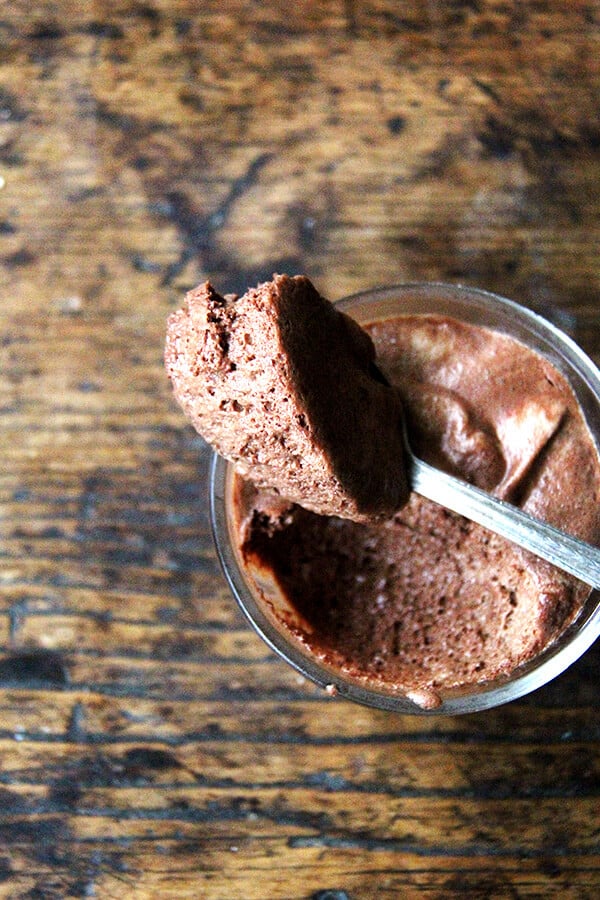 Print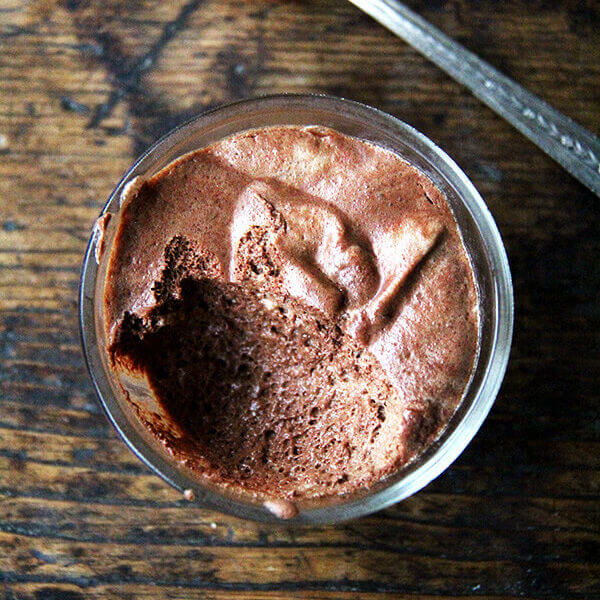 Vegan Chocolate Mousse with Aquafaba and Almond milk
---
Description
This is the most bizarre thing I've ever done in the kitchen — I am still astounded by the transformation chickpea water undergoes after 15 minutes of intense whipping. But I would never blog about this if I didn't also think this were not completely delicious. This vegan chocolate mousse is SO tasty, SO light, SO satisfying. It's kind of a miracle.
Notes:
When I cooked chickpeas with the intention of making mousse with the liquid, I didn't do my usual brining, then cooking with seasonings method. Instead, I soaked the chickpeas overnight, then transferred them to the pot, soaking liquid and all and added a little more water to ensure they were covered by an inch or so. Then I simmered the chickpeas until they were cooked through, about 1 hour. I didn't add any salt or seasonings. I stored the cooled chickpeas in their cooking liquid in the fridge for 2 days before I drained them, measured out 200 ml (about a cup) of aquafaba, and proceeded with the recipe.
If you don't care about keeping this recipe vegan, use any milk you'd like in place of the almond. I prefer Califia Farms almond milk. Most recently I made it with Oatly oat milk and loved it.
Re chocolate and sugar: I think you need to make this once to gauge the ratio of sugar to chocolate, which will depend on the kind of chocolate you like. Every time I've made this, I've used a mix of what I've had on hand, all of which were in the 62%- to 70%-cacao range. In the most recent batch I used a part of a bar of Sharffen Berger, which was flavored with cacao nibs, which offered the nicest little bits of texture. Loved it.
---
a scant cup (200 ml) chickpea water, drained from one 15-oz can (unsalted chickpeas is best) or measured from your own cooked chickpeas, see notes above

1/4 teaspoon

cream of tartar

1/4 teaspoon

salt

1/4 cup

(

36 g

) confectioners sugar

200 g

(

7 oz

.) dark chocolate (62% to 70% cacao)

1/3 cup

(

75

ml) almond milk, oat milk, or any milk you like
Chocolate for shaving over top, optional
---
Instructions
In the bowl of a stand mixer, place the chickpea water, cream of tartar, salt and confectioners sugar. Beat on medium high speed for 10 to 15 minutes (or less), until tripled in volume. After the 15 minutes, the liquid should have tripled in volume, and it should be able to hold stiff peaks. Reference the photos above or the video. 
Meanwhile melt the chocolate and almond milk in a double boiler or in the microwave at 30 second intervals until the chocolate is all melted. Stir to combine the mixture, then transfer it to a large mixing bowl. It's OK if the mixture is slightly warm, but it shouldn't be hot.
Fold the whipped aquafaba into the chocolate-almond milk mixture in batches—be delicate if you can. Transfer the chocolate mousse into small serving vessels, then transfer to the fridge to let the mousse set for at least 2 hours. Store in fridge.
Shave chocolate over top before serving, if you wish. 
Prep Time:

15 minutes

Cook Time:

5 minutes

Category:

Dessert

Method:

No-Bake

Cuisine:

American, French
Keywords: vegan, chocolate, mousse, homemade, aquafaba, chickpea, water,
This post may contain affiliate links. Please read my disclosure policy.