Curried Chickpeas with Cauliflower and Coconut Milk
This post may contain affiliate links. Please read my disclosure policy.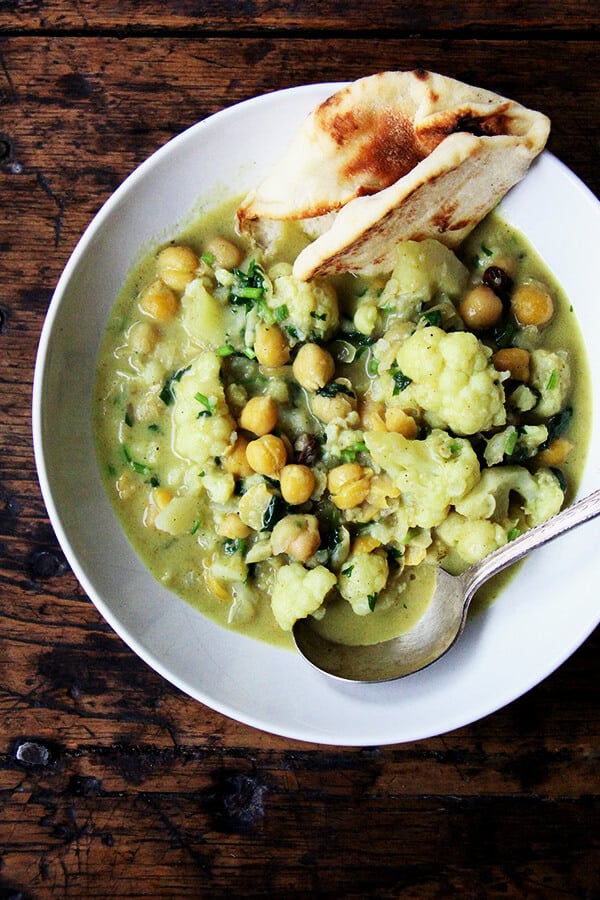 I recently made a variation of Julia Turshen's curried lentils, using cooked chickpeas in place of the dried lentils and adding a whole head of cauliflower florets to add a vegetal element.
I made a few other changes to the recipe, too, but the spirit of the dish is the same: sauté aromatics, add cooked legume or uncooked lentil (or quick-cooking grain), simmer everything in a mix of coconut milk and water.
If you have the chickpeas cooked ahead of time or if you use canned, it all comes together very quickly. It's simple and delicious. Healthy, too.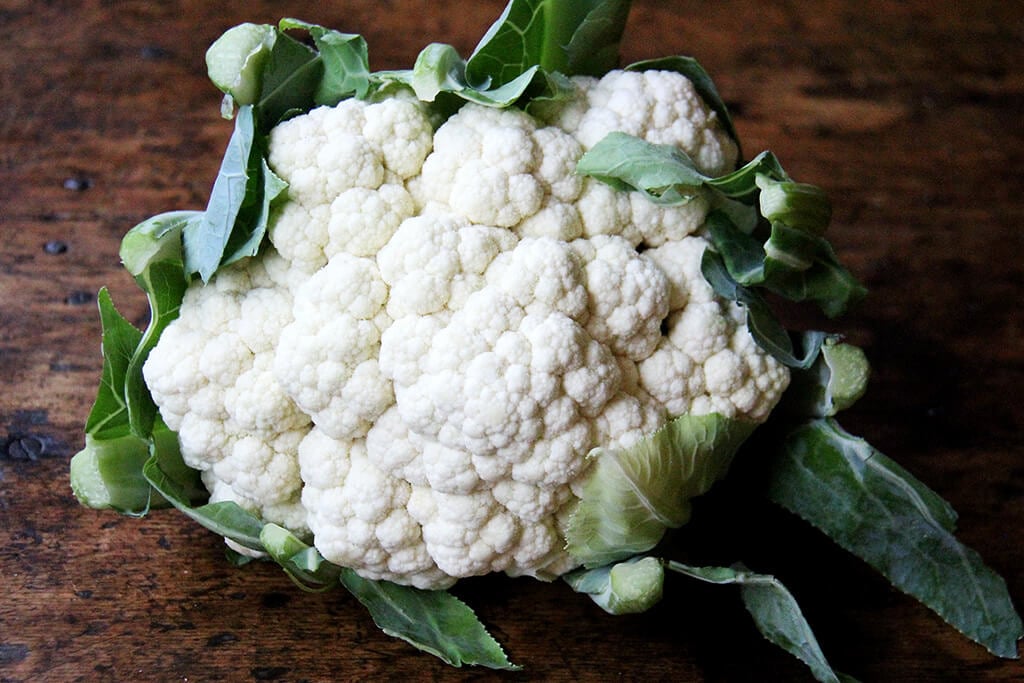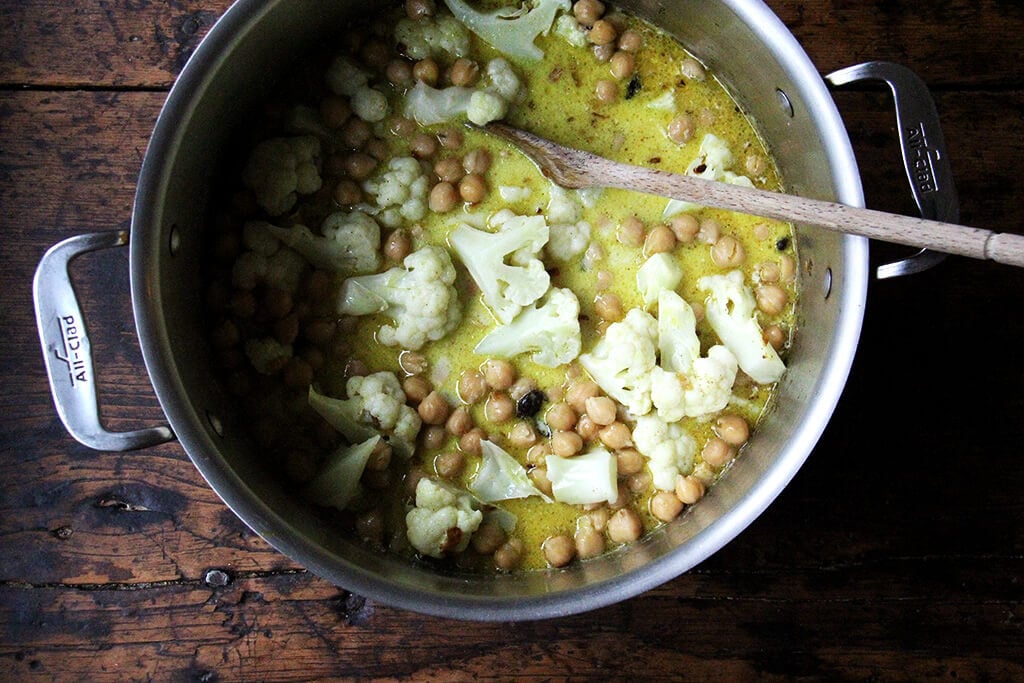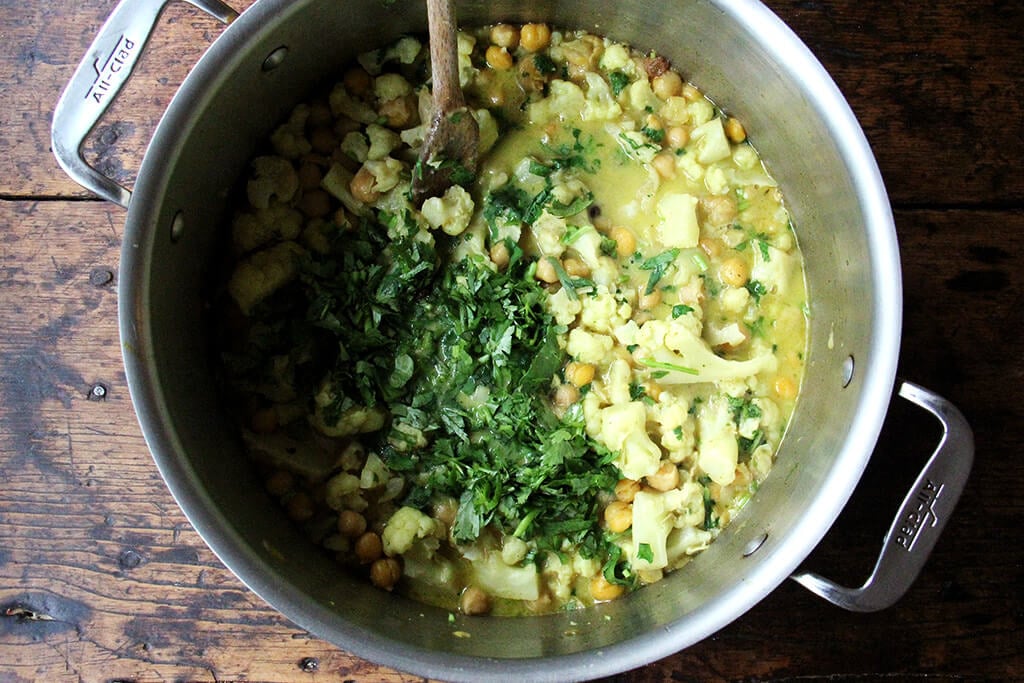 Print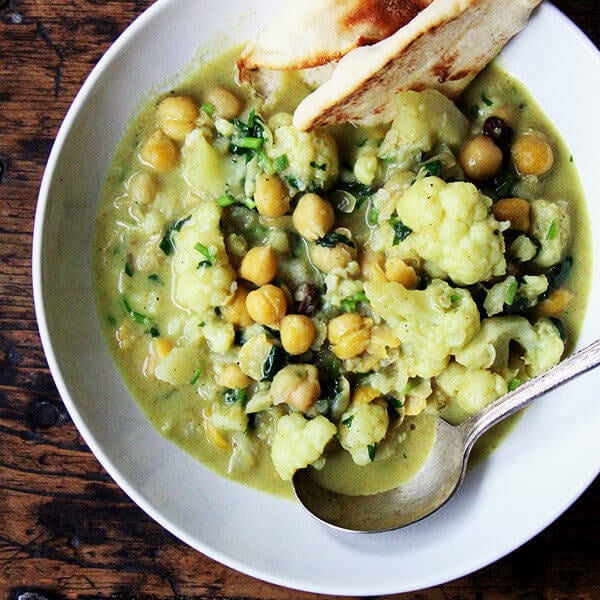 Curried Chickpeas with Cauliflower and Coconut Milk
---
Description
Notes:
There are instructions below for cooking chickpeas from scratch, which will leave you with about 6 cups of chickpeas.
If you want to use canned chickpeas, use 2 15-oz cans, drained and rinsed (about 4 cups).
Cauliflower can be cooked ahead of time (step 2) and refrigerated until ready to use.
A drizzle of harissa or chili oil at the end is nice here.
When reheating, add water to reach desired consistency — the chickpeas will soak up the liquid as they sit.
---
for soaking and cooking the chickpeas:
3 

tablespoons plus 1 teaspoon kosher salt


1 

pound dried chickpeas, see notes above if using canned

Few sprigs thyme

1/2 onion

for the curried chickpeas and cauliflower:
1 

head cauliflower, 2 to 2.5 lbs.


1 

tablespoon plus 2 teaspoons kosher salt


3 

tablespoons extra-virgin olive oil


1 

small onion, diced to yield about 1 cup


1 

tablespoon curry powder

13.5 oz can unsweetened coconut milk


4 cups

of cooked chickpeas or 2 cans (

15.5 ounces

each) chickpeas, drained and rinsed

1/4 

cup raisins, golden are nice


1/4 

cup toasted pine nuts, optional


1 

cup finely chopped cilantro


Naan, for serving, optional
---
Instructions
To cook the chickpeas:
Dissolve the 3 tablespoons of salt into a large bowl of water (your largest mixing bowl, or about 4 quarts water). Add the chickpeas and soak for 8 to 24 hours. Drain, and place in a pot with the onion, thyme, and remaining teaspoon of salt. Cover with water by three inches. Bring to a boil, then lower heat and cook at the gentlest simmer for about an hour or until the chickpeas are cooked through. Let chickpeas cool in their cooking liquid. Discard thyme sprigs, and onion. Store chickpeas in their cooking liquid. You need 4 cups of cooked chickpeas for the recipe.
To make the curry:
Cook the cauliflower: Fill a large pot with water and bring to a boil. Meanwhile, cut out the core of the cauliflower and remove the leaves. Cut the cauliflower into florets about 2-inches in size — they'll break down further when they cook with the chickpeas. You should have about 6 cups. Add the 1 tablespoon of salt and the cauliflower to the boiling water, and cook for 5 minutes, until the cauliflower is tender but not mushy. Lift out the florets with a slotted spoon, and spread on a tray or plate to cool.
Make the curry: Meanwhile, in a large pot over medium heat, warm the olive oil. Add the onion and curry powder and cook, stirring now and then, until the onions are softened and the curry is very fragrant, about 10 minutes.
Add the coconut milk, then fill the empty can with water and add it to the saucepan. Add the remaining 2 teaspoons salt, the cooked cauliflower, 4 cups cooked chickpeas (or the drained canned chickpeas) , raisins, and pine nuts, if using. Stir everything together, turn the heat to high, and bring the mixture to a boil. Turn the heat to low and let simmer, stirring now and then, for about 20 minutes, or until the liquid has reduced, the cauliflower has broken down a bit, and the chickpeas taste flavorful. Add the cilantro and stir to combine. Season to taste with salt. Serve with naan.
Prep Time:

20 minutes

Cook Time:

40 minutes

Category:

Curry

Method:

Stovetop

Cuisine:

Indian
Keywords: curry, cauliflower, chickpea, coconut, milk, vegan, vegetarian
This post may contain affiliate links. Please read my disclosure policy.