Grilled Apple, Cheddar, and Mustard Sandwich + Apple Picking at Riverview
This post may contain affiliate links. Please read my disclosure policy.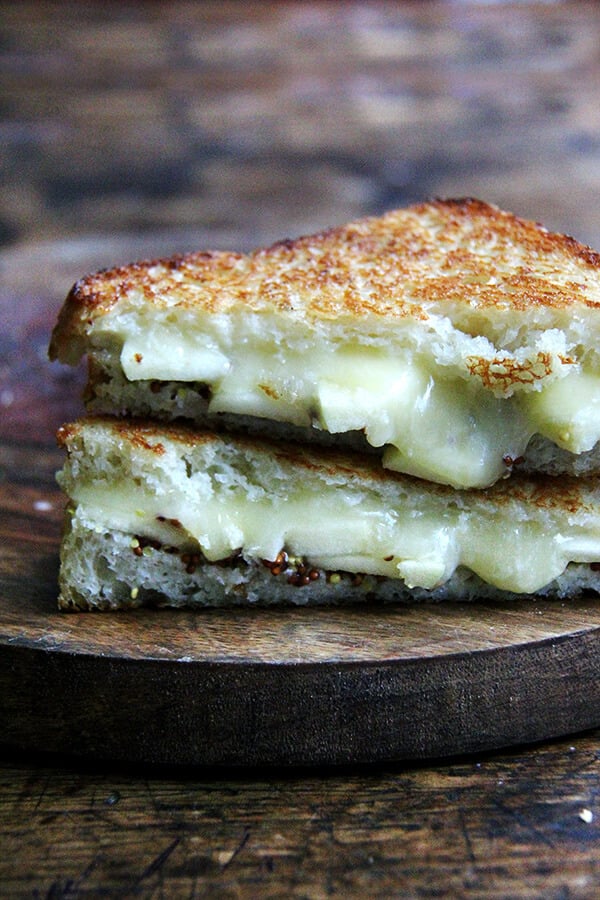 Yesterday I awoke to a 31ºF morning and three children snuggling beside me. As I wriggled out of bed to make the coffee, I wondered if it was maybe time to turn on the heat, then wondered if I remembered how to turn on the heat, then recalled this favorite Dinner: A Love Story post — I'll Let You Handle That — and promptly re-read it.
Like so many of the stories shared in Jenny Rosenstrach's Dinner: A Love Story (the cookbook) and in her Bon Appetit column, this funny, insightful post resonated so well. I've been reading Jenny's latest, How to Celebrate Everything, a book about the importance of rituals—about celebrating not just big holidays (though those are included, too), but day-to-day events, too—the birthdays, a lunch with dad, the homework hour, a sleepover breakfast.
I loved this passage from the introduction:
On a daily basis, rituals help me answer the questions that are central to my life as a parent: How do we help our children recognize the things that matter? How do we teach them to be grateful for everything they have—not the latest Nike Free Runs, but friends and family and community? How do we make days feel special? How do we hold on to moments that are so easily lost in the jam-packed calendar, that disappear behind us like a jet rail?"
On Sunday, I came to the recipe for grilled cheddar, apple and mustard sandwiches, then whisked the kids in the car—the window for a favorite fall ritual, I realized, had nearly closed. We headed to Riverview Orchards, a fairyland of apples, cider, farm animals, clown fish, candy, and bees, that also happens to make some of the best apple cider donuts around.
After saying hello to the chickens, pigs, and sheep, we made our way to the orchard. We passed a group of children celebrating a birthday on an idyllic knoll, a pyramid of cider donuts towering on a nearby picnic table, the Mohawk River in view snaking through banks of orange-, red-, and yellow-leaved maples. Wagon in tow, bags in hand, I was feeling blissful—virtuous!—and we had yet to pick a single apple.
As we walked on, however, we noticed we had the orchard nearly all to ourselves. Ben waved down the tractor pulling the hayride to ask if we should head to a particular spot, and then we received the news: There were virtually no apples left. The man pointed us to a promising row, our best shot to not leave empty-handed. We found, I am certain, the 6 remaining apples still hanging from the limbs not half-eaten by animals.
Alas. We returned home with a bushel of (purchased) apples, a gallon of cider, and a dozen hot-off-the-fryer donuts, the best treat in the entire world. As I heated the cider, I assembled un-grilled apple, cheddar, and yellow mustard sandwiches for the children, and griddled apple, cheddar, and grainy mustard sandwiches for Ben and me. Dinner took all of about ten minutes to throw together and disappeared about as quickly—something, at last, to celebrate.
PS: DALS Slow-cooker Beans with Tomato and Pancetta.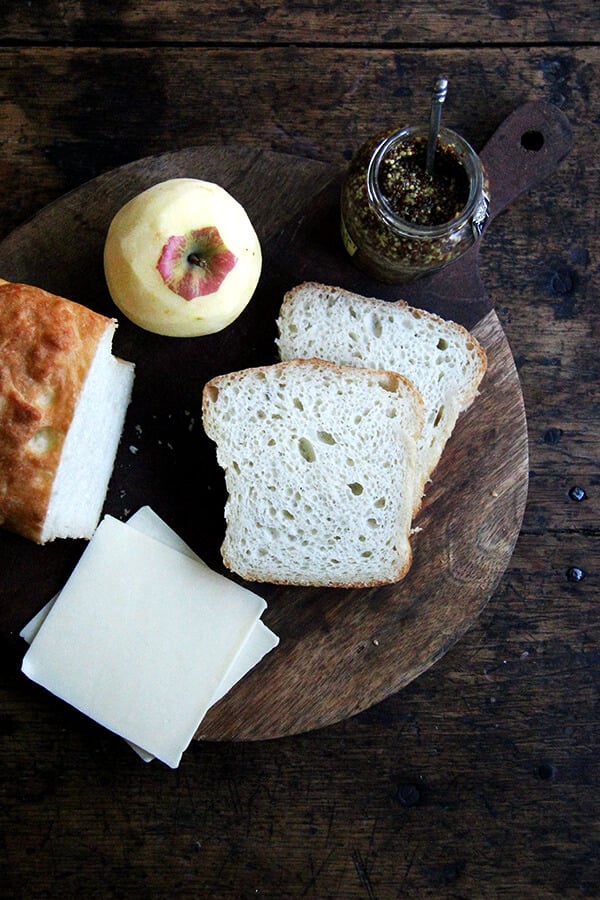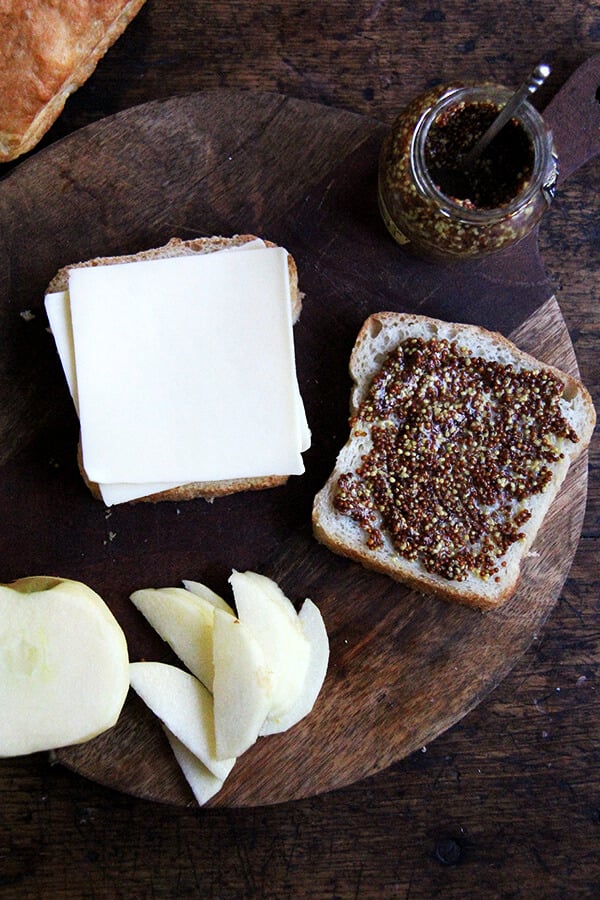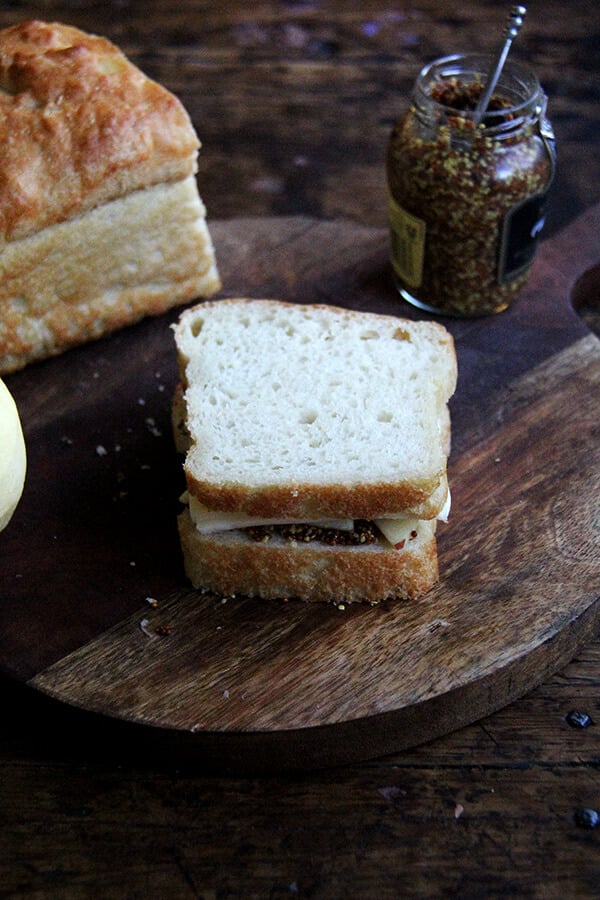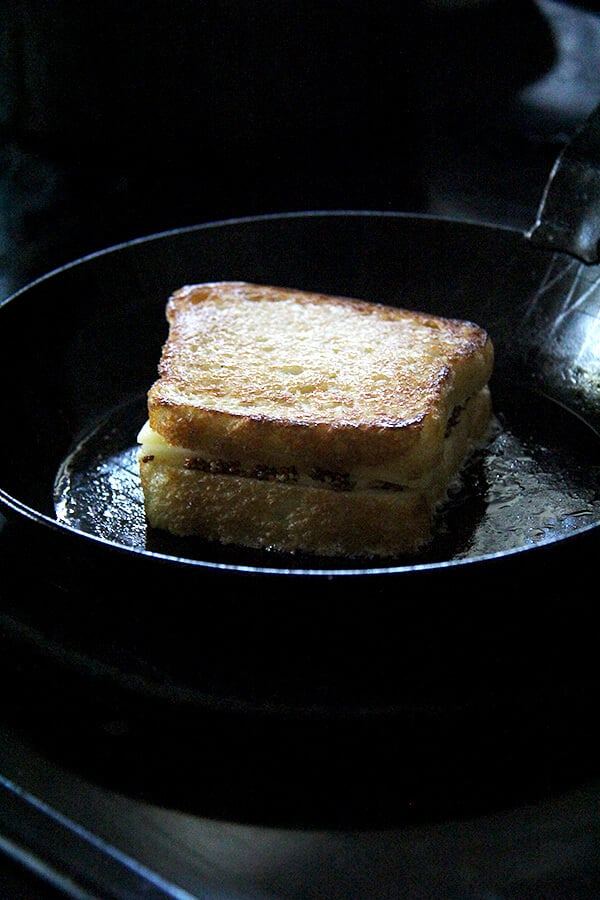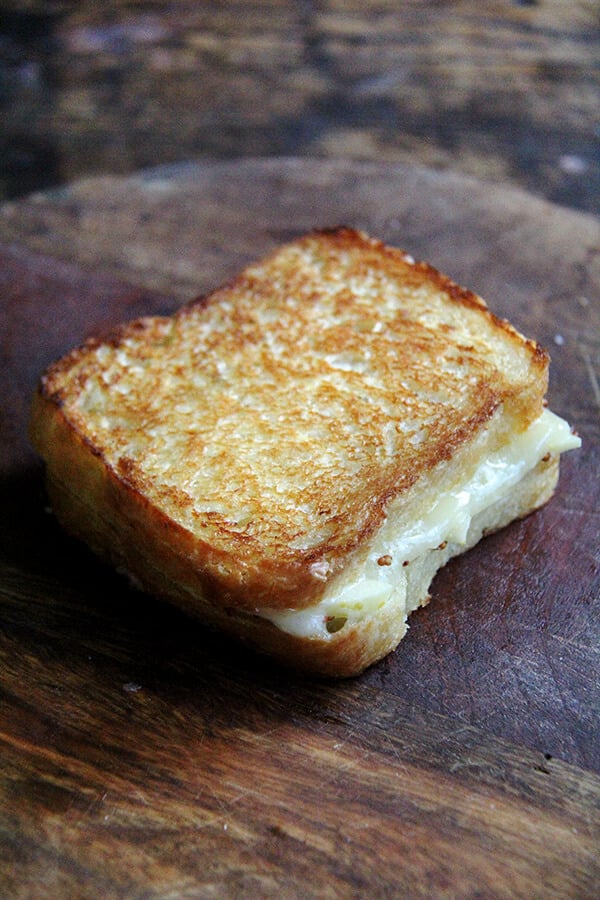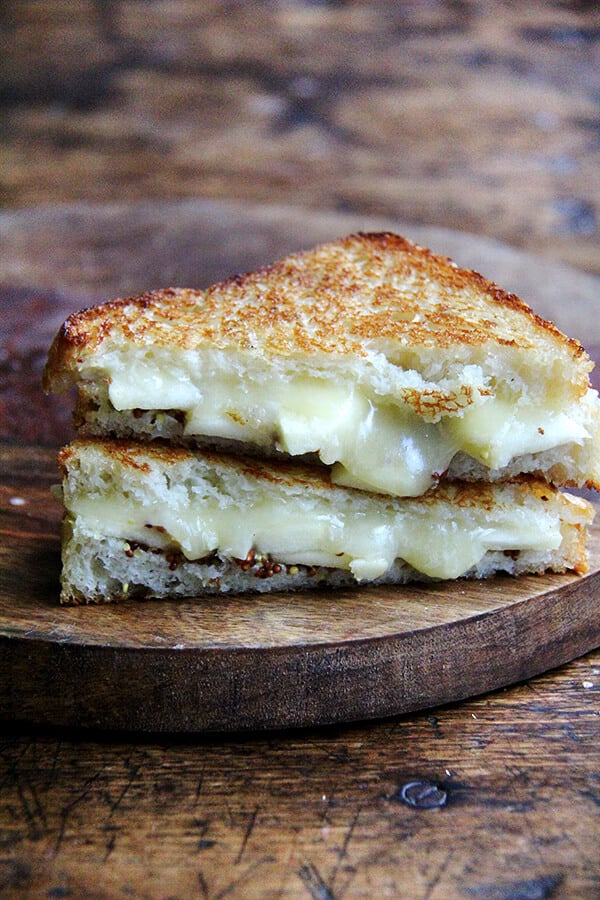 Recipe for this Grilled Apple, Cheddar, and Mustard Sandwich is below. 
_________________________
Some snaps from our orchard adventure: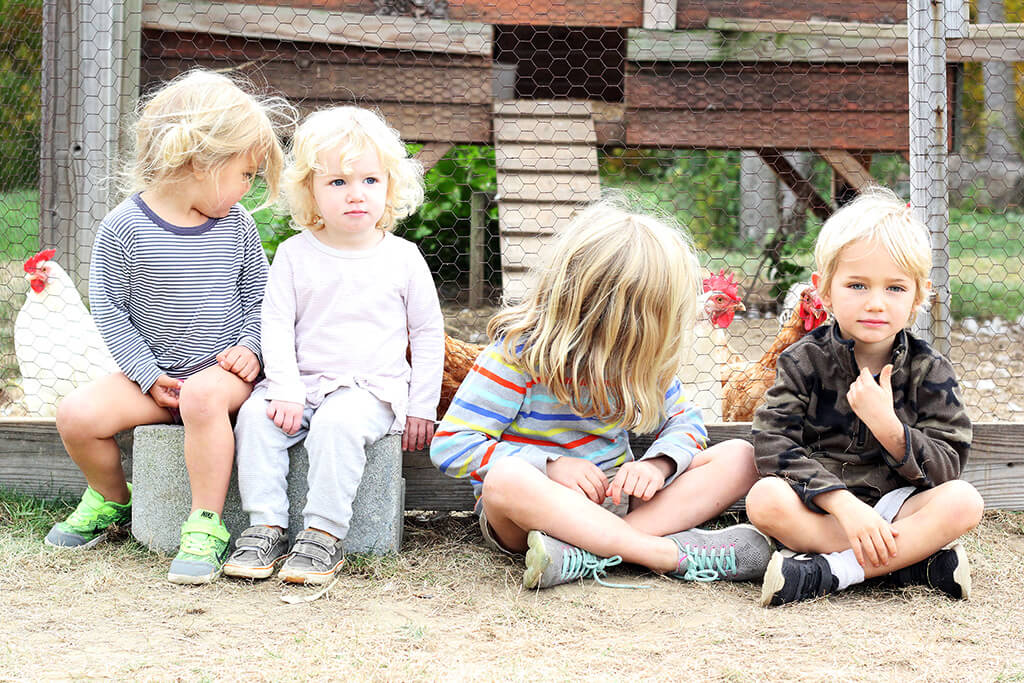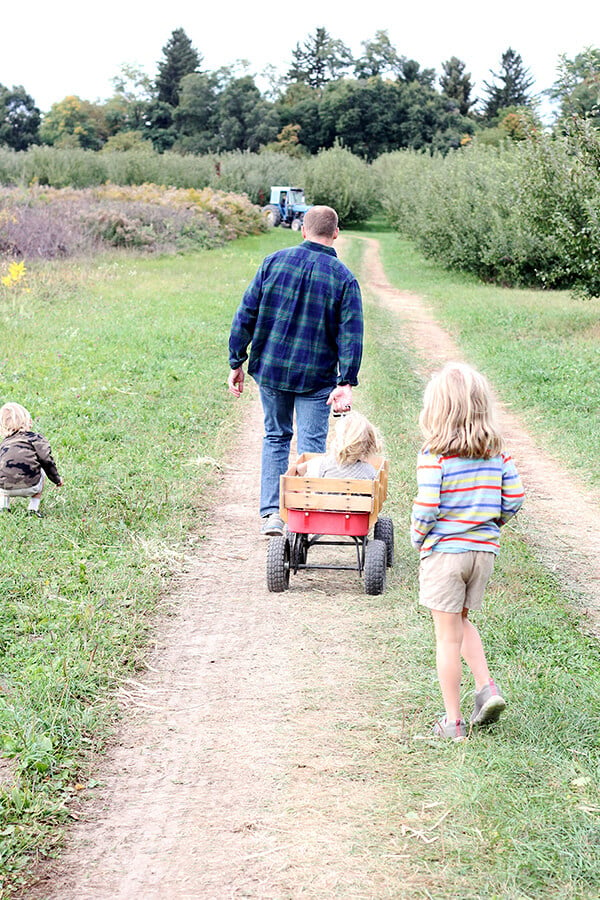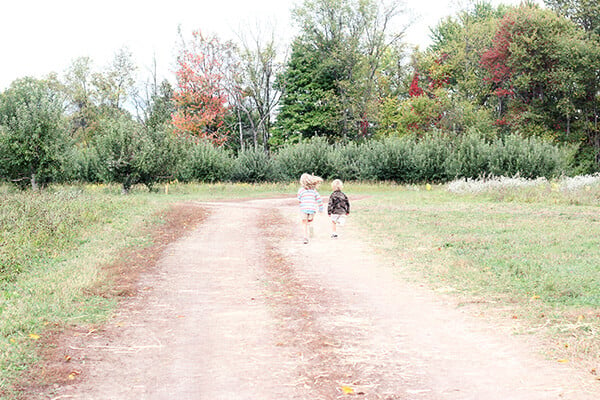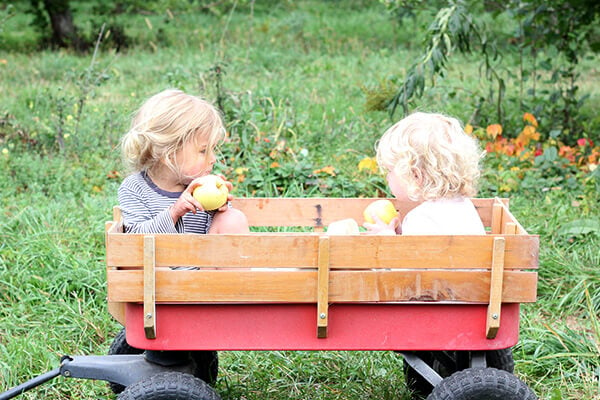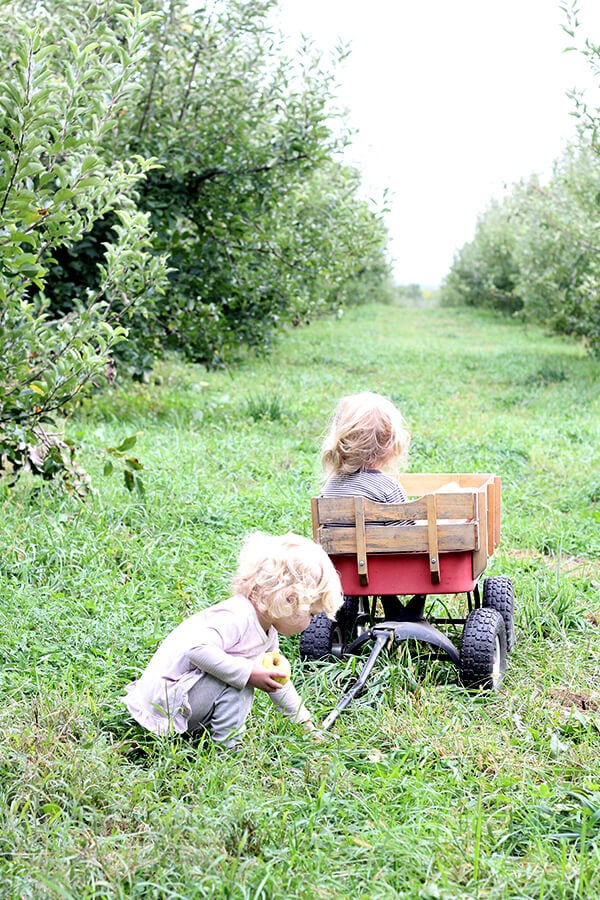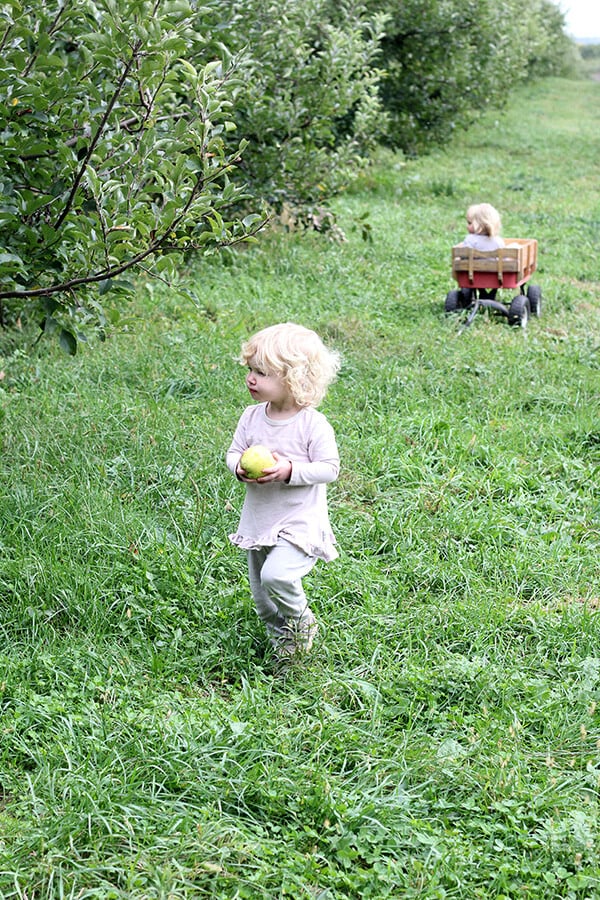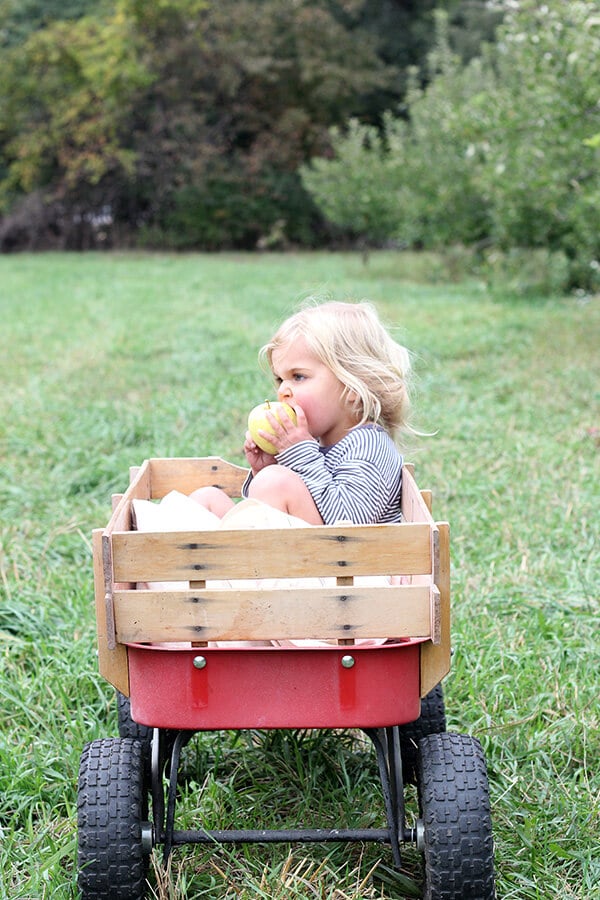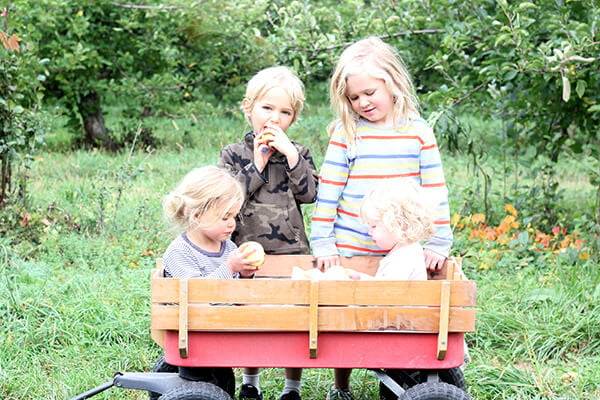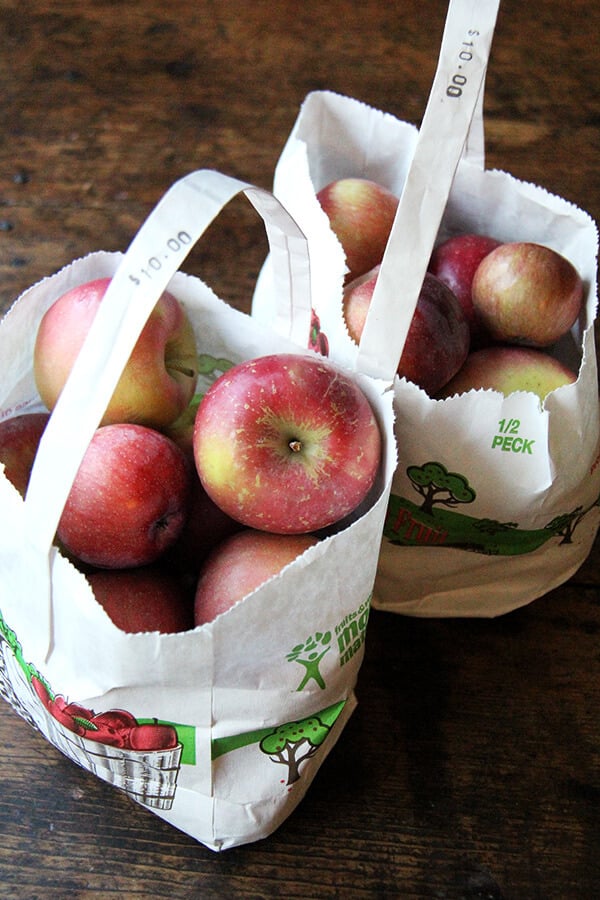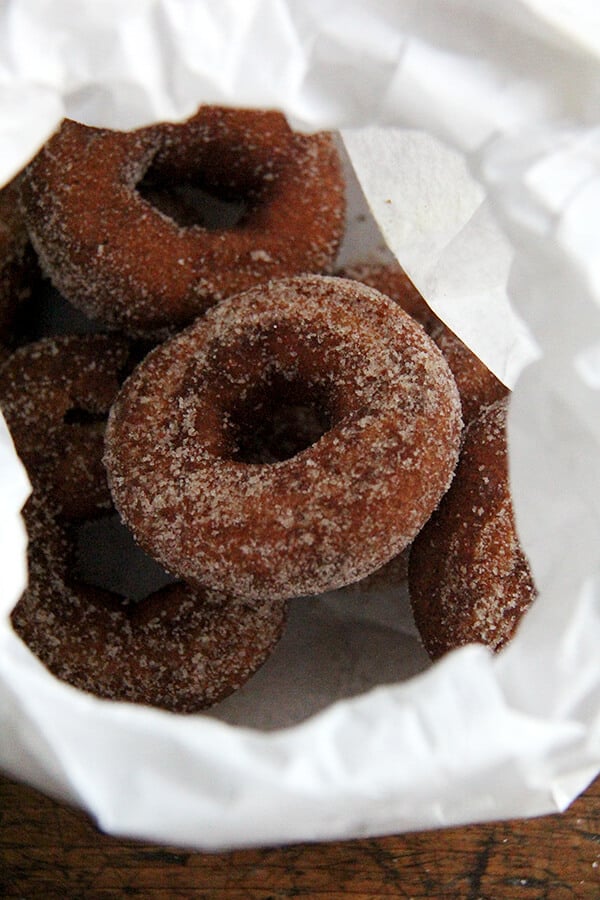 Cider + donuts =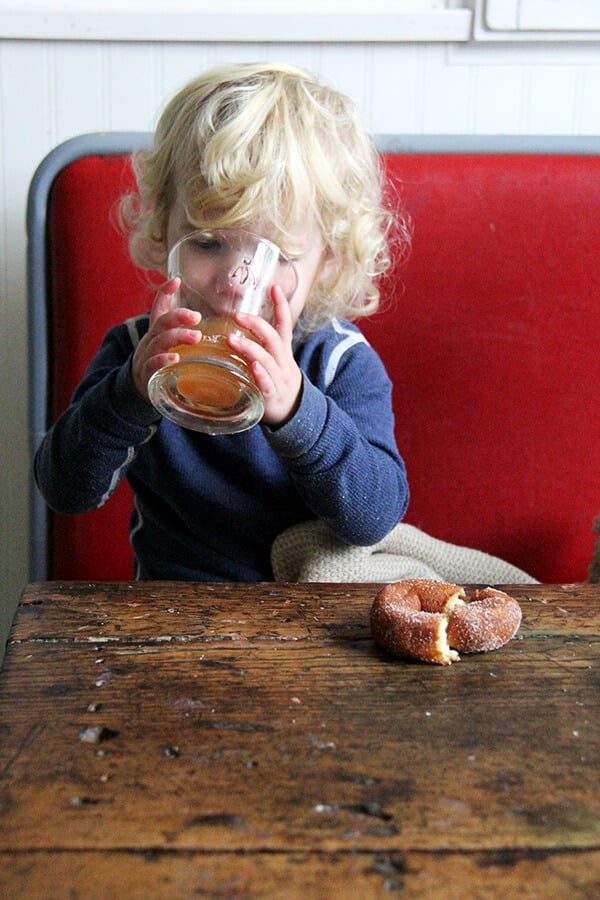 a very happy Tiglet.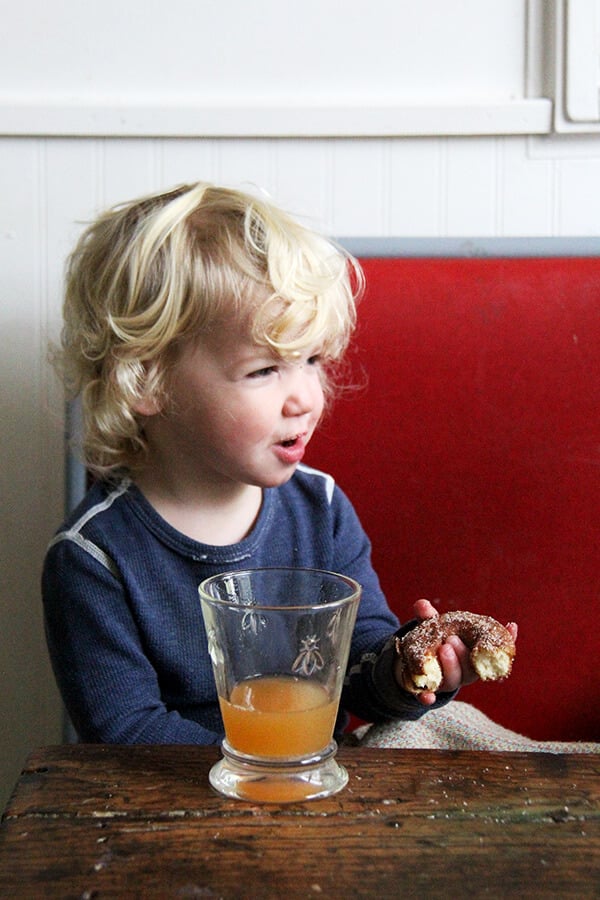 Warning: Upon seeing the cover of How to Celebrate Everything…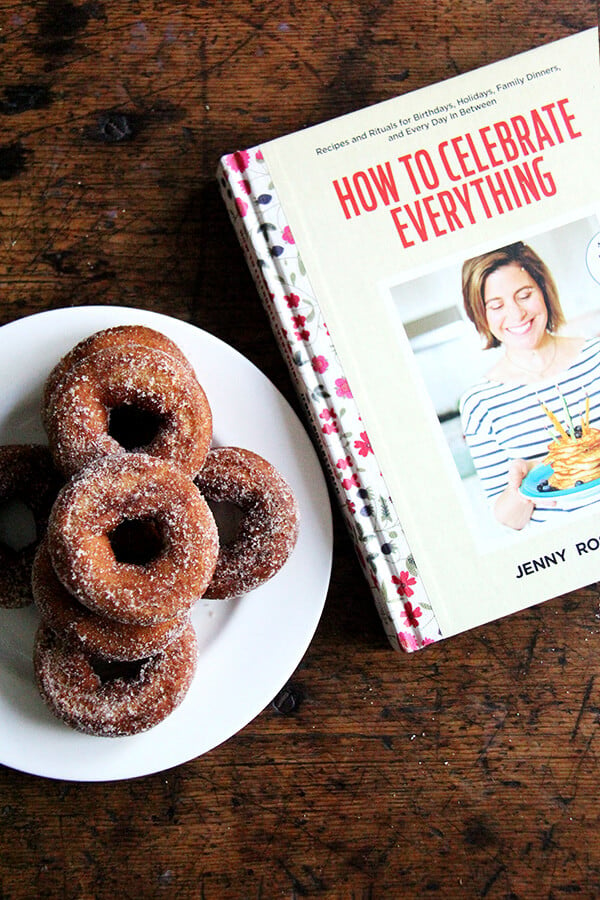 any nearby children might decide to sneak a peak …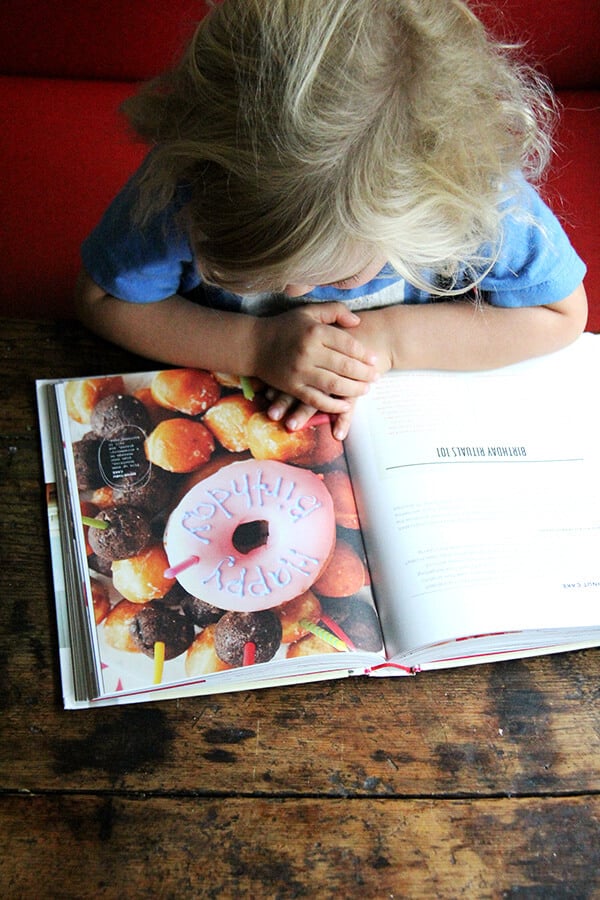 and then proceed to make some requests. You won't be sorry they did.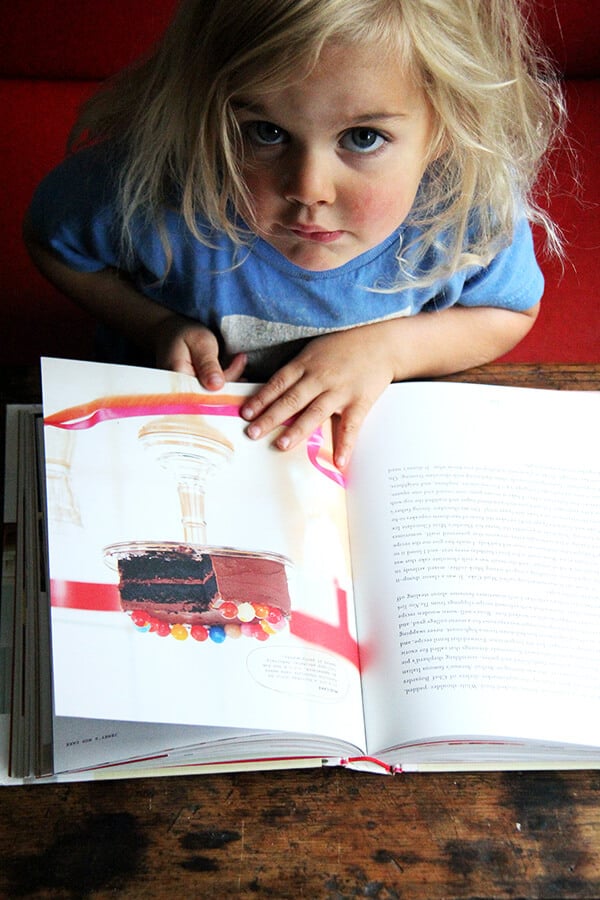 The un-grilled apple, cheddar, and yellow mustard sandwiches for the children: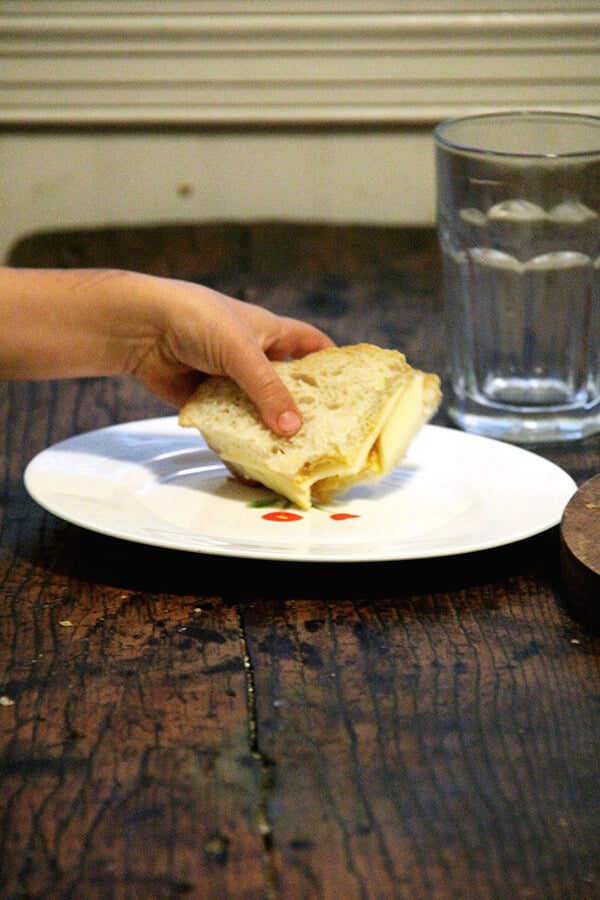 Print
Grilled Apple, Cheddar, and Mustard Sandwich
---
Author:

Alexandra

Total Time:

10 minutes

Yield:

1
Description
Adapted from Jenny Rosenstrach's new book How to Celebrate Everything, every sentence of which I am relishing — seriously, I don't want it to end. In addition to this delicious sandwich, which I've been making almost every night, I've also made the German potato salad and the crispy chickpeas, both of which were also delicious. Note: So, you know the trick of spreading mayonnaise on bread destined for the griddle or grill pan, right? Mayonnaise doesn't burn as quickly as butter, so the bread bronzes at a nice rate, right in sync with the melting of the cheese. The trouble, I find, is that mayonnaise doesn't give you that butter flavor. But if you use a mix of butter and mayonnaise, you get the best of both worlds. You, of course, can use all butter (or mayonnaise) if you prefer.
---
2

slices hearty white bread

2 tablespoons

softened butter

1 tablespoon

mayonnaise, optional, see notes above
grainy mustard or Dijon mustard, to taste

2

slices sharp cheddar cheese
slices of peeled Fuji or Granny Smith apples
---
Instructions
Heat a cast iron skillet or grill pan to medium. If you are using the mayonnaise, stir it together with the butter in a small bowl. Spread one side of each piece of bread with this mixture. On the other side of one slice, spread mustard, then one slice of the cheese, apples, then another slice of cheese. Top with the second buttered slice.
Fry on both sides until the cheese is melted and the bread is toasted and golden, 2 to 4 minutes a side. I like to weigh down the sandwich with another pan (like a heavy saucepan) on the first side only. Once the sandwich is flipped, I don't weight it down.
Prep Time:

5 minutes

Cook Time:

5 minutes
This post may contain affiliate links. Please read my disclosure policy.