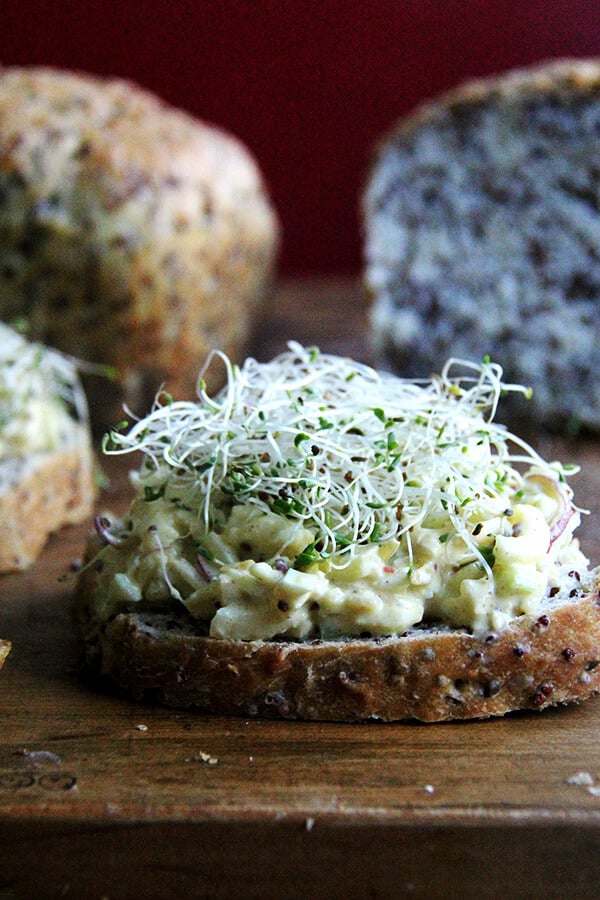 Friends, later today I'm heading off to the Finger Lakes for a bread-baking class. The schedule of the day beginning tomorrow at 8 am is as follows: eat bread and drink coffee, bake bread, eat pizza, bake more bread, leave around 6 pm with lots of bread. Fun, right?! I'll be sure to keep you posted.
I'm hoping this class might help me get closer to my long-standing dream of opening a café or bakery selling bread mostly but also sandwiches and salads — bean, grain, quinoa, kale, etc. — to grab on the go.
This curried apple and egg salad would be the café's fall special. I love the addition of grapes, apples, nuts, and dried fruit in these types of salads — bits of crunch punctuating the creaminess, sweet counterpoints to the tangy dressings. What I love about this salad, however, is that apple is not just an optional add-in — it's the main ingredient. The lemony dressing is made with Greek yogurt and grainy mustard, and although there is no mayonnaise, the salad does not suffer. It's light, fresh, and completely satisfying.
This recipe comes from Inspiralize Everything and calls for spooning the salad into collard green leaves and rolling them up to make wraps. I did this with savoy cabbage leaves (see below) but also piled the salad atop slices of bread, freshly baked first, then later lightly broiled with olive oil. (I'm a hopeless low-carber.)
Incidentally, in anticipation of root vegetable season, I recently replaced my rickety old Benriner turning slicer with a spiralizer, which I hope will inspire many creative meals with my winter CSA—I mean, there are only so many oven fries and sweet potato quesadillas you can eat (or are there?).
Inspiralize Everything, by the way, has so many great ideas for preparing beets, celeriac, parsnips, rutabaga, radishes, and turnips, all of which tend to stump me mid winter after the millionth sheet pan of roasted vegetables emerges from my oven.
PS: Turning Slicer vs. Mandoline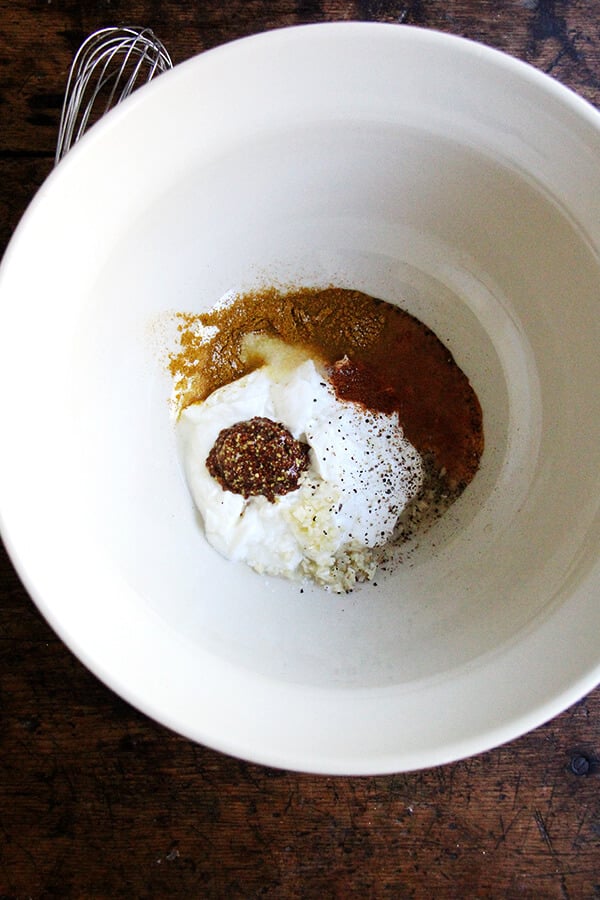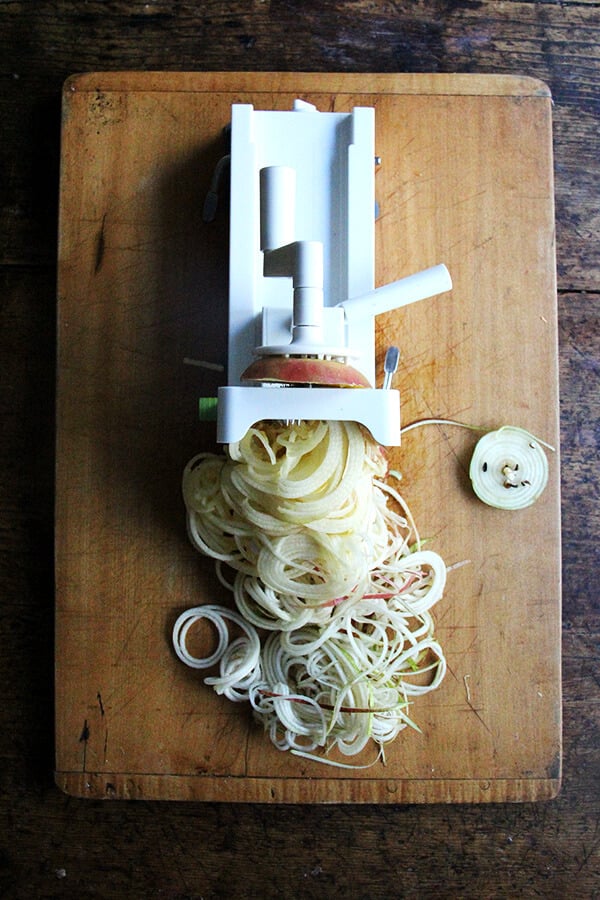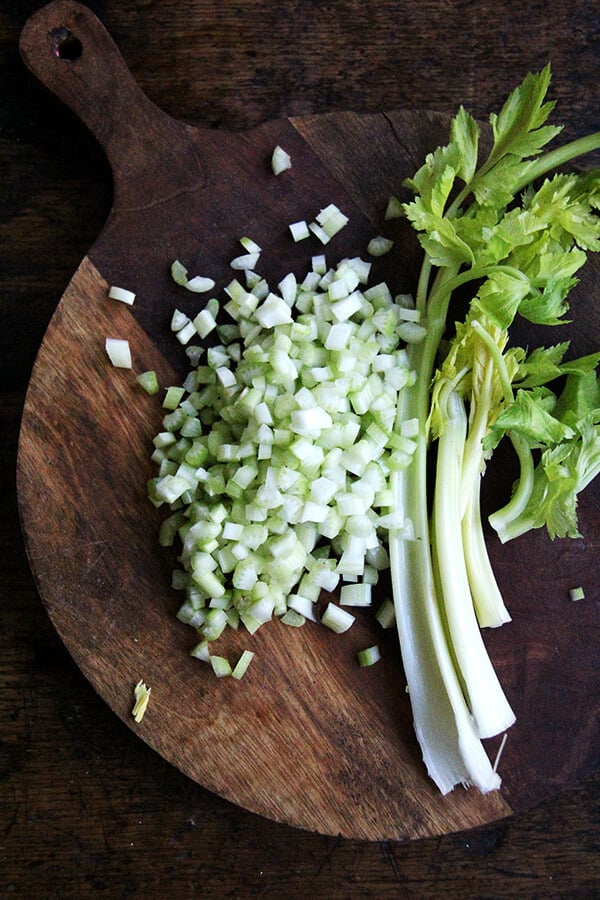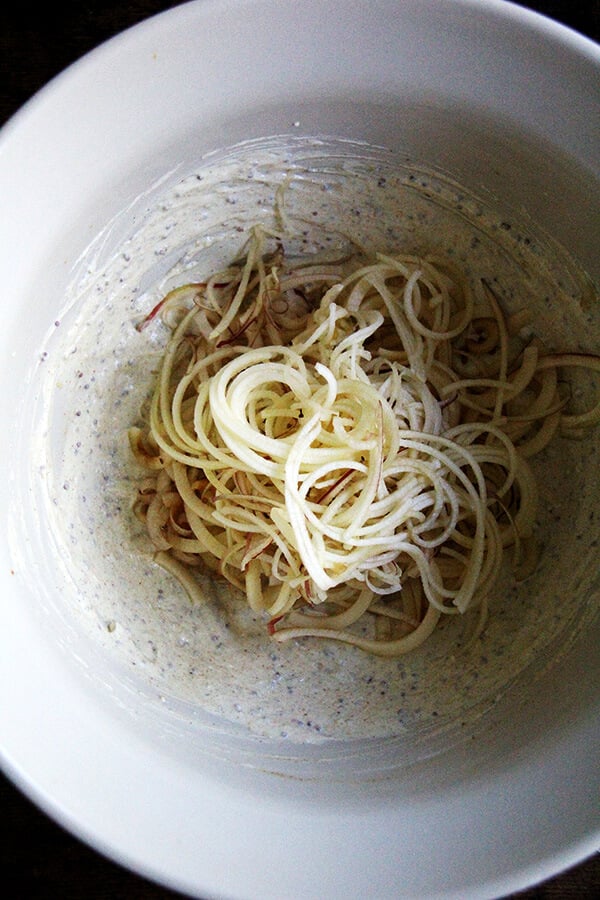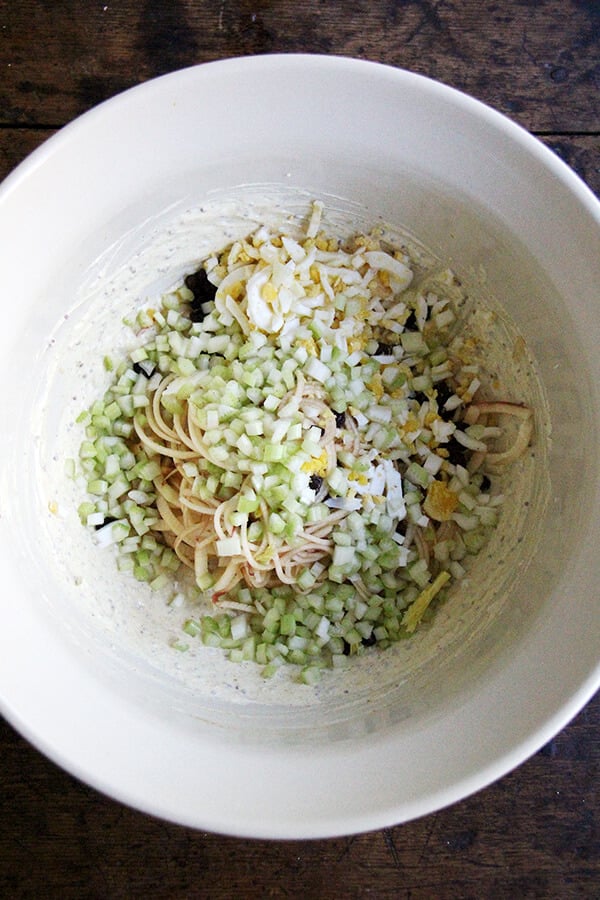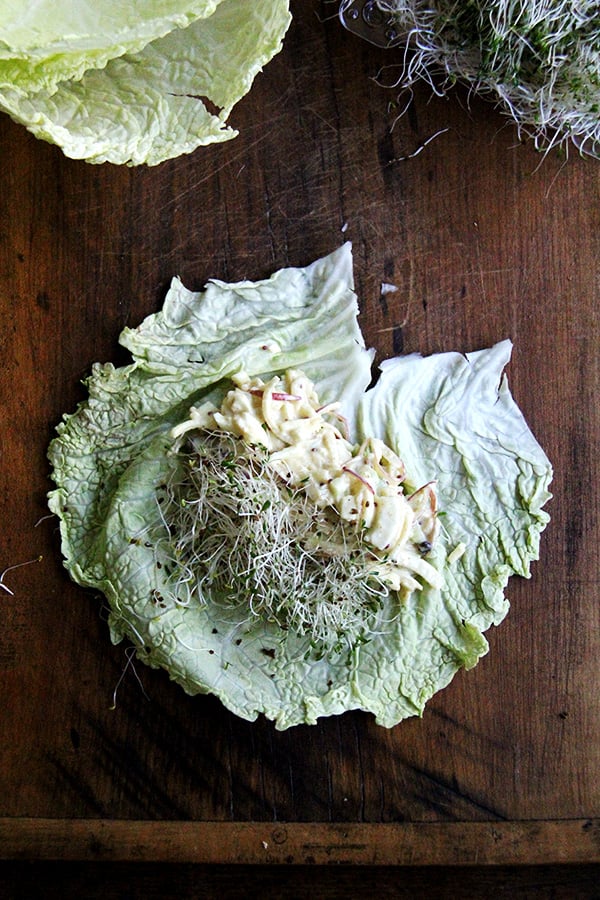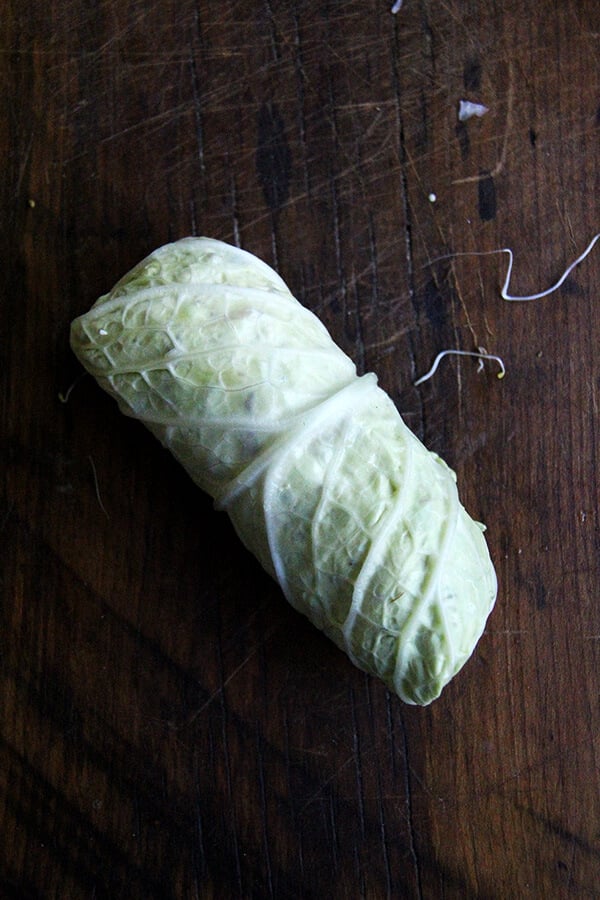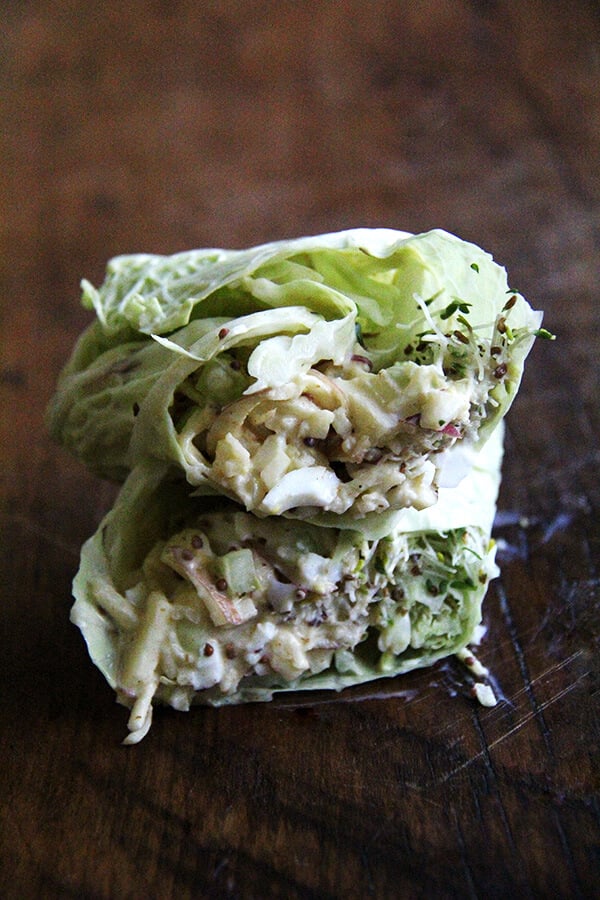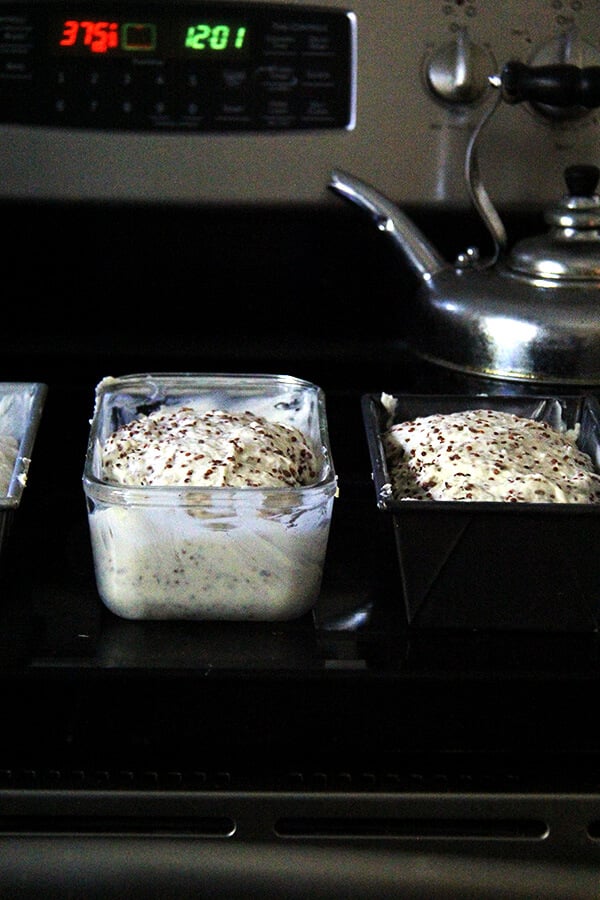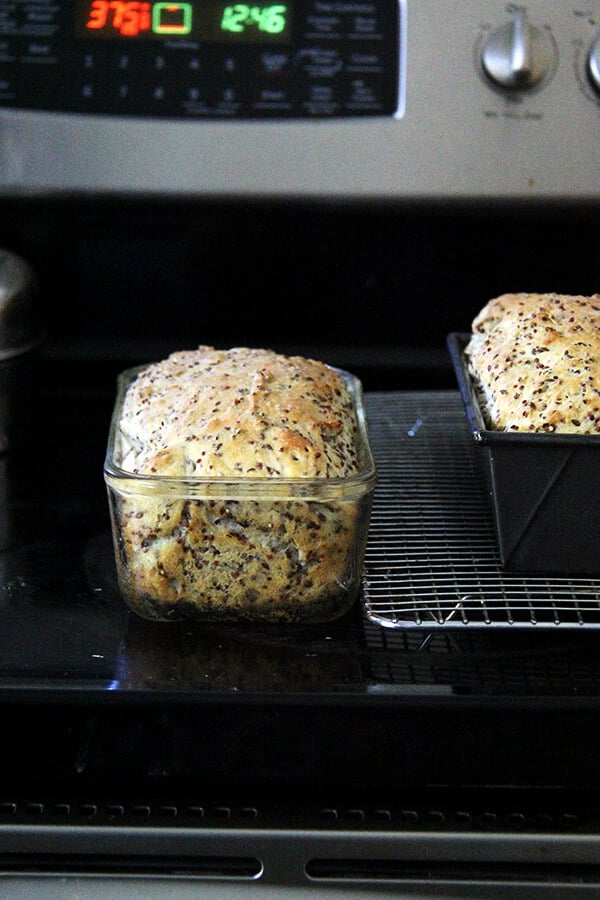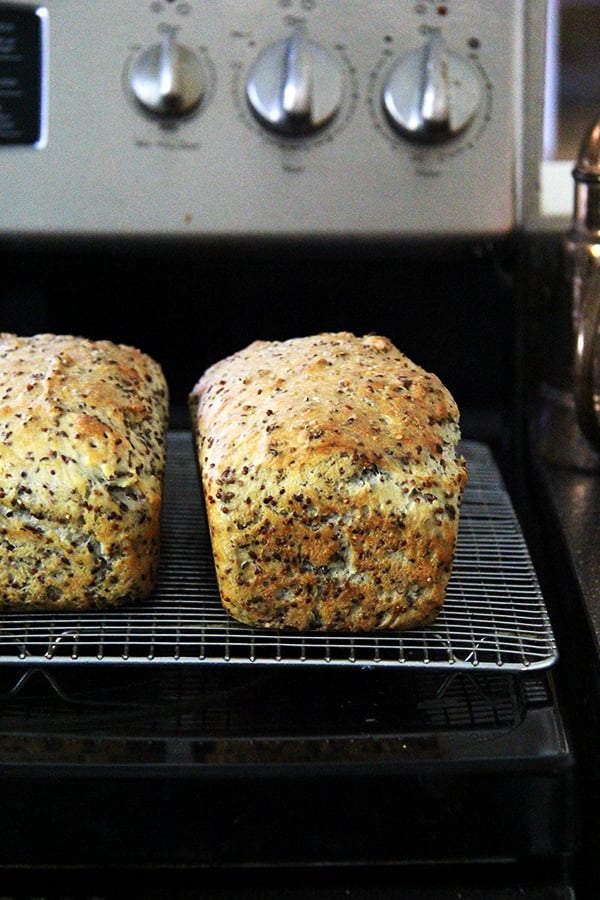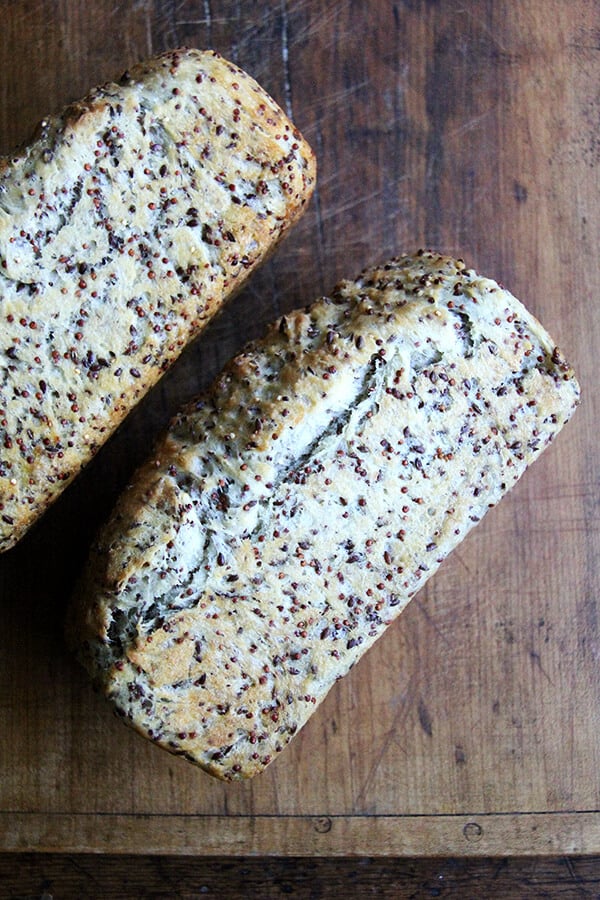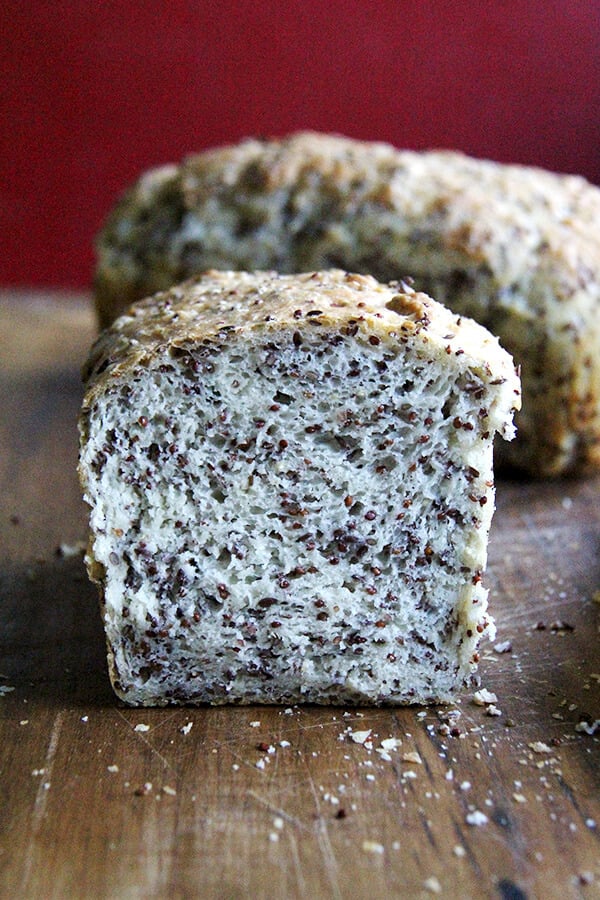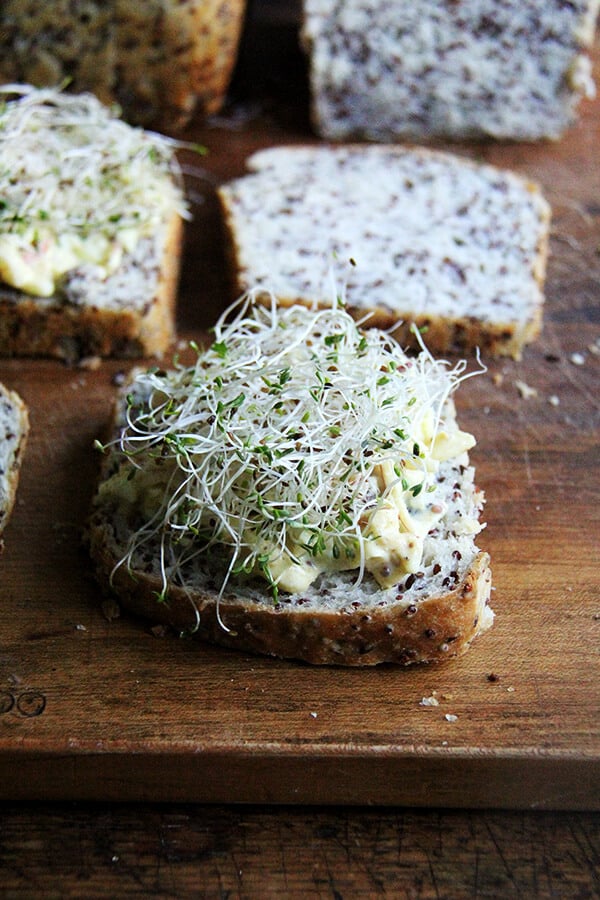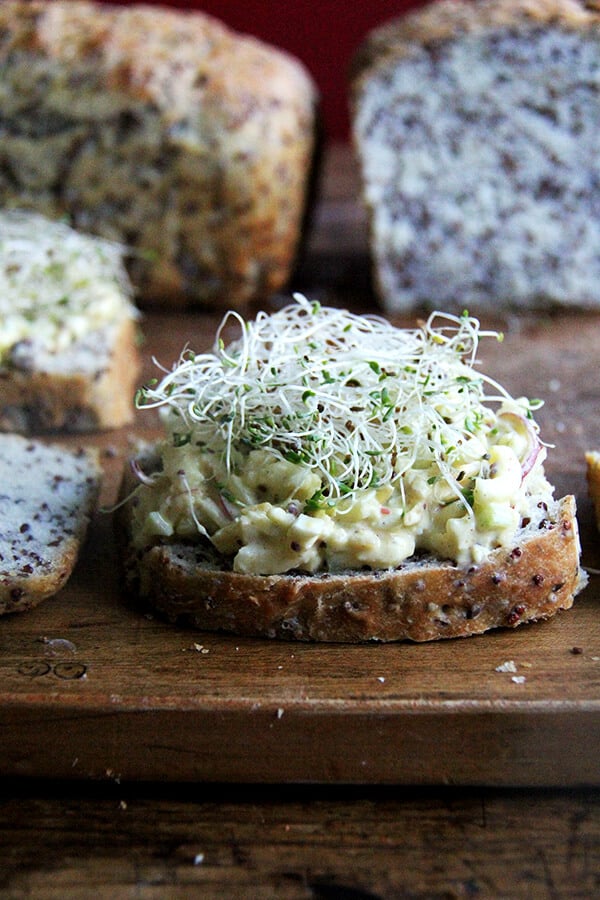 Print
Curried Apple & Egg Salad
---
Author:

Alexandra

Prep Time:

20 minutes

Total Time:

20 minutes

Yield:

2 to 4
Description
From Ali Maffucci's Inspiralize Everything To hard boil eggs: Place eggs in a pot and cover with cold water. Bring to a boil, remove pan from heat, cover and let sit for 9 minutes. Uncover, plunge eggs to an ice bath or bowl of cold water. Let cool briefly, then peel. When I served this egg salad to a few dinner guests (5 adults total), I doubled the recipe (using 1 1/3 cup yogurt) and used 3 hard-boiled eggs. I sliced up some bread, drizzled it with oil, and broiled it for a few minutes on each side, just until lightly golden. Then I piled the toasts on a plate, spooned the apple-egg salad into a bowl, and let people assemble the toasts themselves. On the side, we had a green salad with a shallot vinaigrette. It was very simple, but very good.If you don't have a spiralizer, you can use a mandoline or you can finely dice the apples.
---
Ingredients
2/3 cup

plus 2 tablespoons Greek yogurt, I use 2%

1 tablespoon

whole grain or Dijon mustard

1/2 teaspoon

garlic powder or

1

small clove garlic, minced

1 tablespoon

freshly squeezed lemon juice or more to taste

1/2 teaspoon

curry powder or more to taste
kosher salt and freshly cracked black pepper

1/8 teaspoon

cayenne

1/2 teaspoon

sugar, optional

1

apple

2 tablespoon

s raisins

1/2 cup

diced celery

1

hard-boiled egg, peeled and chopped

2

large or

4

small collard green or savoy cabbage leaves, stems trimmed, or a few slices of good bread

1/2 cup

alfalfa sprouts, optional
---
Instructions
Whisk together the yogurt, mustard, garlic, lemon, curry powder, kosher salt (start with 1/4 teaspoon, then add more to taste), pepper, cayenne, and sugar, if using, in a large bowl. Taste, and adjust with more salt, pepper, lemon, cayenne, or sugar as needed.
Spiralize (see notes above) the apple using BLADE B or C. Add the apple, raisins, celery, and egg to the bowl with the dressing and toss to combine.
Pack the curried apple-and-egg salad into the middle of the collard or savoy cabbage leaves, dividing it evenly. Top with the sprouts, if using, and roll like a burrito, tucking in the ends. Secure both ends with a toothpick and halve before serving. (See notes above for serving over toast.)
---