Dorie Greenspan's Vanilla Bean Sablés
This post may contain affiliate links. Please read my disclosure policy.
Looking for an elegant, festive cookie to gift this holiday season? Look no further: Dorie Greenspan's vanilla bean sablés. These are my ideal of a cookie — perfectly sweet, deeply vanilla, nicely salty, sandy textured. A "sparkling sugar" crust makes for a festive and elegant presentation. Tuck them into paper-lined boxes or in cellophane bags tied with baker's twine and gift away! I find these sablé cookies completely irresistible.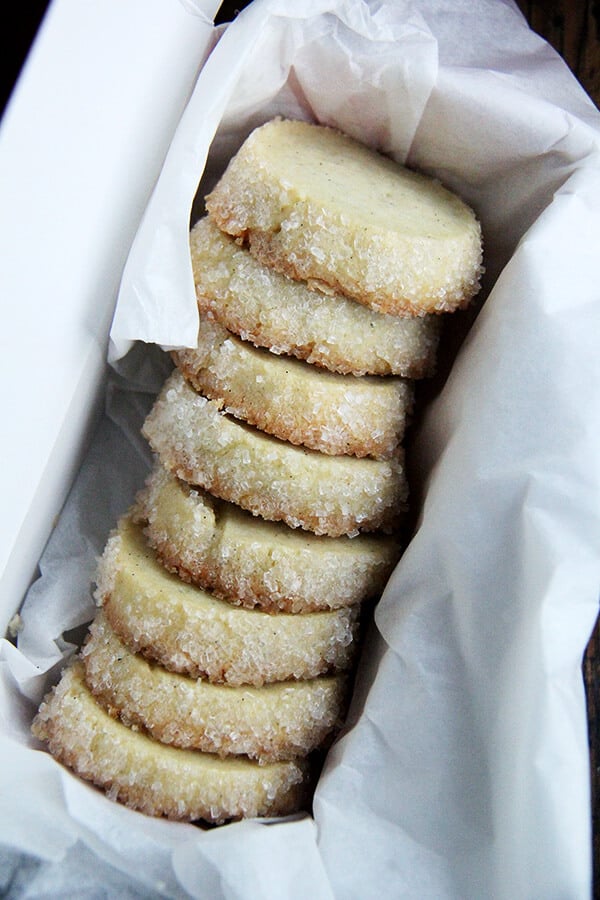 A few weeks ago, I mentioned I had received a package of cookies in the mail from some friends who were spreading Dorie Greenspan's #cookiesandkindness message. The delivery filled me with such joy, I decided to play along, too, but the little ones in my house quickly foiled my plan.
Yesterday, I re-initiated my efforts, making a batch of vanilla bean sablés, a Dorie Greenspan recipe I discovered earlier this fall while paging through Baking Chez Moi, a cookie Dorie declared as her "favorite." When I pulled the pan from the oven, I set it down clear out of what I thought to be little-people view. But no sooner had I transferred the cookies to a storage jar than I heard a voice ask: "Where did the cookies go?"
Surely I could spare a single sablé I reasoned, so I gave Graham one, reminding him: This. Was. It. But a few minutes later, he returned, looking up at me with big, twinkly eyes, and noted: "I just can't stop thinking about those cookies."
What was I to do? Soon, the others caught wind, and before long half of the cookies had disappeared. Drats! Feeling like a hopeless #cookiesandkindness ambassador, I took action. I pulled out some decorative boxes, packed in the remaining cookies, tucked the boxes into a small flat rate box, duct taped it closed and set it aside, destination unknown. But those cookies will be in the mail today! The #cookiesandkindness message will radiate! I vow to make triple batches of sablés from here on out!
What Are Sablé Cookies?
Sablé cookies are, in essence, French shortbread. They're buttery, sandy-textured, nicely salty, and perfectly sweet.
Logs of sablé cookie dough freeze nicely, so don't be afraid to make the dough ahead of time. Bring it to room temperature for 20 minutes before slicing and baking.
Cooked sablé cookies will keep in an airtight container for up to a week.
Gift them in tall, clear, cellophane bags, tied in baker's twine. These are nice: Wilton Treat Bags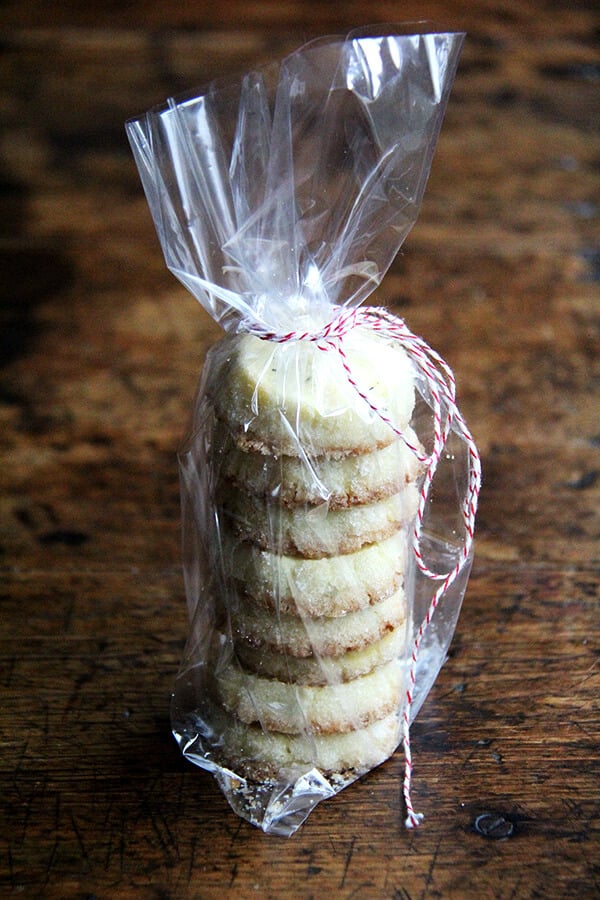 ---
Friends, Dorie's Cookies, Dorie's latest cookbook arrived yesterday, and there is a whole chapter — "The Beurre & Sel Collection" — devoted to sablé-like cookies, which I find completely irresistible: perfectly sweet, nicely salty, sandy textured. Of the 16 variations, several are sounding particularly tempting: coconut-lime, mint chocolate, and blondie. I cannot wait to explore. Incidentally, Dorie's Cookies is one of the heaviest cookbooks I have ever held, no doubt a measure of the #cookiesandkindness packed within its pages.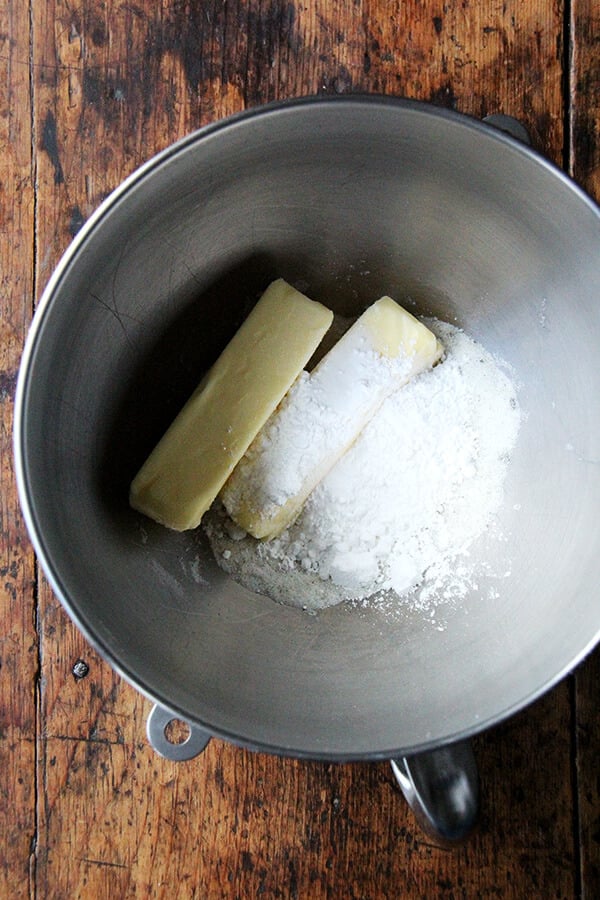 I loved this tip from Dorie: Stash the emptied vanilla pod into a canister of sugar, and you will have vanilla sugar—and you will! Truly, your whole tub will smell of vanilla.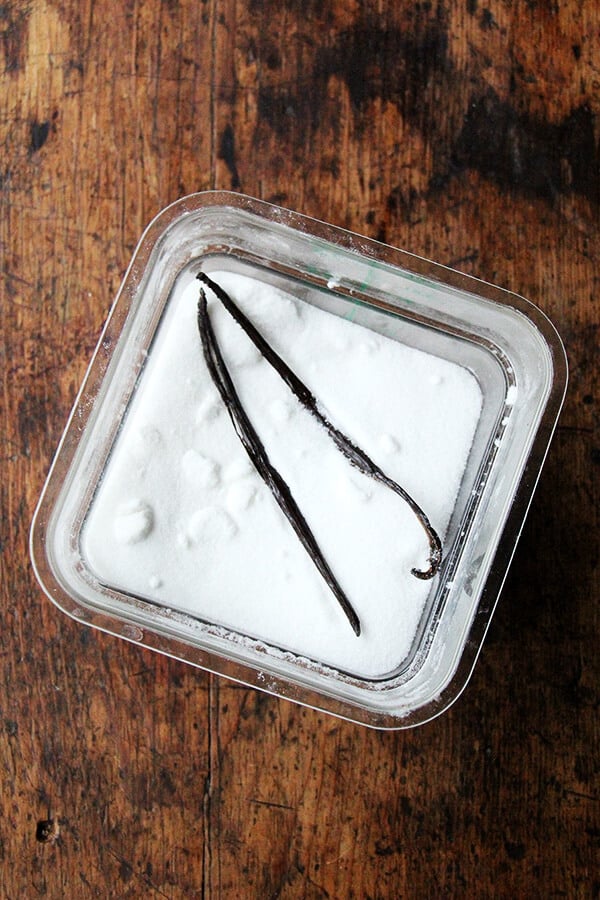 Can you see the vanilla caviar speckling the dough?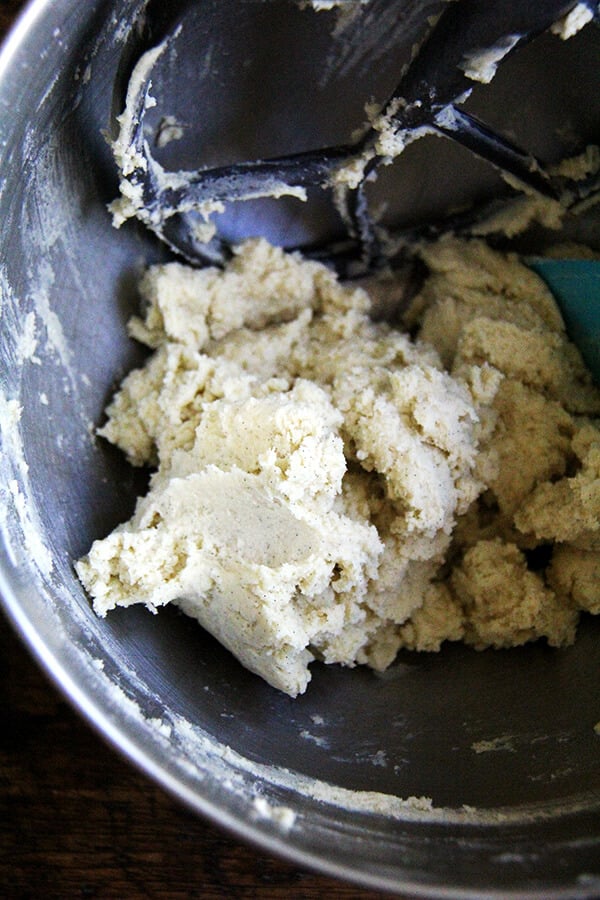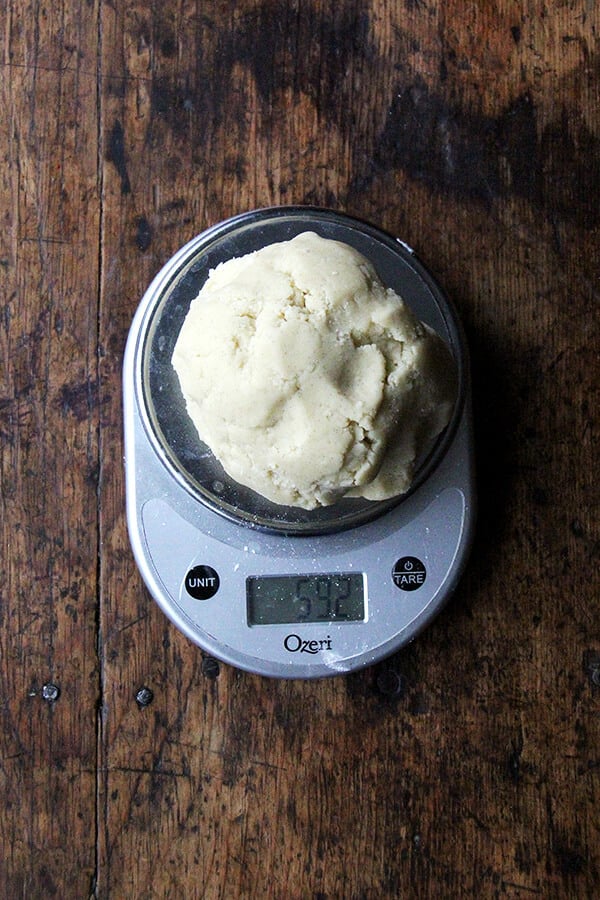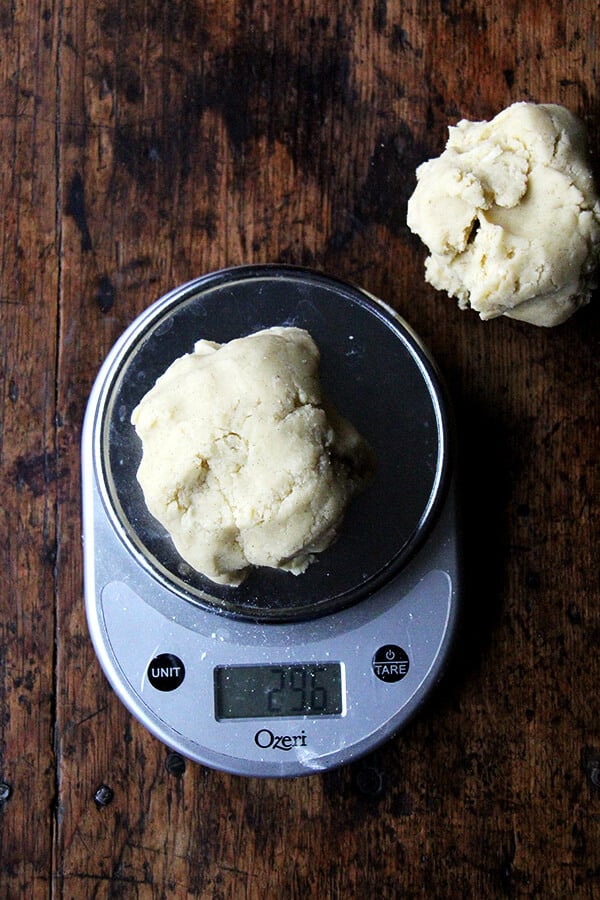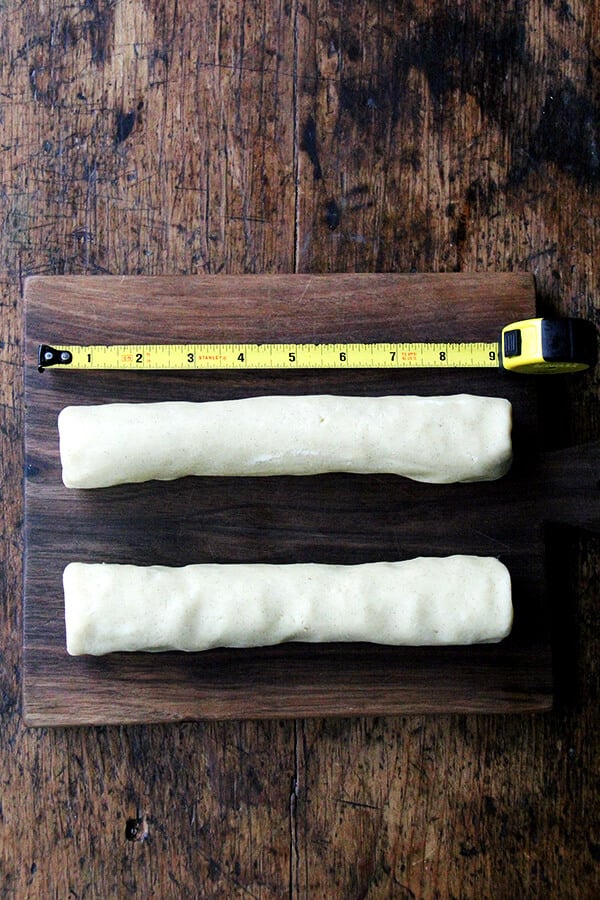 Skeletig: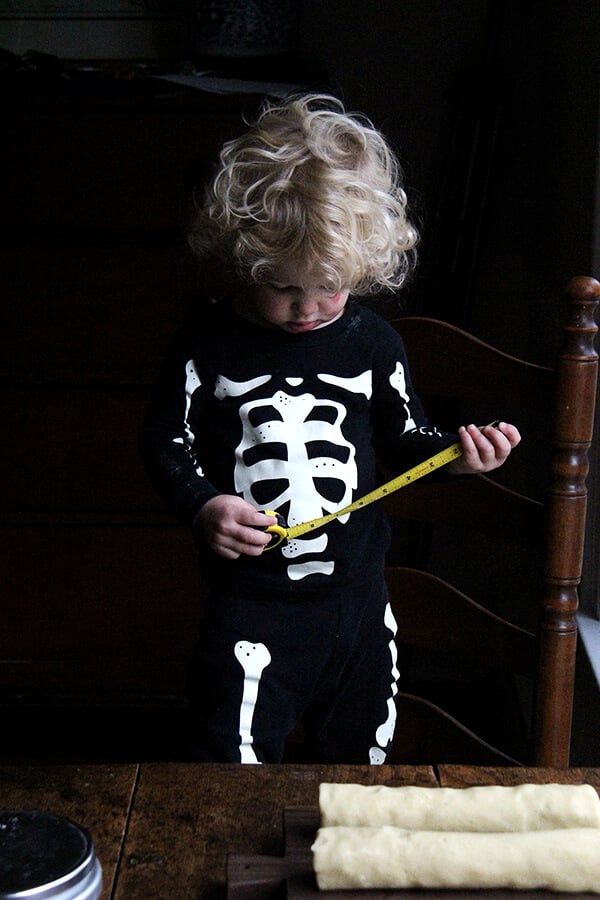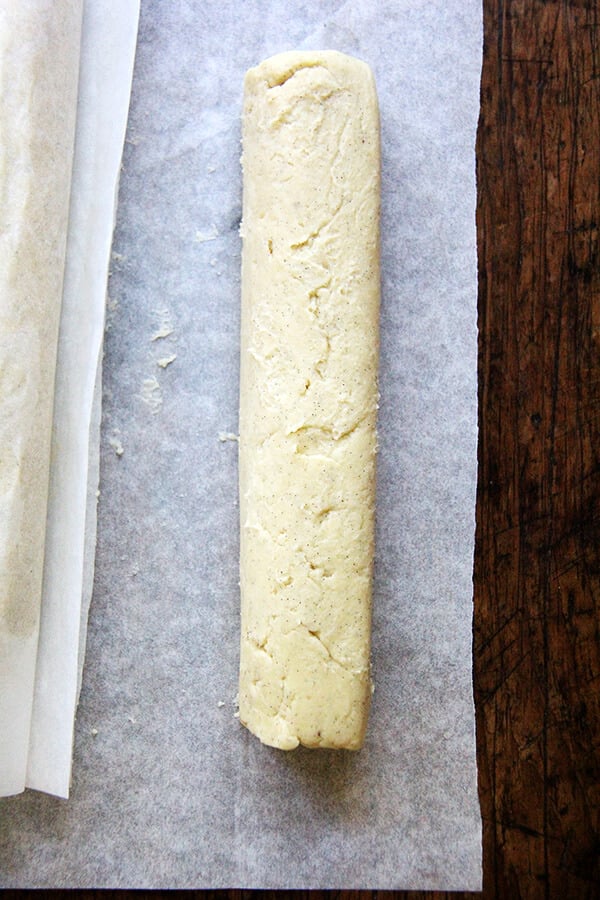 I found this Decorative Sparkling Sugar at a local store. The sparkling sugar looks so pretty on the cookie edges.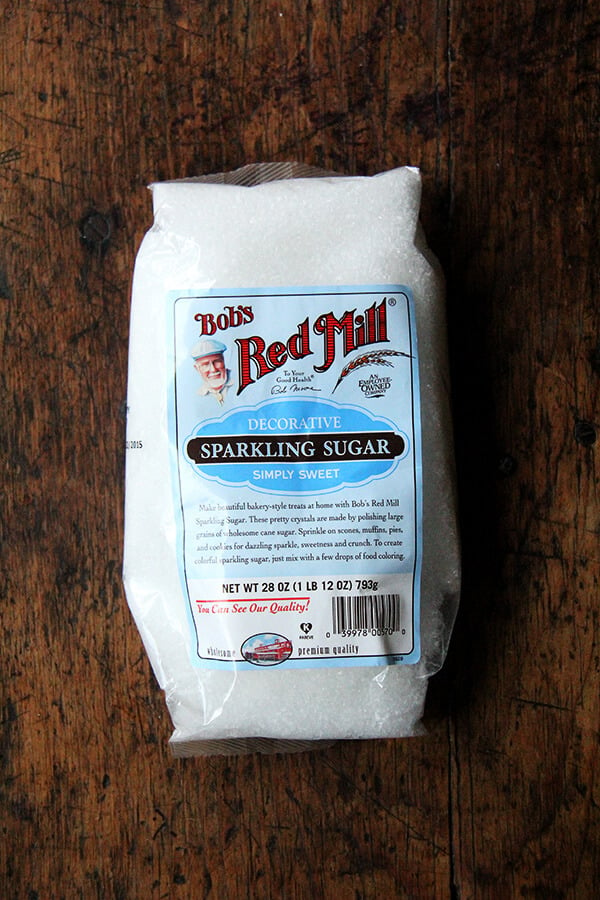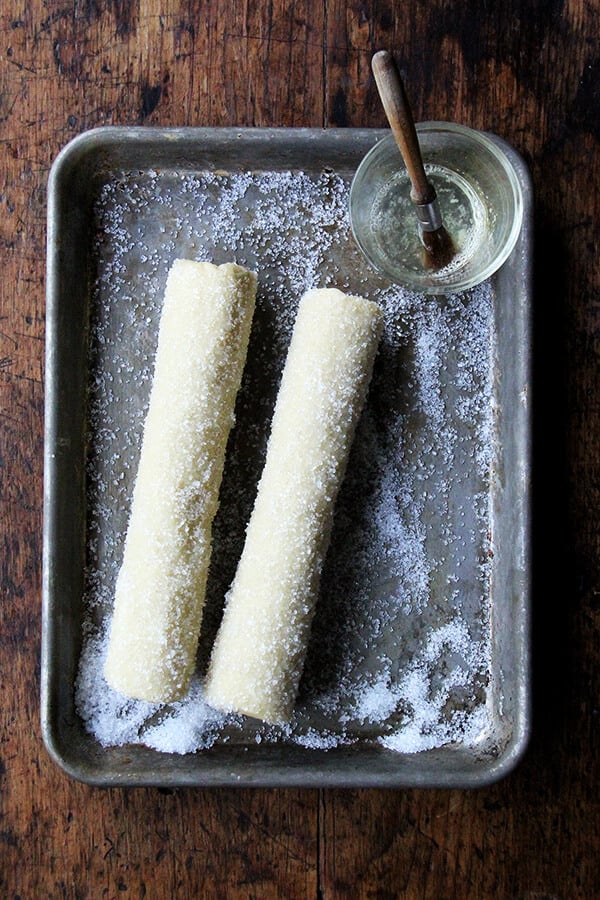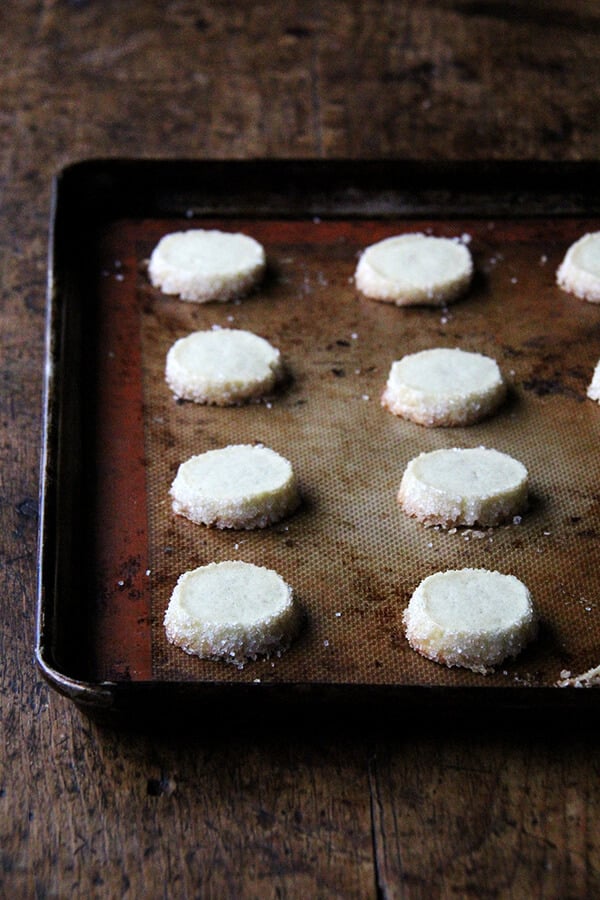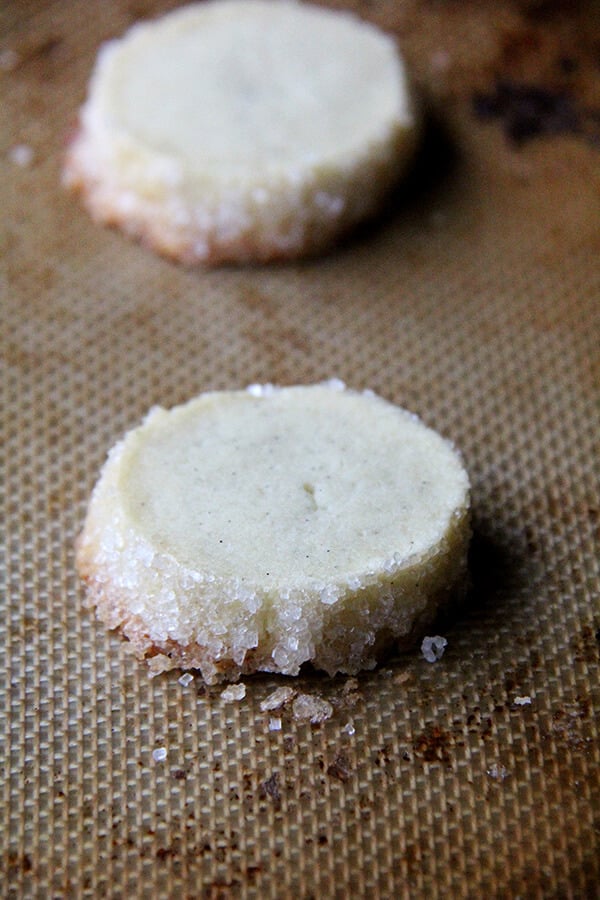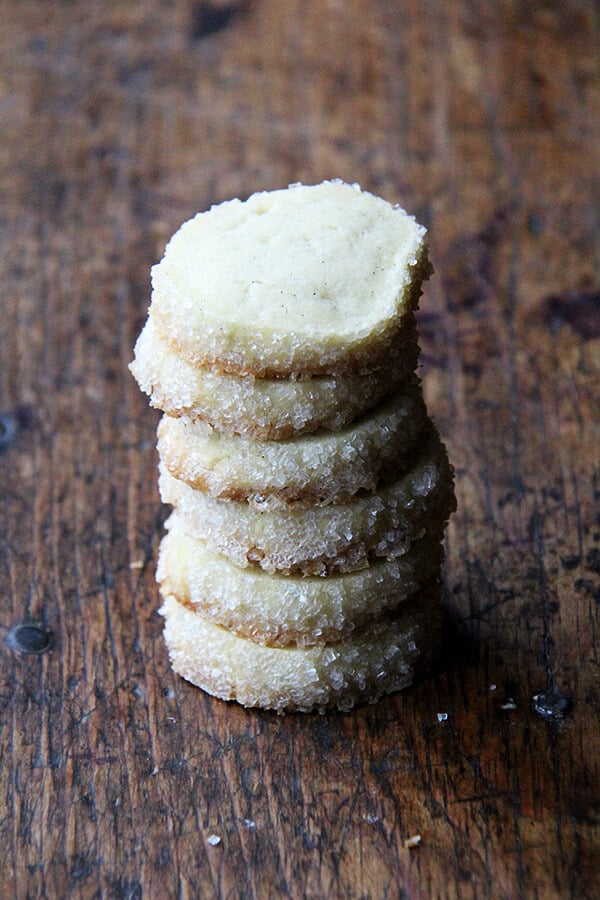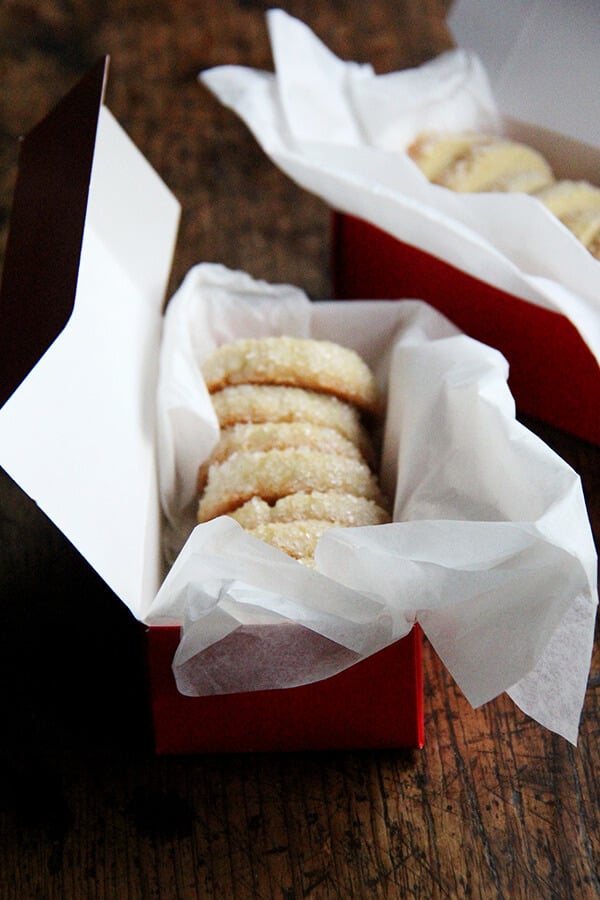 Print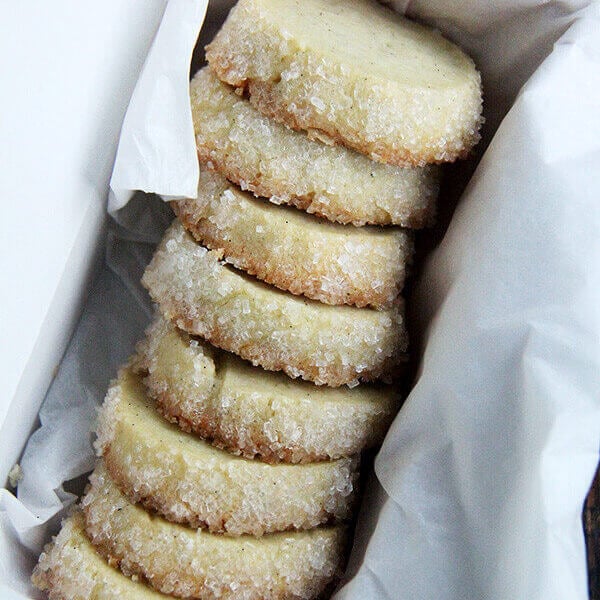 Vanilla Bean Sables
---
Description
From Dorie Greenspan's Baking Chez Moi
These are my ideal of a cookie — perfectly sweet, deeply vanilla, nicely salty, sandy textured. I found Bob's Red Mill Decorative Sparkling Sugar at a local co-op (Honest Weight in Albany), and it is so pretty and nice to have on hand.
Having played around with the baking times/temperatures a bit due to my unreliable oven, I've found what works for me:
Oven at 300ºF (which registers at 325ºF on my oven thermometer).
Bake for 22 minutes, let cool briefly on sheetpan.
Bake only one sheet of cookies at a time.
The cookies should not be eaten warm.
Storing: You can wrap the logs of dough airtight and keep them in the freezer for up to 2 months; coat them with the egg wash and sugar just before baking. Once baked, the cookies will keep at room temperature in a closed container for about 1 week.
---
for the dough:
1/3 cup

(

67 grams

) sugar

1

to

2

vanilla beans, pulp removed from pod

2

sticks (8 ounces; 226 grams) unsalted butter, at room temperature

1/3 cup

(

40 grams

) confectioners' sugar, sifted

½ teaspoon

fine sea salt

1

large egg yolk

2 cups

(

272 grams

) all-purpose flour
for the edging:
1

large egg yolk (or the white saved from the egg used in the dough)
Sanding sugar or granulated
---
Instructions
Put the granulated sugar and vanilla bean pulp in the bowl of a stand mixer or in a large bowl in which you can use a hand mixer. Using your fingertips, rub the vanilla into the sugar until it's fragrant.
Add the butter, confectioners' sugar and salt to the bowl and, using the paddle attachment, beat on low speed until the mixture is smooth and creamy (you don't want it to get light and fluffy), scraping down the sides and bottom of the bowl as needed. Drop in the egg yolk and beat for 1 minute. Add the flour all at once. Mix on low speed just until the flour has disappeared (or do this last little bit by hand with a flexible spatula).
Turn the dough out onto a work surface and divide it in half. (You can use a scale to get two equal halves if you wish.) Shape each half into a log about 9 inches long. Wrap the logs in parchment or plastic film and refrigerate for at least 3 hours.
When you're ready to bake: Preheat the oven to 325ºF. (See notes above re baking—if your oven runs hot, you may want to reduce the temperature. I preheat my oven to 300ºF, which registers 325º on an oven thermometer.) Line a baking sheet with parchment paper or a silicone baking mat. Add a splash of cold water to the yolk (or the reserved egg white) and mix with a fork to blend. Brush each log with this egg wash and roll it in the sanding (or granulated) sugar until it's evenly coated. Using a sturdy knife, trim the ends of the logs if they're ragged, then cut the dough into ½-inch-thick rounds. Place as many cookies as will fit on the baking sheet, spacing them about 2 inches apart.
Bake cookies for 18 to 22 minutes, rotating the pan halfway. The cookies are baked when they are brown around the edges and golden on the bottom. Let cool briefly on sheet pan, then carefully transfer them to a cooling rack and cool to room temperature. These really shouldn't be eaten warm; they need time to cool so that their texture will set properly. Repeat the baking with the remaining dough.
Prep Time:

10 minutes

Cook Time:

22 minutes

Category:

Cookie

Method:

Oven

Cuisine:

American, French
Keywords: cookies, sables, vanilla, bean, sugar, Dorie, Greenspan, Christmas, gifting
This post may contain affiliate links. Please read my disclosure policy.