Slow-Cooker Butternut Squash and Apple Soup
This post may contain affiliate links. Please read my disclosure policy.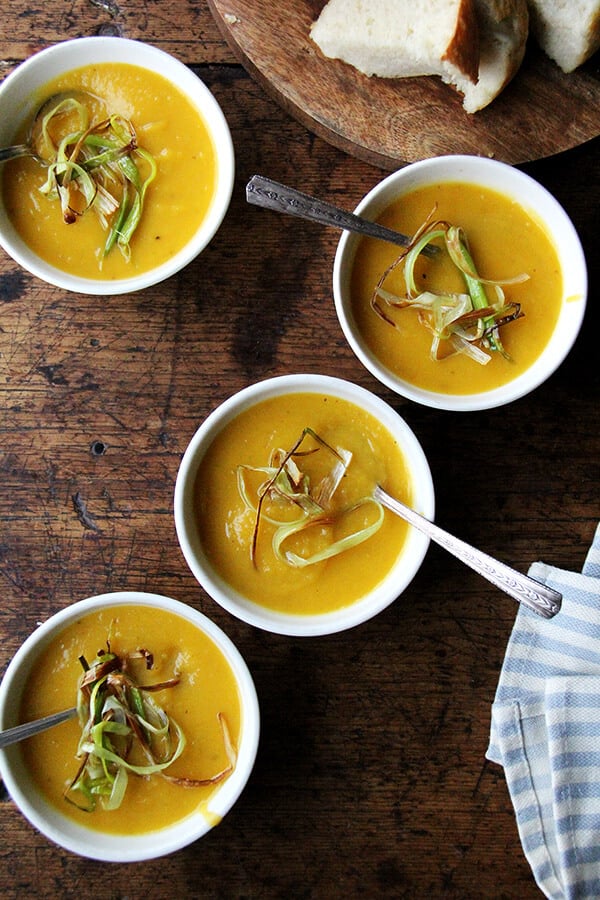 Last week my Aunt Vicki was in town from California. Predictably, I took her to Riverview Orchards for cider donuts and to Mrs. London's for almond croissants. When we weren't out and about, we sat at home, sipping lemon-ginger tea, flipping through cookbooks at the kitchen table.
One night Vicki spotted this recipe in the new SkinnyTaste cookbook, and we then made it three times before she left.
It couldn't be simpler: chop up an apple (no need to peel), a few carrots (no need to peel), an onion or a leek, and a peeled butternut squash. You throw all of these vegetables in a slow cooker with some water (or stock) and let it cook for 4 to 8 hours. When it's time to serve, plunge in your immersion blender and purée with some coconut milk. That's it!
I'm always tempted to add curry powder or curry paste to squash soups, but I find the flavors here so pure—the apple and carrots provide a touch of sweetness, the coconut milk a hint of richness. I've yet to try making the soup with stock, because it doesn't seem necessary—after 4 or 8 hours of simmering, the water essentially becomes a vegetable stock.
We served the soup with bread, of course, and simple salads: one night this black bean and sweet potato salad, another a shaved Brussels sprout salad with an anchovy dressing, and another night Swiss chard with lemon and breadcrumbs.
There's no need to expound the virtues of a slow cooker, but sometimes using one really feels like a miracle. Three times last week, dinner was nearly done before the kids had left for school. This made the days relaxed and the evenings leisurely. Last Friday night before heading out to the Union hockey game, we all sat down for soup and salad. There was no scramble, no stress, and we still arrived with 5 minutes to spare—the biggest miracle of all.
PS: ALL the Soup Recipes here
PPS: How To Be a More Efficient Soup Maker.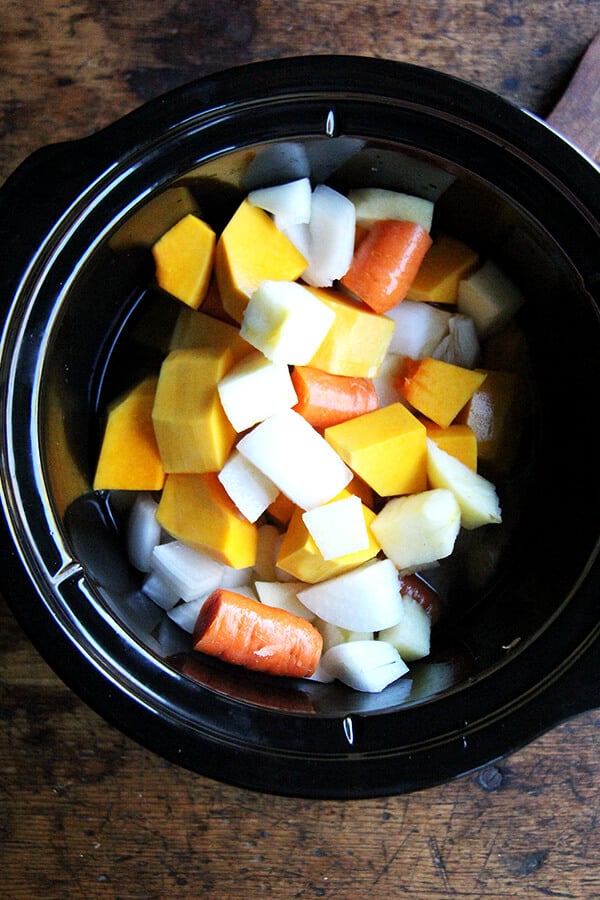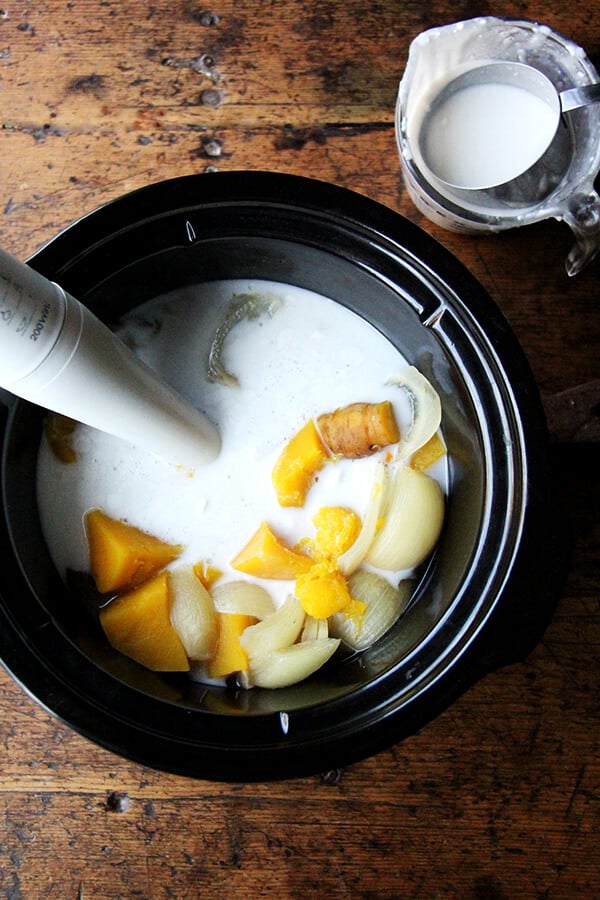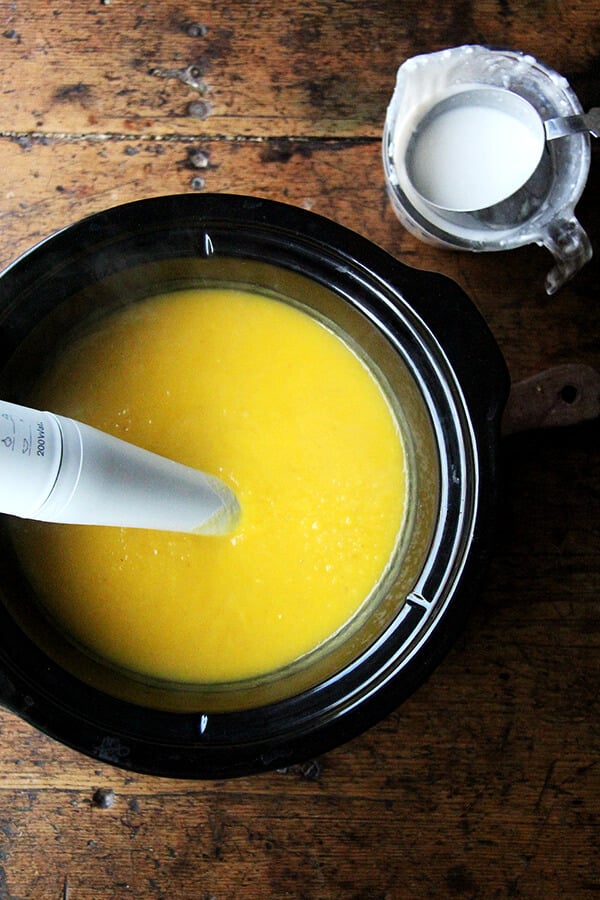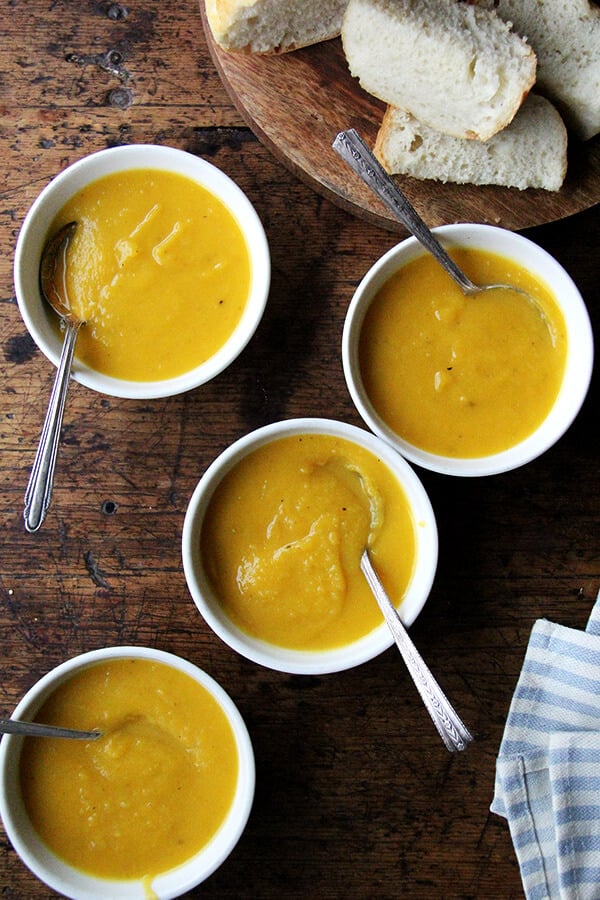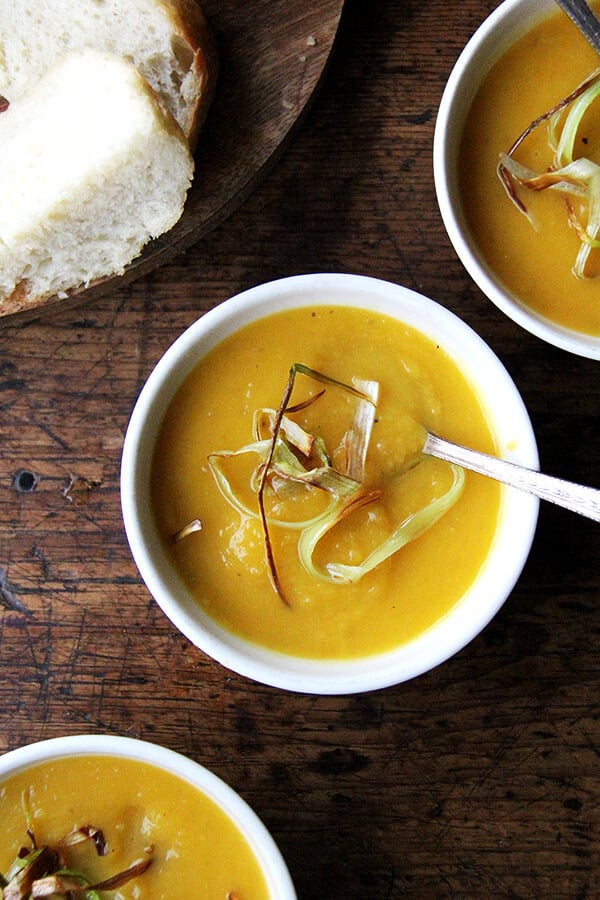 Print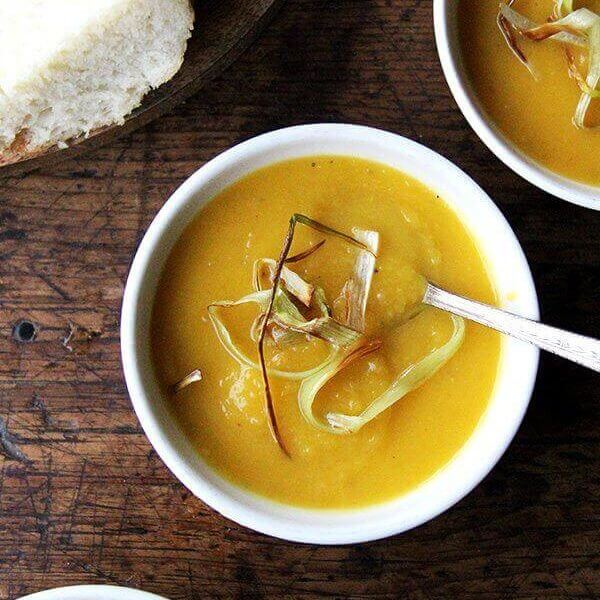 Slow-Cooker Butternut Squash & Apple Soup
---
Author:

Alexandra Stafford

Prep Time:

10 minutes

Cook Time:

4 hours

Total Time:

4 hours 10 minutes

Yield:

2 quarts
Description
From SkinnyTaste Fast and Slow
Notes: I've made this with as much as 2.5 lbs. of butternut squash post peeling. I've never made this with chicken or vegetable stock—I've only used water—but I imagine either of those stocks would add even more flavor. The leek garnish is delicious but totally optional—confession: I never actually made it until it was time to take photos.
If you don't have a slow-cooker, I think you could make this stovetop—simmer everything until the squash and carrots are cooked through. With a faster cooking time, I would suggest using vegetable or chicken stock.
---
Ingredients
2

lbs. butternut squash, peeled, seeded, and cubed

1

onion, peeled and roughly chopped or 1 leek (white part only, rinsed and roughly chopped)

1

apple, any kind you like, roughly chopped, no need to peel (I've been using Honey Crisp or Fuji)

1

medium (or a couple small) carrots, roughly chopped
kosher salt and pepper to taste

2 1/2 cups

water or low-sodium chicken or vegetable stock

1/2 cup

unsweetened coconut milk, plus more to tastefor the garnish:

1 tablespoon

olive oil

3/4 cup

thinly sliced leeks, white part only, rinsed if necessary
pinch sea salt
---
Instructions
Place the squash, onion or leek, apple, carrot, and water or stock in a slow cooker. If using water, add 1 tablespoon kosher salt. If using stock, add a pinch of salt, then adjust at the end. Cover and cook on high for 4 hours or on low for 8 hours, until the squash and carrots are cooked through.
Stir in the coconut milk. Puree the soup in the slow cooker with an immersion blender until smooth (or in a stand blender in batches.) Taste and adjust seasoning accordingly. I consistently add 3/4 cup coconut milk (total) and another teaspoon of kosher salt, but make your adjustments to taste.
For the garnish, which is optional: Heat a medium skillet over medium-low heat. Add the oil and leeks and cook, stirring occasionally, until golden and crisp, about 10 minutes. Season with salt.
To serve, pour the soup into 6 serving bowls and garnish with the crispy leeks. Drizzle with more coconut milk if desired. I like lots of cracked black pepper over top.
Category:

Soup

Method:

Slow Cooker

Cuisine:

American
Keywords: butternut, squash, apple, soup, vegan, coconut, milk, carrot
This post may contain affiliate links. Please read my disclosure policy.