Broiled Ginger-Soy Salmon
This post may contain affiliate links. Please read my disclosure policy.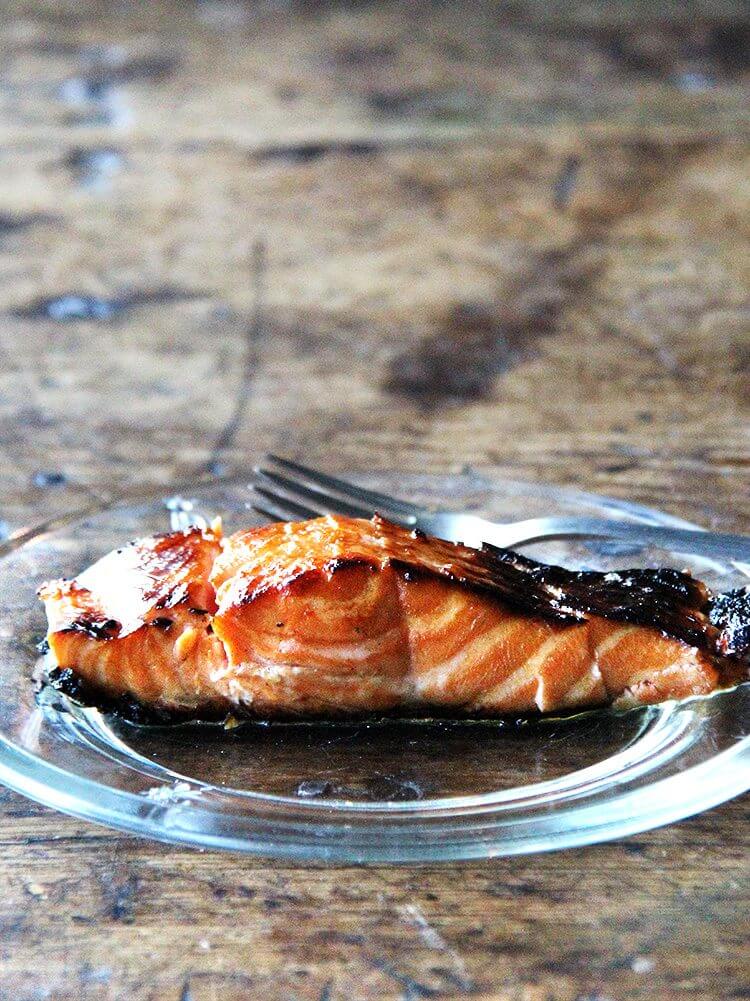 If you had asked me a year ago if I would ever consider buying farmed salmon, I would have politely said no while thinking: ABSOLUTELY NOT! I've seen too much of the disturbing footage, read too much about the detrimental effects on the environment, etc.
But in the past few months, I've been buying farmed salmon from a local seafood market, Hooked, which I love for two reasons: the fish is always fresh, and they only source from sustainable fisheries. Hooked gets their salmon from the Faroe Islands, and from the teensy bit of research I did online, it's hard to imagine a more pristine and idyllic environment to farm-raise fish.
But I'm not here today to tell you to start buying farm-raised salmon. I, for one, am so skeptical these days of anything I read. There are organizations like Seafood Watch dedicated to cataloging which fisheries are sustainable and which are not, and there are organizations whose mission is to stop people from eating fish altogether, to spread the word that NO fish is sustainable, and to warn people that our seas are depleted.
Who to trust? Everything in moderation? Alas, all I know is that I do love fish, and I do love this recipe, which comes from the first SkinnyTaste cookbook. Over the years I've made it many times, and while I've always kept the marinade exactly the same, I've experimented with various cooking methods to avoid having to flip the fish, and I've finally found a method I really like.
Unlike the pan-broiled method I posted about recently, which starts the fish in a hot skillet and finishes it under the broiler, here I start under the broiler and finish in a hot skillet. This requires two pans—I know, what a pain!—but it serves two purposes: 1. Starting under the broiler makes for a less smoky experience, dramatically reducing the chances of my smoke alarm from sounding off. 2. Broiling first keeps the fish from sticking.
Anyway, this method works for me, but feel free to employ your own. Over the weekend I made it live on Facebook, too, where I also revealed my recent kitchen upgrade: butcher block countertops. Spoiler: they're fake. I contact papered my entire kitchen. It was a very productive weekend. I hope yours was, too.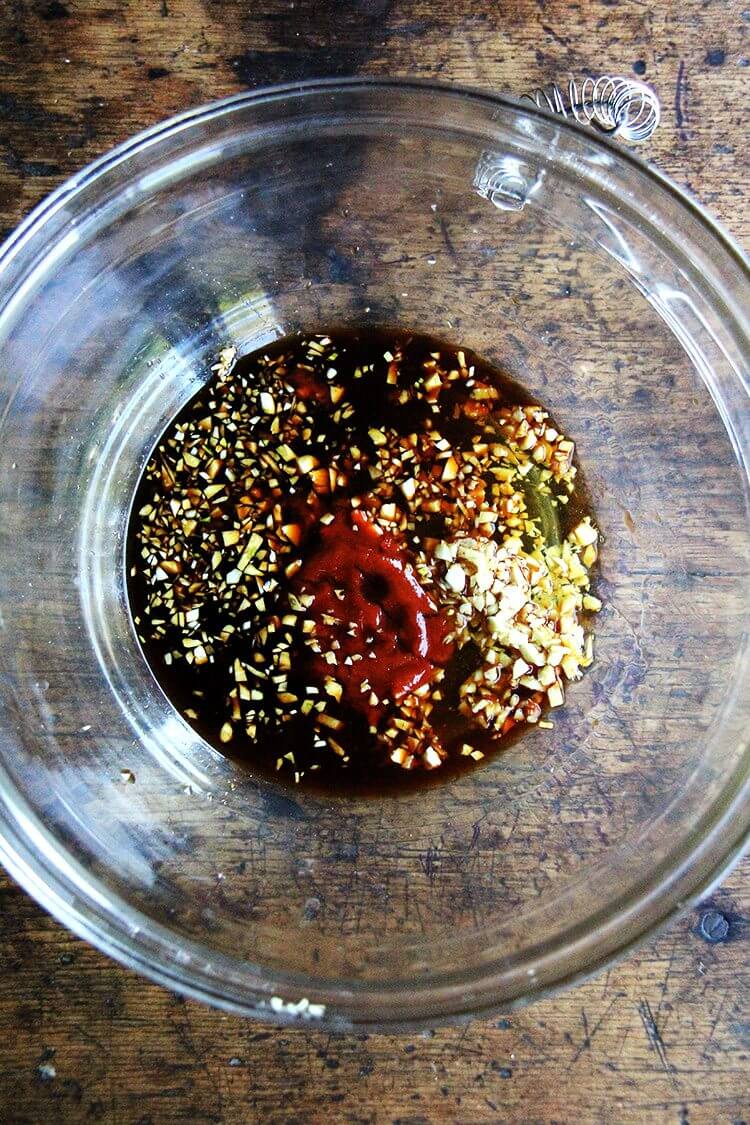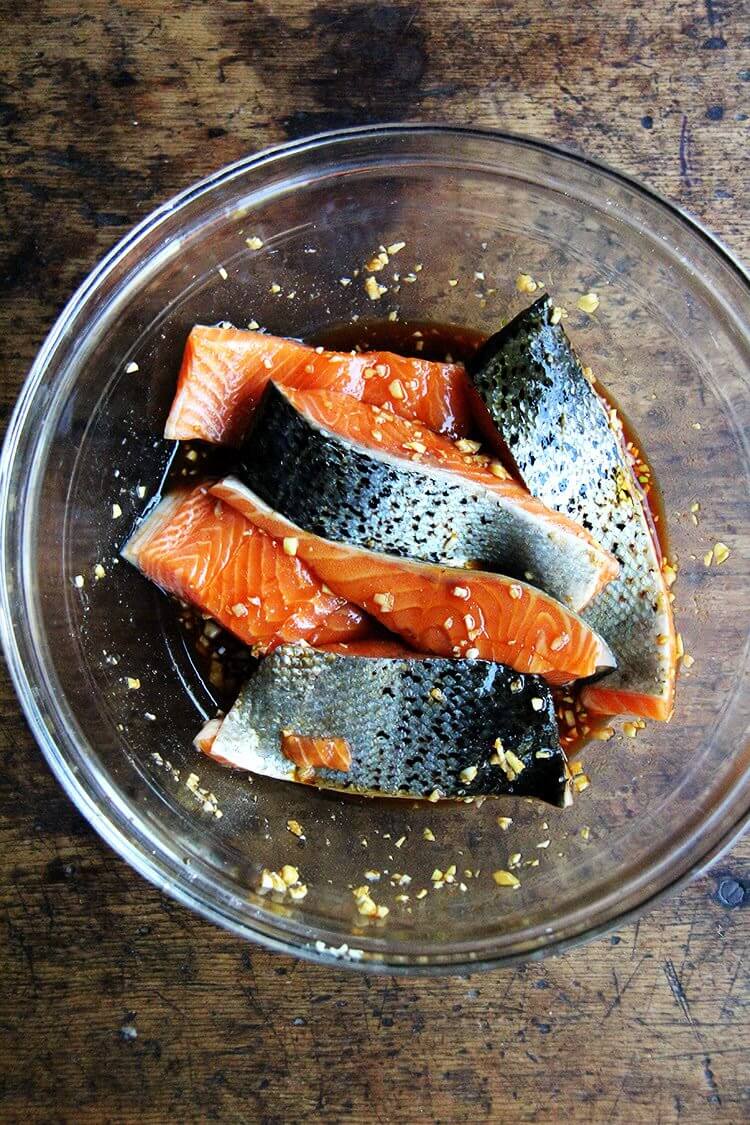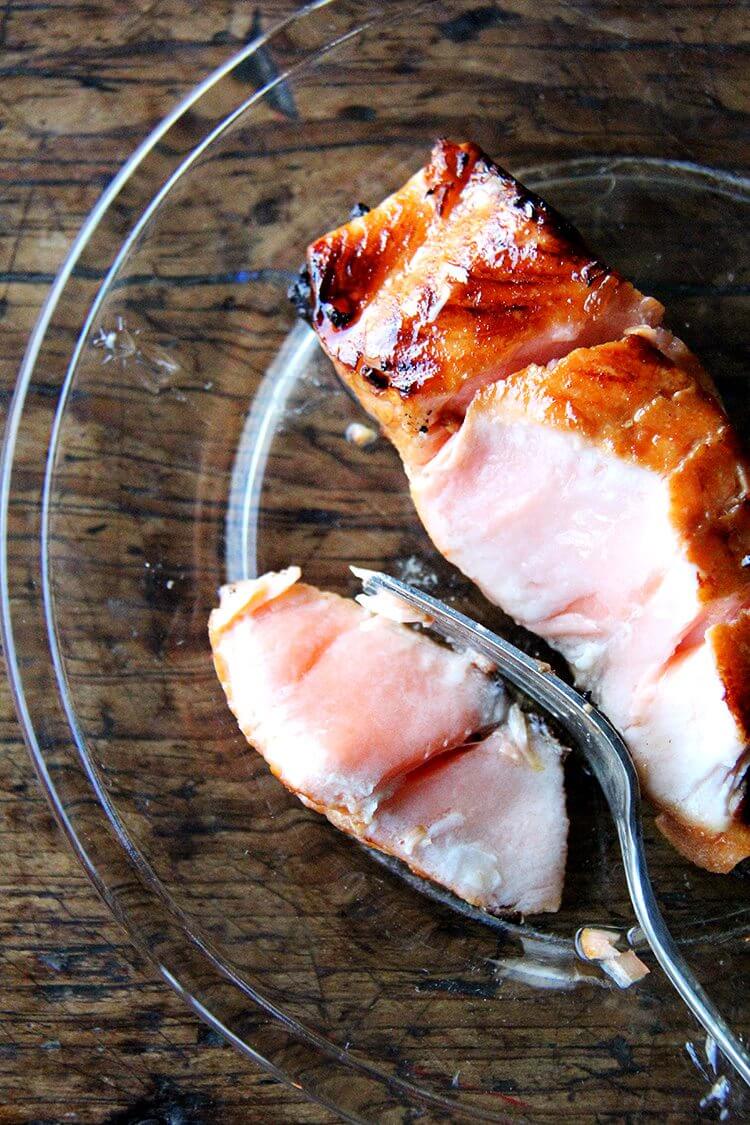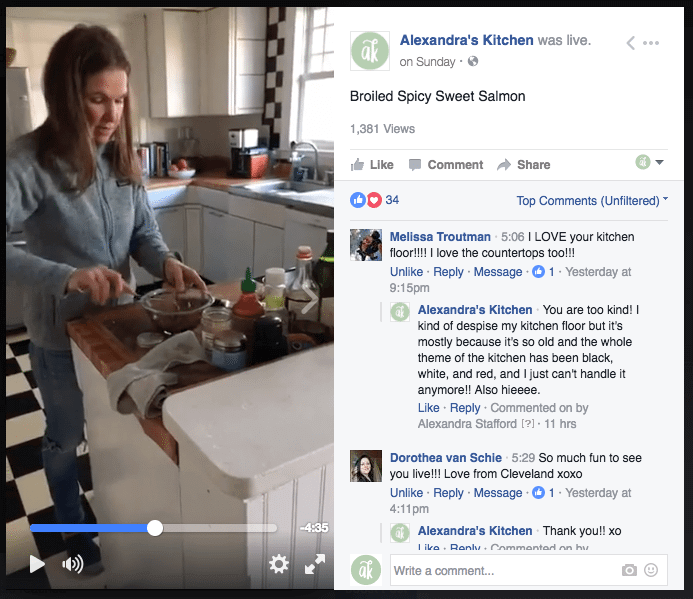 Print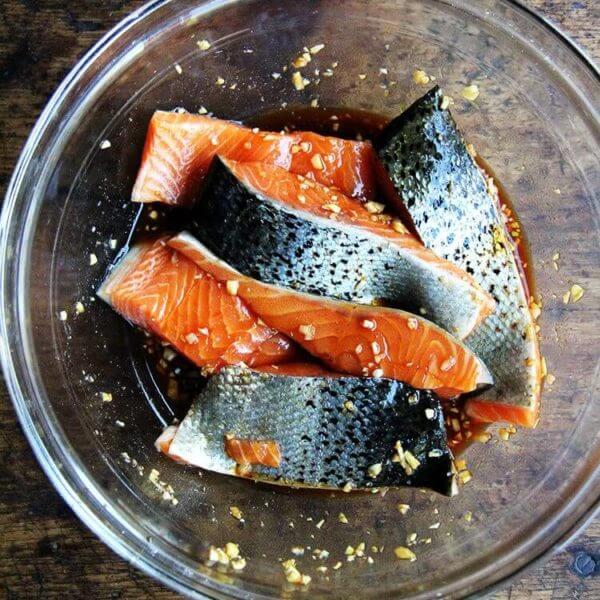 Broiled Ginger-Soy Salmon
---
Description
A long-time favorite recipe from the first SkinnyTaste cookbook.
---
1/4 cup

soy sauce

2 tablespoons

honey

1 tablespoon

rice vinegar

1 tablespoon

Sriracha

1 tablespoon

minced garlic

1 tablespoon

minced ginger

6

-oz skin-on salmon fillets (this marinade is good for as many as 6)
neutral oil, such as grapeseed
---
Instructions
Mix together the soy sauce, honey, vinegar, and Sriracha in a large bowl. Add the garlic and ginger and stir to combine. Add the salmon fillets and turn to coat. Refrigerate for at least 30 minutes and up to 2 hours (longer might be OK, but I've never tried.)
Preheat the broiler to high for at least 10 minutes.  Remove salmon from marinade, and pat skin dry using paper towels or a dish towel. Rub an oven-safe pan—I like these sizzle pans—with a small amount of oil. Place salmon fillets on pan skin-side down. Place under the broiler for 5 minutes.
Meanwhile, heat a large skillet over medium heat. (If you are cooking as many as 6 fillets, you'll want to heat 2 skillets.) After the 5 minutes under the broiler—or when the fish is looking nicely caramelized on top—turn the heat under the skillet to high, add a small amount of oil to coat the bottom of the pan, carefully transfer the fillets from the sizzle pan to the skillet, lower the heat to medium, and cook for about 1 minute or until the skin is crisp. Transfer fillets to a plate to rest for 1 minute before serving.
Prep Time:

30 minutes

Cook Time:

8 minutes

Category:

Dinner

Method:

Broiler, Stovetop

Cuisine:

Asian
Keywords: ginger, soy, spicy, broiled, salmon
Contact-paper countertops: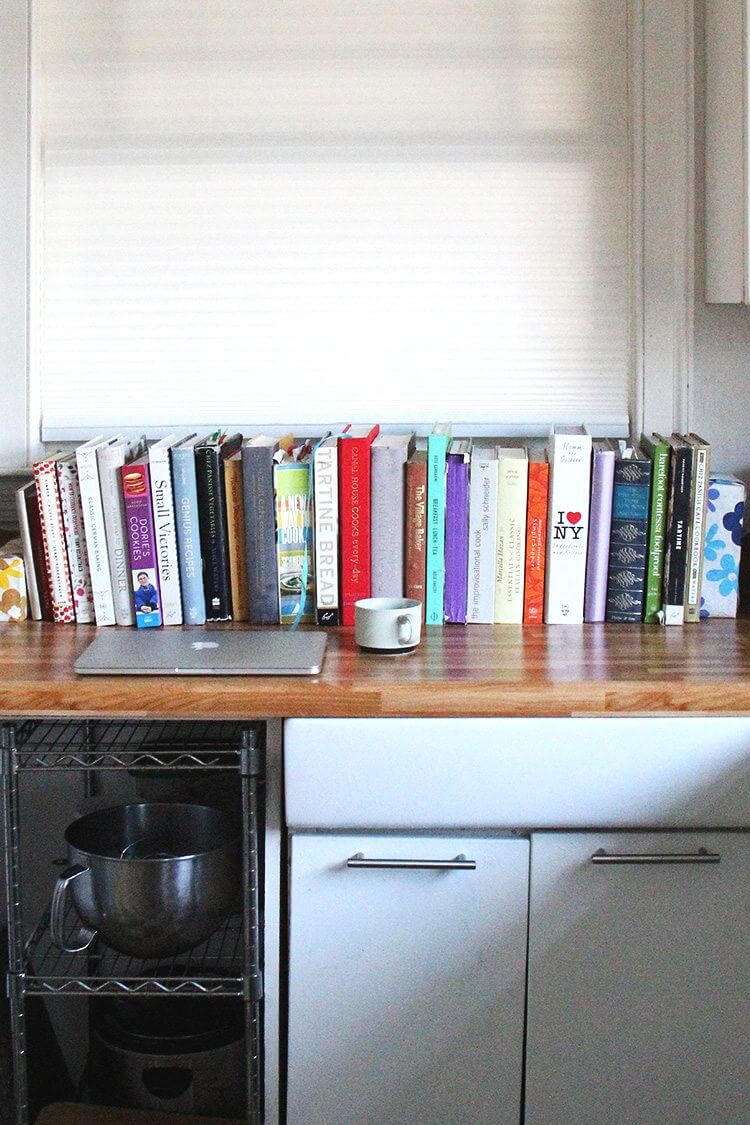 View of the backsplash and my knife grabber, which I love: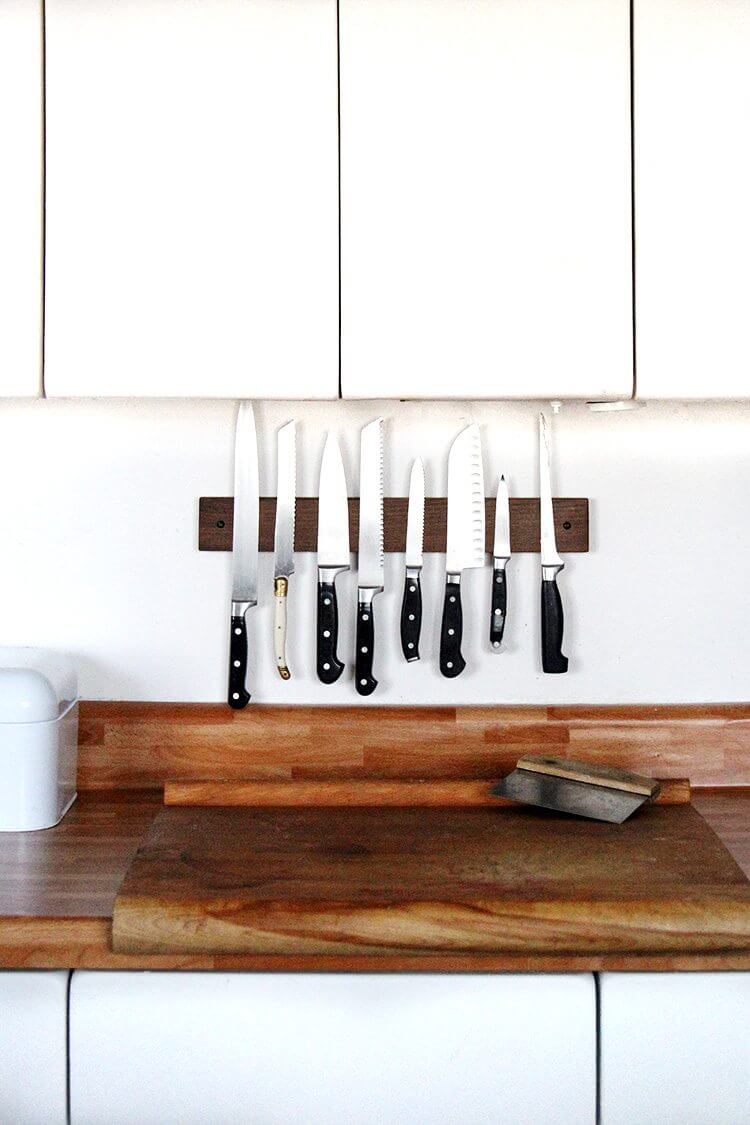 Wine-in-a-box looks so much classier on contact-paper countertops: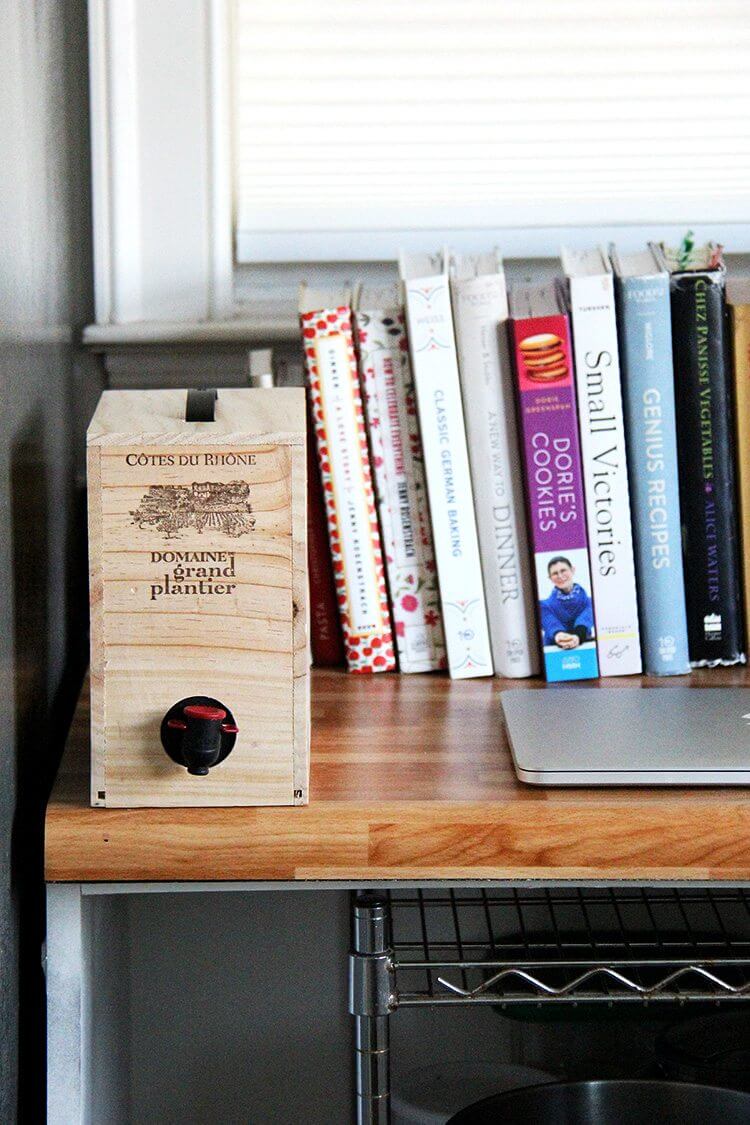 This post may contain affiliate links. Please read my disclosure policy.