Classic Cream Cheese Cutout Cookies
This post may contain affiliate links. Please read my disclosure policy.
Looking for a classic, foolproof cream cheese cutout cookie recipe? Look no further. These cutout cookies hold their shape when baked, they're sweet, tender, and tasty, and most important, children love them. More to the point, children love making them. The dough can be made days in advance and stashed in the fridge. The recipe yields about 50 cookies, perfect for gifting for the holiday season!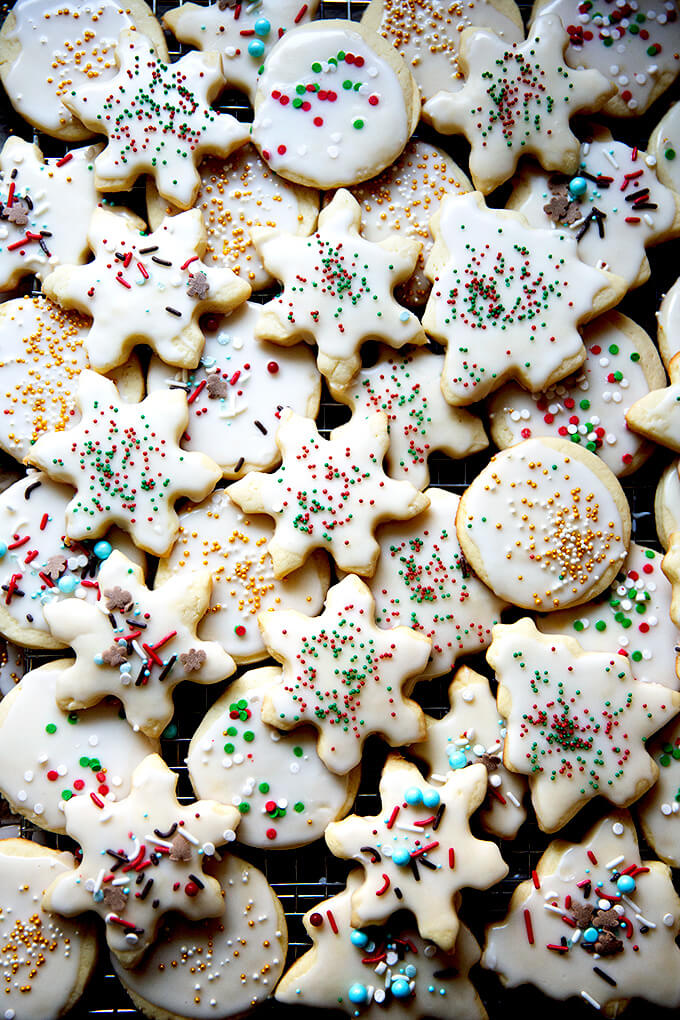 There is a woman here in town who, I have no doubt, would defeat Bobby Flay in a Christmas-cookie throw down. Her name is Kelly, and I met her this past summer at a lawn-games Olympics party. After one bite of her legendary cookies, I immediately enlisted her to make a batch for a similarly themed neighborhood gathering. The cookies were the hit of the evening. (Sorry Simone.)
I've never asked Kelly for her recipe—I sense it's treasured—but at one point while we were talking, she let on that cream cheese was the secret. In preparation for holiday cookie season, I did a teensy, teensy bit of research online and found this recipe, and while they're not quite as delicious (or beautiful) as Kelly's, they do the job—they hold their shape when baked, they're sweet, tender, and tasty, and most important, the children love them.
More to the point, the children love making them, which I confess do not. Rolling out dough to a precise thickness, tinting icing to an un-garish hue, piping of any sort—it's just not in my wheelhouse.
Alas. One day I hope to embrace the challenge of Christmas-cookie baking. For now, I'll continue a newfound tradition, which requires a neighborhood child at least 9-years of age, preferably one named Jane with the most adorable freckles speckling her face. Last Thursday, I handed over the rolling and cutting and decorating reigns to Jane and did my best to stay out of the way.
There was flour everywhere. There were children sitting—standing!—on the table. Not a single cookie's thickness matched another's. It took every ounce of restraint not to intervene. I sipped my wine and occupied myself with the dishes and sweeping and tidying. Let it go, I kept telling myself, let it go. And I did. And the cookies—despite the varying thicknesses, the several decapitated snowmen, the many wingless angels—were delicious.
This dough, I find, is best divided into four portions. I let the children tackle three that evening, and during nap time today, I spent some time with the fourth. As noted, piping and tinting are not my thing, but I can handle a simple royal icing, and I do love festive, decorative sprinkles.
I hope you all had a wonderful weekend. I baked these cookies as part of a "calm and bright cookie night," a virtual cookie exchange hosted by The Modern Proper. If you're looking for some holiday cookie inspiration, look no further! Here are the other participants' cookies:
Holiday Cookie Inspiration from Around the Web
The Modern Proper – Coconut Thumbprint Cookies with Salted Caramel 
Wood and Spoon – Candied Walnut Chocolate Chip Cookies
Floating Kitchen – Chocolate Peppermint Thumbprint Cookies
Brewing Happiness – Mint Chocolate Gingerbread Cookies 
The Vintage Mixer – Ginger Creams with Browned butter Icing
Wu Haus – Raw Vegan Gingerbread Cookie Sandwiches 
The Almond Eater – Homemade Almond Biscotti 
Hungry Girl Por Vida – Lemon Pistachio Linzer Cookies 
Honestly YUM – Ricciarelli (Italian Almond Cookies) 
Husbands That Cook – Chocolate Sugar Cookies 
The Judy Lab – Sea Salt Chocolate Chocolate Chip Cookies 
Gather and Dine – Chocolate Almond Spelt Cookies 
Betty S Liu- Cardamom Persimmon Cookies with Olive Oil Dark Chocolate Ganache
Harvest and Honey – Milk & Cookies
Bakerita –  Chocolate Rugelach (gluten free + refined sugar free)
The Fauxmartha – Snowball cookies 
The Kitchen Paper –  Soft Toffee Cookies
Life Is But A Dish –  Chocolate Peppermint Cream Cookies 
Oh Honey Bakes – Pomegranate Pistachio and Almond Biscotti 
The Brick Kitchen – Coconut Raspberry Wagon Wheels 
Hello My Dumpling –  Ginger Viennese Whirl Cookies with Matcha Passion Fruit Filling
Snixy Kitchen –  Peppermint Chocolate Marshmallow Cookies
Tending the Table –  Almond Macaroons with Satsuma Marmalade 
Milly's Kitchen –  Grapefruit Fennel Shortbread Cookies 
PDX Food Love –  Chocolate Bourbon Swirl Meringues
Lasting Ingredient – Lemon Lime Shortbread 
Heart Beet Kitchen – Chocolate Peppermint Crinkle Cookies
Lena's Kitchen Blog – Shortbread Cookies Three Ways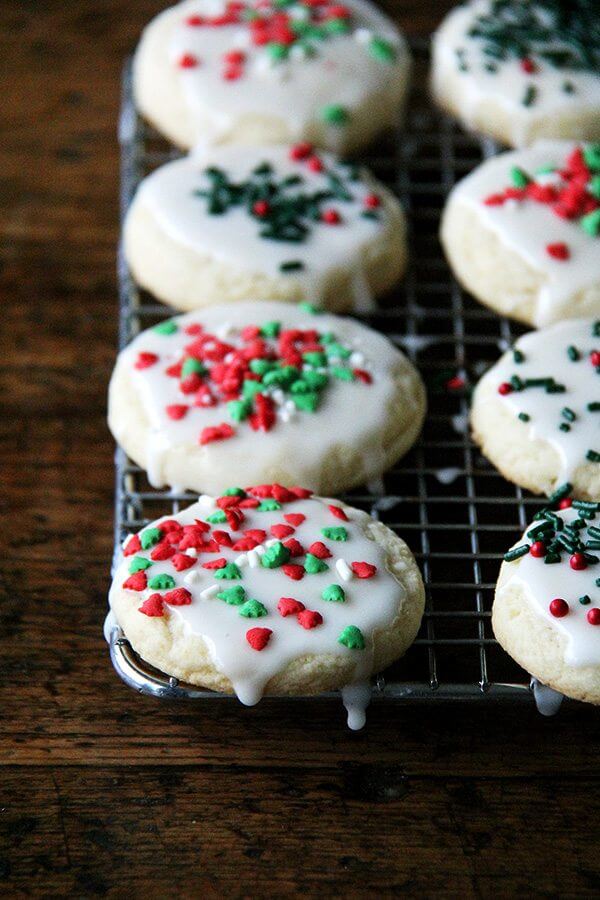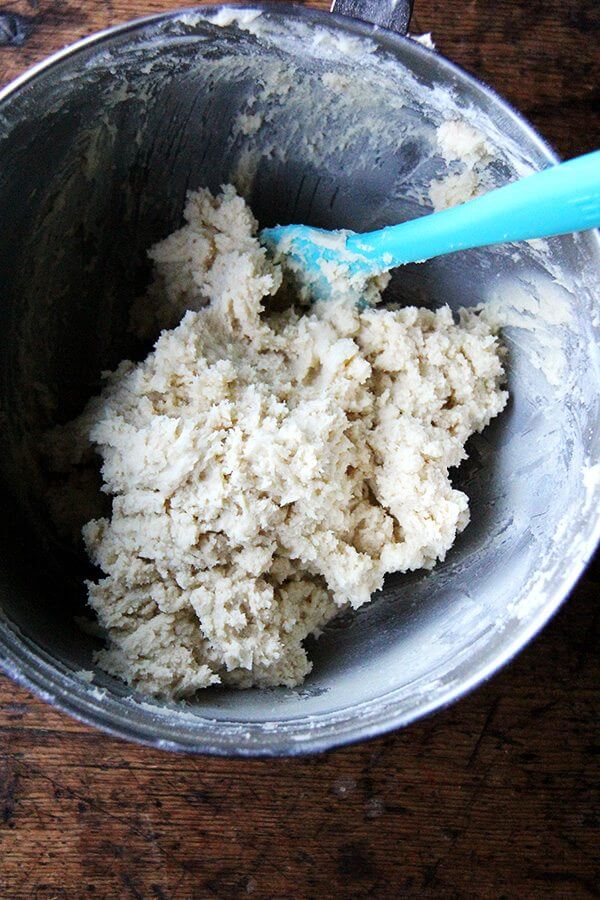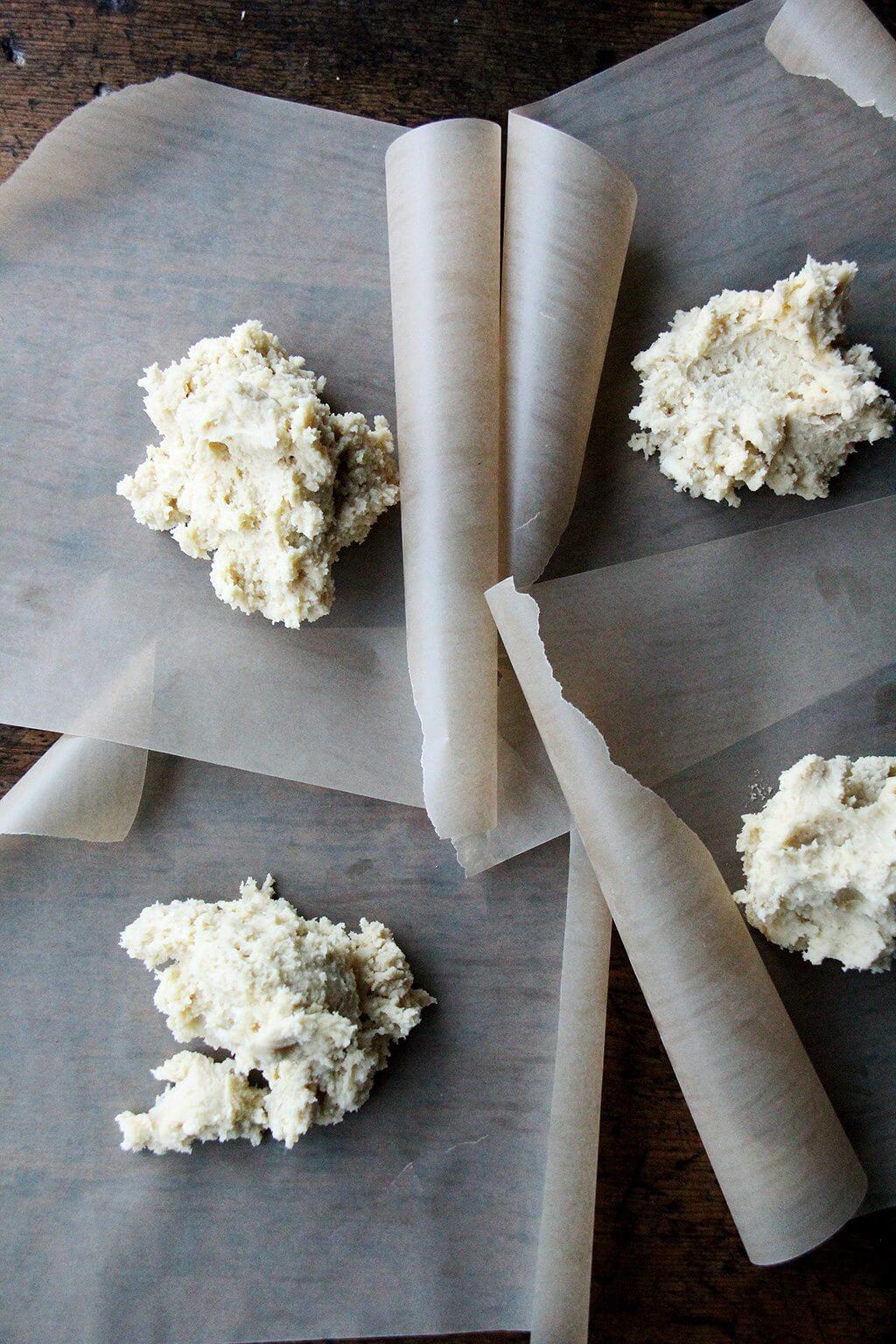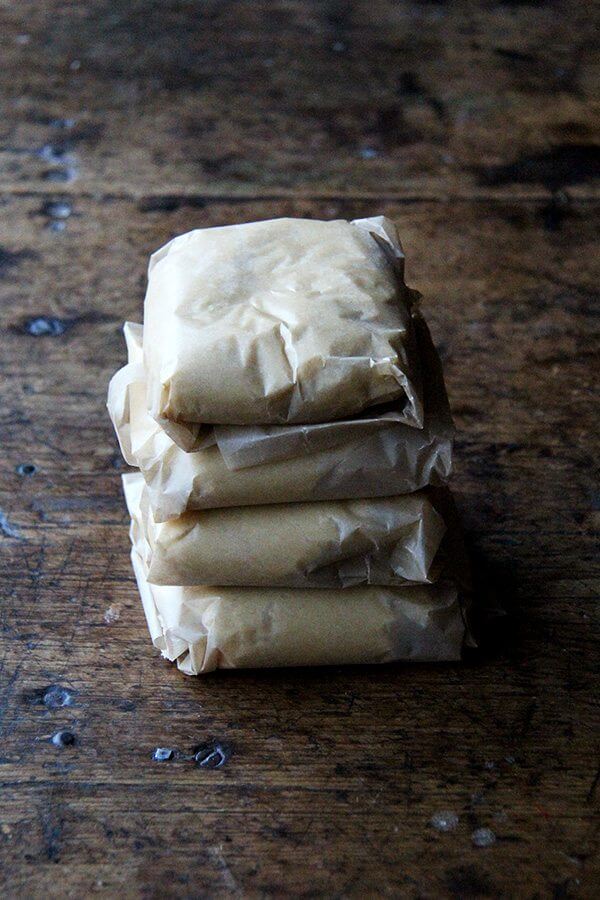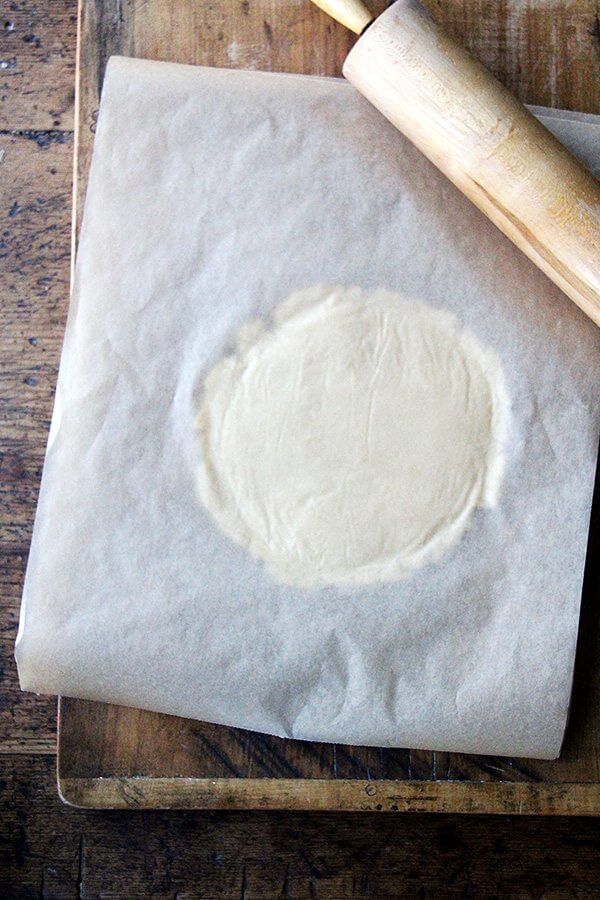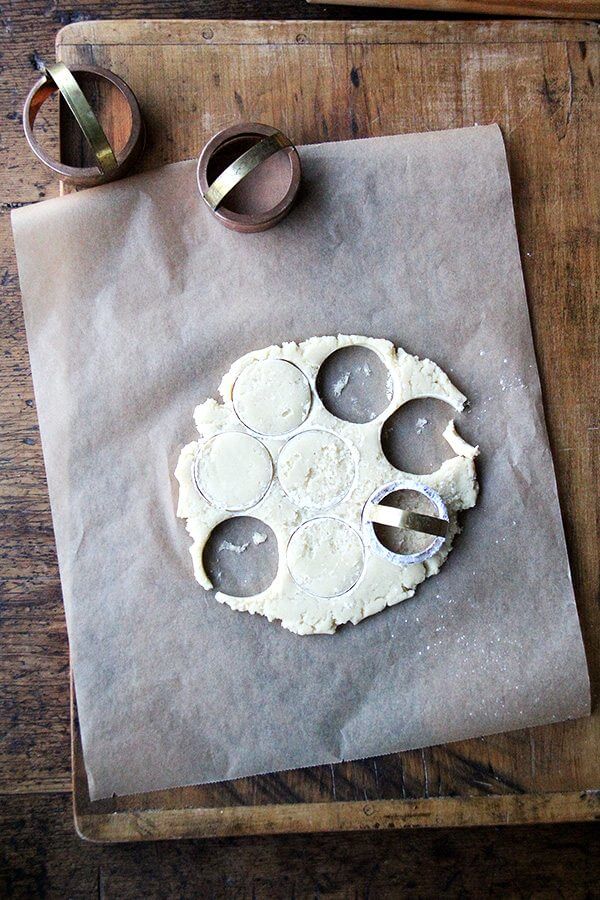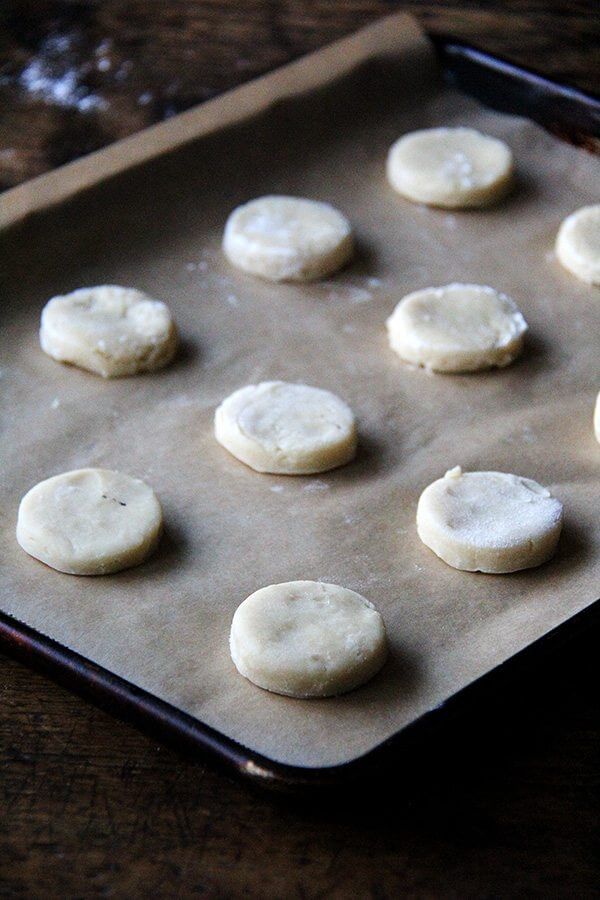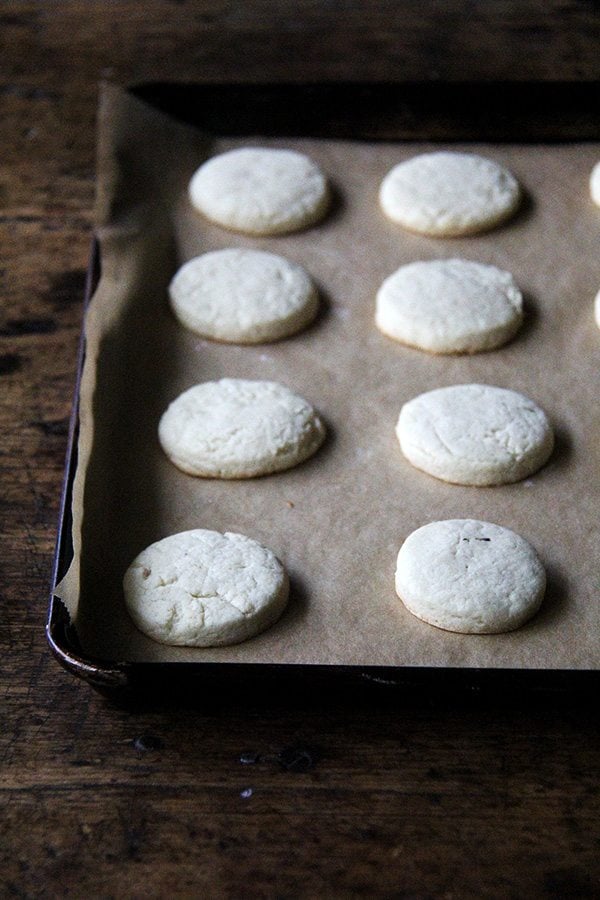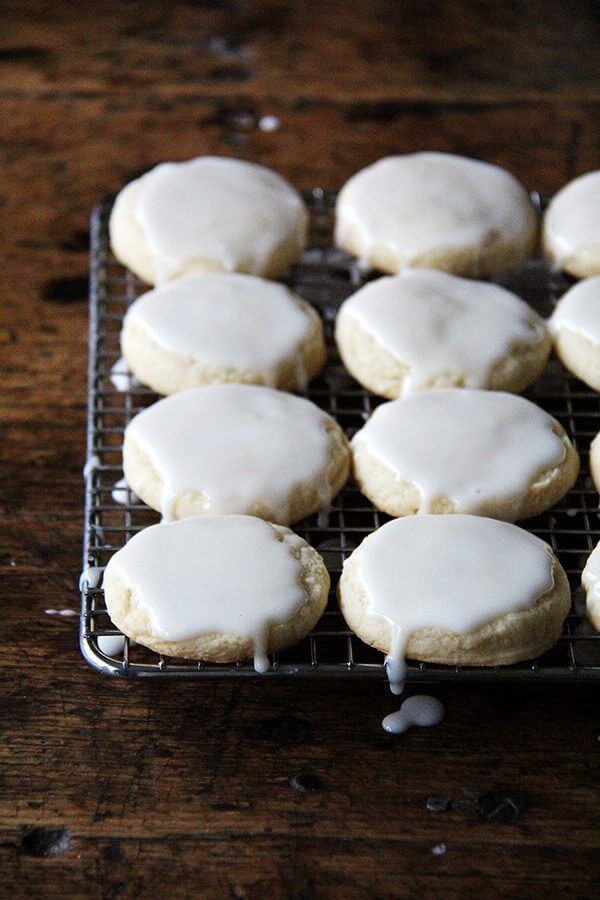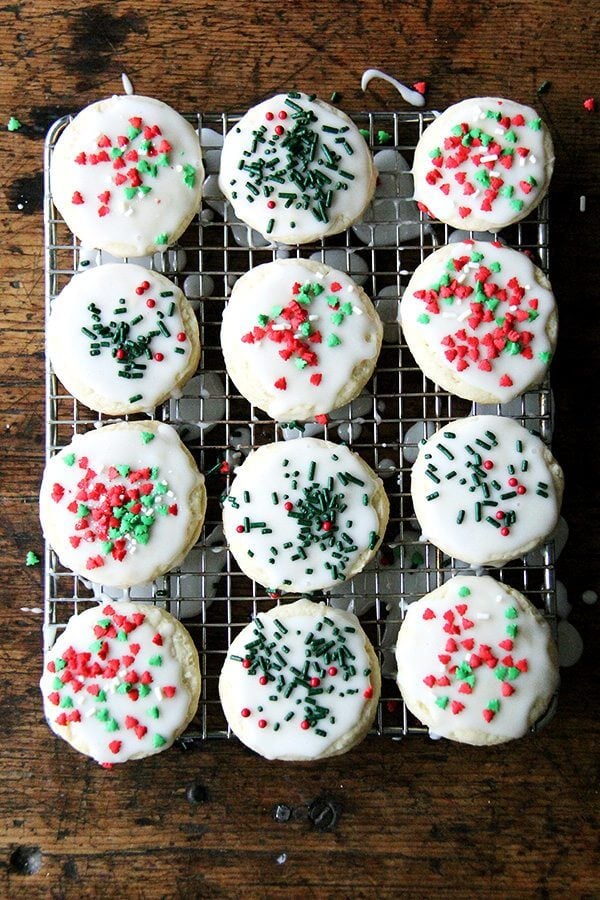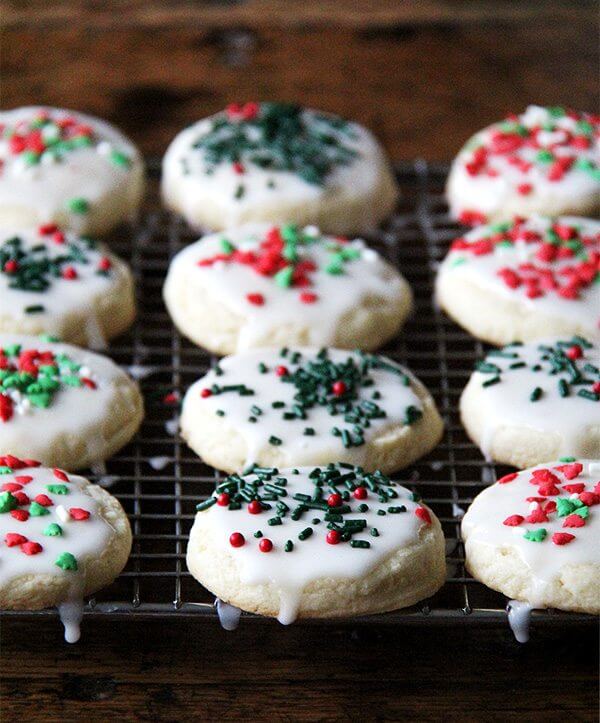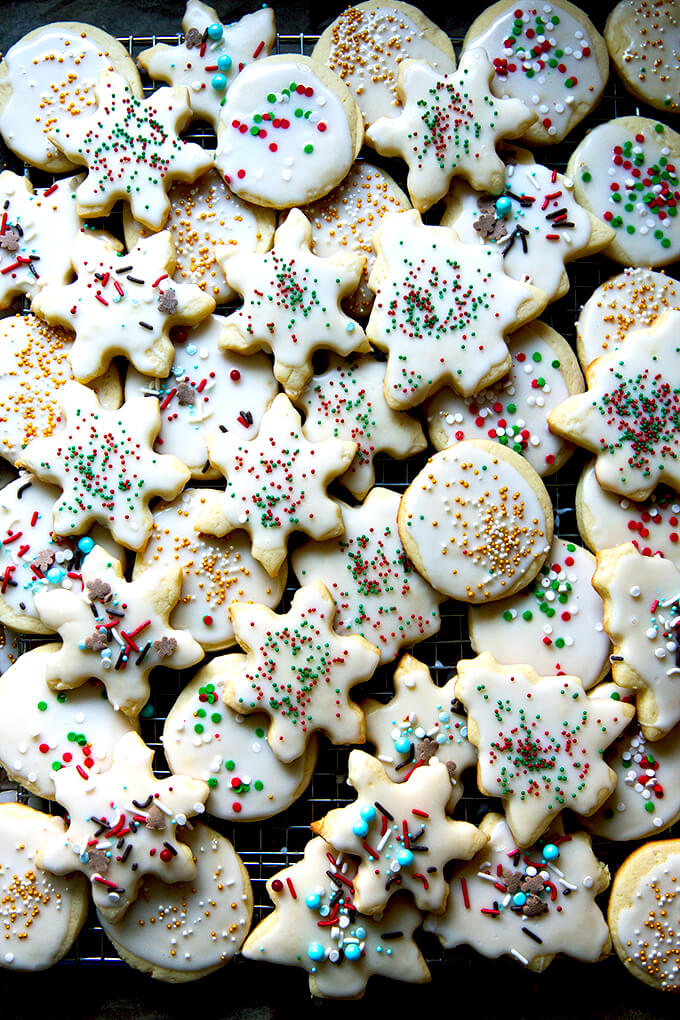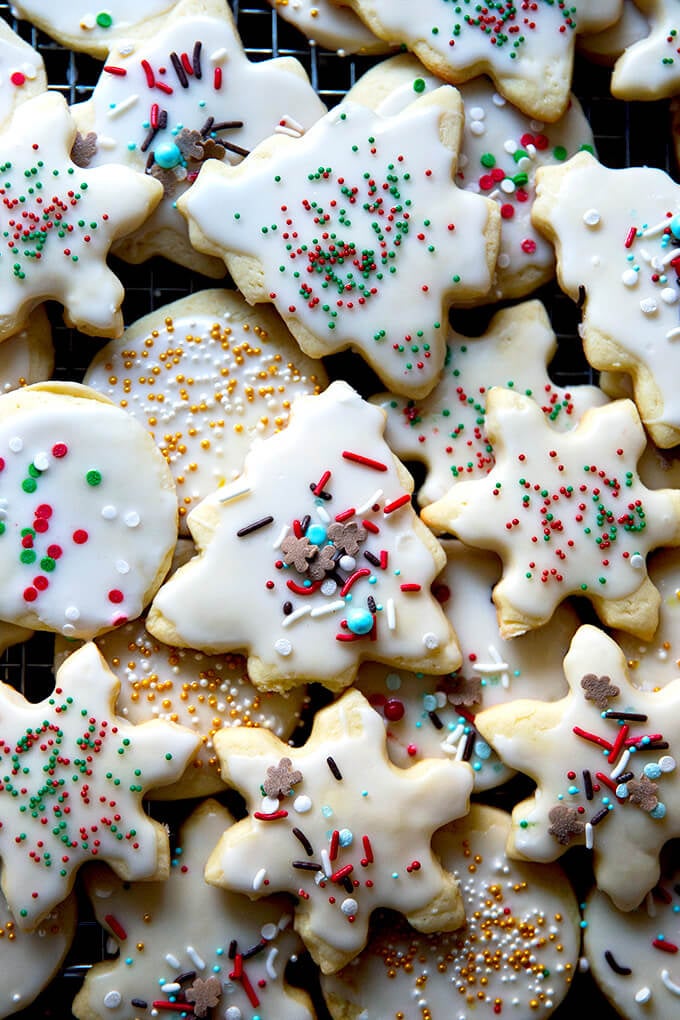 Print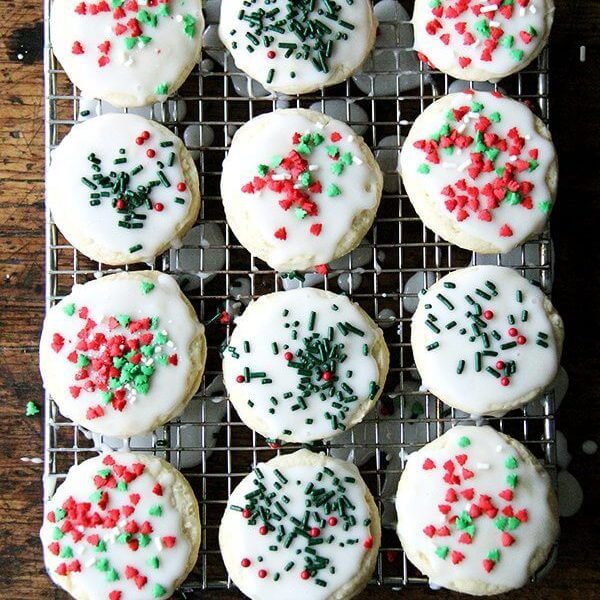 Classic Cream Cheese Cutouts
---
---
For the Cookies:
16 tablespoons

(

8 ounces

) unsalted butter

8 ounces

cream cheese, softened

1½ cup

(

330 g

) granulated sugar

1

 egg

2

 teaspoons vanilla extract

3½

(448 g) cups all-purpose flour

1 teaspoon

baking powder

1 teaspoon

kosher salt
For the icing/decoriating:
1 cup

(

134 g

) confectioner's sugar, or more as needed

1

–

3

tablespoons milk
sprinkles of your liking
---
Instructions
Combine butter and cream cheese in the bowl and of a stand mixer and beat until fluffy. Add sugar; beat until even fluffier. Add egg and vanilla and mix well.
In a separate bowl combine the flour, baking powder, and salt. Add it to the butter and cream cheese mixture and beat until just combined. Transfer a quarter of the dough to the center of a piece of plastic wrap or wax paper. Pat into a disk, and wrap tightly. Repeat with the remaining three quarters. Chill for at least an hour and up to three days.
Preheat your oven to 325º F. Roll out our dough on a lightly floured surface or in between two sheets of parchment paper to 1/2-inch thick. Cut out your cookies with cookie cutters of your choice—I like 2-inch circular cutters. Boring, I know. Gather scraps , re-roll, and repeat process.
Bake on parchment-lined cookie sheets for 15 to 18 minutes, or until the edges just begin to turn golden—cookies will be very pale. Remove them from the pan and transfer to a wire rack. Cool completely. Note: I don't like baking more than one sheet of cookies at a time, but do as you like. 
Meanwhile make the frosting: Stir together the confectioner's sugar with 1 tablespoon of the milk. Add more milk a tablespoon at a time to achieve a thick but pourable consistency. Spoon icing onto cookie, spreading to cover. Shower with sprinkles.
Prep Time:

1 hour 20 minutes

Cook Time:

15 minutes

Category:

Cookies

Method:

Oven

Cuisine:

American
Keywords: classic, cream, cheese, cutout, cookies, sugar, sprinkles, decorative, Christmas
This post may contain affiliate links. Please read my disclosure policy.