A Few Last-Minute Gift Ideas
This post may contain affiliate links. Please read my disclosure policy.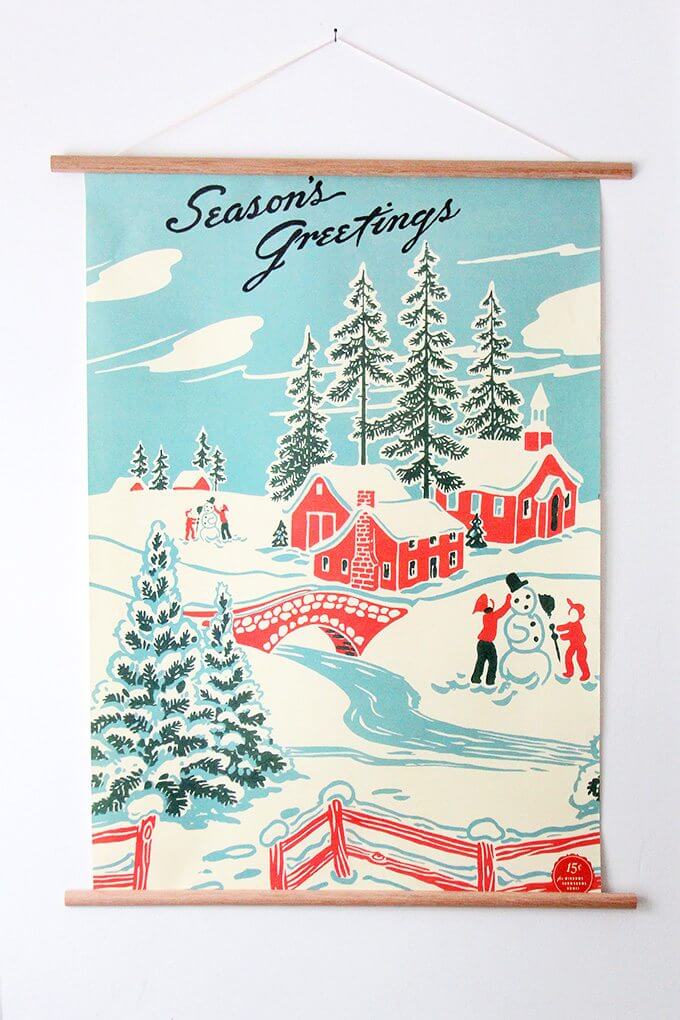 Friends, how has another year passed? More important, what in the world would I do without Amazon Prime?
Amazingly, there's still time to pick up a few things before the weekend. I've compiled a few gift ideas here. Wishing you all a happy happy holiday.
1. Of course, nothing says you care like a homemade treat…
Coconut oil granola, homemade muesli, cocoa crunch, rosemary shortbread, homemade bread (peasant, chocolate-studded panettone, Holly's Challah, Holly's Babka), homemade quick bread (super delicious pumpkin bread, Mrs. Myers' banana bread, lemon-ricotta pound cake, orange-ricotta pound cake, Nigella Lawson's dense chocolate loaf cake), chocolate truffles, preserved lemons, brown butter blondies with sea salt, molasses crinkles, Daley toffee, vanilla-almond biscotti, chocolate biscotti 
… but real things are fun, too…
This post contains many affiliate links. Thank you for the support.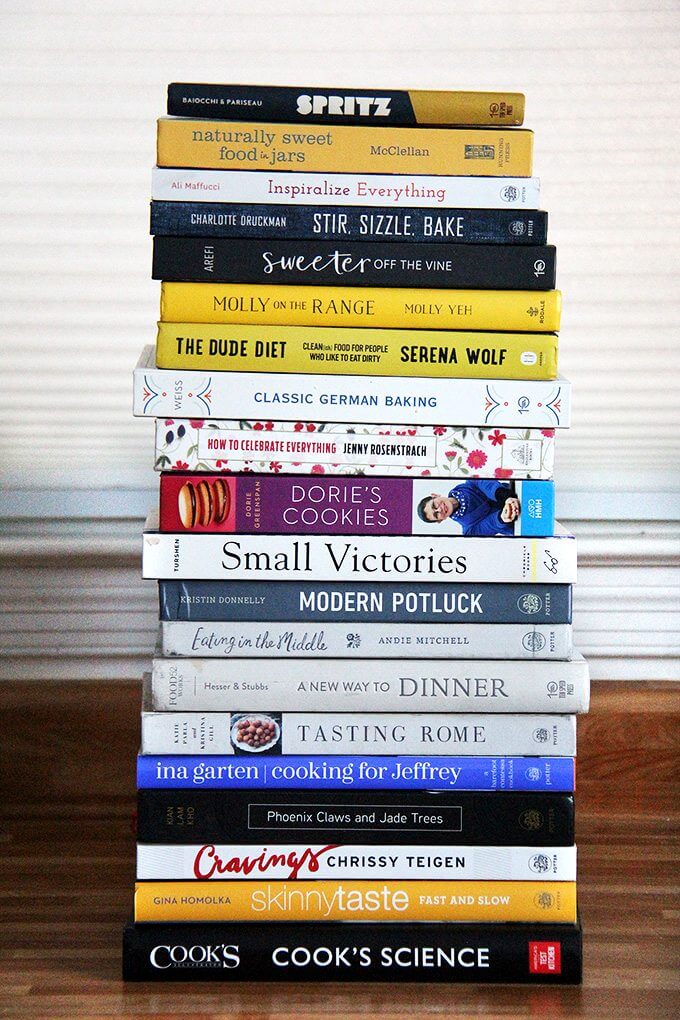 2. A New Cookbook. 2016 was quite a year. These are a few I've picked up this past year:
Cook's Science, see Thick-cut Sweet Potato Fries.
SkinnyTaste Fast and Slow, see Slow Cooker Butternut Squash and Apple Soup
Cravings, see Sesame Noodles with Chicken and Chard
Phoenix Claws and Jade Trees, see cucumber salad, red-cooked pork belly, and three-cup chicken
Cooking for Jeffrey, just got this one, looks amazing, haven't made anything from it yet. Have you?
Tasting Rome, filled me with wanderlust; loved the potato gnocchi, which I wrote about for Edible Capital District.
A New Way to Dinner: see Merrill's Chicken Fingers
Eating in the Middle: see Cabbage Pad Thai 
Modern Potluck, haven't explored this one enough yet, but one of the recipes was featured on Food52's genius recipes column, and I have many recipes bookmarked.
Small Victories, so many gems in this one. See curried lentils with coconut milk and smoky eggplant dip.
Dorie's Cookies, see Vanilla Bean Sables and, if you live locally, lemon-thyme sables in the current Edible Capital District.
How to Celebrate Everything, see grilled apple cheddar and mustard sandwiches and this Q&A with Jenny Rosenstrach
Classic German Baking, I've yet to explore the cookies, cakes, pastries, and breads, but I have many recipes bookmarked including 4 apple cakes, and I've been making and loving the potato flatbread with sour cream, Gruyère, and chives also known as kartoffel-käse dinnede (fun to say) or Swabian potato-cheese flat bread.
The Dude Diet, not just for dudes! Healthy, tasty food, see Apple Pie Overnight Oats.
Molly on the Range, to lift your spirits any day, see mandel bread with marzipan and sea salt and egg in a hole perfection (scroll all the way to the bottom).
Sweeter off the Vine, for the baker and fruit lover, recipes for every season, from the lovely Yossy Arefi.
Stir, Sizzle, Bake, for the cast iron skillet devotee.
Inspiralize Everything, see curried apple and egg salad
Naturally Sweet Food in Jars, I've been wanting to get better at preserving … goal for next summer.
Spritz, for the spritz lover — I love the design of this little book, very Mad Men-esque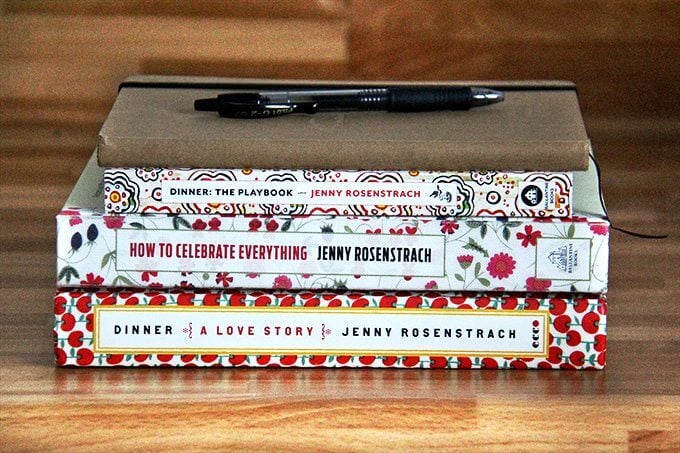 3. A Cookbook + a little something else:
• Featured above: the DALS Series (Dinner: A Love Story, Dinner: The Playbook, How to Celebrate Everything) + a notebook + a pen
• Classic German Baking + Wooden Springerle Set (from King Arthur Flour, this one's a splurge; you could also just buy one mold, like this nutcracker)
• Jim Lahey's My Pizza + a Baking Steel
•Inspiralize Everything + a spiralizer
•SkinnyTaste Fast and Slow: + a slow cooker 
4. Loose Tea + A French Press
A few years ago, two friends hosting a dinner party ended the night with lightly sweetened Moroccan mint tea made in a French press. It was such a nice way to end the evening. I've been buying loose Moroccan mint tea from Divinitea ever since. For a French press, I use about 1/4 cup leaves and a few teaspoons of sugar.
I also love the Yogi brand Lemon-Ginger Tea (in bags), which would be nice paired with an electric tea kettle (one of my friends has this one, and I love it) or a tea pot.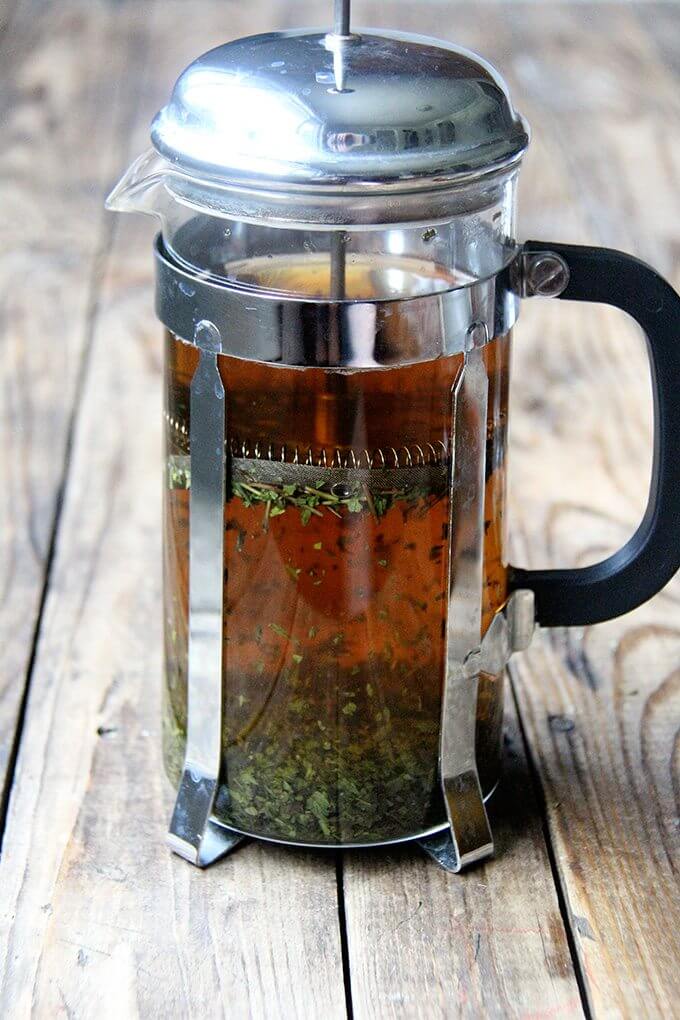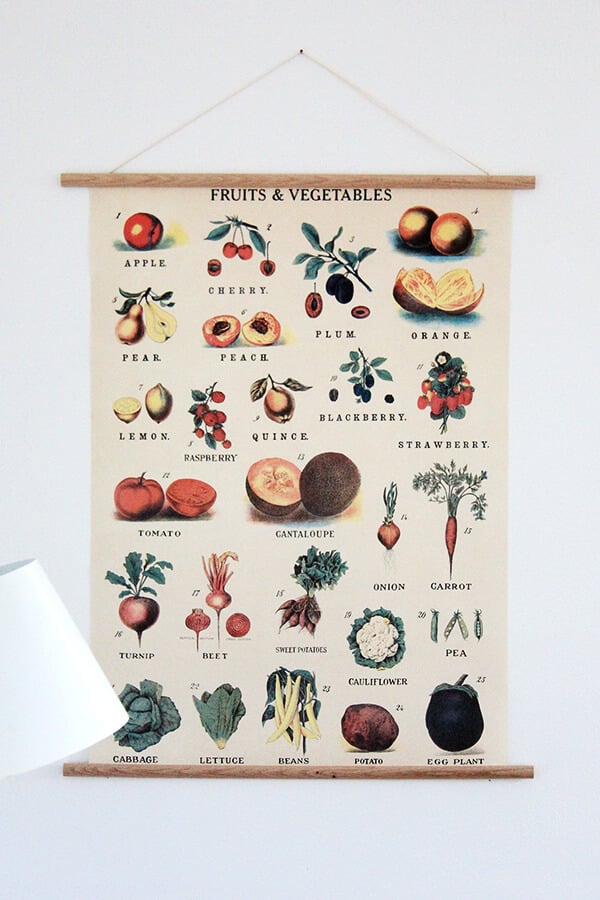 5. Cavallini and Co. Vintage Poster + Framing Kit.
I wrote about these posters and framing kits earlier in the fall, and despite having zero free wall space, I couldn't resist buying the Season's Greetings poster featured at the top of the post. It makes me happy every time I look at it. I know I'll look forward to pulling it out year after year. A few other's I love: Map of England, Fish, Birds, Fruit, Periodic Table, San Francisco, and Bees and Honey.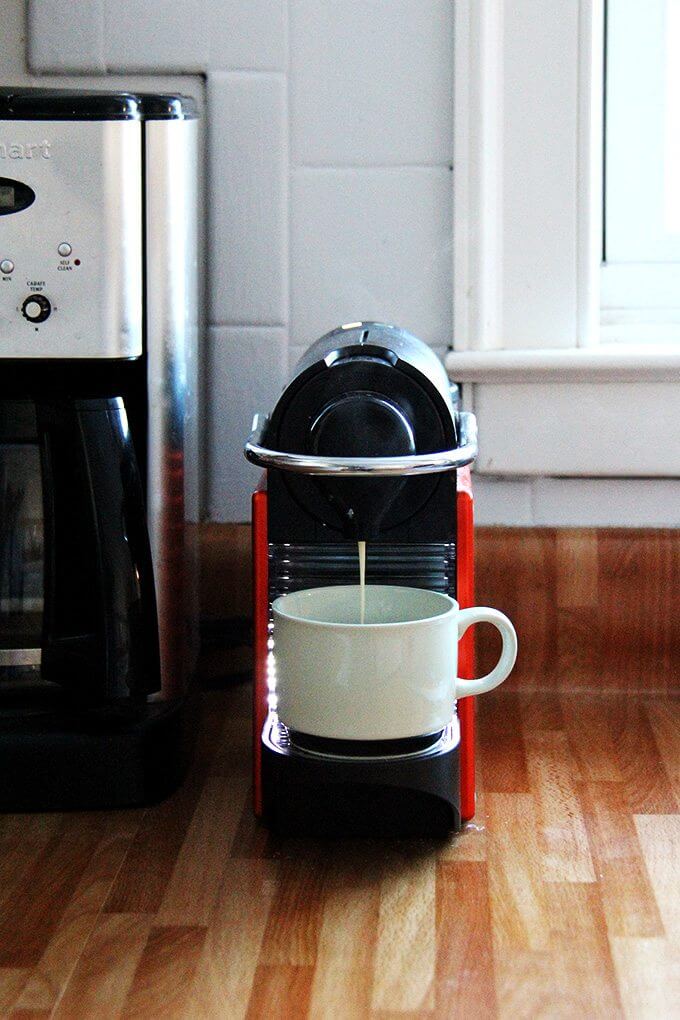 6.  Nespresso Pixie + insulated espresso cups (not in photo here, but which I love)
A splurge for sure, but if you love an afternoon espresso, this is such a nice gadget to have around.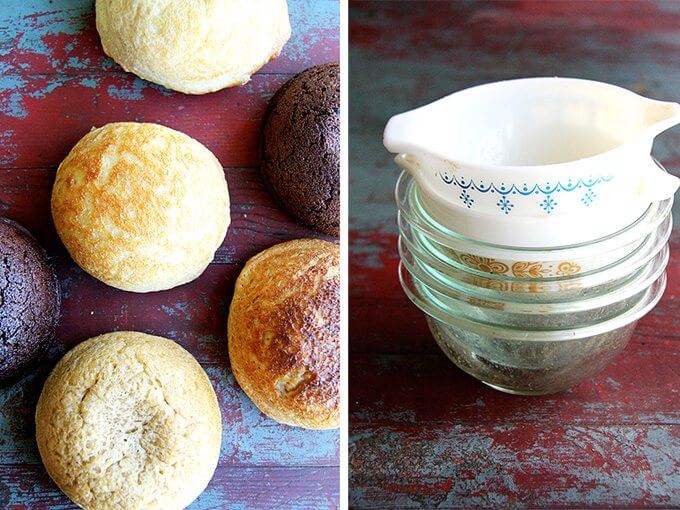 7. Two 1-qt Pyrex bowls + a loaf (or two!) of peasant bread + a printed peasant bread recipe(Update: recipe card is not available at this time … apologies!!). If you're feeling especially generous, you could pre-order Bread Toast Crumbs and send along a follow-up gift in April when it comes out.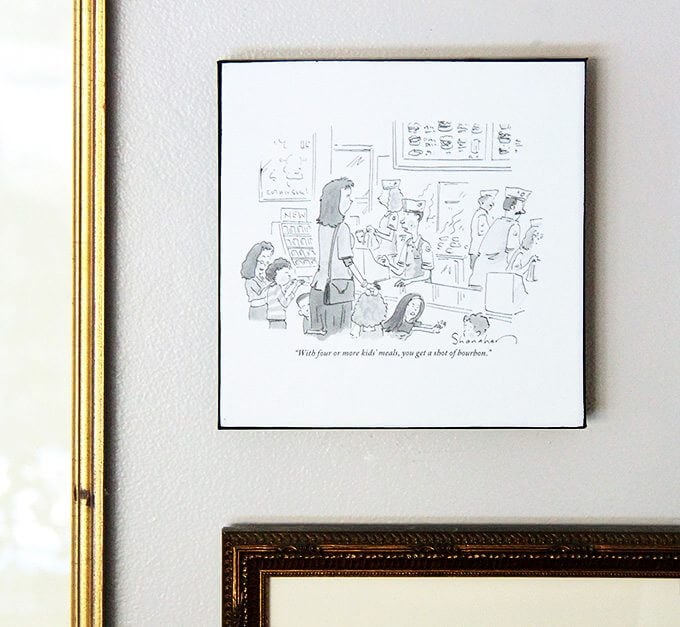 8. A few things not available via Amazon (and therefore not likely to arrive in time, but still fun to mention).
A framed New Yorker cartoon. After Tig was born, a dear friend sent me a card of this New Yorker cartoon: "With four or more kids' meals, you get a shot of bourbon." Last year for father's day, I bought it in print form for Ben. There are so many good ones.
Something from the Food52 Shop:
There are so many beautiful items in this shop, and some things can still arrive by the 24th, but you have to check.  These are a few things I own and love: Spherical Hanging Basket with Liner, Reclaimed Walnut Knife Grabber, Linen & Cotton Bowl Covers – Striped
, Turk One-Piece Forged Iron Fry Pan, Narrow Elevated Laundry Basket, PieBox
I also covet this Salt Cellar, which would be so nice with a box of Maldon sea salt: 
Terrain Boxwood wreath
You can't tell from my photo, but there are delicate lights weaving through the leaves, and it's so pretty. I love this wreath.
9. Little (and big) things that make life easier in the kitchen:
bench scraper, Kuhn Rikon peelers, wooden reamer, quarter sheet pans, spatulas, Benriner mandoline, digital scale, chef's knife, knife sharpener, quart storage containers, Cuisinart, Kitchen Aid, silpat, bread lame, retro bread box (big or small), contact paper (I kid! I kid! sort of! )
This post may contain affiliate links. Please read my disclosure policy.