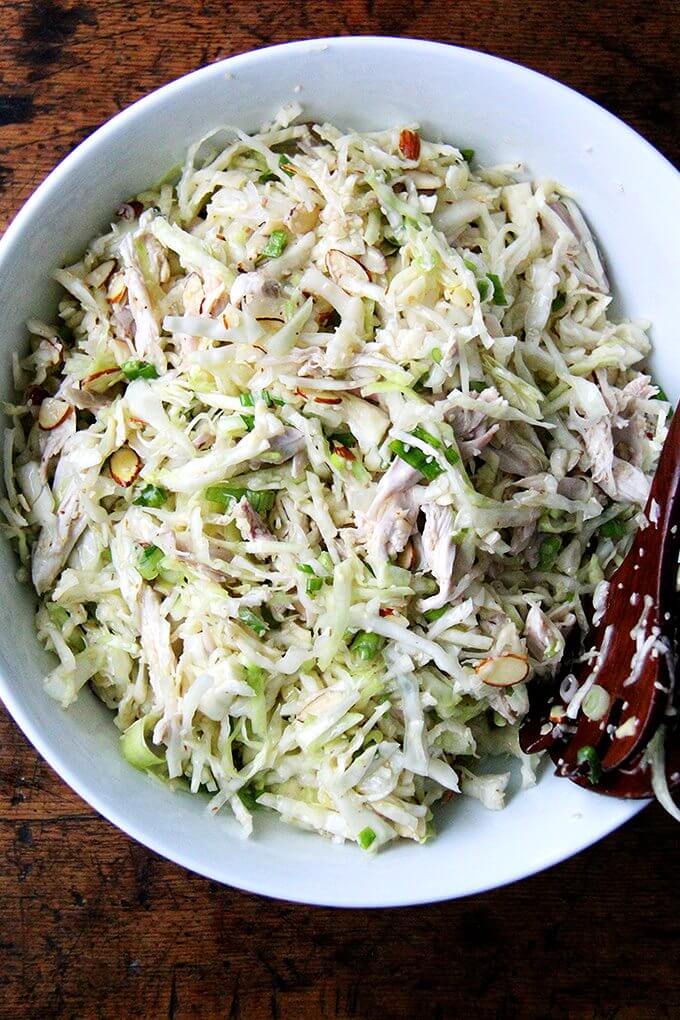 As you might recall, one of my favorite pastimes is staring at the wall of prepared salads at the Honest Weight Food Coop in Albany.
Last March I obsessed over their cilantro-lime chickpeas, and I've since discovered many others, including the vegan kale Caesar and the Thai tofu salad. Most recently it's been their "Sumi" salad, an addictive mix of cabbage, scallions, sesame seeds, and almonds.
It's fresh and satisfying, tasting sweet not spicy, the dressing flavored heavily with sesame oil.
I've made it several times at home now, and I've had the best luck employing a method I read about in the Slanted Door cookbook, which noted the importance of pre-salting the cabbage in their Vietnamese chicken salad.
Pre-salting the cabbage, even just for 15 minutes, softens the strands, allowing them to better soak up the dressing. Prior attempts, in which I had skipped the salting step, rendered the cabbage too crunchy and surprisingly difficult to eat.
In an effort to make the Sumi salad more of a stand-alone meal, I added the pulled meat of a whole poached chicken. I followed the poaching method also from the Slanted Door—15 minutes of simmering, followed by 15 minutes covered off the heat— which I loved, and then I made stock with the carcass, which is always so nice to have on hand this time of year. This recipe yields a lot of salad, and it keeps well in the fridge, too, making for easy lunches and dinners.
I hope you all are so well. Happy Happy New Year.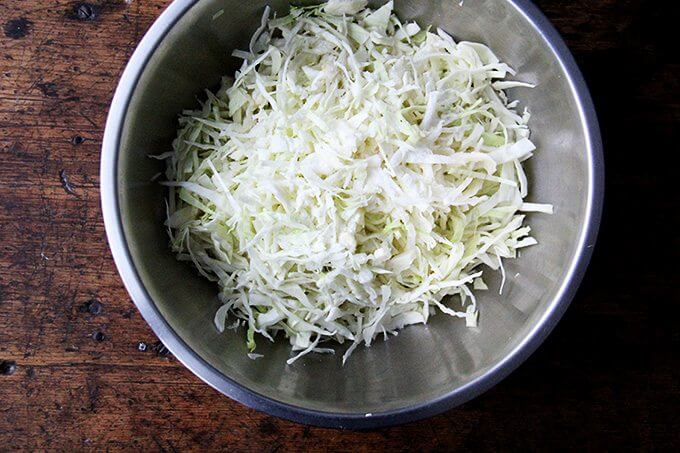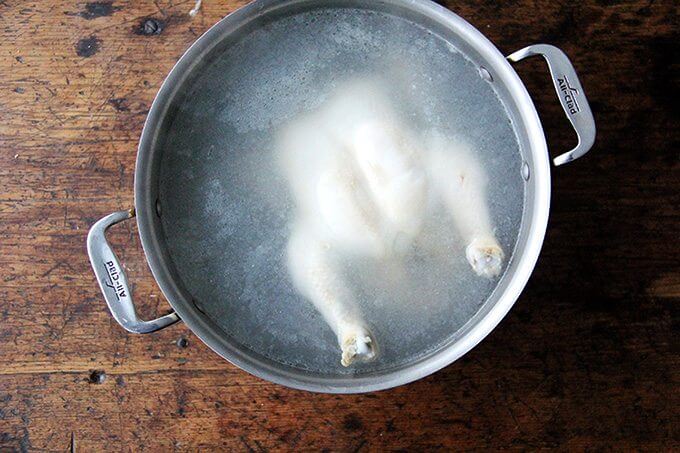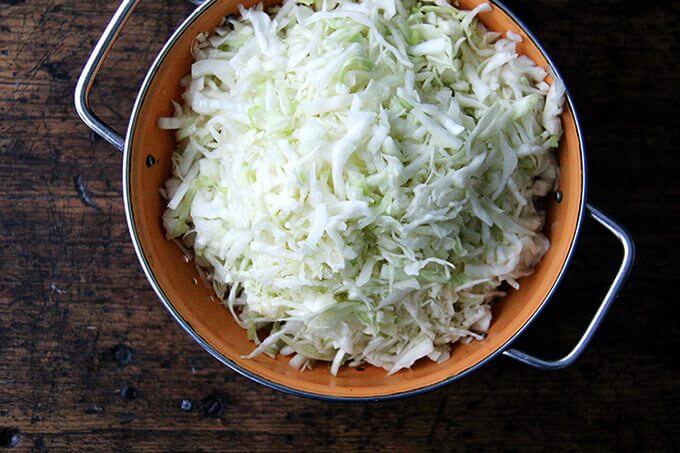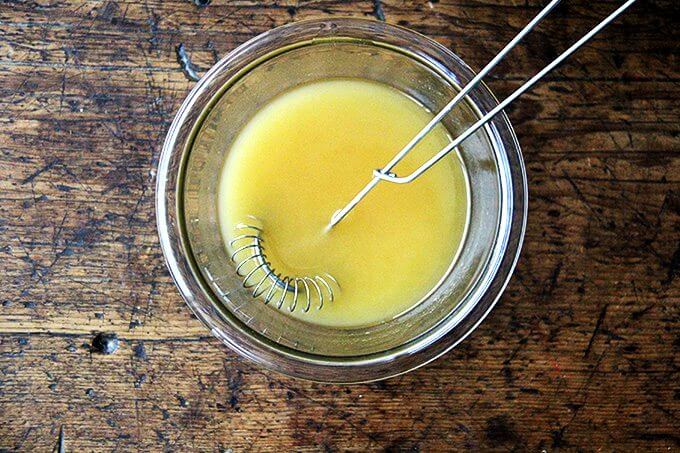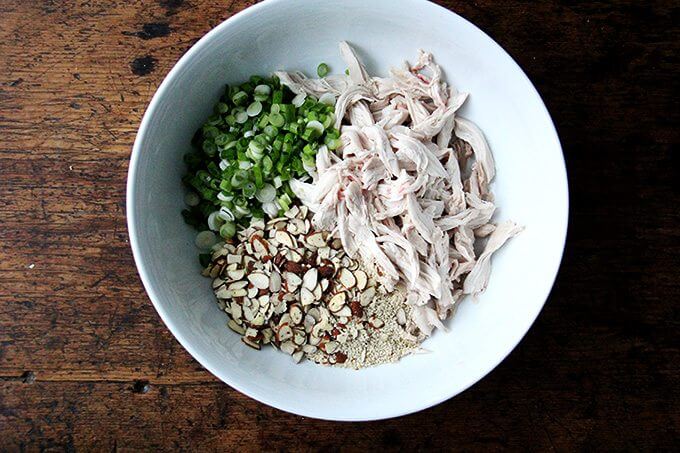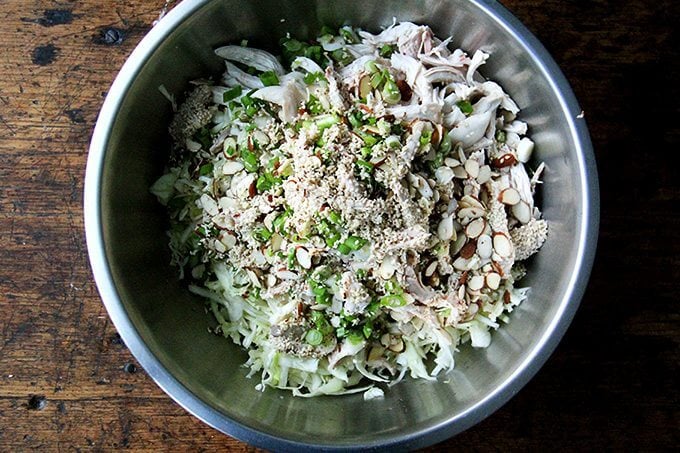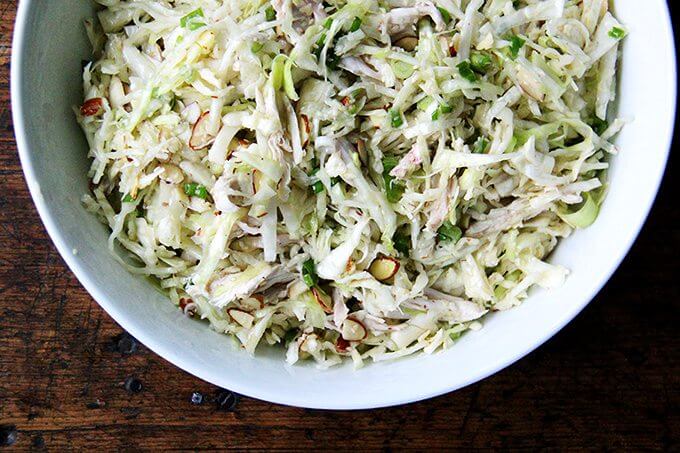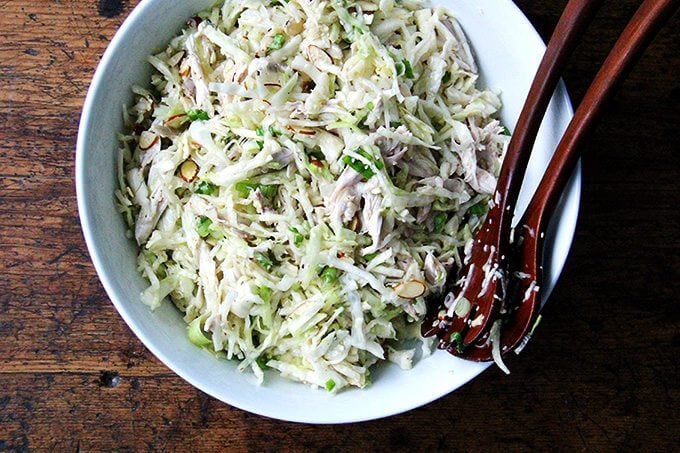 Print
Chicken and Cabbage Salad with Sesame Seeds, Scallions and Almonds
---
Author:

Alexandra Stafford

Prep Time:

30 minutes

Cook Time:

15 minutes

Total Time:

45 minutes

Yield:

Serves 6 to 8
Description
Inspired by the Sumi Salad at the Honest Weight Food Coop in Albany, this one has the addition of a poached whole chicken.
I learned the cabbage salting method from The Slanted Door cookbook. The brief salting helps the cabbage relax and release some of its liquid, which not only helps it absorb the dressing better, but makes the shreds more tender and easier to eat.
If you don't feel like dealing with a whole chicken, you could certainly substitute pieces, such as two or three boneless skinless chicken breasts or legs. To use boneless, skinless pieces: Bring a pot of salted water to a boil, add the chicken pieces, turn off the heat, cover the pot, remove it from the heat and let it poach for 15 minutes. Remove pieces, let cool briefly, then shred.
To make chicken stock, don't discard the bones and poaching liquid in step one. Return the carcass, bones, and skin to the pot, and simmer for 2.5 to 3 hours or until the broth tastes good
---
Ingredients
2 

tablespoons plus 1 teaspoon kosher salt


1 

whole chicken, about 3 lbs


1 

head cabbage, about 2.5 lbs


1/2 

cup neutral oil such as canola or grapeseed


1/4 

cup white balsamic vinegar


1 

tablespoon fresh lemon juice


2 

tablespoons sesame oil


2 

teaspoons sugar


1 

cup sliced almonds


1/3 

cup sesame seeds


6

 

scallions, thinly sliced
---
Instructions
Bring a large pot of water to a boil. Add 1 tablespoon kosher salt. Drop in the chicken and simmer for 15 minutes. Remove pan from heat, cover, and let sit for 15 minutes. Remove chicken, let cool briefly, then remove meat from bones, and pull or shred into pieces. (See notes above about making stock with poaching liquid and bones/skin).
Meanwhile, cut the cabbage into quarters through the core. Thinly slice it, discarding the core. Place in a large bowl and sprinkle with 1 tablespoon kosher salt. Using your hands, massage the salt into the cabbage. Let sit for 15 minutes. Fill bowl with cold water and jostle the cabbage with your hands. Drain into a large colander. Don't worry about drying the cabbage.
Meanwhile, make the dressing: Whisk together the neutral oil, sesame oil, vinegar, lemon juice, sugar, and remaining teaspoon kosher salt.
In a large bowl, place the cabbage, pulled meat, almonds, sesame seeds, and scallions. Add the dressing and toss to coat. Serve.
---
Category:

Salad

Method:

Toss

Cuisine:

Asian
Keywords: chicken, cabbage, salad, sesame, seeds, scallions, Asian, dressing