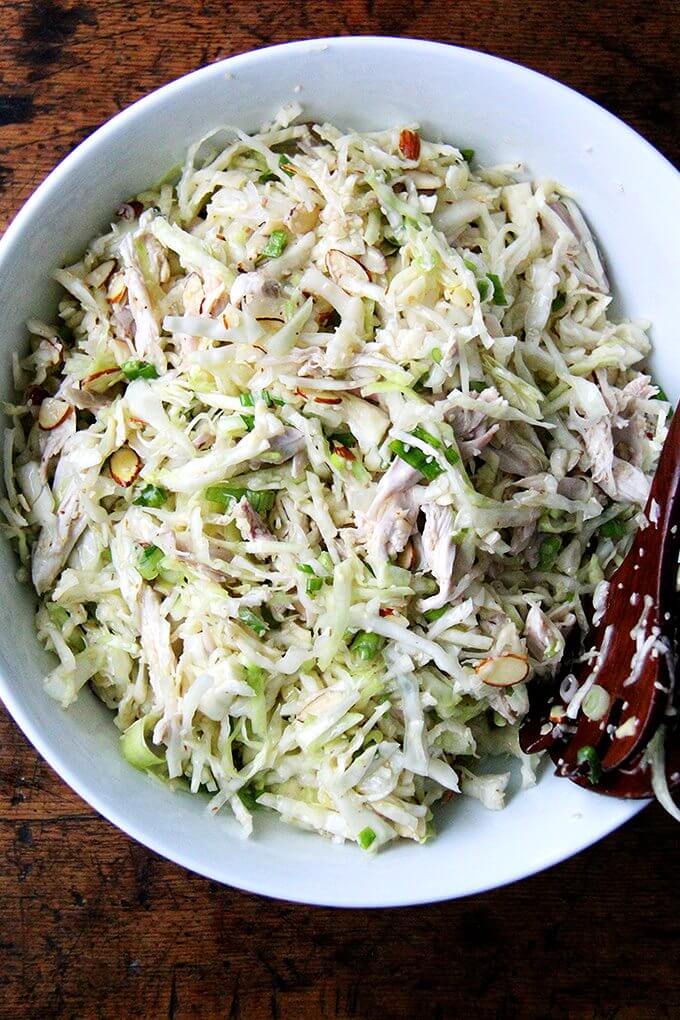 As you might recall, one of my favorite pastimes is staring at the wall of prepared salads at the Honest Weight Food Coop in Albany. Last March I obsessed over their cilantro-lime chickpeas, and I've since discovered many others, including the vegan kale Caesar and the Thai tofu salad. Most recently it's been their "Sumi" salad, an addictive mix of cabbage, scallions, sesame seeds, and almonds. It's fresh and satisfying, tasting sweet not spicy, the dressing flavored heavily  with sesame oil.
I've made it several times at home now, and I've had the best luck employing a method I read about in the Slanted Door cookbook, which noted the importance of pre-salting the cabbage in their Vietnamese chicken salad. Pre-salting the cabbage, even just for 15 minutes, softens the strands, allowing them to better soak up the dressing. Prior attempts, in which I had skipped the salting step, rendered the cabbage too crunchy and surprisingly difficult to eat.
In an effort to make the Sumi salad more of a stand-alone meal, I added the pulled meat of a whole poached chicken. I followed the poaching method also from the Slanted Door—15 minutes of simmering, followed by 15 minutes covered off the heat— which I loved, and then I made stock with the carcass, which is always so nice to have on hand this time of year. This recipe yields a lot of salad, and it keeps well in the fridge, too, making for easy lunches and dinners.
I hope you all are so well. Happy Happy New Year.
Find the recipe on Food52: Chicken and Cabbage Salad with Sesame Seeds, Scallions, and Almonds