Sheet Pan Roast Chicken with Brussels Sprouts & Balsamic
This post may contain affiliate links. Please read my disclosure policy.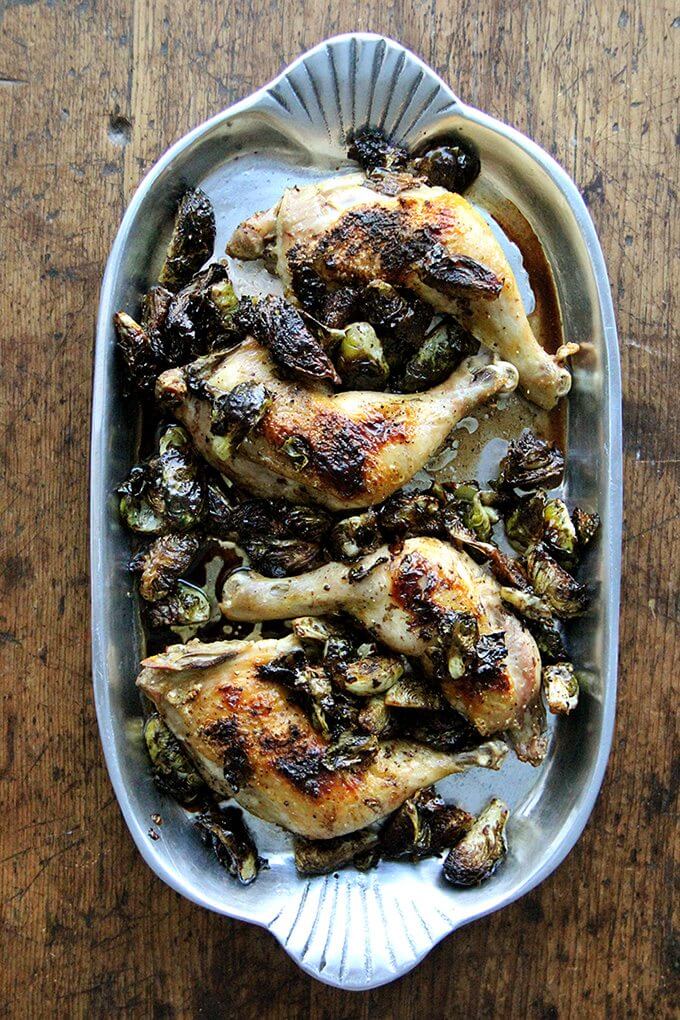 Last May I baked a sheet pan of cubed, marinated tofu. Twenty minutes later, I loaded the pan with kale and coconut, and what emerged shortly thereafter was a delicious, near one-pot wonder of a meal. This recipe introduced me to the virtues of the sheet pan supper — minimal fuss, acceptable mess, big payoff.
Like the Instant Pot and Crock Pot, the sheet pan has a devoted band of followers. Rightly so. A sheet pan's large surface area allows for large-quantity cooking; its low sides encourages airflow and in turn browning; its modest, simple design makes for easy cleaning and stowing.
I recently wrote an article over on Food52 outlining some basic principles of a sheet pan supper. While I was researching it, I crafted a few sheet pan suppers of my own, the most successful being this one: roasted chicken legs with Brussels sprouts and balsamic.
If you've made Ina Garten's roasted Brussels sprouts with pancetta and balsamic, this one will feel familiar. The beauty of Ina's recipes is that the sprouts and pancetta crisp up in unison, the rendered fat from the pancetta flavoring the sprouts, whose surfaces emerge glistening and caramelized.
Here, chicken legs replace the pancetta, and similar to Ina's recipe, the emptied pan gets hit with a few tablespoons of syrupy balsamic vinegar, which not only deglazes it, but also provides that bite so often welcomed by the cabbage family of vegetables.
The only prep here is cutting the Brussels sprouts, which should take no more than 10 minutes. As everything roasts away, you reduce some balsamic vinegar stovetop until it thickens into a sweet, syrupy sauce. That's it! Serve with some bread or rice or whatever starch your heart desires.
PS: Sheet Pan Tofu with Coconut Kale and Sheet Pan Roast Chicken with Cabbage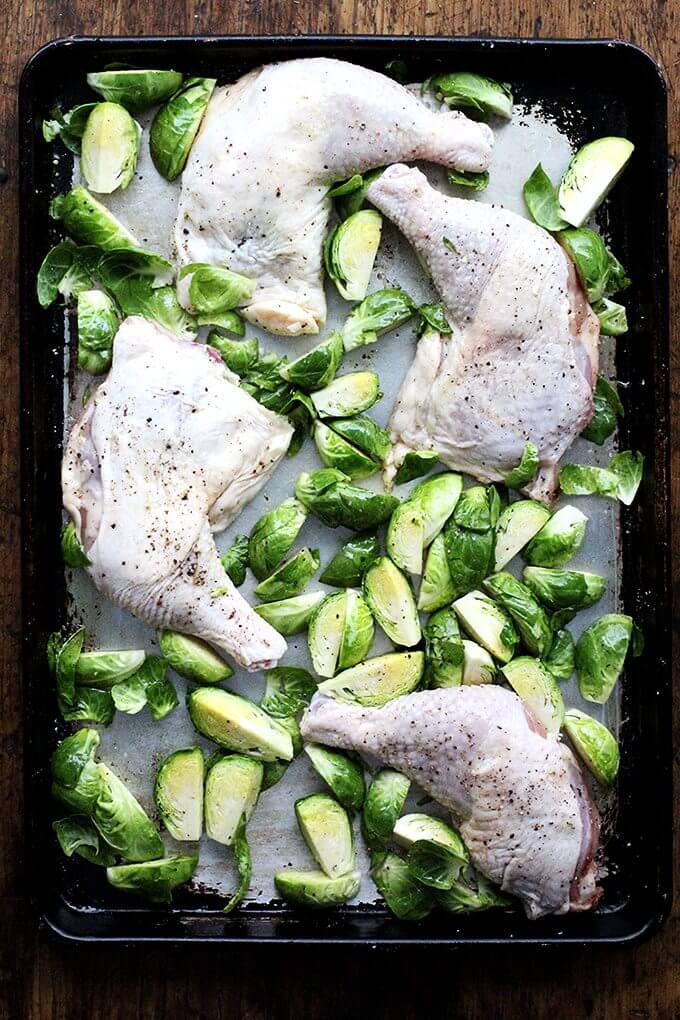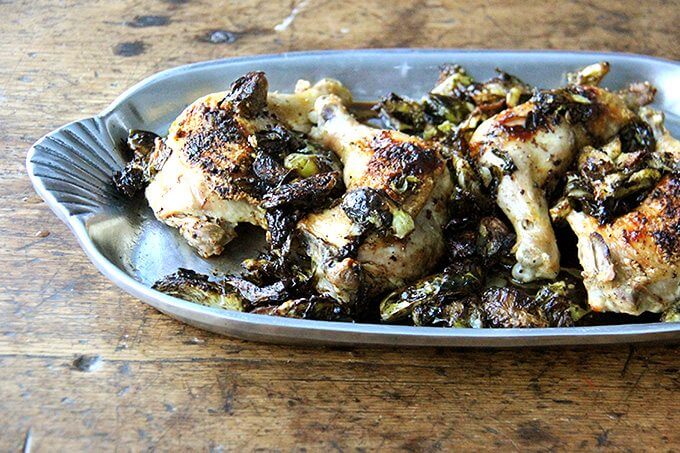 Print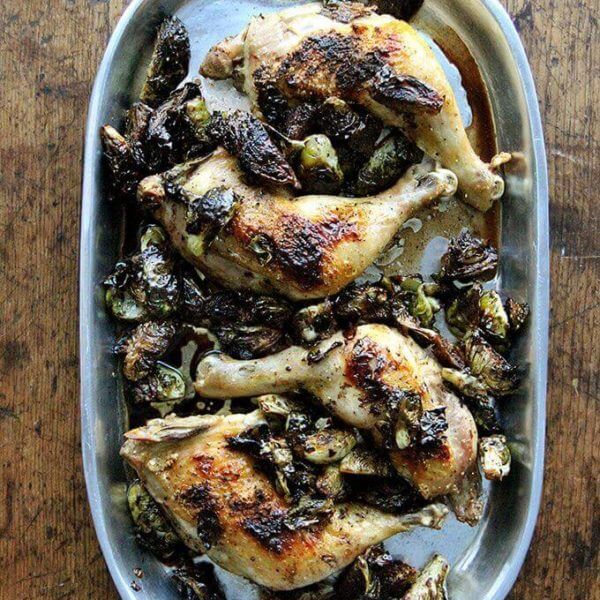 Sheet Pan Roast Chicken with Brussels Sprouts & Balsamic
---
Description
For the balsamic reduction: I start with 1/2 cup balsamic vinegar and reduce it by half. This leaves me with extra reduced balsamic, which never goes to waste. You can, however, start with 1/4 cup and reduce it by half, which is 2 tablespoons, which is what you need for the recipe. Alternatively, you could splurge on a good bottle of syrupy, aged balsamic, and simply use 2 tablespoons of that.
If you use 2 lbs. of Brussels sprouts, you might want to use another tablespoon of olive oil and more reduced balsamic.
---
1 to 2 

pounds Brussels sprouts, ends trimmed, halved or quartered, if small


4 

bone-in, skin-on chicken legs


2 

tablespoons extra-virgin olive oil

Kosher salt and pepper to taste


1/4

to

1/2

 

cups balsamic vinegar, see notes above
---
Instructions
Position an oven rack in the upper third of your oven and preheat it to 425ºF. Place the Brussels sprouts and chicken on a rimmed sheet pan. Pat the chicken dry with paper towels. Season the chicken and sprouts all over generously with salt and pepper to taste. (1 tsp kosher salt per pound of chicken is a good rule of thumb.) Drizzle with the olive oil and toss to coat evenly. Spread everything out into an even layer, placing the chicken skin side up. Place pan in oven and roast for 30 minutes, rotating the pan halfway.
Meanwhile, place the balsamic vinegar in a small pot. Bring to a simmer over medium heat, then adjust heat so that the vinegar is gently bubbling. Simmer until vinegar is reduced by half — I keep a liquid measure nearby, so I can periodically measure the amount of vinegar. Remove pot from heat.
Remove sheet pan from oven and preheat the broiler. Transfer Brussels sprouts to a bowl. Return sheet pan to the broiler, and cook until the chicken skin is evenly golden brown, about 3 minutes—keep a close watch. Transfer chicken to a serving platter.
Pour the 2 tablespoons of reduced balsamic over the sheet pan and scrape up any bits from the pan. Pour this mixture over the Brussels sprouts and toss to coat. Pour the Brussels sprouts mixture over the resting chicken. Let rest 5 minutes before serving.
Prep Time:

15 minutes

Cook Time:

30 minutes

Category:

Dinner

Method:

Oven

Cuisine:

American
Keywords: sheet pan, supper, one-pan, chicken, balsamic, Brussels sprouts
This post may contain affiliate links. Please read my disclosure policy.