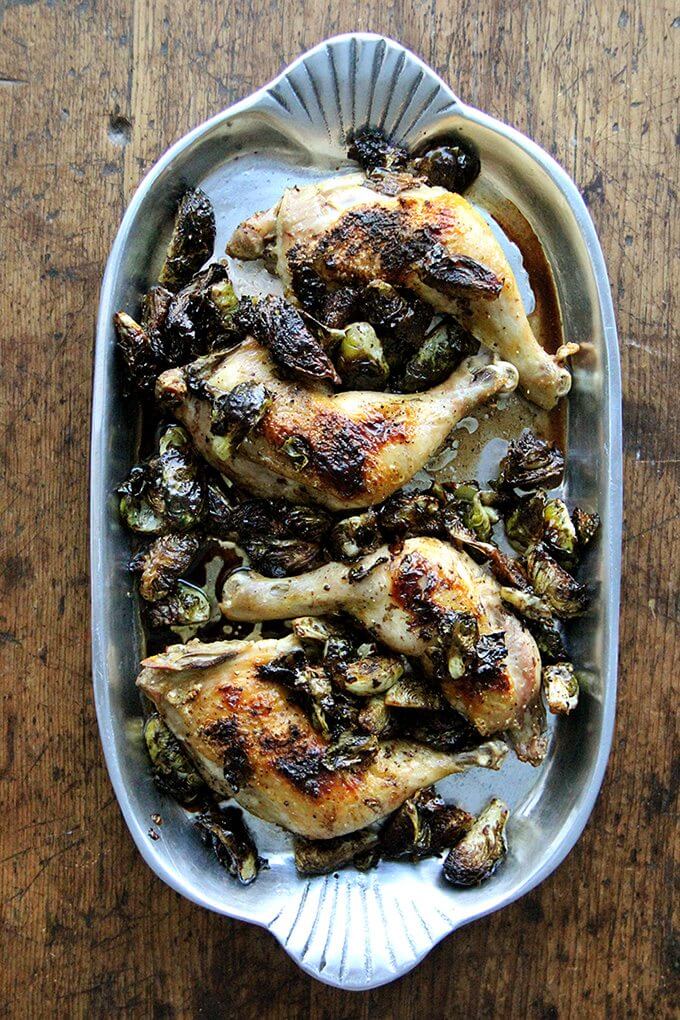 Last May I baked a sheet pan of cubed, marinated tofu. Twenty minutes later, I loaded the pan with kale and coconut, and what emerged shortly thereafter was a delicious, near one-pot wonder of a meal. This recipe introduced me to the virtues of the sheet pan supper — minimal fuss, acceptable mess, big payoff.
Like the Instant Pot and Crock Pot, the sheet pan has a devoted band of followers. Rightly so. A sheet pan's large surface area allows for large-quantity cooking; its low sides encourages airflow and in turn browning; its modest, simple design makes for easy cleaning and stowing.
I recently wrote an article over on Food52 outlining some basic principles of a sheet pan supper. While I was researching it, I crafted a few sheet pan suppers of my own, the most successful being this one: roasted chicken legs with Brussels sprouts and balsamic.
If you've made Ina Garten's roasted Brussels sprouts with pancetta and balsamic, this one will feel familiar. The beauty of Ina's recipes is that the sprouts and pancetta crisp up in unison, the rendered fat from the pancetta flavoring the sprouts, whose surfaces emerge glistening and caramelized. Here, chicken legs replace the pancetta, and similar to Ina's recipe, the emptied pan gets hit with a few tablespoons of syrupy balsamic vinegar, which not only deglazes it, but also provides that bite so often welcomed by the cabbage family of vegetables.
The only prep here is cutting the Brussels sprouts, which should take no more than 10 minutes. As everything roasts away, you reduce some balsamic vinegar stovetop until it thickens into a sweet, syrupy sauce. That's it! Serve with some bread or rice or whatever starch your heart desires.
Have a wonderful weekend, Everyone.
PS: Sheet Pan Tofu with Coconut Kale and Sheet Pan Roast Chicken with Cabbage