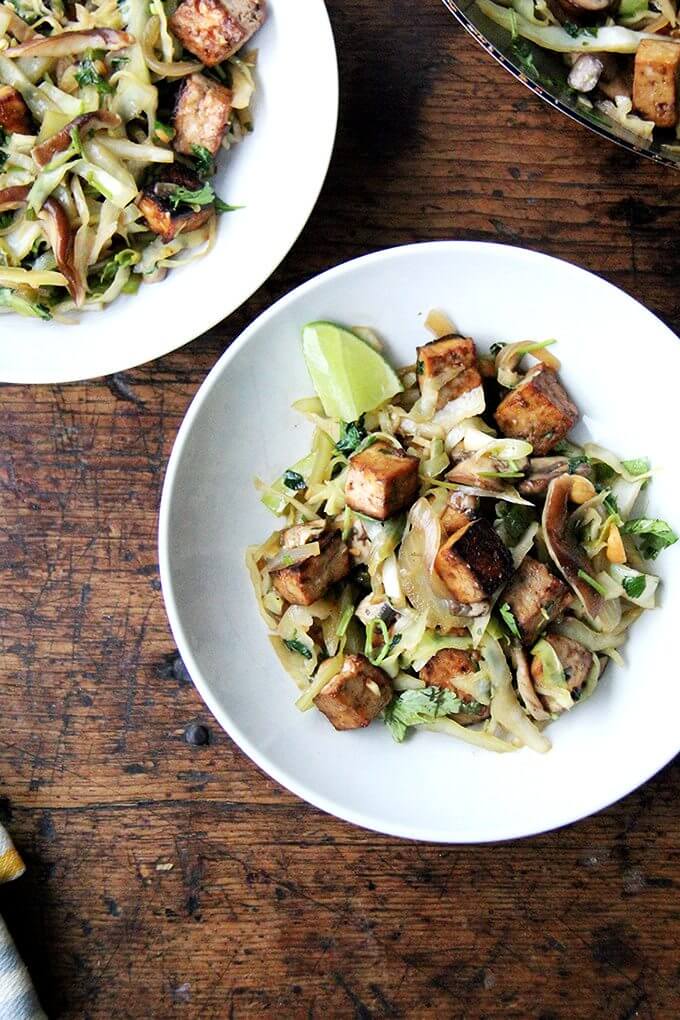 I've been making this cabbage pad Thai-ish in some form or another since the late fall, when I spotted the recipe in Andie Mitchell's Eating in the Middle, and the contents of my CSA miraculously included all of the key ingredients: cabbage, peppers, cilantro, and onions.
With peppers now out of season, I've been using shiitake mushrooms, whose meaty texture and woodsy flavor nicely complement the cabbage, and I imagine a number of other vegetables—julienned carrots, shredded Brussels sprouts or broccoli, for example—could also be used. In place of the traditional scrambled egg, the texture of which I never seem to get right, I've been baking cubes of tofu, dressed simply with soy sauce and oil, and folding those in at the end.
Two notes: There are no noodles! And no tamarind! So no, this is not authentic pad Thai. Here, sugar and lime juice in the stir-fry sauce stand in for tamarind, whose fruity, tart flavor lends that sweet-and-sourness characteristic of traditional pad Thai. This dish comes together quickly, and while the vegetables and seasonings may be unorthodox, the combination is tasty and satisfying.
The recipe is up on Food52: Cabbage Pad Thai with Baked Tofu
PS: Other favorite cabbage recipes.