This one-pot chicken and rice with dates, harissa, and pistachios is a showstopper — it's a mix of sweet and spicy, smoky and crunchy, and best of all it couldn't be simpler to prepare. There's no need to brown the chicken. In just about 45 minutes, it will be done! The subtle freshness or orange zest permeates the rice and the chopped dates add a nice sweetness. This is a great one for entertaining, but its minimal demands make it great for any night of the week.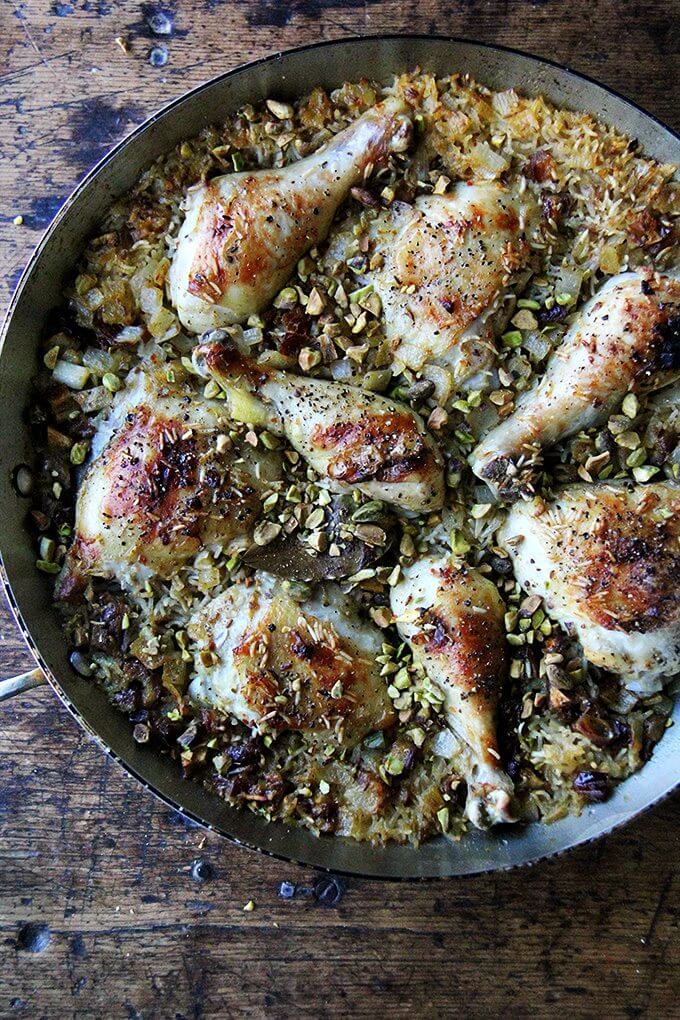 A little over three years ago, I took a class at a local restaurant, Tara Kitchen, which sent me on a Moroccan-cooking bender: I stocked my pantry with ras-el-hanout and harissa, made a batch (two actually) of preserved lemons, then used them to make a tagine with chicken, green olives, and raisins.
I had known little about Moroccan cooking before taking the class, and I still know little, but everything I seem to make with Moroccan seasonings, I tend to love: see Leblebi (North African Chickpea Stew) and now this one-pot chicken and rice with dates, harissa, and pistachios.
It's a mix of sweet and spicy, smoky and crunchy, and best of all it couldn't be simpler to prepare. It comes from Diana Henry's Simple. 
Note: You'll need harissa, a spicy prepared paste/sauce, which is not hard to find these days. If you're up for making it from scratch, this is a great recipe: Homemade Harissa. Or you can use jarred. I like Tara Kitchen's brand, which is now available at Whole Foods Market (not everywhere, see locations here).
5 Favorite No-Browning Chicken Recipes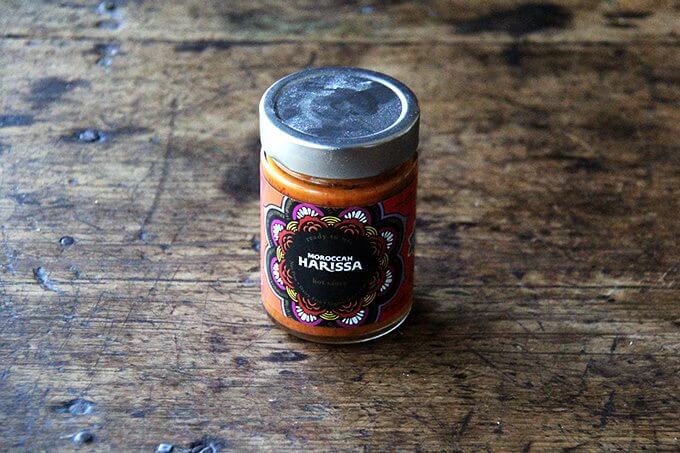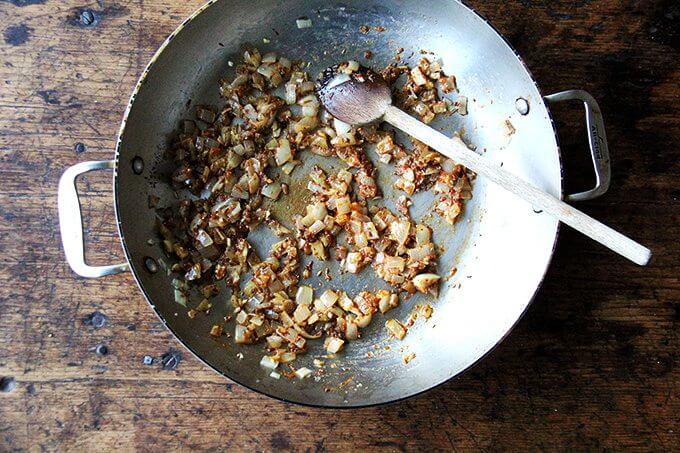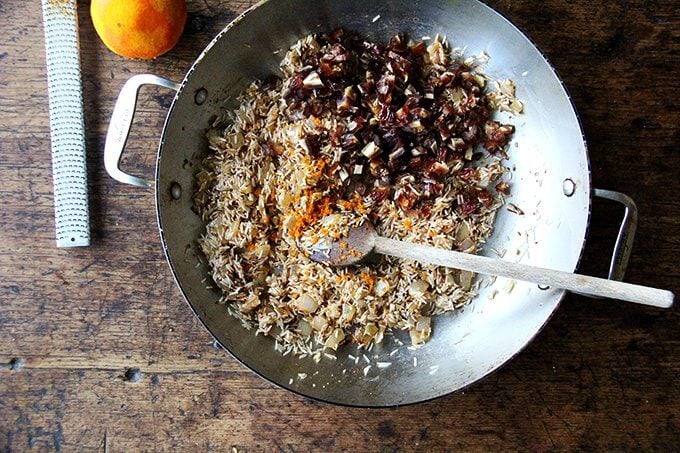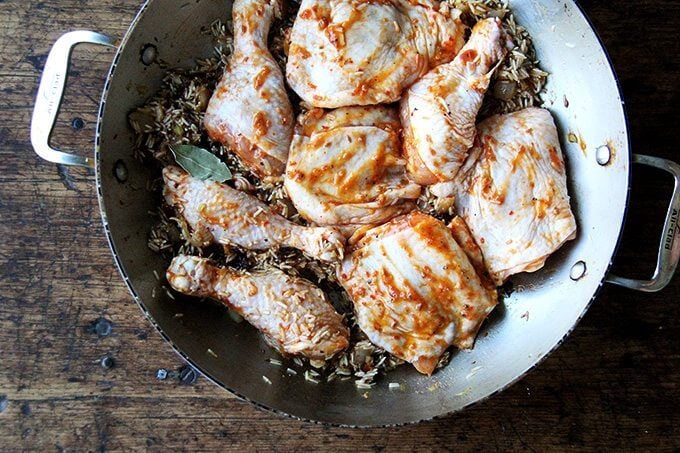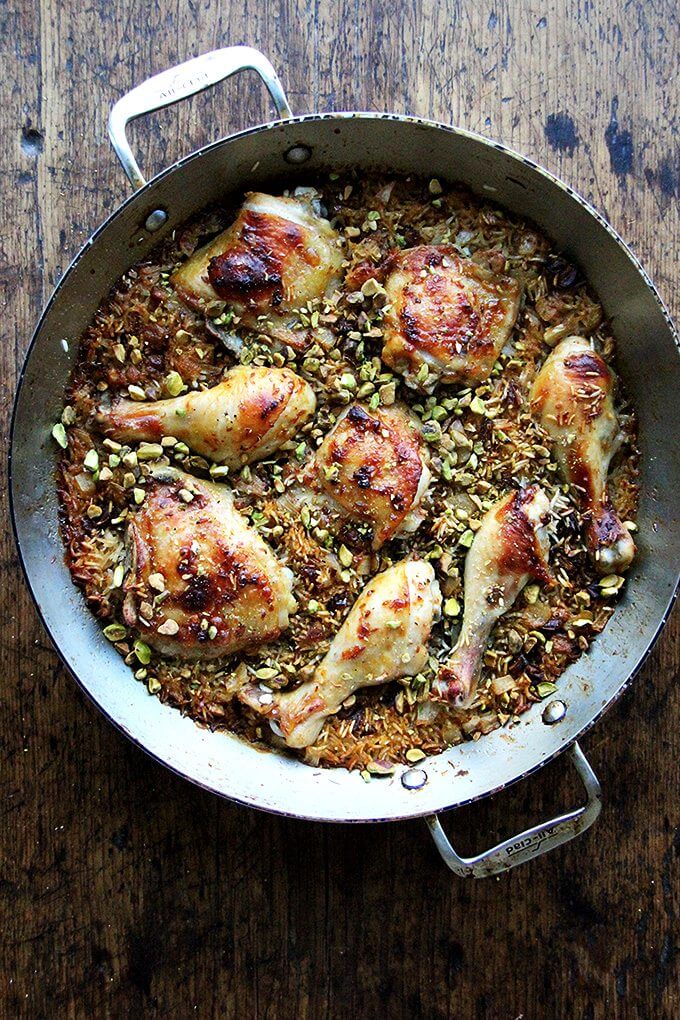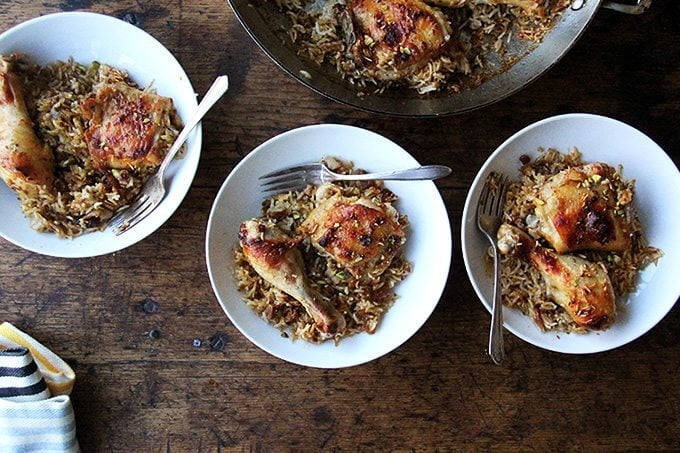 Print
Moroccan Chicken and Rice with Dates, Harissa & Pistachios
---
Author:

Alexandra Stafford

Prep Time:

20 minutes

Cook Time:

40 minutes

Total Time:

1 hour

Yield:

Serves 6 to 8
Description
Adapted From Diana Henry's Simple.
I have made the recipe somewhat more fussy: the original recipe truly calls for throwing everything in the pot, sticking it in the oven, and baking it. I didn't love the taste of the raw onion, so I added one more step, which is to sauté the onions for 5 minutes, then add the remaining ingredients one after the other.
I prefer toasting whole cumin seeds then grinding them in my mortar and pestle. Do this if you prefer as well. I also don't love ground ginger, so I used a teaspoon of coriander seeds (not similar, but works here), which I also toasted and ground.
Harissa is spicy prepared Moroccan sauce/paste. It varies in heat level, so you may have to adjust to taste. I found the 1.5 tablespoons called for in the original recipe not spicy enough for me; 4 tablespoons is quite spicy, however.
Original recipe calls for 12 dates. I prefer fewer, but use as many as you wish.
Brown rice: several commenters tried unsuccessfully to use brown rice. It's possible that a larger amount of water could help the brown rice cook properly, but I've never tried, so I can't say for sure. I would look to the package instructions for guidance re water and time.
---
Ingredients
3 

tablespoons olive oil, divided


1 

onion, finely chopped

Kosher salt and pepper to taste


8 

pieces bone-in, skin-on thighs and/or drumsticks


2 to 4 

tablespoons harissa


3 

cloves garlic, minced


1 

tablespoon ground cumin or whole cumin seeds (see notes above)


1 

teaspoon ground coriander (see notes above)


1 

cup basmati rice, rinsed until water runs clear, do not use brown rice, see notes above


1 

bay leaf


6

medjool dates, diced (see notes above)


1 

orange


2

 

tablespoons (or more) chopped pistachios (I use roasted unsalted)
---
Instructions
Preheat the oven to 400ºF. In a large skillet over high heat, heat 2 tablespoons of the oil until it shimmers. Add the onions and reduce the heat to medium. Add a pinch of salt, and sauté until the onions are soft and translucent, about 5 minutes.
Meanwhile, place the chicken in a large bowl. Season all over with salt and pepper. Pour in the remaining tablespoon of oil and 1 to 2 tablespoons of harissa, depending on your heat tolerance. Toss to coat.
Add the garlic to the onions, and cook for another minute more. Add the spices and 1 to 2 tablespoons of the harissa (depending again on your heat tolerance). Stir to coat the onions in the seasonings. Add the rice and stir for another minute or until each grain is glistening. Add the dates and zest the orange right into the pan. Halve the orange and squeeze the juice right into the pan. Add 1/2 teaspoon salt to the pan. Stir to combine. Nestle the chicken over the top of the rice. Pour 1 and 1/3 cups water (see notes above re water) all around. Nestle in the bay leaf.
Transfer pan to the oven (uncovered) and cook for 40 minutes. Remove pan from oven. Scatter pistachios over top. Serve immediately.
---
Category:

Chicken

Method:

Oven

Cuisine:

Moroccan
Keywords: chicken, rice, moroccan, one-pan, dates, Harissa