Curried Chickpea and Lentil Soup
This post may contain affiliate links. Please read my disclosure policy.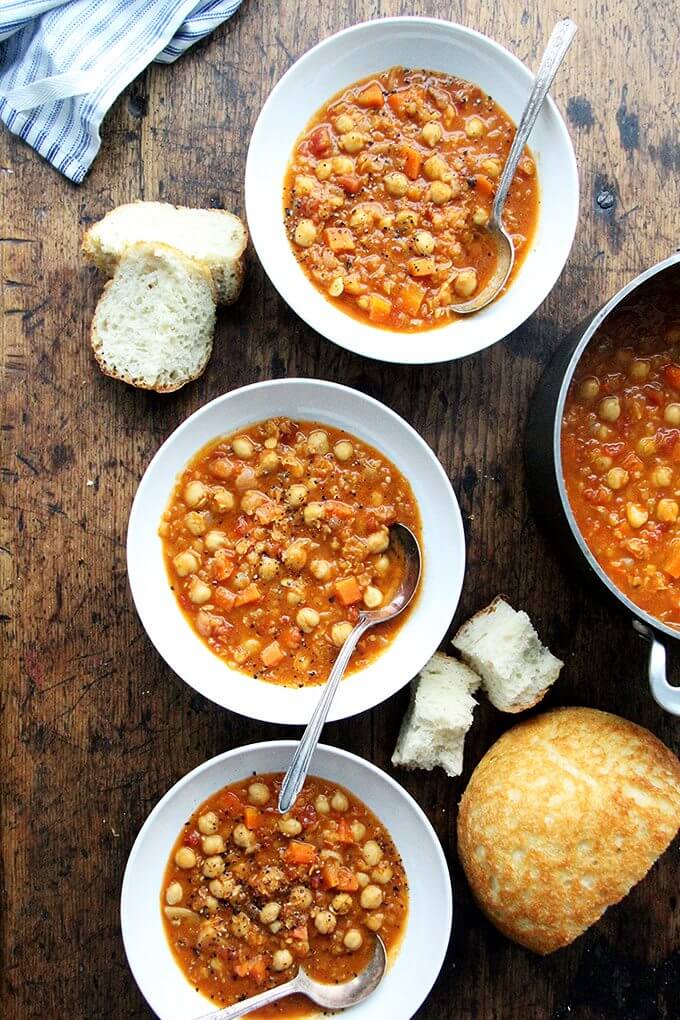 My neighbor Sandra—of Pasta Puttanesca and Moosewood Tomato Salsa lore—recently introduced me to another keeper: COOKIE + Kate's lentil soup, a popular vegan recipe, which Sandra confesses she makes with chicken stock. I love Sandra.
After devouring the quart of soup she brought to us during the blizzard, I set to work making a batch of my own, and I've made it twice more since: once mostly as written, but with chicken stock in place of the vegetable stock, and once with all water, which kept it vegan.
Both are completely delicious—this is a recipe that can be adapted to taste and to what you have in your pantry. I've added chickpeas, omitted the greens, used vinegar in place of the lemon juice, and it always turns out well.
Most important, it comes together alarmingly quickly but has a simmered-all-day-kind-of taste.
PS: Addictive Black Lentils with Spinach and Labneh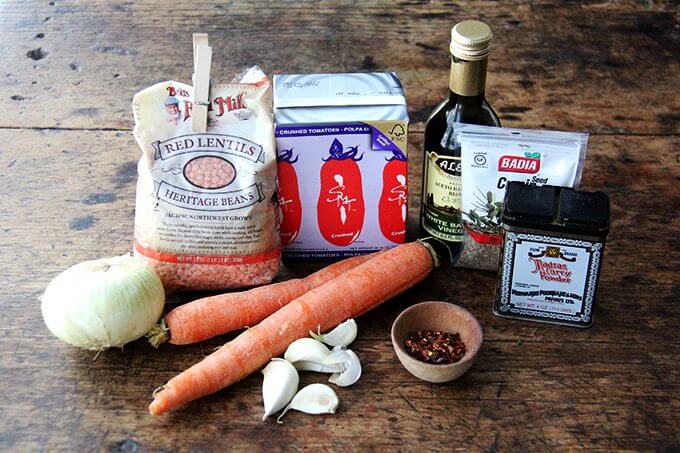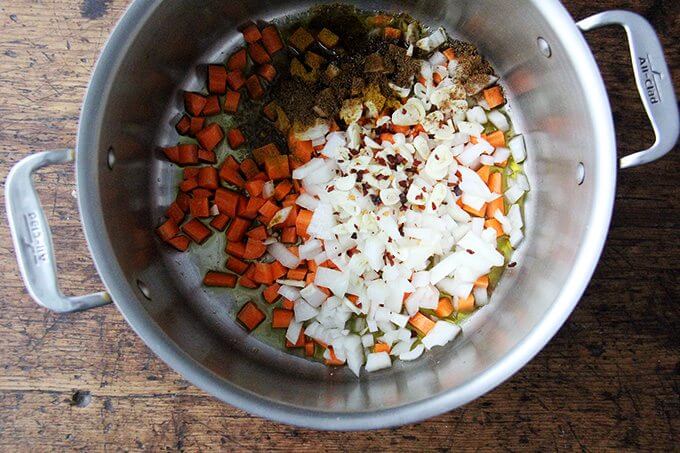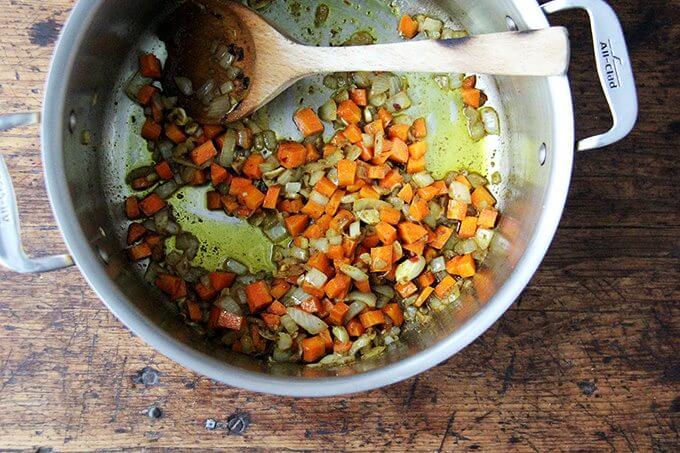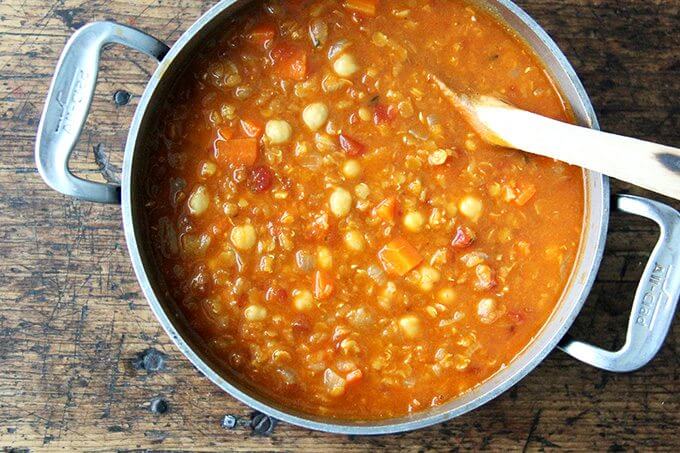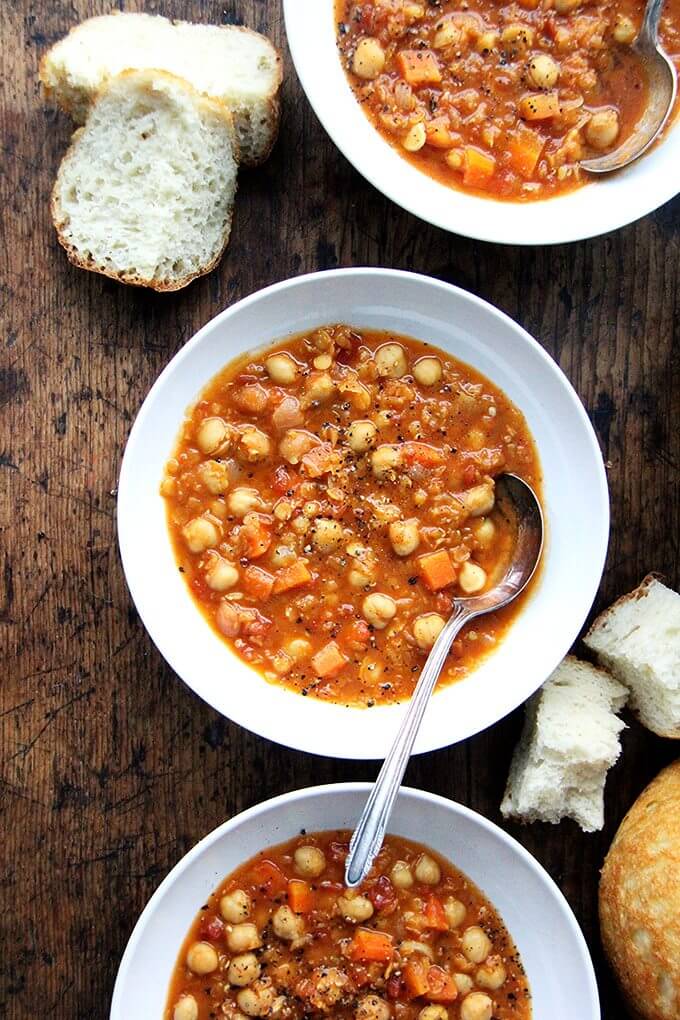 Print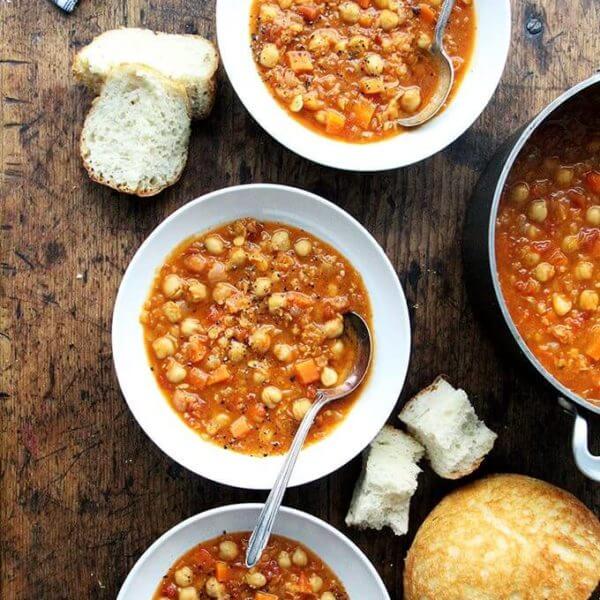 Curried Chickpea and Lentil Soup
---
Description
Inspired by this recipe on Cookie & Kate. I've made a few modifications:
Cumin: I prefer starting with whole seeds, which I crush in a mortar and pestle, but pre-ground is fine, too.

I love a lentil soup with a vinegary bite, so in place of the lemon juice, I use 1/4 cup white balsamic vinegar. You could use red wine, white wine, cider vinegar in its place. The soup does not take vinegary in the end, but there is a welcomed sharpness. 

I add chickpeas because I really like the combination of the lentils, which break down completely, and the chickpeas, which hold their shape and add nice texture.

I've made the soup a little less tomato-y, so I use 2 cups crushed tomatoes as opposed to a whole can (28 oz). I like the Pomi brand crushed tomatoes.

Original recipe calls for adding chard or collard greens at the end, which I am sure would be delicious, but if you don't have them on hand, don't feel the need to run out. 

Original recipe also calls for puréeing some of the soup at the end, but I kind of like it as it is with all of the various textures — purée if you wish.
---
1/4 cup

olive oil

1 onion diced, 1.25-1.5 cups

2 carrots peeled and diced, 1.25-1.5 cups

4 cloves garlic, thinly sliced

2 teaspoons ground cumin, see notes above

1 teaspoon curry powder

pinch red pepper flakes

1 teaspoon kosher salt, plus more to taste

fresh pepper to taste

1 cup red lentils

4 cups cooked chickpeas, or two 15-oz cans, drained

1/4 cup white balsamic vinegar or lemon to taste, see notes above

2 cups crushed tomatoes

4 cups vegetable or chicken stock or water
---
Instructions
In a large pot, place the oil, onions, carrots, garlic, cumin, curry, red pepper flakes, fresh pepper, and pinch of salt. Bring to a sizzle over high heat, then reduce the heat to medium and cook, stirring occasionally to coat the vegetables in the spices, about 10 minutes.

Add the lentils, chickpeas, 1 teaspoon salt, vinegar, crushed tomatoes, 4 cups stock or water plus 2 more cups of water. Bring to a boil, then reduce heat so mixture is simmering. Simmer for 30 minutes or longer, until the lentils have broken down, and the mixture has thickened. Taste. Adjust seasoning with more salt (I usually add another teaspoon or more of kosher salt, but adjust as you see fit), pepper, or vinegar/lemon to taste. Serve with bread. 
Prep Time:

15 minutes

Cook Time:

30-40 minutes

Category:

Soup

Method:

Stovetop

Cuisine:

American, Indian
Keywords: curried, lentil, chickpea, soup, vegan, vegetarian
This post may contain affiliate links. Please read my disclosure policy.