One-Pan Chicken with Potatoes & Tarragon
This post may contain affiliate links. Please read my disclosure policy.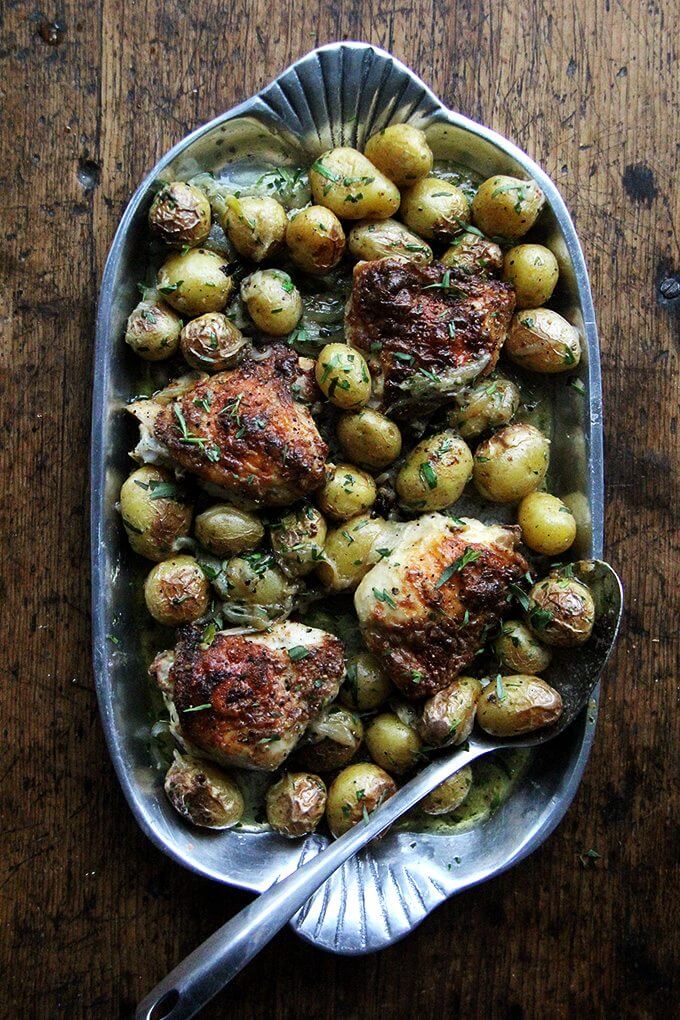 If mayonnaise is a page turner for you, this one may take a little convincing, but I urge you to stay with me.
Here's why: with five minutes of prep you can have this dish ready for the oven (long before it reaches its 450ºF roasting temperature, too), and the result—incredibly juicy, evenly browned chicken plus well-seasoned potatoes showered with tarragon—will have you marveling. This dish is a small miracle.
The first time I made it, I threw everything in the pan, threw the pan in the oven, set the timer, passed on notes to Ben, who finished the process (i.e. sprinkled tarragon over top and fed the children) as I ran out the door. Several hours later, I returned home to a happy family and an empty skillet. Success.
The next time I made it, I savored every bite with the family. It's happening again tonight, because: five minutes. It's hard to beat.
Here's what you need: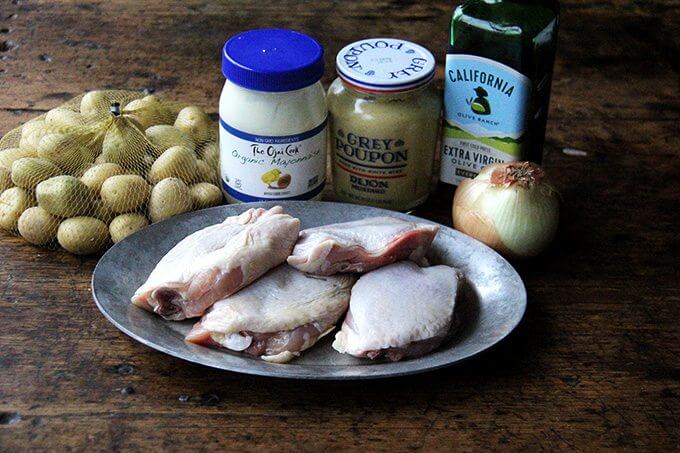 Here's how you make it: Toss potatoes, onion, water, olive oil, salt, and pepper together in a skillet: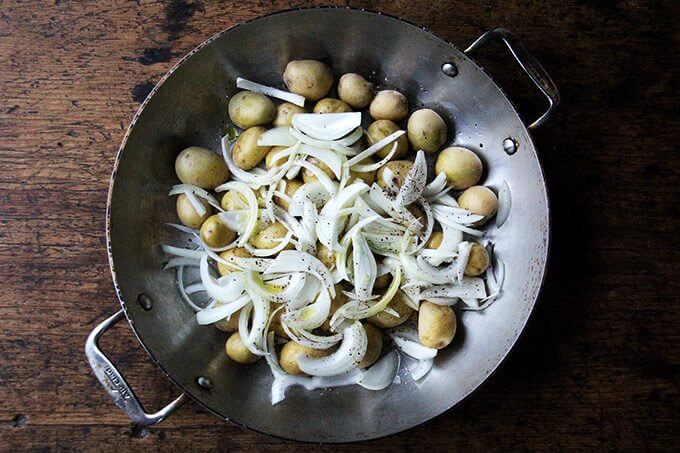 Coat bone-in, skin-on chicken thighs with a mixture of mayonnaise and mustard: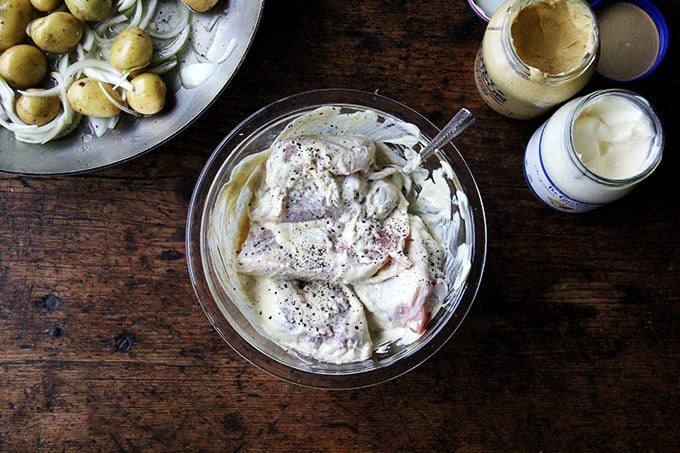 Place the chicken on top of the potatoes and roast at 450ºF for 45 minutes: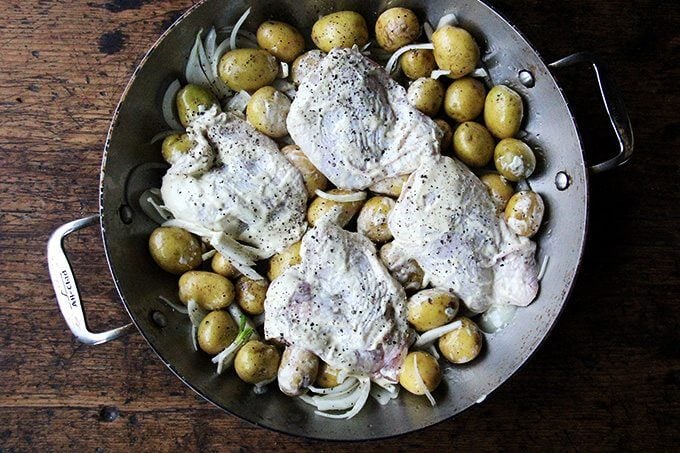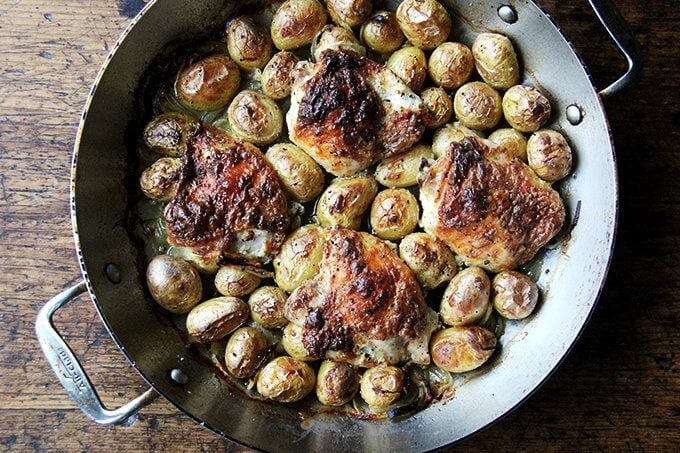 Sprinkle with tarragon out of the oven: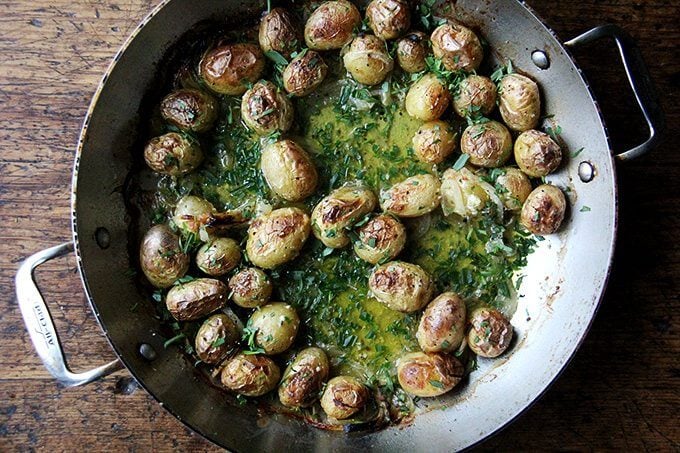 Serve immediately: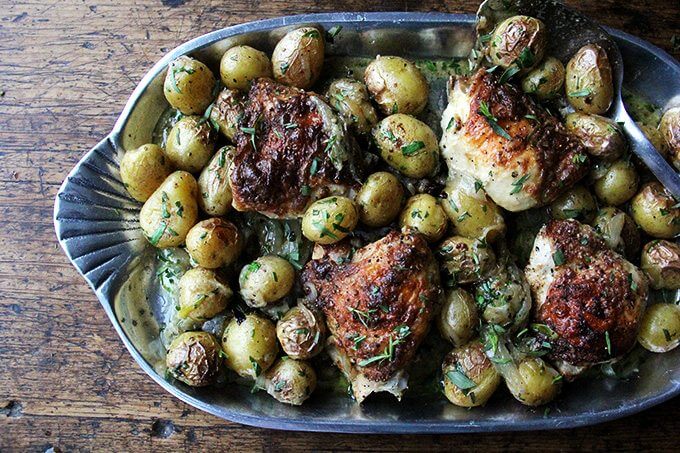 Print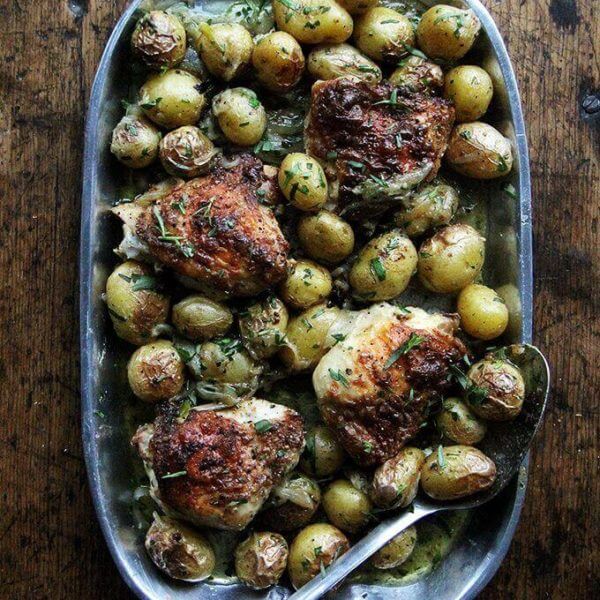 One-Pan Chicken with Potatoes & Tarragon
---
Description
This dish was inspired by a recipe in the March 2017 Bon Appetit that calls for marinating chicken thighs in mayonnaise (and a few other ingredients I did not have on hand), which encourages browning while keeping the meat juicy — it works!
There's no marinating here, however — everything gets thrown into the pan at once, and 45 minutes later it emerges beautifully golden. A shower of herbs at the end adds some welcomed color and freshness.
Re: potatoes, I've been using a 1.5-ib bag of "Honey Golds—One Bite" that I find at my local grocery store. You can use fingerlings, too, but you should halve them lengthwise to ensure they cook through.
---
1.5 

pounds small potatoes, see notes above


1 

medium onion, thinly sliced, to yield about a cup


2 

tablespoons olive oil


1/2 

cup water

Kosher salt and fresh cracked pepper to taste


1/4 

cup mayonnaise


2 

tablespoons Dijon mustard


4 

bone-in, skin-on chicken thighs


A few tablespoons finely chopped herbs, such as tarragon, chives, or parsley
---
Instructions
Place a rack in the middle of the oven and preheat it to 450ºF. Place the potatoes, onion, olive oil, and water in a large skillet. Season all over with salt. Crack pepper over top to taste. Toss to combine.
In a medium bowl, stir together the mayonnaise and the mustard. Add the chicken thighs and toss to coat on all sides. Season all over with salt and pepper. Nestle the thighs on top of/in between the potatoes. Crack more pepper over top if you wish.
Transfer pan to the oven uncovered and cook for 45 minutes or until evenly golden, checking after 30 minutes to ensure everything is browning evenly — if the onions are getting too dark, add a few more tablespoons of water to the pan.
Sprinkle tarragon or herb of choice all over the roasted chicken and potatoes. Transfer chicken to a platter. Toss potatoes with herbs and remaining juices in the pan. Taste. Adjust with more salt or pepper if necessary. Spoon potatoes around chicken on the platter. Serve.
Prep Time:

5 minutes

Cook Time:

45 minutes

Category:

Dinner

Method:

Oven

Cuisine:

American
Keywords: one-pan, chicken, potatoes, roast, tarragon, easy
This post may contain affiliate links. Please read my disclosure policy.