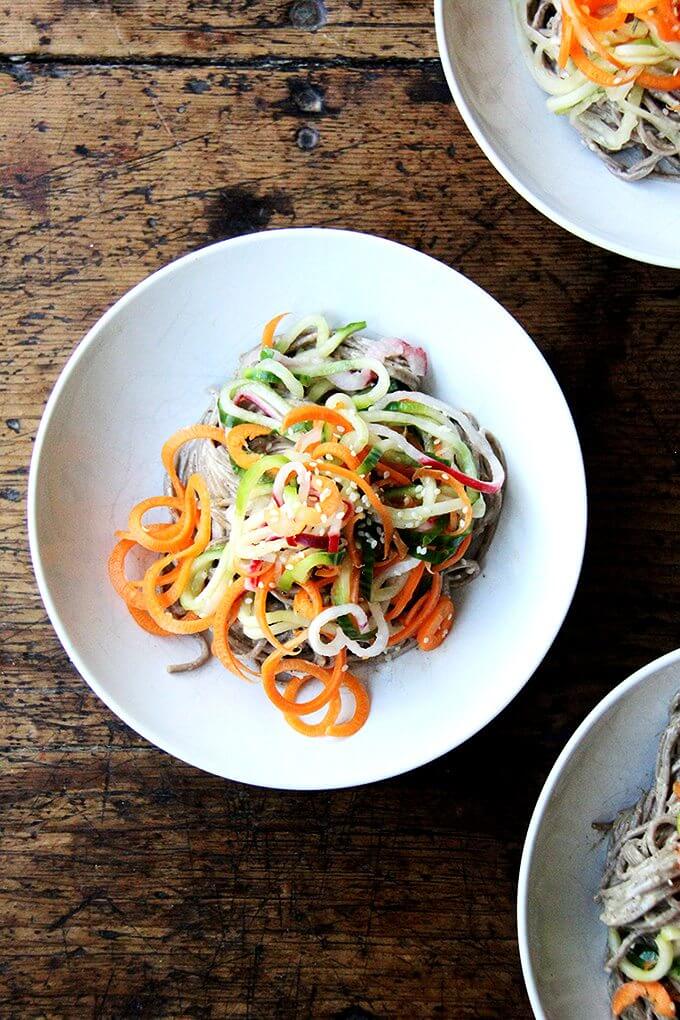 As noted in the previous post, my friend Phoebe's book, The Wellness Project, is not a cookbook. I am loving the two recipes I've made thus far, however (see Violet's Big Blueberry Smoothie, which I've been making every day).
This one is really fun, too, and super easy. Here's the gist: You quick-pickle some vegetables, cook soba noodles, and make a dressing of almond butter, fresh lime juice, soy sauce, sesame oil, and honey. When you're ready to serve, you toss the soba noodles with zucchini noodles (if you wish—I've omitted here) and the dressing, and pile the quickles on top — I like a near equal ratio of quickles to noodles.
Like these soba noodles with peanut sauce, this one will be a good one to rely on in the summer — it's so refreshing — and, if you subscribe to a CSA or tend a prolific garden, it makes great use of all of those carrots, cucumbers, and radishes you may find yourself up to your eyeballs in.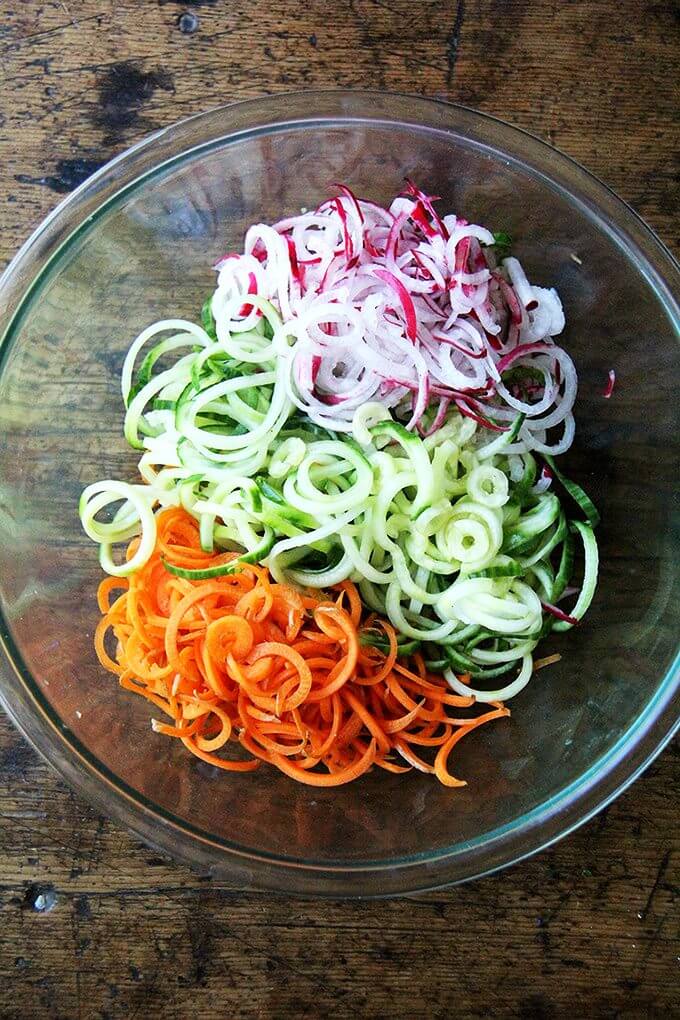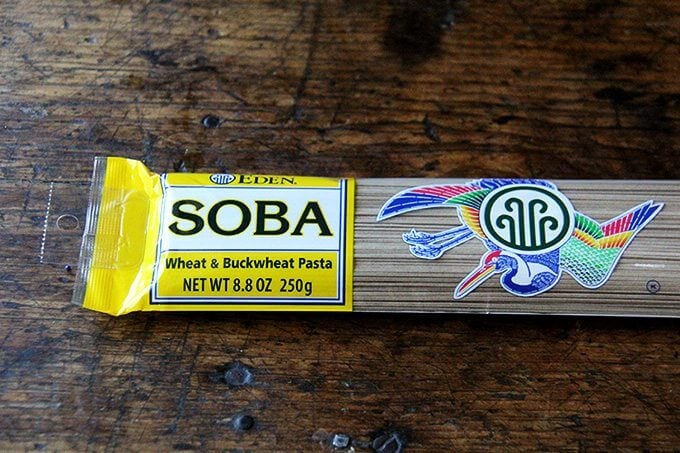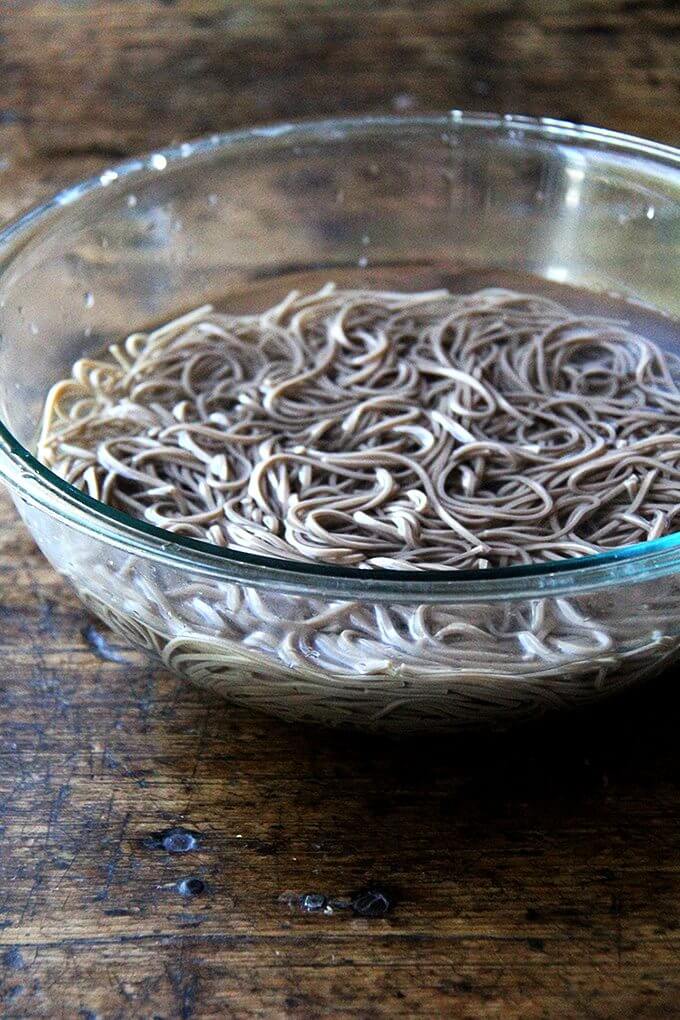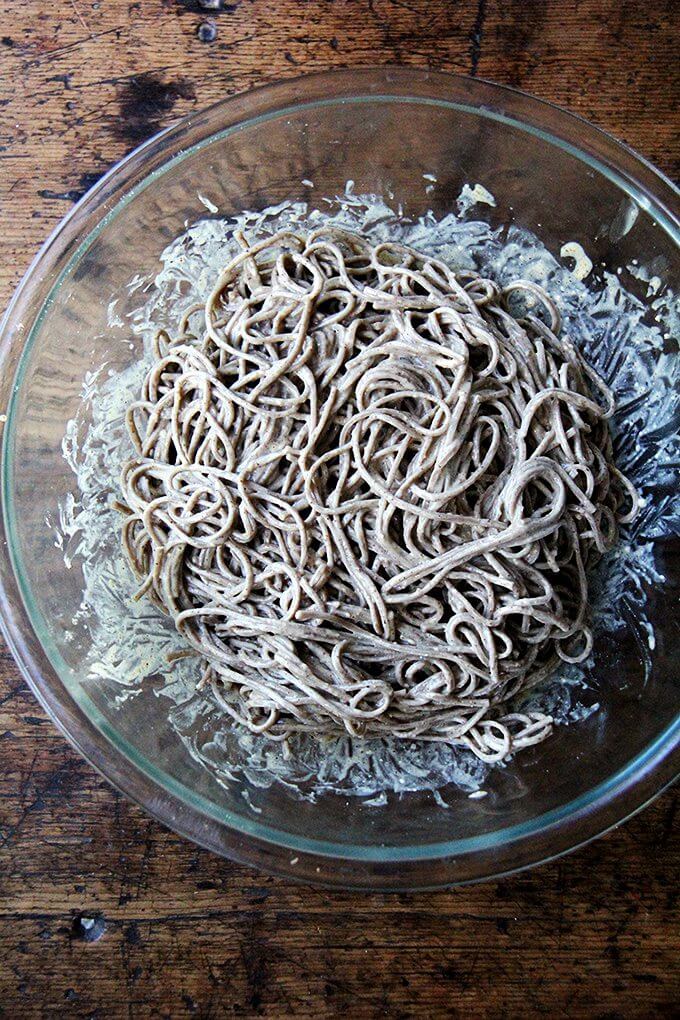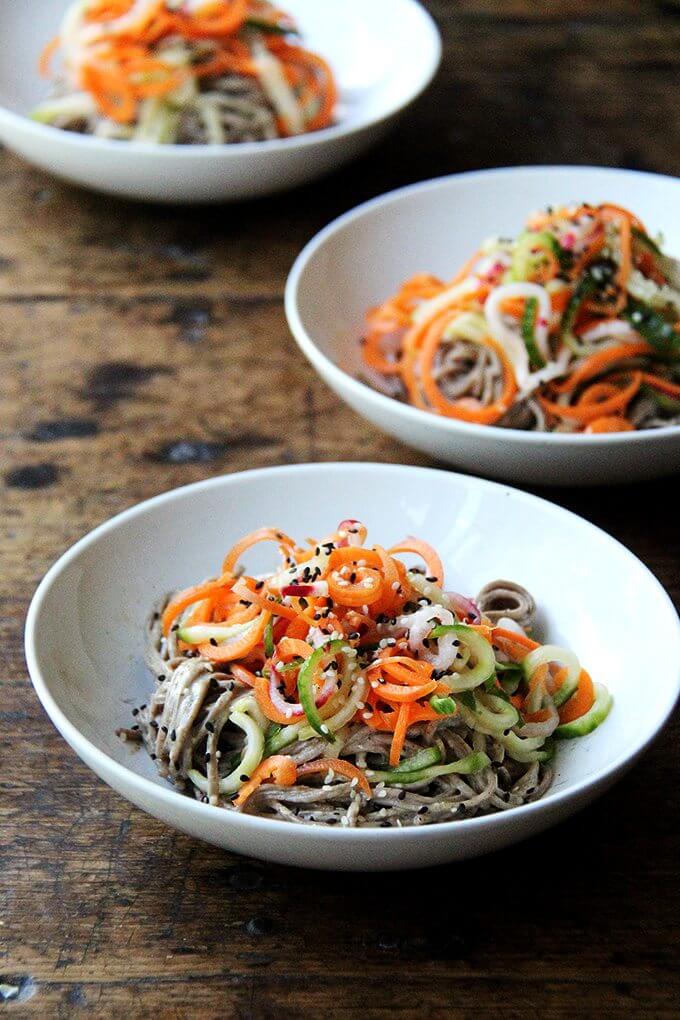 Print
Almond-Sesame Soba Noodles with Quick-Pickled Vegetables
---
Description
From Phoebe Lapine's The Wellness Project
The soba noodles I've been using recently contain both wheat and buckwheat. If you are trying to keep gluten free, look for soba noodles made with 100% buckwheat. I don't have a favorite brand, but I've been really liking the Eden brand. They hold up nicely in the fridge even after a day or two — this may be because of the inclusion of wheat in the noodle.
The original recipe calls for making zucchini noodles with a spiralizer, and then essentially using half cooked soba noodles and half raw zucchini. I will absolutely do this when zucchini season hits, but for now, I've omitted them. BUT, because the zucchini noodles sounded like fun, I decided to spiralize (as opposed to dice) the vegetables destined to be quick-pickled: radishes and cucumbers. I added carrots to the mix, too. Know, however, you can dice the radishes, cucumber, and carrots or julienne them if you don't own a spiralizer.
Almond butter: If you are using salted almond butter, omit the salt in the dressing, and add salt to taste after it is blended together. If you are using almond butter that is sweetened, omit the honey and add to taste after it is blended together.
---
Ingredients
8 ounces

buckwheat soba noodles, see notes above

6

medium radishes, cut into

1/2

-inch cubes or spiralized, see notes above

1

English cucumber, cut into

1/2

-inch cubes or spiralized

2

large, fat carrots, cut into

1/2

-inch cubes or spiralized

1/4 cup

rice vinegar

2 teaspoons

sea salt, divided

1/2 cup

unsalted almond butter, see notes above

1

small garlic clove

1/4 cup

freshly squeezed lime juice

2 tablespoons

gluten-free tamari or soy sauce

2 teaspoons

raw honey or maple syrup

2 teaspoons

toasted sesame oil

2

large zucchini, spiralized into thin noodles, optional, see notes above (I omitted here)

1 tablespoon

black or white sesame seeds, for garnish
---
Instructions
Bring a large pot of water to a boil. Cook the soba noodles according to package directions until al dente. Drain and rinse with cold water, then transfer to a large bowl of cold water, and swish them around — this will prevent them from clumping later.
While the noodles are cooking, combine the radishes, cucumber, carrots, if using, vinegar, and 1 teaspoon salt in a medium mixing bowl. Allow the veggies to marinate for 10 minutes, tossing occasionally. (It's OK if they go longer)
Puree the almond butter, garlic, lime juice, tamari, honey, sesame oil, 1 teaspoon salt (omit if using salted almond butter), and 1/4 cup water in the bowl of a small food processor. Add more water, 1 tablespoon at a time, until you reach the consistency of peanut sauce. Taste. Add more salt as needed.
Drain soba noodles. Shake pan to remove excess water but don't worry about drying them off — the water will blend with the dressing and make it easy to toss. Transfer almond-sesame sauce to the mixing bowl with the soba noodles—you may not need all of it. Add the zucchini, if using, and toss until everything is well coated. Divide among serving bowls, top with the quick pickled veggies, and garnish with the sesame seeds. Serve extra pickled veg on the side.
Serve at room temperature or cold, alongside your favorite Asian hot sauce.
---