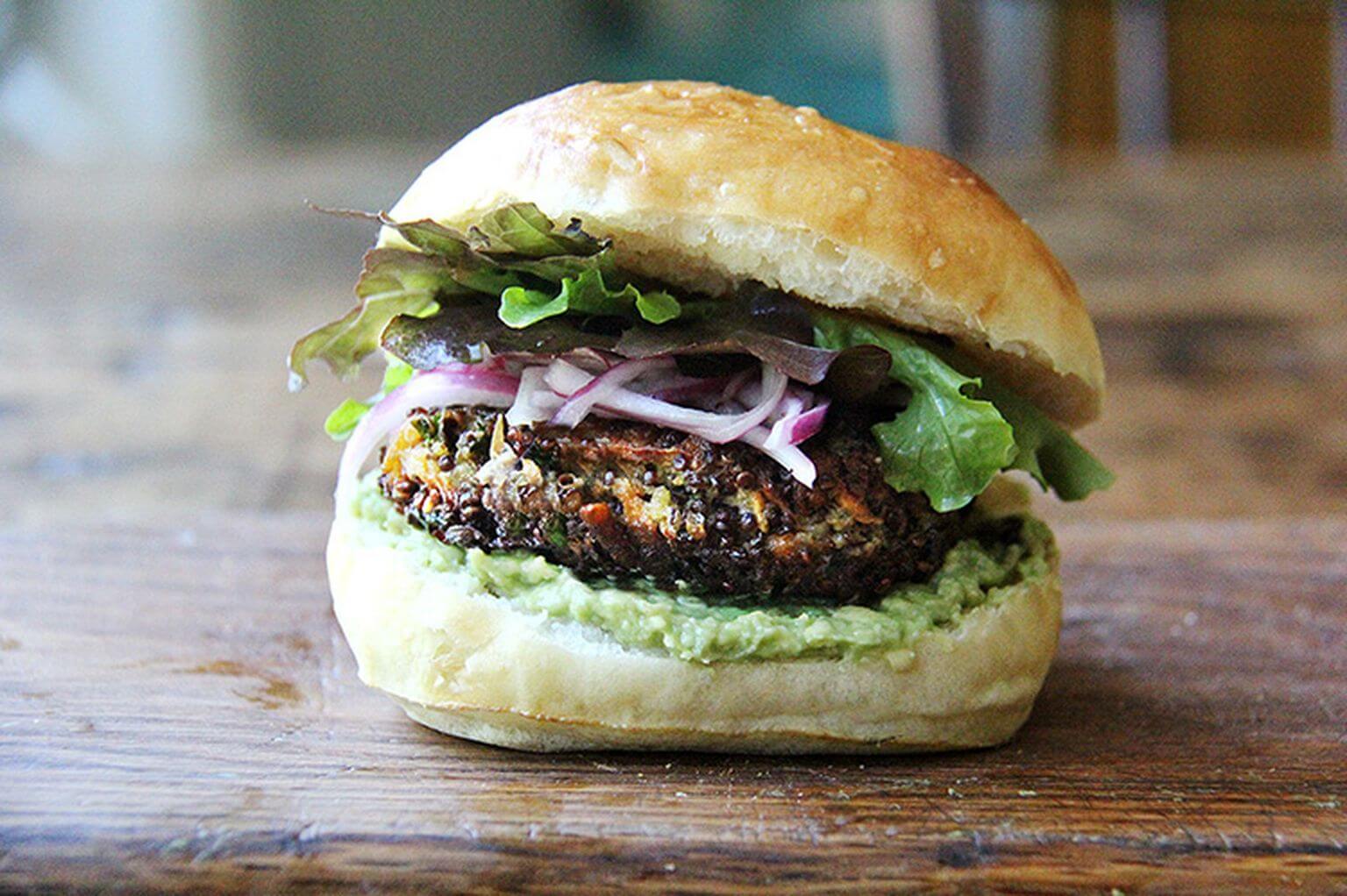 I've had two veggie burger recipes in my to-make file for years: Stellar Quinoa Burger from Bon Appetit via Cafe Pasqual's in Santa Fe and Quinoa and Sweet Potato cakes from Cannelle et Vanille via Sally of Bewitching Kitchen.
Earlier this week, I combined the two recipes and wrote about it on Food52. In sum, here's how you make them…
Sweet Potato and Mushroom Veggie Burger How-To
Cook quinoa stovetop.
Meanwhile, pass sweet potato wedges and cremini mushrooms through the shredder attachment of a food processor
Sauté the shredded vegetables in a minced shallot or onion. Add the quinoa along with grated Parmigiano Reggiano, minced parsley or cilantro, bread crumbs, and eggs.
Form patties; then fry them stovetop for three minutes a side.
Smear hamburger buns with mashed avocado, top with a veggie burger, quick-pickled onions, and sprouts or greens.
I find these patties as delicious freshly crisped on homemade hamburger buns as cold straight from the fridge whenever I'm needing a little snack—they are irresistible.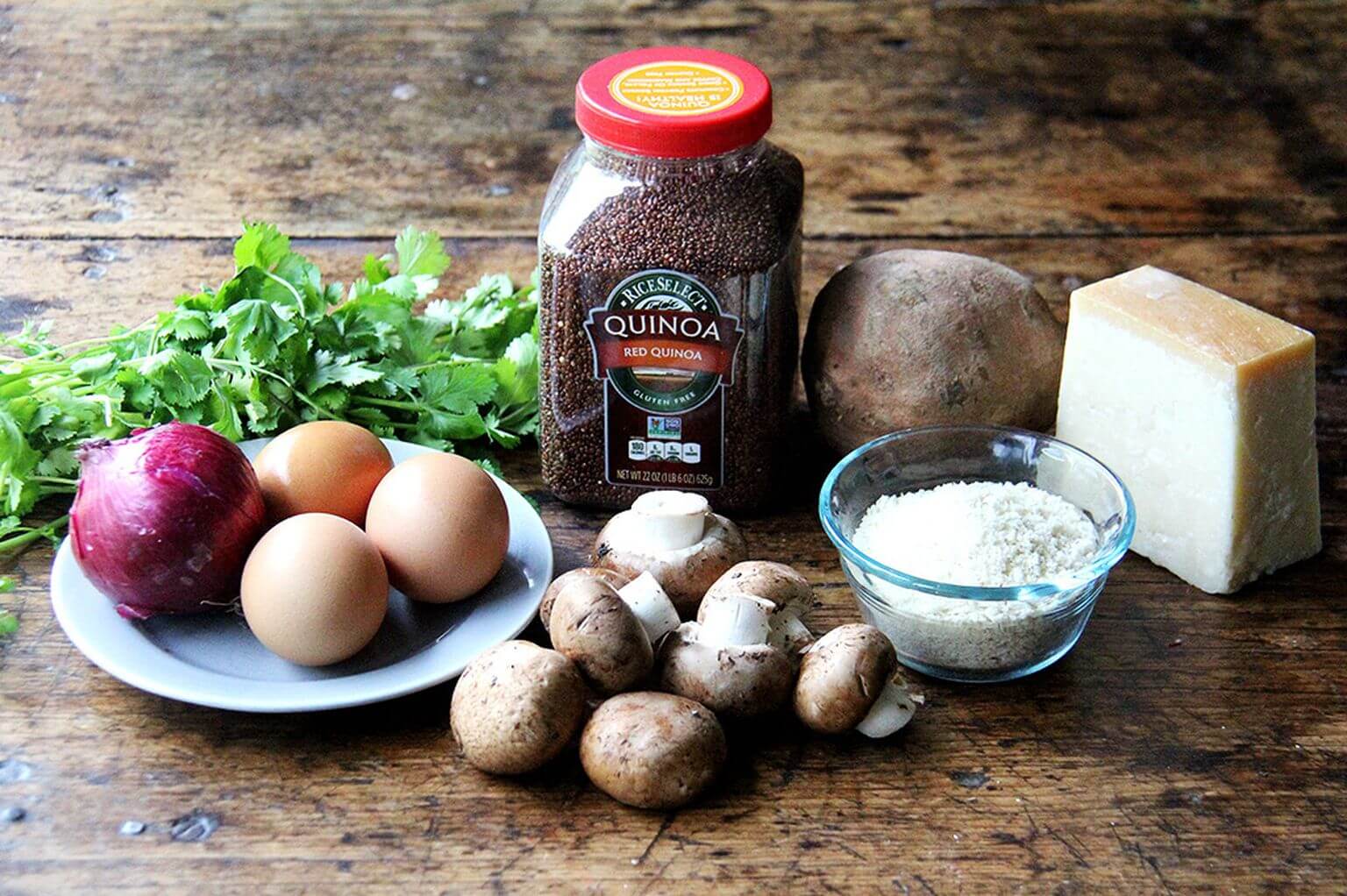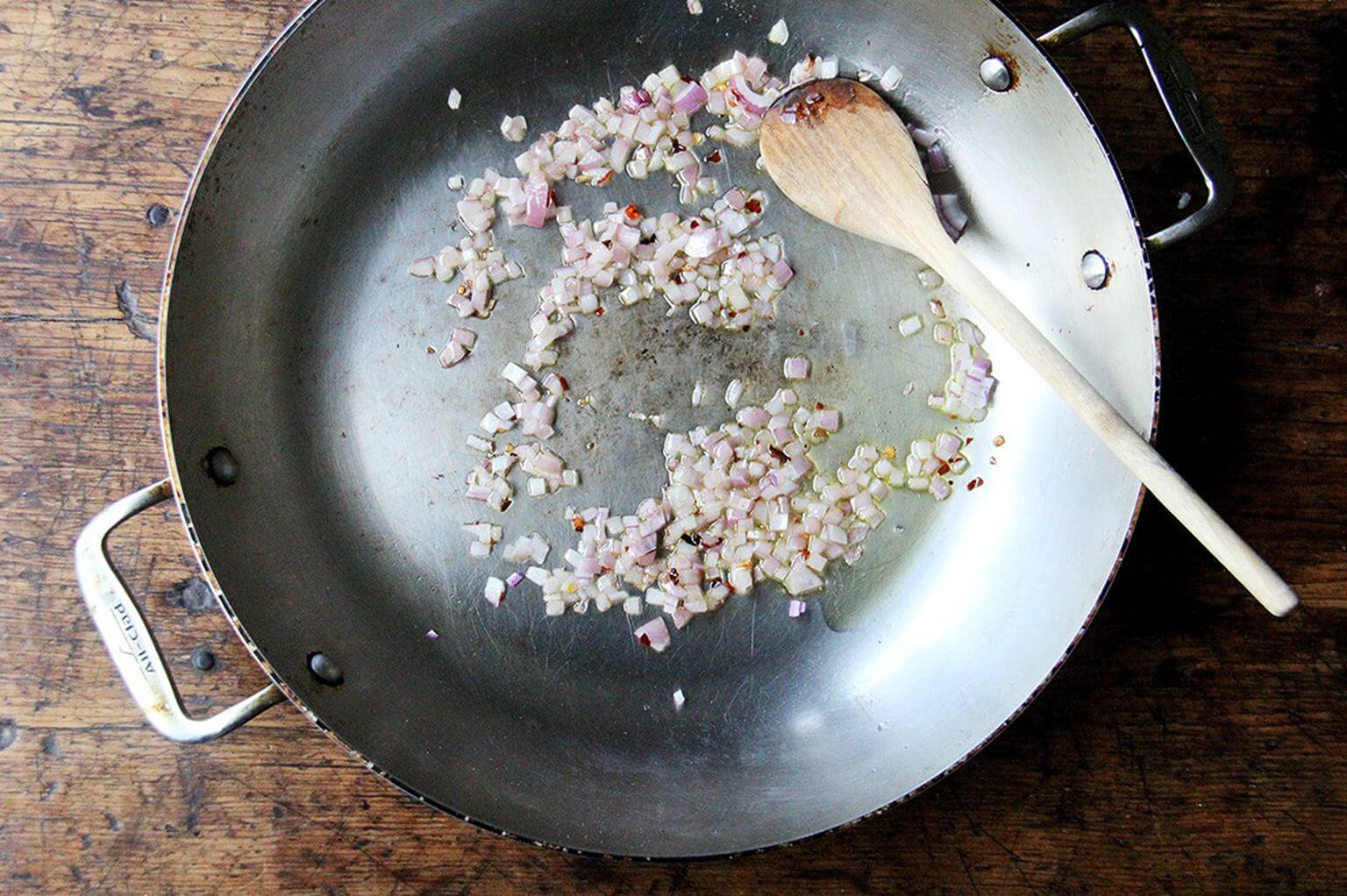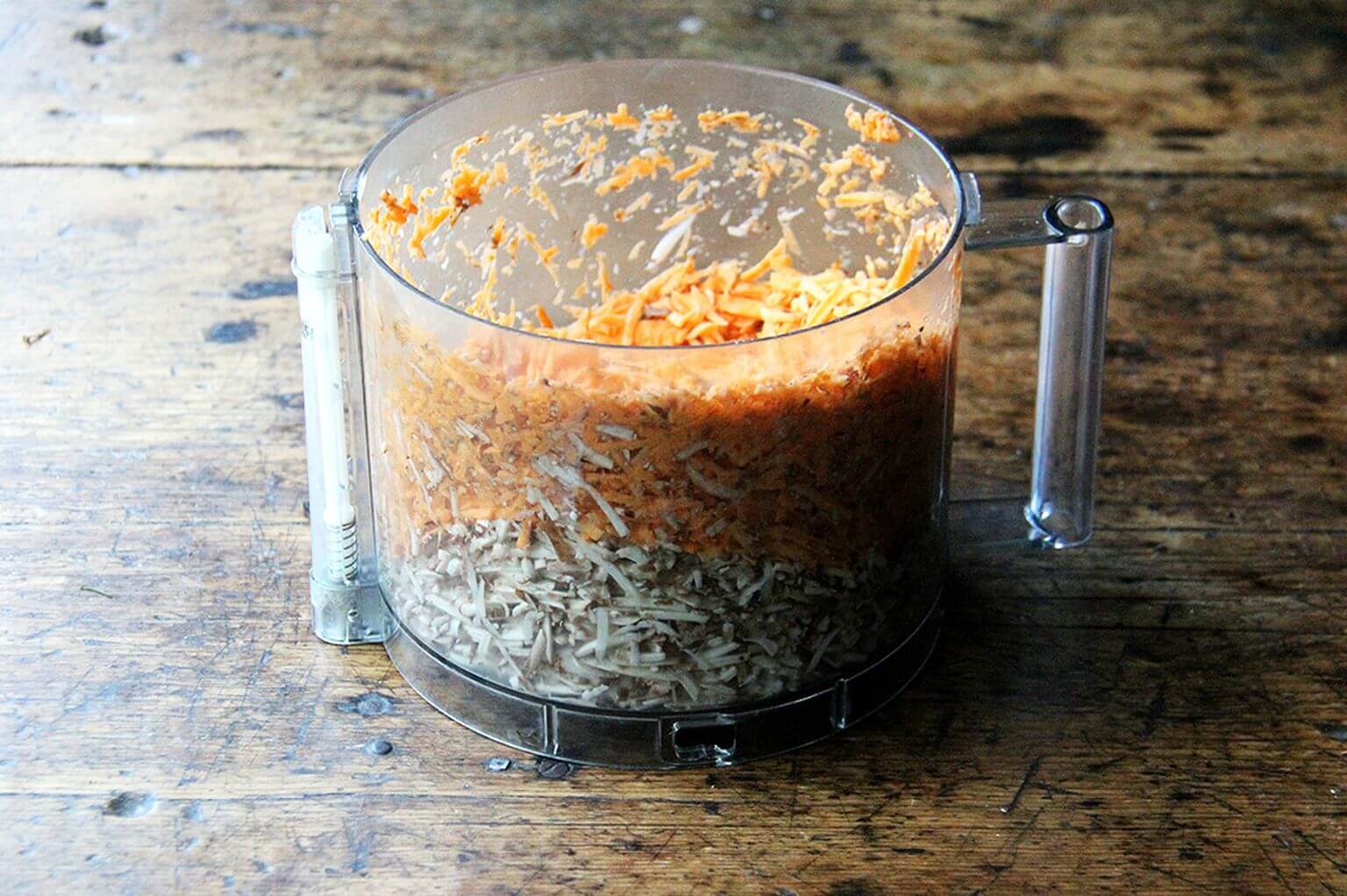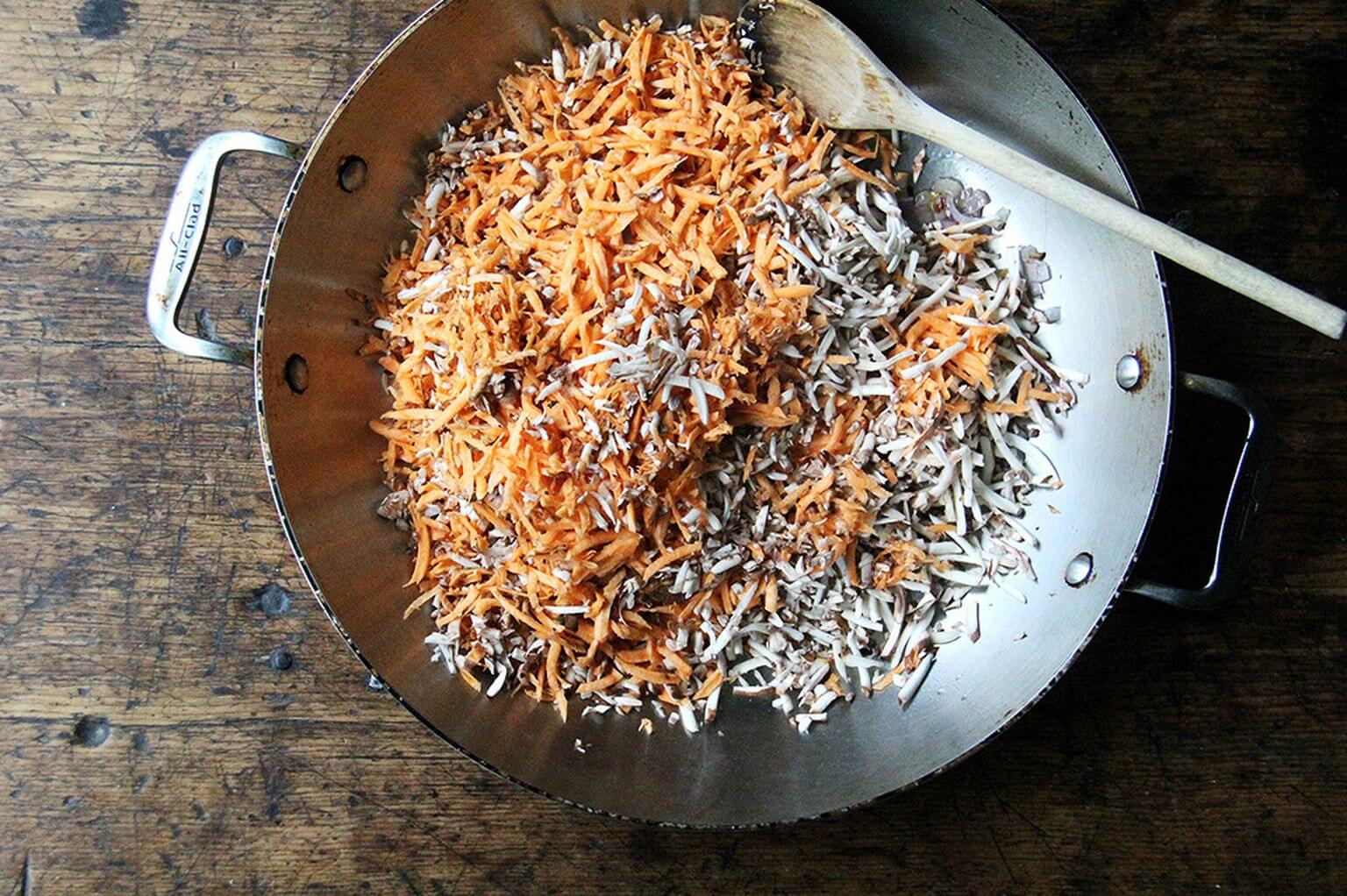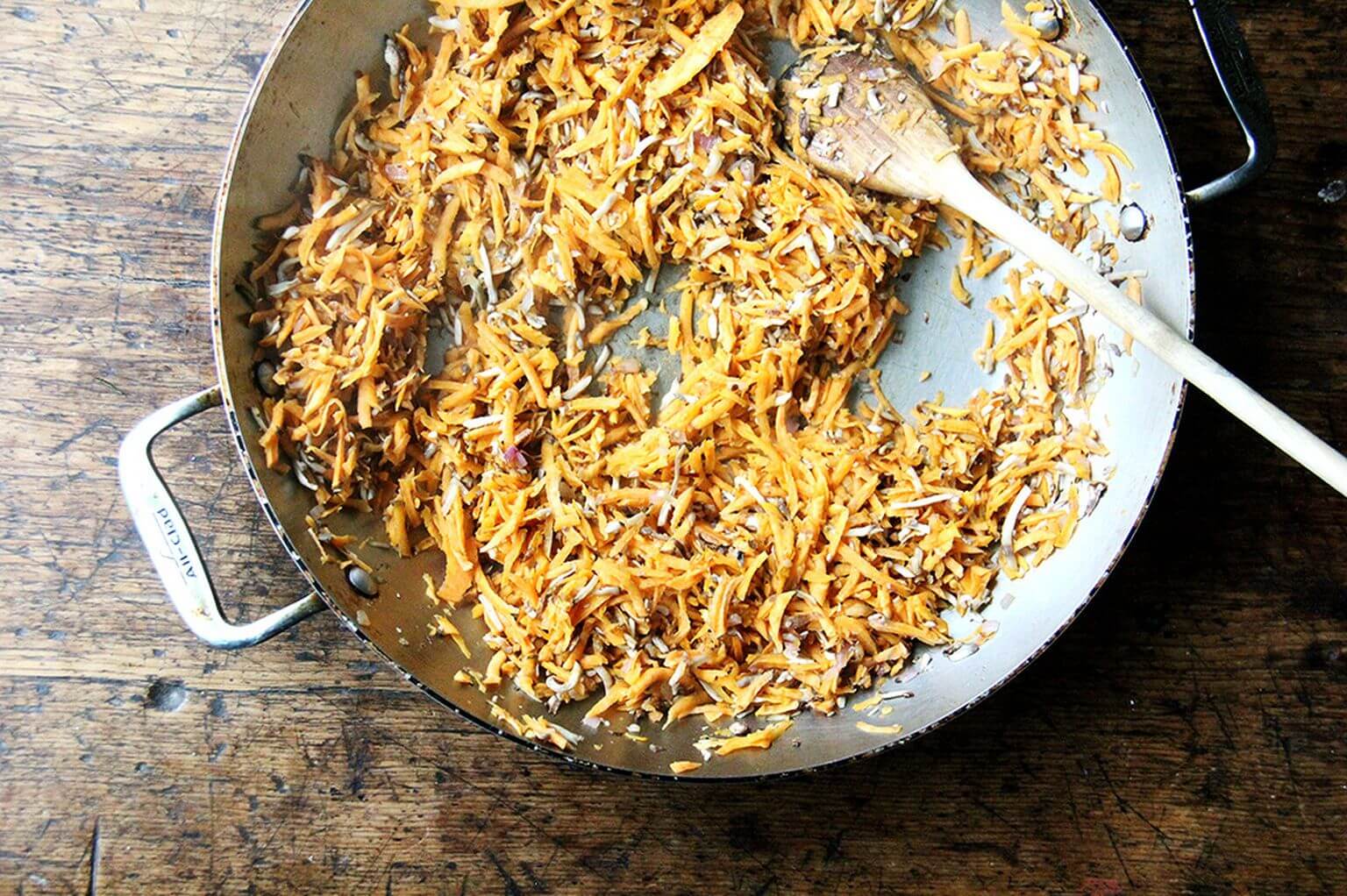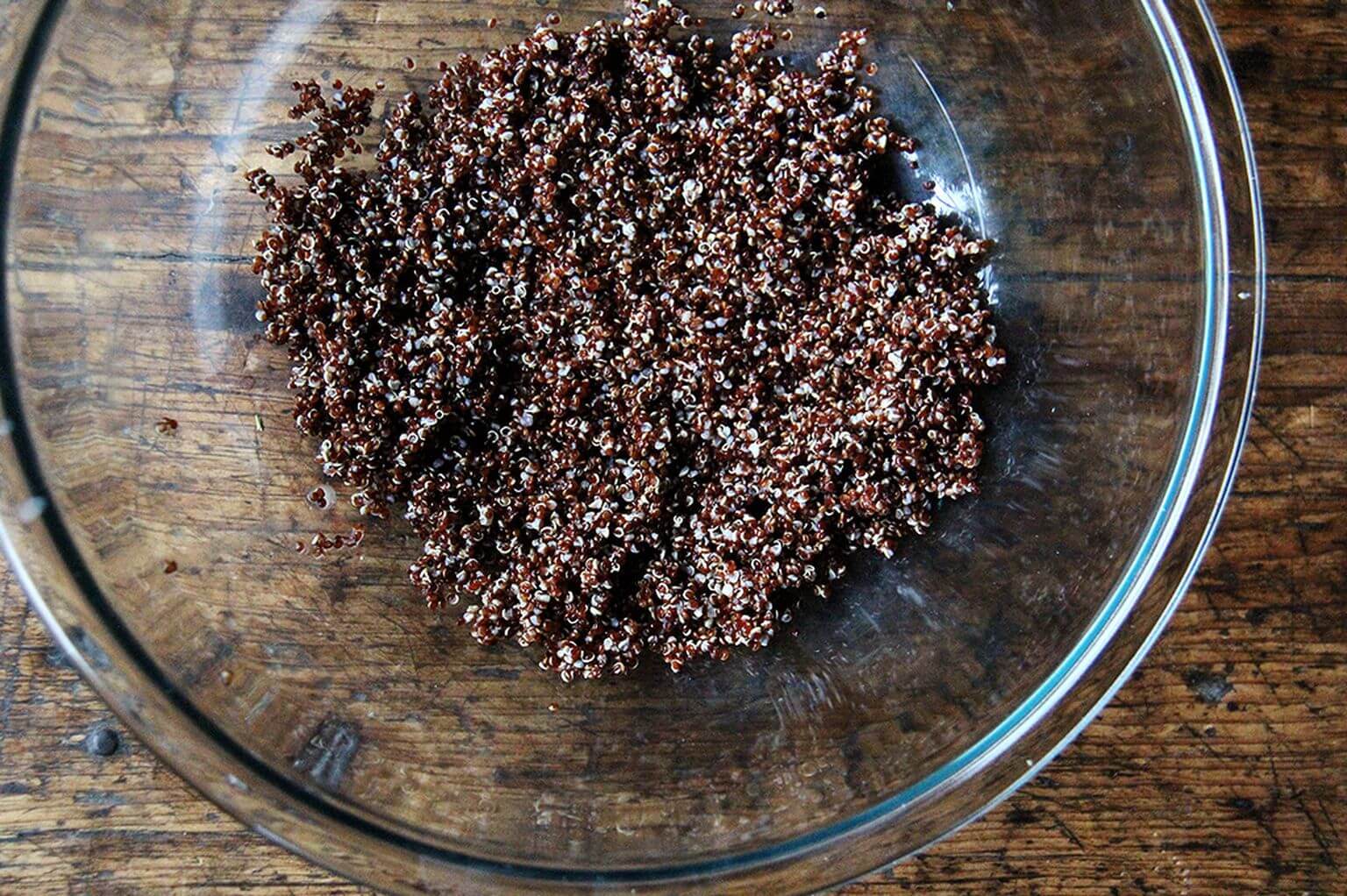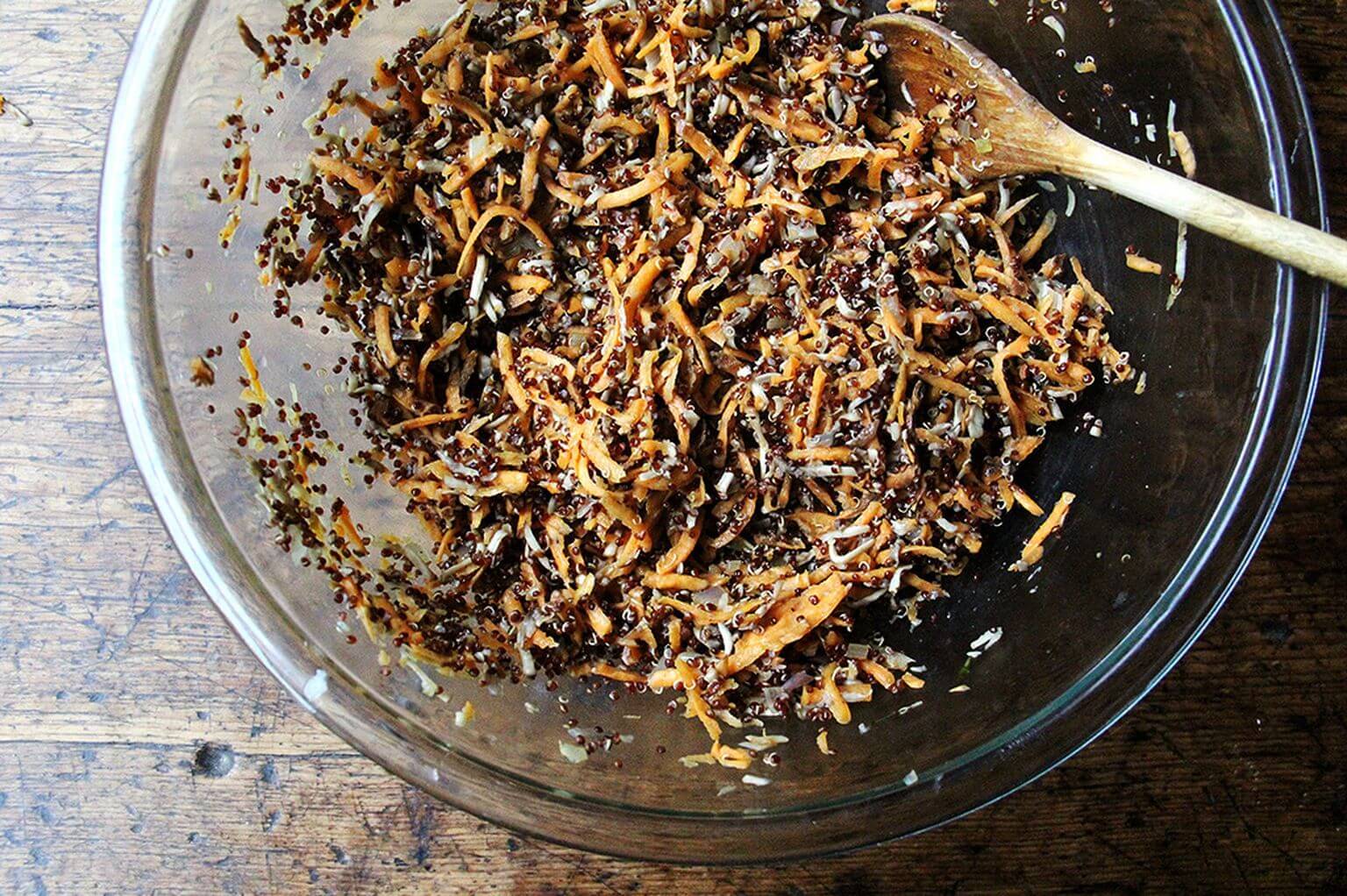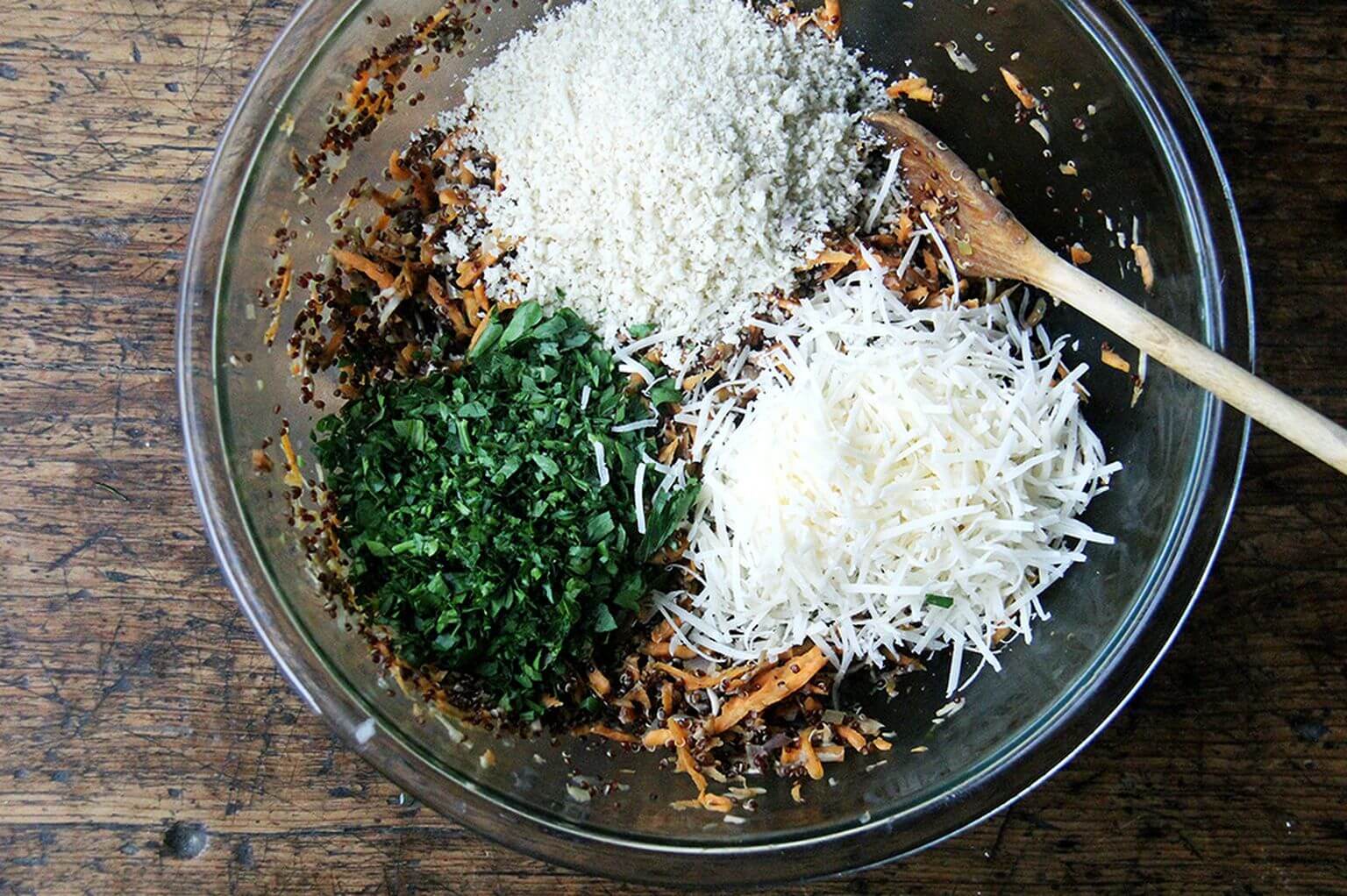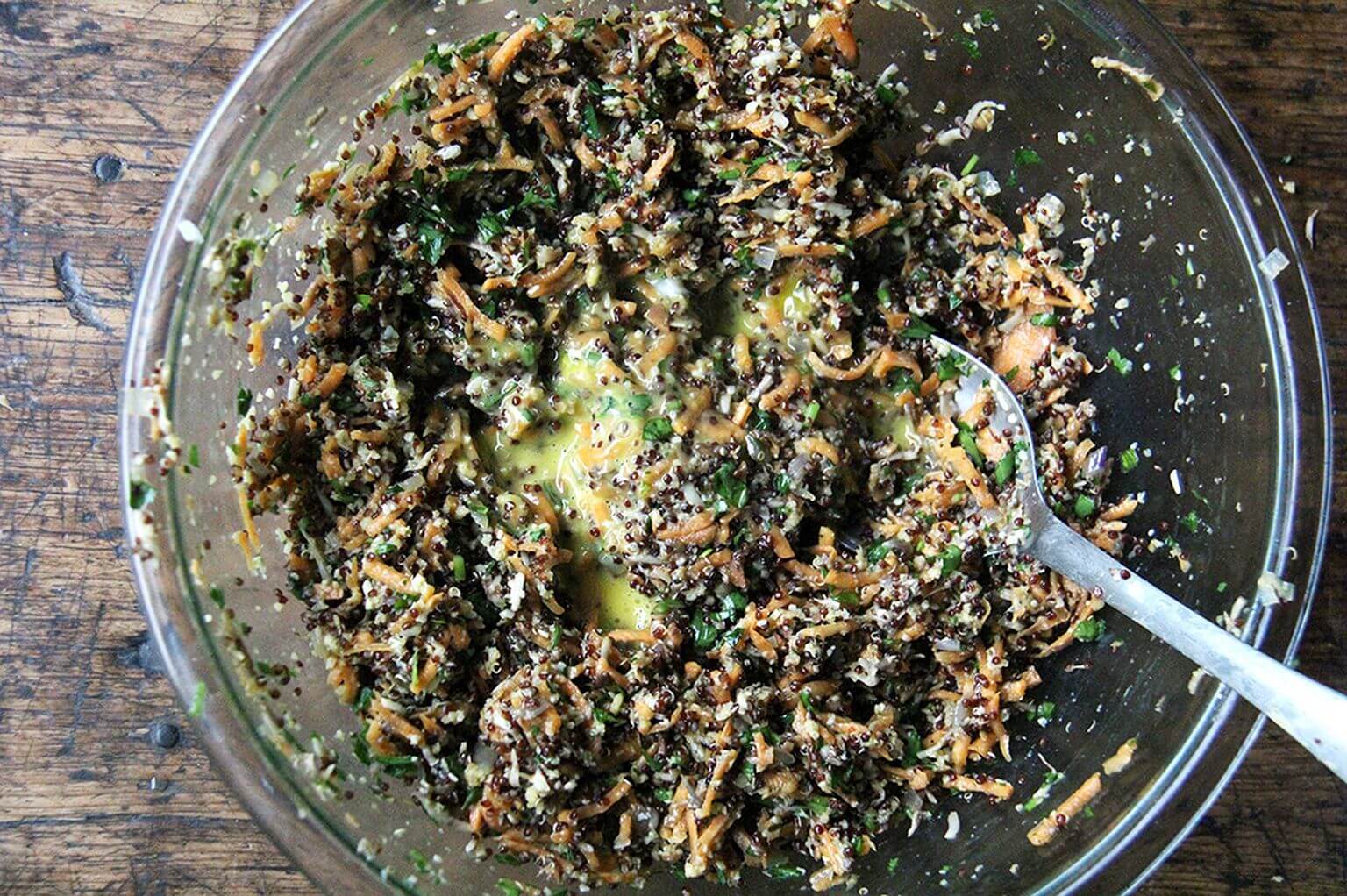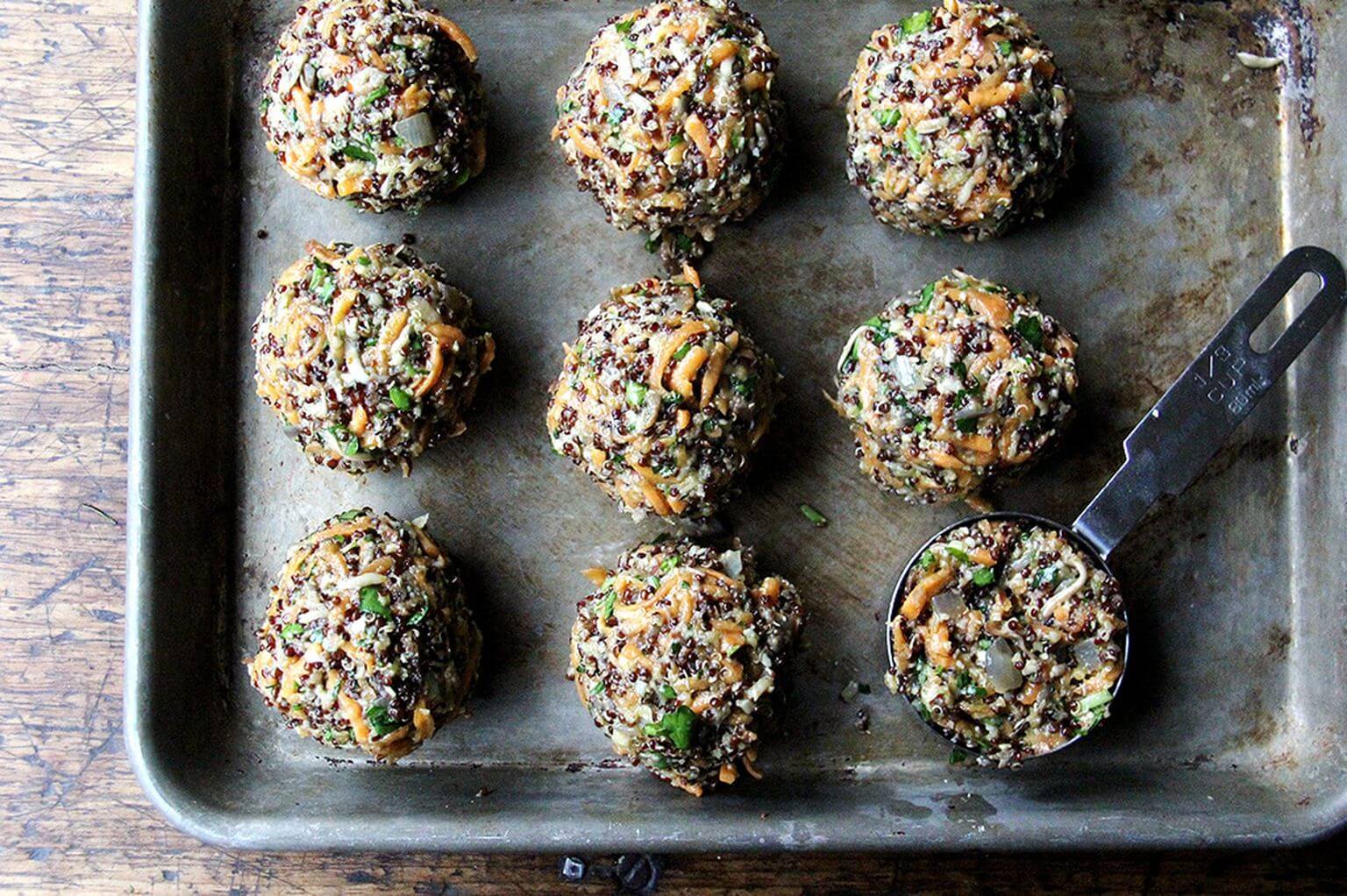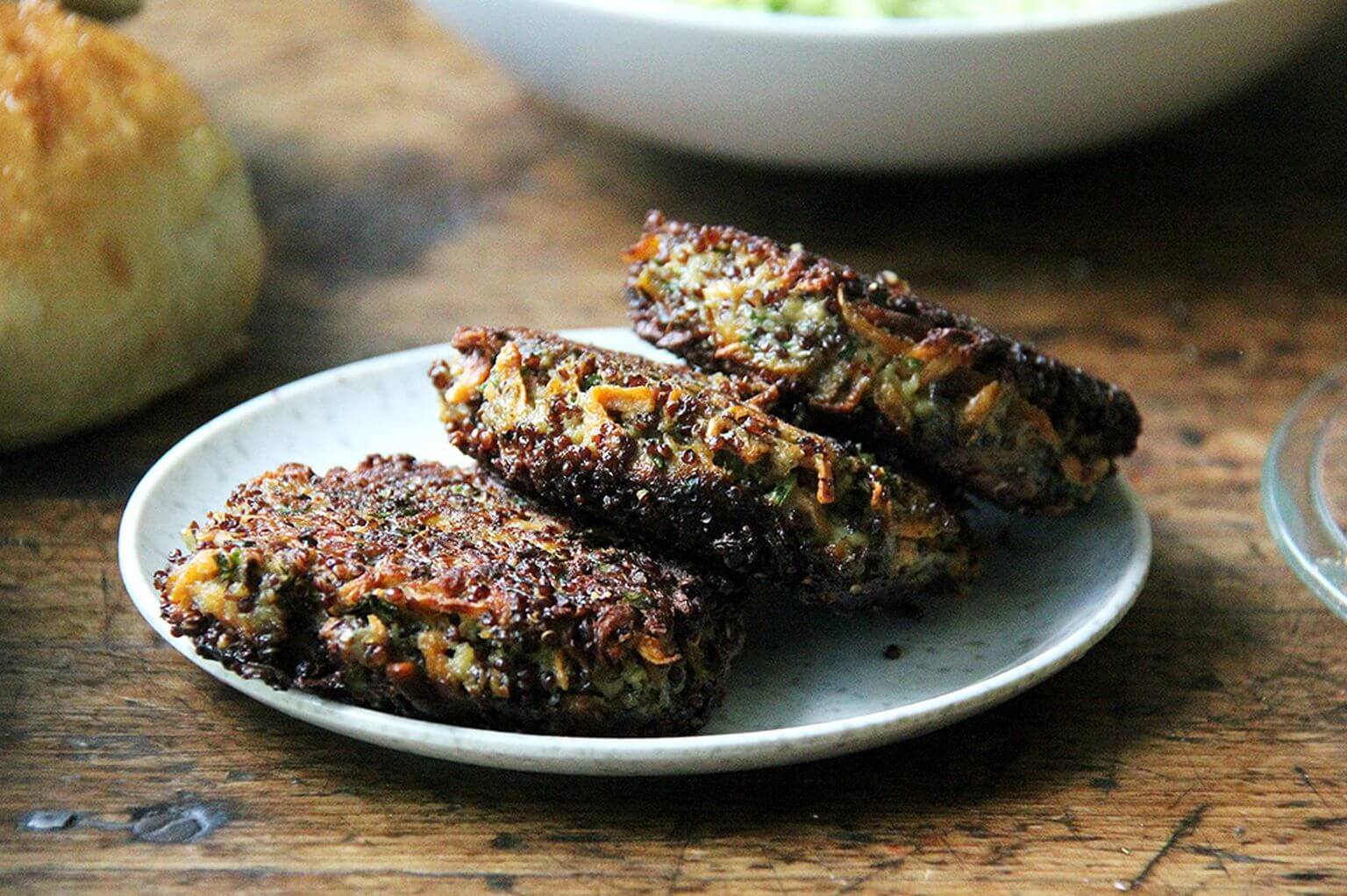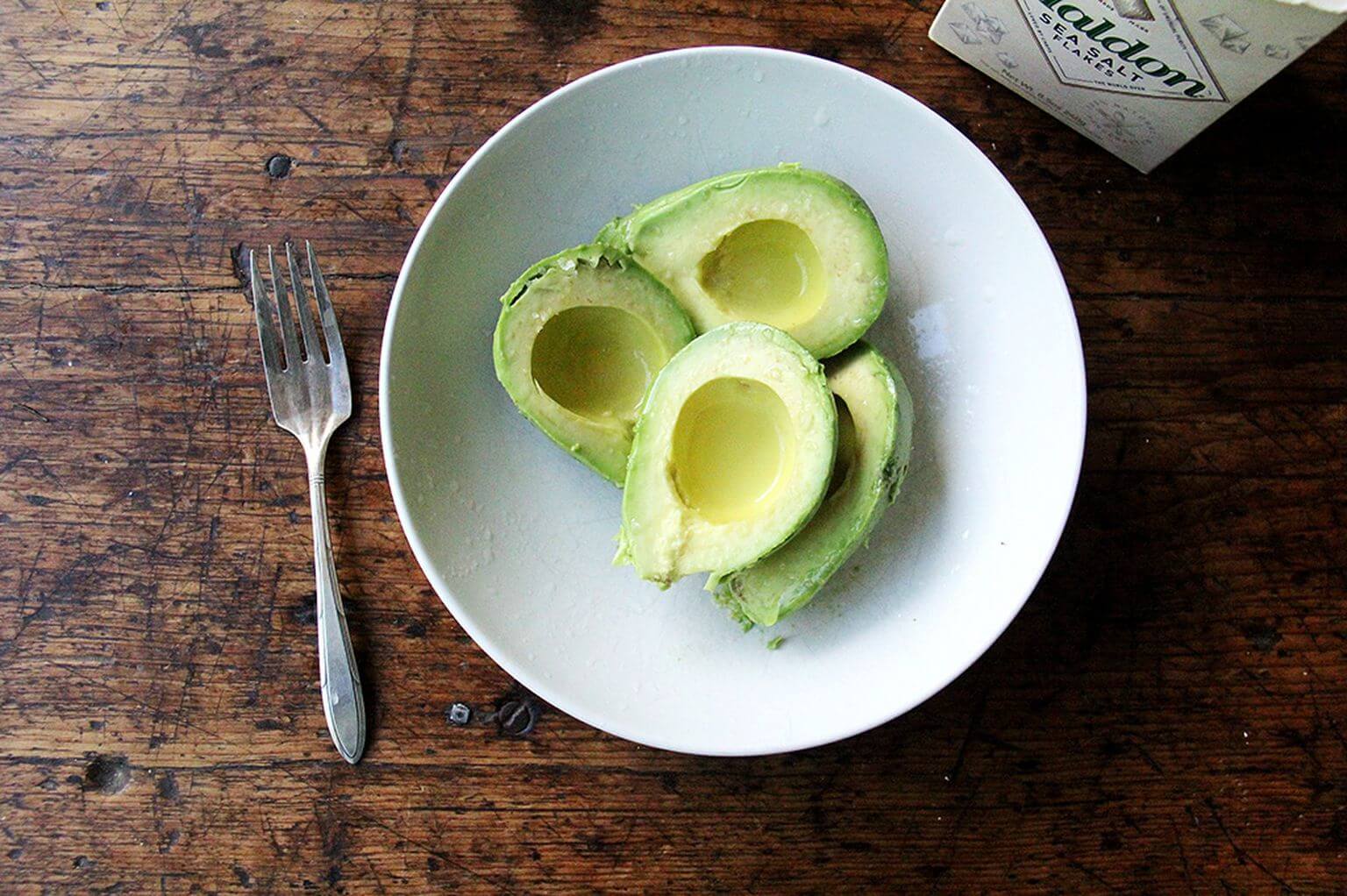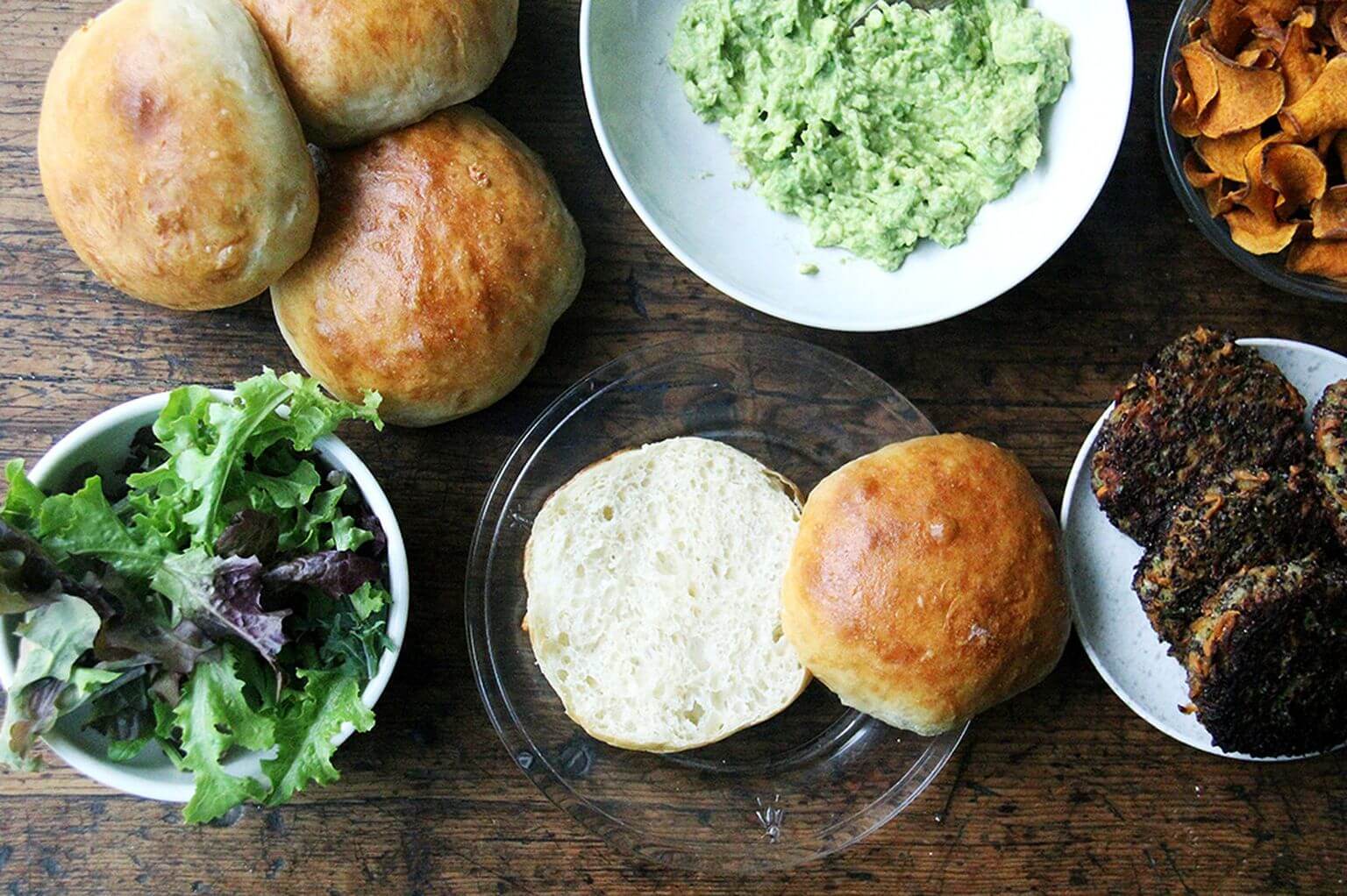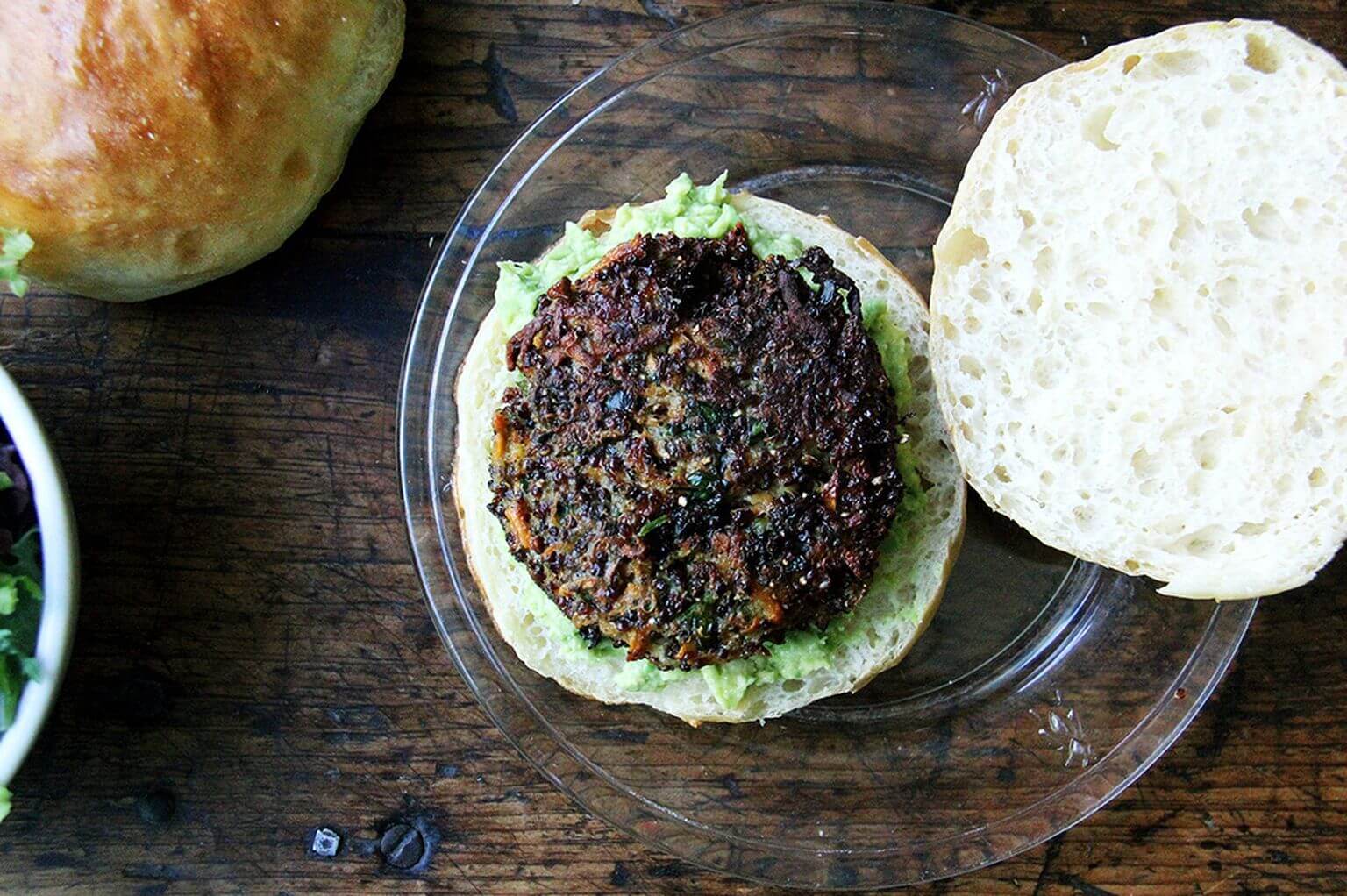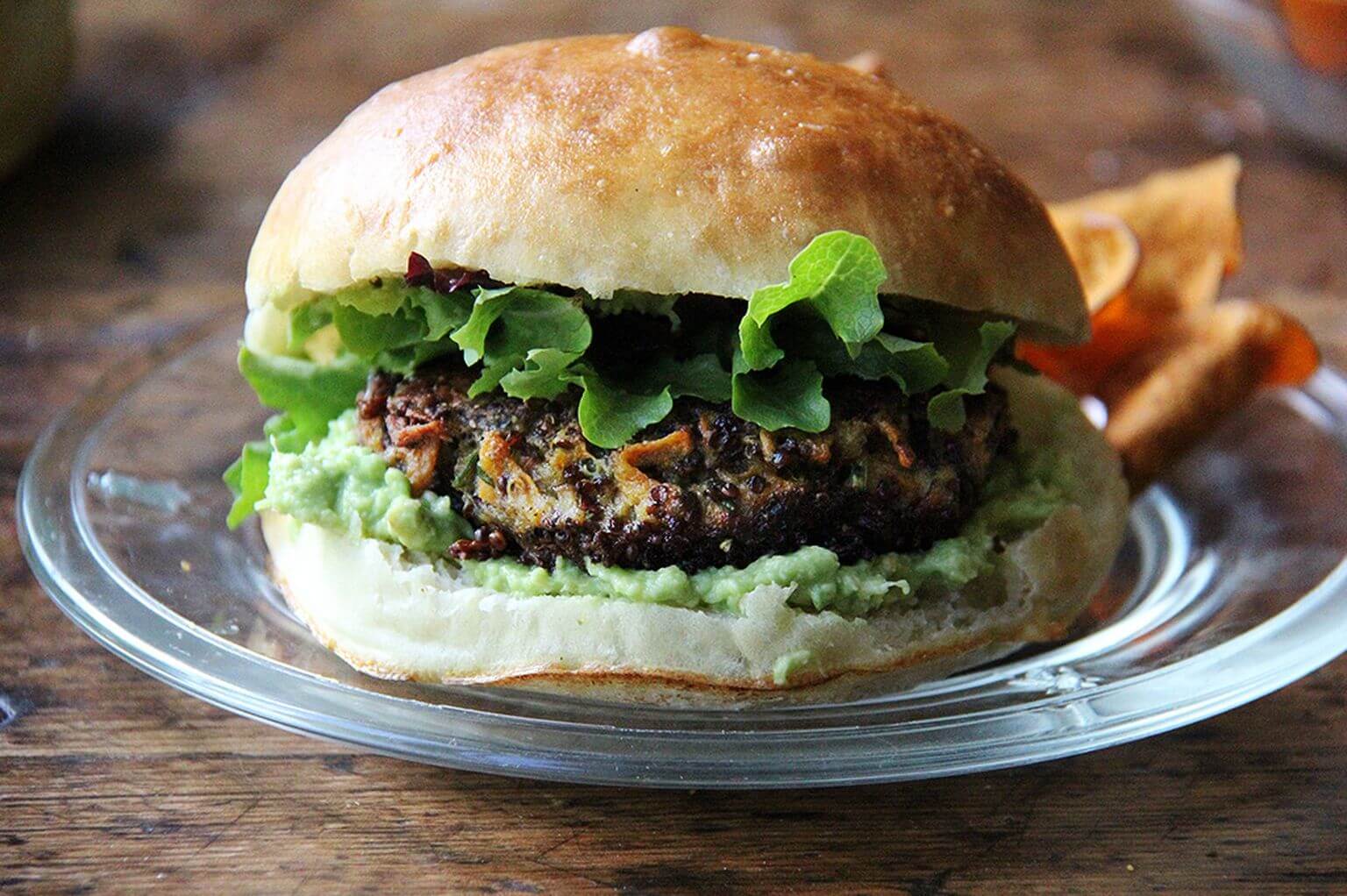 Print
Sweet Potato and Mushroom Veggie Burger
---
Author:

Alexandra Stafford

Prep Time:

30 minutes

Cook Time:

30 minutes

Total Time:

1 hour

Yield:

Serves 6
Description
This recipe is a combination of two recipes: the Stellar Quinoa Burgers from Bon Appetite and this Canelle et Vanille recipe via Sally of Bewitching Kitchen.
For quick prep, I use a food processor fitted with the shredder attachment to grate the sweet potatoes and mushrooms. If you don't have a food processor, don't cut the sweet potato into wedges — it will be easier to grate the sweet potato with a box grater if it's whole.
I don't have great success mixing up the burger mix then storing it in the fridge — the longer it sits, the wetter it gets, because the panko bread crumbs become totally saturated. If you must make the mix ahead, know that you may have to adjust with more bread crumbs before cooking.
I find these delicious cold, straight from the fridge, so don't be afraid to cook them and stash them in the fridge.
A simple creamy condiment that works nicely here is mashed avocados: simply mash with a pinch of salt and a squeeze of lime. For quick-pickle onions, simply slice red onions thinly, place in a bowl, sprinkle with vinegar and a pinch of salt, let stand 15 minutes.
---
Ingredients
1/2

 cup quinoa
kosher salt and pepper to taste

1

 tablespoon olive oil or grapeseed oil, plus more for frying

1

 shallot or small red onion, minced to yield about

1/3 cup

pinch red pepper flakes

5

to

6

 ounces cremini mushrooms, about

8

, or

1

portobello

1

 medium sweet potatoes, about

11 oz

, scrubbed but not peeled, cut into wedges, see notes above

1/2

 cup panko bread crumbs

1/2

 cup finely minced parsley or cilantro

1/2

 cup grated Parmigiano Reggiano

3

 eggs, beaten
buns, mashed avocado, quick-pickled onions, optional, for serving, see notes above
---
Instructions
In a medium pot, combine the quinoa with 1 cup of water. Add a pinch of salt. Bring to a boil, turn heat to low, cover, and cook until tender, about 20 minutes. Remove from heat, and let stand covered. You should have about 1 1/2 cups.
Meanwhile, place a large sauté pan over medium-high heat. Add a tablespoon of oil. When it shimmers, add the shallots or onion and a pinch of red pepper flakes. Turn the heat down to medium, and cook until the shallots soften, about 2 minutes.
Meanwhile, run the mushrooms down the chute of a food processor fitted with the shredder attachment. Run the sweet potato wedges down the chute next. (If you don't have a food processor, shred the sweet potato using a cheese grater and finely mince the mushrooms.) Dump the mushrooms and sweet potatoes into the pan with the shallots. Turn the heat up to medium-high and cook until the vegetables are just soft, about 2 minutes more. Season with salt to taste. Transfer to a large bowl. Add the cooked quinoa, panko, parsley, and Parmigiano Reggiano. Stir to combine. Taste. This is your chance to get the seasoning right. If it needs more salt and pepper, and them now. Add the eggs, and stir to combine.
Make a test patty: Place a large skillet over high heat. Add oil to coat the bottom in a thin layer. Scoop out some of the quinoa mix with your and cup it to form a ball. Gently flatten to form a patty. When the oil shimmers, carefully lower the patty, season with salt and pepper, cook 2 minutes, or until underside is deeply golden brown, flip, cook 2 minutes more. Remove from skillet. Let cool briefly. Taste, make adjustments to your vegetable mix accordingly — if the patty fell apart, add another egg. If it feels too wet, add more panko. Adjust seasoning with more salt and pepper if necessary.
When ready to cook, form patties using a 1/3 cup measuring cup. Scoop out the mix, squeeze with your hands, form into a ball, then pat to form into a patty—mixture will be delicate/wet. Portion out all of the mixture. Return the skillet to medium-high heat. Add more oil if necessary — there should be a thin layer. Carefully lower patties into the oil and cook two to three minutes a side or until each side has formed a nice, golden-brown crust. It's best to let the patties cook undisturbed for a minute or two before peeking to check for doneness—you want to give them a chance to develop a crust.
Serve with buns, mashed avocados, lettuce, and pickled onions if you wish.
---
Category:

Veggie Burger

Method:

Stovetop

Cuisine:

American
Keywords: homemade, veggie, burger, quinoa, sweet, potato, mushroom, panko, eggs, herbs