Strawberry Paloma Slushies with Tequila & Lime
This post may contain affiliate links. Please read my disclosure policy.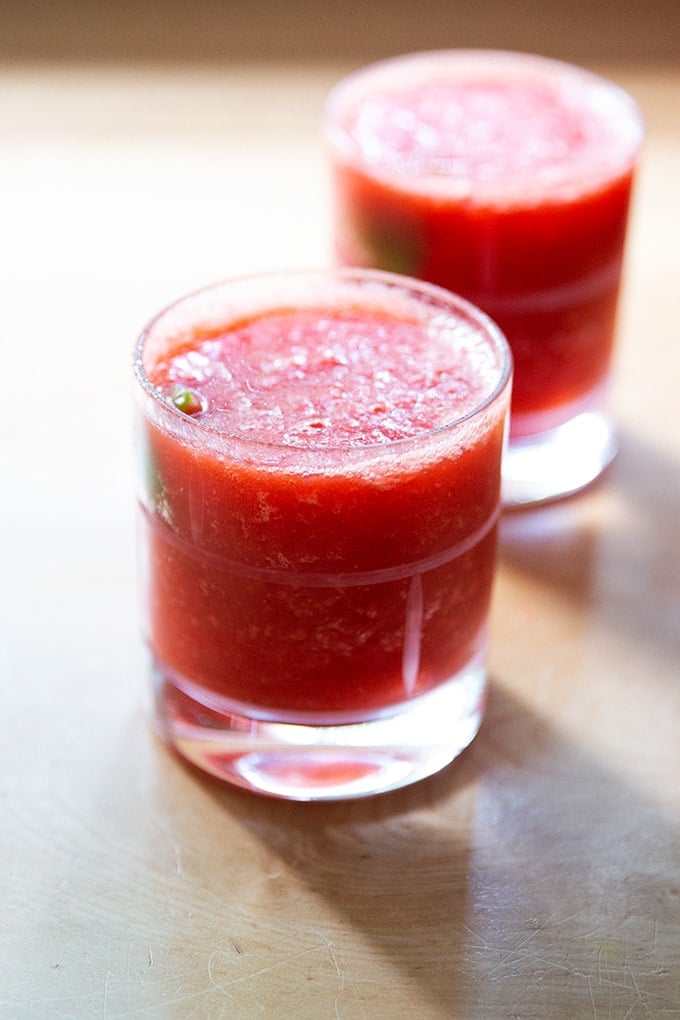 Last Friday my neighbor Sandra had me over for dinner. When I arrived through the back porch, I followed a whirring sound into the kitchen, where I found her standing by her blender with Julia Turshen's Small Victories open to the Paloma Slushies recipe beside her. Yes, I thought. But also: Trouble. Long story short, by the end of the night, Sandra and I had polished off the serves-four batch of the tequila cocktail, and at one point, I told her I loved bulldozers, as I pet her bulldog, who sat by my feet. Cheers.
When I awoke from my tequila blur the following morning, I had so many questions. Namely, what other gaffs had I made? And what is a Paloma slushie and where has it been my whole life? I made the trek back across the lawn to retrieve my copy of Small Victories, which Sandra, understandably, has had a hard time returning.
I soon learned that a Paloma is similar to a margarita but includes grapefruit juice. Julia's version, too, lends itself to large-batch mixing. The trick? Instead of juicing limes, you peel them and blitz them whole in a blender. Brilliant! And instead of salting the rims of glasses, you add salt directly to the mix, which Julia notes serves two purposes: 1. Reduces work 2. Enhances the flavor of the grapefruit and lime juices. Genius!
As I read through Julia's variations for pomegranate juice, hibiscus tea, and blood orange juice, I wondered: "Could I replace the grapefruit juice with something more summery? Could I make red, white, and blue Paloma slushies for the Fourth?" In the name of research, I broke out my blender and the tequila and set to work peeling limes, hulling strawberries, and stemming blueberries. My boozy, patriotic slushies came together in no time, and while the hue of each didn't perfectly emerge as envisioned, each cocktail was festive and delicious nonetheless. Here's what I've learned:
Slushies are fun. Fresh out of the blender, poured over ice, these palomas present with a frothy cap that's surprising and refreshing, a nice change from many on-the-rocks summer cocktails.
As with cooking, drink making requires tasting and adjusting. Strawberries worked nearly seamlessly in place of grapefruit juice, while blueberries needed a little help: more fresh lime juice to balance their sweetness. Depending on the fruit you choose, you will need to add lime and sweetener to taste.
 Large-batch drink making need not be taxing. When I play host, I often shy away from drink making, opting instead to serve beer and wine. But this Paloma slushie experience has boosted my cocktail-making confidence. Peeling limes and whizzing them whole with fruit into an icy whirl is simple, satisfying, and fun. As I blitzed, I found myself chanting this: "One small victory for Julia Turshen, one giant leap for Alexandra Stafford." Replace my name with yours—I have no doubt you'll enjoy the ring.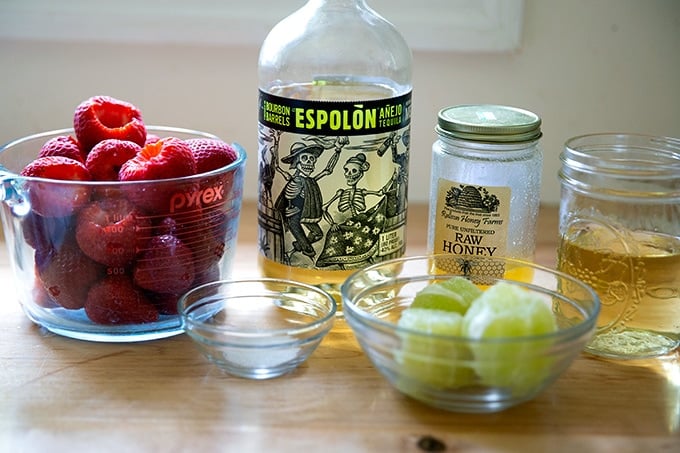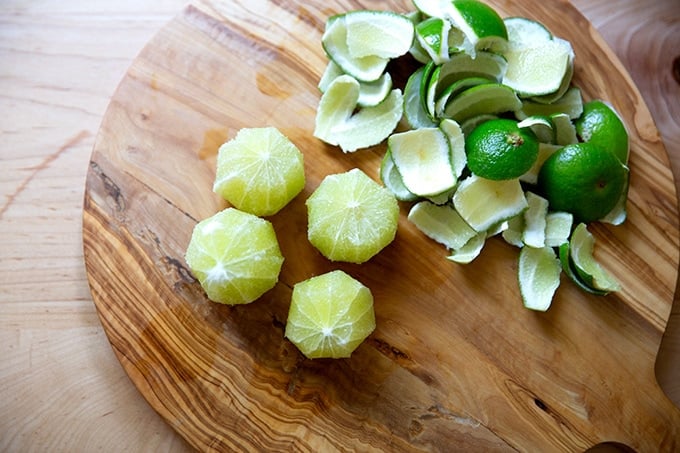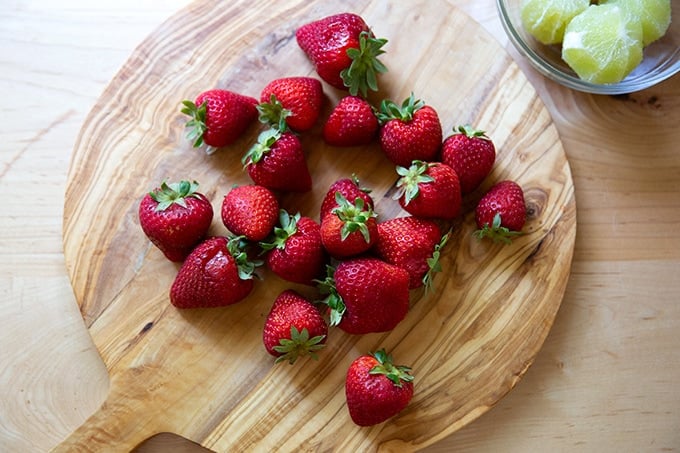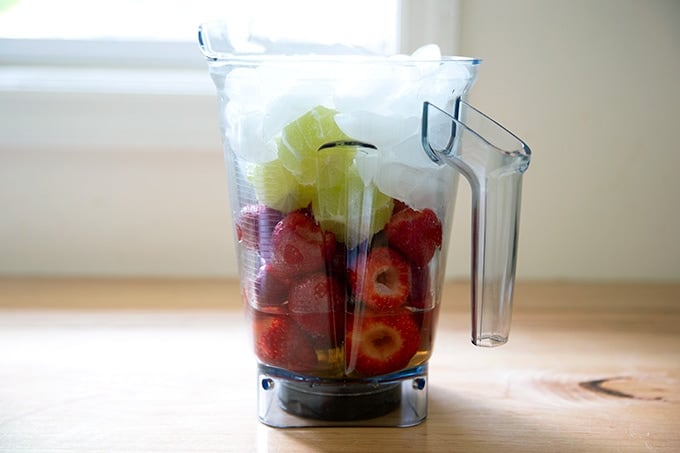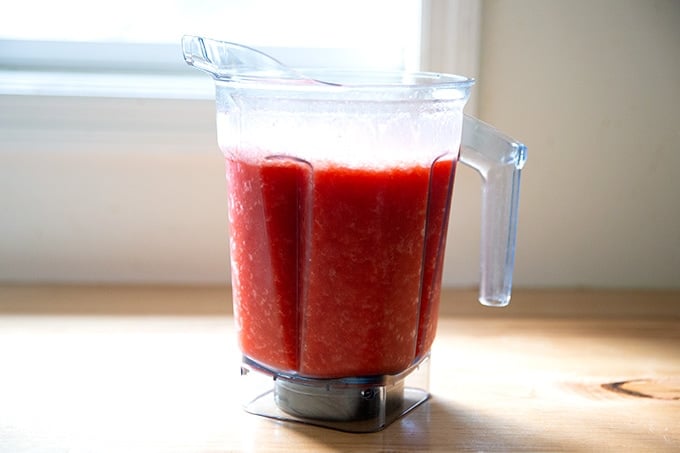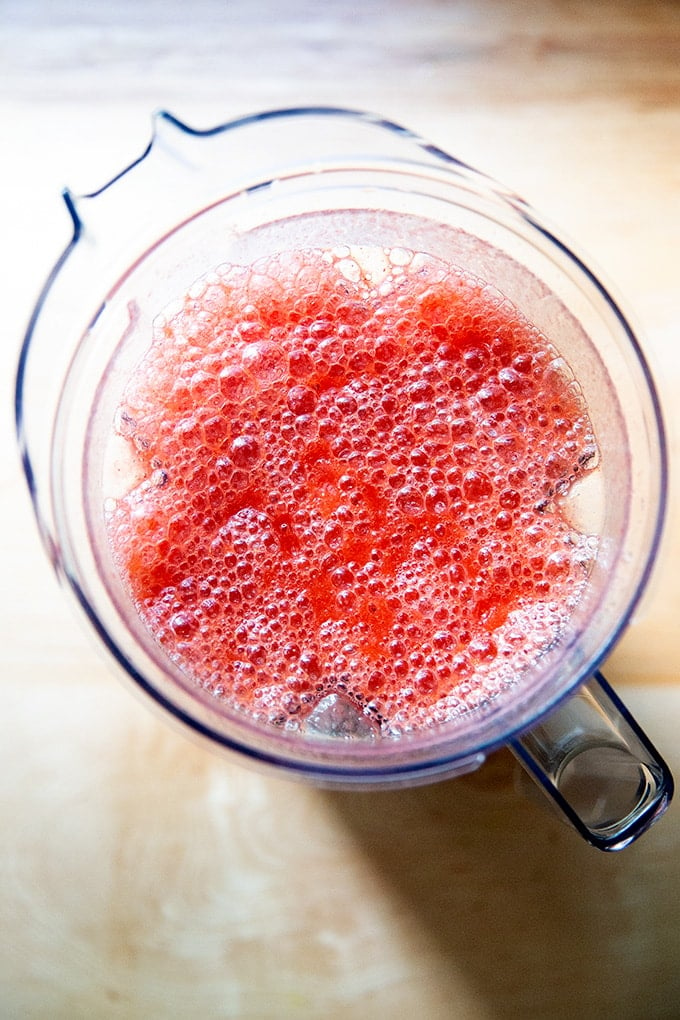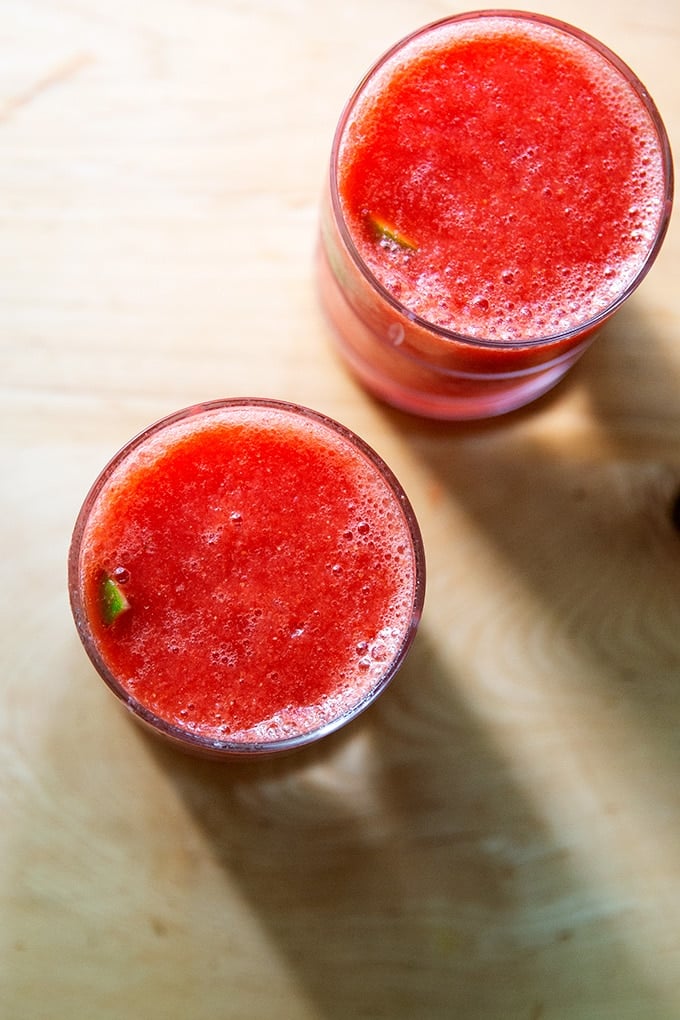 Print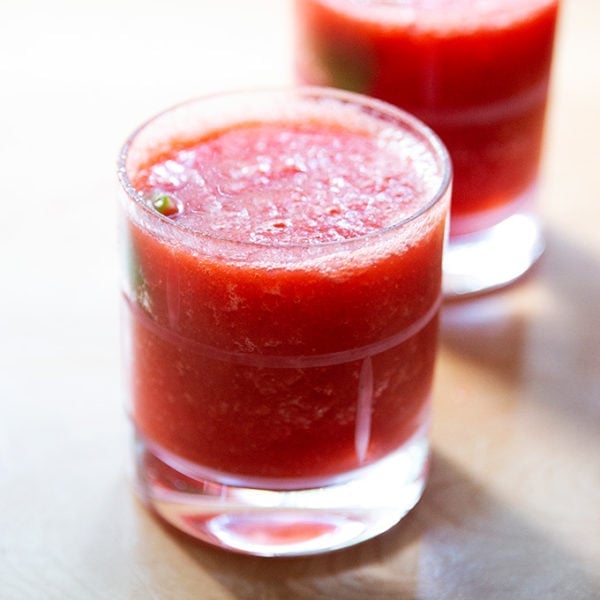 Strawberry Paloma Slushies
---
Description
Adapted from the recipe for Paloma Slushies in Julia Turshen's Small Victories, which calls for grapefruit juice as opposed to strawberries. If you want to make a blueberry and grapefruit version (to make a patriotic trio for the Fourth), see this recipe on Food52.
As with cooking, drink making requires adjusting to taste. Depending on how sweet your strawberries are, you may need more or less honey (or agave) or fresh lime. Also, depending on the size of your blender, you may need to add the strawberries in batches, and you may need to add the ice in batches as well. It all works out in the end, just be mindful of your blender's capacity.
---
4

 limes

1/4

 cup (85 g) honey or agave syrup, see notes above

3

to

4

cups strawberries

1

 cup (240 ml) tequila

1/2

 teaspoon kosher salt

4

 cups (720) ice cubes
---
Instructions
Peel three of the limes by lopping off the tops and the bottoms of each one, cutting just deep enough to expose the fruit beneath the pith. Stand each lime on your cutting board—it should be nice and steady. Cut the remaining peel and pith off the lime in wide strips, working your way around the fruit, so that you end up with a complete, peeled piece of fruit. Discard the peels or reserve them from another use. Cut the remaining lime into thin slices.
Put the peeled limes in a blender; add the honey or agave, the strawberries, tequila, and salt; and blend until combined. Add the ice (see notes above—you likely will need to do this in batches) and let the machine run until the ice is totally blitzed and the mixture is very smooth.
Pour into four glasses and garnish with the lime slices. Serve immediately.
Prep Time:

15 minutes

Category:

Drinks

Method:

Blender

Cuisine:

Mexican, American
Keywords: paloma, slushie, strawberry
This post may contain affiliate links. Please read my disclosure policy.