Kale and Quinoa Salad from Love Real Food
This post may contain affiliate links. Please read my disclosure policy.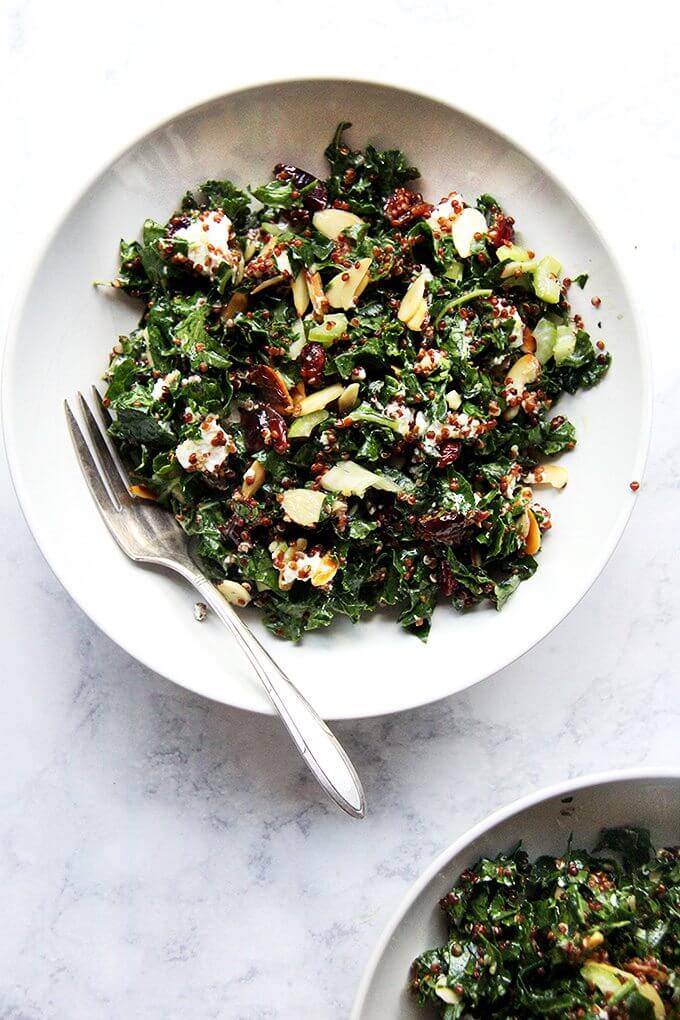 Many of you likely know Kathryn Taylor, author of the beautiful blog, Cookie and Kate, and the recently released Love Real Food, which, like her blog, is filled with vibrant photos and inspiring vegetarian recipes (not to mention adorable photos of her adorable pup, Cookie). I want to make everything, namely the make-your-own instant oatmeal mix (I love oats!), the best-ever guacamole with toasted pepitas, every cocktail, and the sweet potato, poblano, and black bean enchiladas.
So far I've made two: a kale caesar salad with a tahini dressing (yum!) and the kale and quinoa salad featured here — no such thing as too many kale salad recipes, right?
This one has a lemony-mustard dressing, dried cranberries that plump with the cooked quinoa, crisp celery, toasted almonds, and goat cheese. It comes together in a snap and has been a welcomed addition to the summer salad rotation — a great use for so many of my CSA greens, too: Swiss chard, arugula, lettuce. What's more? It keeps well in the fridge for days, making it perfect for lunch-on-the-go or a picnic at the beach. I find it irresistible, and while it's a great side salad, it's nearly a meal in itself.
I'm so looking forward to exploring Love Real Food more. As always, I'll keep you posted.
Hope you all had a Happy Fourth!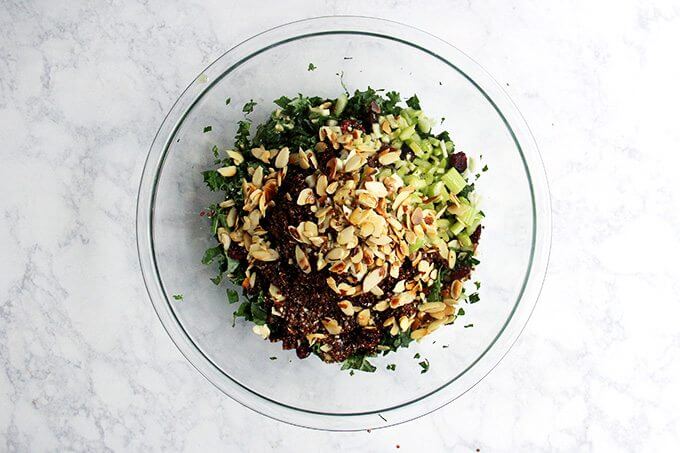 Print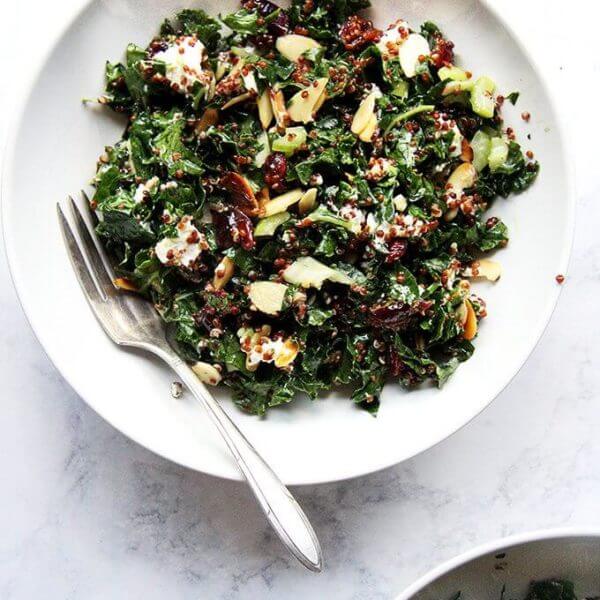 Kale and Quinoa Salad with Plumped Cranberries, Goat Cheese, and Lemon Dressing
---
Description
From Cookie and Kate's Love Real Food
I've used other greens in place of the kale — Swiss chard, arugula, lettuce, anything from my CSA. With this more delicate greens, I don't massage them.
---
1/2 cup

quinoa

1 cup

water

1/3 cup

dried cranberries

1/4 cup

olive oil

2 tablespoons

fresh lemon juice

2 teaspoons

Dijon mustard

2 teaspoons

maple syrup or honey

1

clove garlic, minced

1/2 teaspoon

sea salt or kosher salt
fresh cracked pepper to taste

1

bunch curly kale (

8 oz

), tough ribs removed and leaves chopped into bite-sized pieces
fine sea salt, see notes

2

ribs celery, chopped

1/2 cup

sliced almonds

1/2 teaspoon

olive oil

1/3 cup

crumbled goat cheese (

2 oz

)
---
Instructions
In a small saucepan, combine the quinoa and water. Bring the mixture to a boil over medium-high heat, then reduce the heat as necessary to maintain a gentle simmer. Simmer, uncovered, until all of the water is absorbed, 11 to 14 minutes. Remove the pot from the heat, stir in the dried cranberries, and cover the pot. Let the quinoa and cranberries steam with the lid on for 10 minutes, then plump with a fork and set aside.
Meanwhile, make the dressing: In a small bowl, combine the olive oil, lemon juice, mustard, maple syrup, garlic, salt, and pepper, and whisk until blended.
Place the chopped kale in a big salad bowl. Sprinkle a small pinch of salt over the kale and massage the leaves with your hands by scrunching big handfuls at a time, until the leaves are darker in color and fragrant, and reduced in volume by about one-third. Add the celery to the bowl.
In a small skillet, combine the almonds and olive oil and cook over medium heat, stirring frequently, until the almonds are fragrant and golden on the edges, 5 to 8 minutes. Watch closely! Pour almonds into the salad bowl.
While the quinoa mixture is warm, add it to the salad bowl. Drizzle in most of the dressing and toss to coat. Taste. Add the remainder of the dressing if needed. Wait until the salad cools to room temperature before adding the goat cheese. Serve immediately or keep chilled for up to 4 days.
This post may contain affiliate links. Please read my disclosure policy.