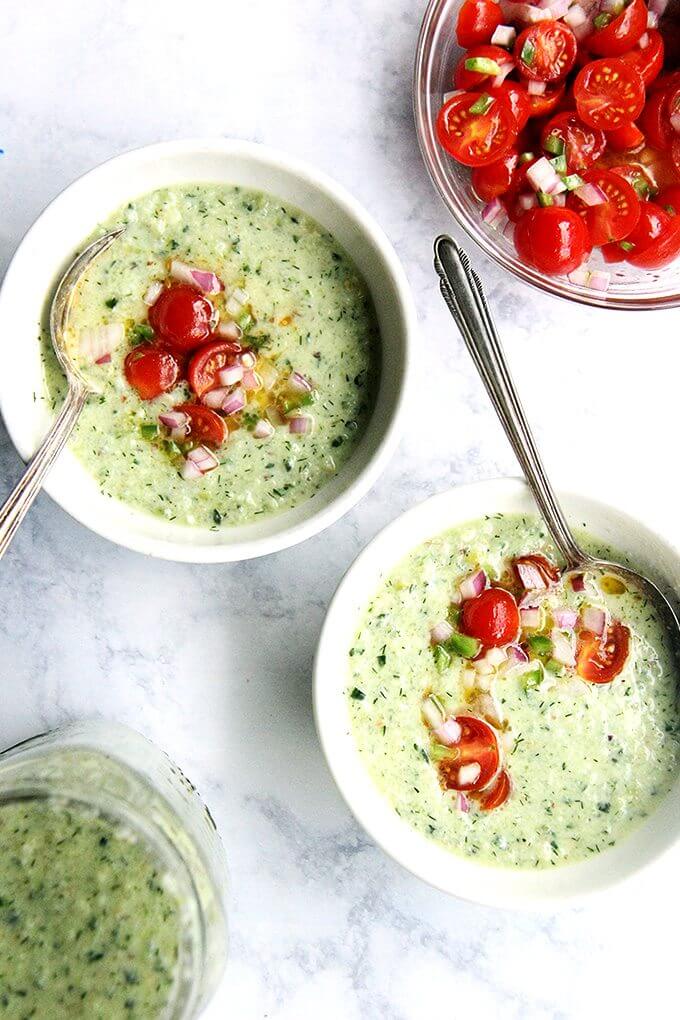 A few months ago, I heard from a man named Ed, who emailed saying he was baking his way through Bread Toast Crumbs, noting: "This is great bread and wonderful toast; unfortunately, there are never any left-over crumbs."
And while I hope one day the "Crumbs" chapter of BTC becomes of use to Ed, nothing could make me happier than to hear this. And anyway, I understand—from morning toast to afternoon sandwiches to evening dinner bread, we plow through loaves daily here, leaving nary a crumb behind.
Sometimes I find myself baking bread solely for the purpose of making crumbs, because they're so nice to have on hand. With a stash of crumbs in the freezer, simple meals can materialize in no time. This is one of my favorites: cucumber and green grape gazpacho, a variation of the chilled Spanish soup ajo blanco. A few years ago, I posted a similar recipe here, but this one is simpler and tastier. It's loaded with dill and heavy on the vinegar, which gives it a nice bite. Sweet green grapes balance this sharpness, and a clove of minced garlic gives it a surprising zing. With the help of a food processor, it comes together in a snap (see video below).
If you, too, happen to be baking your way through Bread Toast Crumbs but have yet to explore the "Crumbs" chapter, I hope this post — and the trailer below! — may inspire you to spend some time with the final 40 recipes. From halloumi and bread skewers to panzanella salad to crispy goat cheese rounds to tomato and bread soup to frittata with mustard croutons to broiled striped bass with capers, the uses for crumbs are vast.
Happy Crumbing, Everyone!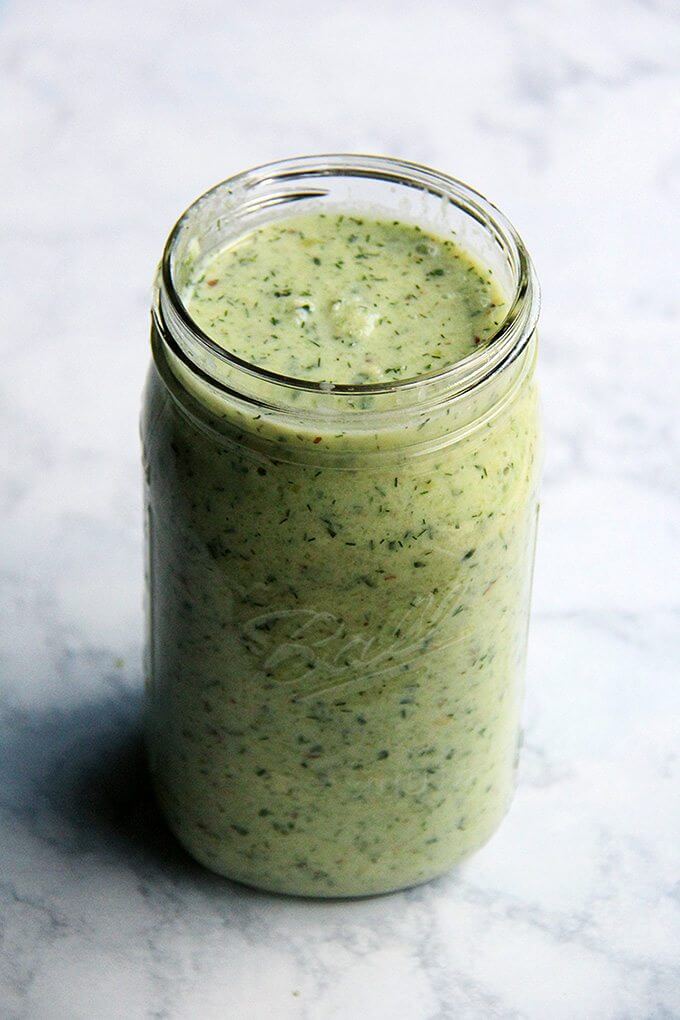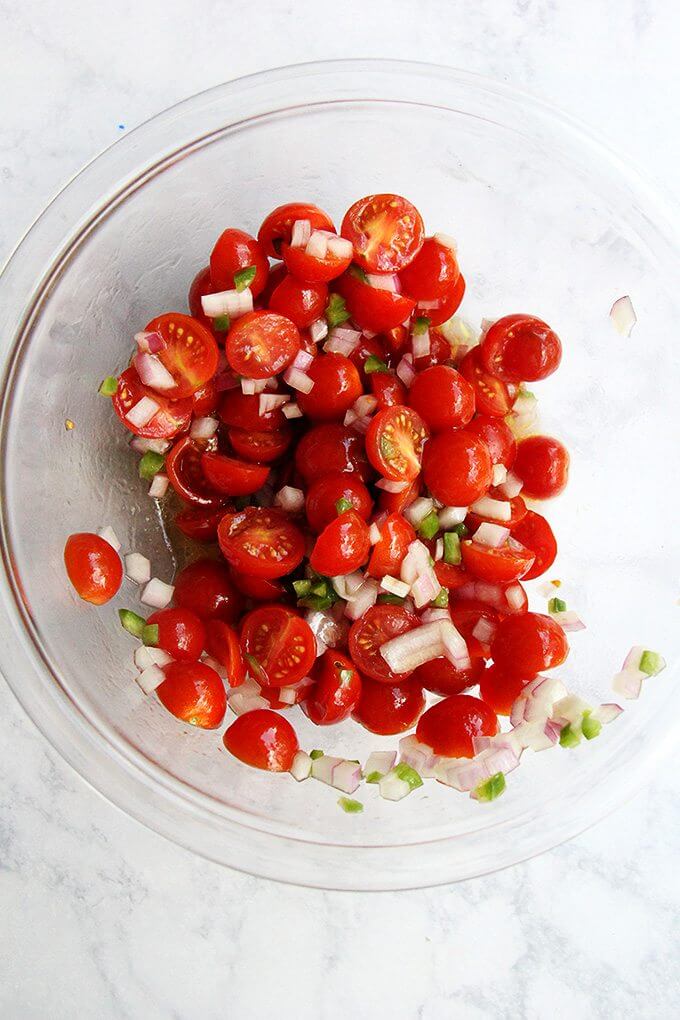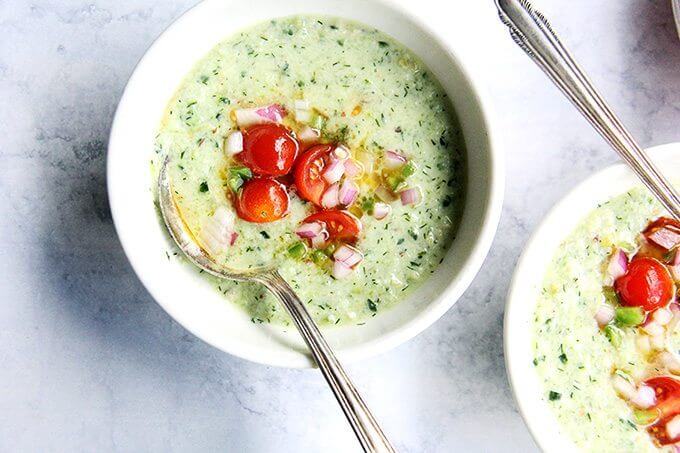 My Book: Bread Toast Crumbs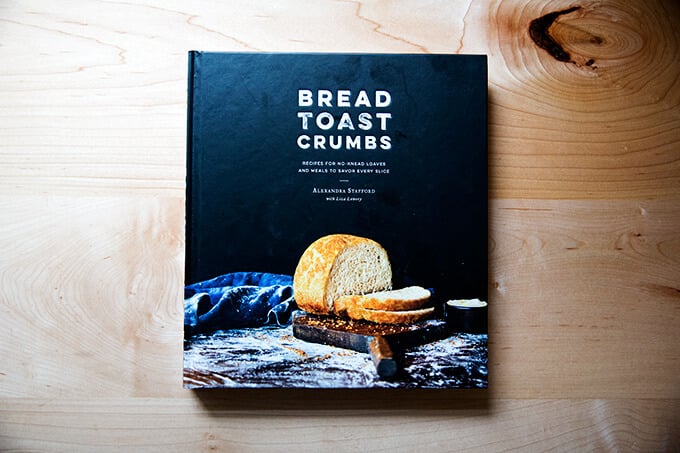 Print
Cucumber and Green Grape Gazpacho
---
Prep Time:

45 minutes

Total Time:

45 minutes

Yield:

Serves 4
Description
From Bread Toast Crumbs
Ajo blanco, also known as white gazpacho, is a chilled summer soup originally from Andalusia. Arabs, who ruled the Iberian Peninsula for centuries, brought almonds to the region and are believed to have introduced this soup as well, which is typically made with almonds, bread, and garlic. Green grapes are a usual garnish, a sweet counterpoint to the bracing purée, but here they join the mix, along with cucumber and fresh dill, all of which tinge the soup a light green. Topped with a spicy tomato salsa, this striking soup is a nice addition to a summer lunch or dinner.
---
Ingredients
For the Gazpacho:
1

English cucumber (about

12 ounces

), thinly sliced

½

pound seedless green grapes, halved

1

garlic clove, minced

1 teaspoon

kosher salt, plus more as needed

¼ cup

white balsamic vinegar

2

slices bread, torn into pieces

¼ cup

almonds

¼ cup

fresh dill

2 tablespoons

extra-virgin olive oil

1/3

to

½

cup yogurt
Freshly cracked black pepper to taste
For the Tomato Salsa:
1¼ cups

cherry tomatoes, quartered

½ cup

finely diced red onion

1

jalapeño, finely minced (about

1 tablespoon

), seeded if sensitive to heat
Pinch of kosher salt

2 tablespoons

extra-virgin olive oil

1 tablespoon

white balsamic vinegar, plus more as needed
---
Instructions
Make the gazpacho: In a large bowl, combine the cucumber, grapes, and garlic. Add 1 teaspoon of salt and the vinegar, toss to coat, and set aside to marinate for 20 minutes.
Meanwhile, in a small bowl, pour ⅓ cup water over the bread. Let it sit until it softens, about 10 minutes.
In a small skillet over medium heat, toast the almonds, tossing frequently, until fragrant and starting to color, about 5 minutes. Immediately transfer to a plate to cool, about 5 minutes.
Add the almonds to a food processor and pulse until finely minced. Add the cucumber mixture, soaked bread, dill, oil, yogurt, and a grinding of black pepper to the processor bowl. Purée until smooth. Season to taste with salt and pepper. Chill until ready to serve.
Make the salsa: In a medium bowl, combine the tomatoes, onion, jalapeño, salt, oil, and vinegar. Taste and adjust seasoning as needed.
To serve, ladle the soup into bowls. Spoon a tablespoon of the salsa on each bowl of soup just before serving, passing more on the side.
Category:

Soup

Method:

Food Processor

Cuisine:

Spanish
Keywords: summer, cucumber, grape, gazpacho, ajo blanco, almonds, chilled, Spanish