It's easy to get wrapped up in recipes, to go through the motions as you follow them, to forget to consider what you're actually doing. I do this all the time.
Over the years, for instance, I couldn't tell you how many soy dressings, soy dipping sauces, and soy marinades I've made, each some combination of ginger, garlic, sugar, mirin, sake, oil, vinegar, and chili paste. Each has been unique in composition, but very similar at heart: a balance of salty and sweet, acid and fat, and often heat.
I've loved nearly all of these sauces, and yet I continue to try new recipes in this genre, and I continue to stuff my abounding recipe file with more newspaper and magazine clippings. When will the madness end?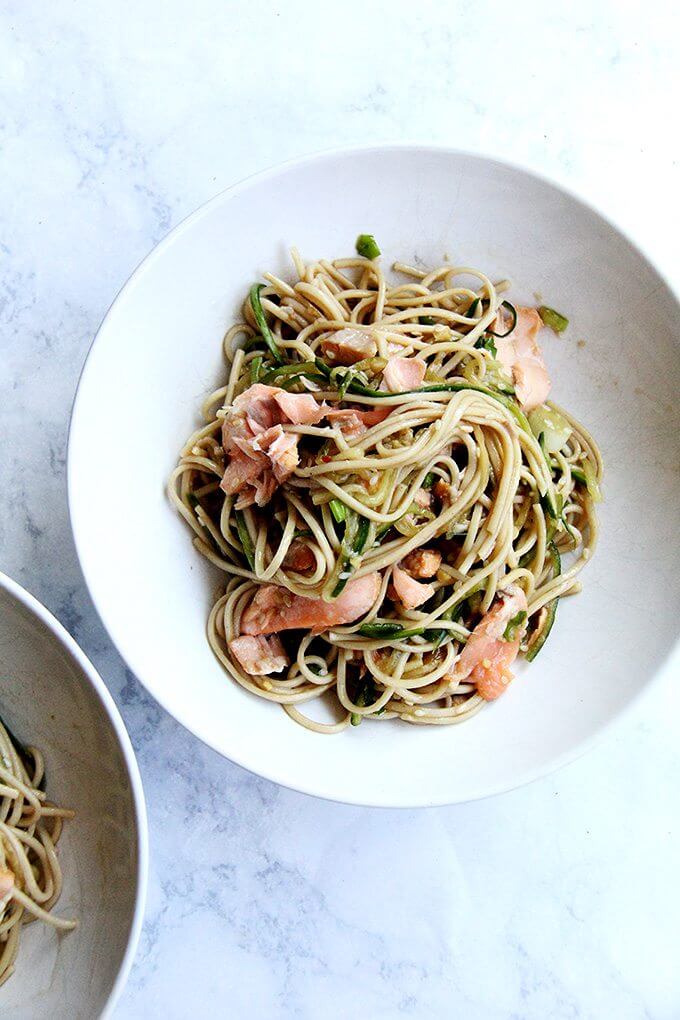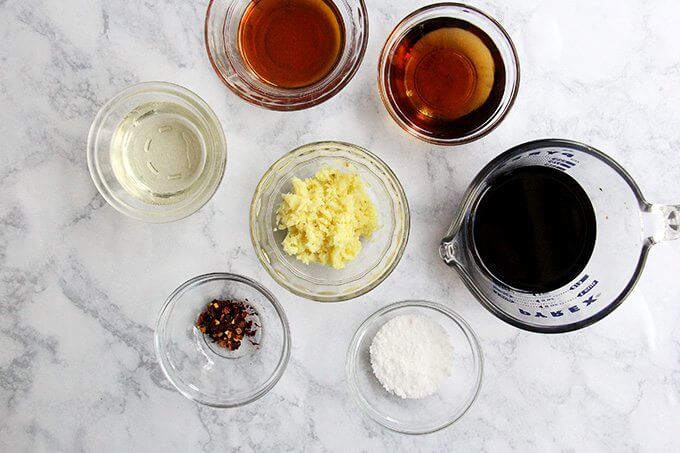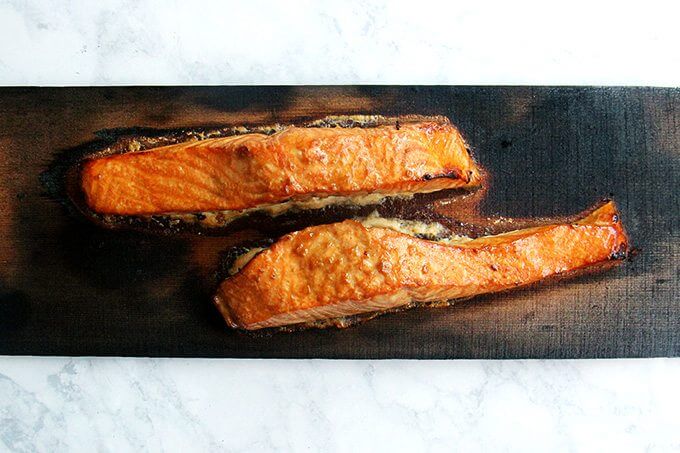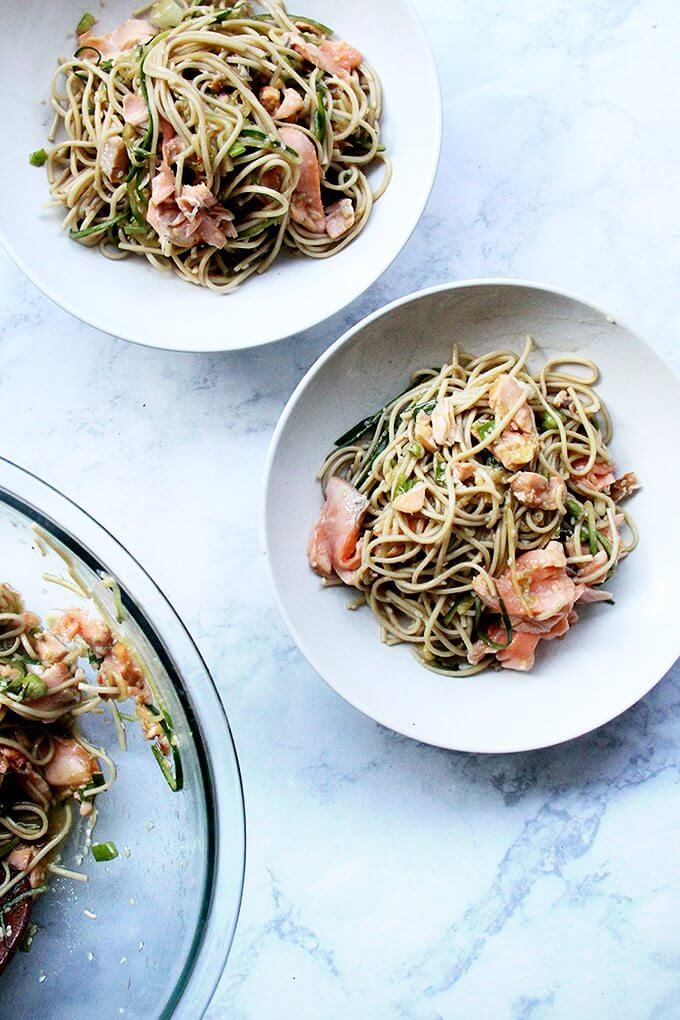 Print
Ginger-Sesame Soba Noodles with Cedar Plank Salmon
---
Author:

Alexandra Stafford

Prep Time:

25 minutes

Cook Time:

5 minutes

Total Time:

30 minutes

Yield:

Serves 4
Description
Notes: 
Recipe halves well. You will likely have leftover dressing. Store it in the fridge.
I buy farmed raised salmon from a local seafood shop called Hooked (Latham, NY). It's from the Faroe Islands, and from what I can tell online, it seems to be a pretty pristine operation. I know farmed salmon can be atrocious in terms of feed and environmental damage, but I don't believe this to be the case with this farmed salmon. Wild is probably best if you can get it.
---
Ingredients
1 

cedar plank, soaked in cold water for 1 hour or longer


1/2 

cup soy sauce


1/4 

cup rice vinegar


1/4 

cup mirin


3 

tablespoons toasted sesame oil


3 

tablespoons finely minced ginger


2 

tablespoons sugar

Pinch crushed red pepper flakes


two 

5-oz filets wild salmon, see notes above


6 

ounces dried soba or fresh udon noodles


1 

English cucumber, thinly sliced, a mandoline or spiralizer is nice here


6 

scallions, thinly sliced, white and green parts


2

 

tablespoons sesame seeds
---
Instructions
Fill a medium pot with water and bring to a boil over high heat. Preheat a grill to high. Meanwhile, in a medium bowl or liquid measure, whisk together the soy sauce, rice vinegar, mirin, sesame oil, ginger, sugar, and crushed red pepper flakes. Place the salmon in a small dish or ziplock bag. Pour a quarter cup (or more) of the marinade/dressing over the salmon so it is coated — it doesn't have to be submerged. Chill for 20 minutes.
Cook the noodles according to package instruction (see notes above). Drain, rinse under cold water, then plunge into a bowl of cold water and swish the noodles around with your fingers. Drain.
Place salmon on cedar plank, leaving excess marinade behind. Place plank on grill grates. Grill 5 minutes. Remove plank, transfer salmon to a plate, and let rest for 5 minutes.
Place drained noodles in a large bowl. Add cucumber, scallions, and sesame seeds. Pour over some of the dressing. Toss gently to coat. Taste. Add more dressing as needed. Adjust taste with a pinch of salt, more crushed red pepper flakes, or more vinegar (or a squeeze of lime, if you have it) to taste.
When salmon has cooled, break it into pieces over the noodles, leaving the skin behind if you wish. Toss gently. Serve immediately. (Alternatively, serve the salmon aside the noodles.)
---
Category:

Fish

Method:

Grill

Cuisine:

Asian
Keywords: cedar, plank, salmon, grill, ginger, sesame, soy