Five-Ingredient Corn Soup with Herb Salsa
This post may contain affiliate links. Please read my disclosure policy.
Greetings from Lake George! I'm here for the week with Ben's family: parents, brother, and son, Nathan. We've been swimming, fishing, and tubing, and it's been a blast.
Yesterday Ben's mother, Carole, and I took a trip to Top's, the local supermarket, to shop for dinner, but, inspired by a "Local Sweet Corn" sign, made a quick detour just upon entering Bolton Landing. We picked up corn, tomatoes, peaches, watermelon, garlic, cucumbers. Feels like summer.
It also feels like a good time to share this soup, which I made for the first time last week shortly after reading about it in Samin Nosrat's Salt Fat Acid Heat. The recipe calls for a mere four ingredients — corn, butter, onions, and salt — and its success relies on a fun trick: making a quick stock using nothing more than the stripped corn cobs and water. So smart!
Since Samin's book came out, I've read about it everywhere and in particular about Samin's gift as a teacher. You sense this as soon as you begin flipping through the book, but you really benefit from it when you start cooking from the book. I loved the tips in the recipe itself about how to strip kernels from the cob — lining a bowl with a tea towel, which prevents the kernels from flying everywhere (see video) — and how to adjust the flavor of the soup at the end: "If the soup is very flatly sweet," Samin writes, "a tiny bit of white wine vinegar or lime juice can help balance it out."
She was right. I found the soup needed just a slash of vinegar to balance the sweetness of the corn and onions, and I found the suggested acidic garnish — a Mexican-ish herb salsa — to be essential. I wanted a spoonful in every bite, and spooned what remained over the tomato salad and bread served on the side. (Incidentally, in addition to being delicious, the salsa is incredibly versatile — I made a batch a few days ago to serve with grilled steak tacos, and we spooned the leftover salsa over grilled chicken last night.)
Depending on where you are, it may hardly feel like soup season, but last week, the upstate New York summer had me donning my fleece-lined flannel, and nothing sounded better than a bowl of soup. This said, there's good news: this soup can be served chilled. Hooray! I haven't felt this excited (maybe) about a recipe since I first made fresh corn polenta and wanted to shout about it from the rooftops. I hope you are as enchanted as I.
PS: Lake George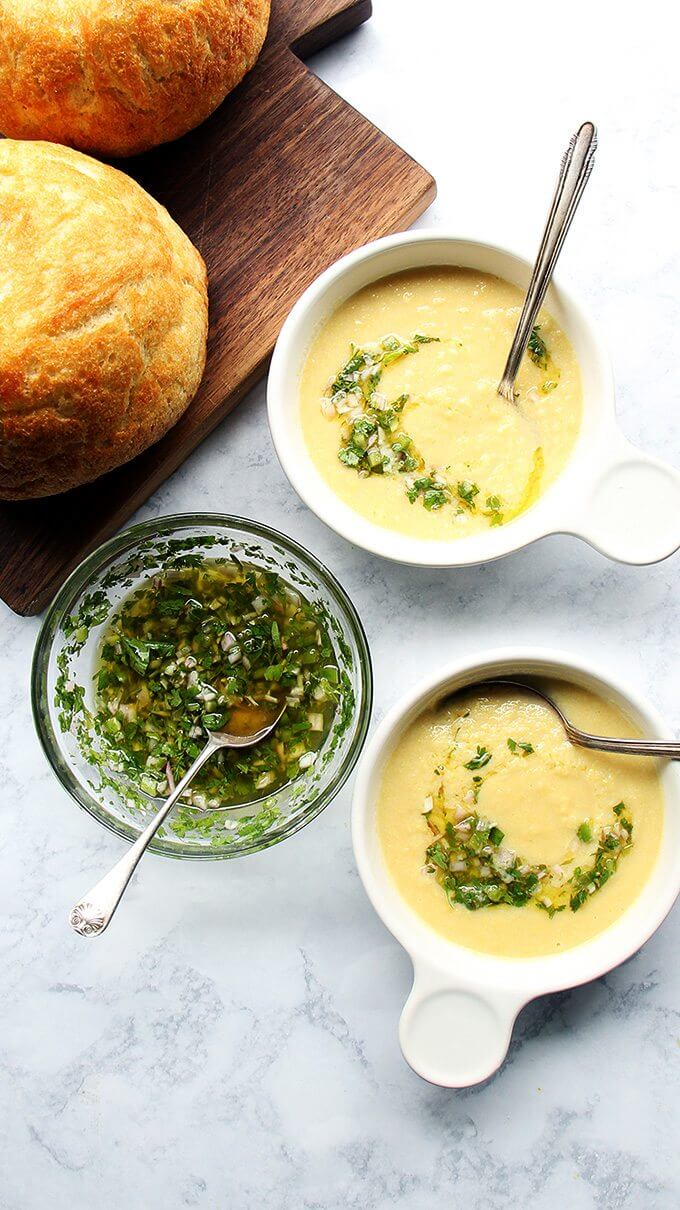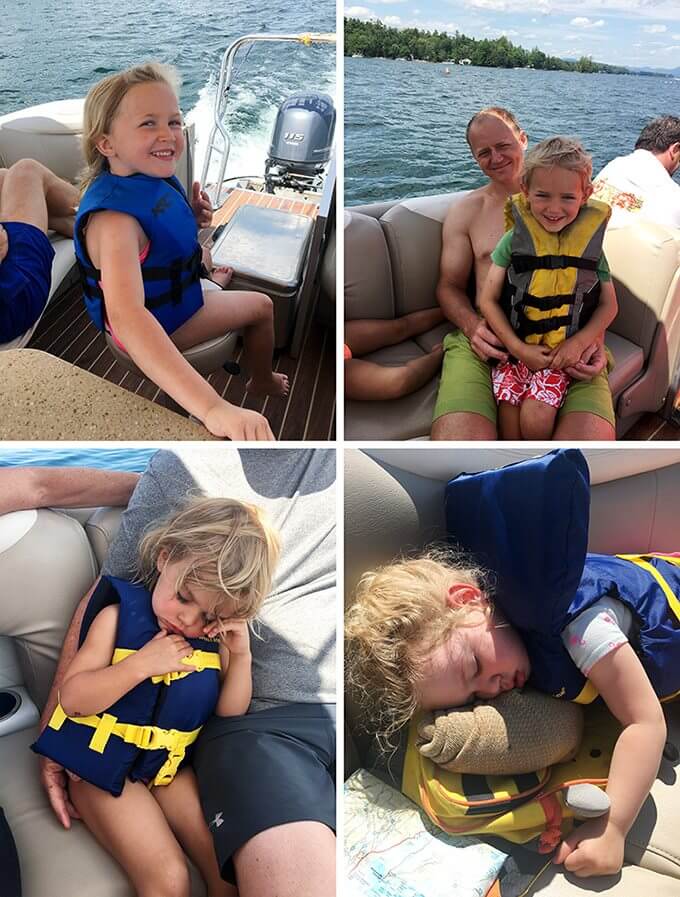 Print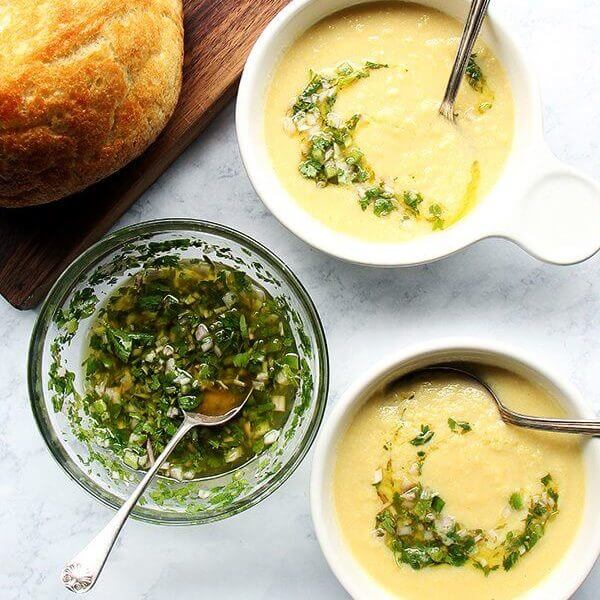 Five Ingredient Corn Soup with Herb Salsa
---
Description
From Samin Nosrat's Salt Fat Acid Heat
This soup can be served hot or cold, though I've only ever eaten it hot. I find the salsa to be essential, and the next time I make the soup, I'll make a double batch of the salsa, because it's the kind of thing that's good drizzled on anything — tomatoes, mozzarella, chicken, bread.
For the salsa, I don't make it exactly as written below, but I wanted to include it the way it is written in the book, because it may be helpful to you. I simply macerate the shallots as suggested, then add the remaining ingredients — I never find it to be too acidic. Also, the first time I made the salsa, I didn't have scallions, and it came out fine, though they are a nice addition if you have them.
---
8

to

10

ears corn, husks, stalks, and silk removed

8 tablespoons

(

4 oz

) unsalted butter

2

medium yellow onions, sliced
salt
vinegar (optional) to taste — I used white balsamic, but white wine vinegar would be good, too, or lime juice
For the salsa:
3 tablespoons

finely diced shallot (about

1

medium)

3 tablespoons

lime juice

1/4 cup

very finely chopped cilantro leaves and tender stems

1 tablespoon

minced jalapeño pepper

2 tablespoons

very finely chopped scallions (green and white parts, see notes above)

1/4 cup

neutral-tasting oil (I use olive oil)
salt
---
Instructions
Fold a kitchen towel into quarters and set it inside a large, wide bowl. Use one hand to hold an ear of corn in place upright atop the kitchen towel—it helps to pinch the ear at the top. With your other hand, use a chef's knife to cut off two to three rows of kernels at a time by sliding the knife down the cob. Get as close to the cob as you can, and resist the temptation to cut off more rows at once—that'll leave behind lots of precious corn. Save the cobs.
In a soup pot, quickly make a corn cob stock: cover the cobs with 9 cups water and bring to a boil. Reduce heat and simmer for 10 minutes, then remove the cobs. Set stock aside.
Return the pot to the stove and heat over medium heat. Add the butter. Once it has melted, add the onions and reduce heat to medium-low. Cook, stirring occasionally, until the onions are translucent, or blond, about 20 minutes. If you notice the onions starting to brown, add a splash of water and keep an eye on things, stirring frequently, to prevent further browning.
As soon as the onions are tender, add the corn. Increase the heat to high and sauté just until the corn turns a brighter shade of yellow, 3 to 4 minutes. Add just enough stock to cover everything, and crank up the heat to high. Save the rest of the stock in case you need to thin out the soup later. Season with salt, taste, and adjust. Bring to a boil, then simmer for 15 minutes.
If you have an immersion blender, use it to carefully blend the soup until it is puréed. If you don't have one, work carefully and quickly to purée it in batches in a blender or food processor. For a very silky texture, strain the soup one last time through a fine-mesh sieve. (I've yet to do this.)
Taste the soup for salt, sweetness, and acid balance. If the soup is very flatly sweet, a tiny bit of white wine vinegar or lime juice ca help balance it out. (I add a fair amount of vinegar to balance out the sweetness — 2 to 3 teaspoons, maybe more. Remember, the acidity of the herb salsa, will balance the flavor as well.)
Serve hot or chilled with salsa spooned over top. Bread on the side is never a bad idea.
To make the salsa:
In a small bowl, combine the shallot and lime juice and let sit for 15 minutes to macerate.
In a separate small bowl (see notes above), combine the cilantro, jalapeño, scallions, oil, and a generous pinch of salt.
Just before serving, use a slotted spoon to add the shallot (but not the lime juice, yet) to the herb oil. Stir, taste, and add lime juice as needed. Taste and adjust salt.
Cover and refrigerate for up to 3 days.
Prep Time:

15 minutes

Cook Time:

45 minutes

Category:

Soup

Method:

Stovetop

Cuisine:

American
Keywords: corn, soup, simple, summer, samin, nosrat
This post may contain affiliate links. Please read my disclosure policy.