Samin Nosrat's Vietnamese Cucumber Salad
This post may contain affiliate links. Please read my disclosure policy.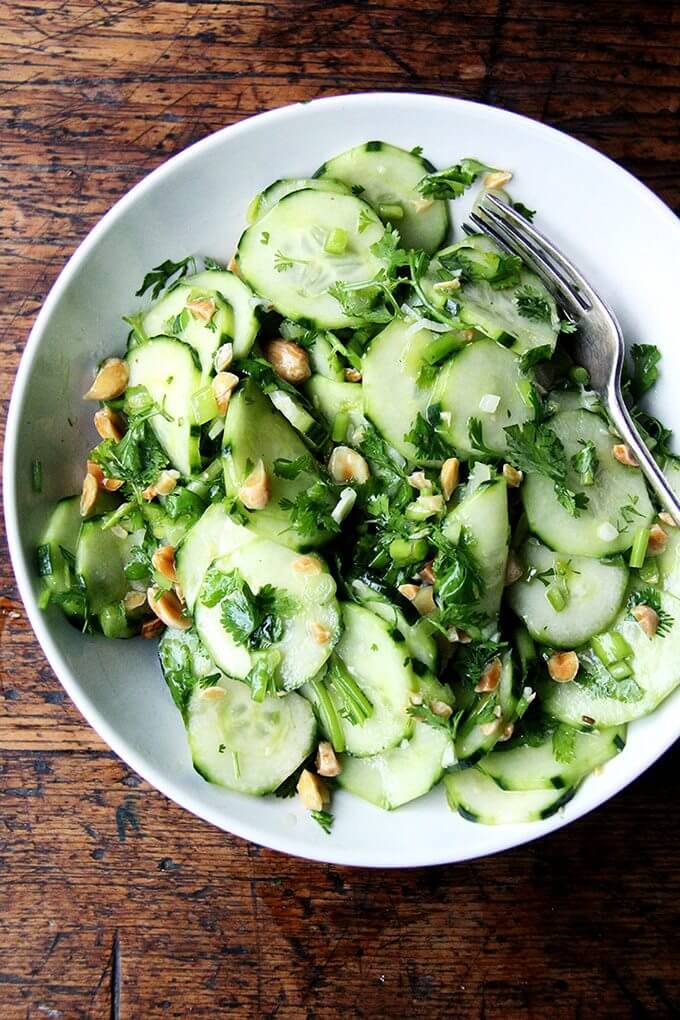 As someone who loves to cook, it's a shame I'm not a better gardener. How nice would it be, I often think, to step outside with my kitchen shears to trim lettuce and herbs for our nightly salad, to pluck snap peas for snacking and cucumbers for pickling? I like to imagine my yard a sea of raised beds, to picture my days spent outside tending my mini farm, my nights in the kitchen cooking and preserving my daily harvests.
It's fun to dream, right? For now, I'll stick with the minimalist system that has (mostly) worked for Ben and me in recent years, which is to grow tomatoes exclusively in our single raised bed and various herbs in a few pots.
I say mostly because I've only had varying degrees of success with herbs, and cilantro, one of my favorites, has been particularly uncooperative. I recently learned why while chatting with A Way To Garden's Margaret Roach: I haven't ever planted cilantro seeds more than once a season. Cilantro, I learned, is a short-lived herb, meaning it's always trying to "bolt" — to go to seed in order to reproduce. So if you want to have a constant supply of cilantro for all of your favorite summer dishes, you need to sow seeds about every two weeks. Aha!
This successive-planting tip is one of many Margaret shared during our chat. Listen to her latest podcast and read her latest post to learn more about how to grow your favorite summer herbs—it's not too late, even if you live up north like me, to plant an herb garden: cilantro, basil, and dill can all be planted now and used throughout the fall. Margaret also shares some great tips for preserving the herbs for the winter months. (Head over, too, for a chance to win a copy of Bread Toast Crumbs!)
I feel more hopeful than ever that come October, when all of our tomatoes arrive at once, I'll have homegrown cilantro and basil for salsa , caprese salad, huevos rancheros, and no-fuss enchiladas. I can't wait.
I'll keep you posted on my herb-growing progress, and I'll follow-up in a few weeks. In the meantime, if you've found yourself up to your eyeballs in herbs, below you'll find a few herb-heavy recipes to help cull your supply.
Also, the Vietnamese cucumber salad pictured above comes from Samin Nosrat's Salt Fat Acid Heat. I made it for our pre moth-night picnic dinner a few weeks ago, and we loved it. Recipe below.
I hope you all are well! What are your favorite ways to use herbs? How do you preserve them in both the short and long term?
---
Cilantro: Cilantro-lime Chickpeas | Roasted Delicata Squash with Chilies, Lime and Cilantro | Moosewood Tomato Salsa | More → Cilantro Recipes
---
Basil: Sautéed Zucchini with Basil & Homemade Ricotta | Stewy Chickpeas with Tomatoes, Feta & Basil | Basil Pesto & Pasta | More → Basil Recipes
---
Dill: Cucumber and Green Grape Gazpacho | Paul Steindler's Cabbage Soup | Greek Salad with Aunt Phyllis's Vinaigrette | More → Dill Recipes
---
Tarragon: Broiled Tarragon Chicken Breasts | Little Gems Salad with Green Goddess Dressing | Unbelievable Lobster Rolls with Homemade Tarragon Mayonnaise | More → Tarragon Recipes
---
Chives: Broiled Lemon-Honey Arctic Char | Watermelon Radish Salad with Goat Cheese | Tartine's Quiche with Potato Crust | More → Chive Recipes
---
Parsley: Tabbouleh | Pan-Broiled Halibut | Pasta Carbonara with Leeks and Lemon — Easy Weeknight Dinner | More → Parsley Recipes
---
Thyme: Fingerling Potatoes, Crispy or Not | Parmesan Chicken with White Wine and Olive Oil | No-Knead Thyme Dinner Rolls | More → Thyme Recipes
---
Rosemary: Quinoa Bake with Butternut Squash | Butternut Squash Lasagna | Melissa Clark's Rosemary Shortbread | More → Rosemary Recipes
---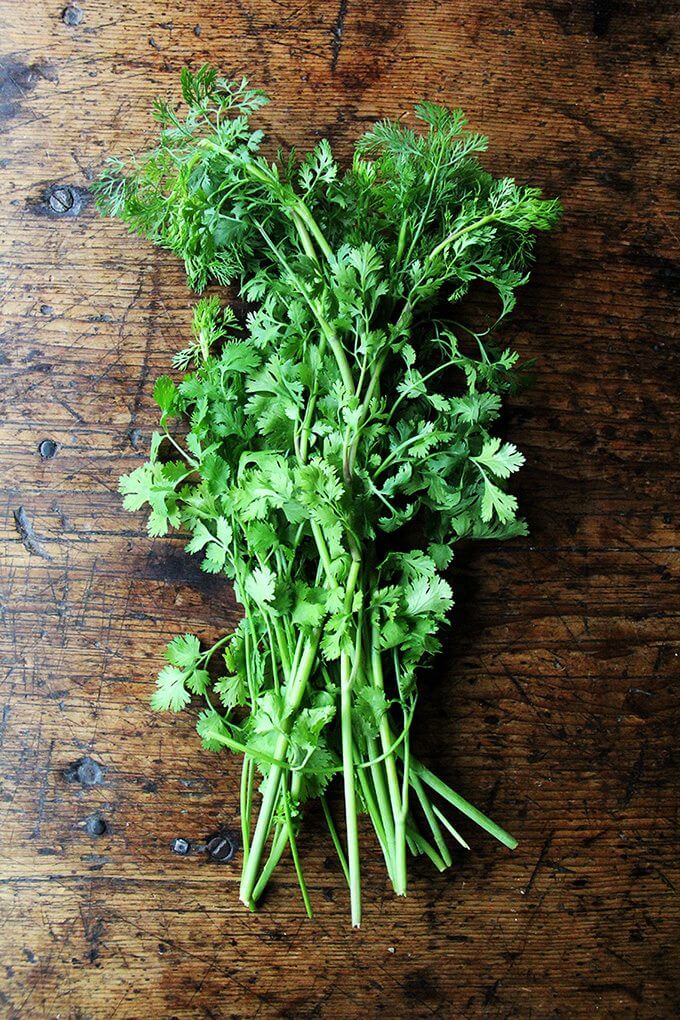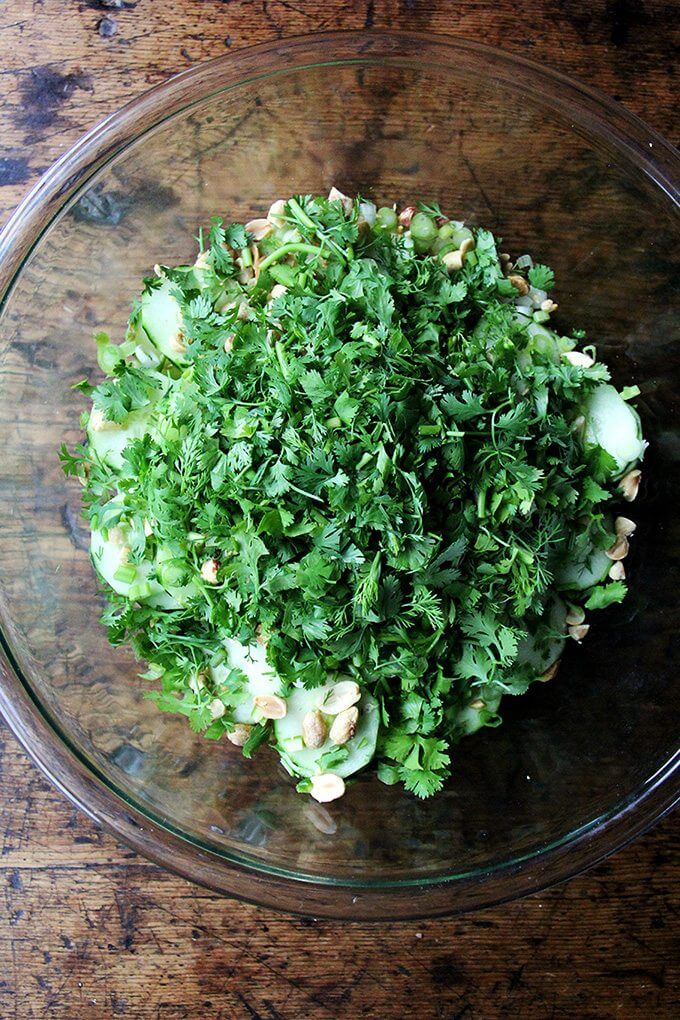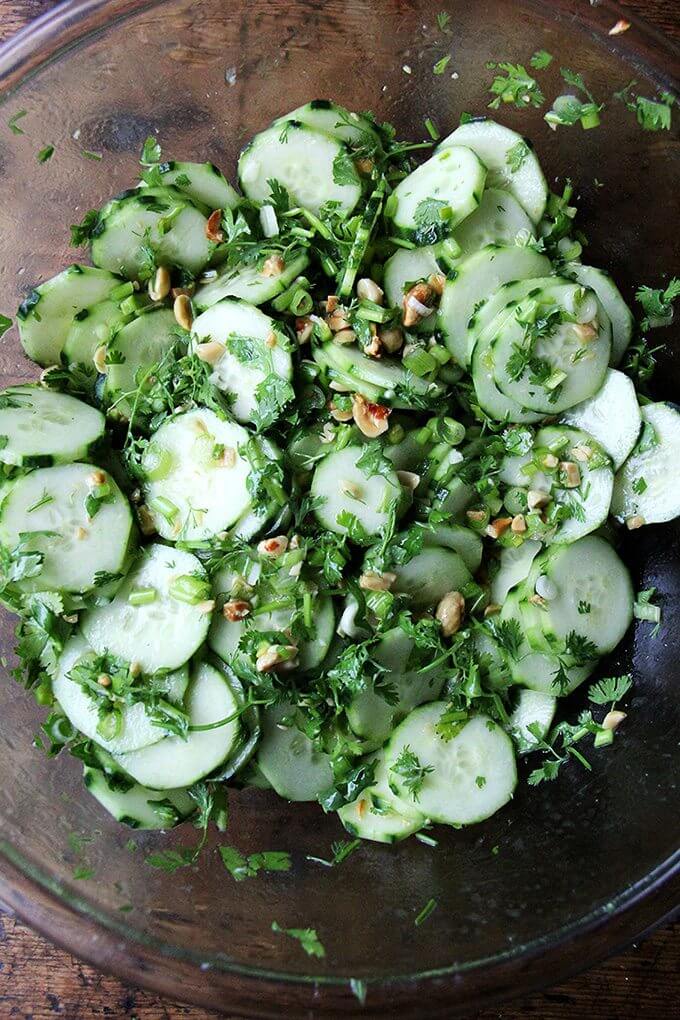 Print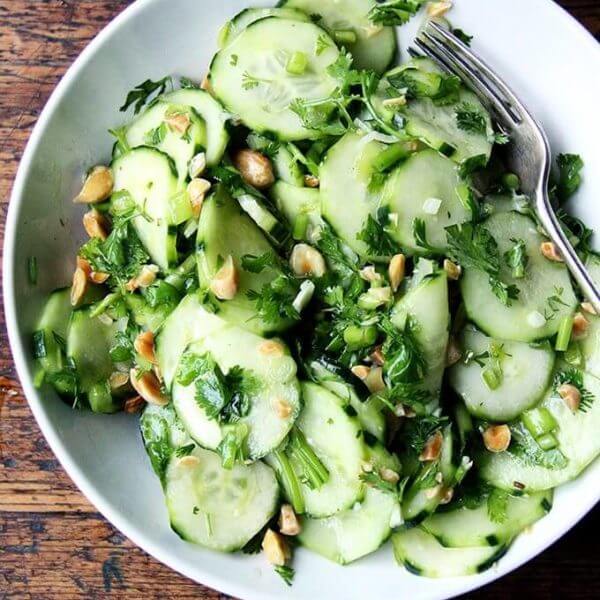 Vietnamese Cucumber Salad
---
---
2

pounds (about

8

) Persian or Japanese cucumbers, stripey peeled

1

large jalapeño, seeds and veins removed if desired, thinly sliced

3

scallions, finely sliced

1

garlic clove, finely grated or pounded with a pinch of salt

1/2 cup

coarsely chopped cilantro leaves

16

large mint leaves, coarsely chopped

1/2 cup

toasted peanuts, coarsely chopped

1/4 cup

neutral-tasting oil

4

to

5

tablespoons lime juice

4 teaspoons

seasoned rice wine vinegar

1 tablespoon

fish sauce

1 teaspoon

sugar
Pinch of salt
---
Instructions
Using either a Japanese mandoline or a sharp knife, thinly slice the cucumbers into coins, discarding the ends. Place slices in a colander. Sprinkle with a teaspoon of kosher salt. Toss and let drain 10 minutes. Transfer cucumbers to a tea towel and blot dry.
In a large bowl, combine the cucumbers, jalapeno, scallions, garlic, cilantro, mint, and peanuts. In a small bowl, whisk together the oil, 4 tablespoons lime juice, the vinegar, fish sauce, sugar, and a small pinch of salt. Dress the salad with the vinaigrette and toss to combine. Taste and adjust seasoning with salt and more lime juice as needed. Serve immediately.
Prep Time:

20 minutes

Category:

Salad

Method:

Toss

Cuisine:

Vietnamese
Keywords: cucumber, salad, cilantro, lime, peanuts, Samin, Nosrat, Vietnamese
This post may contain affiliate links. Please read my disclosure policy.