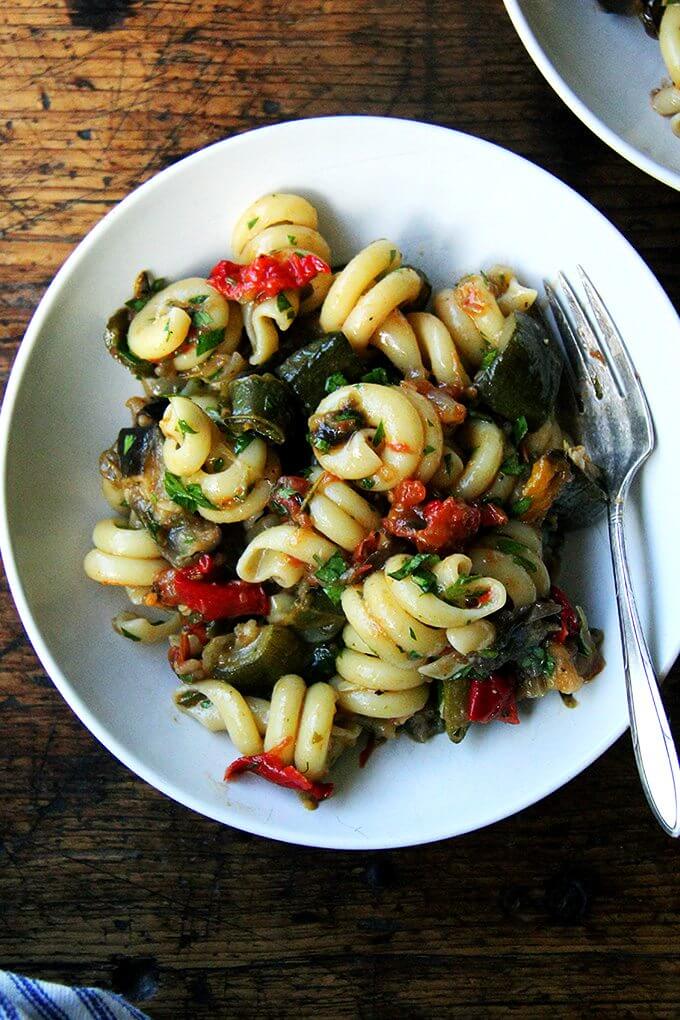 Last Friday, before heading out to see friends for a long weekend, I made the roasted ratatouille from my friend Gena Hamshaw's Food52 Vegan. I chopped up every pepper, onion, eggplant, tomato, and zucchini I could find, threw them into my largest roasting pan, tossed them with olive oil, white balsamic vinegar, fresh thyme, and salt, and cooked them till they released their juices and melted into a stewy mix.
That evening, I tossed the ratatouille, as Gena suggests, with pasta, then packed up what remained for the road. My friends and I at the ratatouille all weekend, cold straight from the fridge for lunch, spread over grilled bread before dinner. What I love about this ratatouille's flavor is the subtle bite lent by the balsamic vinegar, which evokes eggplant caponata though the sharpness here is more mellow. It is irresistible.
I wrote about this ratatouille over on Food52, but, while Food52's recipes are not available abroad, I've included it here, too:
Print
Roasted Ratatouille + Ratatouille Pasta
---
Description
** I originally posted this recipe on Food52. As Food52's site is not available abroad, I've had some requests for it. I've included it below.**
This is adapted from Food52 Vegan by Gena Hamshaw.

I made this recently in Instagram Stories if you're looking for video guidance.
Use the quantities as a guide: It's best to use a balanced mix of vegetables, but the roasting process is forgiving. For instance, I've made this with and without zucchini; I've used a mix of vegetables that leans heavy on the eggplant at times and heavy on the tomatoes at others. I've used all sorts of peppers, tomatoes, eggplant, etc.
Also, I've made nearly a quadruple recipe, so don't be afraid to load up a roasting pan. The key is to be patient with the roasting. Let the vegetables cook until the liquids reduce, and the mixture becomes thick and stewy. When I double/triple/quadruple the recipe, I scale the dressing as needed. Most recently, when my roasting pan was completely loaded — I cut all of those vegetables pictured in photo 2—I used 1/2 cup olive oil and 1/4 cup balsamic vinegar.
If you're feeling lazy, you can toss the thyme sprigs with the vegetables before roasting (as opposed to chopping the leaves), and extract the sprigs afterwards.
---
Ingredients
12 

ounces eggplant, (about 1 small), chopped into 1-inch pieces, see notes above re quantities


1 1/4 

pounds tomatoes, chopped into 1-inch pieces


12 

ounces zucchini (about 2 small), chopped into 1-inch pieces


2 

red bell (or other) peppers, seeded and coarsely chopped


1 

yellow or white onion, chopped


1 

shallot, thinly sliced


4 

cloves garlic, minced


1/4 to 1/2 

cups olive oil, see notes above


2 to 4 

tablespoons balsamic vinegar (I prefer white)


2 

teaspoons chopped fresh thyme


1 

teaspoon kosher salt plus more to taste

Freshly cracked pepper to taste


1/4

to

1/2

 

cups thinly sliced fresh basil and/or parsley, optional
---
Instructions
Preheat the oven to 400° F.
In a large roasting pan or casserole, combine the tomatoes, eggplant, zucchini, peppers, onion, shallot, and garlic. Note: I've been adding the vegetables to the pan as I finish chopping them, and sprinkling each layer of vegetables lightly with salt.
In a small bowl or measuring cup, whisk together the olive oil, vinegar, thyme, and 1 teaspoon kosher salt. Pour over the vegetables. Toss to coat. Season with pepper.
Bake for 20 minutes, then stir well. Bake for another 20 to 30 minutes more (or even longer, especially if you've increased the quantities) until the vegetables are all very tender and the released juices are beginning to thicken. Taste and adjust seasoning with more salt and pepper as desired. Stir in basil, if using.
To serve, spoon over toast, toss with pasta and parmesan, or eat cold, straight from the fridge with crackers. Yum.
---