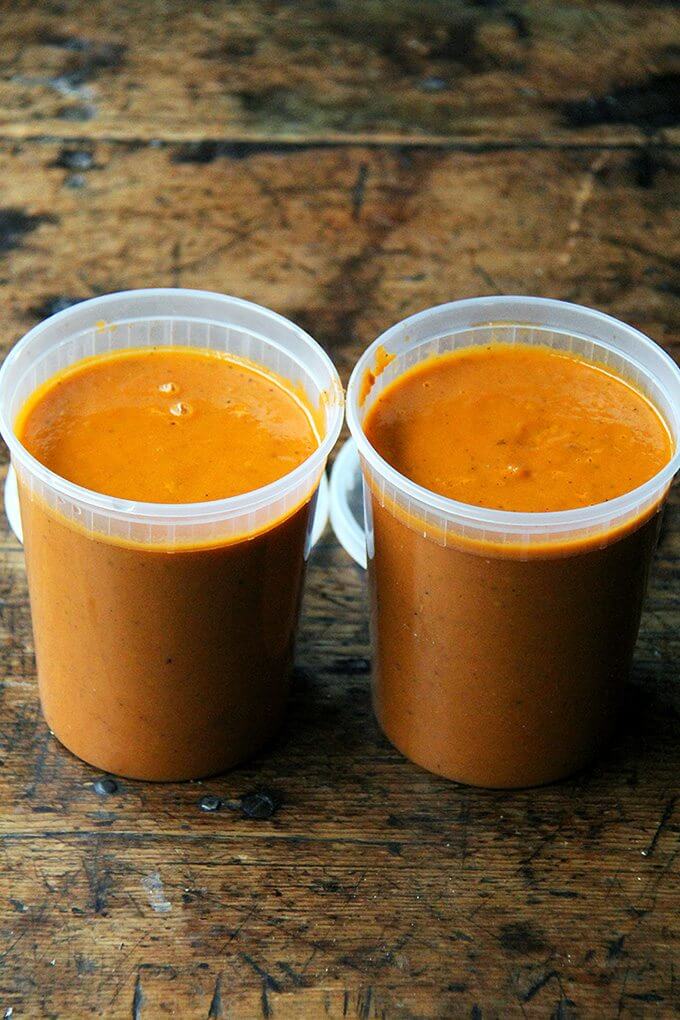 If you are familiar with Marcella Hazan's tomato sauce with onion and butter, you know it is made with three ingredients, four if you count salt. How then, you might be wondering, can such a sauce be simplified?
Simply: by using unpeeled tomatoes. Here, the ingredients are the same as Marcella Hazan's tomato sauce but there's no scoring of the tomatoes and blanching them to remove their skins, and there's no discarding of the halved onion at the end. Everything, rather, is puréed together at the end.
Here's the how-to:
Homemade Tomato Sauce in 4 Simple Steps
Slice two onions, and place them in a pot with a stick of butter.
Meanwhile, chop up 4 pounds of tomatoes, and add them to the pot with a teaspoon of kosher salt.
Simmer for 1 hour.
Purée with an immersion blender, food processor, or traditional blender.
Taste your fresh, bright tomato sauce, then smile for days as you put it on everything: pizza, pasta, crispy eggplant rounds, savory monkey bread, eggplant involtini, zucchini involtini, summer squash gratin, etc.
Friends, should you find yourself with a haul of tomatoes, this modified Marcella tomato sauce recipe might come in handy. I think we've picked the last from our little raised bed, which did well this year, treating us to a good run of bagel-cream cheese-and-tomato breakfasts. I'm not ready for fall.
PS: ALL the tomato recipes here.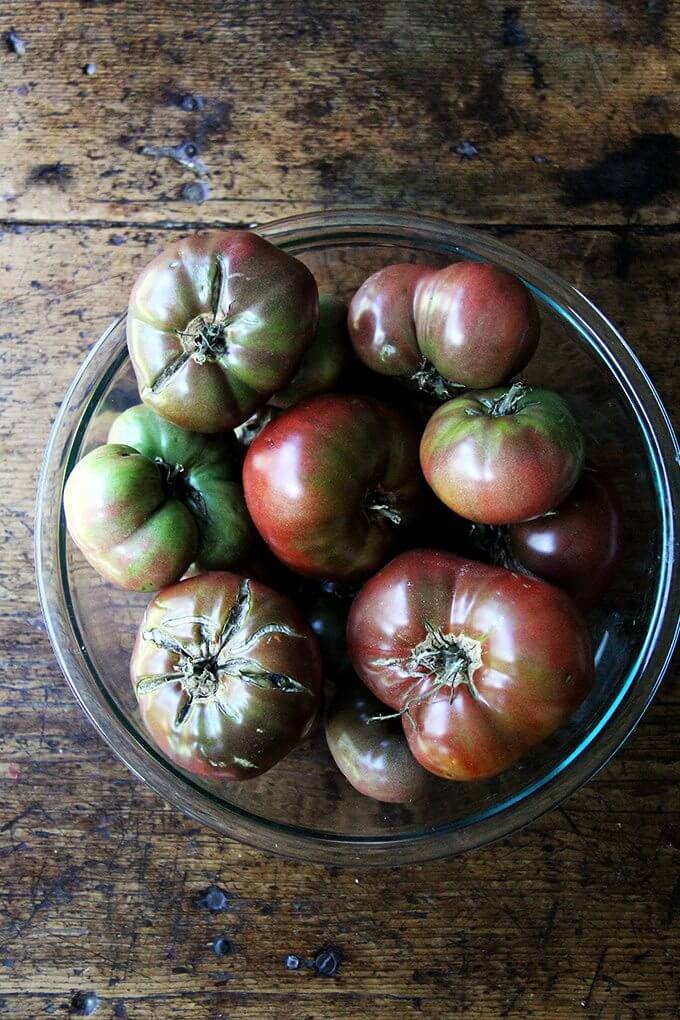 Here's the visual play-by-play for making a simplified Marcella tomato sauce:
1. Melt a stick of butter.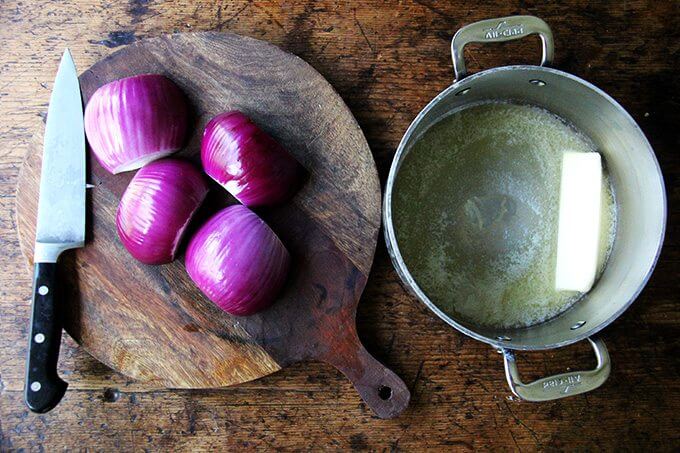 2. Slice two large onions (typically I use white) and add to melted butter.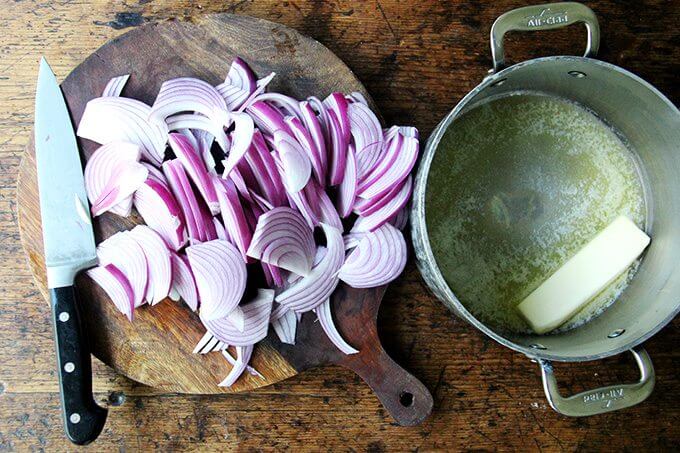 3. Sweat onions for 15 minutes or until they …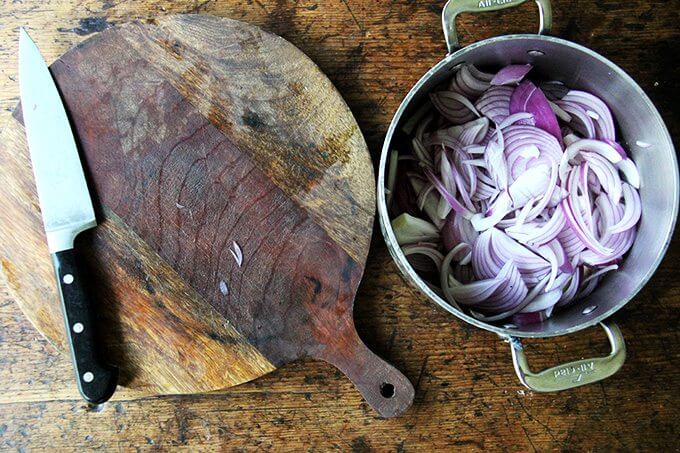 4. turn white! Kidding. Cook until the onions are soft.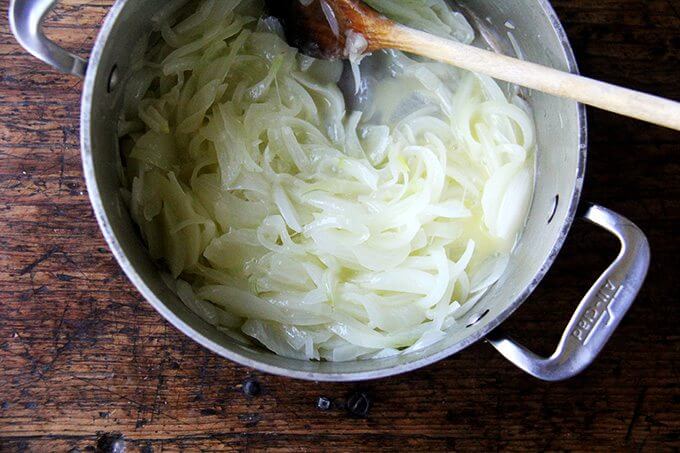 5. Meanwhile, dice four pounds of tomatoes.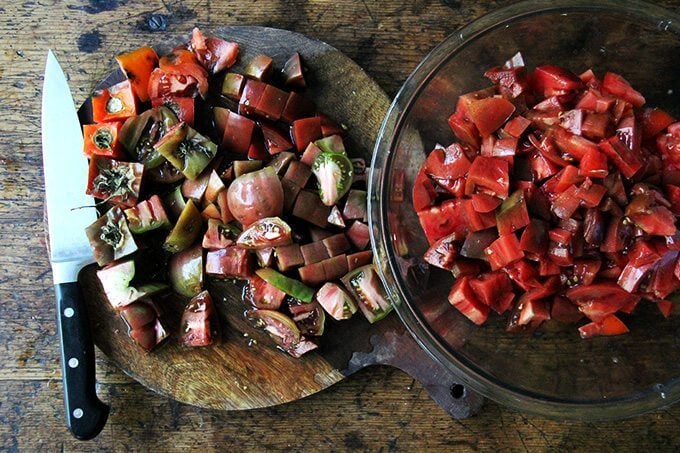 6. Add them to the pot with a teaspoon of kosher salt.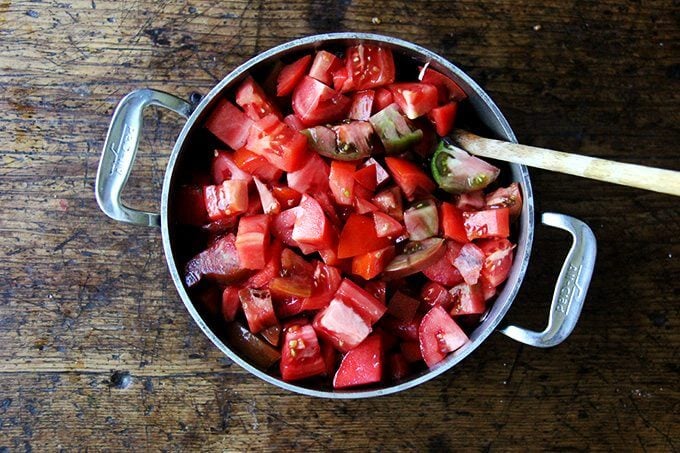 7. Bring to a simmer. After five minutes, the tomatoes will look like this: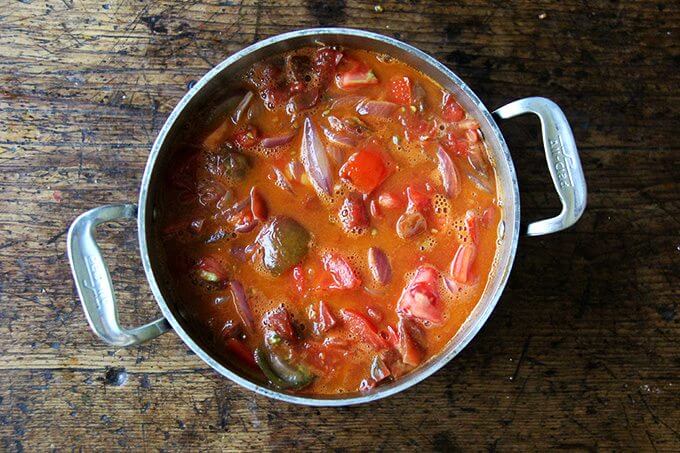 8. After about an hour, they look like this: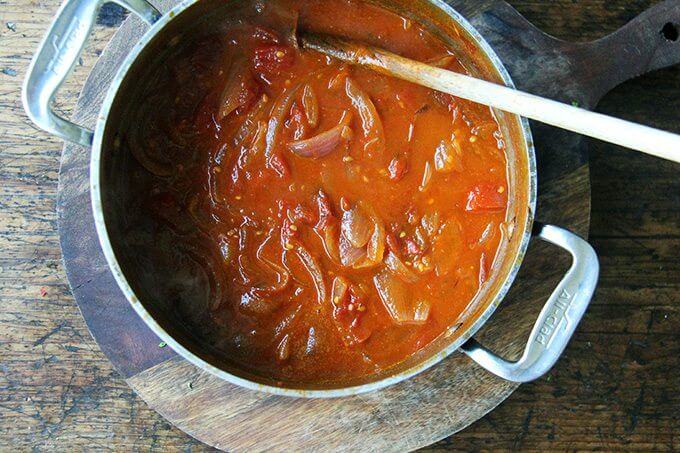 9. Purée the sauce with an immersion blender, or transfer to a food processor or blender (taking care the lid is on tightly lest it blow off during the whirring).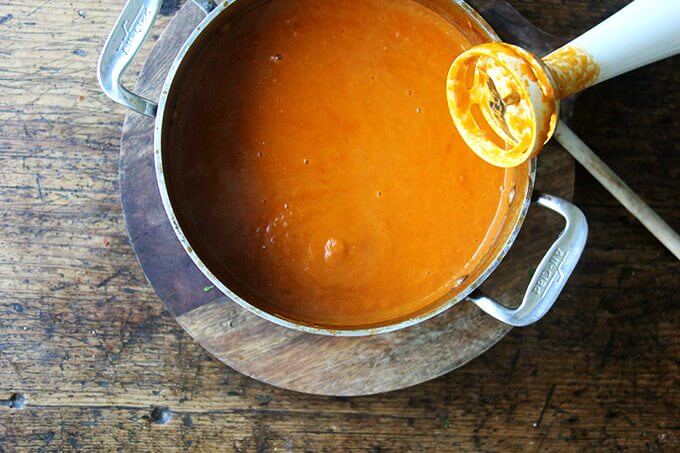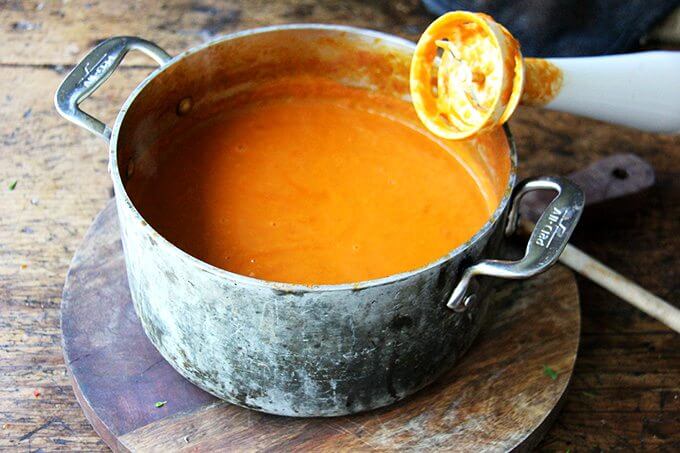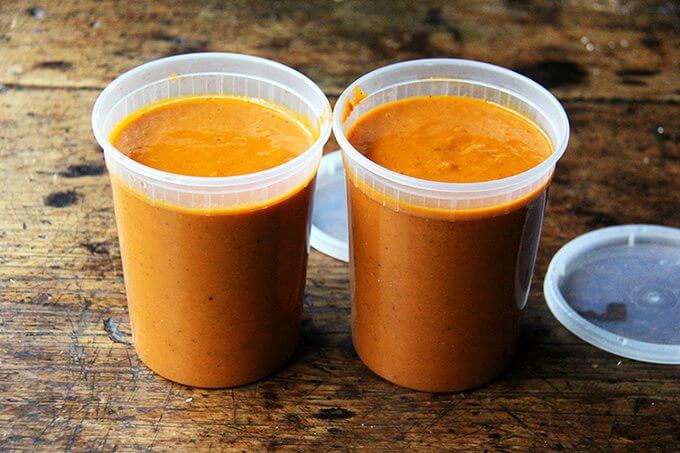 10. Transfer puréed sauce to storage containers. These are my favorite: 1-Quart Deli Containers Such a great size for all sorts of foods.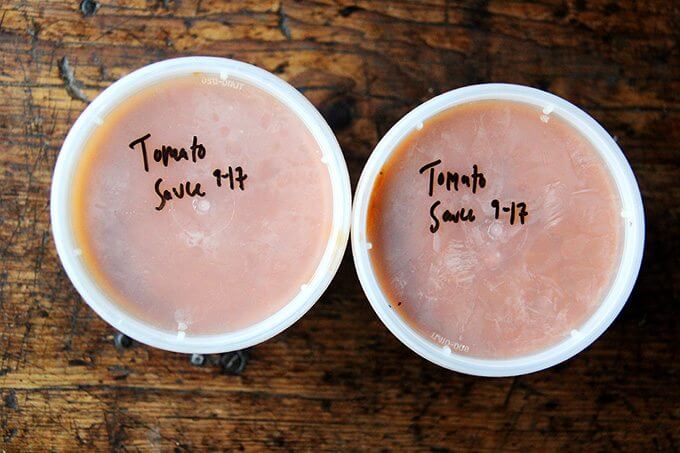 11. Use sauce in your favorite recipes, perhaps a roasted eggplant and Swiss chard lasagna? Stay tuned.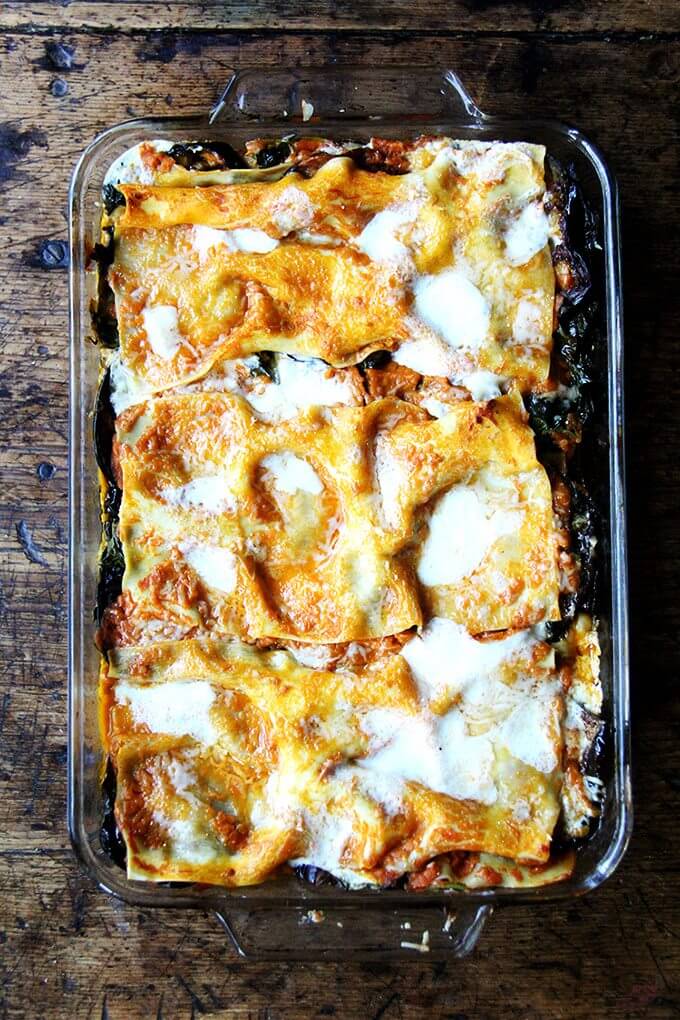 Print
Marcella Hazan Tomato Sauce with Onion and Butter, Simplified
---
Prep Time:

15 minutes

Cook Time:

1 hours 15 minutes

Total Time:

1 hours 30 minutes

Yield:

2 quarts
Description
This is a modified/simplified recipe of Marcella Hazan's famous tomato sauce with onion and butter. To sum up the changes: I don't peel the tomatoes, I slice the onion and sweat it with the butter first, then add the tomatoes. After about an hour simmer, I purée it. This is just easier for me, and I find the taste of the sauce to still be fresh and bright.
Here I've doubled the quantities of the original recipe, so feel free to make a half batch or multiply the quantities if you wish, too.
---
Ingredients
8 tablespoons

unsalted butter

2

large onions, thinly sliced

4

pounds tomatoes, dice into

1/2

-inch pieces

1 teaspoon

kosher salt, plus more to taste
---
Instructions
Melt the butter over medium heat in a large pot. Add the onion and cook gently, lowering the heat if necessary, until the onions are soft, about 15 minutes. (The onions should take on very little color, but if they brown a little, it's fine.)
Add the tomatoes and salt to the pot and bring to a simmer over medium-high heat, stirring every so often to ensure the onion isn't scorching on the bottom of the pan. (If you cover the pan for 2 minutes, the mixture will come to a boil more quickly.) Once the mixture is simmering, lower the temperature, so the mixture is gently bubbling—medium heat should do it. Simmer for about an hour, stirring occasionally until the mixture has reduced and feels somewhat thick as you run a spoon through it. Purée with an immersion blender or transfer mixture to a food processor or blender (taking care to hold the lid down tightly lest it blast off due to the steam) and purée until smooth. Taste. Add more salt to taste.
Once cool, transfer to storage containers and refrigerate for up to a week or freeze for months.
---
Category:

Sauce

Method:

Stovetop

Cuisine:

Italian
Keywords: homemade, tomato, sauce, Marcella, Hazan, simple, summer