This oven-roasted cauliflower recipe with parmesan, garlic and thyme is so delicious! The cauliflower emerges tender and golden, shrouded with near-burnt onions and salty crisp parmesan. The best part? The whole unpeeled cloves of roasted garlic, which can be spread across bread like butter — heaven.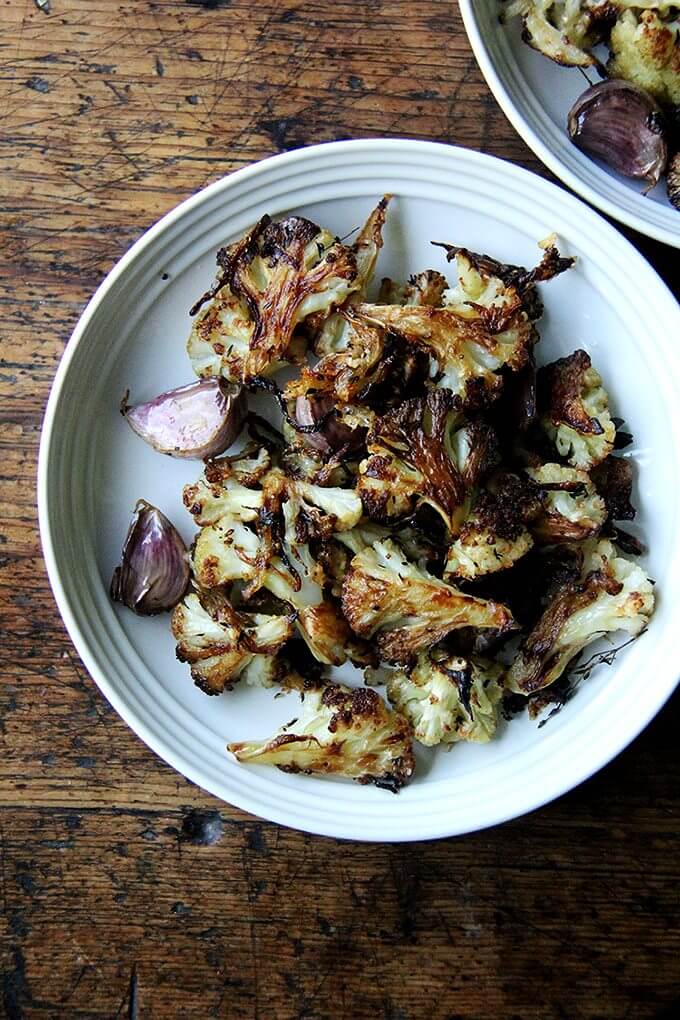 If you read Orangette, you've long known about this oven-roasted cauliflower recipe. Molly Wizenberg wrote about it over three years ago now, describing it as her "new go-to" roasted cauliflower recipe, one "you'll probably have memorized after the first read-through."
You will, I promise. This recipe takes five minutes (maybe less) to prep: cut a head of cauliflower into florets, toss with a sliced onion, a few sprigs of thyme, whole unpeeled garlic cloves, olive oil, salt and pepper. Transfer it to the oven, and after 30 minutes or so, when the onions begin to caramelize and the cauliflower edges begin to brown, sprinkle over parmesan cheese, and let it bake for 10 more minutes. That's it.
The cauliflower emerges tender and golden, tangled in a web of sweet, near-burnt onions and salty crisp parmesan. It's irresistible. The best part? The whole unpeeled cloves of roasted garlic, which can be spread across bread like butter or squeezed directly into your mouth as you would with steamed edamame. No judgment here.
Every year this time of year, when the cauliflower begins arriving in my CSA, I start making this dish, and I never tire of it. Give it a go—I hope you find it enters your weekly rotation as well.
Here's the play-by-play: Spread cauliflower, onions, garlic, thyme on a sheet pan. Season with salt and pepper.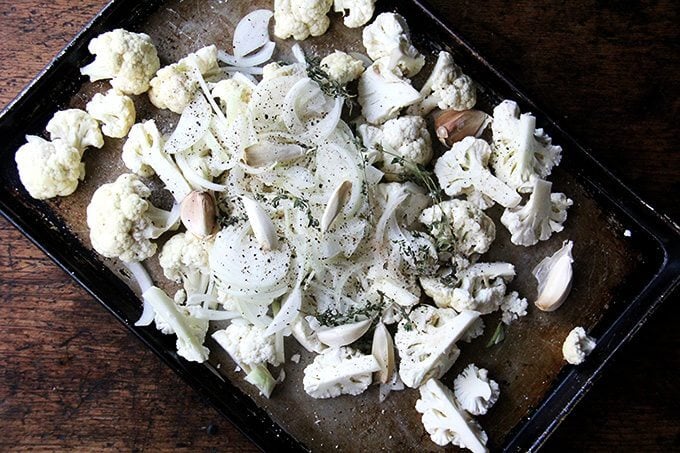 Add olive oil and toss to coat.

Spread into a single layer: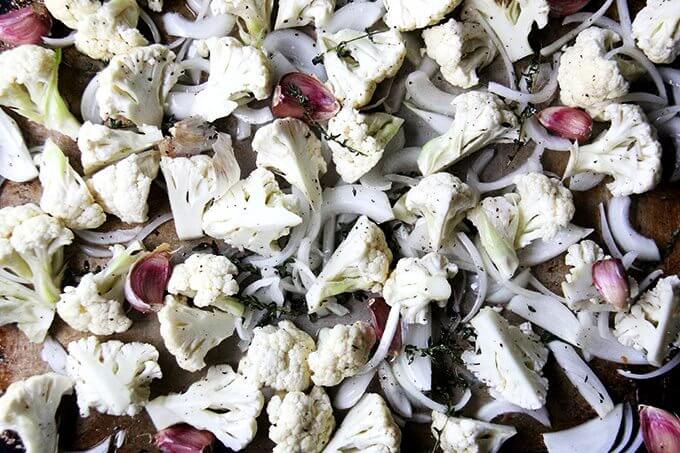 Roast for about 30 minutes: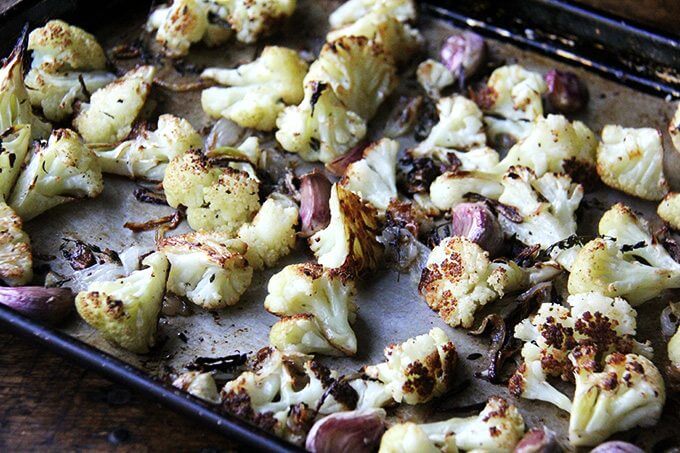 Add parm: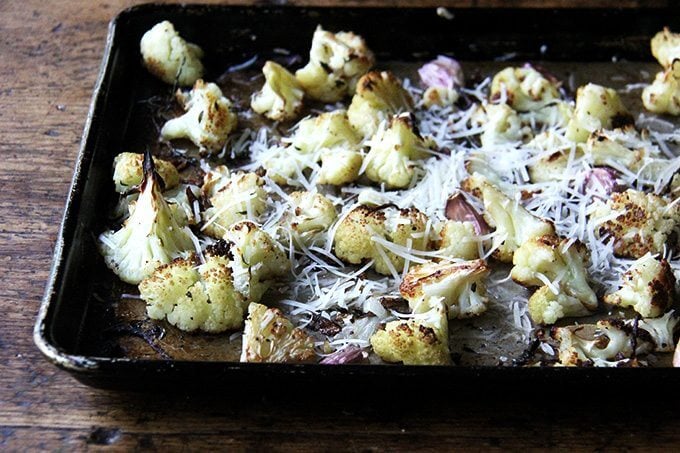 Roast 10 minutes more: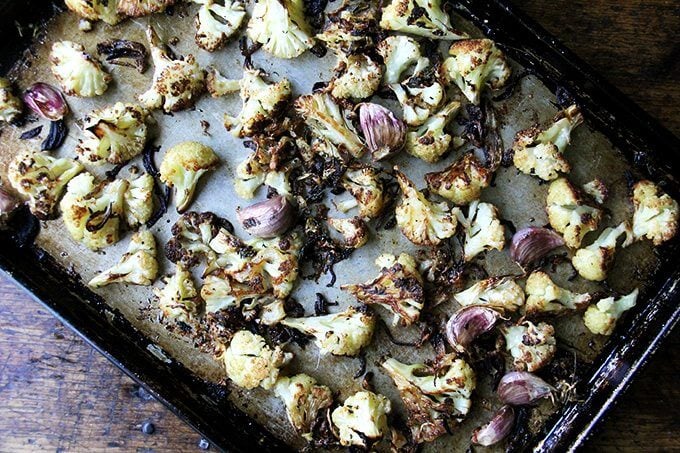 Serve immediately…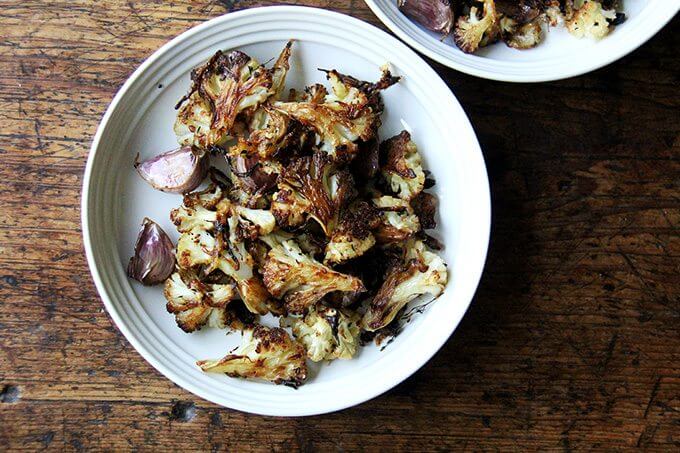 With good bread on the side…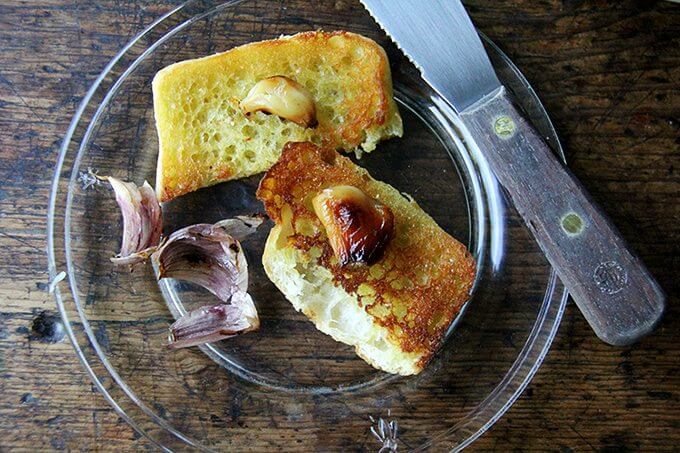 to welcome those spreadable, roasted cloves of garlic.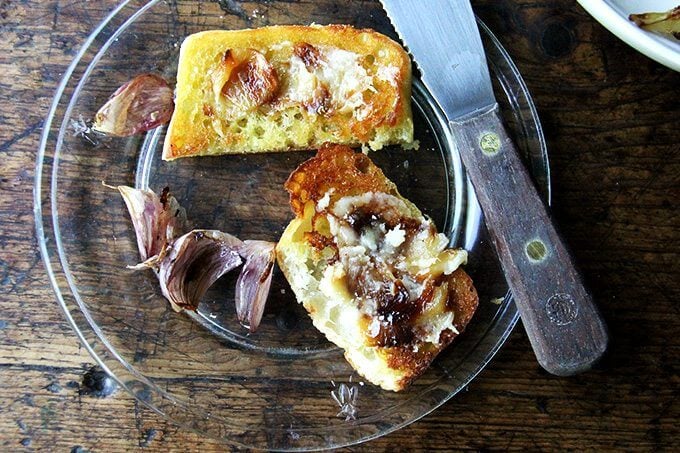 Print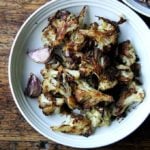 Easy Parmesan-Roasted Cauliflower Florets Recipe
---
Author:

Alexandra Stafford

Prep Time:

10 minutes

Cook Time:

40 minutes

Total Time:

50 minutes

Yield:

Serves 4 as a side dish
Description
Source: Bon Appetit via Orangette
Note: This may take a bit of trial and error to get just right — I find 30 minutes for the first bake, and 10 minutes once the parm has been added to be about right, but even with this shorter cooking time, the onions emerge near burnt—some in fact are burnt. I love this flavor, but I know it's not everyone's thing. I suggest trying this once as written, then making adjustments accordingly for the next time around. You may have better luck reducing the oven temperature down to 400ºF or so.
---
Ingredients
1

head cauliflower, cut into florets

1

medium onion, sliced

4

sprigs thyme

4

garlic cloves, unpeeled (I use

8

— however many you use, try to use fat ones, to ensure, soft spreadable roasted garlic butter in the end)

3

to

4

tablespoons olive oil or grapeseed oil (I use 4)
Kosher salt and freshly ground black pepper

½ cup

grated Parmigiano Reggiano
---
Instructions
Preheat oven to 425°F. Toss cauliflower florets on a large rimmed baking sheet with onion, thyme, garlic, and oil; season with salt and pepper. Roast, tossing occasionally, until almost tender, 35-40 minutes—check after 30 minutes. Note: See notes above. I find 30 minutes to be consistently right for me, but every oven is different, so start checking at the 30 minute mark.
Sprinkle with Parmesan, toss to combine, and roast until cauliflower is tender and golden, about 10 minutes.
---
Category:

Side Dish

Method:

Oven

Cuisine:

American
Keywords: cauliflower, roasted, oven, parmesan, garlic, thyme