Simple, Quick- Pickled Vegetables
This post may contain affiliate links. Please read my disclosure policy.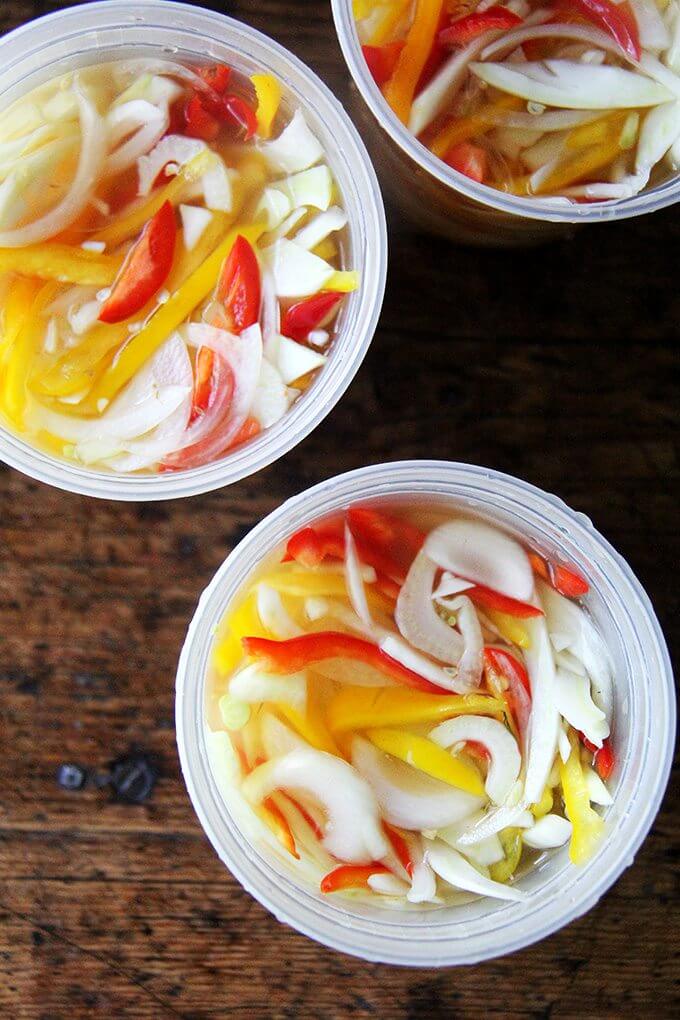 A few weeks ago at nearby Spoon and Whisk, I spent the evening watching Chef Ben churn out calzones, stromboli, Chicago-style deep-dish pies, and, my favorite, ballooned and blistered Neapolitan pizzas.
Of all the delicious bites I tasted that evening, the very last may have been my favorite, a thin-crust pizza topped with tomato sauce, mozzarella, and sausage. This may sound underwhelming on its own, and it may have been had Chef Ben not sprinkled the blazing hot pizza with finely shaved pickled vegetables, a sharp mix that instantly brightened an otherwise ordinary combination. Magic.
When asked for the recipe, Chef Ben said: "Sorry, trade secret."
Not to worry. The following day, I gathered all the vegetables languishing in my fridge and took a stab at the pickle using a recipe that has yet to fail me: equal parts water and vinegar plus a little sugar and salt. It comes from David Lebovitz's blog, and I've used it successfully with beets, turnips, carrots, and radishes.
It takes no time: heat water and vinegar until sugar and salt dissolve, then pour over vegetables. That's it. It doubles, triples, and halves well, so you can adjust the recipe easily to whatever amount of vegetables you have on hand.
Here I've pickled thinly sliced peppers, onions, and fennel, and I've been tucking the mix into sandwiches, spreading it atop melty cheese toasts, and, as intended, sprinkling it over just-baked pizza. I imagine it would be fabulous with grilled bratwurst or in a Philly cheesesteak-style sandwich.
Now, this pizza. You know the famous ABC Kitchen squash toast? If you don't, here's the basic idea: roast squash, then mash the flesh with an onion jam made with a hefty amount of vinegar and maple syrup; take this mix and spread it over ricotta-smeared toast. It's a real treat.
I had some of that roasted squash-onion jam mixture leftover in my fridge, so I spread it across pizza dough, sprinkled it with parmesan cheese, and baked it for five minutes on my Baking Steel. It was delicious on its own, but when hit with the pickled vegetables out of the oven, I found myself channeling early-2000's Emeril Lagasse, chanting, "Bam!" with every bite.
Have a wonderful weekend, Everyone! Whatchya cookin'?
PS: ALL the pizza recipes here: Pizza
Here's how to make the pickled vegetables: Gather any number of vegetables and …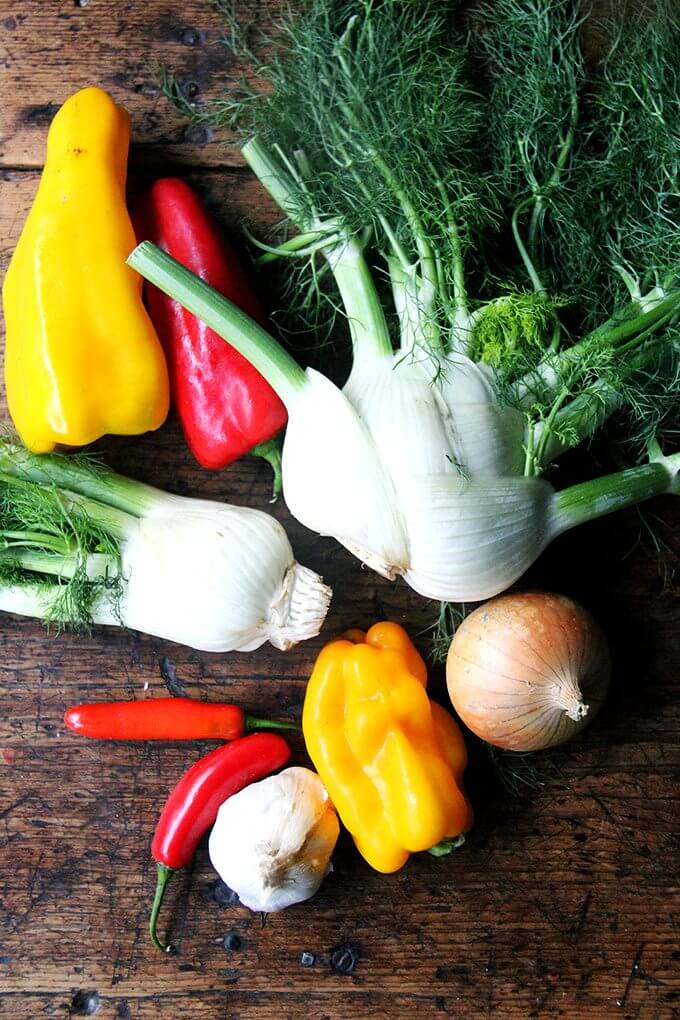 slice them thinly.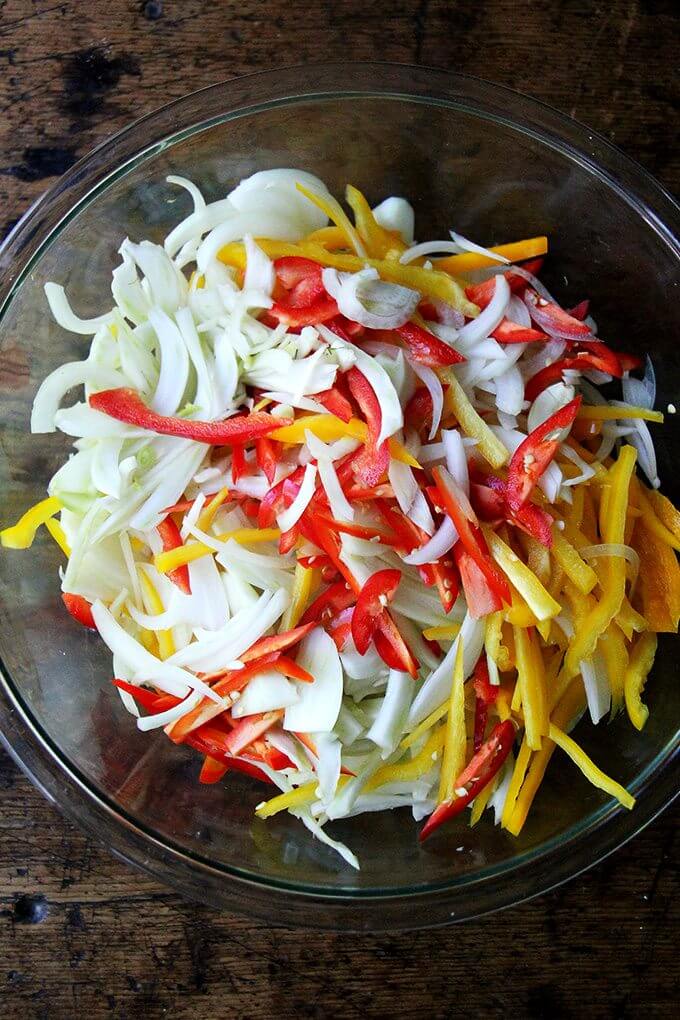 Then, boil water and vinegar with salt and sugar.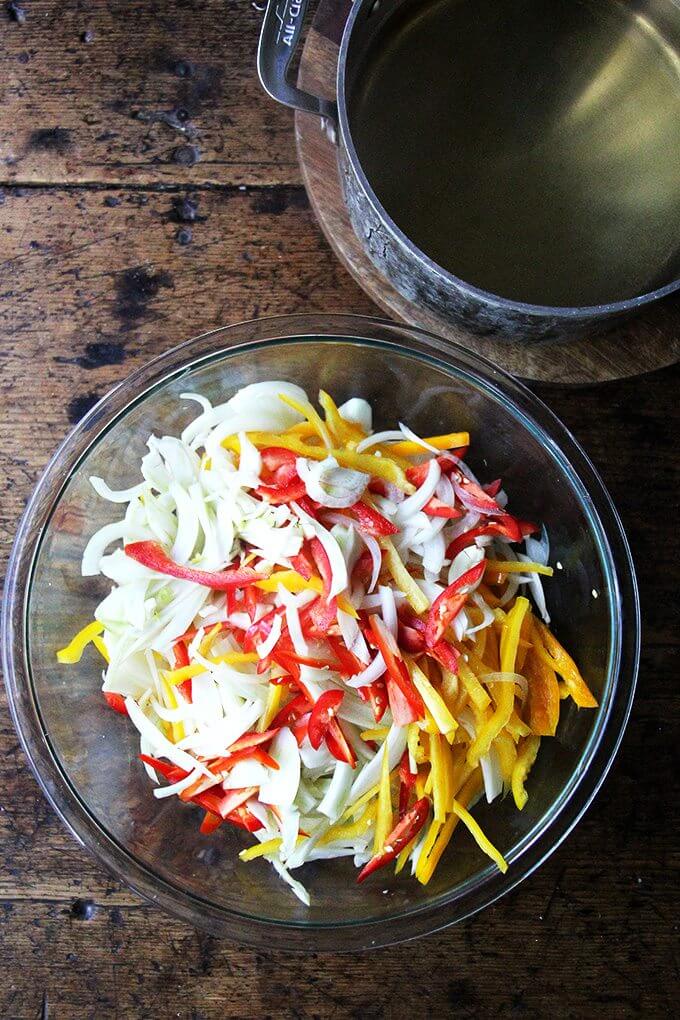 Pour the pickling liquid over the vegetables.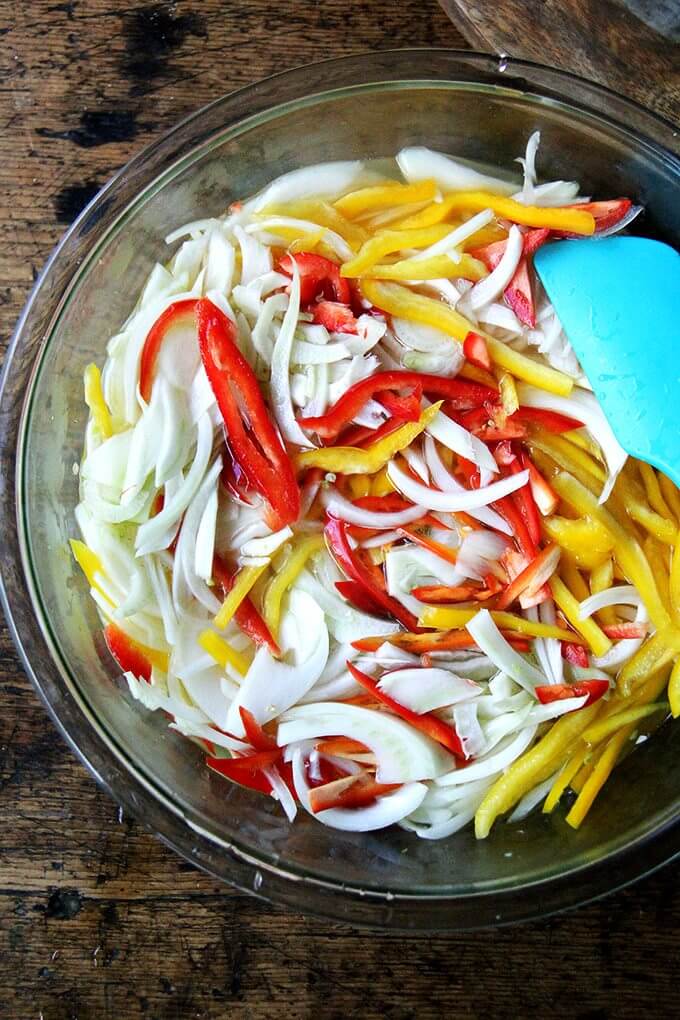 Transfer to storage containers.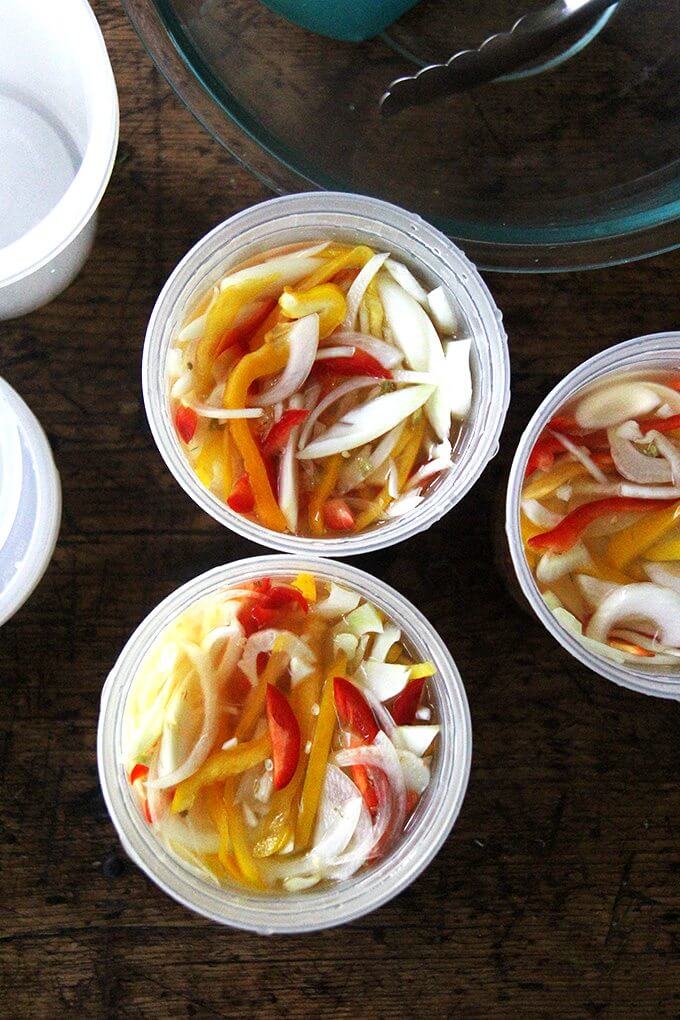 You can use the pickles however you wish, but I find them really delicious atop pizza. This one is the ABC Kitchen squash toast mix, parmesan, olive oil, and sea salt.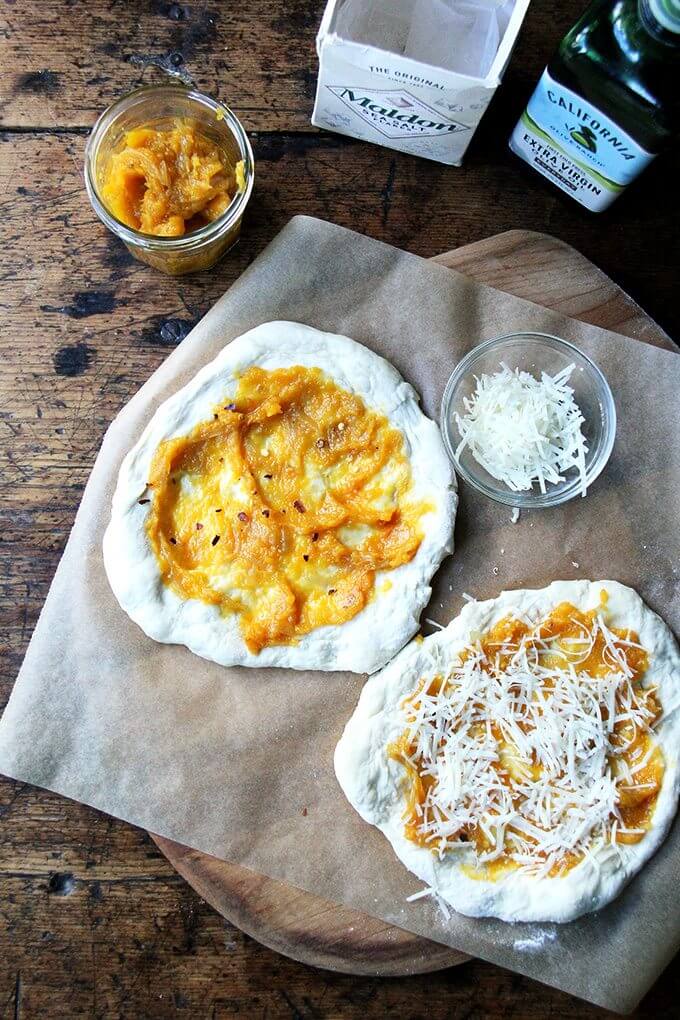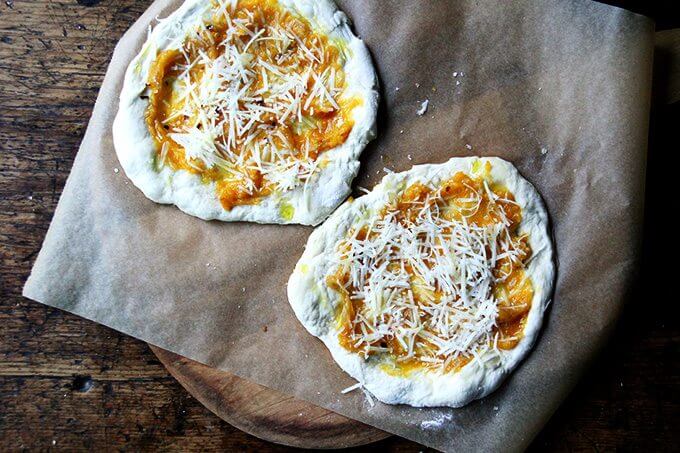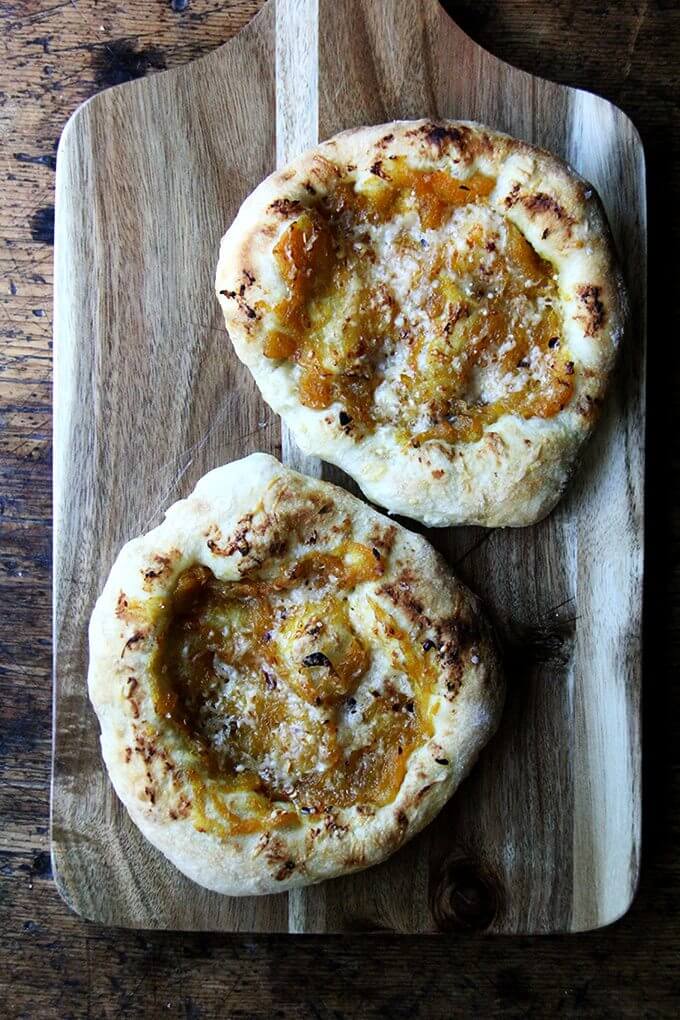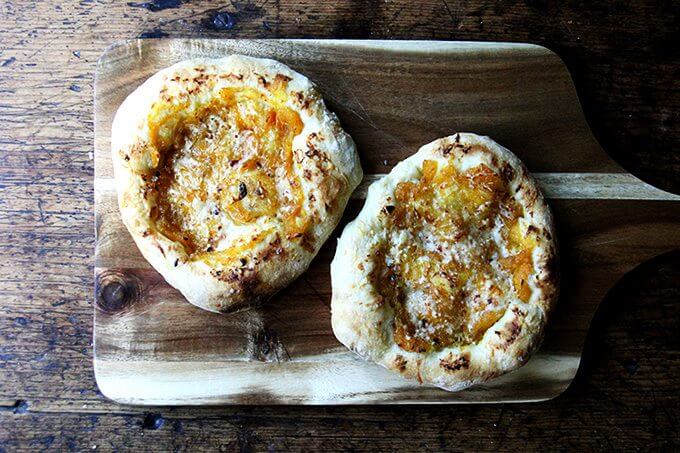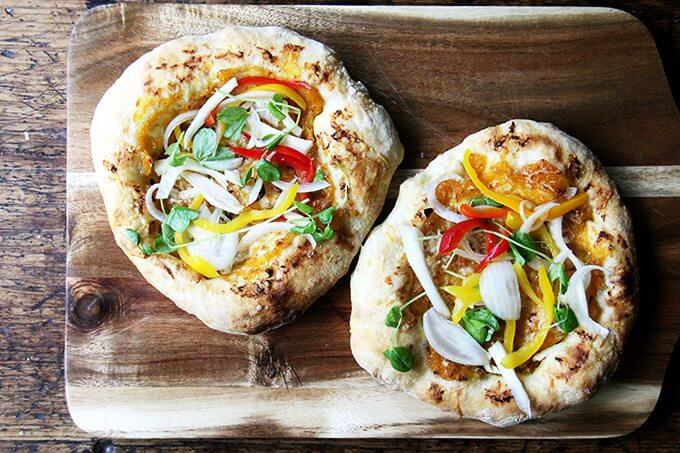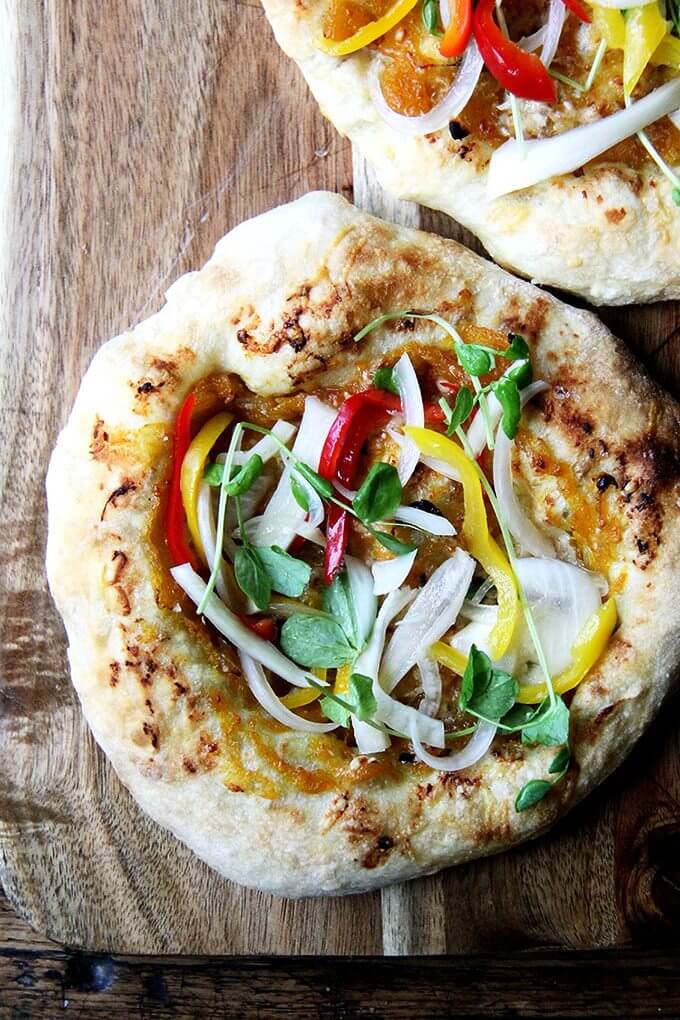 See those air bubbles? Thank you Baking Steel.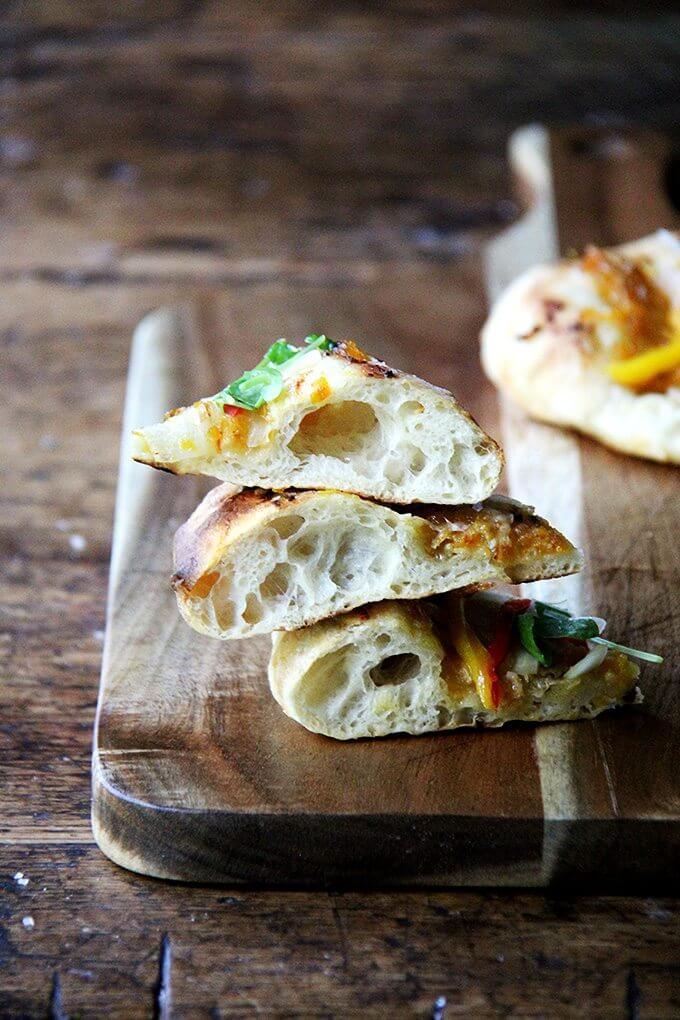 Pizza Perfected
7 Secrets to Mastering Pizza at Home
Always Free. Unsubscribe Anytime.
Print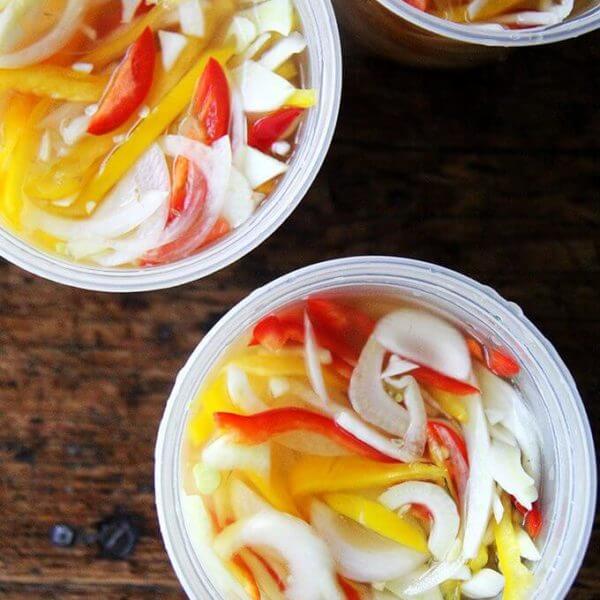 Simple Pickled Peppers, Onions and Fennel
---
Description
This is a very simple recipe and use it as a guide: you can use more or less fennel, peppers, onion, etc. I have used the pickling liquid recipe, which I adapted from this pickled radish recipe from David Lebovitz, for a number of vegetables including carrots, turnips, and beets. It's simple and good. I never process the jars, but the vegetables seem to keep indefinitely in the fridge.
For the pizza, I used the dough from my cookbook, Bread Toast Crumbs. My friend, Breanna, recently wrote about it on her blog, and she employs a cool grilling-then-broiling technique, which I cannot wait to try.
I typically place the oven rack in the top-most slot, and preheat the oven to 550ºF. Then I place my Baking Steel in the oven and heat it for at least 45 minutes. I stretch each round of dough gently, being careful not to deflate all of the air bubbles, then transfer to parchment paper. I top the pizzas, then bake (parchment paper and all) for 5 minutes. More pizza guidance here: Pizza
If you want to make this pizza, you'll need:
grated Parmigiano Reggiano
Olive oil
Sea salt
Pickled vegetables
Spread a thin layer of the squash mix over the rounds, top with 2 tablespoons grated cheese, drizzle with olive oil, and season with sea salt. Use a peel to shimmy the pizza into the oven onto the Baking Steel, then bake for 5 minutes or until blistered on the edges. Sprinkle with pickled vegetables if desired.
---
2 cups

water

2 cups

cider vinegar

1 tablespoon

+

1 teaspoon

sugar

1 tablespoon

+

1 teaspoon

kosher salt

2

to

3

red, orange, or yellow bell peppers, seeded and thinly sliced

1

to

2

bulbs fennel, thinly sliced

1

onion, peeled and thinly sliced

2

cloves garlic, peeled and thinly sliced

1

hot chili pepper, thinly sliced on the bias, optional
---
Instructions
In a large non-reactive saucepan, bring the water, vinegar, salt, and sugar to a boil, until the sugar and salt are dissolved.
Meanwhile, place the sliced peppers, fennel, onion, garlic, and chili peppers in a large bowl. Pour the pickling liquid over top. Press with a spatula to submerge.
Transfer the vegetables and liquid to storage containers. I love these deli containers, but glass canning jars are nice, too. Let cool to room temperature, then refrigerate. Store for weeks if not longer.
This post may contain affiliate links. Please read my disclosure policy.