Delicious and simple sourdough bread: Yes. You. Can. Truly, there is nothing tricky about making sourdough bread: if you can make yeasted bread, you can make sourdough bread. Let's do this 🍞🍞🍞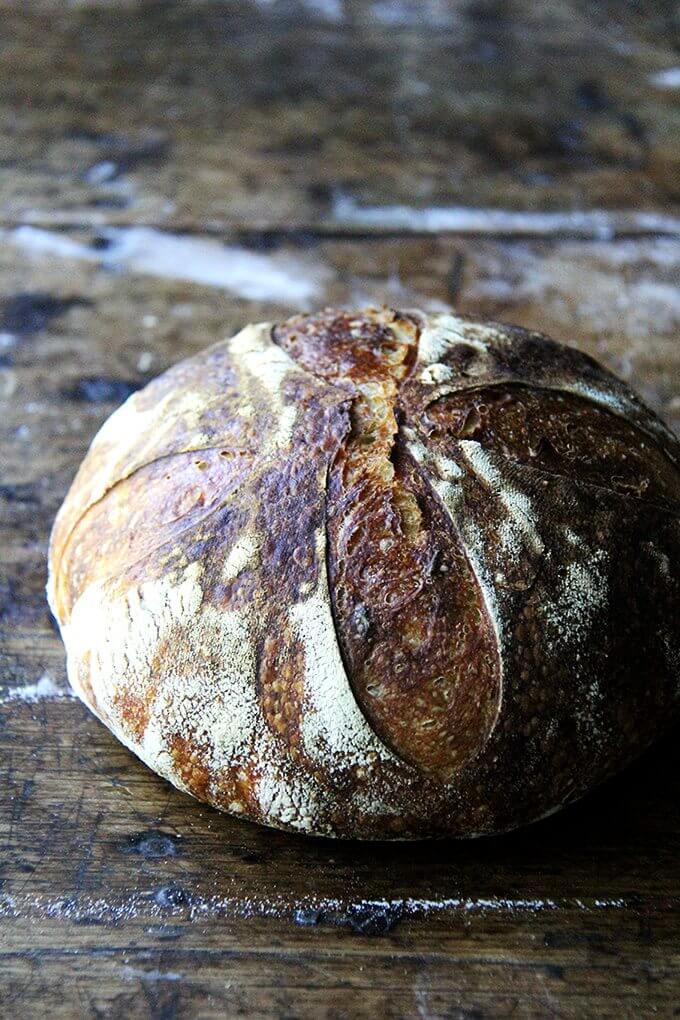 When I met Emilie Raffa, author of The Clever Cookbook, several years ago, she told me her next book would be about sourdough baking. About a year prior, she had written a blog entry about sourdough bread that had become very popular, her simple method showing many people how easy sourdough baking can be. That post had connected her to people all over the world, who, like her, loved sharing their sourdough experiences. In her book, she would compile everything she had learned on her sourdough journey with the hopes of inspiring others to begin a journey of their own.
When I told her I had never had luck with sourdough baking, she insisted I could do it. Shortly thereafter she sent me some of her starter, offspring from a 10-year-old Australian starter named Priscilla, a gift from her blogging friend, Celia. The starter came with activation, feeding, storage, and maintenance instructions. Incredibly, I managed to keep it alive, and so began my sourdough journey.
This past summer, I had the chance to preview that book Emilie said she was going to write: Artisan Sourdough Made Simple, which hits stores today. Friends, I can't say enough about this book, which truly has demystified the sourdough process for me. I've learned how to "wake up" my starter a few days prior to baking, how to test my starter to see if it's ready for use, the ideal time to mix my dough if I want a loaf of sourdough bread on a certain day, and how to store my starter for future use.
Highlights in the book for me include:
• Recipes for using leftover sourdough starter. If you've made sourdough, you know you have to "feed" the starter, which entails scooping out much of your existing starter and discarding it, then stirring in more flour and water to what remains. It always feels like a waste. Emilie has a solution: recipes for waffles, cookies, crackers, popovers, flatbreads, etc., all of which call for using what would be discarded starter.
• Baker's Schedule: When to activate your starter, mix your dough, shape your dough, if you want a loaf of bread, say, on Sunday.
• Beautiful photos that illustrate how to handle the dough at various phases. Beautiful photos to help with scoring the dough. Beautiful photos throughout — Emilie is an incredible photographer.
• Helpful tips along the way, such as not having to preheat your Dutch oven to get that crackling crust — amazing! Simply transfer your dough to the unpreheated pot, cover it, and transfer to the oven.
• An extensive FAQ and answer section.
Friends, if you've ever wanted to dip your toe into sourdough waters but for whatever reason have been afraid, this is the book for you. That said, I suspect even for the sourdough pro, there's a lot to learn in this book from the inspiring recipes to the simplified process to the many tips offered throughout.
New to Sourdough? Start Here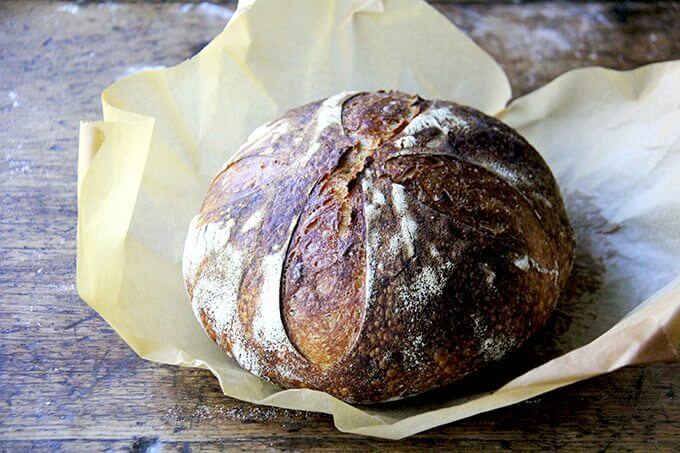 OK, first things first, to make sourdough bread, you need a starter. Find sourdough starter sources here: Essential Equipment For Sourdough Bread Baking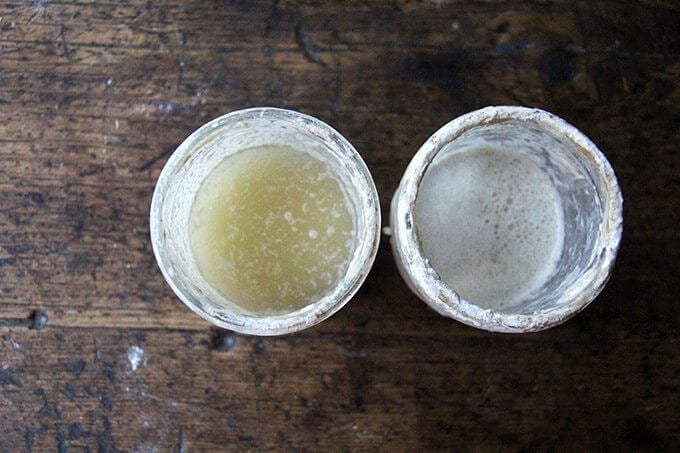 After you "feed" your starter by stirring in some flour and water, place a rubber band around the jar to mark the level of your starter. In a few hours, it will start to creep above the band:
In a few more hours, it will creep higher …
and higher …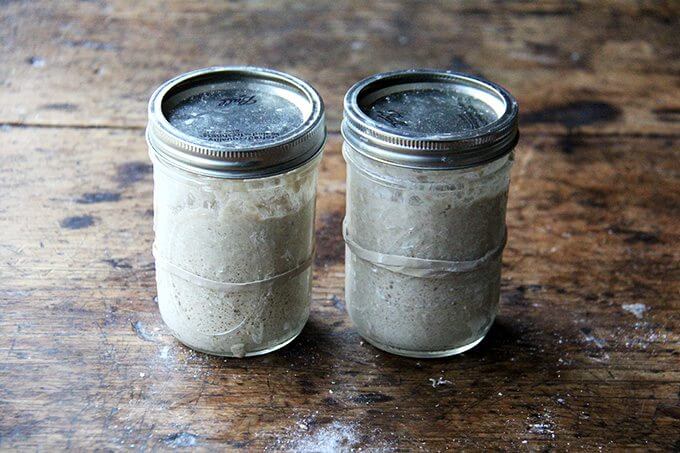 and at some point, if you drop a spoonful of it in a glass of water, it will float, and you'll be in business!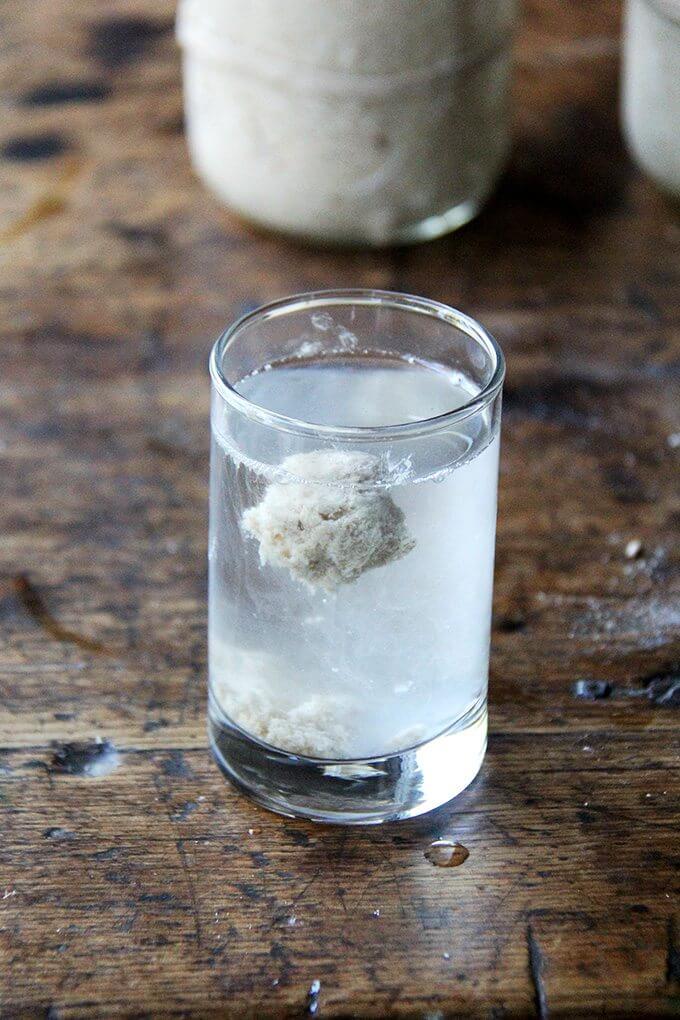 You need 50 g (1/4 cup) of starter for this recipe.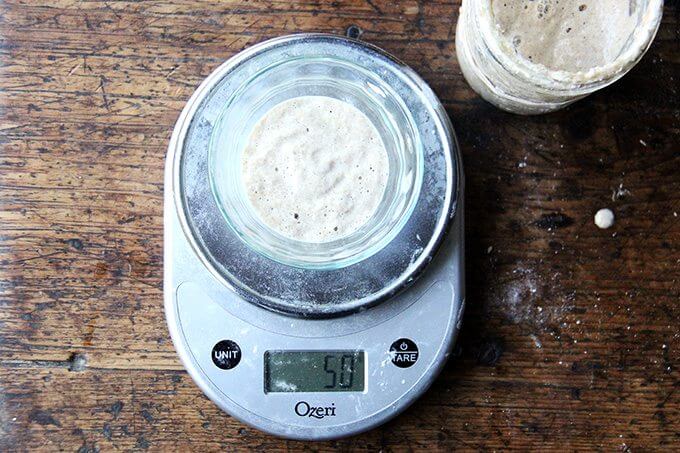 Dissolve the starter into water; measure the flour and salt: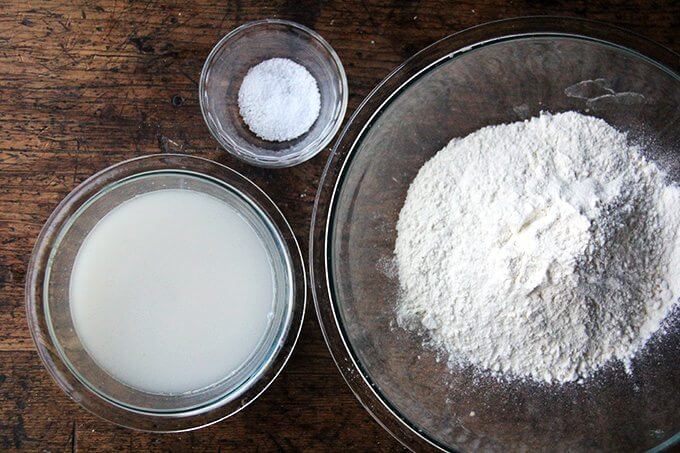 Mix everything together…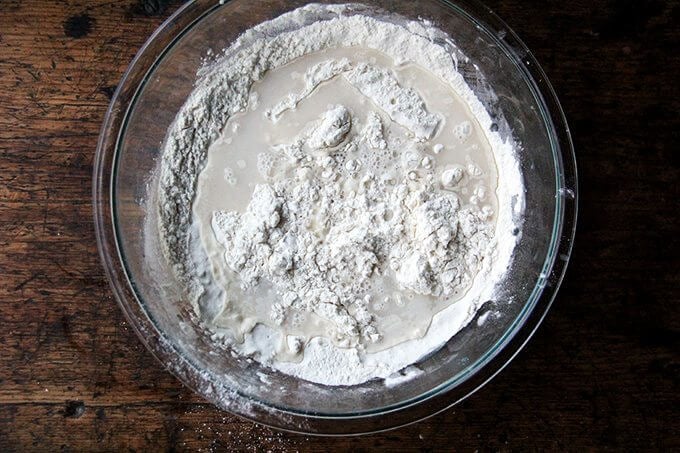 …till you get a sticky dough ball:
After an hour of rest, shape the dough into a ball (not photographed — sorry!), then cover with a damp towel or bowl cover (Dot and Army bowl covers are my favorite):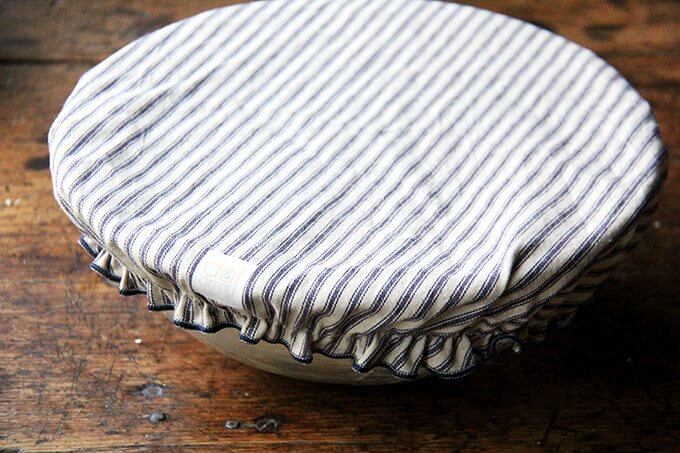 After 8 to 10 hours at room temperature, your dough will look like this: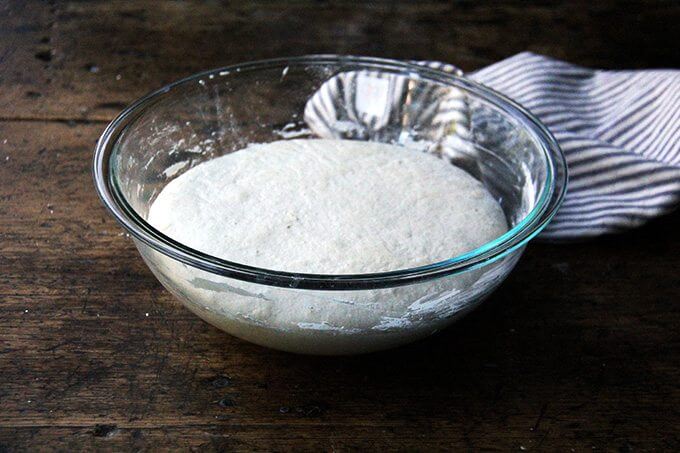 Turn it out onto a floured surface …
Then perform a series of folds: fold the top down to the center, turn the dough, turn the top down to the center, turn the dough, etc. — repeat until you've come full circle.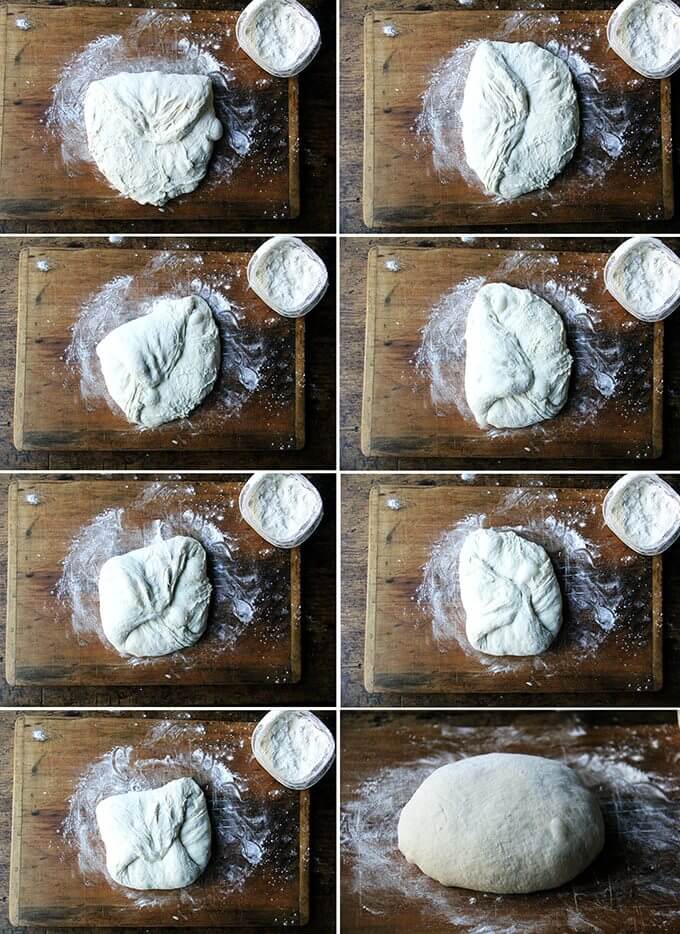 Then flip the dough over so the seam side is down (bottom right photo above). After a brief rest (5 to 10 minutes), cup the dough and pull it towards you to tighten the shape — this is hard to explain, but when you're doing it, it feels natural.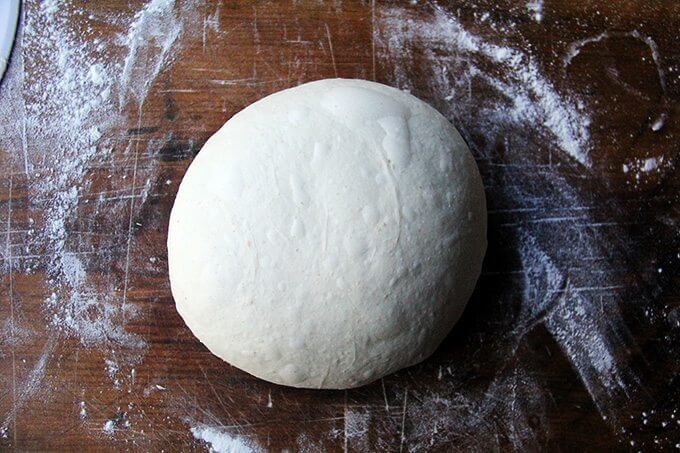 Scoop dough into a proofing bowl (or an 8-inch bowl lined with a flour-dusted tea towel or bowl cover) so the seam side is up: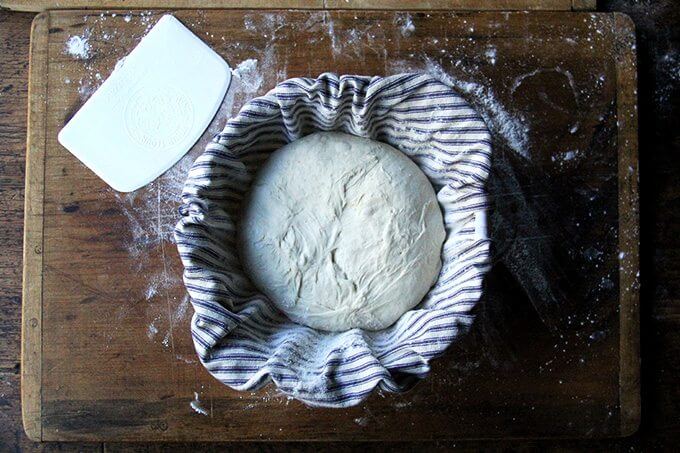 Refrigerate for 1 hour (or longer)…
then preheat the oven to 500ºF. Turn out the dough onto a sheet of parchment paper…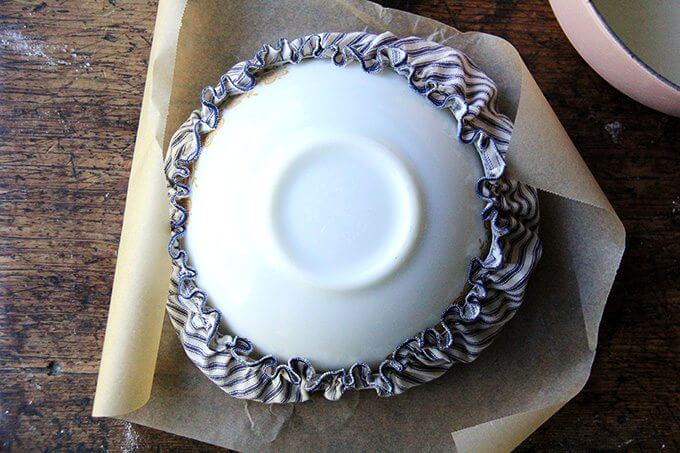 then slash the dough with a razor blade.

Use the parchment paper to transfer the dough into a Dutch oven (no need to preheat the vessel), cover the pot, then transfer to the oven to bake.

Ta da! After 20 minutes covered and 30 minutes uncovered, you will have a masterpiece in your kitchen, which you will want to photograph…

from every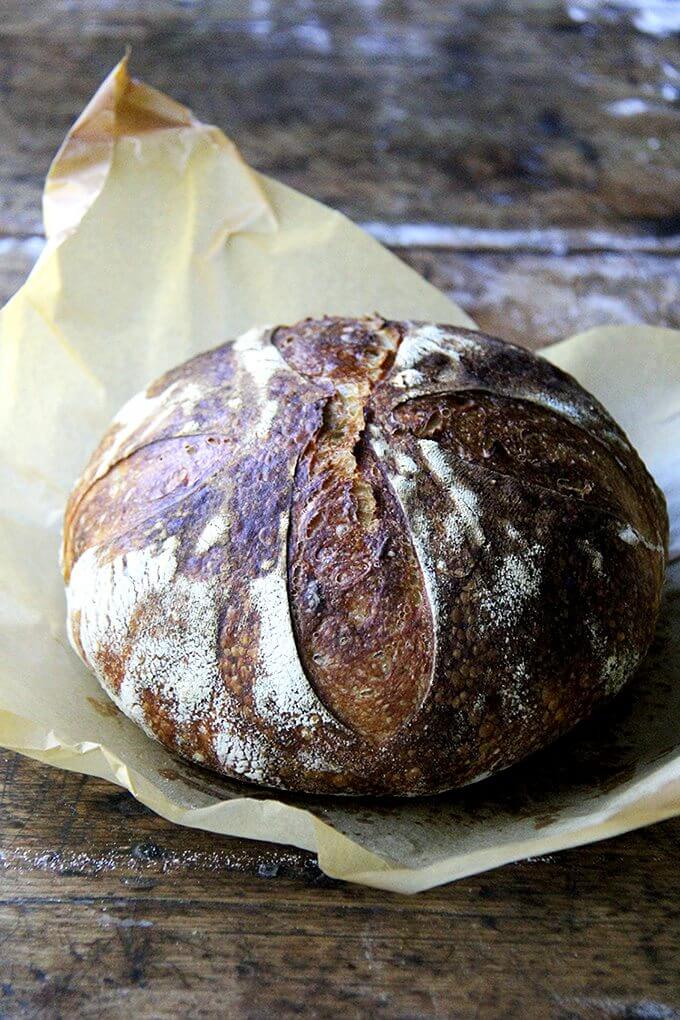 single

angle.

Mostly, however, you will want to eat it, which you can, after you let it cool for one hour.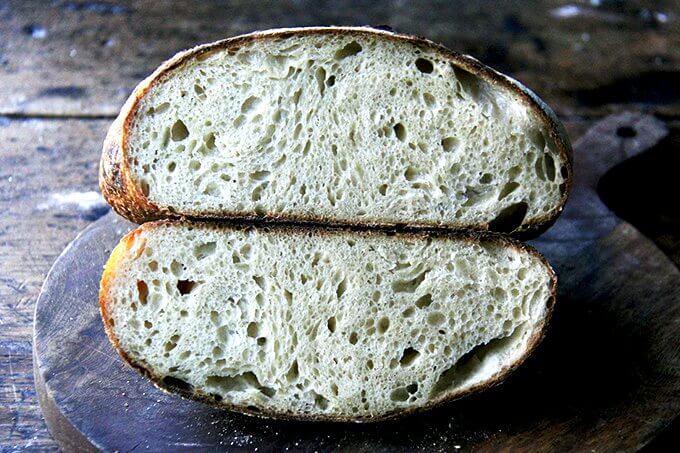 It will be worth the wait. I promise.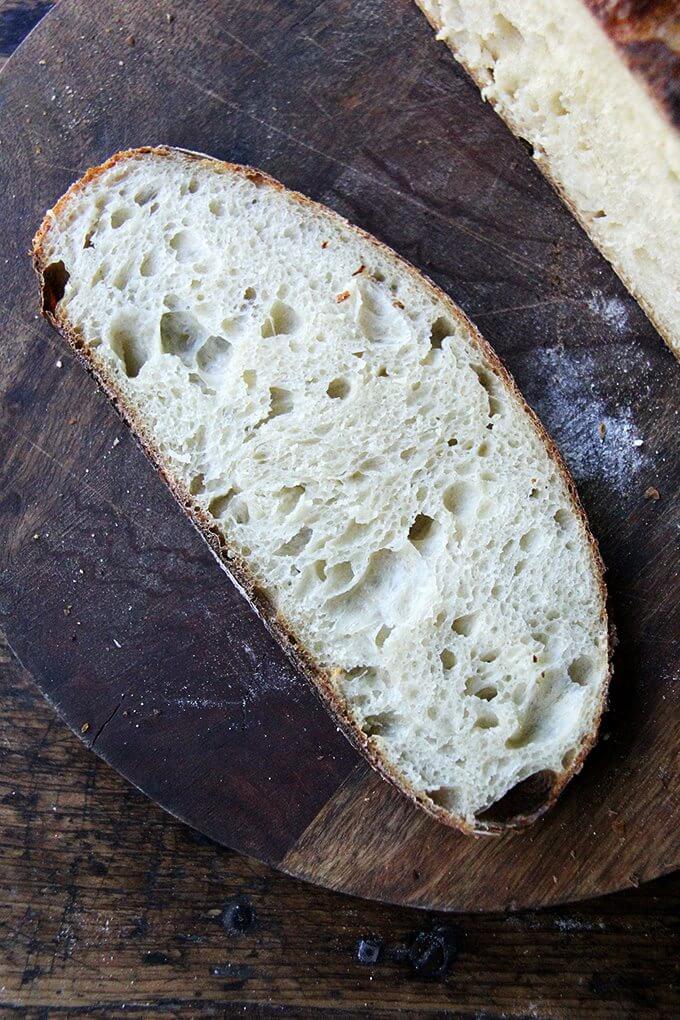 Print
High Hydration Sourdough Bread
---
Author:

Alexandra Stafford

Prep Time:

18 hours

Cook Time:

45 minutes

Total Time:

18 hours 45 minutes

Yield:

1 loaf
Description
From Emilie Raffa's Artisan Sourdough Made Simple 
** UPDATE **  If you are new to sourdough bread baking, I highly recommend you start with one of these two posts, both of which include lots of video guidance:
Notes:
---
Ingredients
50

g (1⁄4 cup) bubbly, active starter

375

g (1 1/2 cups plus 1 tbsp) warm water

500

g (4 cups plus 2 tbsp) bread flour

9

g (1 1⁄2 tsp) fine sea salt
---
Instructions
MAKE THE DOUGH: In the evening, whisk the starter and water together in a large bowl with a fork. Add the flour and salt. Mix to combine, then finish by hand to form a rough dough. Cover with a damp towel and let rest for 1 hour. Replenish your starter with fresh flour and water, and store according to preference. After the dough has rested, work it into a ball, about 15 to 20 seconds.
BULK RISE: Cover the bowl with a damp towel and let rise overnight at room temperature, about 8 to 10 hours at 70°F (21°C). The dough is ready when it has doubled in size, has a few bubbles on the surface, and jiggles when you move the bowl from side to side.
SHAPE: In the morning, coax the dough onto a floured surface. Dimple the dough all over with floured fingertips. Gently shape it into a round: VIDEO GUIDANCE HERE: fold the top down to the center, turn the dough, fold the top down to the center, turn the dough; repeat until you've come full circle; see the montage photo above for reference — and let rest for 5 to 10 minutes. Meanwhile, line an 8-inch (20-cm) bowl or proofing basket with a towel and dust with flour. Using a bench scraper, scoop up the dough and flip it over so that the smooth side is facing down. Shape it again and then flip it back over. Cup the dough and gently pull it toward you in a circular motion to tighten its shape. Place into your lined bowl, seam side up.
SECOND RISE: Cover the dough and refrigerate for 1 hour to set its structure. Note: You can chill this dough for up to 6 hours or more. When ready to bake, let sit at room temperature while the oven heats up.
Preheat your oven to 500°F (260°C). Cut a piece of parchment to fit the size of your baking pot.
SCORE: Place the parchment over the dough and invert the bowl to release. Dust the surface with flour and rub with your hands to coat. Using the tip of a small knife or a razor blade, score the dough however you wish — see photos above for a simple inspiration. Use the parchment to transfer the dough into the baking pot.
BAKE: Place the pot on the center rack, and reduce the heat to 450°F (230°C). Bake the dough for 20 minutes, covered. Remove the lid, and continue to bake for 30 minutes, checking after 20 — my oven runs hot, so often I'll remove it from the pot after 20 minutes. Lift the loaf out of the pot, and bake directly on the oven rack for the last 5 to 10 minutes. Cool on a wire rack for 1 hour before slicing.
---
Notes
This loaf will stay fresh up to 1 day stored at room temperature in a plastic bag.
NOTE: In baker's terms, hydration is the total amount of water (or liquid) divided by the total amount of flour. This dough is considered high hydration at 75% and is a wet dough. Low hydration doughs, which are drier and have smaller holes, fall in the 50% to 68% range.

BAKER'S SCHEDULE

Thursday-Saturday: Feed your starter until bubbly and active.
Saturday Evening: Make the dough and let rise overnight.
Sunday Morning: Shape the dough, let rise again, score, and bake.
Category:

Bread

Method:

Oven

Cuisine:

American
Keywords: sourdough, bread