Favorite Cabbage Soup, Updated
This post may contain affiliate links. Please read my disclosure policy.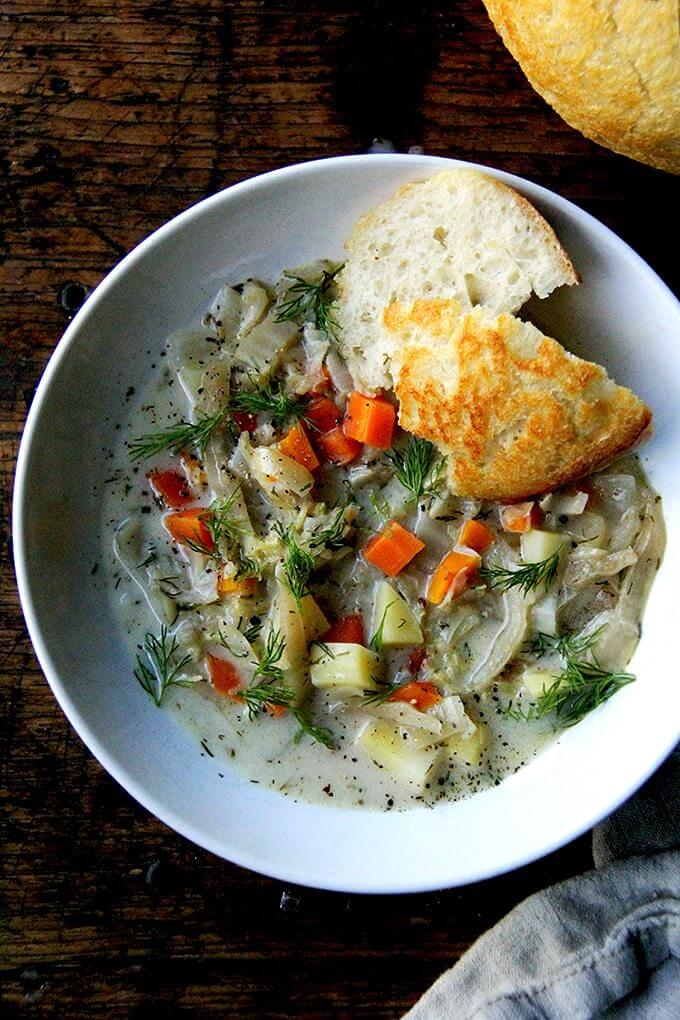 This cabbage soup, a vegetarian variation of Paul Steindler's cabbage soup, is one of my favorite recipes to make this time of year, foremost because I always seem to be swimming in cabbage but also, of course, for its texture and flavor: slightly creamy, loaded with vegetables, infused subtly with caraway, whose citrusy notes along with the vinegar pair so well with the cabbage and other vegetables
Dill, too, which I just learned is in the same family as caraway, brightens the stewy flavors just before serving.
Here I use homemade vegetable stock, which is simple: throw some things in a pot, cover with water, simmer. Forty-five minutes later, it's done. During those 45 minutes of simmering, you can prep the rest of the soup.
This soup does require a fair amount of chopping but the upshot — cabbage soup for days! — makes the effort worth it.
PS: Cabbage Pancakes (Okonomiyaki), Cabbage Pad Thai-ish with Baked Tofu, Roasted Vegetables with Tahini, Lemon & Za'atar, Simplest Cabbage Slaw
ALL the Cabbage Recipes → Right Here
Soup and stock time: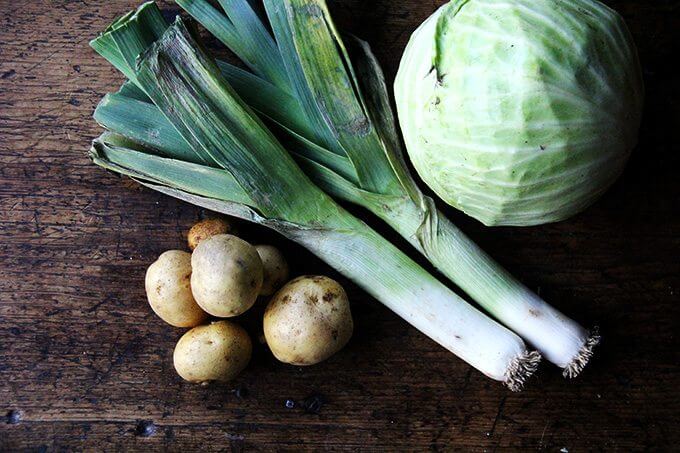 Vegetable stock: leeks, onion, carrots, celery, peppercorns, bay leaf, garlic, thyme parsley, salt — use the recipe as a guide.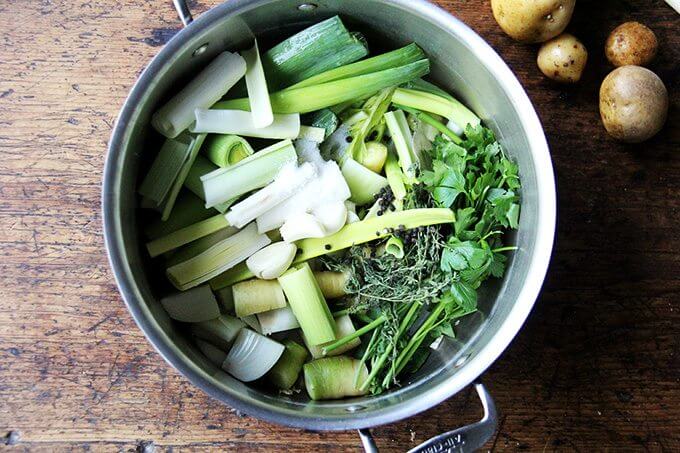 Soup vegetables: carrots, onions, potatoes: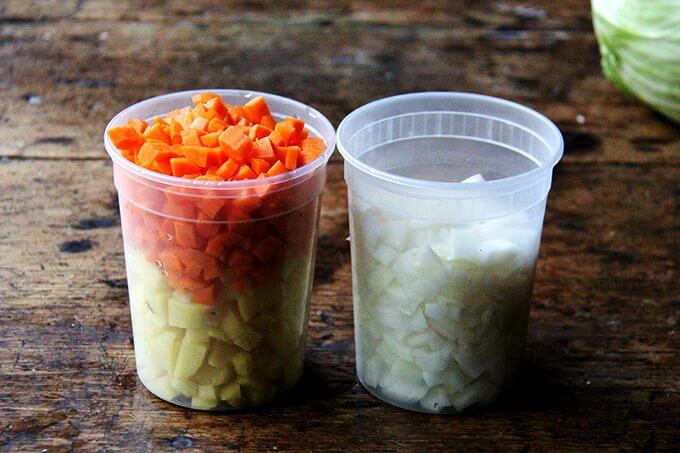 Sliced cabbage:

Sliced cabbage covered in boiling water: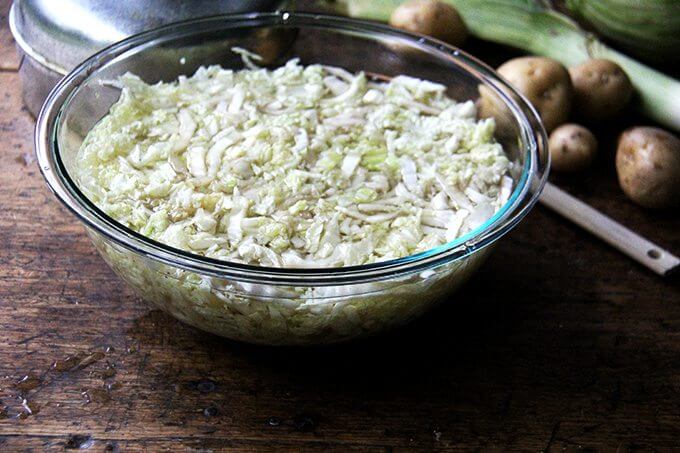 Onions sweating: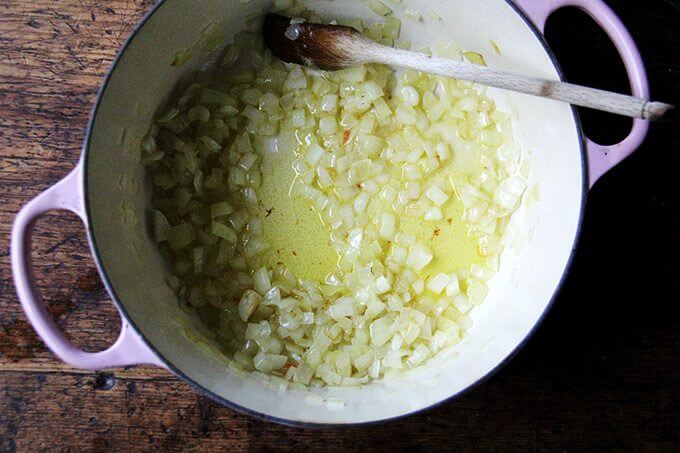 Flour added (see recipe notes for an alternative to the flour):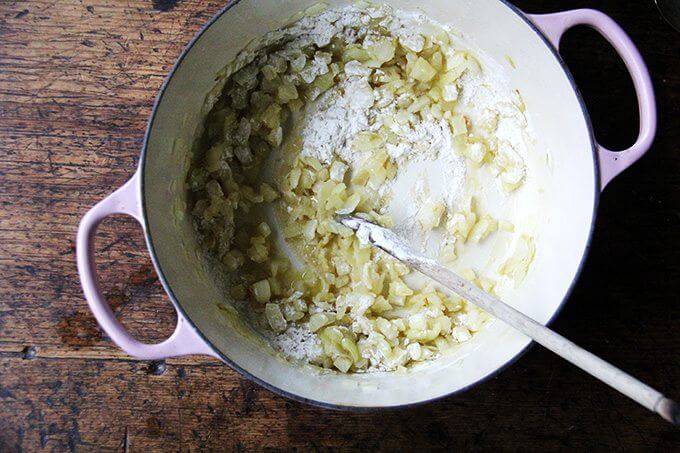 Straining the vegetable stock: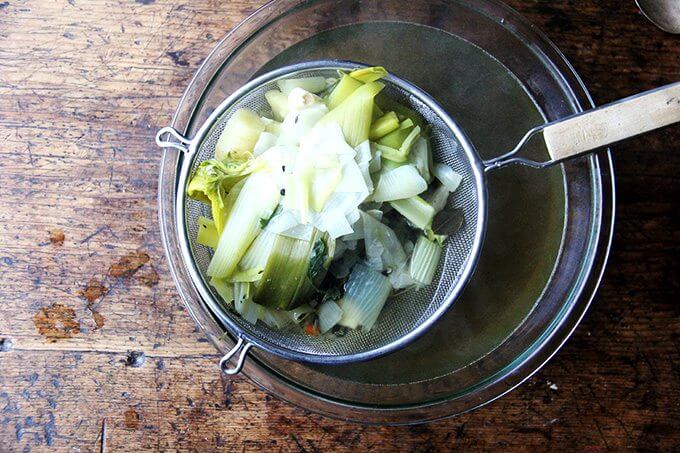 Adding the stock to the soup: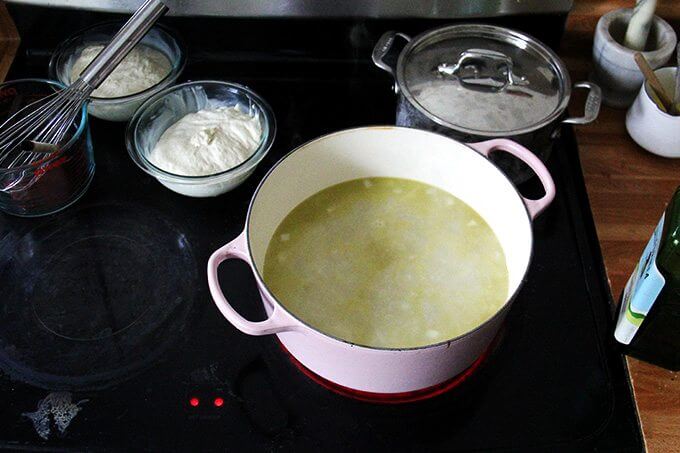 Adding the vegetables: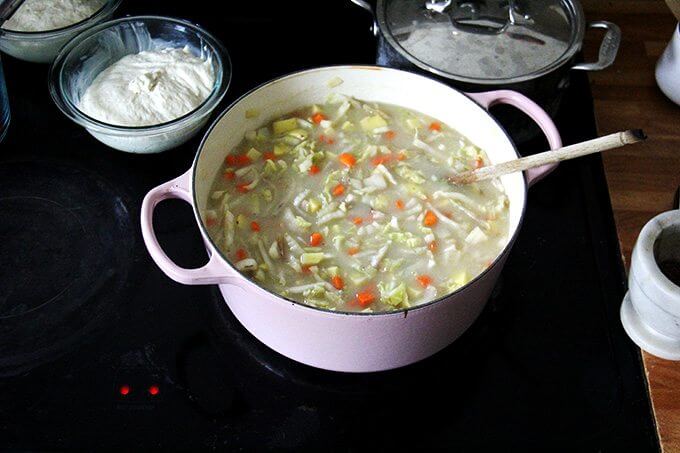 Adding the caraway: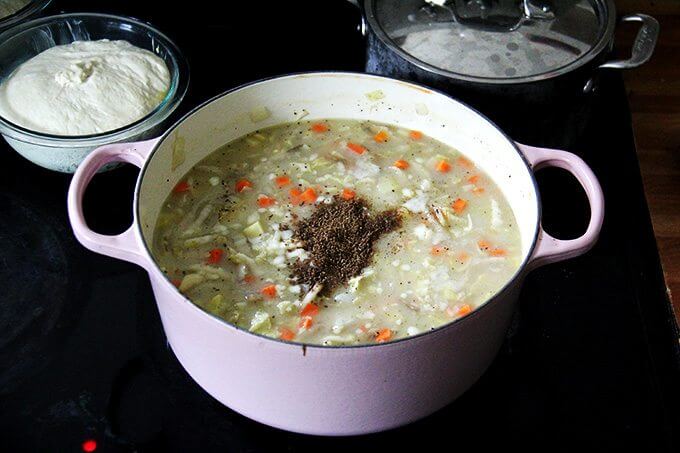 Adding the dill and cream: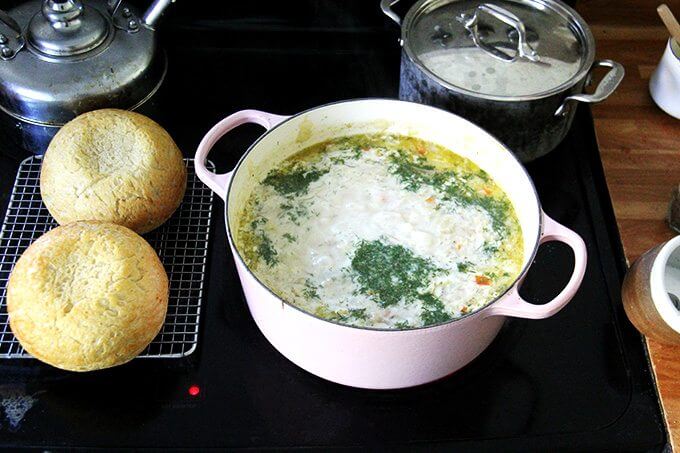 Dinner time!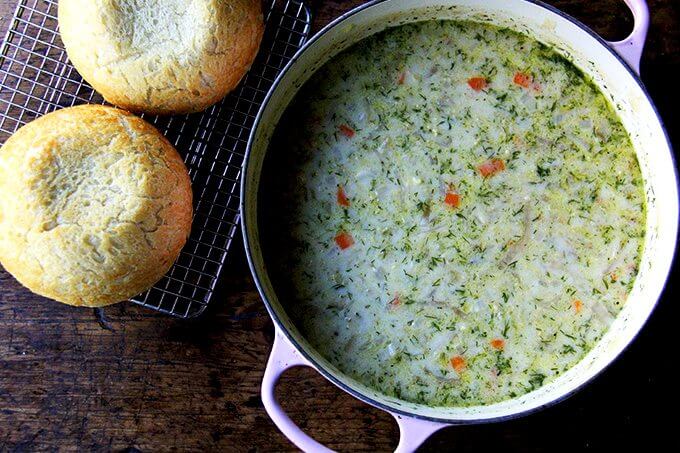 Soup + bread … is there anything better?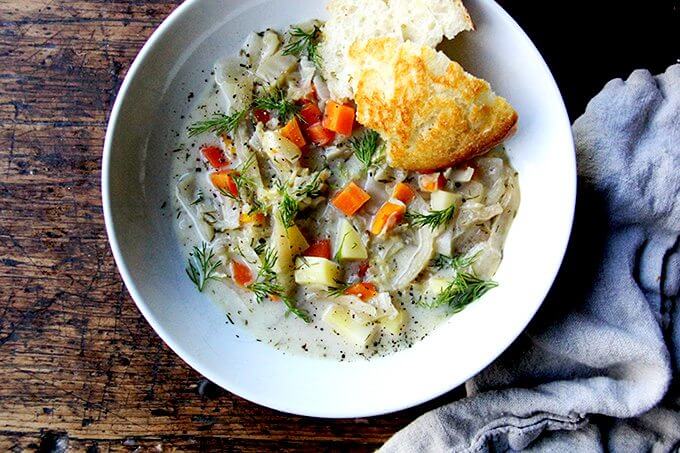 Print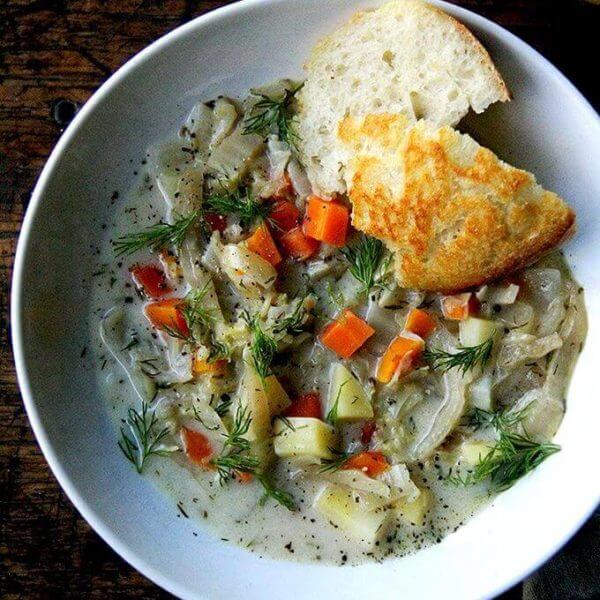 Vegetarian Cabbage Soup
---
Description
Slightly adapted from a Craig Claiborne & Pierre Franey recipe. If you wish to make a version closer to the original, which included bacon and chicken stock, see this recipe: Paul Steindler's Cabbage Soup
I was recently listening to a Milk Street podcast and heard Sara Moulten mention that she never thickens soups with flour, preferring instead to purée a portion of the soup. If you have an immersion blender, this will be easy. Otherwise, you could ladle a few cups of soup into a food processor or blender. I love this idea, especially if gluten intolerance is a concern. Will try it next time, though I have no problem using flour, and don't find it adds an off taste or texture to the finished soup.
Re stock: When I made this most recently, I found the stock yielded 2 quarts, all of which I used here, along with 2 more cups of water. So, if you don't have a full 10 cups of vegetables stock, using a mix of stock and water will work just fine.
I'm not sure why the recipe calls for submerging cabbage in boiling water for one minute, but I suspect this step helps rid the cabbage of some of its water content, which can be stinky, and which might therefore cloud the flavor of the broth.
Note: This is a double recipe, and it yields a lot, but it's so nice to have on hand, especially, if you have company arriving. With a little hunk of fresh bread, it makes the most wonderful lunch, and with a salad, a perfect dinner. 
---
12 cups

shredded cabbage*

1/4 cup

olive oil

2

to

3

cups finely diced onions

1/2 cup

flour, see notes above

10 cups

homemade vegetable stock or water, see notes

2 cups

finely diced carrots

2

to

3

cups finely diced potatoes

2 teaspoons

kosher salt, plus more to taste
freshly ground black pepper to taste

2 teaspoons

whole caraway seeds, crushed or pulverized

1/4 cup

white balsamic vinegar

1 teaspoon

sugar

1 cup

heavy cream

1/4 cup

finely chopped fresh dill (or more or less to taste)
*If you use one relatively large head, you may get about 14 cups — use it all.
---
Instructions
Place cabbage in a large bowl. Bring enough water to a boil — I fill a tea kettle, but you could always fill a large sauce pan — to submerge the cabbage in the bowl. Pour the water over the cabbage; let sit one minute or longer; drain.
Meanwhile, in a large pot, heat the oil over high heat until it shimmers. Add the onions, immediately turn the heat down to medium or low, and cook, stirring, until they are soft, about 15 minutes.  Sprinkle with flour and stir. (Note: If you do not wish to add the flour, see the notes above for an alternative method for thickening the soup.) Add the broth or water, stirring rapidly with a wire whisk. When the mixture simmers, add the cabbage, carrots, potatoes, salt, pepper, caraway seeds, vinegar and sugar.
Simmer, stirring every so often, for about about 30 minutes. Stir in the cream and simmer five minutes. Add the chopped dill to the pot. Taste and adjust as needed with more salt and pepper to taste. I typically add 1 to 2 teaspoons more salt, but I am a salt lover, so adjust as needed. Serve, adding more chopped dill to each bowl if desired.
Prep Time:

30 minutes

Cook Time:

1 hour

Category:

Soup

Method:

Stovetop

Cuisine:

American, Eastern European
Keywords: cabbage, soup, vegetarian, dill, caraway, vegetables
This post may contain affiliate links. Please read my disclosure policy.