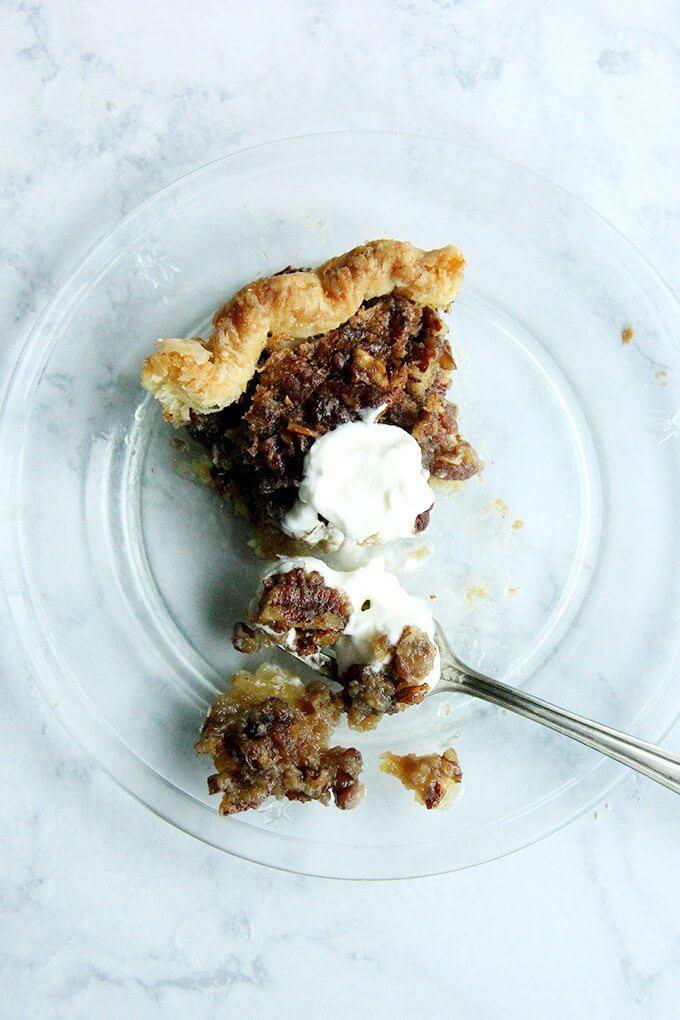 Last Sunday, I spent a few hours at a local olive oil shop, Evergreen Olive Oil Co, and while I was there I met two women, who I soon discovered love to cook. We chatted about what we were making for Thanksgiving, and when I told them I was on punch and pie duty, they both confessed they had stopped making homemade pie dough,  experiences in recent years having discouraged them. They both now only buy premade pie shells.
They had questions regarding flour and butter and if I had noticed any difference in how these two ingredients had been performing, which I had not. I told them I would email them my favorite recipe, which never fails me, and though I've written about it before, I thought it was time to give it its own post. It's a David Lebovitz recipe, and it's become the recipe I use for every pie, galette, tart, etc. I make it in the food processor, but it certainly can be made by hand. There's a video above for guidance.
A few notes:
The method might seem a little unusual: you pulse the dough until it starts to clump together, but stop when it's still crumbly. Then you dump the crumbly mix into a tea towel, bundle it into a beggar's purse, then turn it out onto a floured work surface. I learned this tea towel trick from a French woman, Caroline, who taught cooking classes at Antoine's Cafe in San Clemente, CA. The tea towel allows you to stop at the crumbly stage, which ensures you won't ultimately be left with a tough pastry.
I prefer rolling out the dough immediately after mixing it (as opposed to chilling it first), then fitting it into the pie plate and chilling it, but do whatever you like best.
I don't blind bake anymore. Lazy.
I'm using this same dough for the three desserts I'm making tomorrow: apple galette, Ronnie Hollingsworth's Most Excellent Squash Pie, and Bourbon Pecan Pie, a no-corn syrup recipe from David Lebovitz. I'm not sure why I really care about not using corn syrup (or rice syrup or Lyle's golden syrup) — sugar is sugar … or is it? — but for whatever reason, I do. The original DL recipe calls for three different types of ginger, so if that appeals to you, be sure to check out his recipe. ALSO: I recently served the pie with a slightly sweet, slightly salty whipped cream — it was so nice to have some saltiness in the cream because pecan pie is on the sweet side. Highly recommend.
That's all I got, Friends!! Happy Happy Thanksgiving. Wishing you all a happy day tomorrow with friends or family or pets or whoever you might find yourself with. I'm so thankful for all of you. Sending lots of love. xo
Gather your ingredients: flour, salt, sugar, butter, ice water.

First pulse the flour, sugar and salt together.

Add the butter and pulse 10 times (about).

The butter should be the size of peas (about).

Add ice water.

Pulse again about 10 to 15 times or until the dough is still crumbly, but holds together when pinched.

Divide dough between two clean tea towels. (Don't wash your food processor!) I love these tea towels by Now Designs.

Gather towel into a beggar's purse, and squeeze to form a round.

Transfer one to the freezer for a future use.

For the pecan pie: toast the pecans till lightly golden and fragrant.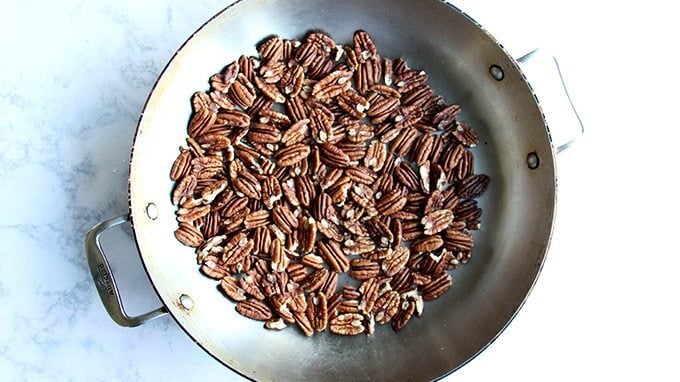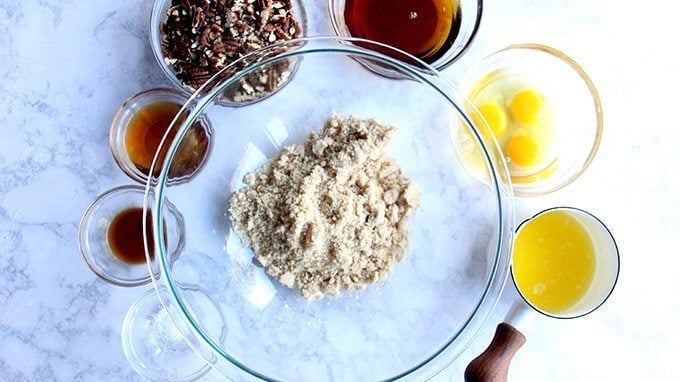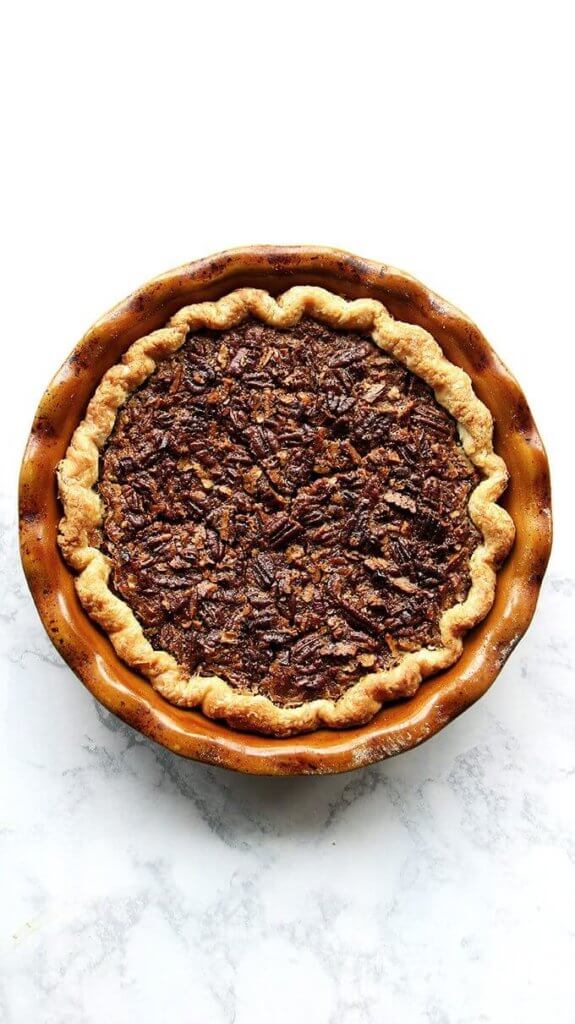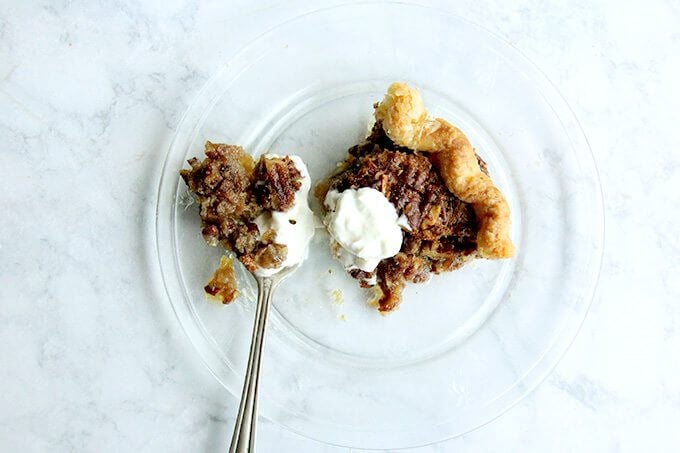 Print
Foolproof Pie Dough
---
Yield:

2 10-inch (about) pie rounds
Description
Adapted from a favorite David Lebovitz recipe. I use it for this apple galette, this butternut squash pie, and the below Bourbon pecan pie, also a David Lebovitz recipe.
This recipe yields two rounds and it definitely can be halved, though I suggest making the full recipe because it's so nice to have on hand.
---
Ingredients
2½

(320g) cups all-purpose flour

2

T. sugar

½ tsp

. table (or kosher) salt

2

sticks (16 tablespoons | 8 oz | 227g ) unsalted butter

½

C. +

2

T. ice water
---
Instructions
In the bowl of a food processor, pulse the flour, sugar and salt together. Cut the butter into small pieces, then add to the food processor. Pulse at 1-second intervals until butter is the size of peas—should be about 10 quick (1-second) pulses. Add the ice water and pulse again about 10 times until the mixture is crumbly but holds together when pinched. See video above for guidance. Lay two clean tea towels on a work surface. Dump half of the crumbly dough mixture into the center of each. Grab the four corners of the towel together and twist to create a beggar's purse, pressing the dough into a disk. Unwrap the towel and use your hands to pack and pat the disk together. Wrap one (or both) of the rounds in plastic wrap, tuck in a ziplock bag, and store in the fridge for 3 days or freezer for 3 months.
If baking one immediately, lightly flour a work surface, roll out into a circle an inch or two larger than your pie plate, transfer to pie plate, trim over hanging dough, then crimp dough as desired (see video for guidance). Chill in fridge while you prepare the filling. Pre bake if desired … I'm too lazy anymore.
Print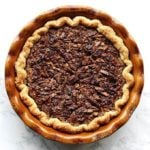 Bourbon Pecan Pie (No Corn Syrup) with Salted Whipped Cream
---
Description
Adapted from this David Lebovitz recipe. I left out all three types of ginger. I love — and I'm not really sure why I care — that this recipe doesn't call for corn syrup or rice syrup. I don't blind-bake the crust because I just can't be bothered, but do so by all means. For me, the effort never feels to make that much of a difference. I have a couple of Emile Henry pie plates (similar to this one, which is on sale) with clay bottoms, and the crust always turns out nice and crispy or crispy enough for me.
UPDATE: This pie was a huge success of Thanksgiving 2017. Will be a staple from here on out.
---
Ingredients
For the pie:
1

round pie dough, recipe above

1

 cup (215g) packed dark brown sugar

1/2

 cup (125ml) maple syrup

3

 large eggs

4

 tablespoons melted butter

3

 tablespoons bourbon

1

 teaspoon vanilla extract

1/4

 teaspoon salt

2

 cups (225g) pecans, lightly toasted (I do this in a skillet over medium-high heat, watching closely), very coarsely chopped (I actually like chopping the pecans pretty finely)
For serving:
1 cup

heavy cream
confectioner's sugar to taste
flaky sea salt, such as maldon, if you have it, kosher or other salt if you don't
vanilla
---
Instructions
Roll the dough on a lightly floured surface until it's 12- to 13-inches in diameter. Transfer it to a 9-inch pie plate or pan. Trim dough that hangs over by a lot — leave at least an inch over hanging; you may not need to trim everywhere. Tuck the overhanging edges under, between the rim of the pie plate and the dough, and crimp the edge of the dough. Chill the dough in the refrigerator until firm.
To blind bake the pie dough (which, as noted above, I do not do), preheat the oven to 375ºF. Prick the pie dough a few times with a fork. Line the pie dough with aluminum foil and fill halfway with beans, rice, or pie weights. Bake until the dough is set and starting to get lightly golden brown, about 15 to 20 minutes. Lift out the foil with the weights and bake until the dough is well-browned, about 5 to 8 minutes more. Turn the oven down to 350ºF.
To make the filling, in a large bowl, whisk together the brown sugar, maple syrup, eggs, melted butter, bourbon, vanilla, and salt. Stir in the pecans.
Pour the filling into the pre-baked (or not) tart shell and bake until the center of the pie is seems just about set. It should still jiggle a little. Begin checking it at the 40 minute mark, but it may take 45 to 50 minutes (I find 50 minutes to be about right) to reach that point of doneness. Remove it from the oven and let cool on a wire rack. Serve at room temperature.
To make the salted whipped cream: Whip heavy cream in the bowl of a stand mixer until soft peaks begin to form. (You can do this by hand, too, with a bowl and whisk.) Add confectioner's sugar — start with 1/4 cup and add more to taste. Add a big pinch of sea salt and the vanilla and beat to combine and until the peaks begin getting firmer. Taste — the mixture should be slightly sweet and the salt should be noticeable, though the whipped cream should not taste salty. You don't want the whipped cream to taste too sweet because pecan pie is very sweet.
---