Creamy Oven-Baked Polenta Recipe
This post may contain affiliate links. Please read my disclosure policy.
This creamy, oven-baked polenta recipe is a game-changer. It's a hands-off process: there's no stirring or careful monitoring at the stovetop here. This recipe takes 5 minutes to prep, and 60 minutes later it's done.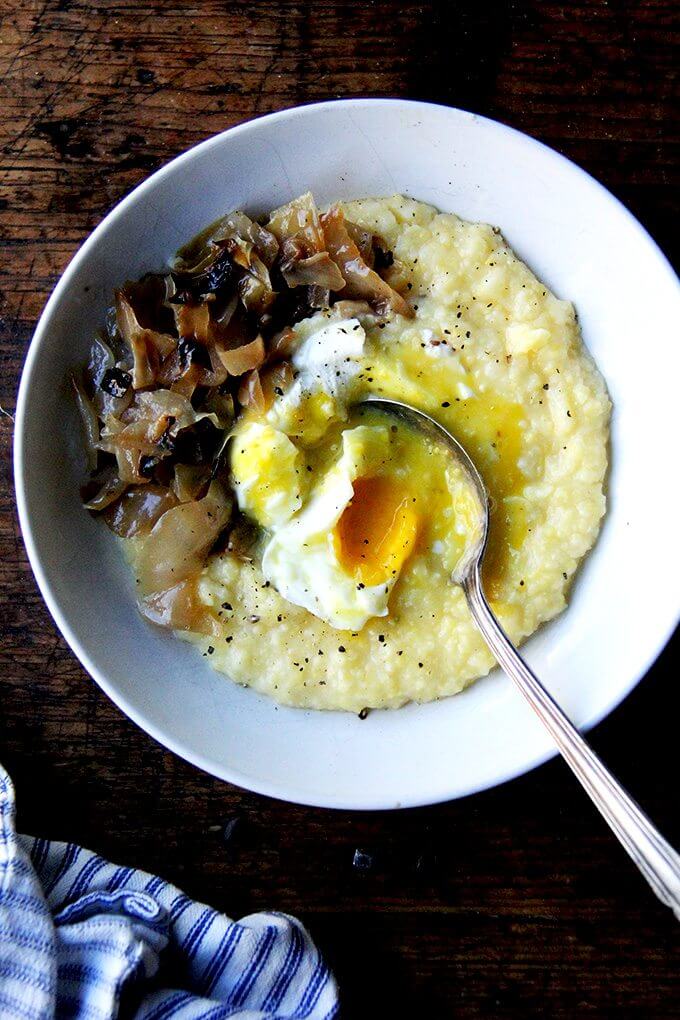 Shortly before Thanksgiving, I helped out with a little dinner at the Vischer Ferry General Store. We made salad with orange-shallot vinaigrette, peasant bread, sherry vinegar chicken and polenta, which I had forgotten how much I love. We roasted the polenta in the oven using Paula Wolfert's recipe, which I had heard about over the years, but, for whatever reason, namely Mark Bittman's Polenta Without Fear, had never made.
Friends, roasting polenta in the oven is a game changer — it frees up your cooktop and, more important, YOU. While the polenta bubbles away in the oven, you can sauté greens or poach eggs or steam broccoli or take a bath give the kids a bath, etc. No need to worry if the polenta is sticking to the pot, running out of liquid—in the oven it cooks slowly and evenly.
How to Make Oven-Roasted Polenta
This is how you make it: whisk together polenta, water, and milk with a pad of butter and a pinch of salt; throw the pot in the oven; remove it about an hour later. It's the easiest thing in the world, and this time of year, I could eat it with everything: slow-cooker beans, braised short ribs, sherry chicken, roasted mushrooms, or as here with caramelized cabbage and a poached egg on top.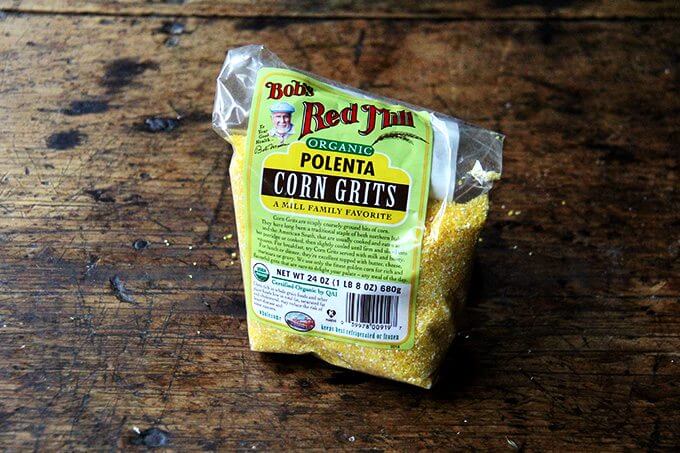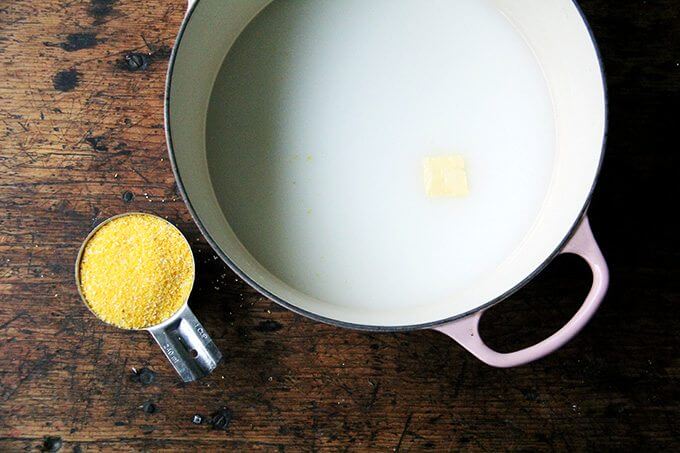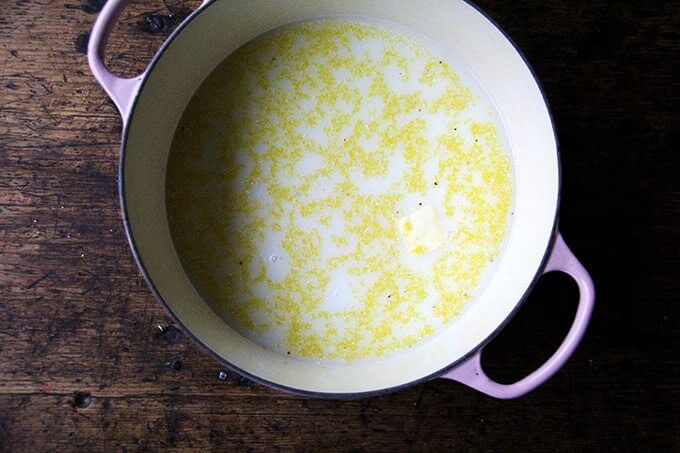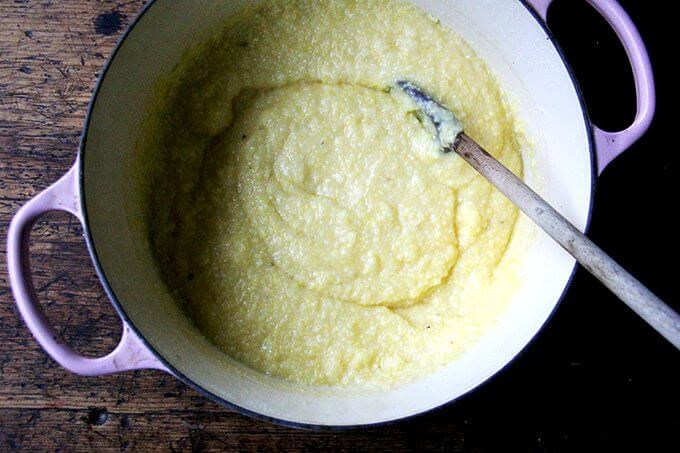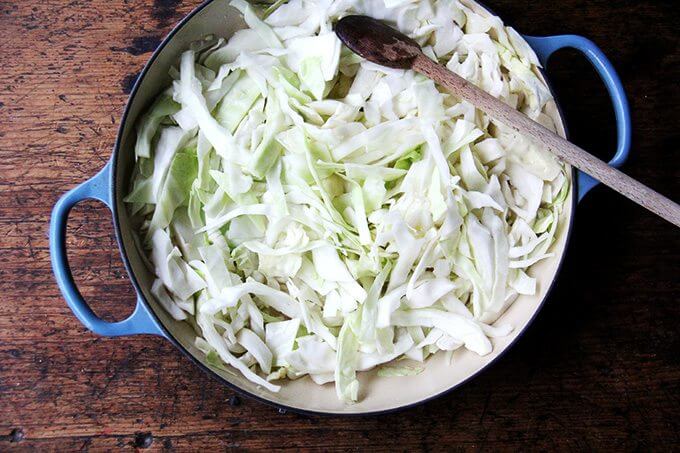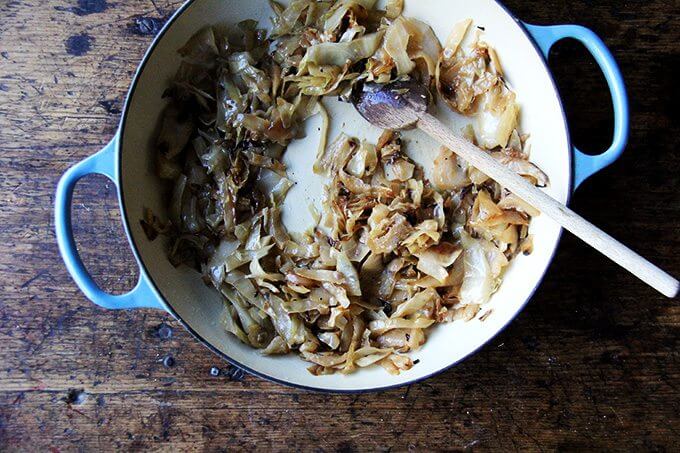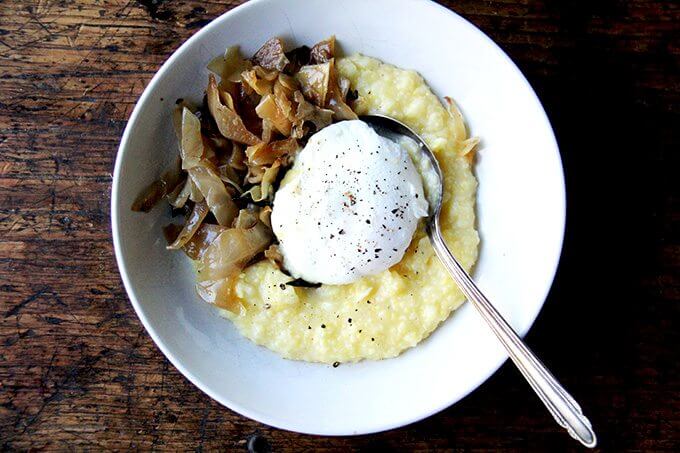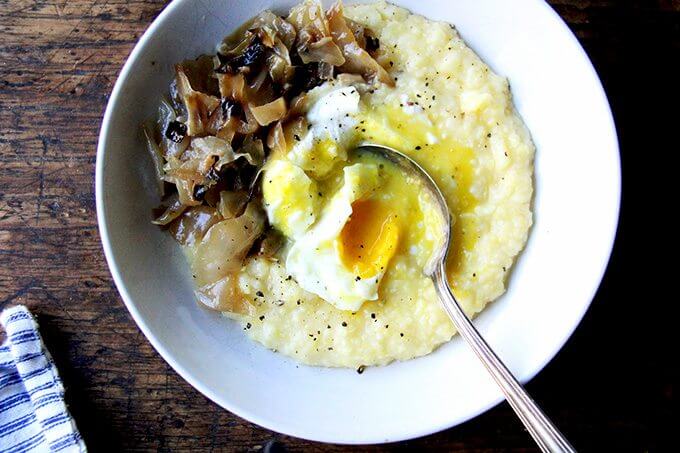 Oven-roasted polenta with slow cooker beans: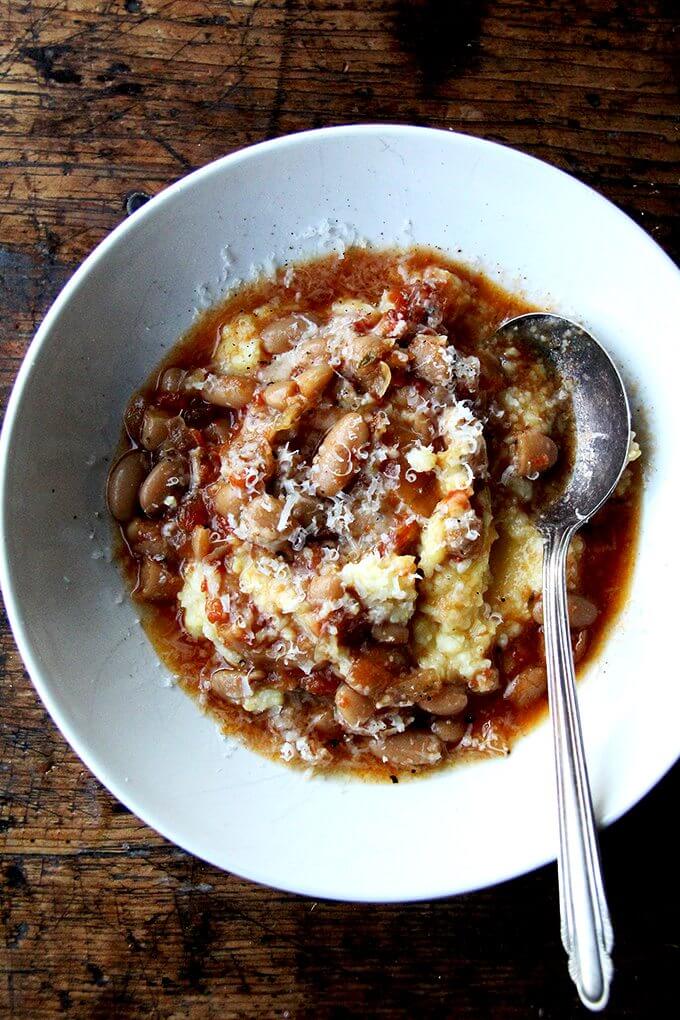 Print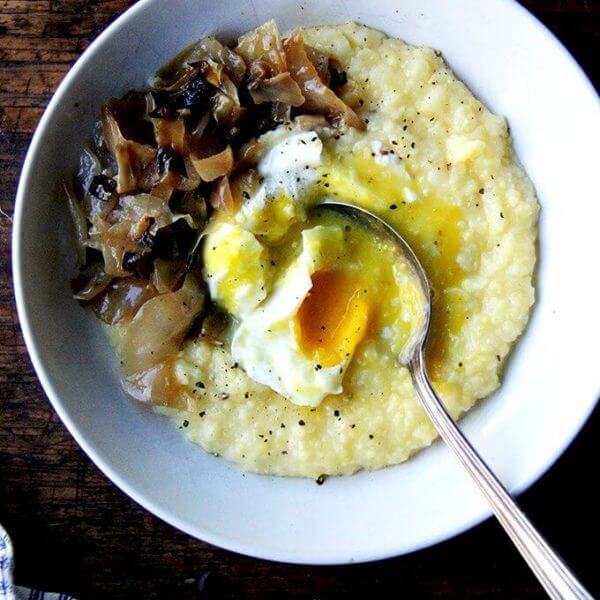 Creamy Oven-Baked Polenta Recipe
---
Description
Adapted from this Fine Cooking recipe by Paula Wolfert.
Oven-baking polenta is game changing: just throw it in the oven, give it a stir 40 minutes later, bake it for 20 minutes more. For years, I've made Mark Bittman's Polenta without Fear, which is also simple, but I prefer the hands-off nature of the oven-baked version.
(See notes below the recipe for making Instant Pot polenta.)
I love the combination of polenta with a poached egg and a drizzle of truffle oil. A side of sautéed greens makes the meal feel more complete. Here I've served the polenta with another Paula Wolfert/Fine Cooking recipe for caramelized cabbage, which takes longer than quickly sautéing greens, but which is a good one to know should you find yourself overloaded with cabbage, as I found myself a few weeks ago.
Polenta is also delicious with this sherry vinegar chicken, braised short ribs, and most recently I spooned these slow-cooker beans over it, which was also delicious.
Re water: If you use 5 cups of water, it will take longer for the polenta to thicken up, but in the end, it will be ultra creamy and delicious. Four cups still yields a creamy polenta, and it will allow the polenta to thicken more quickly. You can use all water if you don't want to use any milk.
---
butter for greasing

1 cup

medium-coarse or coarse cornmeal, preferably stone-ground

4

to

5

cups water, see notes

1 cup

milk

1 tablespoon

butter or olive oil

1 teaspoon

kosher salt, plus more to taste
eggs for poaching
splash vinegar
shaved parmesan, for serving, optional
sea salt, pepper, truffle oil for serving, optional
sautéed greens alongside, optional
---
Instructions
Heat the oven to 350°F. Grease a large ovenproof skillet or Dutch oven. Pour in the cornmeal, water, milk, butter, and salt, and stir with a fork or whisk until blended. The mixture will not look emulsified.
Bake uncovered for 40 minutes. Stir the polenta, taste, add salt if needed, and bake for another 10 to 20 minutes or longer—until it reaches the desired consistency you like. Remove from the oven, stir, and serve immediately or cover and keep warm until you are ready to serve.
To poach eggs: bring a shallow saucepan filled with water to a boil. Crack eggs into individual ramekins or small bowls. Add a splash of vinegar to the water. Lower the heat so that the water is barely simmering—it should barely be moving. Slowly lower each ramekin to the water and pour out each egg. Set a timer for 4 minutes. Use a slotted spoon to lift egg out to test for doneness—the whites should be completely set; the yolk should feel soft to touch. This will take practice—after you make one or two, you will know by touch if the egg is done to your liking. I typically poach eggs for 4 to 5 minutes, but the length of time changes depending on how many eggs I am cooking at one time. Note, too, that you may have to adjust the heat level to keep the water at a bare simmer. When the eggs are done, transfer them to a paper towel-lined plate to drain briefly.
To serve: Spoon polenta into bowls. Top with shavings of parmesan, if desired, and top each mound of polenta with a poached egg. Season with a pinch of sea salt and pepper to taste. Drizzle with truffle oil, if desired. Serve with greens on the side, if desired.
Notes
For Instant Pot Polenta:
1 cup polenta
4.5 cups water
1 teaspoon kosher salt
4 tablespoons butter
pepper
3/4 cup grated Parmigiano Reggiano (1.5 ounces)
Combine the polenta, water, and salt in the Instant Pot. Cook on high pressure for 10 minutes; let release naturally for 10 minutes. Uncover and stir — a flat-bottomed whisk is great for this. Add the 4 tablespoons butter, pepper to taste, and 3/4 cup (1.5 oz) parmesan.
This is adapted from Sarah Copeland's Instant Family Meals … hoping to do a blog post on it soon.
Prep Time:

5 minutes

Cook Time:

50 minutes

Category:

Side Dish

Method:

Oven

Cuisine:

Italian
Keywords: oven, roasted, polenta, baked, easy
This post may contain affiliate links. Please read my disclosure policy.