The 54-Cent Gift to Give All Season
This post may contain affiliate links. Please read my disclosure policy.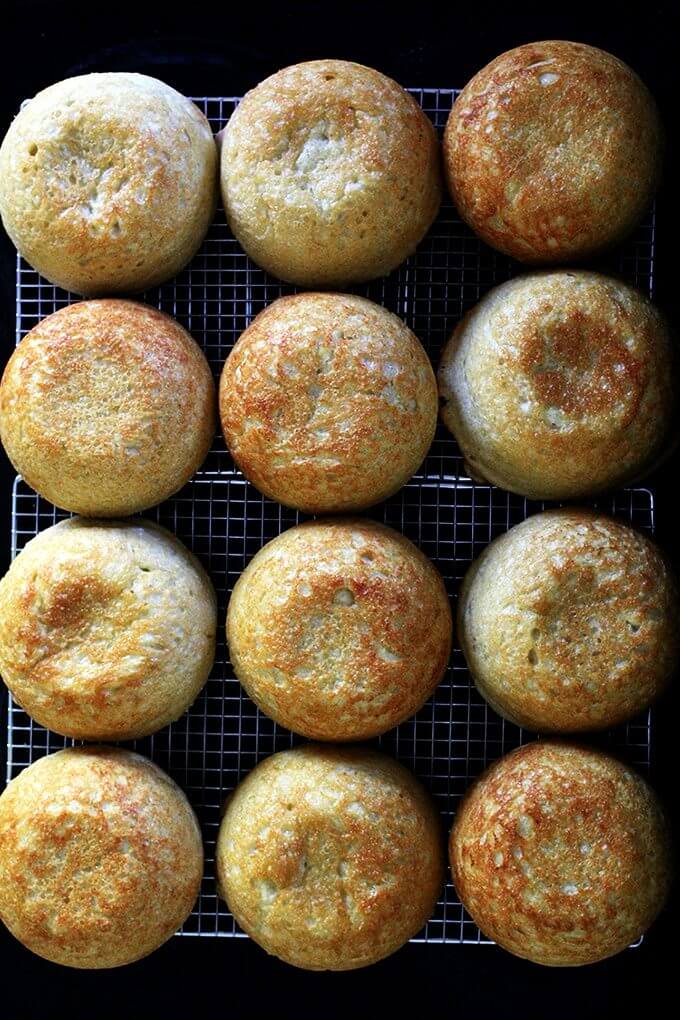 Today's Agenda: Math!
Very basic math, I promise — it's the only kind I know how to do. Some of you know, I've been baking bread for a local shop, The Vischer Ferry General Store*. Because of this, I pay more attention to the price of flour, and when I see a deal, I stock up.
The best deal in town, for instance, can be found at the Niskayuna Co-op, when they run a special and sell a 5-lb. bag of King Arthur Flour for $1.99. Otherwise I typically pay $14.49 for a 25-lb bag of King Arthur Flour, which I find at Hannaford.
Problem: Calculate the Cost of 1  Loaf of Peasant Bread:
At $14.49 for 25 lbs (11.34 kg = 11340 g), the cost of each gram of flour is: $0.001278.
There are 512 g of flour in the master peasant bread recipe, so the cost of the flour comes to: $0.001278 x 512 = $0.66 And because each recipe yields 2 loaves, the cost of flour for each loaf is = $0.33
At $1.99 for 5 lbs (2.26796 kg = 2268 g), the cost of every gram of flour is: $0.00088.
At this price, the cost of flour for the recipe is $0.00088 x 512 = $0.45, which brings the cost per loaf to $0.23.
The remaining costs include:
2 teaspoons (7 g) kosher salt:
3-lb (1.36 kg) box Diamond Crystal costs $2.29, so 2 tsps cost: $0.01
2 teaspoons (10 g) sugar:
4-lb (1.81 kg) bag Domino Sugar costs $2.39 | 2 tsps cost: $0.01
2 teaspoons (7 g) instant yeast:
1-lb (0.45 kg) SAF instant yeast costs: $5.65 | 2 tsps cost: $0.09
2 tablespoons butter for greasing:
1-lb (32 tablespoons) Cabot unsalted butter costs $4.79, which means each tablespoon (the max amount I use per bowl) costs about $0.15 or $0.30 for the entire recipe.
In sum, the non-flour ingredients total $0.41 for 2 loaves or $0.21 per loaf
Answer: The total cost per loaf is either $0.54 (Hannaford's KAF) or $0.44 (Niskayuna Co-op on-sale KAF)
Friends, did I do that right?
Of course, there are other costs, namely time and the energy required to bake the bread and to wash the dishes, etc. But if we're just talking cost of materials, homemade bread is an extremely affordable gift to make. And if you've made the peasant bread, you know it couldn't be easier, and that when you share one (or both) of the loaves with someone, the recipient thinks the gift is a total miracle and that you are an angel. Truly, bread bakers and non-bread bakers alike are so grateful for homemade bread.
Friends, if you're new here, a few things: my cookbook, Bread Toast Crumbs, was published last April. In June, illustrator Steph Becker designed toast bookplates and toaster notecards (video below.) If you're still in need of a gift this holiday season, it's not too late to order a copy of Bread Toast Crumbs and include with it a toaster notecard with an inscribed toast bookplate. Simply fill out the google contact form below.
*My kitchen is under renovation at the moment, so I've been unable to bake for the VFGS the past few weeks, but I've been able to make small batches of the bread in my little Waring oven.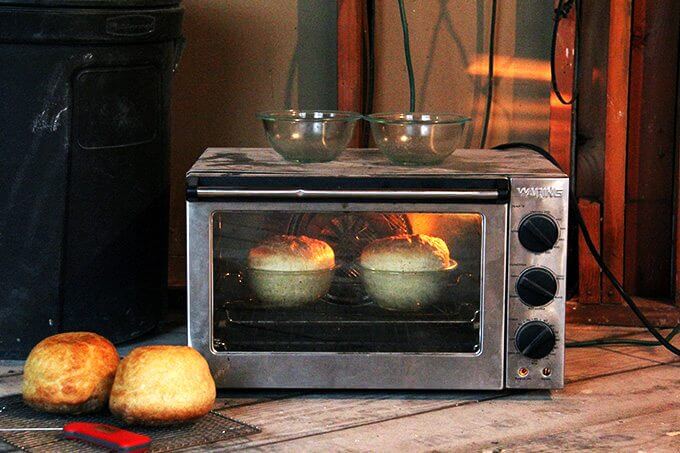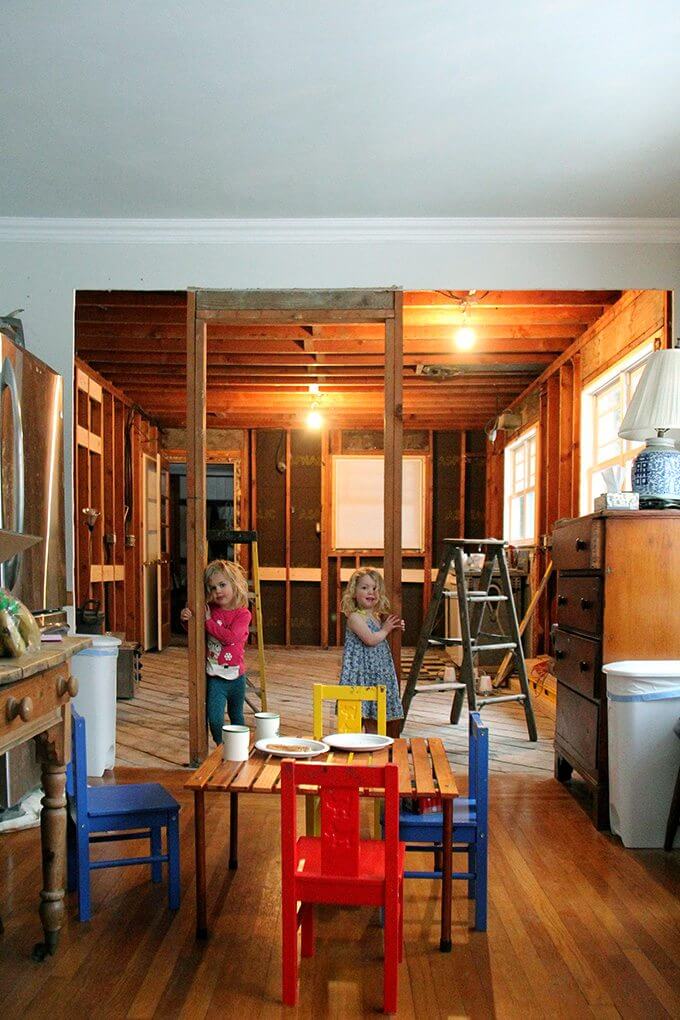 Should you feel inspired to bake 12 loaves of bread at once, the recipe is included below, and here are some step-by-step photos: yeast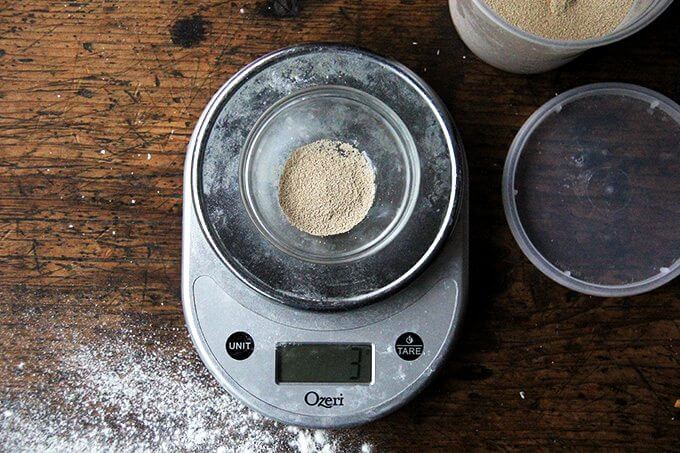 Salt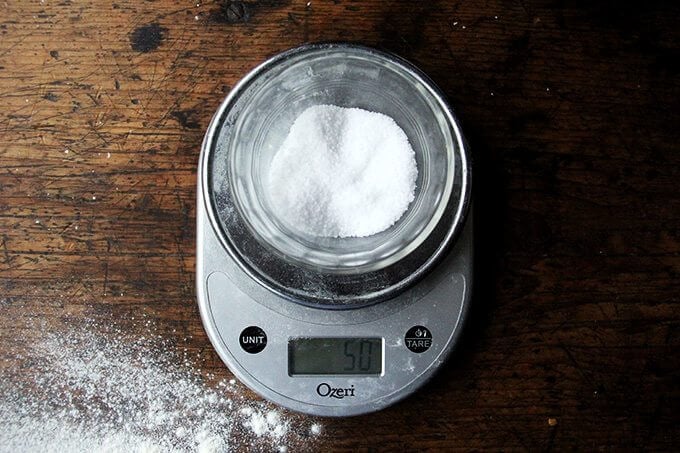 Flour, salt, yeast: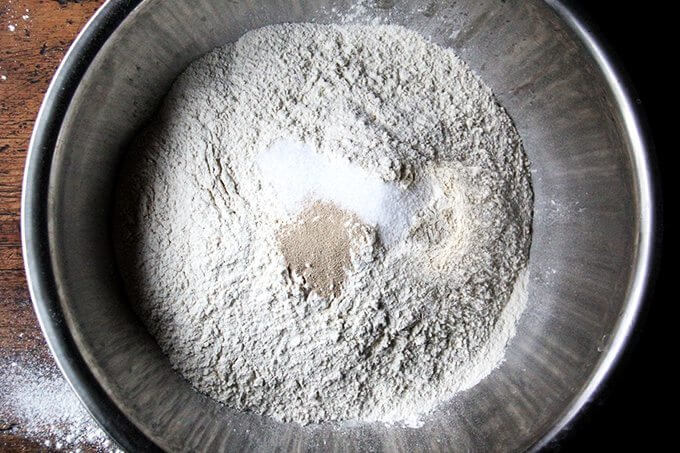 Water: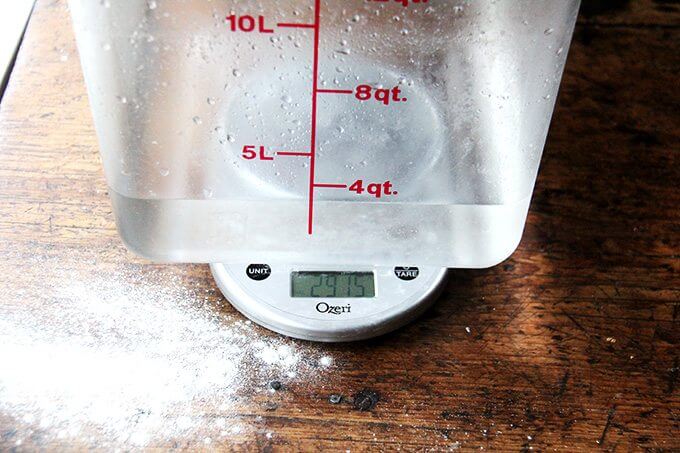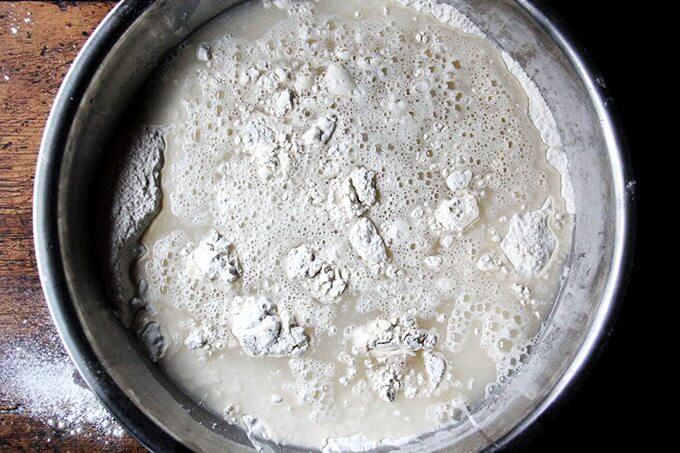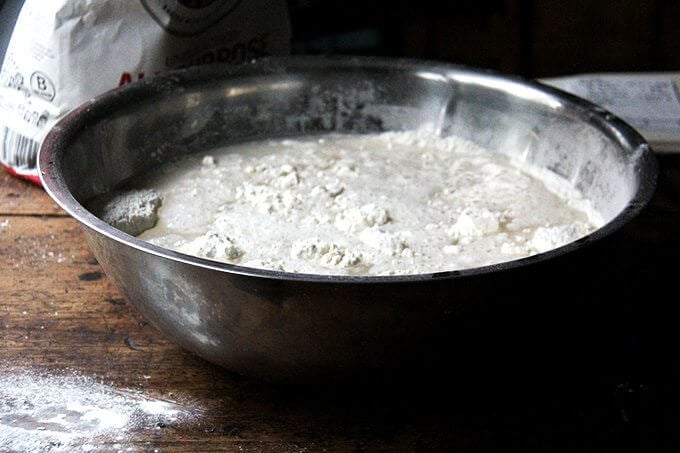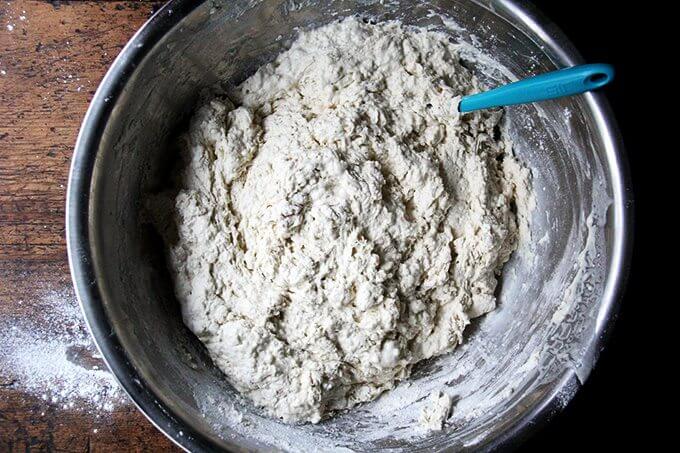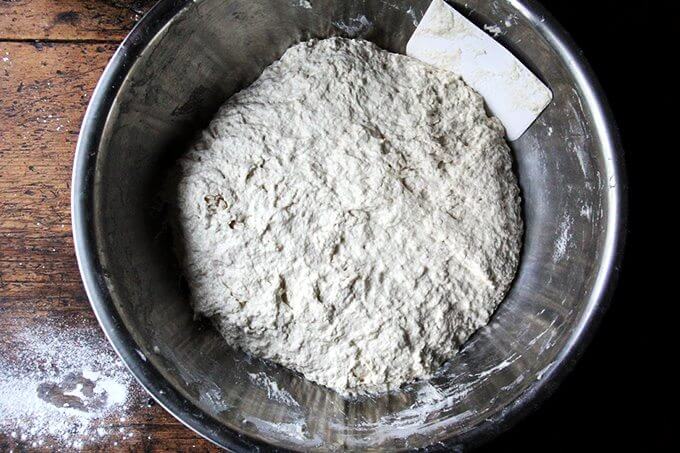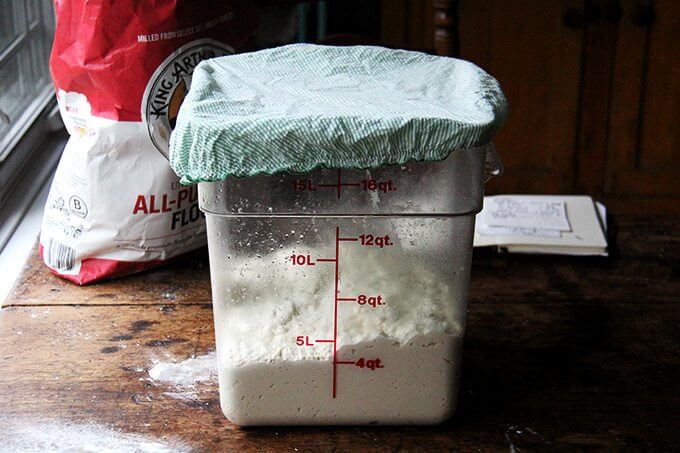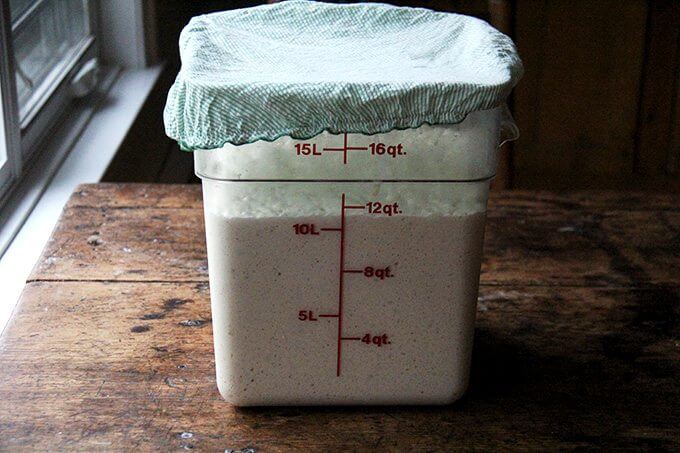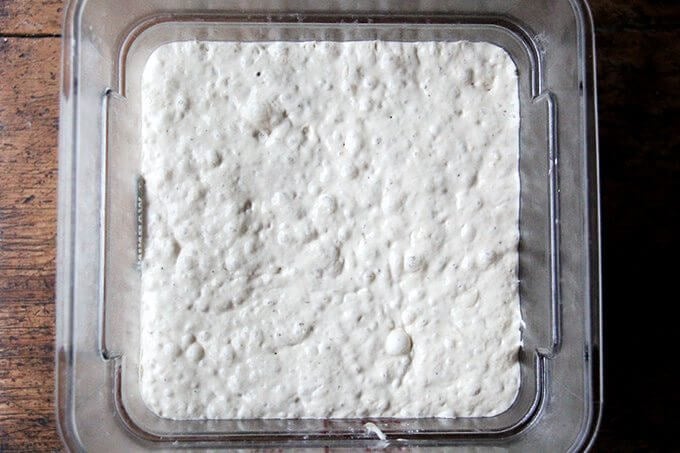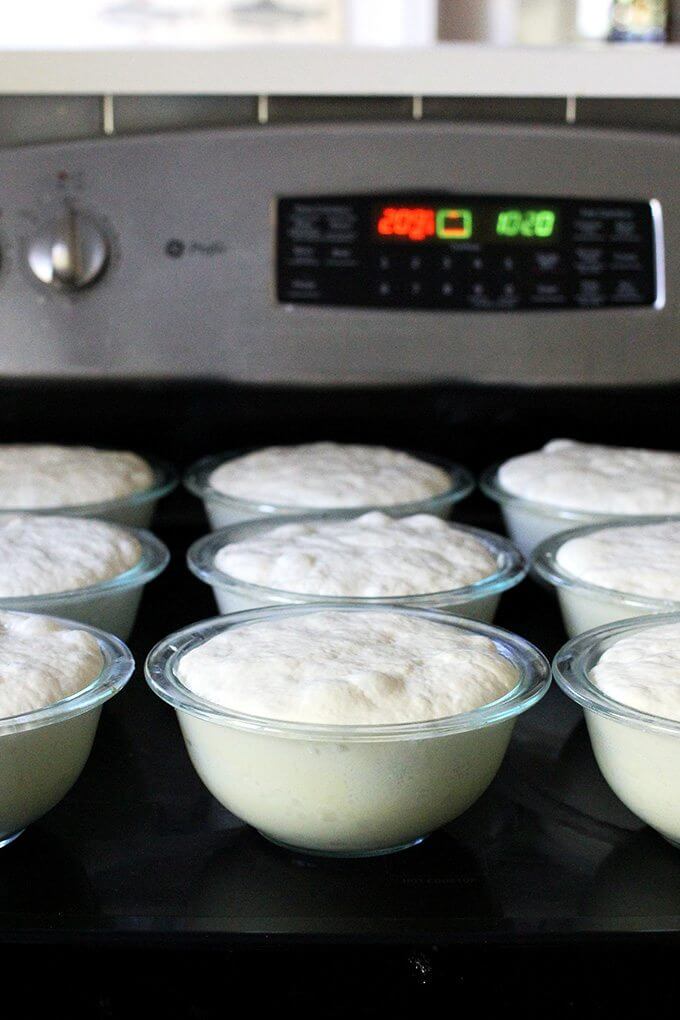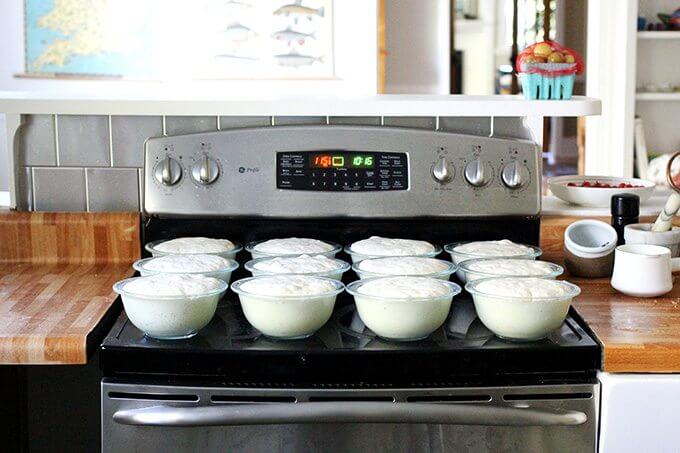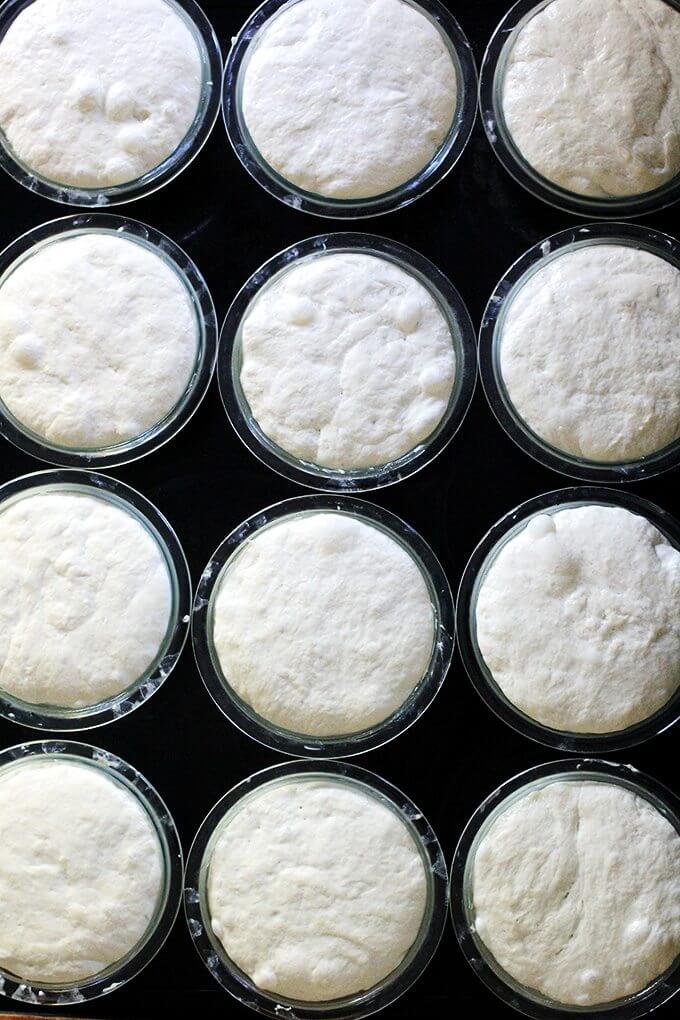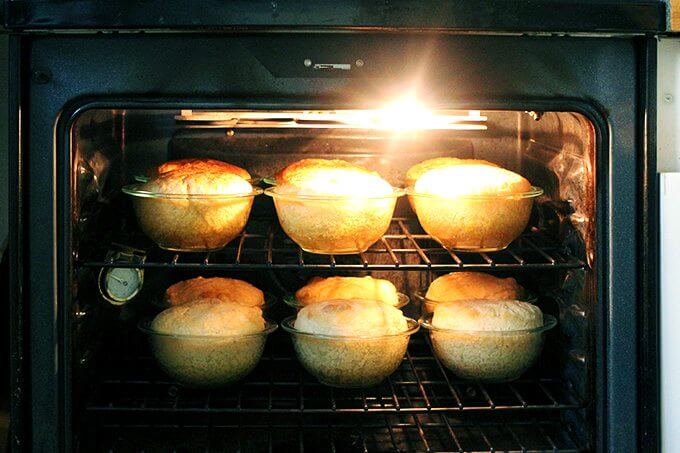 Happy Holidays, Friends!!!!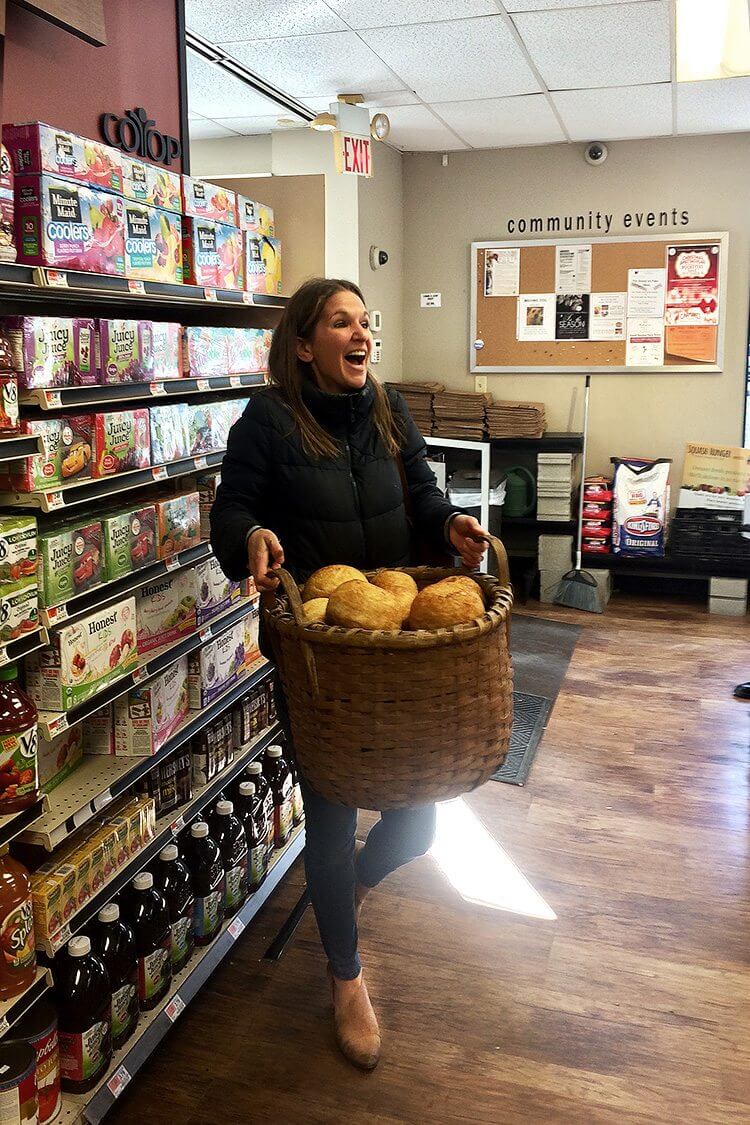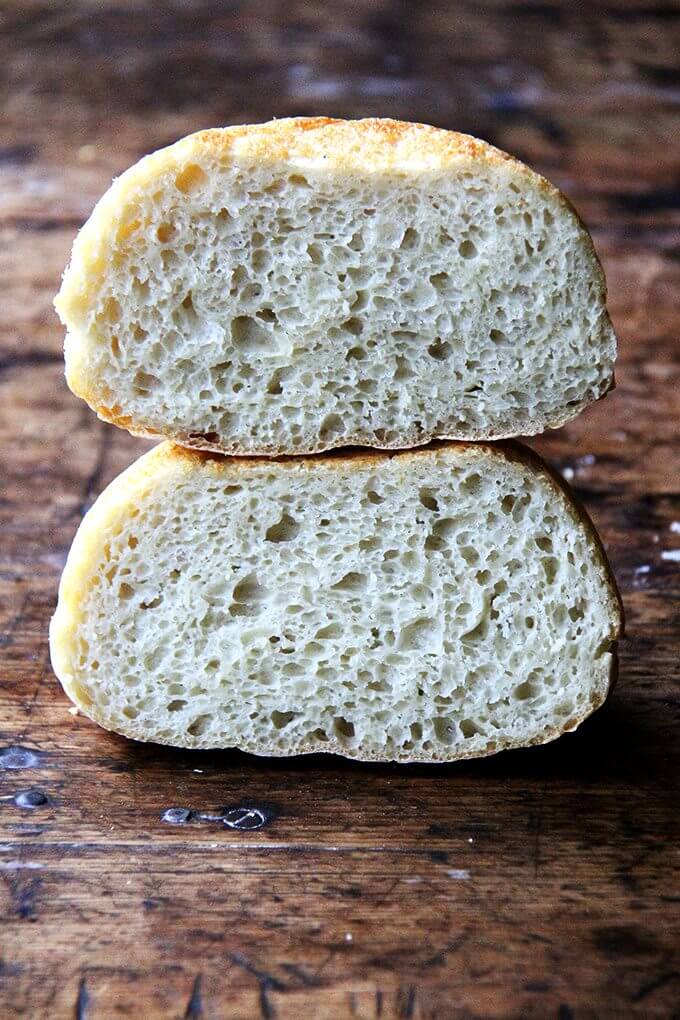 Print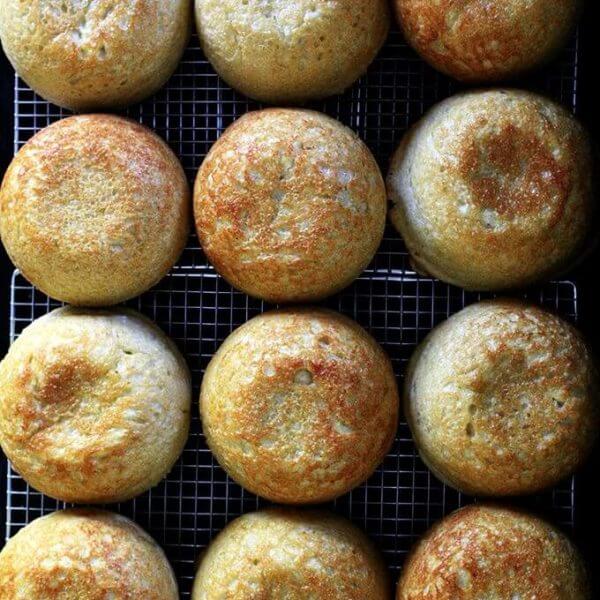 Peasant Bread
---
---
4 cups

(

512 g

) unbleached all-purpose flour

2 teaspoons

kosher salt

2 teaspoons

sugar

2¼ teaspoons

instant yeast

2 cups

lukewarm water (made by mixing

1.5 cups

cold water and .

5 cups

boiling water)
Softened unsalted butter, for greasing
---
Instructions
In a large bowl, whisk together the flour, salt, sugar, and instant yeast. Add the water. Using a rubber spatula, mix until the water is absorbed and the ingredients form a sticky dough ball.
Cover the bowl with a damp tea towel or plastic wrap and set aside in a warm spot to rise for 1 to 1½ hours, until the dough has doubled in bulk. (To create a warm spot for your bread to rise: turn your oven on for one minute, then turn it off.)
Set a rack in the middle of the oven and preheat it to 425°F. Grease two 1-quart oven-safe bowls with the softened butter—be generous. Using two forks, deflate the dough by releasing it from the sides of the bowl and pulling it toward the center. Rotate the bowl quarter turns as you deflate, turning the mass into a rough ball.
Using your two forks and working from the center out, separate the dough into two equal pieces. Use the forks to lift each half of the dough into a prepared bowl. If the dough is too wet to transfer with forks, lightly grease your hands with butter or oil, then transfer each half to a bowl. Do not cover the bowls. Let the dough rise on the countertop near the oven (or another warm, draft-free spot) for 10 to 20 minutes, until the top of the dough just crowns the rims of the bowls.
Transfer the bowls to the oven and bake for 15 minutes. Reduce the heat to 375°F and bake for 17 to 20 minutes more, until evenly golden all around. Remove the bowls from the oven and turn the loaves out onto cooling racks. If the loaves look pale, return them to their bowls and bake for 5 minutes longer. Let the loaves cool for 15 minutes before cutting.
Notes
If you're curious about making 12 loaves at one time, here's what I do: Mix together:
3075 g flour
50 g kosher salt
3/4 teaspoon yeast
2915 g water
Let rise for 12 to 18 hours, portion into buttered bowls, let rise another 2 hours or until the dough creeps above the rim of the bowl, bake as directed.
You can do the long, slow rise with the smaller quantity of dough, too. Simply follow the recipe, omitting the sugar, and cutting the yeast back to 1/2 teaspoon. Keep in mind, the second rise will take at least two hours, so plan accordingly.
This post may contain affiliate links. Please read my disclosure policy.