Homemade Nut-Free Dukkah
This post may contain affiliate links. Please read my disclosure policy.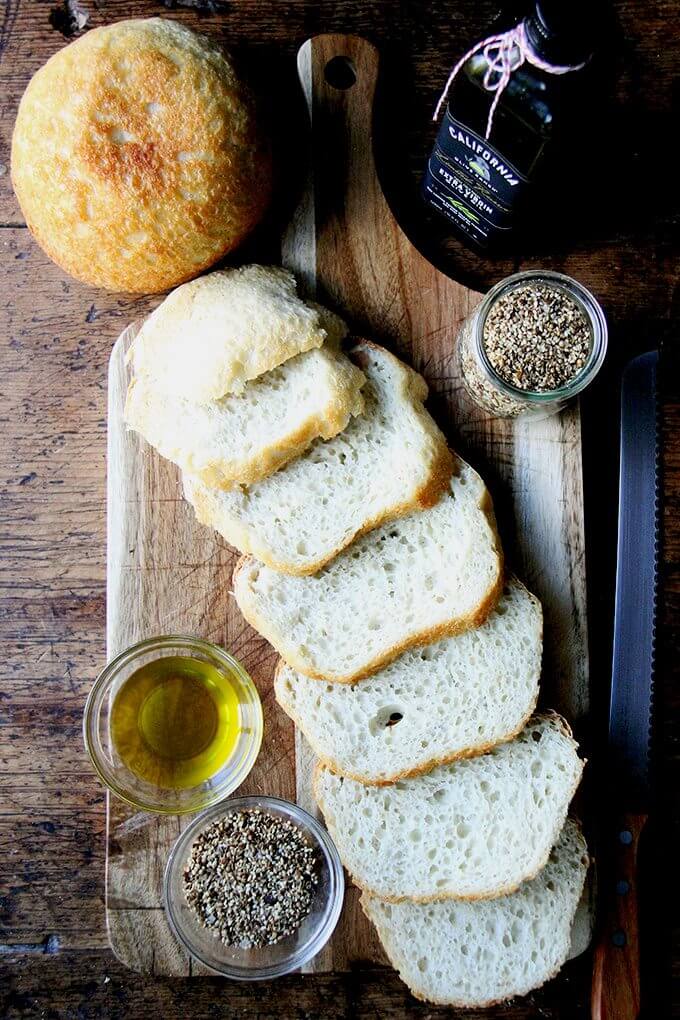 On my first night in California with a group visiting California Olive Ranch, we ate dinner at Matchbook Wines. The caterer, Chef Jeff Anderson, had hauled along his wood-burning oven, which he used throughout the evening, but most memorably for the appetizer: blistered and bubbly flatbreads, which he served with olive oil and a nut-free dukkah.
Fresh bread, good olive oil, a smoky, seedy condiment—this appetizer reminded me how a simple flourish can make such an impression—it can be, in fact, all everyone needs to kick off an evening; it can be everything everyone dreams about for days.
This past week, I made a large-ish batch of dukkah to bring to CT for Christmas. I used the aforementioned no-nut dukkah as a guide, which included sesame seeds, coriander, cumin, crushed red pepper flakes and salt.
Dukkah is an Egyptian spice blend that typically contains nuts, and it can be made in countless ways. This variation is nut free.
How to Make Nut-Free Dukkah
Toast cumin, coriander, and sesame seeds.
Crush them coarsely with a mortar and pestle or a spice grinder.
Season with salt, red pepper flakes and a pinch of sugar.
Store in an air-tight container at room temperature for weeks.
Serve dukkah with good fresh bread and olive oil or use it in various other ways: to crust fish or tofu, to season eggs, to add texture (especially if you use nuts) to roasted vegetables or grain salads.
I love mashing avocado over olive oil-toasted bread, mashing an avocado over top, and sprinkling it with a healthy pinch of dukkah.
One more thought: If you want to make a lot of dukkah, head to your favorite bulk-food market to purchase the spices. If you live in the area, Honest Weight Food Co-op is a great resource for bulk spices.
PS: The peasant bread was one of Food52's top recipes of the 2017!
PPS: Read more about California Olive Ranch's 2017 olive harvest here.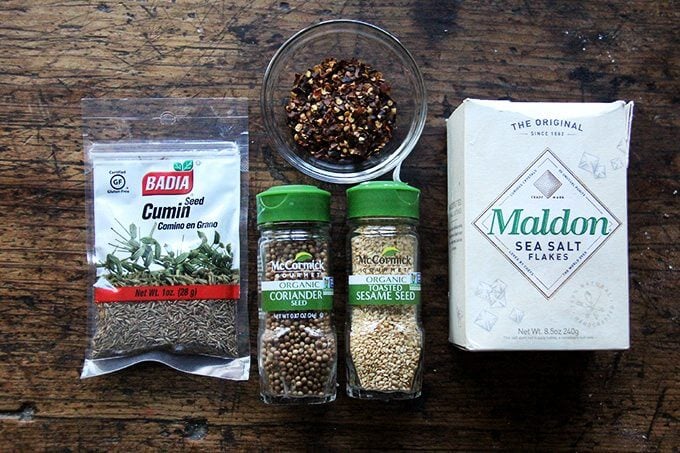 Kitchen is under renovation, hence camping stove. Updated kitchen snap below!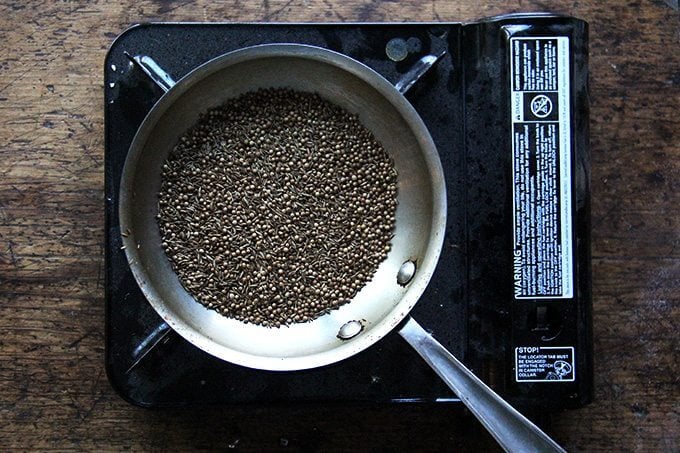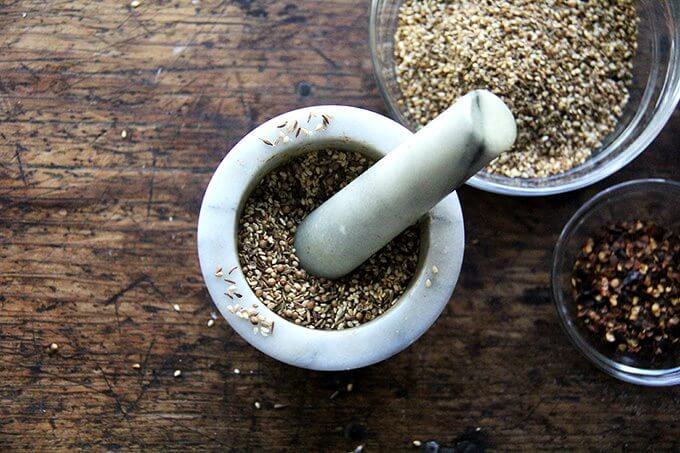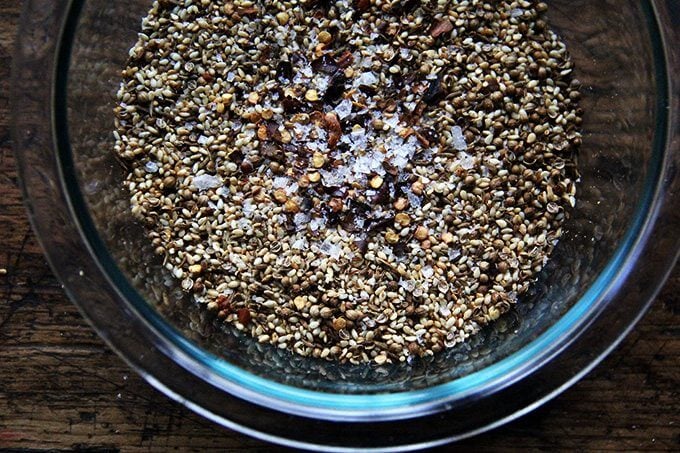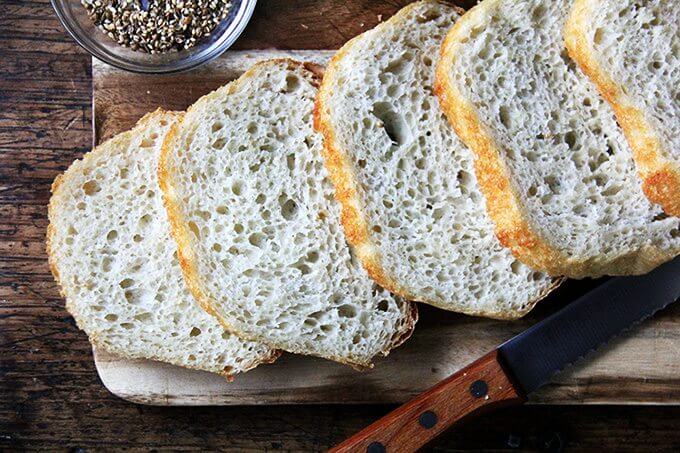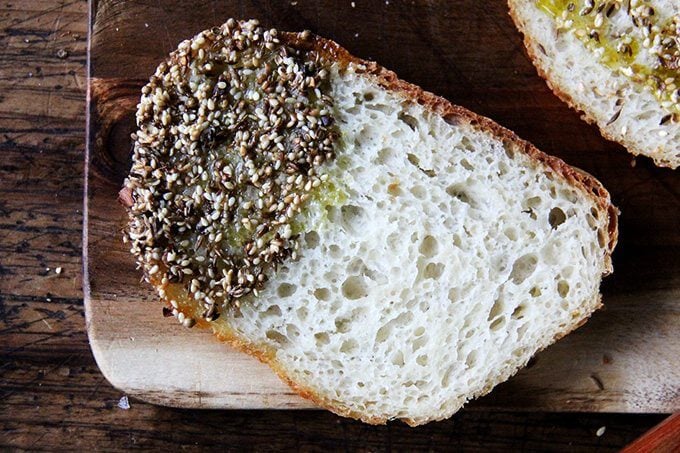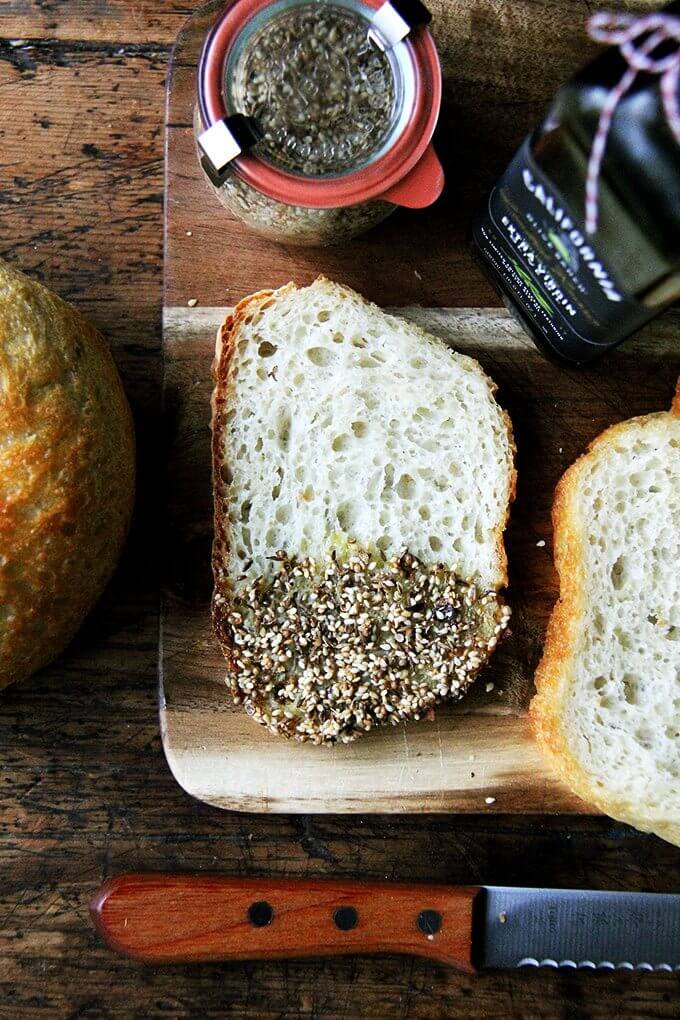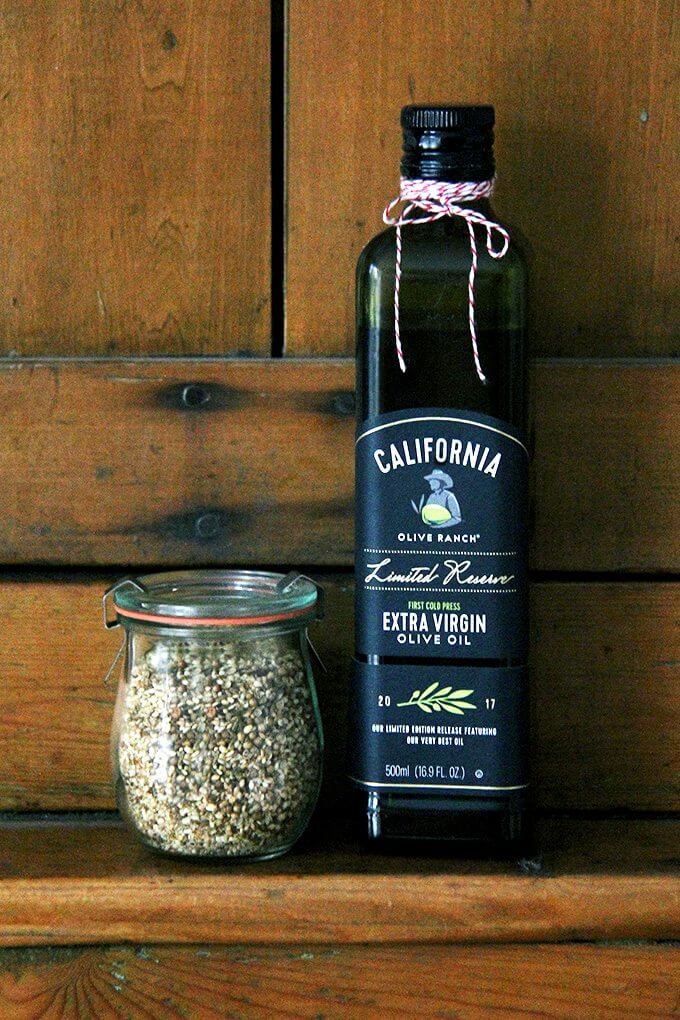 Cucumber Toasts with The Only Green Sauce You Need + Dukkah: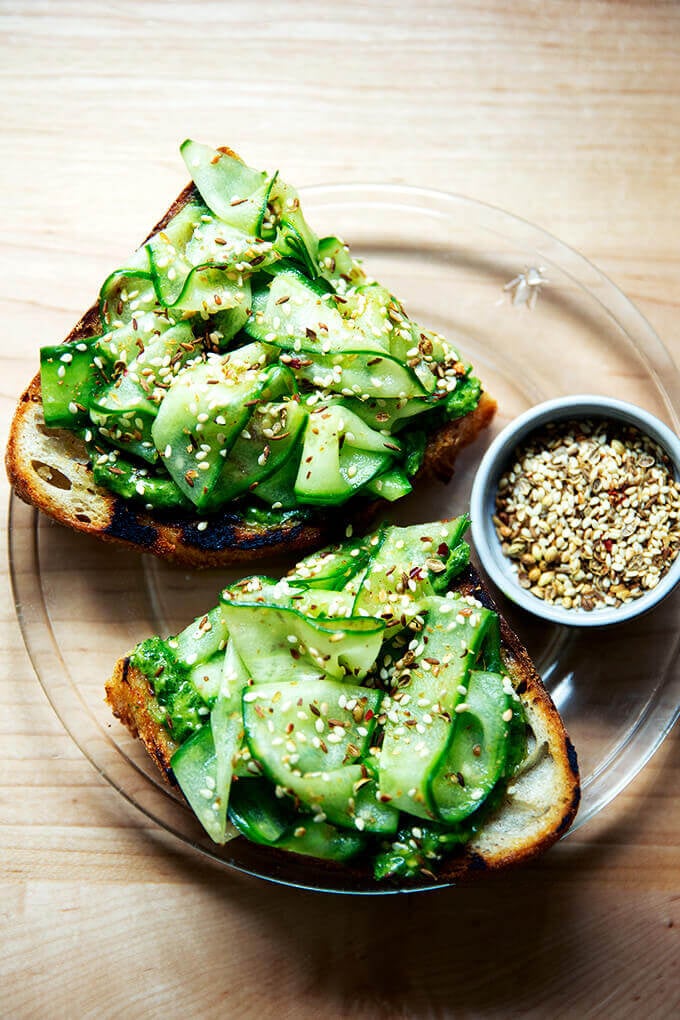 Another option: Cucumber Toasts with Labneh & Dukkah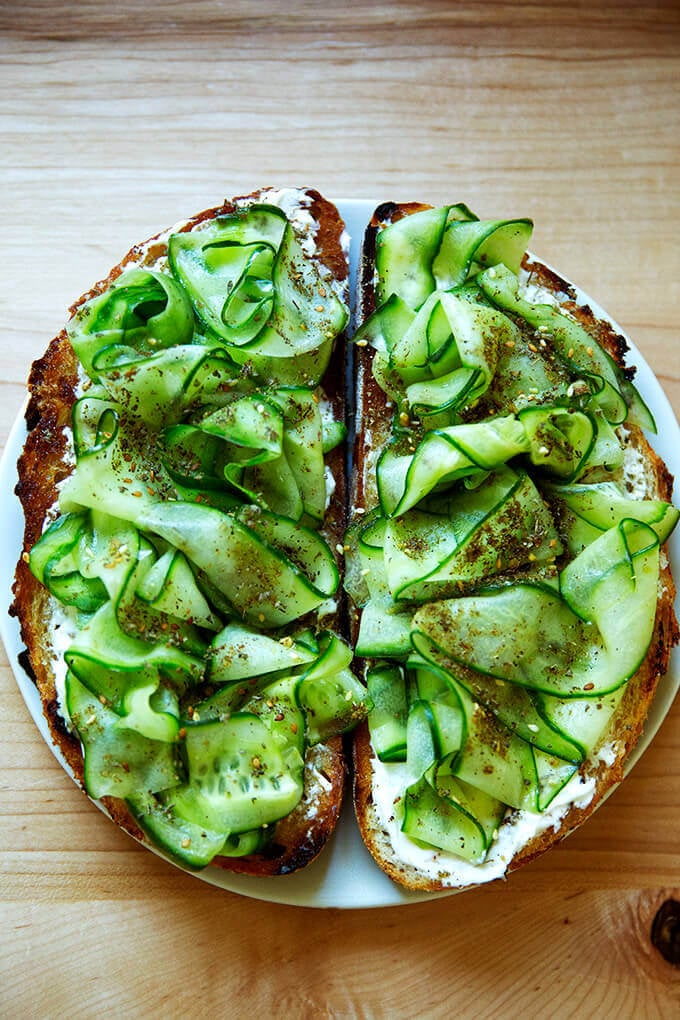 Print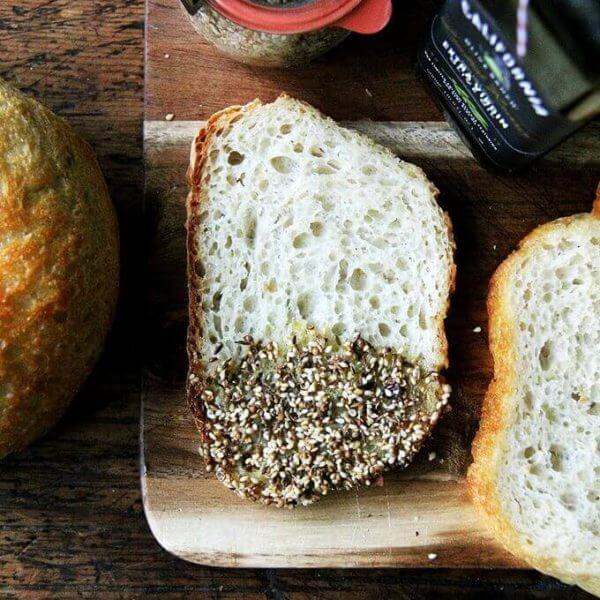 Smoky, Seedy Nut-Free Dukkah
---
Description
Use this recipe as a guide — there are countless ways to make dukkah, and this one, which is nutless, is untraditional. To add nuts, simply toast nuts (almonds, cashews, pistachios) as you would the seeds and coarsely crush or chop them.
Serve with good olive oil and good bread.
---
¼ cup

sesame seeds

3 tablespoons

coriander seeds

2 tablespoons

 cumin seeds

1 teaspoon

flaky sea salt, such as Maldon

¼ teaspoon

sugar
Pinch red pepper flakes
---
Instructions
In a medium skillet over medium heat, toast the sesame seeds until they begin to lightly brown and begin to pop. Transfer them to a medium bowl. Add the coriander and cumin seeds to the skillet and toast in the same fashion—until they begin to brown and turn fragrant. Transfer the cumin and coriander seeds to a separate bowl. In a mortar and pestle or spice grinder, coarsely grind the cumin and coriander seeds — you may have to do this in batches. Transfer the crushed seeds to the bowl with the sesame seeds. Add the salt, sugar, and pepper flakes. Toss to combine. Taste. Adjust taste as desired.
Prep Time:

5 minutes

Cook Time:

5 minutes

Category:

Condiment

Method:

Stovetop

Cuisine:

Middle Eastern
Keywords: no-nut, dukkah, seeds, coriander, cumin, sesame, smoky
Getting there!

This post may contain affiliate links. Please read my disclosure policy.