Favorite Local Spots For Last-Minute Gifts (Schenectady, Niskayuna, Clifton Park, Saratoga)
This post may contain affiliate links. Please read my disclosure policy.
A friend emailed me recently asking if I had any ideas for locally made food gifts, so I put together a little list. Local Friends, what am I forgetting? I know there are so many other places in Troy, Saratoga and everywhere in between. Let me know! I'll add them to this post. Happy last-minute shopping!!
Evergreen Olive Oil Company
There are so many beautiful gifts at this shop in addition to the many olive oils and vinegars. I bought a few mini bottles of the truffle oil to give as gifts — so good on polenta — and I used the Black Mission Fig balsamic vinegar in this Ina Garten recipe for balsamic-roasted Brussels sprouts just before Thanksgiving. Love the California Arbequina olive oil and the blood orange olive oil, which the ladies at the store use in their brownies, and they are incredibly delicious.
I tasted Nini's Sicilian Salsa one day when she was sampling at the Evergreen Olive Oil Company, subsequently bought a jar, returned home, and essentially served it for dinner. It's so good. She'll deliver around the area, so get in touch with her ASAP.
Fleur de Sel is my favorite. Find it at the Nisky Co-op (Go ASAP, they sell out quickly … I also bought half a dozen bars last night.)
A Growler from Great Flats Brewing
Great Flats Brewing — great beer, great people. I love their IPAs but also their Octoberfest, which I used in the Vermont Cheddar Cheese and Beer Soup for the first annual Beer and Bread event to benefit Capital Roots. Such a great day! Photo credit Deanna Fox:

Tea from Divinitea.
Love their Moroccan Mint Tea.
Love the Mohawk Giants Blend (Find this at the Nisky Co-op, too)
I've written about Tara Kitchen a number of times (see Chicken with Green Olives and Preserved Lemons, Preserved Lemons, Chickpea Tagine) — love Aneesa, the owner, and all of her products: ras-el-hanout, harissa, preserved lemons, to name a few.
Such a great store and community — love both their books and gifts.
The Vischer Ferry General Store
My happy place. Great gifts, great people, great food.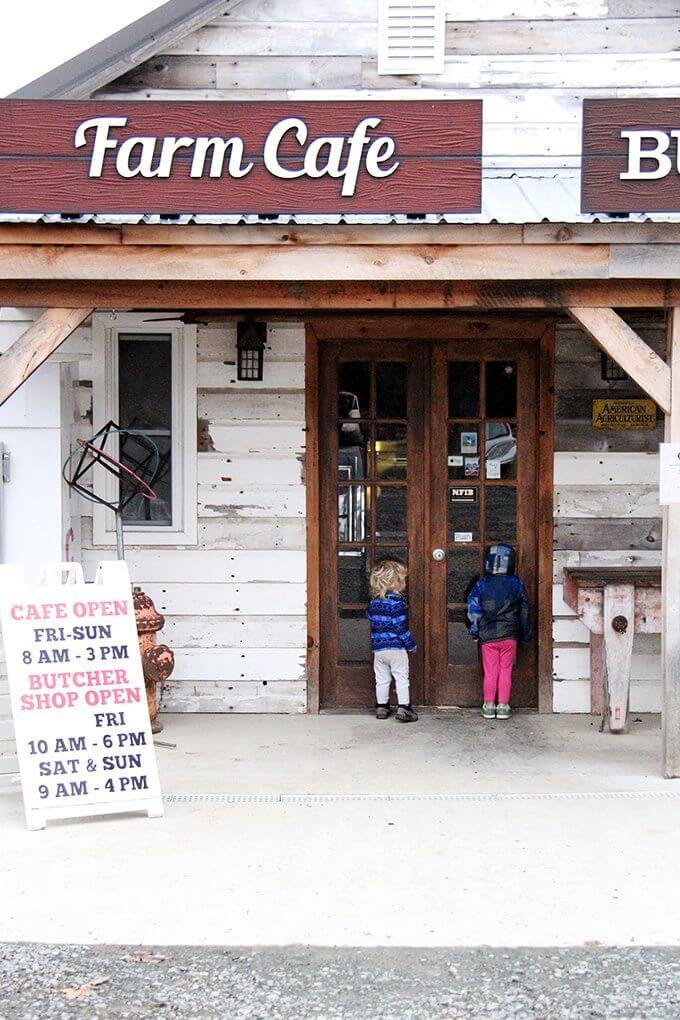 Gift Certificate to Buckley Farm
Last winter we visited the Buckley Farm Cafe often on Saturday and Sunday mornings after hockey practice. Pancakes for the kids, bacon and eggs for the adults — such a treat. While you're there you can pick up any of their incredibly delicious and humanely raised meats as well as eggs, stock, jams, pasta, and sometimes vegetables, too.
Gift Certificate to Spoon and Whisk in Clifton Park or Different Drummer's Kitchen in Albany; Gift Certificate to Peck's Arcade (SO good) in Troy
Gift Certificate to the Niskayuna Co-op
This is my favorite place to shop. They carry so many local products: cheese, yogurt, coffee, chocolate, soap, produce. They also sell Bread Toast Crumbs, Dot and Army Bowl Covers and the 1-qt Pyrex bowls. They are the absolute best.
This post may contain affiliate links. Please read my disclosure policy.