Twice-Roasted Carrots with Honey and Almonds
This post may contain affiliate links. Please read my disclosure policy.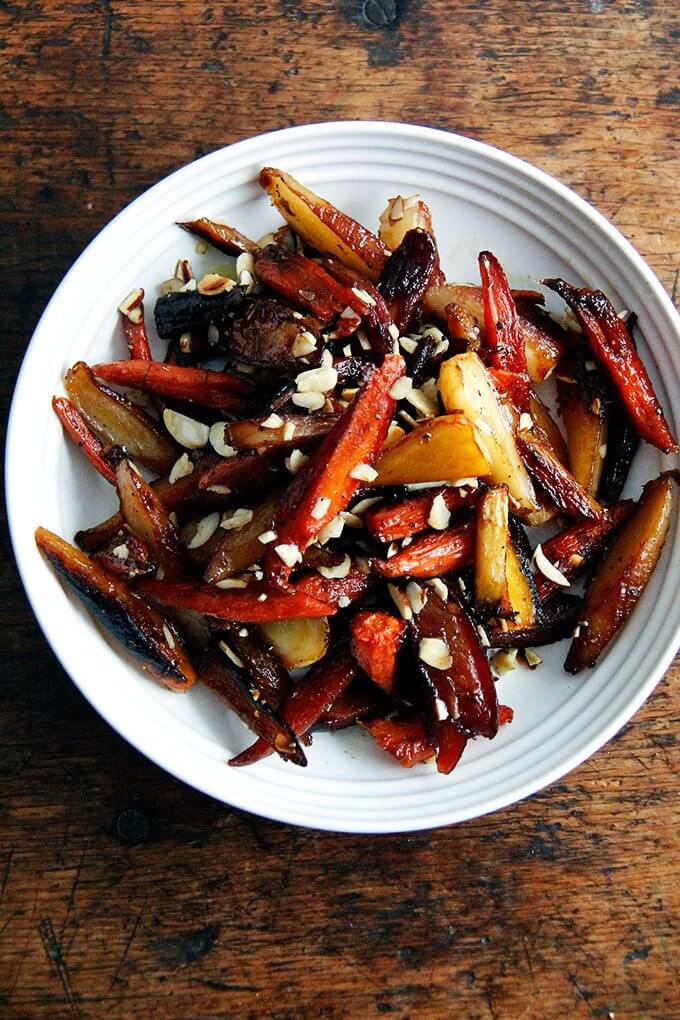 Where to begin?
Fellow cookbook lovers: you know that feeling you get when you look at a cookbook and your heart races? And you feel as excited as overwhelmed because everything looks so good, and you don't know which recipe to make first? And you know looking at the book before you go to bed is a bad idea because dreaming about the recipes no doubt will keep you awake?
This is how I feel every time I open Joshua McFadden's Six Seasons, which came out last May, but which somehow I didn't sneak a peek at till Christmas Day, when Santa kindly tucked it under the tree. I have since spent many hours with the book, and I've made five recipes, all of which have been irresistible, each disappearing in record time.
One night I made the roasted mushrooms, gremolata style (photo below) with the intention of serving them for dinner, but I ate every. last. one. (The recipes serves 4).
Another night, I made the roasted carrots featured here, which are really twice-roasted carrots that bathe in vinegar after their first pass in the oven, then get dressed with butter and honey before their second. I set the finished dish on the kitchen table before running out to do errands, and while I was out, I received a text message from my husband that read: "I ate all of the carrots…sorry. They were so delicious." (This recipe also serves 4)
In the intro to the book, Joshua writes: "I make sure every dish has more than just balance—it must have tension, a dance between sweet, sour, spicy, salty, creamy, crunchy." And co-author Martha Holmberg notes that Joshua told her while writing the book "the goal is for the dish to taste like a potato chip," meaning it should be "so tasty and savory that you can't help but take one more bite…and then another."
This has been my experience with every dish I've made so far. Six Seasons, as you might infer, is a vegetable-focused cookbook inspired by — wait for it — the seasons. But because Joshua felt winter, spring, summer, and fall, didn't adequately reflect what's truly happening in the fields, he divided the book into six seasons, breaking summer, when all the action happens, into three: early, mid, and late.
Given when this book fell into my lap, I've spent the most time in the fall and winter chapters. I first made a raw shaved Brussels sprout salad that calls for dressing shaved sprouts with lemon, making a paste with anchovies, garlic and olive oil, and combining the two with toasted walnuts, breadcrumbs, and Pecorino. I then made the "kale salad that started it all" — did you know Joshua started the kale salad craze? — which requires no massaging but a very fine chop of the kale, a lemony-Pecorino dressing, a pinch of pepper flakes, and breadcrumbs. I then made the above mentioned gremolata mushrooms, and, most recently, crushed and fried potatoes with crispy herbs. Photos of all of these dishes are below.
As someone who often finds herself overloaded with CSA carrots, potatoes, kale, turnips, radishes, beets, and others, I love a cookbook organized by season, and I cannot recommend this one enough if you find yourself in the same boat or if, really, you just love to cook. In addition to the recipes, there are so many nuggets, like, in his "Words to Cook By" note, he says: "Build layers into your dish, like you're making nachos. Hide things on the bottom. Sprinkle things on top." And he encourages you not to be a "slave to a recipe," but to "add different herbs, use a new spice, omit something you don't like—you're in charge."
I have about a dozen other recipes flagged to make including brined and roasted almonds, which Joshua describes as "the best almonds ever," a beet slaw with pistachios and raisins, a cauliflower ragu, a raw cauliflower "couscous" salad, cauliflower steaks with provolone and pickled peppers. There are so many. My heart is racing. I'll leave you with these carrots.
Here's a visual play-by-play: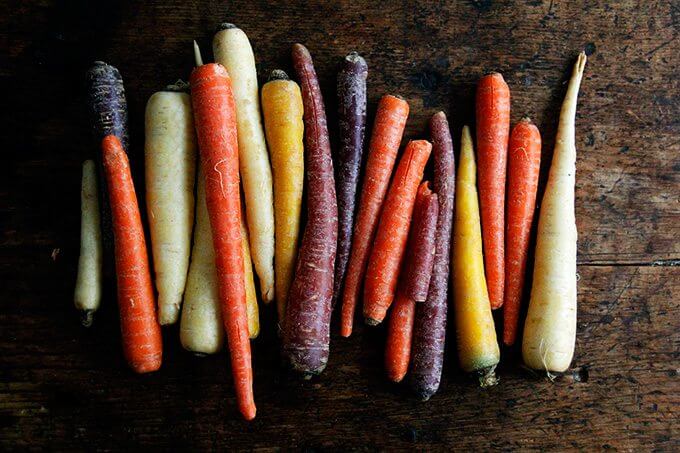 Peel carrots and trim the ends: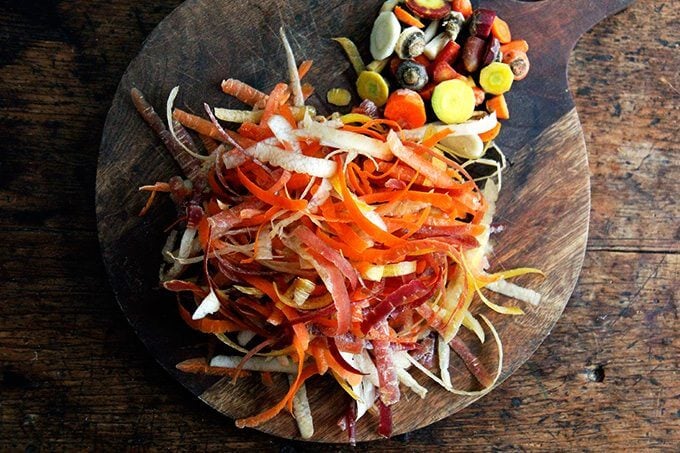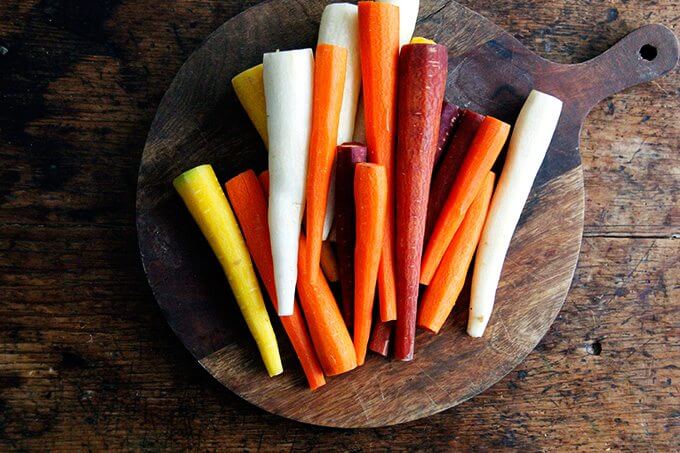 Rub them with oil.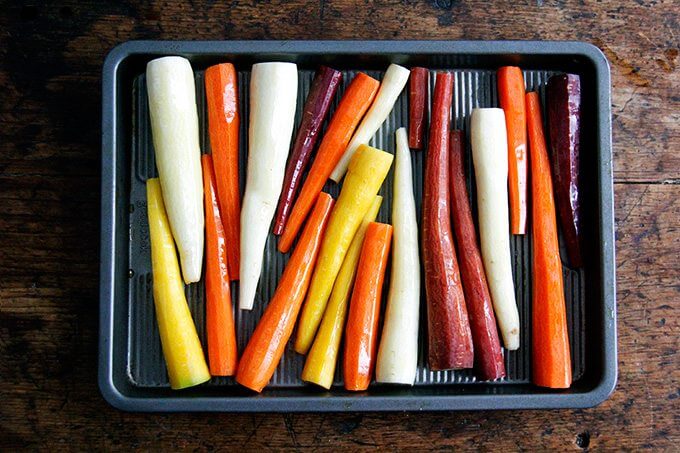 Roast until charred around the edges: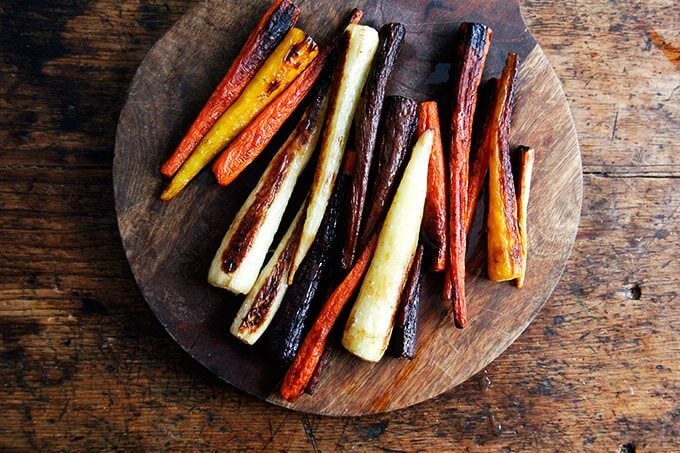 Slice them.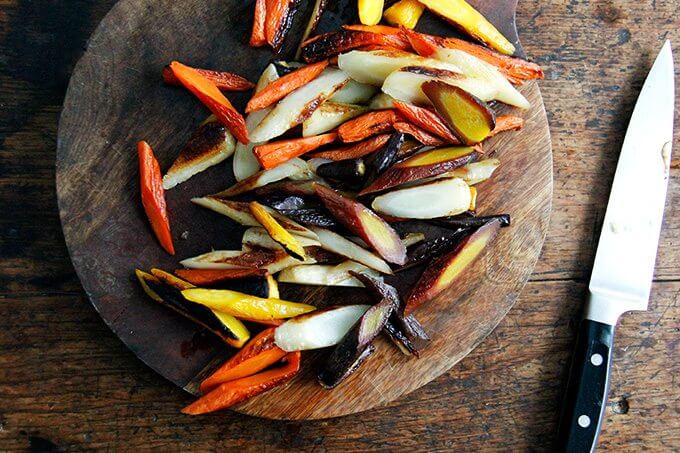 Soak them in vinegar.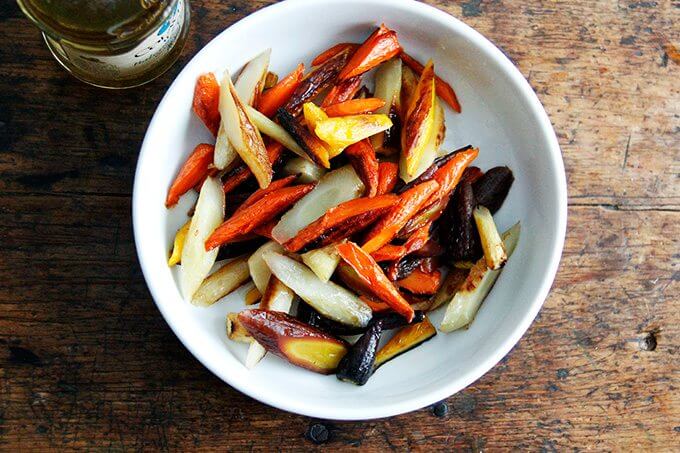 Season with lots of salt and freshly cracked pepper: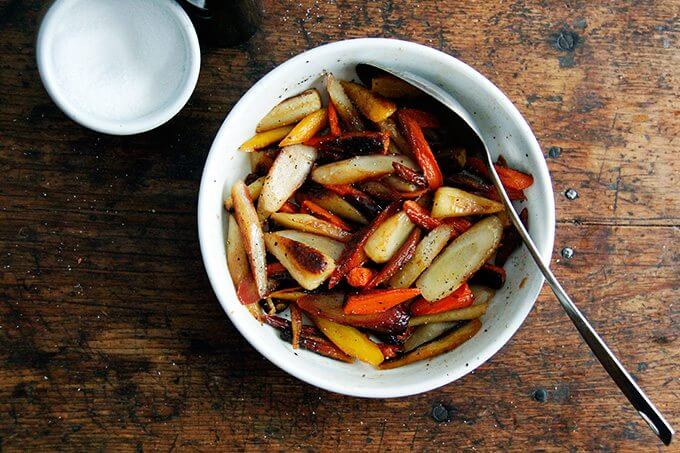 Add butter and honey (I use maple syrup):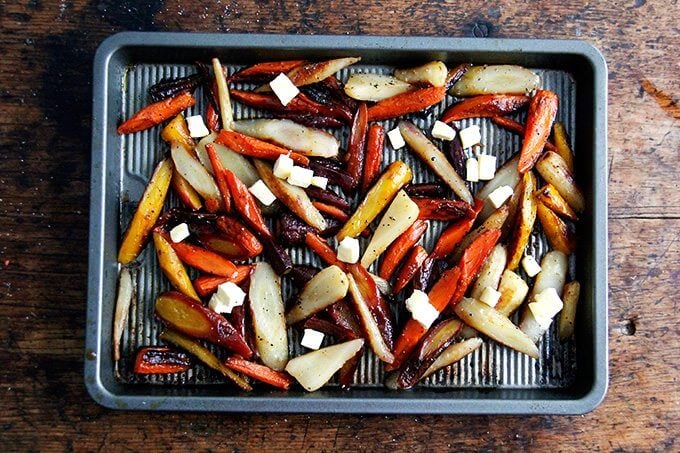 Roast again until they begin to really caramelize: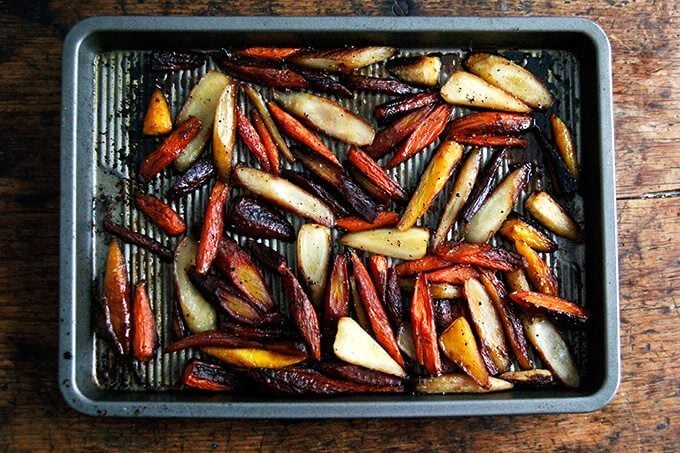 Taste, adjust seasoning, and toss with almonds: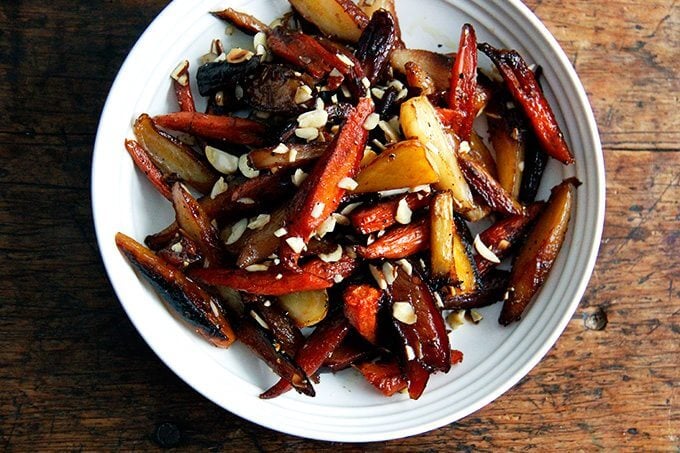 A few other Joshua McFadden Hits: 1. The Kale Salad That Started it All: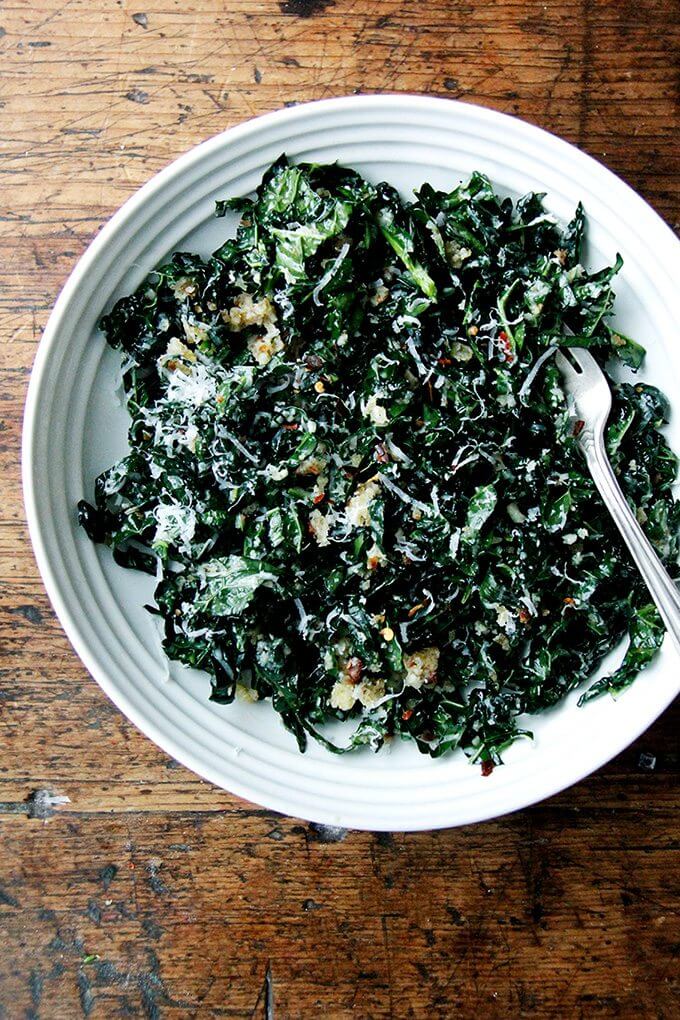 2. Roasted Mushrooms, Gremolata Style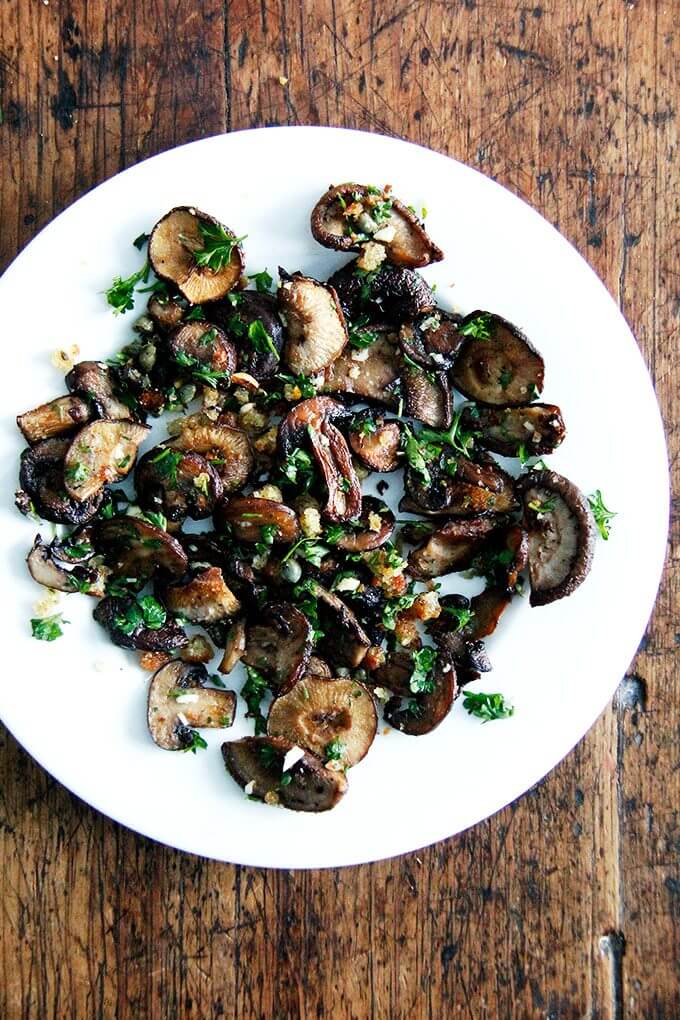 3. Crushed and Fried Potatoes with Crispy Herbs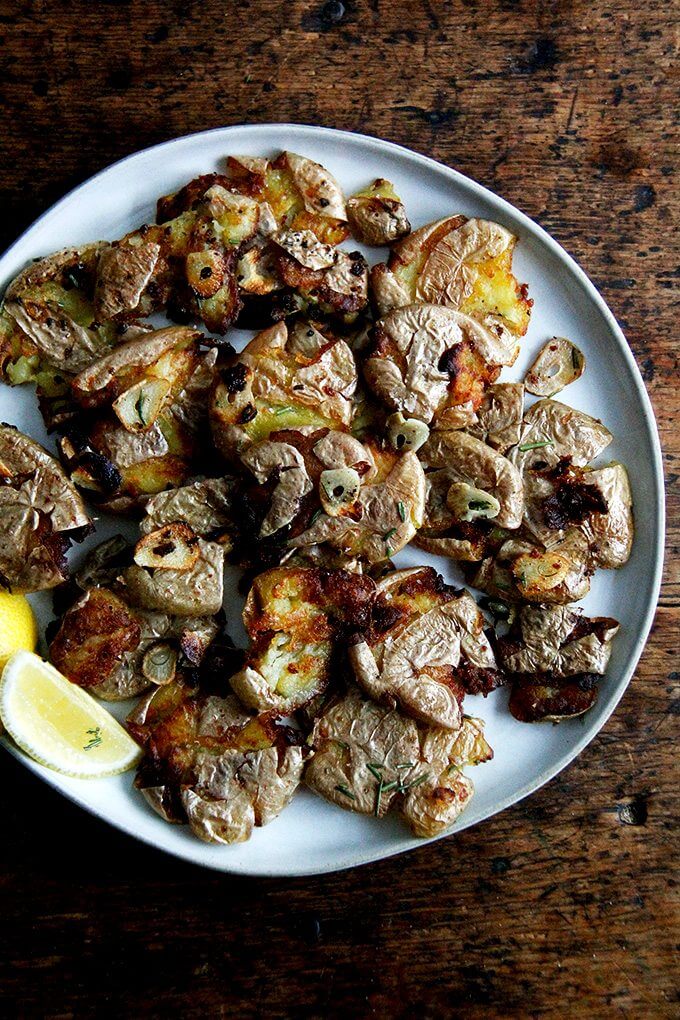 4. Raw Brussels Sprouts with Lemon, Anchovy, Walnuts, and Pecorino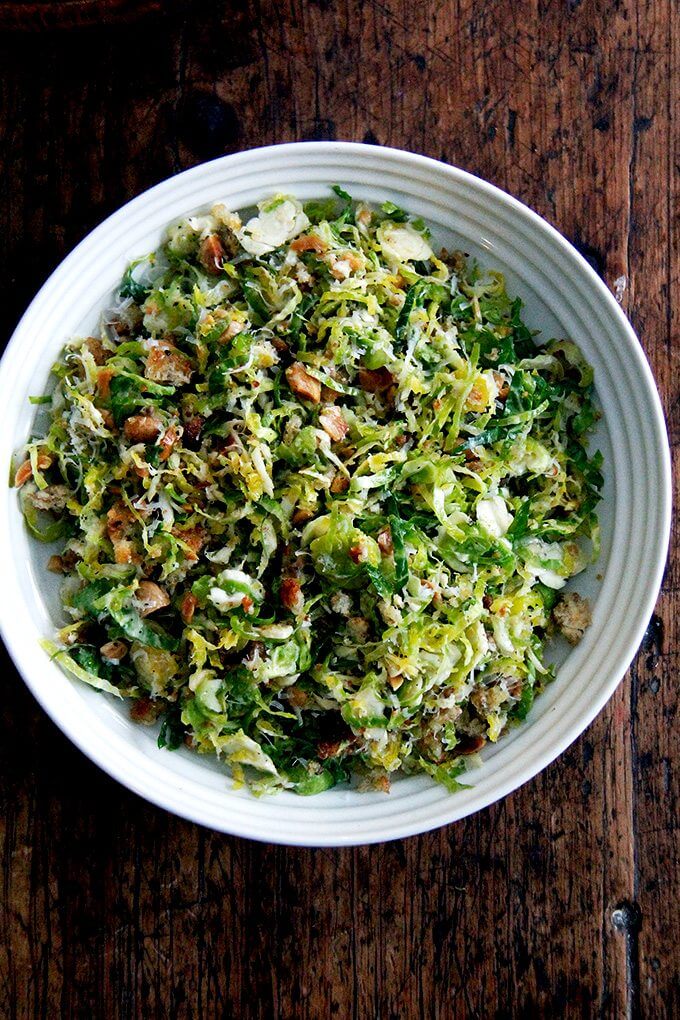 Print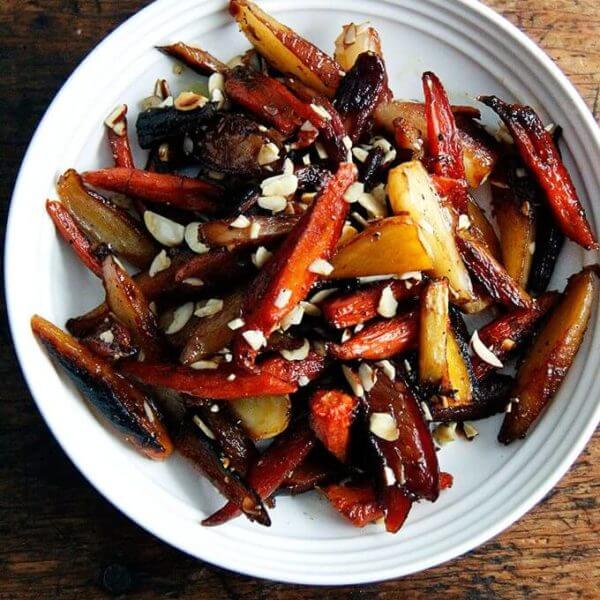 Twice-Roasted Carrots with Honey and Almonds
---
Description
From Joshua McFadden's Six Seasons
Confession: I didn't sign up for my winter CSA this year because I was worried about being able to handle it all without having a kitchen. So, I've been buying those 2-lb bags of rainbow carrots and using all of them as opposed to the suggested 1.5 pounds.
Re almonds: if you use sliced almonds, you may not need quite 1/2 cup — start with 1/4 cup and add more to taste. One time I had roasted Marcona almonds on hand, which were delicious here.
If any of you made the dukkah, I find a sprinkling of it on these roasted carrots to be particularly delicious.
---
1½

to

2

pounds carrots, trimmed and peeled, but left whole
Extra-virgin olive oil

2 tablespoons

white wine vinegar or white balsamic
Kosher salt and freshly ground black pepper

2 tablespoons

unsalted butter, cut into small pieces

2 tablespoons

honey or maple syrup

½ cup

almonds, toasted and chopped, see notes
---
Instructions
Heat the oven to 475°F.
Spread the carrots on a rimmed baking sheet, drizzle on a tablespoon or so of oil, and roll the carrots to coat them. Roast until they are very dark brown, even a bit burnt on the edges, but not fully tender, 10 to 12 minutes. Note: I am still without an oven, and my little Waring oven doesn't really get above 400ºF, so the first roast for me takes about 30 to 45 minutes—just roast the carrots till they look nearly charred on all surfaces. Leave the oven on but reduce the temperature to 300°F.
When the carrots are cool enough to handle, cut them on a sharp angle into 1/2-inch-thick slices and transfer to a large bowl. Add the vinegar, season with salt and lots of pepper, and toss to coat. Let the carrots sit for 5 minutes to absorb the vinegar.
Spread them out on the baking sheet again, distribute the butter bits on top, and drizzle the honey or maple syrup over all. Roast until they are fully tender and the butter and honey are making a lovely mess, 5 to 7 minutes. Note: Again, because my oven is a little guy, this step takes longer—just cook until everything looks caramelized. Scrape everything into a serving bowl, taste, and adjust with more vinegar, salt, or pepper. Top with the almonds. Serve warm.
Prep Time:

15 minutes

Cook Time:

1 hour

Category:

Side Dish

Method:

Oven

Cuisine:

American
Keywords: roasted, carrots, twice, honey, almonds
This post may contain affiliate links. Please read my disclosure policy.