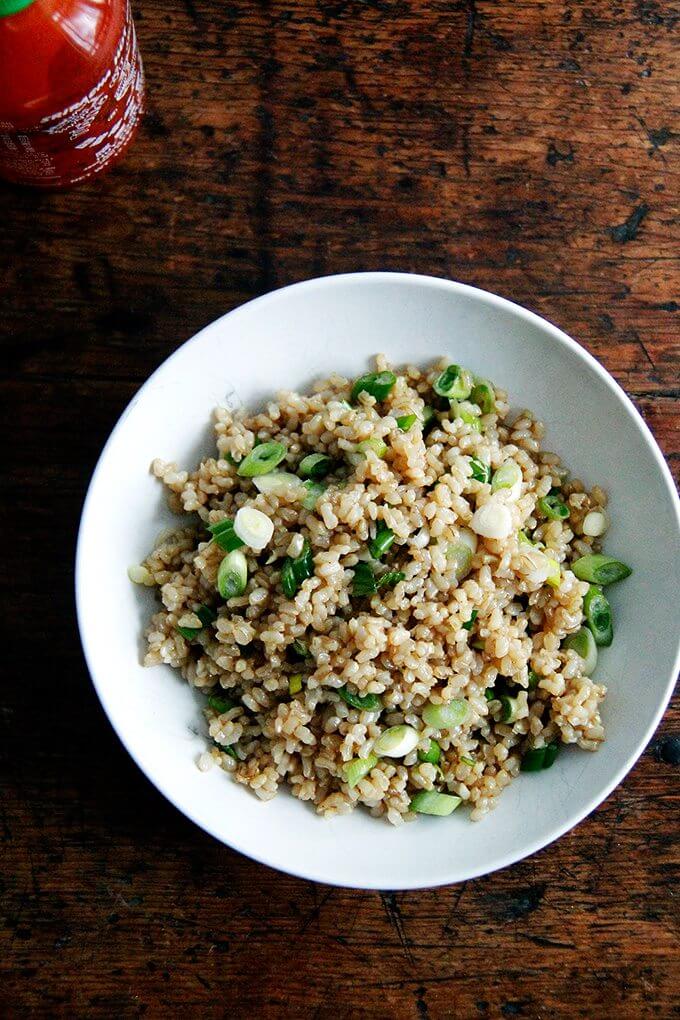 One late evening last July I impulsively bought an Instant Pot. Weeks passed before I took it out of the box, and when I finally gave it a whirl, the only thing instant about the experience was my regret for having purchased it. The black beans I had high hopes of cooking up so perfectly and quickly tasted like pebbles after 30 minutes. Another failed rice experiment shortly thereafter had me dreaming about throwing my IP through the window.
Why didn't I just buy a rice cooker?! I keep thinking. Alas. I stashed my IP in the basement and didn't think about it till a few weeks ago when a friend who had received an IP for Christmas began texting me. She had Melissa Clark's Dinner in an Instant out from the library and had made "amazing" brown butter steel cut oats and hard-boiled eggs that were so easy to peel. "Al," she wrote, "I think you might enjoy hauling yours out while your kitchen is under renovation."
And so I did. I started first with hard-boiled eggs, which cooked for 5 minutes and, as promised, peeled like a dream. Inspired by this success, I made soft-boiled eggs, which cooked for 3 minutes, also peeled like a dream, and instantly made my morning toast so much better. Inspired by this success, I made brown rice, which, without rinsing, cooked up so perfectly — not mushy at all, chewy in texture, nicely al dente.
At once my scorn and skepticism morphed into obsession and love. I made brown rice three days in a row, which tasted delicious on its own, but even better dressed with sesame, soy, mirin, and scallions. I served it with roasted broccoli one night, crispy sesame-baked tofu and shiitake mushrooms another, and baked tofu with coconut kale on another. Instant pot soft-boiled eggs accompanied each bowl.
The past few days, I've shared the process on my Instagram stories*, which has led a number of people to message me asking: should I get one?
I've been answering as honestly as I can, which is to say I don't know. On the one hand, I feel for the rice and eggs alone, it's worth it. On the other, if I were not a food blogger trying to keep up with the trends, I likely would have trudged on, struggling to peel my hard-boiled eggs, making pot after pot of dissatisfactory rice.
I kid.
No, but really, in my heart of hearts, the idea of an Instant Pot does not excite me. I like to stand at my stove top. I like to shake my pots and pans.  I like the feeling of making a perfectly poached egg, a feat achieved after years of messing up, of over and under cooking many, of finally learning how to get it just right by touch and sight.
Would an Instant Pot take out all the joy (or is it suffering?) of cooking? Where's the fun in a machine that makes the process foolproof?  Well, I have to say perfectly cooked rice and easy-to-peel eggs are really, really fun. And I suspect I am going to find a lot more uses than eggs and rice.  I'm particularly curious about making beans and curries and and other stewy, heart-warming dishes. As always, I'll keep you posted.
*Instagram Stories: If you are not on Instagram, this probably doesn't make any sense. If you are, you can now save stories and highlight them in your profile. I've saved the stories that show how to make both the Instant Pot eggs and rice in case you want to see it in action. 
A few thoughts on to buy an Instant Pot or not:
If you have the space, go for it. It's large and kind of an eyesore, but it packs away nicely, and it's not heavy.
If you don't have a rice cooker but have always wanted one, go for it. Perfectly cooked rice is such a treat, and if you have space for a rice cooker, you likely have space for an Instant Pot, which can do so many things (which I have yet to discover but when I do, I promise to share). The inner bowl, too, cleans incredibly well—way easier than a saucepan with a cooked layer of rice adhered to its insides.
If you're deterred by the thought of getting one. more. gadget. consider that this one might replace your slow cooker and/or pressure cooker and/or yogurt maker.
"Instant" is misleading. The rice in total takes about 55 minutes to cook. It takes about 6 minutes for the IP to get up to pressure, 22 minutes to cook, and at least another 20 minutes for the valve to release naturally.
Soft-boiled eggs, too, require the IP to get up to pressure, then they cook for 3.
Cost: The Instant Pot is not cheap, but it's comparable in price to some rice cookers, and given all that it does, it may be worth the investment.
Question: Do you have an Instant Pot? Do you like it? Share your successes and failures below.
Here's how to make perfect Instant Pot brown rice: Into the pot place: 1.5 cups water, 1 cup brown rice, 3/4 tsp kosher salt.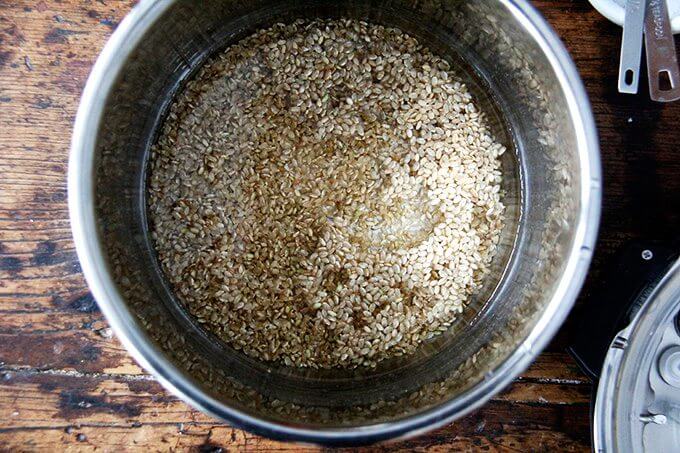 This is the rice I've been using: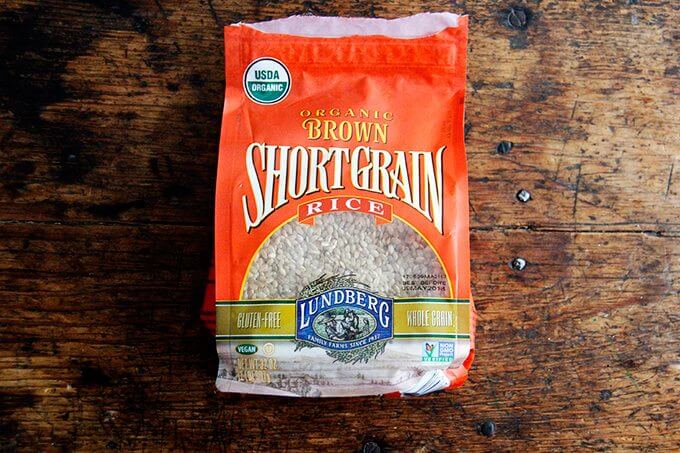 Set the IP for 22 minutes, high pressure. Once the 22 minutes is up, let the valve release on its own.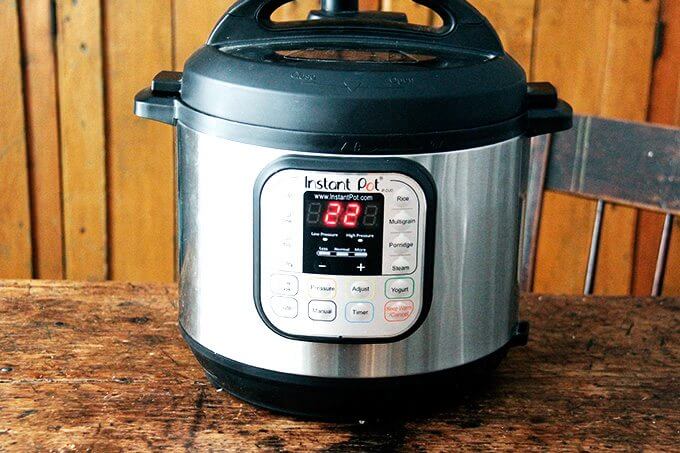 Uncover to find perfectly cooked rice.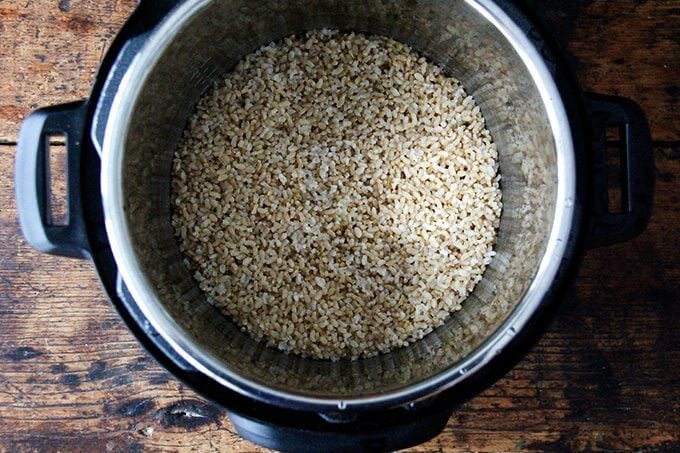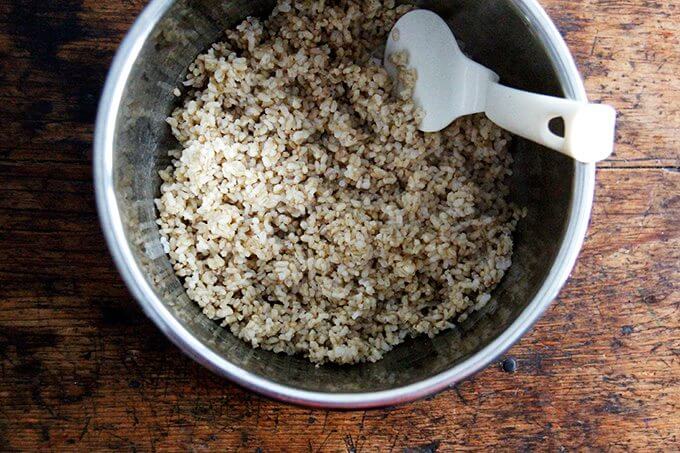 Slice some scallions: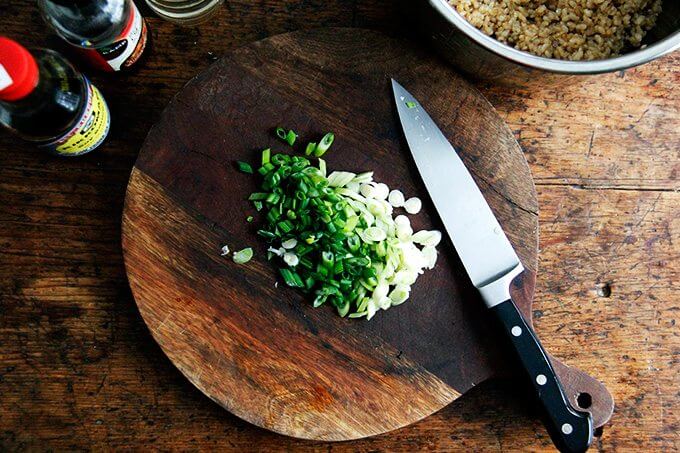 Add to the pot along with 1 tablespoon soy sauce, 2 teaspoons sesame oil, and 1 teaspoon mirin:

Toss to combine: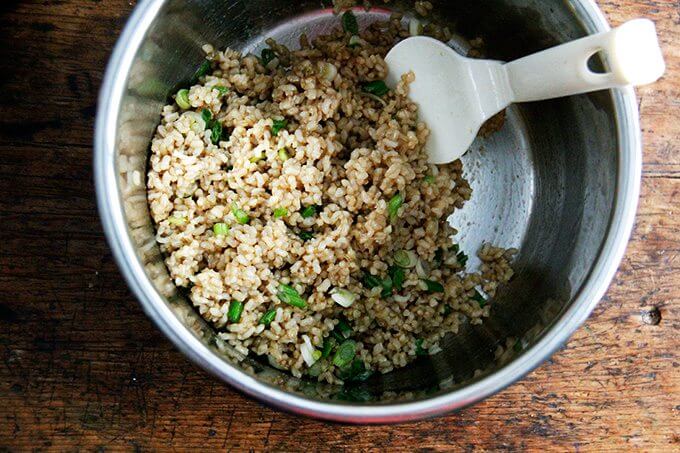 Drizzle with Sriracha, if you wish, and eat: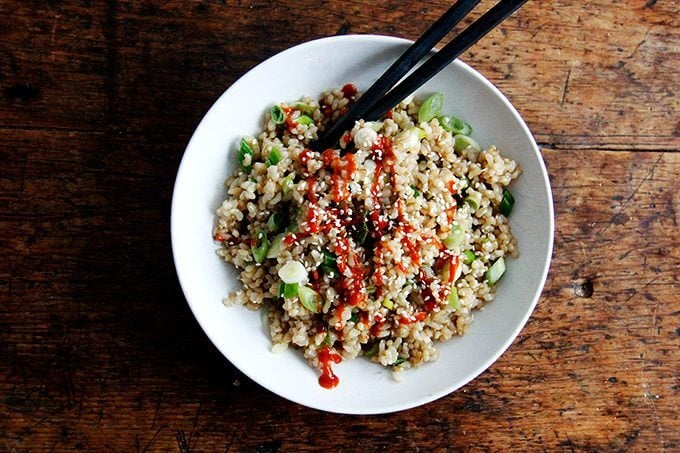 Or, nestle it under crispy sesame-baked tofu and shiitake mushrooms and top it with a perfectly cooked soft-boiled egg.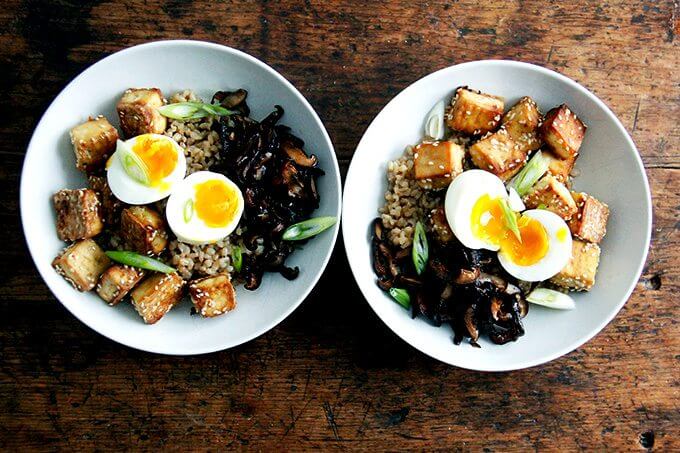 Print
Perfect Instant Pot Brown Rice
---
Description
Source: Ground Leaf
I have this 6-qt Instant Pot, which is important only because the size of the pot may affect the timing. These instructions work perfectly for my IP every time.  
---
Ingredients
for the rice:
1 cup

short grain brown rice, I've been using Lundberg organic

1 1/2 cup

s water 

3/4 tsp

kosher salt 
for the dressing:
1 tablespoon

soy sauce

2 teaspoon

s sesame oil

1 teaspoon

mirin

3

scallions finely sliced
---
Instructions
1. Place all ingredients the inner pot of your Instant Pot. 
2. Secure lid in place. Turn valve to Sealing.  Select manual, high pressure, and adjust the time to 22 minutes.
3. When the time has lapsed, allow the pressure to release naturally, which is when the silver button on the lid drops. Remove lid and dress with the soy sauce, sesame oil, mirin, and scallions. Toss to combine. Taste and adjust as needed. 
---