Three-Seed Crackers (Raincoast Crisps Copycat Recipe)
This post may contain affiliate links. Please read my disclosure policy.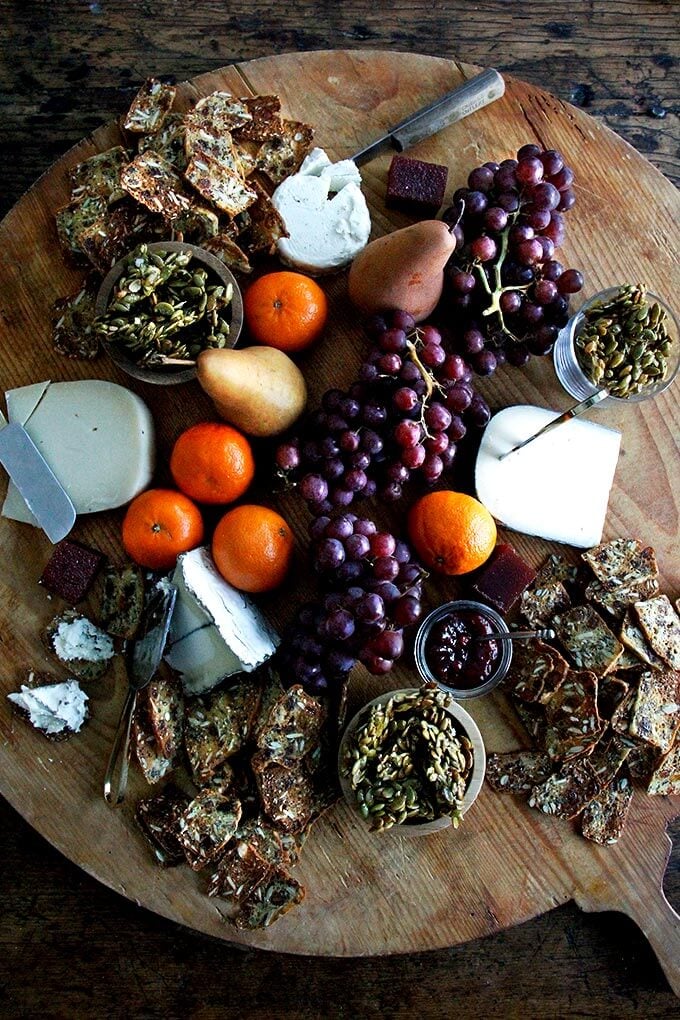 Early last year my aunt Marcy (from Vermont with the dogs and the spit), became obsessed with making homemade crackers in the fashion of Raincoast Crisps. Exhaustive online research coupled with extensive kitchen experimentation culminated in a recipe she deemed worthy of disseminating to the family. Before long, the crackers began appearing on cheese boards across the country: at my mother's house in CT, at my in-laws just a few blocks away, at my sister's down state.
These crackers are as delicious as pretty, and though the thought of making crackers from scratch may feel like too much trouble—what's wrong with store-bought?!—I'm here to tell you, they are worth the effort. First off, they're easy: you mix the batter in one bowl. Second, you can take liberties with the suggested ingredients: I used whole flax seed because I didn't have ground. I used sliced almonds in place of whole. I didn't toast the pumpkin seeds. I imagine pistachios and craisins and millet and countless other combinations of dried fruit, seeds, and nuts would work beautifully. Third, one recipe yields 240—TWO HUNDRED AND FORTY—crackers.
These crackers are baked twice, like biscotti, and after their first bake, they have to chill for three hours in the freezer. Again, this may feel like a pain, but it turns out to be a boon: you can stash the mini loaves in the freezer for months, and bake the crackers as needed. If I were really on my game from here on out, I would always have a supply of these loaves tucked away in the freezer ready to be sliced and baked at a moment's notice for an impromptu get together or to bring as a gift to a host.
Real talk: had I never tasted these crackers, I likely would have little interest in making them—I've never thought twice about buying crackers. But having seen how pretty these crackers look on a board, having tasted how delicious they are with countless cheeses, having observed other people's reactions to them, I couldn't not give them a go. These crackers steal the show, elevating a cheese board from hum-ho to unforgettable. If you're up for a little weekend project, I can assure you this one will not disappoint.
Here's how to make them: Gather your ingredients: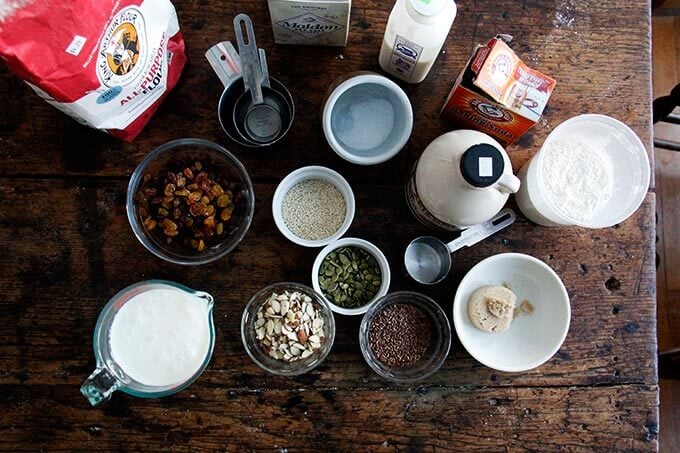 Stir together flour, salt, and baking soda: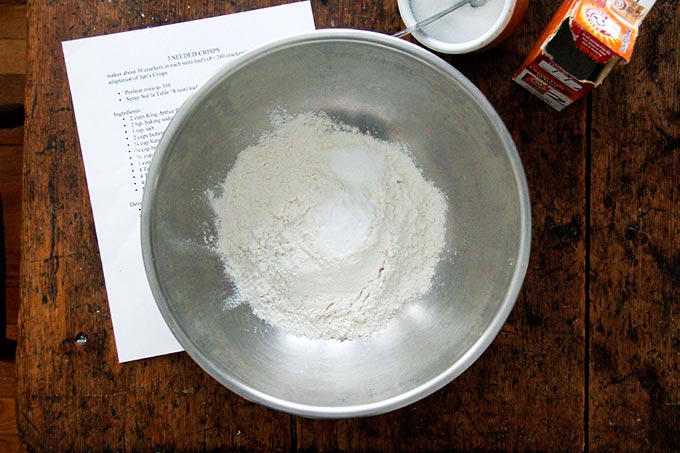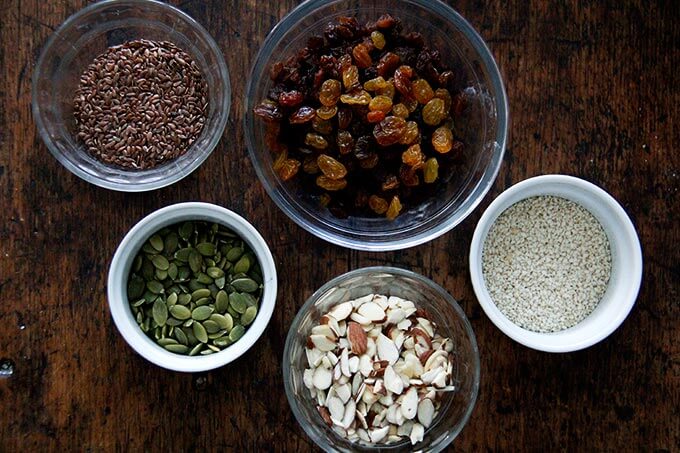 Add the dried fruit, nuts, and seeds: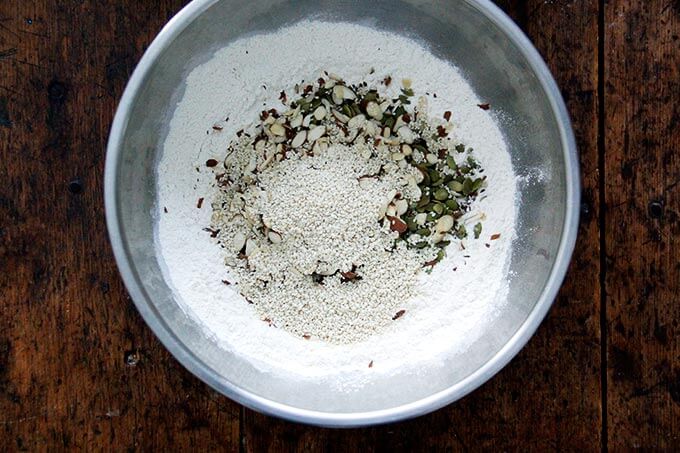 Toss to combine: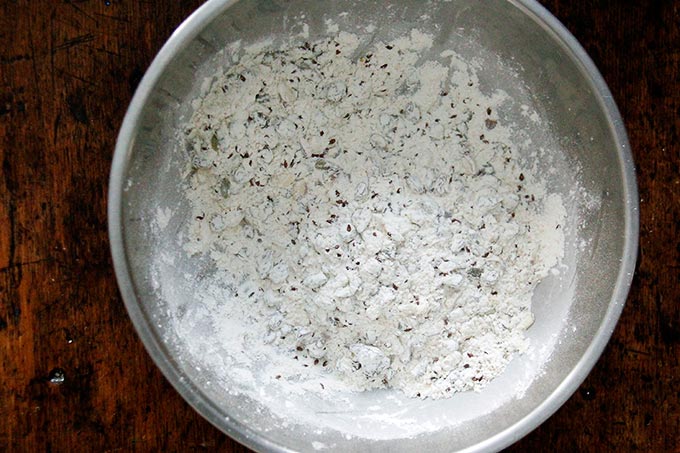 Add the buttermilk, maple syrup, and brown sugar: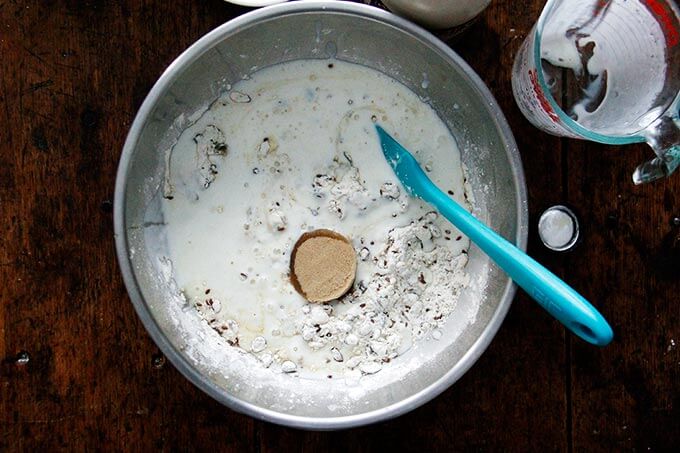 Mix: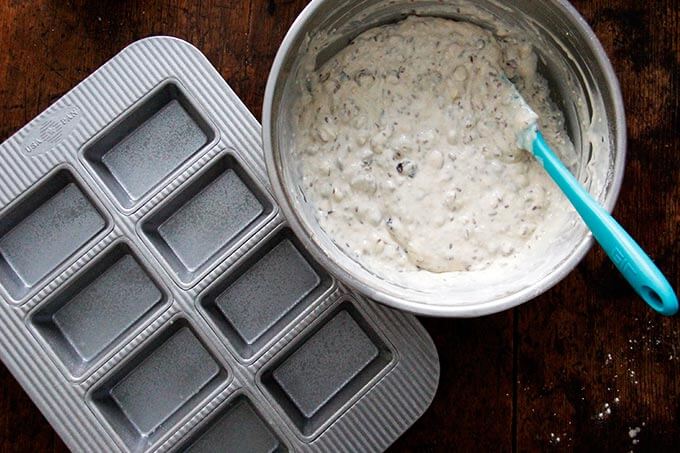 Fill mini loaf pans with batter: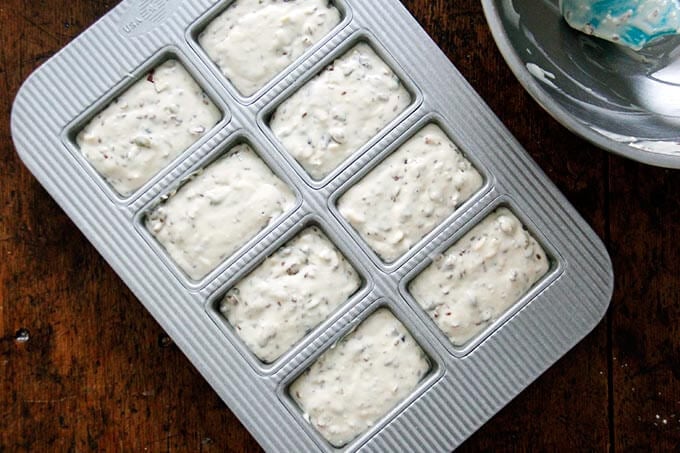 Bake loaves for 25 minutes: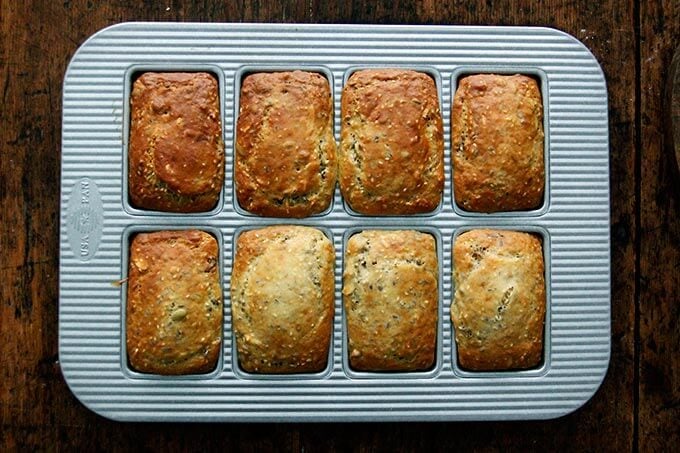 Cool completely, then freeze for at least 3 hours—freezing allows you to slice the crackers thinly: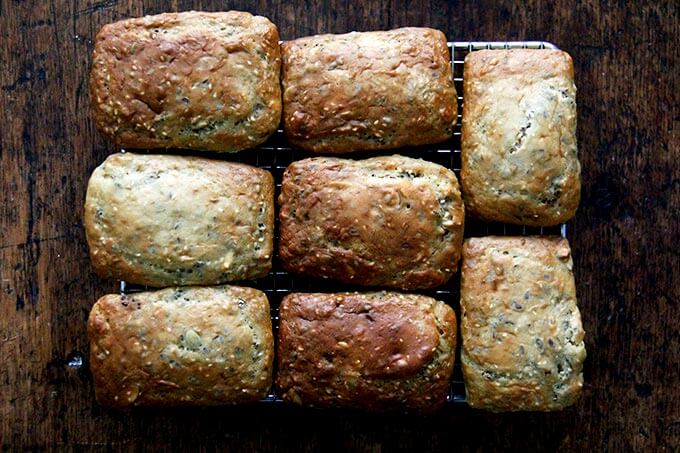 Cut the loaves as thinly as possible: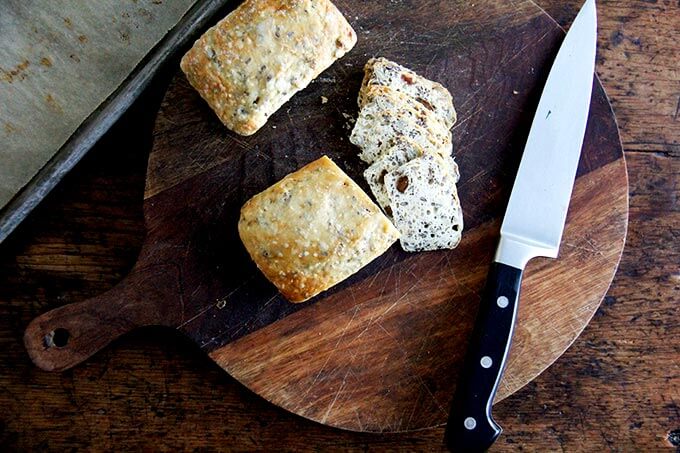 You should get about 30 slices per loaf: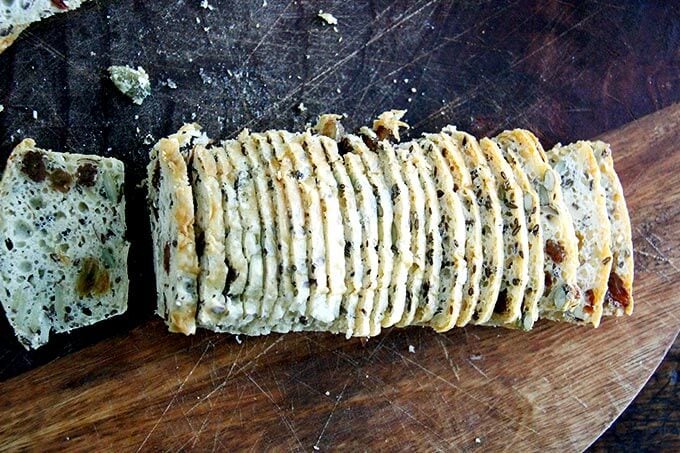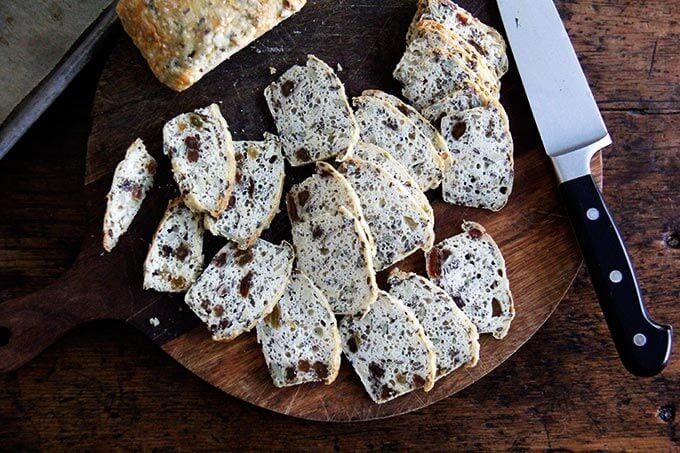 Bake until …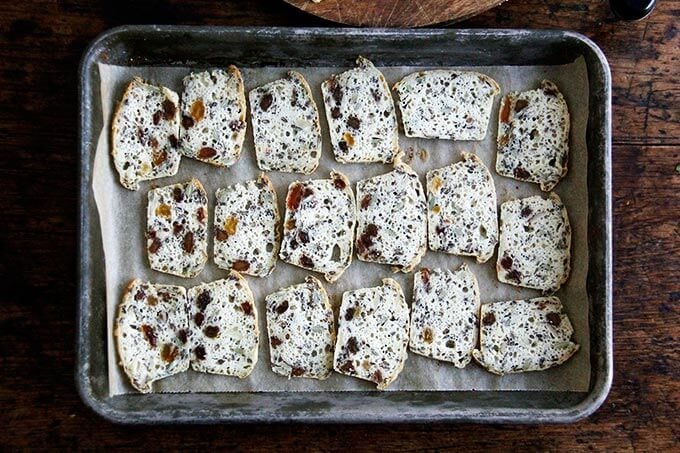 golden and crisp.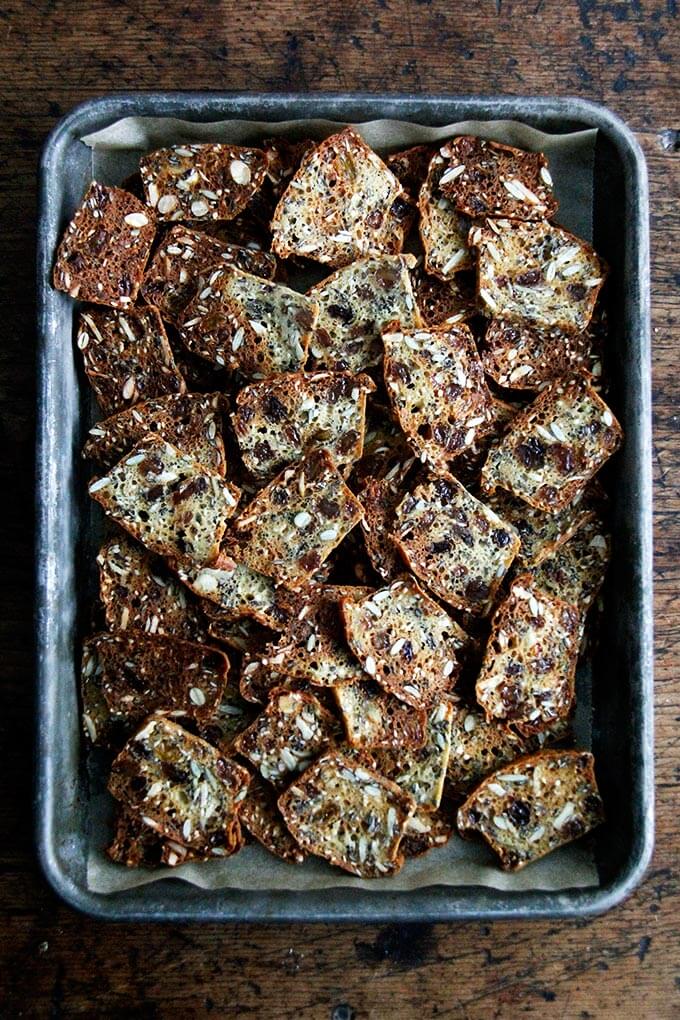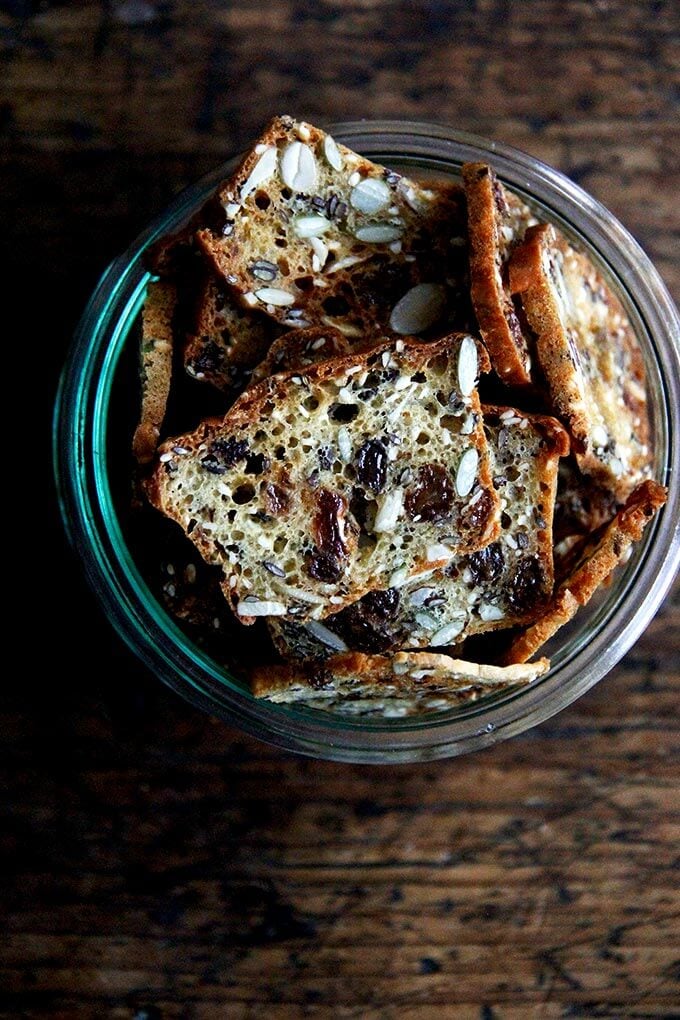 Break out some cheeses; here's a selection of cheeses, kindly sent to me by Cypress Grove: Purple Haze, Lamb Chopper, Midnight Moon, and Humboldt Fog. Humboldt Fog, one of my favorites, can be found fairly easily; the others may take some searching. Lamb Chopper is another longtime favorite.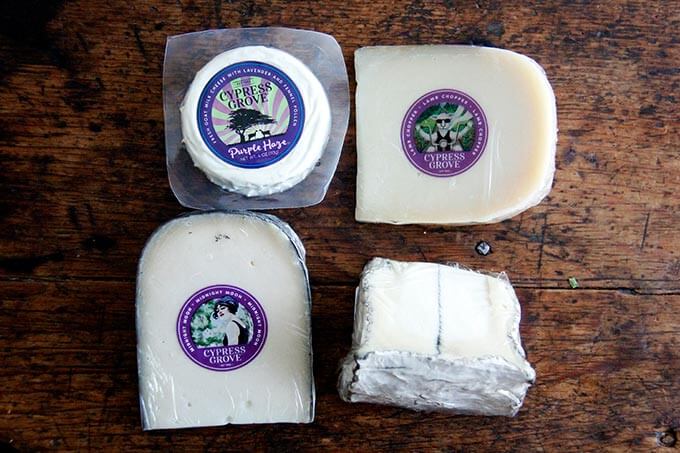 Arrange cheeses on a board with fruit, jam, quince paste (homemade or otherwise), and candied pepitas. Invite over the neighborhood. Have a great weekend!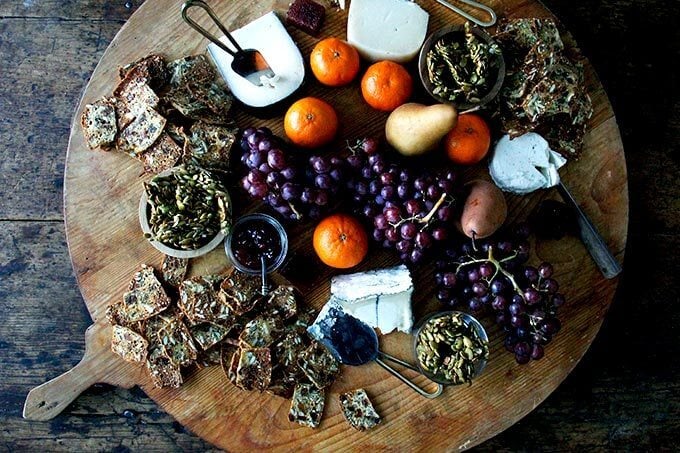 Print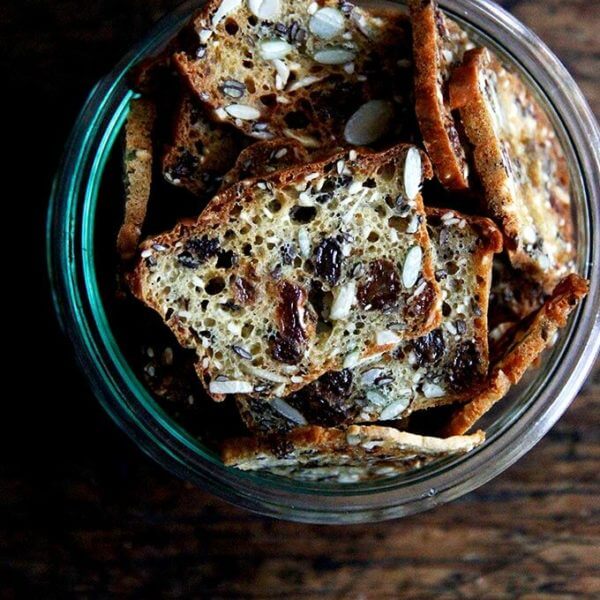 Three-Seed Crackers (Copycat Recipe in the fashion of Jan's Farmhouse Crisps and Raincoast Crisps)
---
Description
Note: You need one of these 8-loaf Pans or something similar.
I have a set of mini loaf pans that I think would also work, and though you would get a different shape, you could probably use muffin tins—your cross sections will be less loaf like, but that's not important. You also could use disposable mini loaf pans if you don't feel like investing in one of these other options at the moment.
I took a number of liberties with the recipe: used sliced in place of whole almonds, didn't toast the pepitas, used whole flax seed because I didn't have ground and didn't feel like making the effort to grind the flax seed I had on hand. It all worked out … I think this is a forgiving recipe.
If you feel like assembling a cheese board, these are nice additions: grapes, jams, quince paste, pears, clementines (more for the visual than anything else). Candied pepitas are so nice on a cheese board as well.
---
2 cups

all-purpose flour

2 teaspoons

baking soda

1 teaspoon

kosher salt

2 cups

buttermilk

¼ cup

maple syrup

¼ cup

brown sugar

½ cup

whole unblanched almonds or slice almonds

1 cup

golden raisins

4 tablespoons

ground flax seed or whole flax seed

4 tablespoons

sesame seeds

4 tablespoons

pepita seeds, slightly toasted (or not)
Maldon salt for sprinkling
---
Instructions
Preheat the oven to 350ºF. Spray a 8-loaf mini loaves pan or something similar (see notes) with nonstick spray. In a large bowl, whisk together the flour, baking soda, and salt. Add almonds, raisins, flax, sesame seeds, and pepitas. Toss with your hands to incorporate.
Add buttermilk, maple syrup, and brown sugar. Stir with a spatula or whisk to combine. Divide batter into 8-loaf pan, and bake 25 minutes or until firm.
Cool 15 minutes. Remove loaves from pan and allow to rest until totally cool. Transfer loaves to a ziplock bag and freeze for at least three hours and up to a month.
Use a very sharp knife, and cut into thin 1/16-inch slices—you should get about 30 crackers per loaf. Sprinkle lightly with Maldon salt.
Bake at 300ºF on ungreased cookie sheet 15 minutes and then flip crackers and bake 10 minutes on other side until dark golden. Allow to cool until very crisp before putting in jars.
Prep Time:

30 minutes

Cook Time:

40 minutes

Category:

Crackers

Method:

Oven

Cuisine:

American
Keywords: homemade, crackers, three, seed, raincoast, crisps, copycat
This post may contain affiliate links. Please read my disclosure policy.