Beet and Avocado Tartine with Perfect Instant Pot Beets
This post may contain affiliate links. Please read my disclosure policy.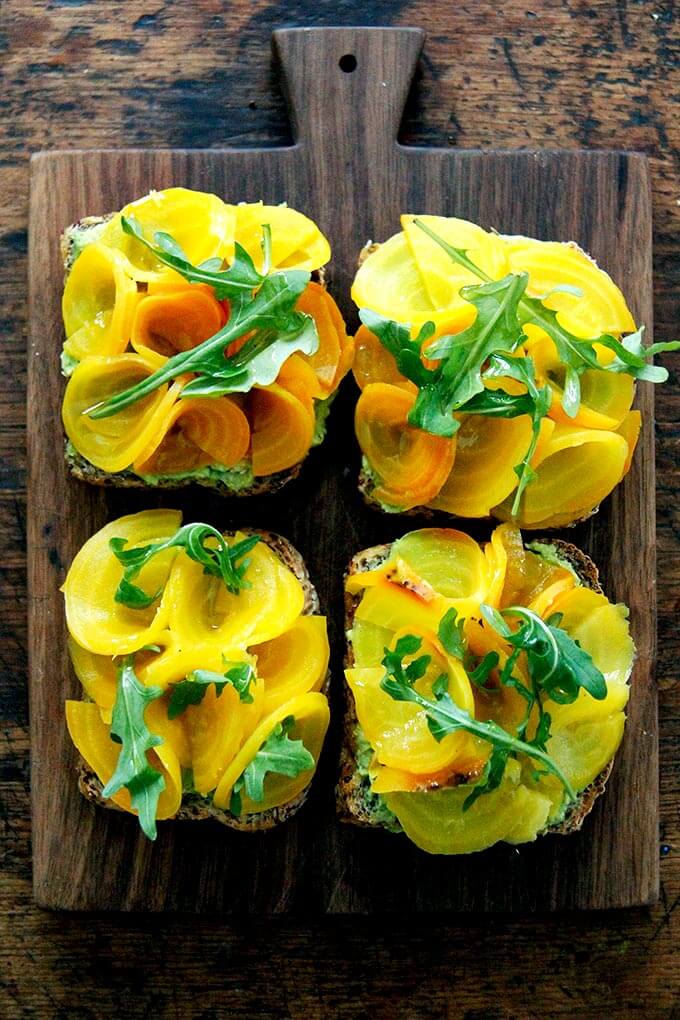 A few weeks ago, I set out to make the roasted beet and avocado salad from Josh McFadden's Six Seasons. I was Instagram-storying the process, and when I pulled my beets from the oven only to discover they needed much more time, someone messaged me: "Try cooking beets in your Instant Pot," she said. "They'll be done in 30 minutes, and the skins will fly off."
And so I did. And I've been cooking my beets in the Instant Pot ever since. Sometimes I find the beets need a little more than 30 minutes, sometimes less, and, as I've discovered with other IP cooking experiments, the IP doesn't necessarily make the beet-cooking process that much faster: it takes a few minutes for the pot to come to pressure, and then the beets cook for 30 to 35 minutes, and then they cool for another 10. But somehow, as with other IP experiments, the IP makes it feel easier, and I've been cooking beets more often because of it.
The Six Seasons salad never materialized — the day escaped and when I discovered I didn't have a few of the ingredients, the recipe took a turn, becoming a tartine instead: toasted slices of quinoa-flax bread smeared with mashed avocado topped with twists of thinly sliced beets.
It looks kind of fancy and fussy, but it's actually incredibly easy to assemble thanks to a simple trick (see below), and it tastes so good, the rich, creamy avocado a perfect foil for the bright, vinegar-soaked beets.
A few notes:
Beets: Dress them with vinegar when they are still warm. I remember reading this tip in an Ina Garten book several years ago, but a note in Six Seasons reminded me of its importance: "Always dress cooked roots and potatoes while they are still warm. The acidic ingredients will be absorbed more deeply, making your final dish nicely bright."
I know beets can be polarizing, but if you're on the fence, try dousing them with vinegar and sea salt—they are irresistible.
If you don't have an Instant Pot, don't despair! You can cook beets how we've all been cooking beets before the birth of the IP. I like salt-roasting them, but you can steam roast or boil them, too. Notes in the recipe below.
PS: Perfect Instant Pot Brown Rice | Perfect Instant Pot Soft-Boiled Eggs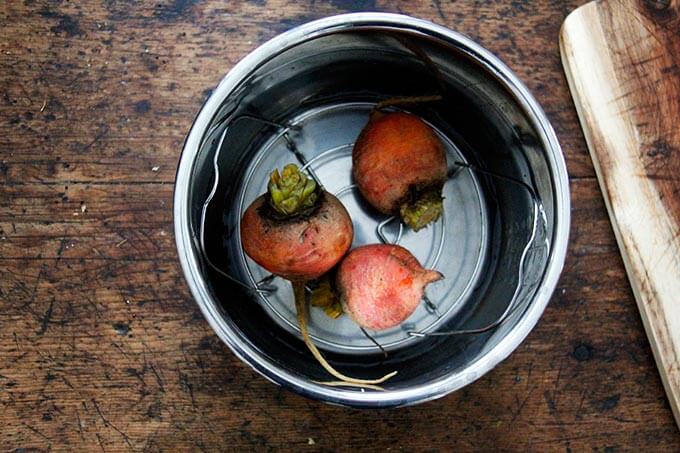 Here's how a play-by-play. Place beets in your Instant Pot with 1 cup water: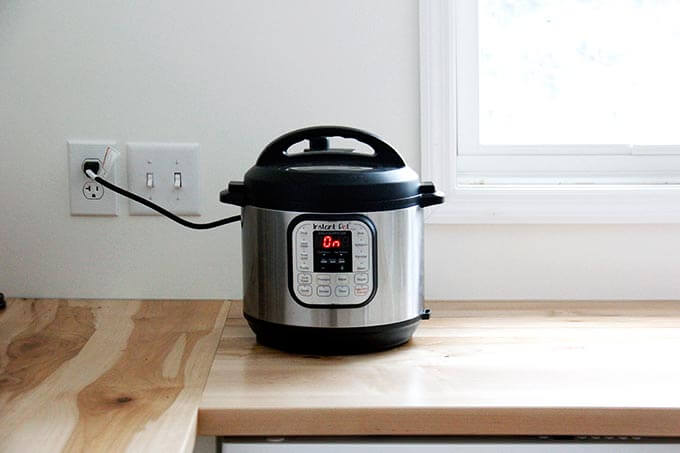 Secure the lid into place, and turn valve to sealing. Using the manual settings and high pressure, cook the beets for 35 minutes. (This is the one I have: the 6-qt IP Duo.)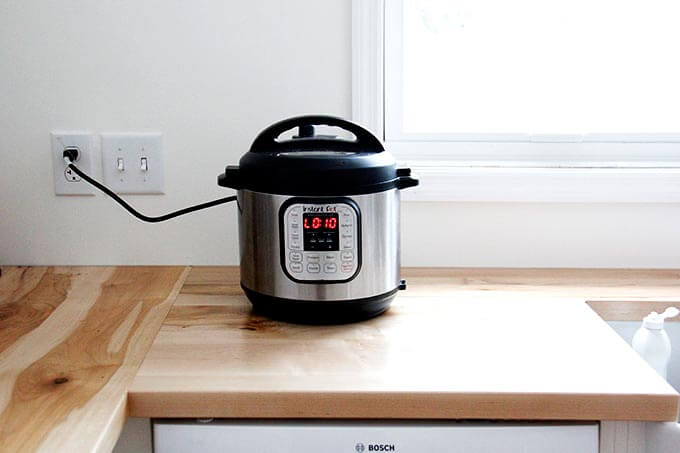 Let the valve release naturally for 10 minutes.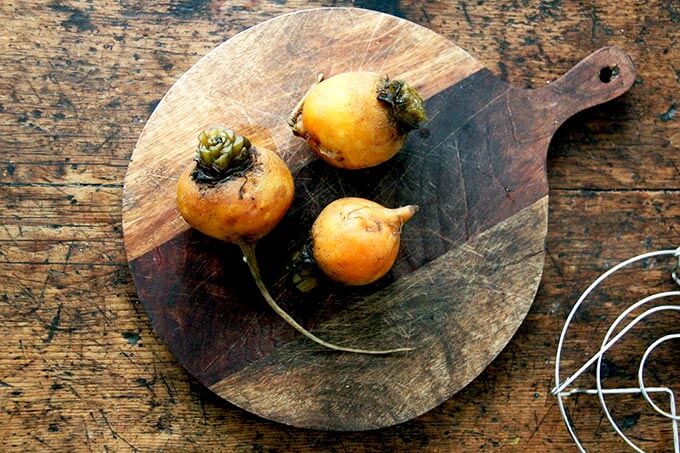 Let the beets cool briefly.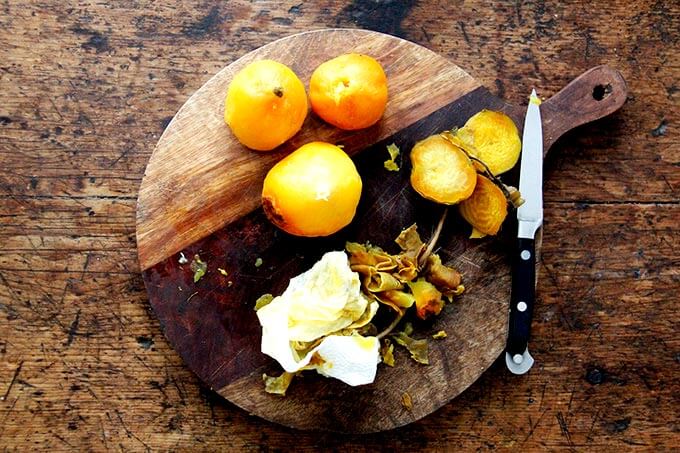 Cut off the root end of each beet, then rub off the skins—paper towels helps here.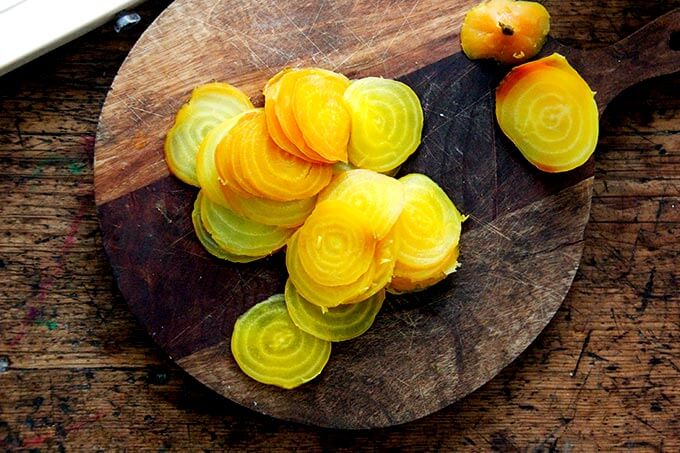 Slice beets thinly.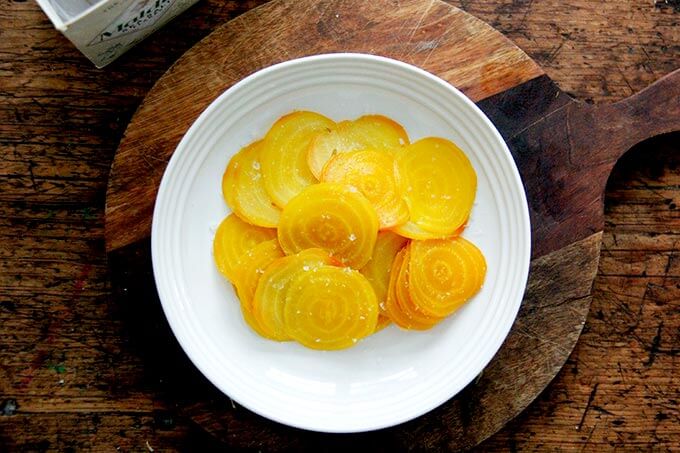 Salt them.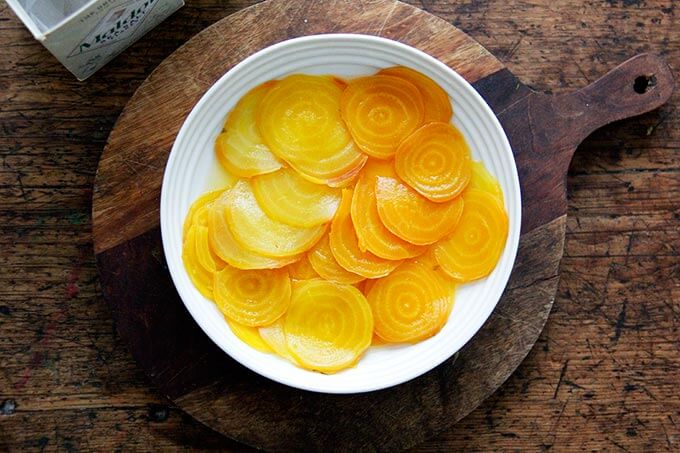 Douse them in vinegar.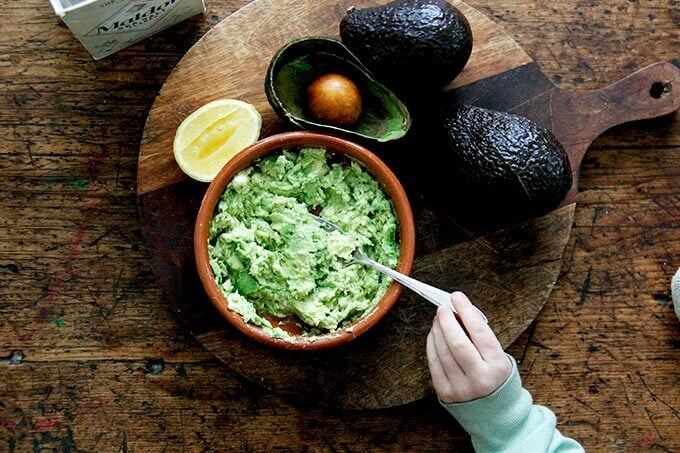 Mash an avocado or two with salt and lemon.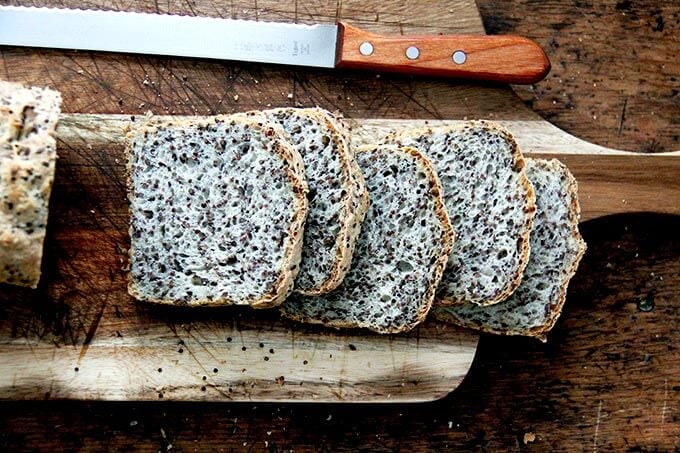 Meanwhile slice and toast some bread.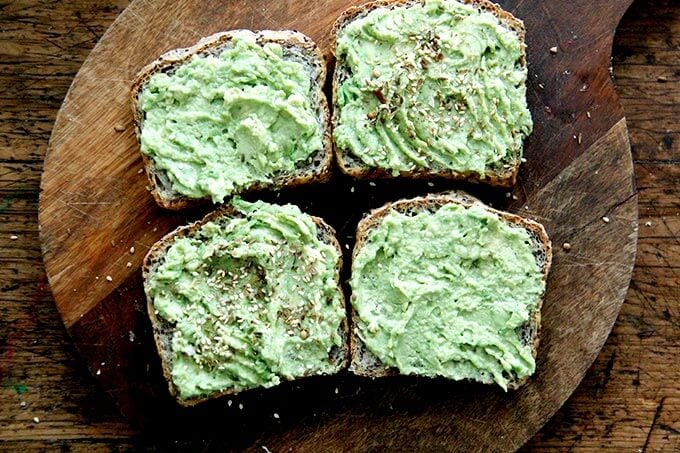 Spread the mash over the toast. A pinch of dukkah, if you have it on hand, is nice but totally optional.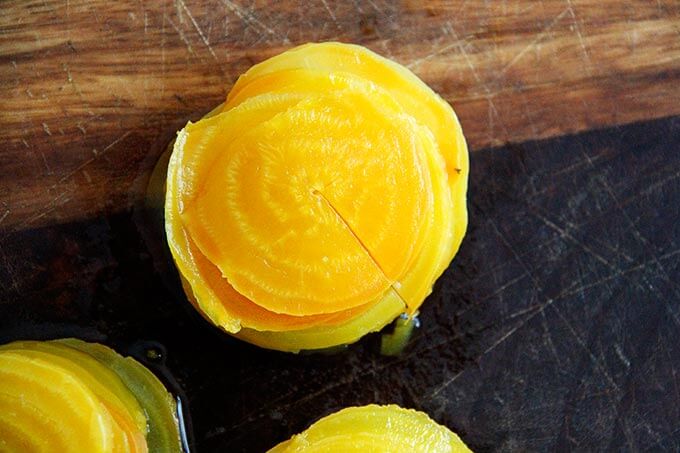 Stack the beets and make a slit into the stack.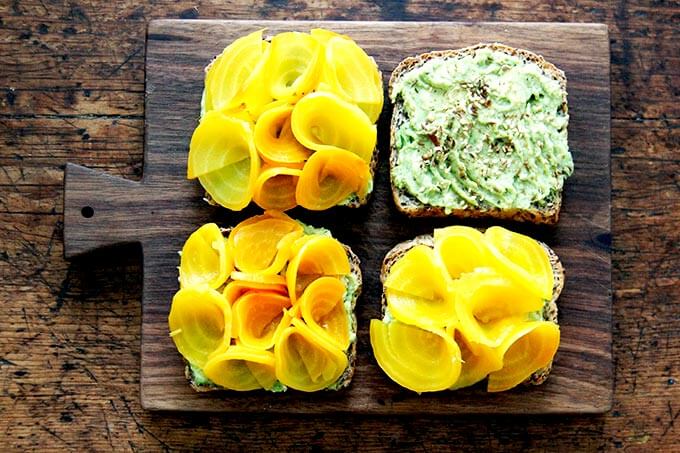 Twist the beets into little horns and arrange on top of the avocados.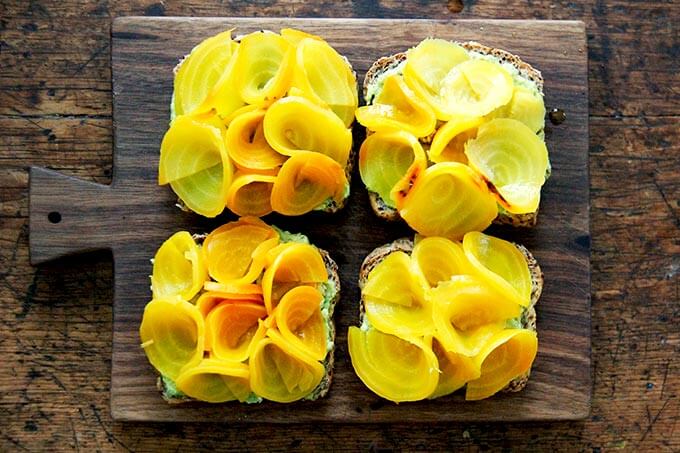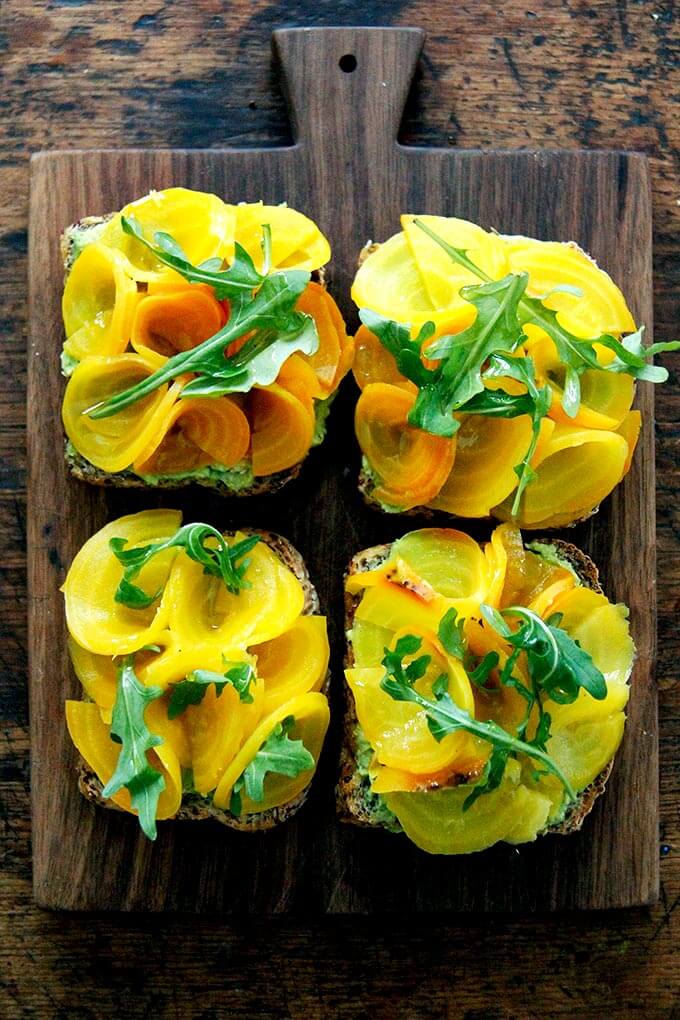 Sprinkle with greens and drizzle with olive oil.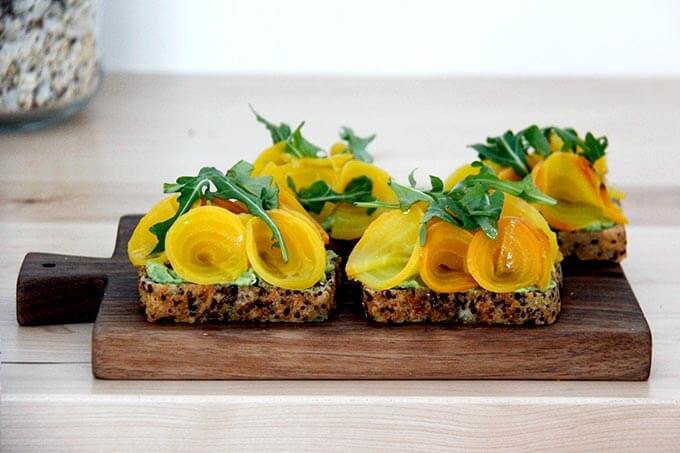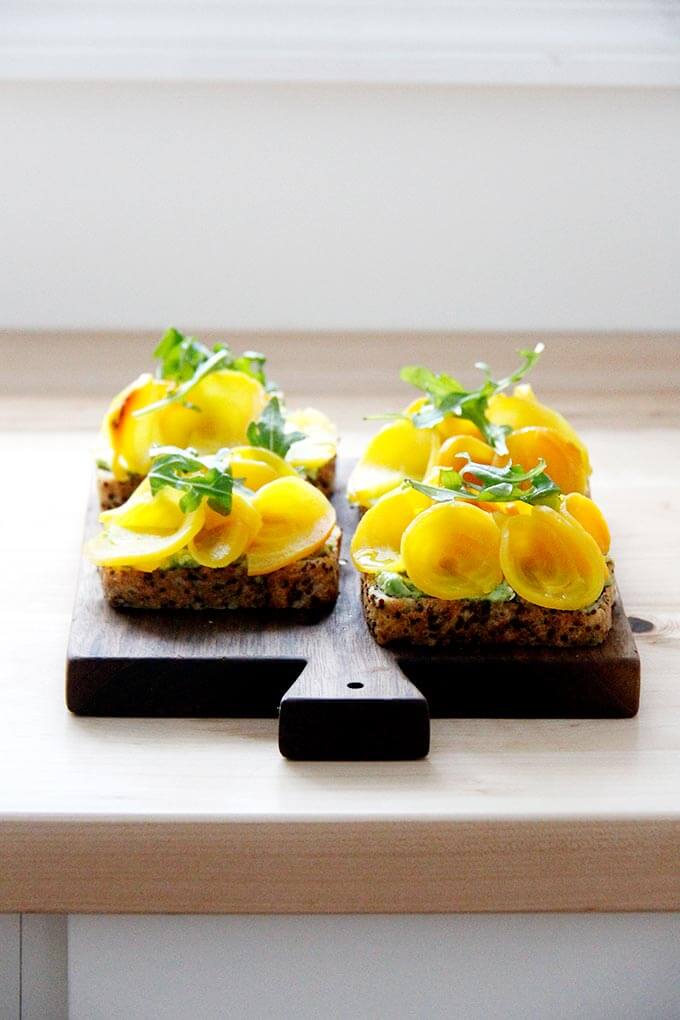 Print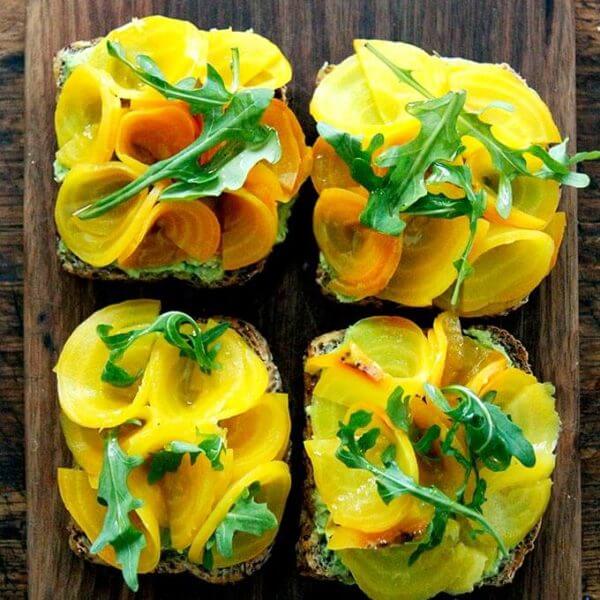 Perfect Instant Pot Beets + Beet and Avocado Tartine
---
Description
If you don't have an Instant Pot, you can either roast the beets in the oven as here (salt-roasted beet salad with walnuts and goat cheese) or you can simply boil them until they are knife tender or you can steam-roast them: scrub the beets to remove any dirt, place them in small baking dish (a pie plate or an 8- or 9-inch pan), pour in 1/4 cup water, season the beets with salt, cover pan tightly with foil, and bake for about an hour or until the beets are knife tender.
I know "medium-sized" is very vague, but I haven't been weighing the beets. The ones I've been buying have not been massive, but they have not been tiny either. It may take some trial and error to get the timing right and depending on which IP you have, the timing may vary. I have this one: 6-qt IP-Duo.
If you have dukkah on hand, a pinch of it it nice here, but it's totally optional.
---
For the Instant-Pot Beets:
3

to

4

medium-sized beets, see notes
For the tartine:
3

to

4

cooked beets, skins removed
flaky sea salt, like Maldon, or kosher salt
white balsamic vinegar

1

to

2

ripe avocados
squeeze of lemon

4

slices quinoa-flax bread or other seedy bread
handful or arugula or pea shoots or micro greens
drizzle olive oil
---
Instructions
Place steamer insert and 1 cup water in the inner pot of your Instant Pot. Place beets on top of steamer insert. Secure lid in place. Turn valve to Sealing.  Select manual, high pressure, and adjust the time to 35 minutes.
When the time has lapsed, allow the pressure to release naturally for 10 minutes, then turn the valve to venting, carefully remove the lid, carefully remove the beets. A knife should insert into the flesh of the beet easily. If it doesn't, return beets to pot and cook 5 to 10 minutes longer. Let beets cool for about 5 minutes or until you are able to handle them. Slice off the root end. Use paper towels to rub off the skin.
Thinly slice the beets. I like to do this on a mandoline, but if this makes you nervous, simply slice the beets thinly with a knife. Transfer them to a shallow bowl and while they are still warm, season them with salt and douse them with vinegar. Set them aside.
Halve the avocado, remove the pit, transfer the flesh to a bowl and mash with a pinch of sea salt and lemon to taste. Depending on the size of the avocados, you may need 1 or 2. Taste this mixture — it should taste well seasoned, so adjust with salt and lemon as needed.
Place slices of bread in a toaster or stick them under the broiler (watching closely) until they are lightly toasted. Spread the avocado mash evenly across each slice of toast. Stack the slices of beets into 3 or 4 small piles. Point the tip of your knife into the center of the top beet on one of the stacks, then slice straight down through the stack. Repeat with the remaining stacks.
Twist each beet into a little horn and nestle onto each avocado-smeared slice of toast until each slice of toast is covered with the beets. Sprinkle a tiny amount of greens over each toast. Drizzle with olive oil. Serve.
Prep Time:

15 minutes

Cook Time:

45 mintues

Category:

Breakfast

Method:

Instant Pot

Cuisine:

American
Keywords: instant pot, beets, avocado, tartines, arugula, breakfast, brunch
This post may contain affiliate links. Please read my disclosure policy.