Overnight, Refrigerator Focaccia = The Best Focaccia Bread Recipe
This post may contain affiliate links. Please read my disclosure policy.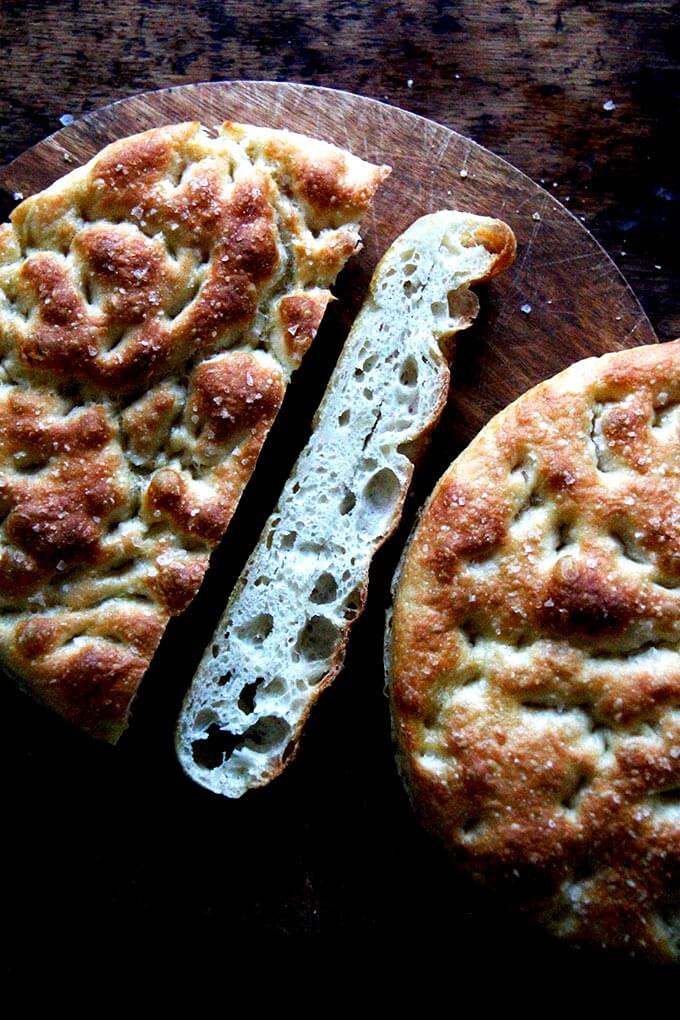 A few summers ago, I bumped into Richard Bourdon at Berkshire Mountain Bakery. During our brief chat, he told me, among other things, he would never write a cookbook because he's always changing his methods.
I was shocked to hear this because I would have thought that after 30+ years of running his renowned bakery, he would know all there is to know about bread baking, that his formula would require zero tinkering, and that he and all of his staff could churn out the acclaimed BMB breads in their sleep.
But it was refreshing and reassuring to hear this, too, because I'm constantly changing how I make things, and I don't know that I'll ever stop. For the past few months, I've been making the base focaccia bread recipe from Bread Toast Crumbs, but trying different things: using more yeast, using less yeast, doing longer, slower rises at room temperature, doing longer, slower rises in the refrigerator.
What Makes The Best Focaccia?
I'll spare you all the details of the various experiments and skip straight to what I've found creates the best focaccia, one that emerges golden all around, looking like a brain, its surface woven with a winding labyrinth of deep crevices: refrigerated dough.
This is nothing novel—many bakers extol the virtues of the cold fermentation process—and it came as no surprise to me either: it was, after all, past-prime Jim Lahey refrigerated dough that showed me how easy focaccia could be: place cold, several-days-old pizza dough in a well-oiled pan, let it rise for several hours or until it doubles, drizzle with more oil, dimple with your fingers, sprinkle with sea salt, then bake until done.
Employing a refrigerator rise takes time because the cold environment slows everything down initially, and during the second rise, the cold dough takes time to warm to room temperature. The overall effort, however, is very hands off, and the result is worth it. In sum, I've found:
Allowing the dough to rest 18 to 24 hours in the fridge yields the best results.
The amount of yeast doesn't really matter.
A buttered or parchment-lined pan in addition to the olive oil will prevent sticking. I've been baking the focaccia in two 9-inch Pyrex pie plates. Butter + oil is essential to prevent sticking. I also love my 9×13-inch USA Pan for this one.
Count on 2 to 4 hours for the second rise.
After the second rise, dimple the dough, then immediately stick the pans in the oven — this has been a critical difference for me in terms of keeping those desirable crevices. If you dimple and let the dough rise again even for 20 minutes before popping the pan in the oven, the crevices begin to dissolve. Note: The bread still tastes delicious without all of those crevices, but there's something appetizing about the brain-like appearance … or is that just me?
Friends, the above video shows how to bake the focaccia in a 9×13-inch USA Pan and the below photo play-by-play offers the same instruction but for glass Pyrex pie plates. With my USA Pan, I do not need to butter before it before I oil it; with my Pyrex pie plates, butter is essential to prevent sticking. As always, I am here if you have questions.
PPS: Foolproof Homemade Bialys: A Step by Step Guide
PPPS: Easy, Homemade Pita Bread Recipe
A familiar scene: 4 cups (512 g) flour, 2 teaspoons salt, 2 teaspoons instant yeast: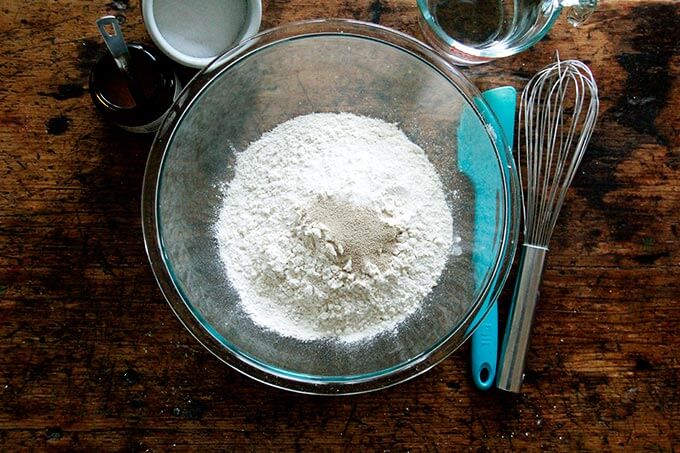 Add 2 cups lukewarm water: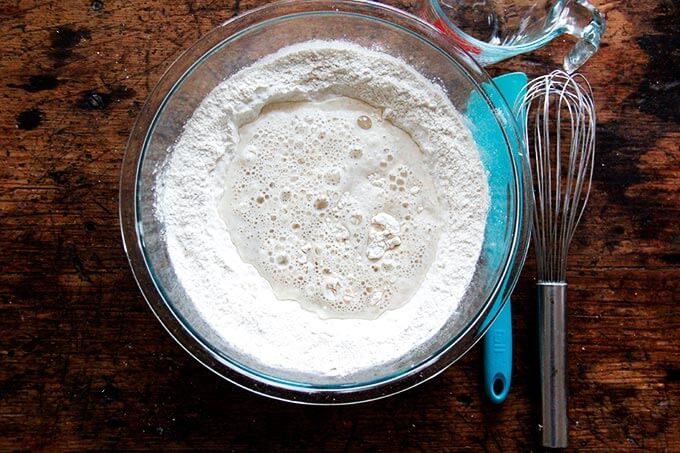 Mix dough: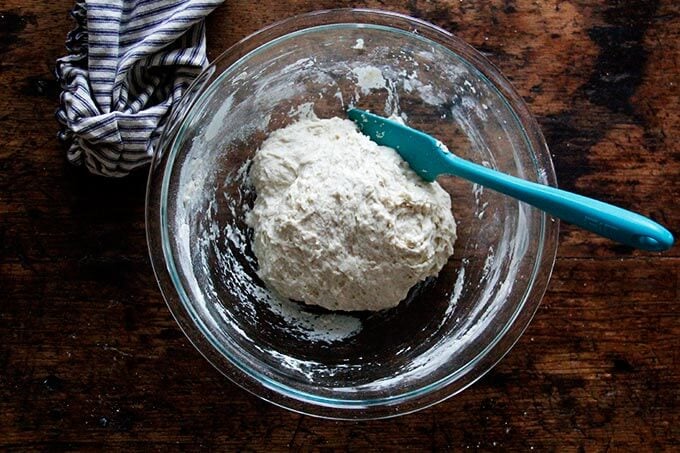 Cover bowl. You all have one of these, right? Stick bowl in the fridge immediately; leave it there to rise for 12 to 18 hours (or longer—I've left it there for two days).
Remove from fridge, and remove cover: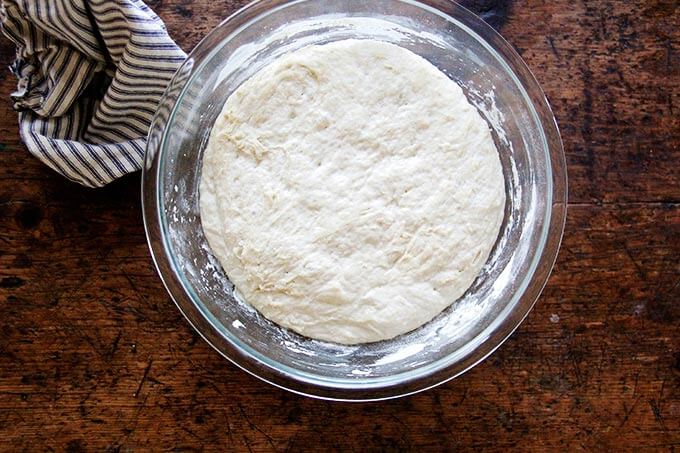 Deflate dough: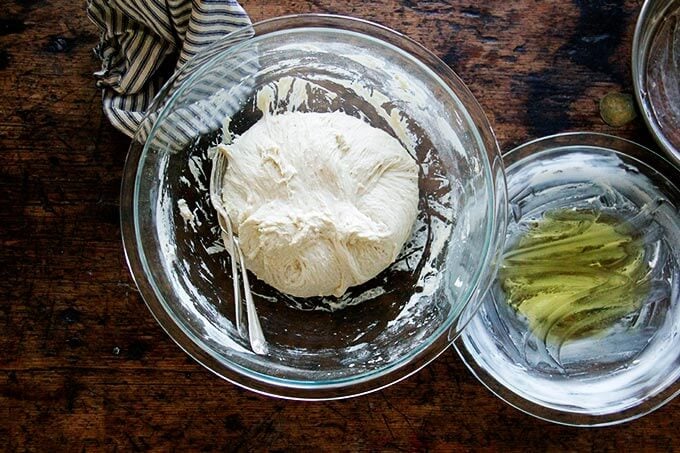 Butter or line with parchment paper two 8- or 9-inch pie plates or something similar; then pour a tablespoon of olive oil into each. (The butter/parchment will ensure the bread doesn't stick.) Divide the dough in half and place each half into the prepare pans. Use your hands to turn the dough in the oil, creating a rough ball. Don't touch the dough again for 2 to 4 hours depending on your environment.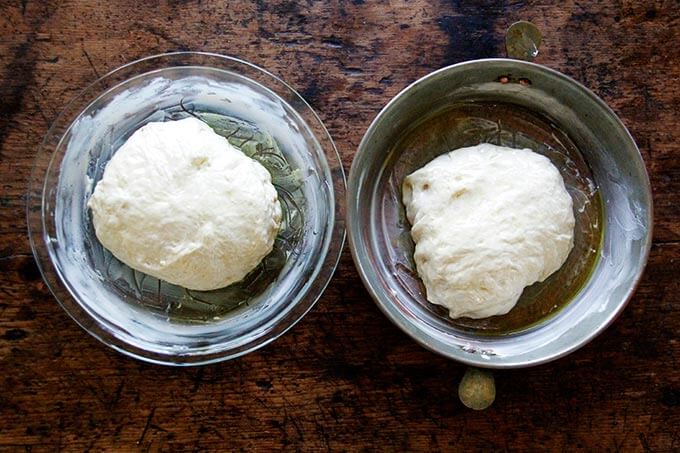 When the dough looks like this…
…pour another tablespoon of olive oil over each round, and using your fingers, press straight down to create deep dimples. Sprinkle with flaky sea salt, such as Maldon.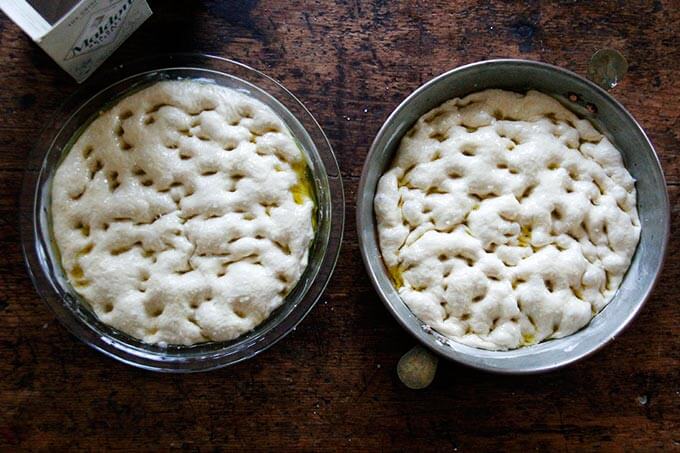 Transfer to oven immediately and bake at 425ºF for 25 minutes or until golden all around.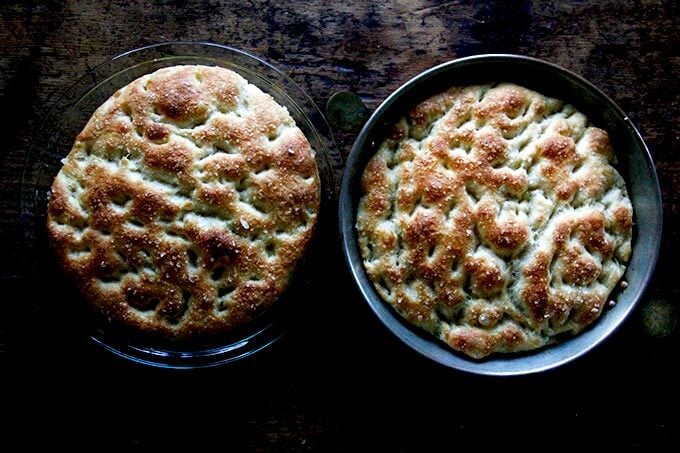 Focaccia brain.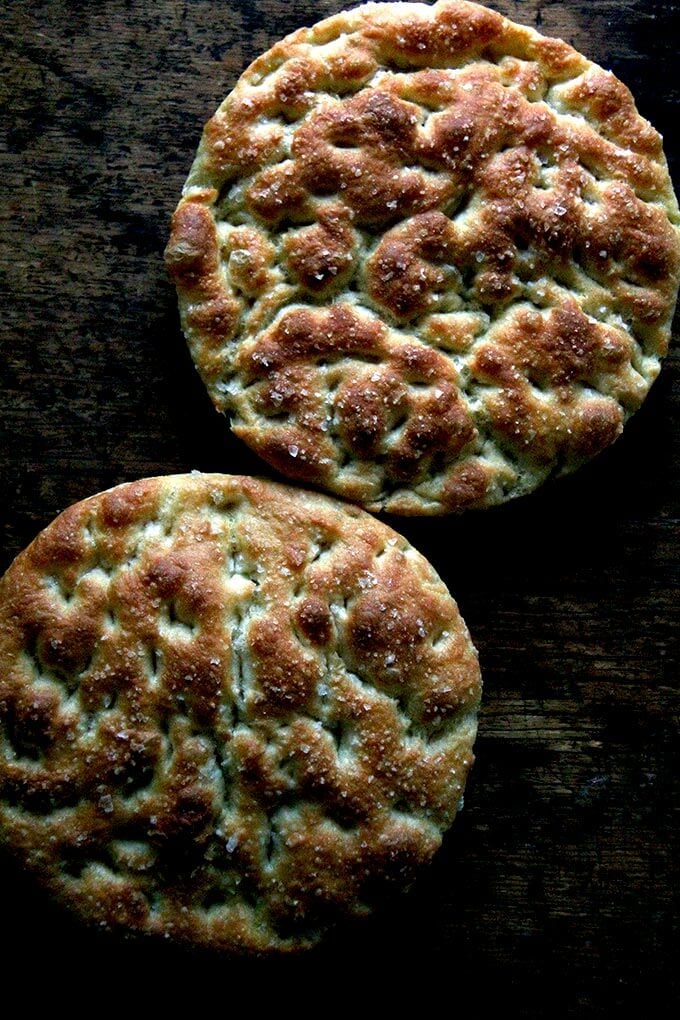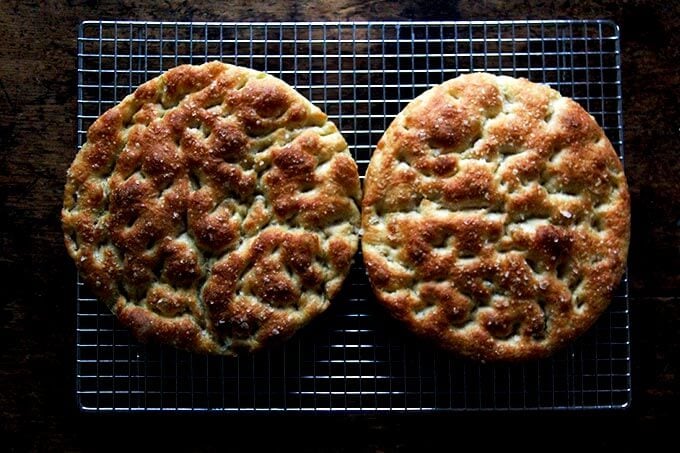 Remove focaccia from pans and place on cooling racks.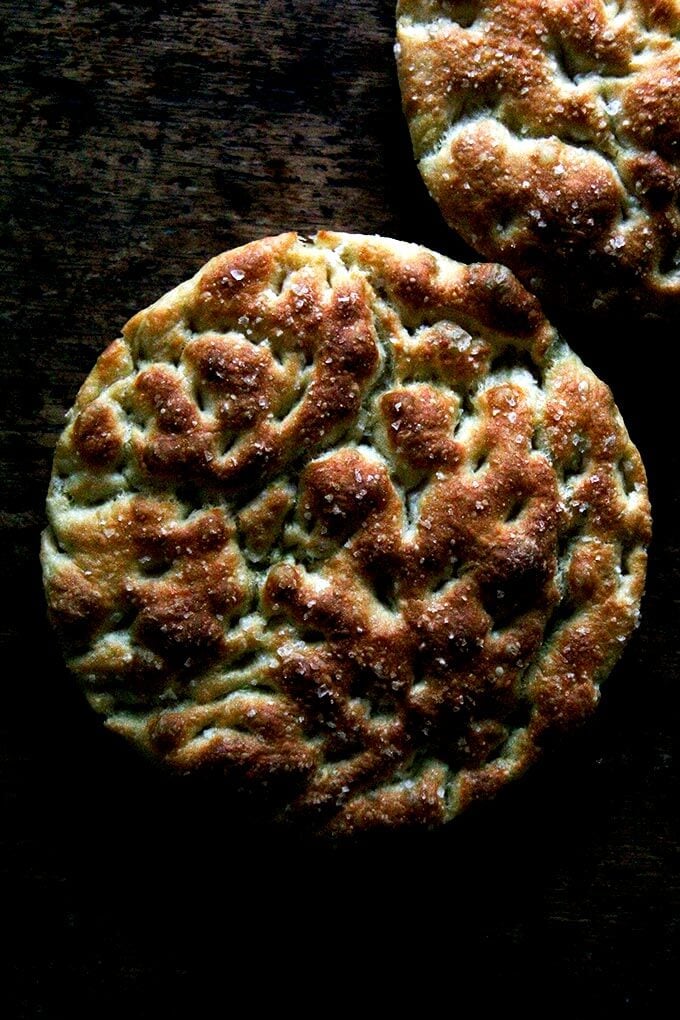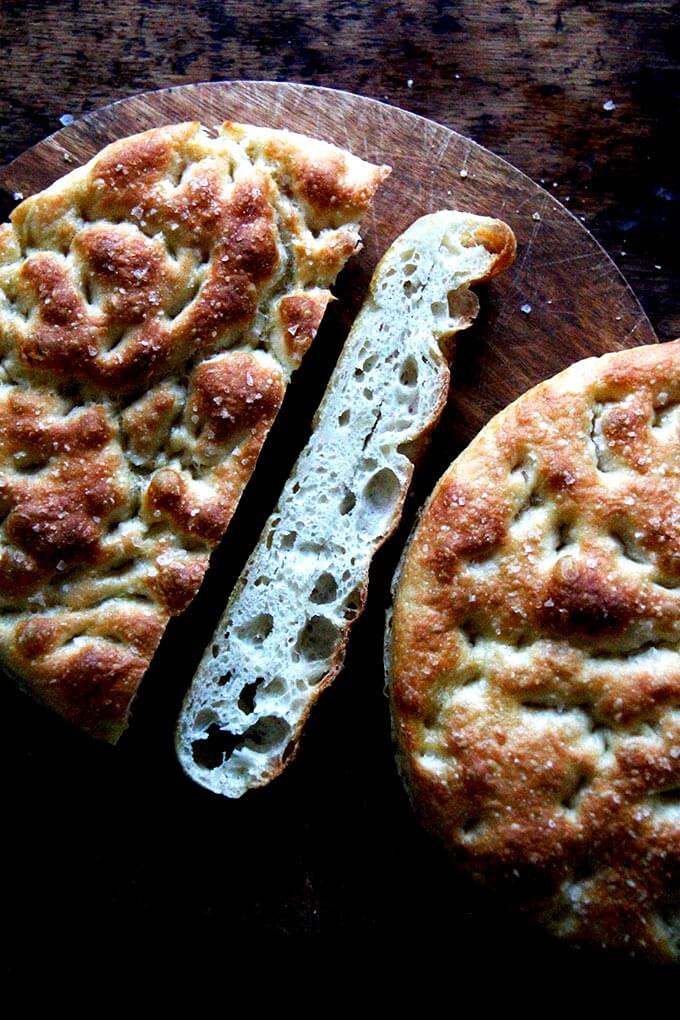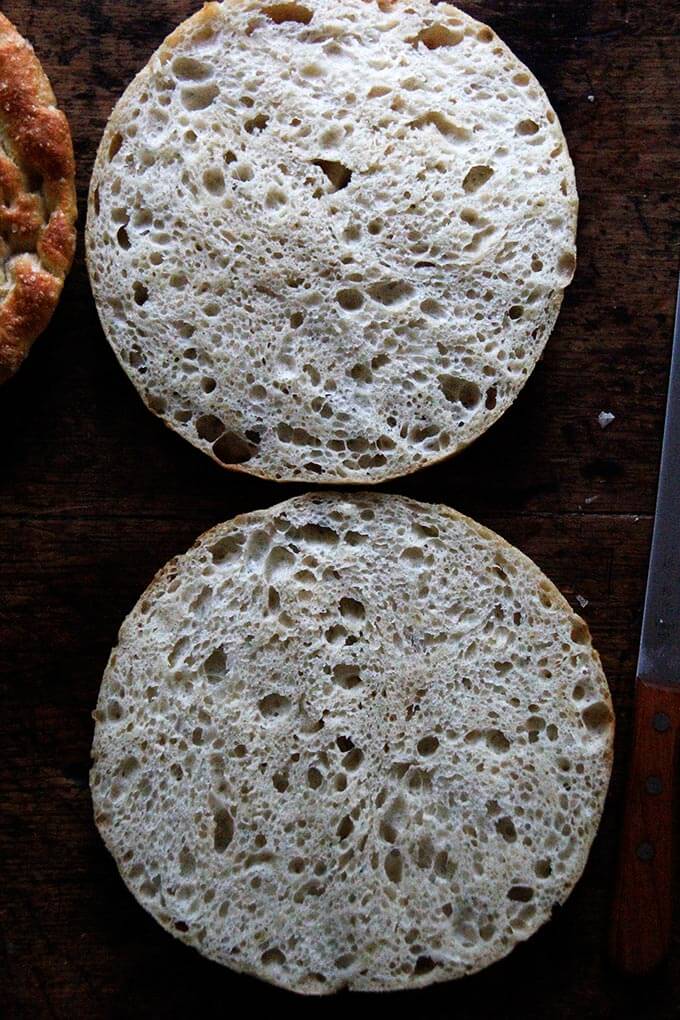 One of my favorite thing to do with these rounds of focaccia (besides serving them with olive oil and dukkah) is to make a slab sandwich. Here are three fun ideas:
Prosciutto, Arugula & Mozzarella:
2. Mashed Avocado, Pickled Beets and Turnips, Pea Shoots:
3.Roasted Red Peppers, Olive Tapenade, & Whipped Honey Goat Cheese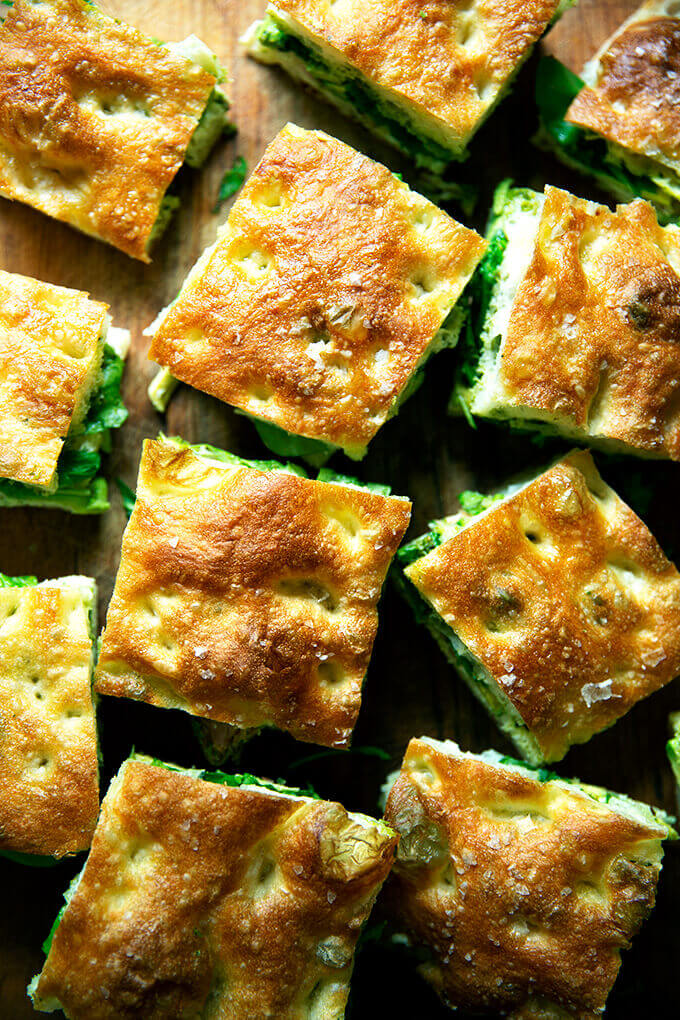 Print
The Best, Easiest Focaccia Bread Recipe
---
Author:

Alexandra Stafford

Prep Time:

18 hours

Cook Time:

30 minutes

Total Time:

18 hours 30 minutes

Yield:

2 loaves
Description
Adapted from the focaccia and pissaladière recipes in Bread Toast Crumbs.
A few notes:
I've been baking the focaccia in two 9-inch Pyrex pie plates. Butter + oil is essential to prevent sticking.
Other pan options include: A 9×13-inch pan — do not split the dough in half, if you use this option, which will create a thicker focaccia (I love this USA pan for this one). A 13×18-inch rimmed sheet pan — this creates a thinner focaccia, which is great for slab sandwiches.
As always, for best results, use a digital scale to measure the flour.
I love SAF instant yeast. I buy it in bulk, transfer it to a quart storage container, and store it in my fridge for months. You can store it in the freezer also.
Plan ahead: While you certainly could make this more quickly, it turns out especially well if you mix the dough the day before you plan on baking it. The second rise, too, takes 2 to 4 hours.
---
Ingredients
4 cups

(

512 g

) all-purpose flour

2 teaspoons

(

10 g

) kosher salt

2 teaspoons

(

8 g

) instant yeast

2 cups

(

455 g

) lukewarm water, made by combining 1/2 cup boiling water with 1 1/2 cups cold water
butter for greasing

4 tablespoons

olive oil, divided
flaky sea salt, such as Maldon
---
Instructions
Make the dough: In a large bowl, whisk together the flour, salt, and instant yeast. Add the water. Using a rubber spatula, mix until the liquid is absorbed and the ingredients form a sticky dough ball. Rub the surface of the dough lightly with olive oil. Cover the bowl with a damp tea towel or plastic wrap and place in the refrigerator immediately for at least 12 hours.
Line two 8- or 9-inch pie plates or a 9×13-inch pan (see notes above) with parchment paper or grease with butter or coat with nonstick cooking spray. (Note: This greasing step may seem excessive, but with some pans, it is imperative to do so to prevent sticking. With my USA pans, I can get away with olive oil alone; with my glass baking dishes, butter is a must.)
Pour a tablespoon of oil into the center of each pan or 2 tablespoons of oil if using the 9×13-inch pan. Using two forks, deflate the dough by releasing it from the sides of the bowl and pulling it toward the center. Rotate the bowl in quarter turns as you deflate, turning the mass into a rough ball. Use the forks to split the dough into two equal pieces (or do not split if using the 9×13-inch pan). Place one piece into one of the prepared pans. Roll the dough ball in the oil to coat it all over, forming a rough ball. Repeat with the remaining piece. Let the dough balls rest for 3 to 4 hours depending on the temperature of your kitchen.
Set a rack in the middle of the oven and preheat it to 425°F. Pour another tablespoon of oil over each round of dough. Rub your hands lightly in the oil to coat, then, using all of your fingers, press straight down to create deep dimples. If necessary, gently stretch the dough as you dimple to allow the dough to fill the pan. Sprinkle with flaky sea salt all over.
Transfer the pans to the oven and bake for 25 to 30 minutes, until the underside is golden and crisp. Remove the pans from the oven and transfer the focaccia to cooling racks. Let it cool for 10 minutes before cutting and serving; let it cool completely if you are halving it with the intention of making a sandwich.
Category:

Bread

Method:

Oven

Cuisine:

Italian
Keywords: bread, focaccia, overnight, refrigerator, cold, dough
This post may contain affiliate links. Please read my disclosure policy.