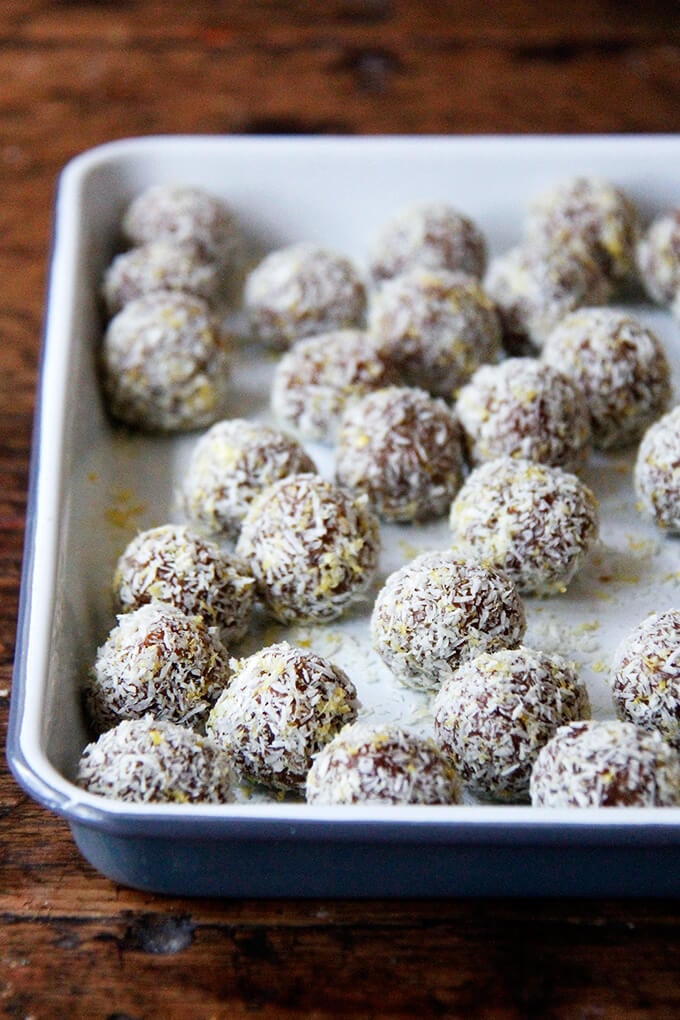 Last Thursday after yoga class, my friend Martha said she had something for me. As we walked out the door, she pulled from her pocket a little baggie holding a single, coconut-dusted ball, which she handed to me, and which I ate immediately.
The little treasure disappeared quickly, but I played my favorite game—guess what's in it!—even so, identifying coconut, lemon, and dates. When I got stumped, Martha filled in the blanks: ginger, vanilla, and coconut manna, also known as coconut butter, an ingredient I had never before used.
Coconut butter was new to Martha as well, but after spotting the recipe for these "lemon pie" date balls in The Autoimmune Wellness Handbook, she made the trek to Honest Weight Food Co-op for the manna and hasn't looked back since. Neither have I.
These no-cook date balls are so tasty and easy to throw together, too: purée pitted dates, coconut butter, ginger (fresh or powdered), fresh lemon juice, and vanilla (bean or extract) in a food processor; portion the mixture into balls; then roll the balls to coat in a mix of shredded coconut, lemon zest, and sea salt, which is incredibly delicious and pretty to boot.
Per Martha's suggestion, I store these balls in the freezer and find it nearly impossible to walk by without sneaking one. They're not too sweet, nicely chewy, and completely satisfying. I think you'll approve. Have a wonderful weekend, Everyone.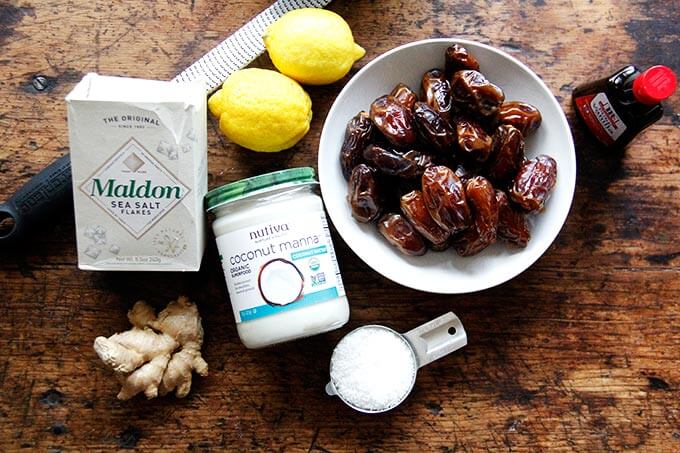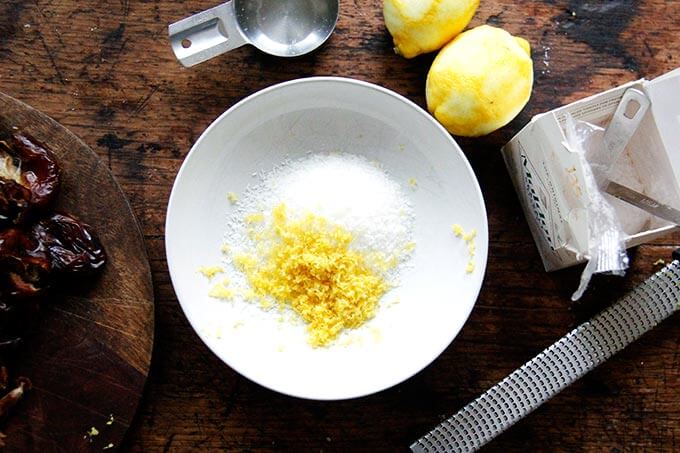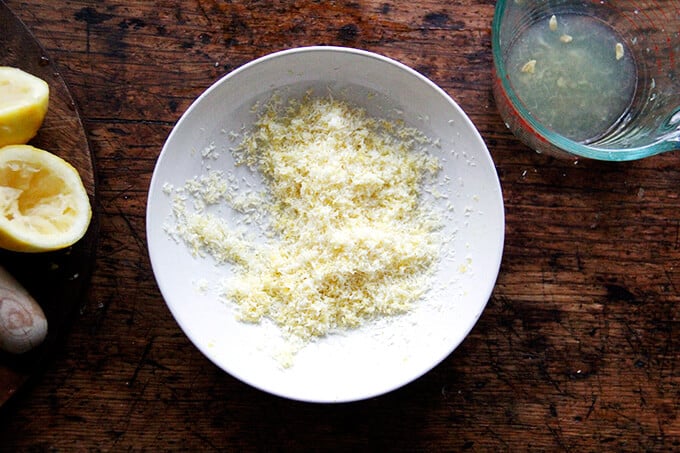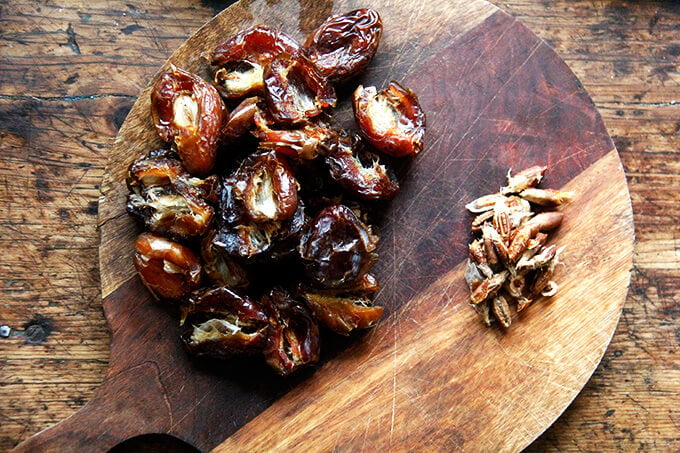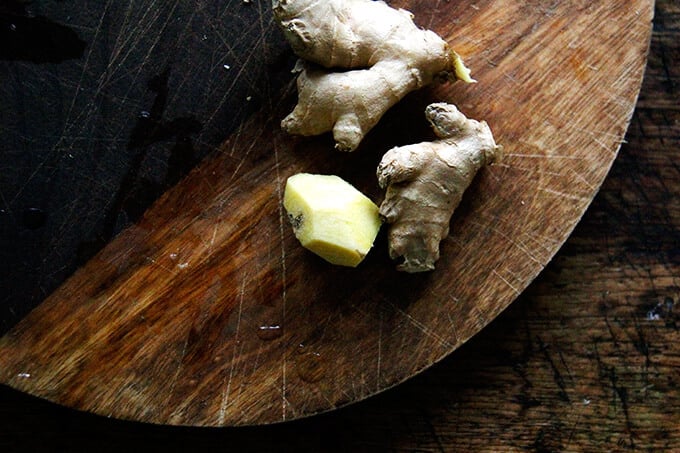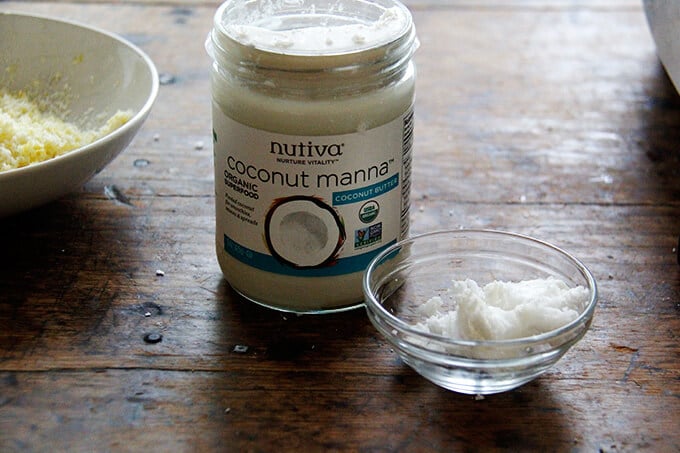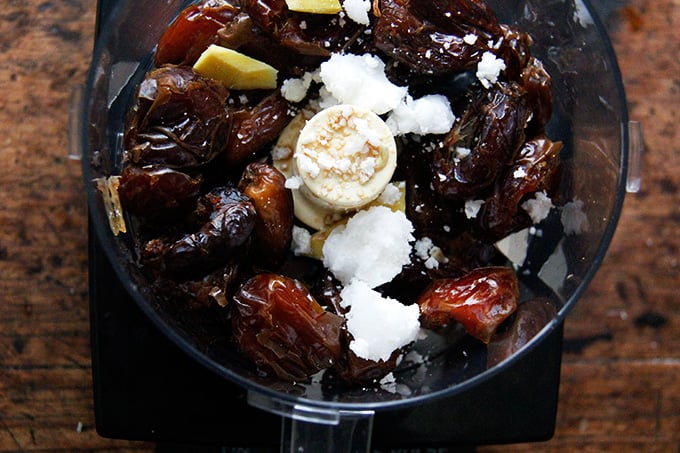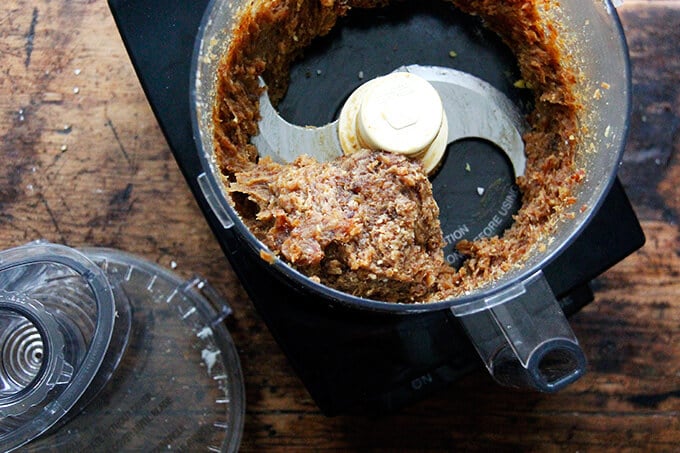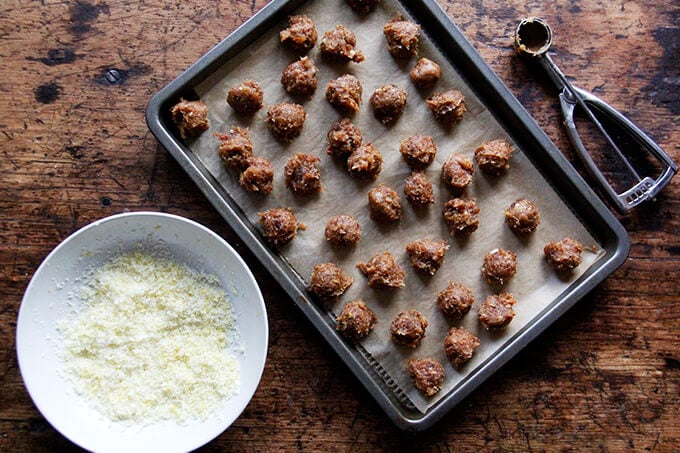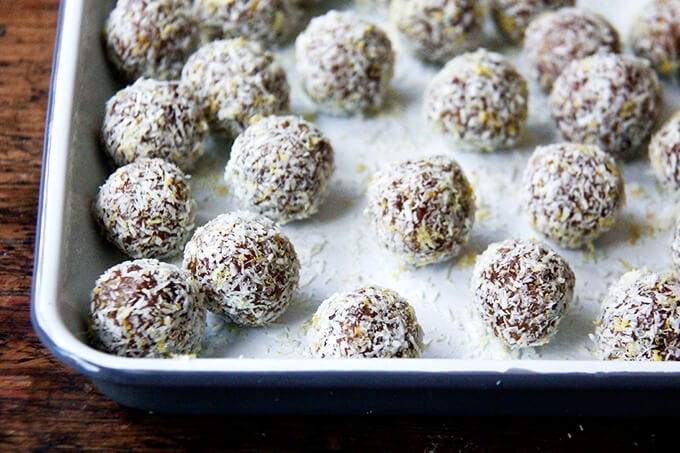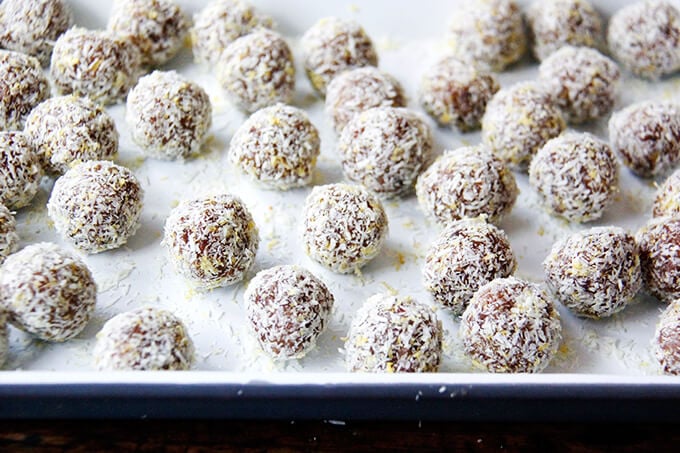 Print
Lemon-Coconut Date Balls
---
Description
This recipe has been adapted from The Autoimmune Wellness Handbook. You will need coconut manna also known as coconut butter, which is a new ingredient for me. I ordered mine from Amazon, but your favorite local health food store likely will carry it.
How, you might be wondering, does coconut manna differ from coconut oil? Coconut oil is the oil that has been extracted from the coconut meat, whereas coconut butter is made from the flesh that has been ground into a spreadable paste. You can read more about the difference between the two on The Kitchn, but if you're wondering if you can substitute coconut oil for the butter, I can't really say because I have not tried.  The Kitchn does not recommend substituting one for one another. They suggest using coconut oil for cooking (sautéting, roasting, and baking), and using coconut butter with foods that are already cooked. These date balls are raw, however, so coconut oil (unmelted) might be fine? If you give it a go, let me know.
Notes from The Autoimmune Wellness Handbook: In order to measure the coconut concentrate, it is best to soften it in a warm-water bath before use, as it is solid at room temperature. (I did not do this.) If you find yourself sensitive to vanilla bean seeds, scrape out the seeds and just use the pod.
---
Ingredients
 Zest of 2 lemons

1/3 cup

unsweetened shredded coconut

3/4 tsp

sea salt

1 tablespoon

fresh lemon juice

2 cup

s dates, pitted (about 28, soft ones are best)

1/2 tsp

ground ginger or a small knob of fresh ginger

1

whole vanilla bean, minced or

1 teaspoon

vanilla extract

2 tablespoon

s coconut butter, see notes above
---
Instructions
Combine the lemon zest, coconut flakes, and sea salt in a shallow bowl and set aside.
Combine the remaining ingredients in a food processor, and pulse to process until a "ball" forms. If the mixture is still too dry, add 1 tsp of water at a time until it does form a ball.
Roll the mixture into approximately 25 to 30 small balls—I use a #100 scoop for this—then roll through the lemon zest mixture to coat. Place on a plate, and transfer to the freezer for 5 minutes to harden. Then transfer to an airtight container for storage in the refrigerator or freezer—I store in the freezer in a quart container.
---