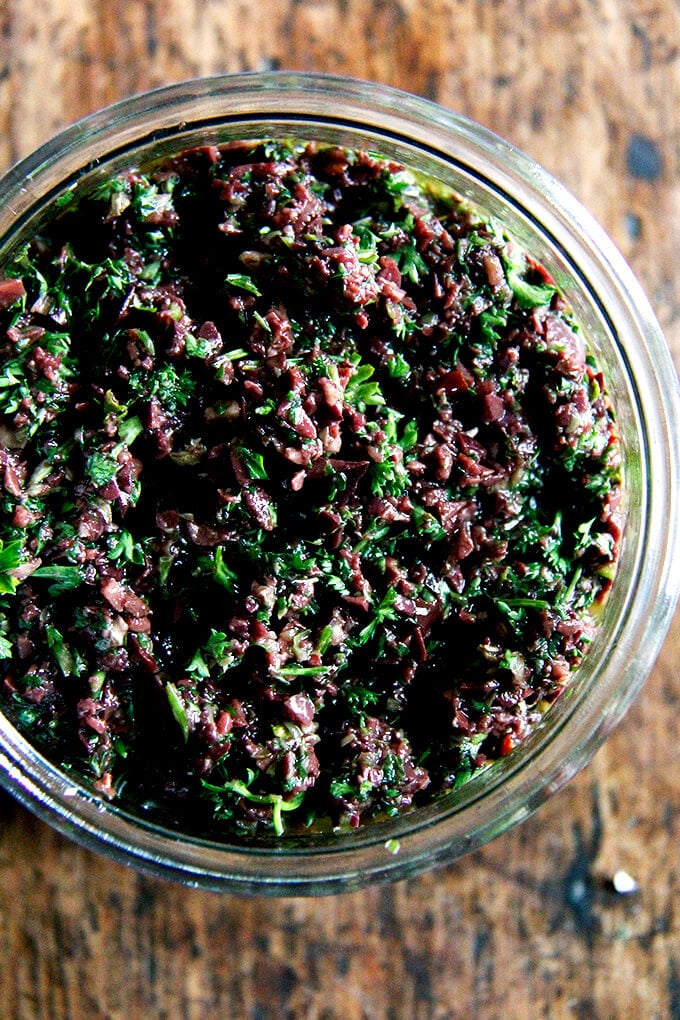 I made olive tapenade to serve as an appetizer for our very small Easter gathering this year, and I've since made it for a number of occasions since because it's just so darn easy and good. The food processor does 95% of the work: after 30 or so quick pulses, the recipe is nearly complete.
But the key, I think, to making a really good tapenade, lies in the care you take while completing the last 5% of the job: chopping a heap of parsley by hand. If you rely on the food processor to chop all of the parsley, your finished tapenade will still taste delicious, but it will lack variety in color, and I find those pops of green punctuating the dark purée to be so visually appealing and, in turn, appetizing. Stirring in the olive oil by hand, too, as opposed to while the food processor blade is whirring, also prevents the texture from turning to mush.
Serve this tapenade with bread, of course, for a simple appetizer. It's also nice with lamb. Recently, I've been making slab sandwiches with the overnight focaccia, this tapenade, roasted red peppers, greens, and whipped honey goat cheese. Full recipe here. Have a wonderful weekend, Everyone.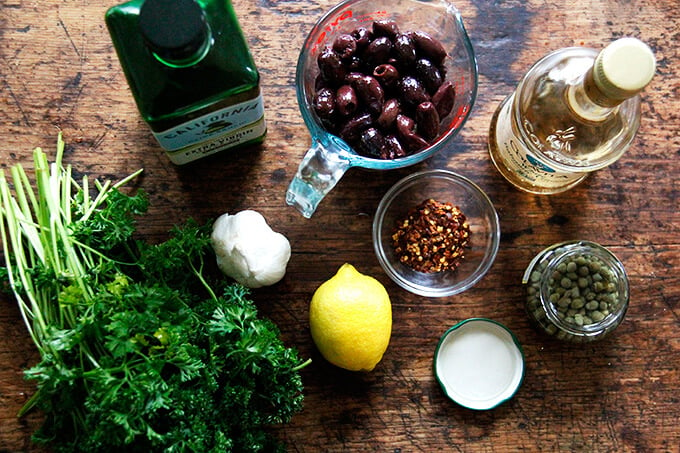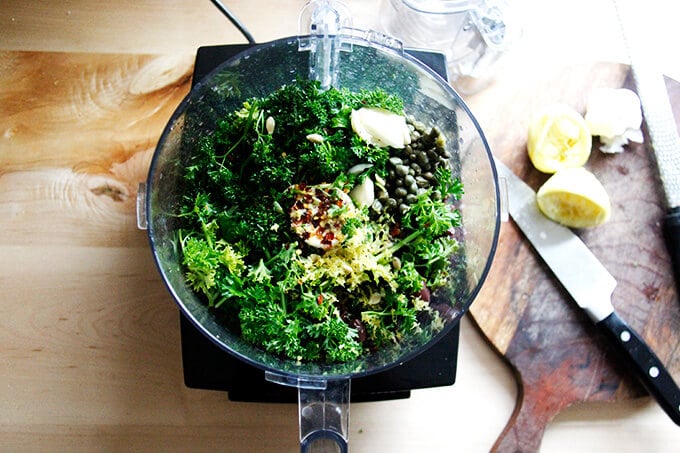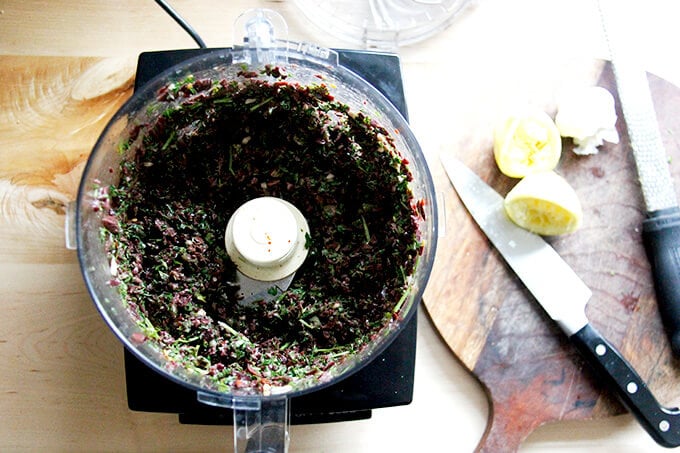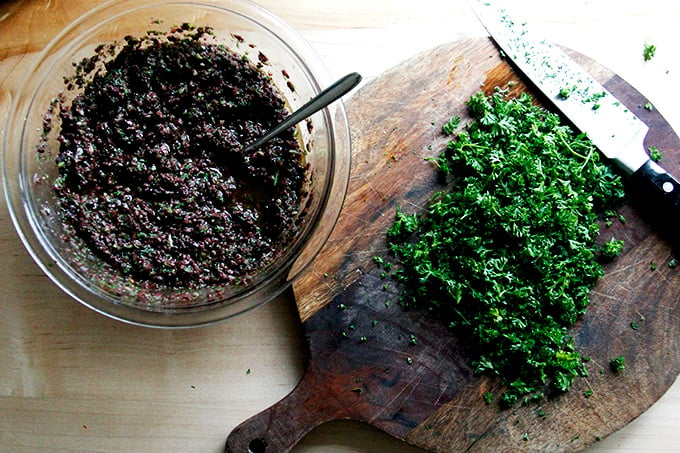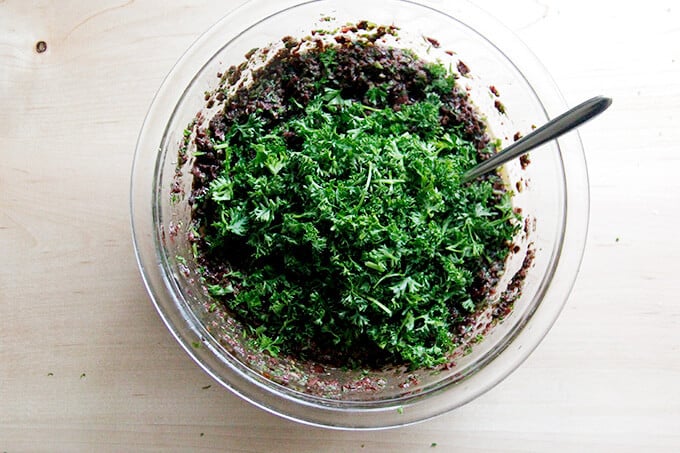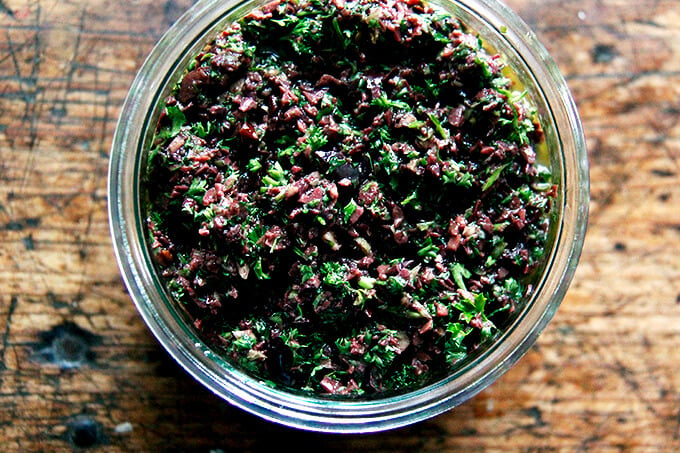 Slab sandwich: Roasted Red Peppers, whipped honey goat cheese, tapenade and greens: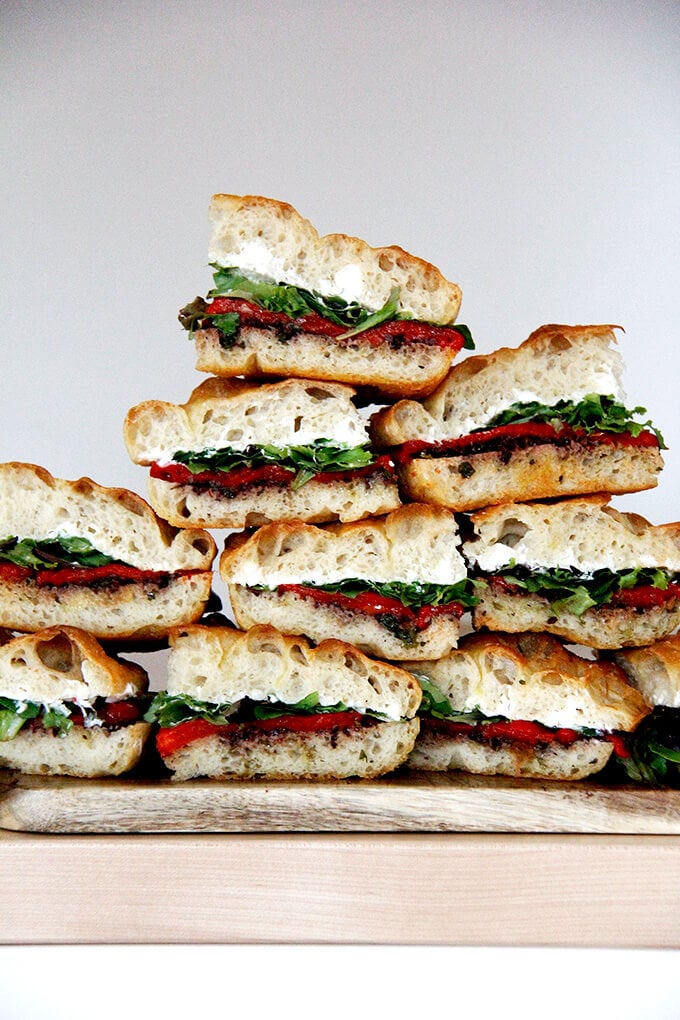 Print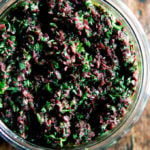 Olive Tapenade with Capers and Parsley
---
Description
A favorite spread to put out for guests, to smear over sandwich bread, and to eat straight up with a spoon, this tapenade is loaded with parsley, lemon and olive oil. You can tailor the heat to your liking by increasing or decreasing the pepper flakes as you please.
Roasted red peppers pair nicely with this tapenade as does whipped honey goat cheese. Serve with toasty bread or make a sandwich. Irresistible.
---
Ingredients
2 cups

pitted olives
grated zest and juice of ½ to 1 lemon
pinch crushed red pepper flakes, optional

2

cloves garlic, peeled

2 tablespoons

capers, drained

1 tablespoon

white balsamic vinegar

2 cups

(about) parsley, divided roughly into two 1-cup portions

1/3 cup

olive oil, plus more to taste
---
Instructions
Pulse the olives, zest, juice of half a lemon, pepper flakes, garlic, capers, vinegar, and half of the parsley in the food processor until a coarse paste is formed—be sure to pulse to avoid turning the purée into complete mush. It may take 20 to 30 quick pulses.
Transfer the mixture to a bowl. Finely chop the remaining parsley, and stir it in. Stir in the olive oil. Taste; then adjust seasoning as necessary with more lemon, pepper flakes, or olive oil. I almost always end up using the remaining half lemon, and I always stir in more olive oil by the tablespoon until the mixture both looks and tastes right.
---
Category:

Condiment

Method:

Food Processor

Cuisine:

Greek
Keywords: olive, tapenade, easy, spread, food, processor