Everything Bagel & Dukkah Peasant Bread
This post may contain affiliate links. Please read my disclosure policy.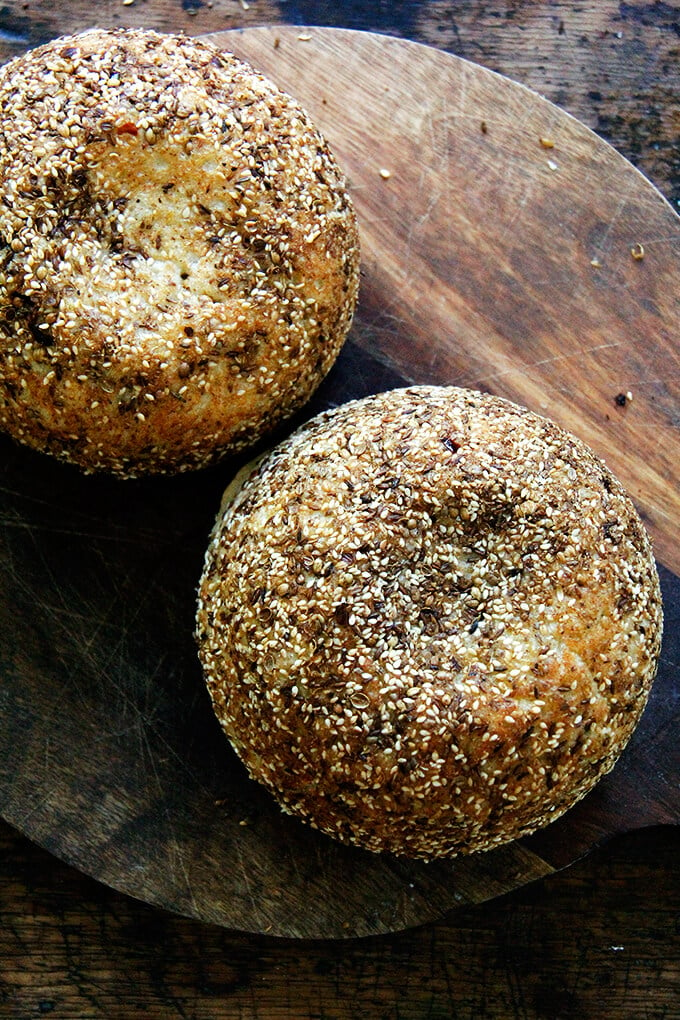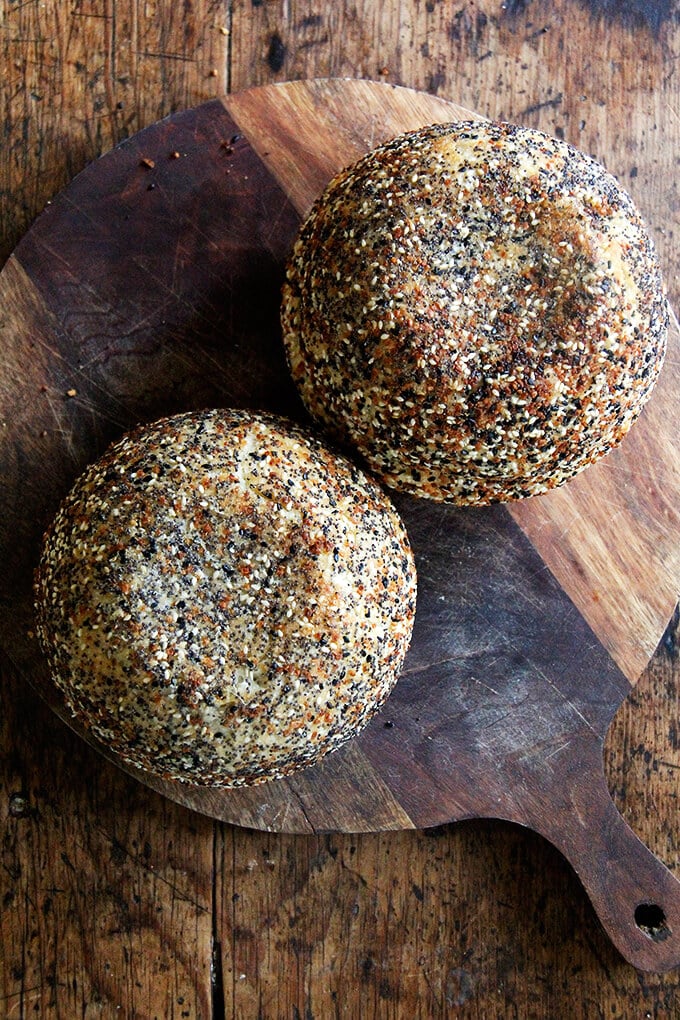 In March, one of my dear high school friends texted me a photo of two loaves of peasant bread coated in seeds. On a whim, she had sprinkled a few tablespoons of Trader Joe's everything bagel seasoning into her buttered Pyrex bowls before transferring the dough to them.
When the loaves baked, the seasonings clung to the loaves' surfaces, leaving every inch covered with specks of poppy and sesame seeds, bits of toasty onion and garlic, and flakes of sea salt.
Shortly thereafter, someone sent me a photo via Instagram of her two peasant loaves coated in sesame seeds, which similarly looked so pretty, and someone else sent me a photo of her loaves coated in dukkah. It was time to give the bowl-coating method a go.
I have since tried all of these variations, and I absolutely love them. Coating the buttered bowls with seeds or seasoning takes just a wee more effort, and yet this simple step adds considerable flavor as well as an especially appealing appearance.
With sandwich season upon us, this is a fun one to add to your bread-baking repertoire. I especially love the dukkah bread for making the 44 Special. I think you'll approve.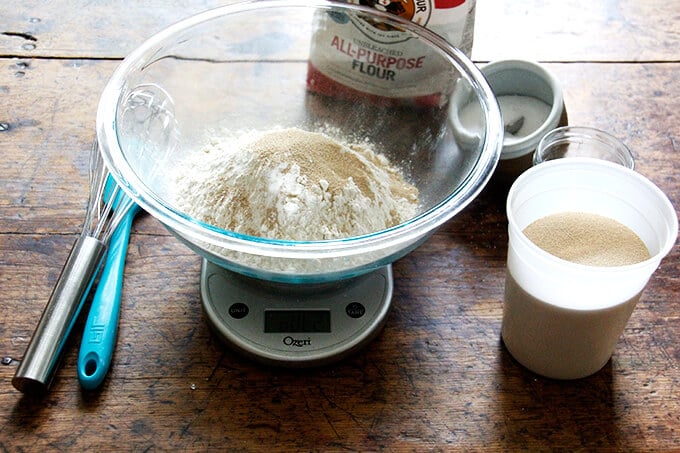 Let's make it together. Gather your dough ingredients: flour, salt, sugar, instant yeast. Whisk to combine…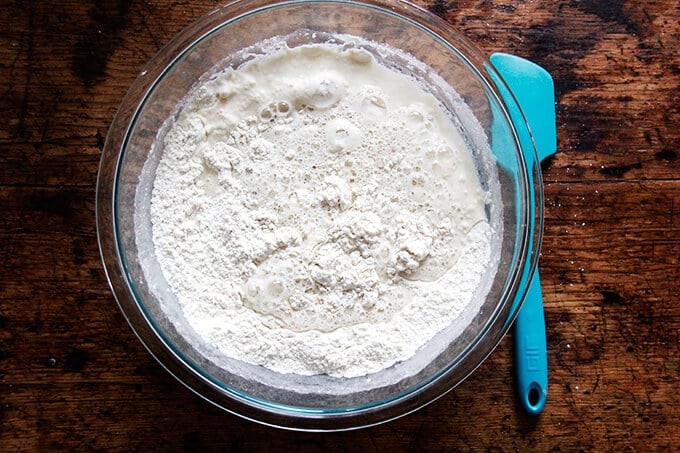 then add lukewarm water (1.5 cups cold water + .5 cups boiling water).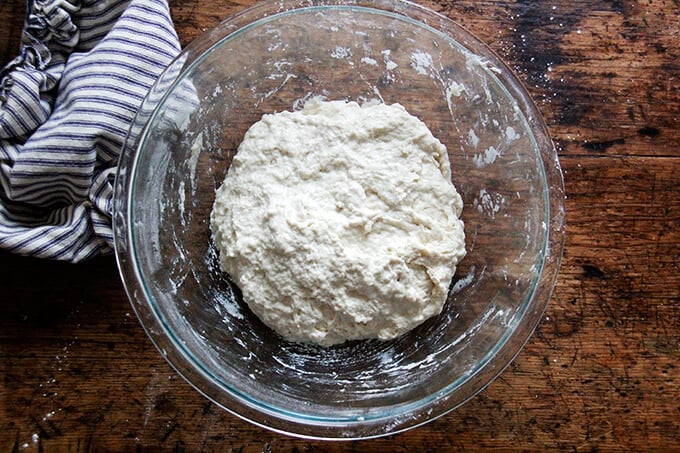 Mix to form a sticky dough ball.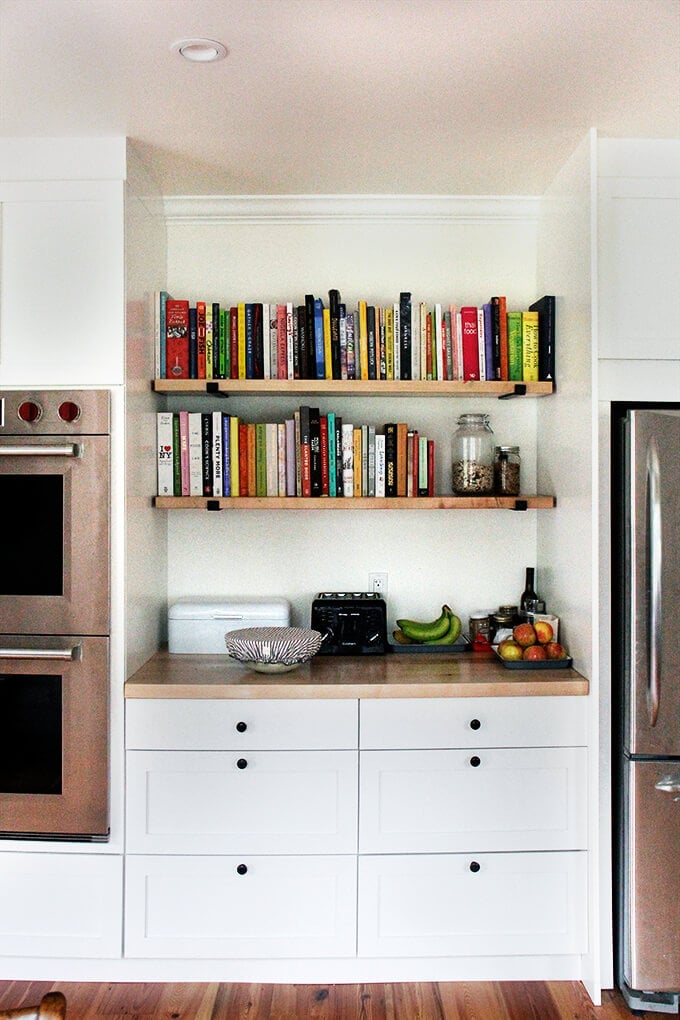 Set in a warm place to rise. (Incidentally, the kitchen is nearly done… just waiting for some drawer inserts. Can't wait to share more.)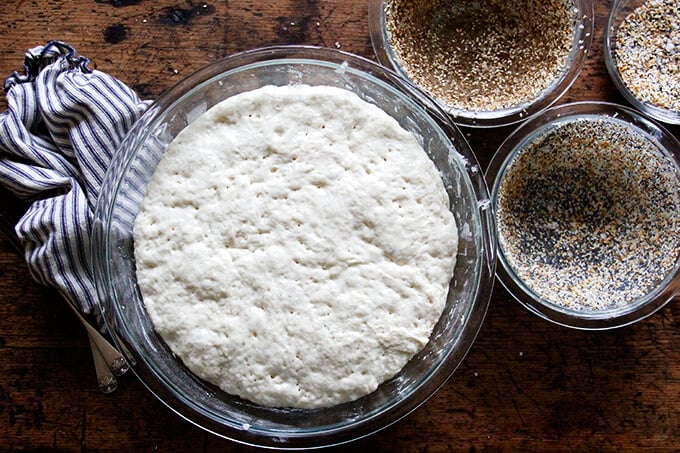 When the dough has doubled …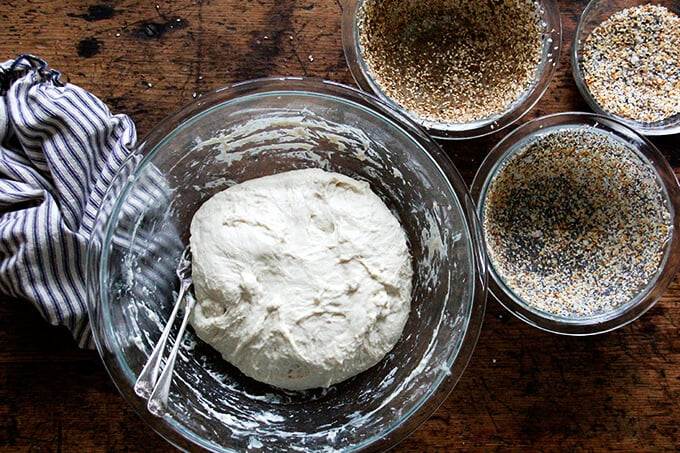 deflate it with two forks.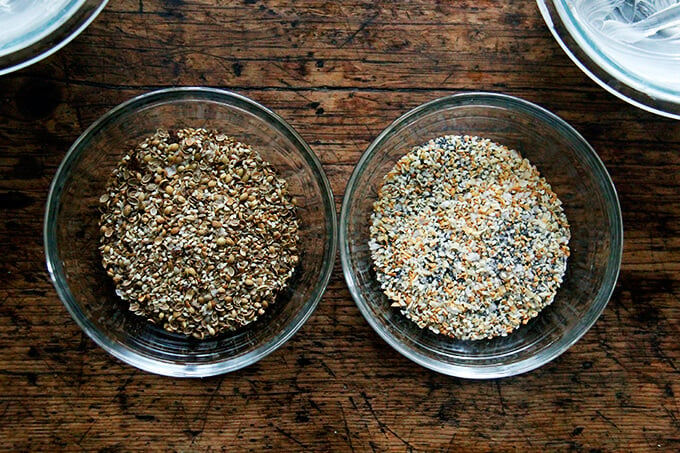 Locate your seed mixes: dukkah on the left; everything bagel seasoning on the right.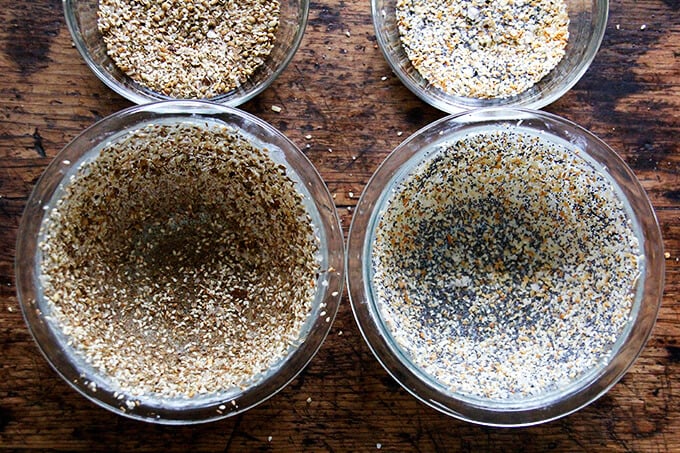 Coat your buttered bowls with the seasoning.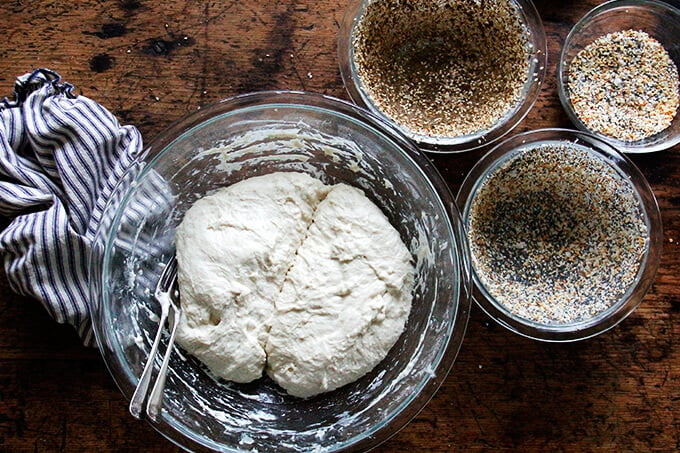 Split the dough into two equal pieces.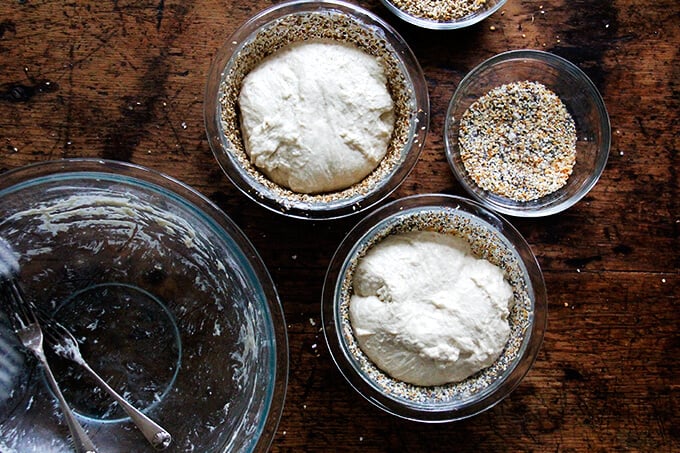 Transfer the dough to the prepared bowls.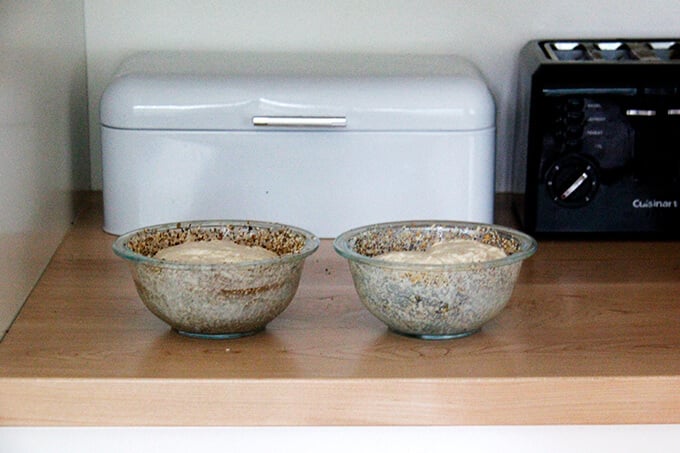 Let rise again for another 20 minutes or until…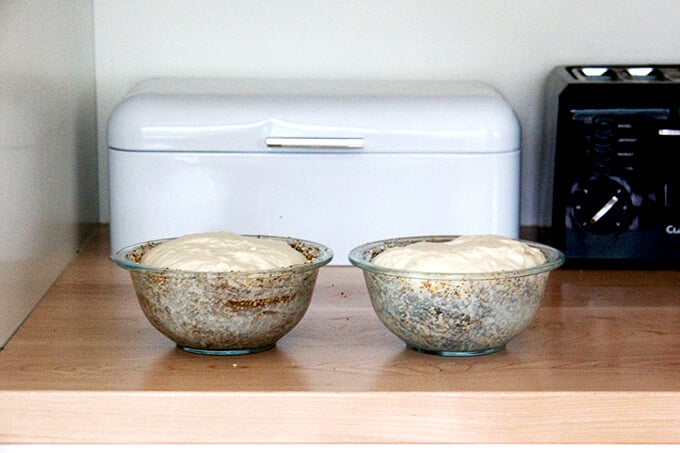 it just crowns the rim of the bowls.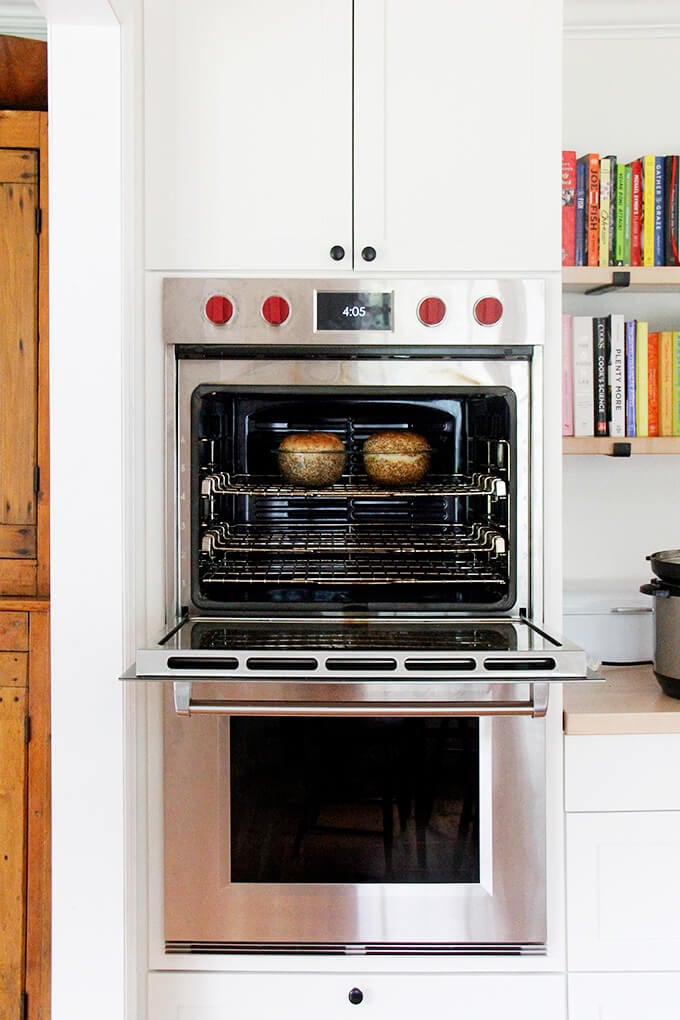 Bake for about 30 to 35 minutes…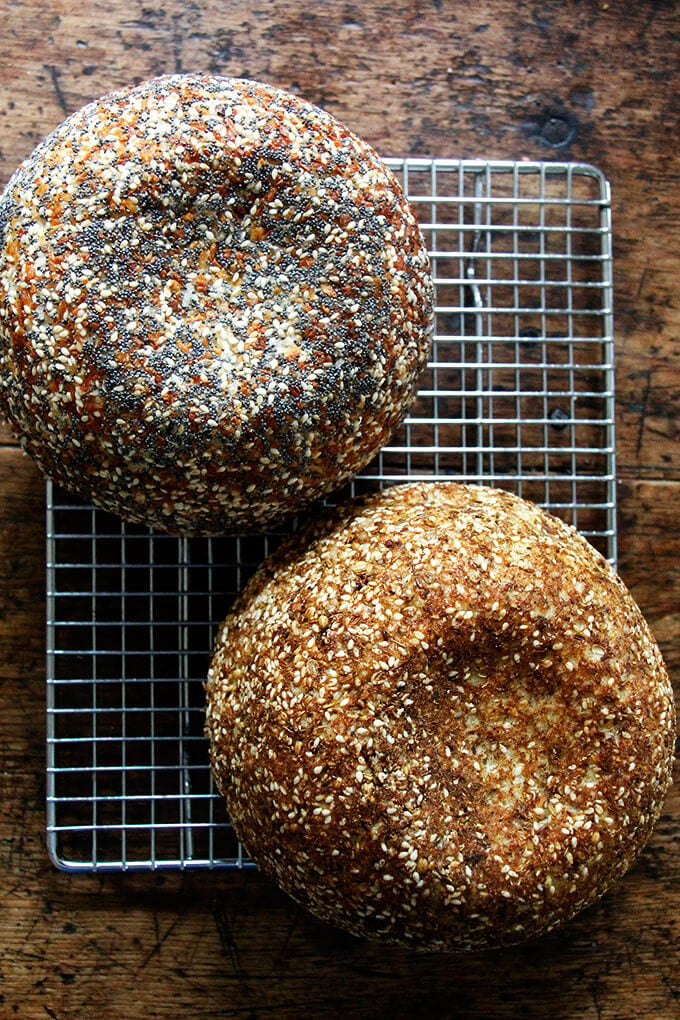 then turn out onto cooling racks.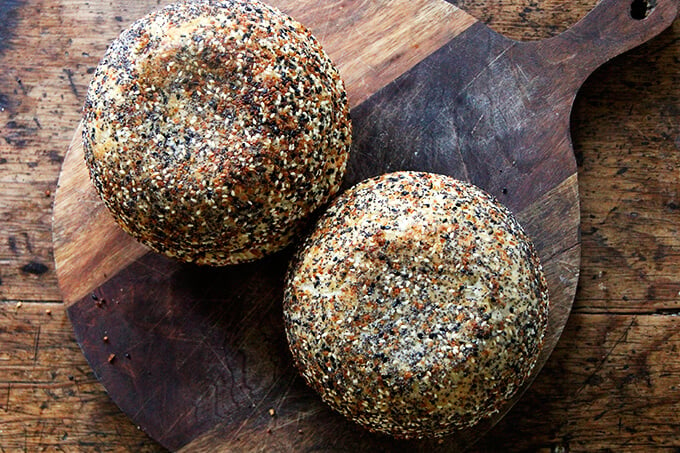 5 Secrets to Foolproof Bread Baking
See how easy bread baking can be in my free ecourse!
Print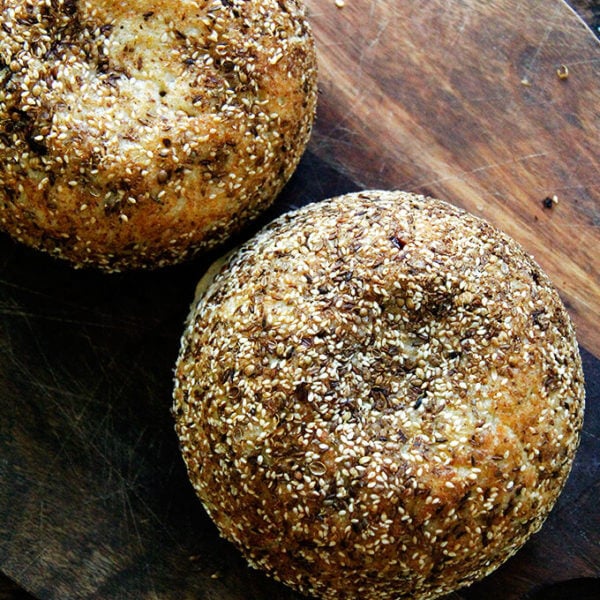 Everything Bagel and/or Dukkah Peasant Bread
---
Description
These are the ideal bowls for the bread: two 1-qt Pyrex bowls.
I used this recipe from the Food Network to make homemade everything bagel seasoning. Combine:
1/4 cup sesame seeds
1/4 cup poppy seeds
3 tablespoons dried onion flakes
3 tablespoons dried garlic flakes
2 tablespoons flaky sea salt
Warm spot to rise: This is how to create a slightly warm spot for your bread to rise: Turn the oven on at any temperature (350ºF or so) for one minute, then turn it off. Note: Do not allow the oven to get up to 300ºF, for example, and then heat at that setting for 1 minute — this will be too hot. Just let the oven preheat for a total of 1 minute — it likely won't get above 100ºF. The goal is to just create a slightly warm environment for the bread.
Adapted from the master peasant bread recipe in Bread Toast Crumbs.
---
4 cups

(

512 g

) unbleached all-purpose flour

2 teaspoons

kosher salt

2 teaspoons

sugar

2 teaspoons

instant yeast

2 cups

lukewarm water (made by mixing 

1 1/2 cups

cold water with

1/2 cup

boiling water)
room temperature butter for greasing the bowls

4 tablespoons

everything bagel seasoning (see notes) or dukkah 
---
Instructions
Mixing the dough: If you are using instant yeast: In a large mixing bowl, whisk together the flour, salt, sugar, and instant yeast. Add the water. Mix until the flour is absorbed. If you are using active-dry yeast: In a small mixing bowl, dissolve the sugar into the water. Sprinkle the yeast over top. There is no need to stir it up. Let it stand for about 10 to 15 minutes or until the mixture is foamy and/or bubbling just a bit — this step will ensure that the yeast is active. Meanwhile, in a large bowl, whisk together the flour and salt. When the yeast-water-sugar mixture is foamy, stir it up, and add it to the flour bowl. Mix until the flour is absorbed.
Cover bowl with a tea towel or plastic wrap and set aside in a warm spot (see notes above) to rise for at least an hour. (In the winter or if you are letting the bread rise in a cool place, it might take as long as two hours to rise.)
Preheat the oven to 425ºF. Grease two 1-qt oven-safe bowls (see notes, I use Pyrex) with about a tablespoon of butter each. Sprinkle 2 tablespoons of your seasoning of choice into each bowl. Turn the bowl to ensure the entire surface is coated in the seasoning. Using two forks, punch down your dough, releasing it from the sides of the bowl, which it will be clinging to. As you release the dough from the sides, pull it towards the center. Then, take your two forks and divide the dough into two equal portions — eye the center of the mass of dough, and starting from the center and working out, pull the dough apart with the two forks.
Then scoop up each half with the forks, and place into your prepared bowls. This part can be a little messy — the dough is very wet and will slip all over the place. Using small forks or forks with short tines makes this easier — my small salad forks work best; my dinner forks make it harder. It's best to scoop it up fast and plop it in the bowl in one fell swoop.
Let the dough rise for about 20 to 30 minutes on the countertop near the oven or until it just crowns the rim of the bowls. (Note: Do not do the warm-oven trick for the second rise, and do not cover your bowls for the second rise.)
Bake for 15 minutes. Reduce the heat to 375º and make for 15 to 17 minutes longer. Remove from the oven and turn the loaves onto cooling racks. If you've greased the bowls well, the loaves should fall right out onto the cooling racks. If the loaves look a little pale and soft when you've turned them out onto your cooling racks, place the loaves into the oven (outside of their bowls) and let them bake for about 5 minutes longer. Remove from oven and let cool for 10 minutes before cutting.
Prep Time:

3 hours

Cook Time:

35 minutes

Category:

Bread

Method:

No-Knead

Cuisine:

American
Keywords: no-knead, bread, easy, peasant, everything, bagel, seasoning, dukkah
This post may contain affiliate links. Please read my disclosure policy.