The 44 Special: A Dreamy Roasted Sweet Potato and Pickled Beet Sandwich with Aioli and Goat Cheese
This post may contain affiliate links. Please read my disclosure policy.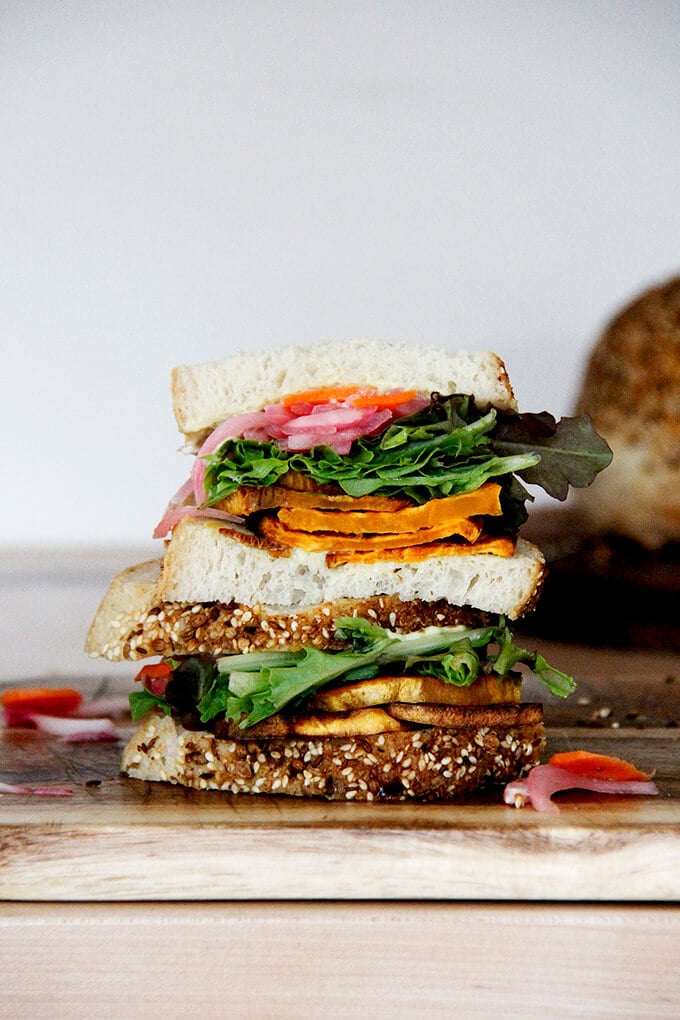 A few weeks ago, after attending a mushroom-growing workshop with Margaret Roach and Catskill Fungi, I stopped at the Copake General Store for lunch. Margaret had told me about their sandwiches, one she especially loved with cucumbers, hummus, harissa, and preserved lemon, but on that particular day, it wasn't being offered, so I ordered the 44 Special instead: roasted sweet potatoes, pickled beets, garlic mayonnaise, lemony herb salad, and goat cheese.
I found a spot at the communal table to tuck into my veggie sandwich, which exceeded expectations. I have never eaten a sweet potato sandwich—never even considered sweet potatoes as a sandwich filling—and never thought about pairing sweet potatoes with beets, pickled or otherwise. Somehow it just works. It works really, really well.
Though it was vegetarian, the combination of flavors and textures reminded me of a bánh mì, the Vietnamese sandwich made with pâté, roast pork, sliced jalapeño, and a generous amount of pickled carrots and daikon. If the bánh mì—with its creamy, crunchy, fresh, hearty, and bright notes—can be held as the archetypal sandwich, the 44 Special checks all the boxes: the sweet potatoes lend a meatiness and — wait for it — a sweetness, the pickled beets a sharpness and crunch, the garlic mayonnaise a creaminess and bite, the goat cheese a rich tanginess.
I returned from Copake and immediately whipped up a batch of aioli, pickled some vegetables, and roasted a few sweet potatoes. The 44 Special became dinner that night and, with the essential components stashed in the fridge, a dinner staple for several weeks after.
This sandwich is particularly good with pickled beets, but if you don't like beets, you can use any pickle you like (though I encourage you to try golden beets, which might convert you into a beet lover after all). I also especially love to make this sandwich with the dukkah bread, but any good bread will do.
You 100 percent do not need video guidance to make a sandwich, but in this Insta-story, you can get a quick glimpse of the Copake General Store's 44 Special followed by a quick how-to video: The 44 Special.
Here's a play-by-play: Roast sweet potatoes.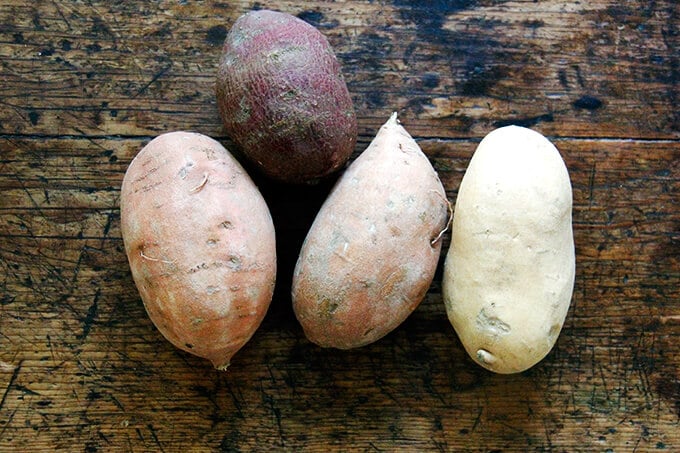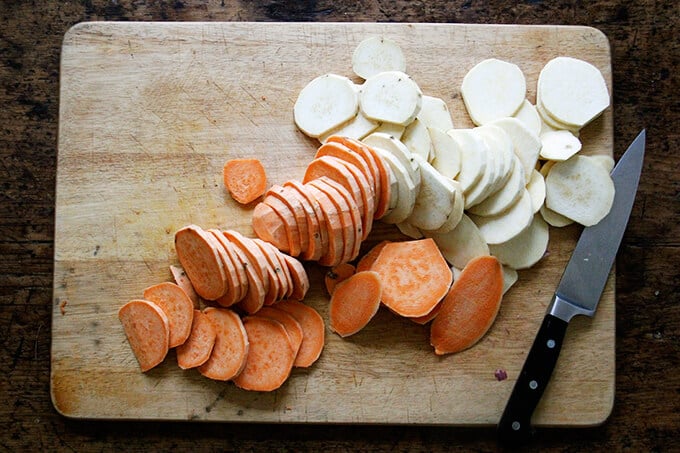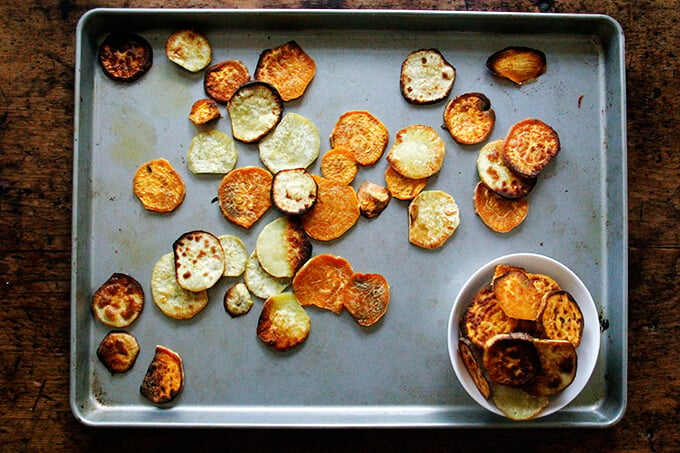 Two essential condiments for this sandwich: mayonnaise or homemade aioli and some sort of pickle.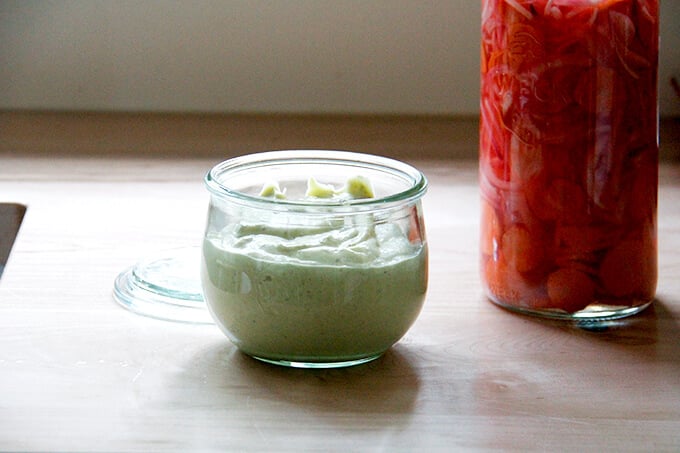 Dukkah bread, not essential, but very tasty: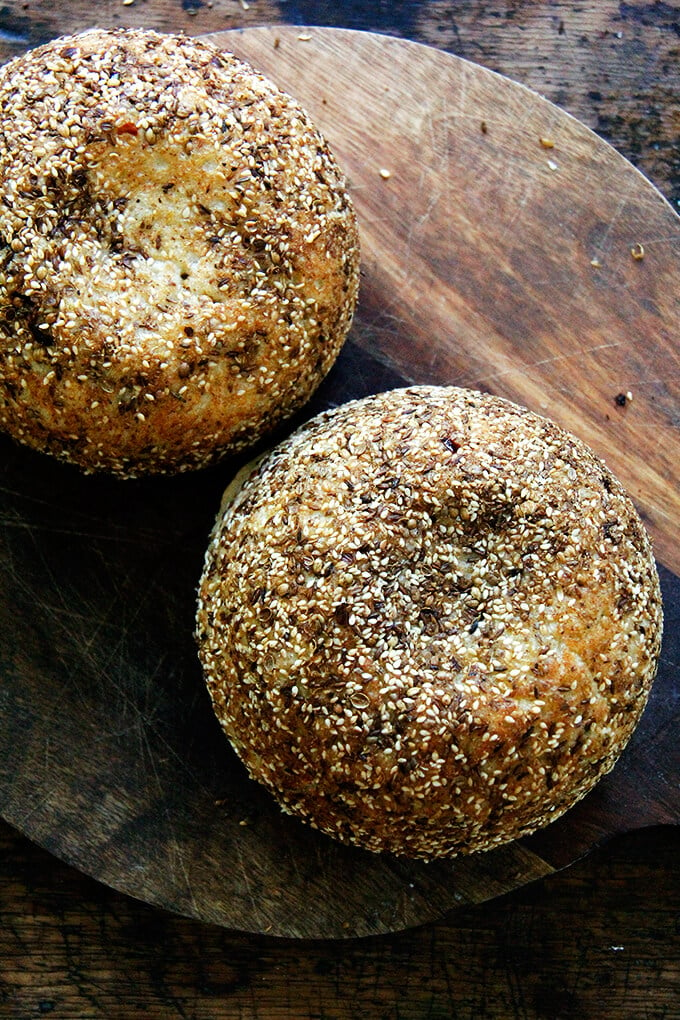 Line up your ingredients …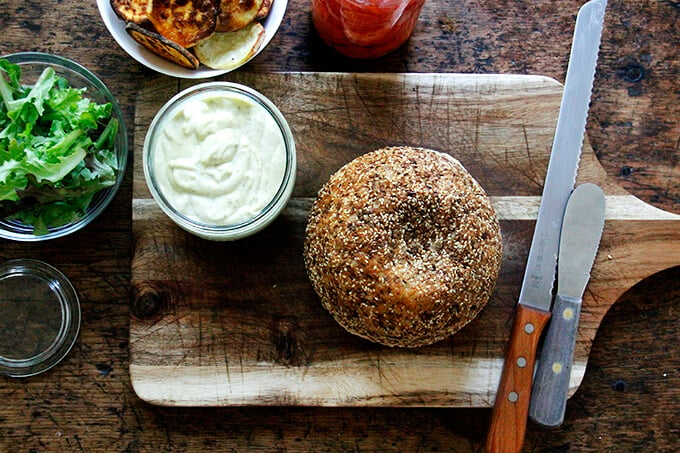 and assemble away: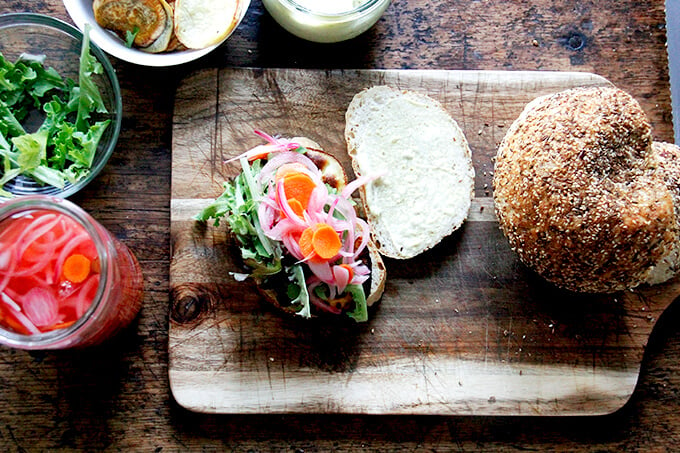 Print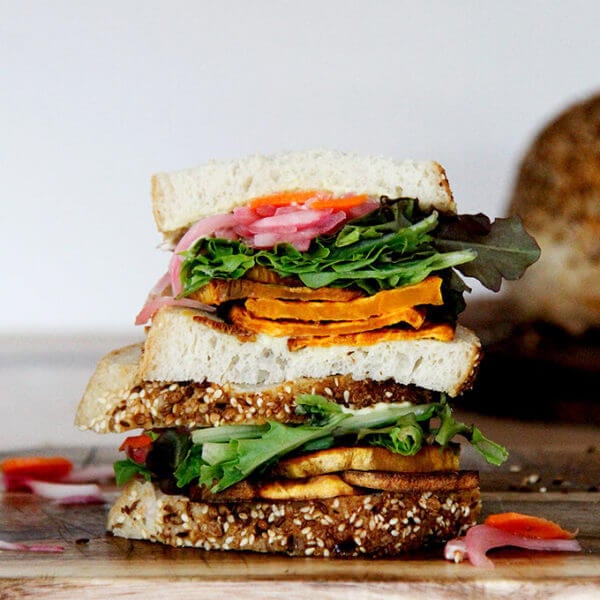 The 44 Special: Roasted Sweet Potatoes, Pickled Beets (or other), Aioli, and Goat Cheese
---
Description
Inspired by a sandwich served at the Copake General Store.
If you wish to make a lot of sandwiches, roast more than 1 sweet potato. A one pound sweet potato will yield enough for 2 to 3 sandwiches. (That said, I can eat the entire tray of roasted sweet potatoes myself, so if you can relate, roast more sweet potatoes to be safe.)
The essential elements are: roasted sweet potatoes, mayonnaise or aioli (flavored or not), pickles of some kind (onions, carrots, beets, turnips, etc.), lettuce, and good bread. The CGS also adds goat cheese, which is a delicious addition, but if you don't like it or if you don't have it on hand, know that it can be substituted with other cheeses or left out depending on your preferences. Also, the lettuce the CGS uses is tossed in some sort of lemon vinaigrette. For simplicity, I've just used lettuce, but if you feel like going the extra mile and making a lemon dressing, go for it.
I am using a homemade aioli, but you certainly could use store-bought mayonnaise. I haven't tried, but I imagine stirring in a few cloves of minced garlic to a quarter cup of mayonnaise would work nicely here.
For the pickles, if you want to use pickled beets, which are particularly good with the roasted sweet potatoes, you can cook a few beets (Instant Pot or roasted), peel them, slice them thinly, then cover them with vinegar: I stir 1 teaspoon kosher salt into 1 cup of vinegar until it dissolves; then stack the sliced beets into a jar and pour the vinegar over top. If the beets are not submerged, I top them with more vinegar. I love white balsamic vinegar, but you could use apple cider or really any white vinegar.
---
to roast the sweet potatoes:
1

sweet potato, peeled and sliced 1/4-inch thick (about

1

lb. post peeling and slicing)

2 tablespoons

olive oil
kosher salt to taste
for assembly:
---
Instructions
Roast the sweet potatoes: Preheat the oven to 450ºF. Pile the sweet potato slices onto a rimmed sheet pan. Pour the olive oil over top and toss to coat. Spread into an even layer. Season the exposed surface of each sweet potato slice with some kosher salt. Transfer to the oven and roast for 15 minutes. Flip the slices. Season lightly with salt. Transfer to the oven, and cook for 4 to 5 more minutes, keeping a close watch to ensure they don't burn. Cook longer if necessary — every oven is different. The slices should be beginning to caramelize at the edges and should be tender in the middle.
Assemble the sandwiches: Lay two slices of bread (toast the bread if you wish—I do when the bread is not freshly baked) on a work surface. Spread a thin layer of aioli or mayonnaise over each slice. Top one slice with a layer of roasted sweet potatoes, then a layer of whatever pickle you are using, then a layer of lettuce, then some crumbled goat cheese, if you are using. Close the sandwich, cut it in half, and eat immediately.
Prep Time:

1 hour

Cook Time:

20 minutes

Category:

Sandwiches

Method:

Roast

Cuisine:

American
Keywords: sweet potato, sandwich, homemade, aioli, bread, pickles
This post may contain affiliate links. Please read my disclosure policy.