Pressure Cooker Tomato-Basil Sauce
This post may contain affiliate links. Please read my disclosure policy.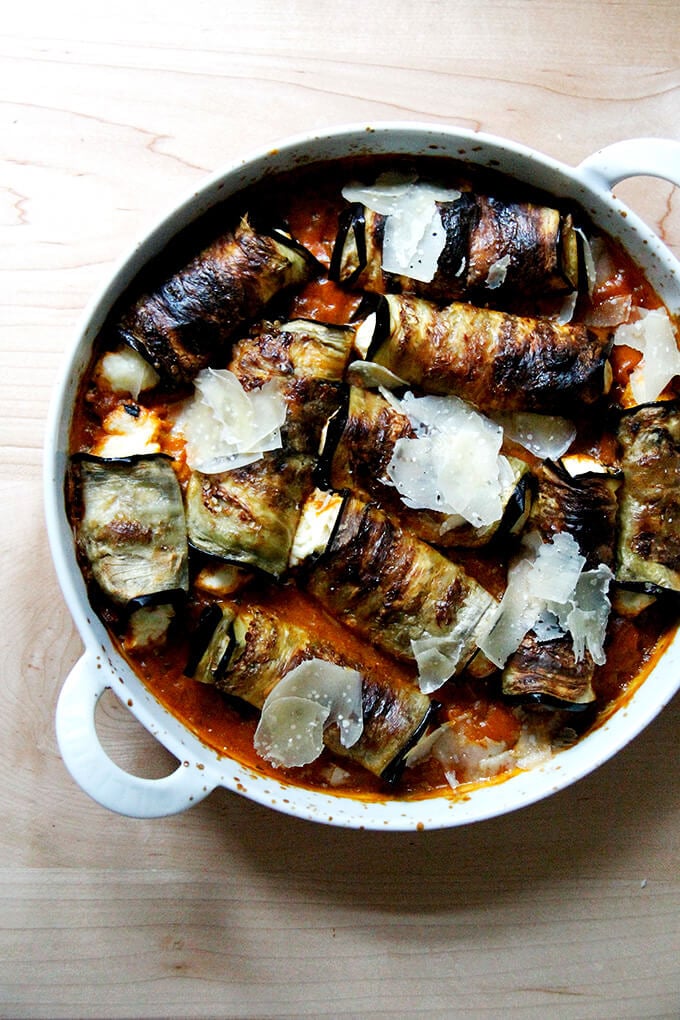 ** This post is sponsored by Kuhn Rikon, whose products I have loved for years. Thank you for the support.**
In past years, all of our home-grown tomatoes arrive at once, often in October, long after I've satisfied my morning-, noon-, and night-tomato craving with something sweet and beefy from the farmers' market.
This year, thanks to my husband, who nurtured the Cherokee Purple seedlings in our basement in mid April and lovingly transplanted them to our garden after Memorial Day, we've been lucky to have a steady supply for weeks, allowing us to live on BLTs, cream cheese-and-tomato topped bagels, and tomato-and-basil salads.
But the tomatoes keep coming. Every day a dozen or so, threatening to burst at the seams at any moment, get pulled from the vine and huddled with the dozen or so similarly delicate spheres blanketing our counter. Time to make sauce.
For the past few weeks, I've been making a tomato-basil sauce in a new gadget: the DUROMATIC® Pressure Cooker from the Christopher Kimball for Kuhn Rikon collection, a stovetop pressure cooker designed with Milk Street's Christopher Kimball. For its energy- and time-saving capabilities, the Duromatic, Christopher says, is a "powerhouse," and he particularly likes using it for risottos, soups and one-pot dishes.
As speed more and more is a particularly compelling feature for me, I've been loving how quickly my sauces, soups, and beans have been cooking in the Duromatic and how quickly—always within three to four minutes—it reaches full pressure. Also, for me, because it's a stovetop device, the Duromatic feels more intuitive than electric pressure cookers I've used.
In next week's post, I'll share more about the Duromatic along with another pressure-cooked recipe and a chance to win a Duromatic. But today we're going to tackle the tomato glut.
This recipe, an adaptation of Marcella Hazan's famous sauce, start to finish takes 30 minutes and tastes so fresh and summery. Thus far I've used the sauce to make no-fuss eggplant parmesan and, as pictured here, another summer favorite: eggplant involtini. I have several quarts of the sauce frozen on hand and have no doubt will be adding to the supply all fall as this sauce feels so effortless to make.
Here's the basic process: place coarsely chopped tomatoes, onions, salt, and butter into the pressure cooker, close the lid, and place over high heat; bring to pressure, cook for 5 minutes, let release naturally, (a 15-minute affair), purée with some basil, then simmer to reach desired consistency (5 minutes or so). That's it! Find the full recipe along with the involtini recipe below.
Looking forward to sharing more about the Duromatic next week. Question: Do you use a stovetop pressure cooker? If so, what's your favorite use for it?
*****
Cherokee Purples: my favorite. For this sauce, you can use any tomatoes you are growing or loving at the moment. Here's a visual how-to guide to making this sauce: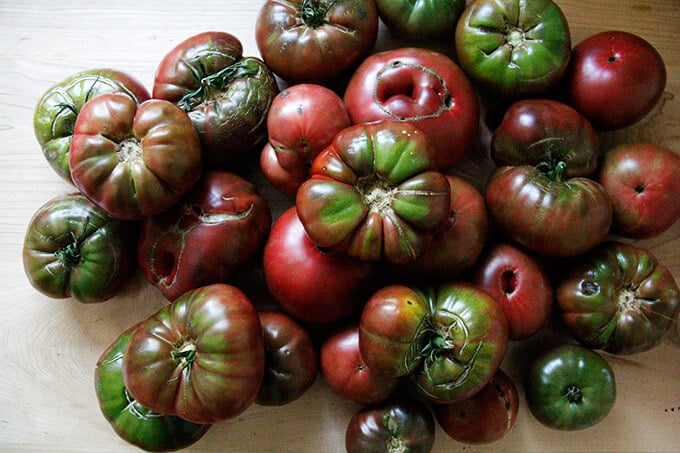 Chop up 4.5 to 5 pounds of tomatoes.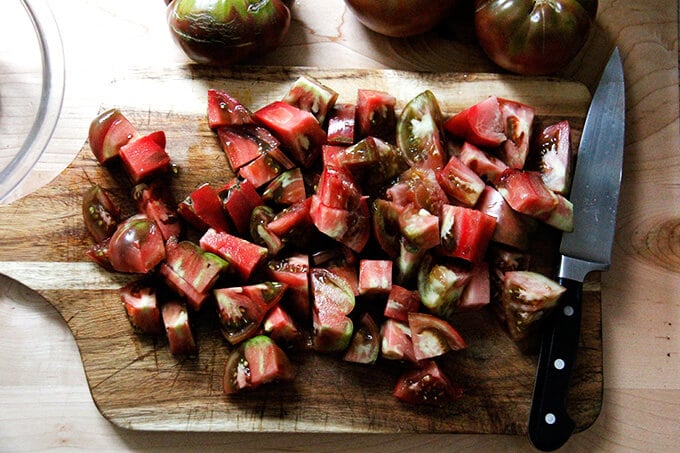 Slice up to 2 onions.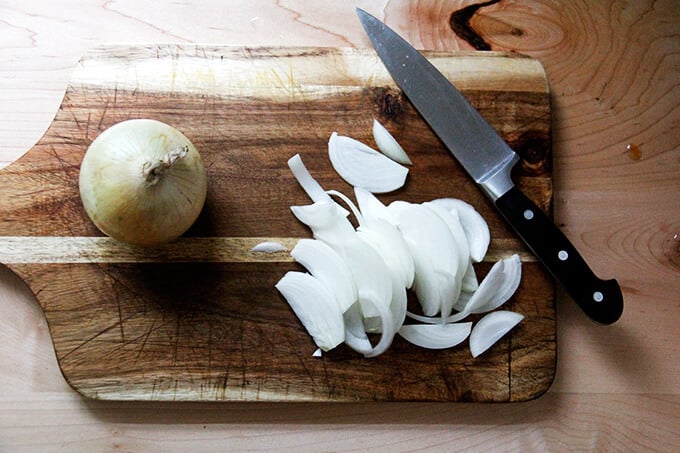 Add tomatoes to pressure cooker.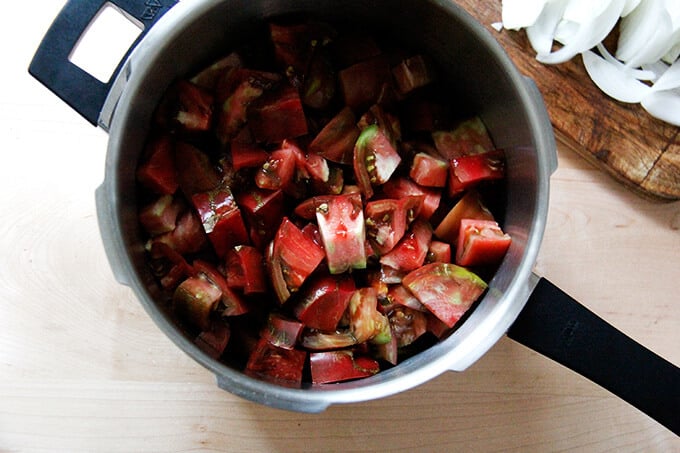 Add onions, 2 teaspoons salt, and a stick of butter.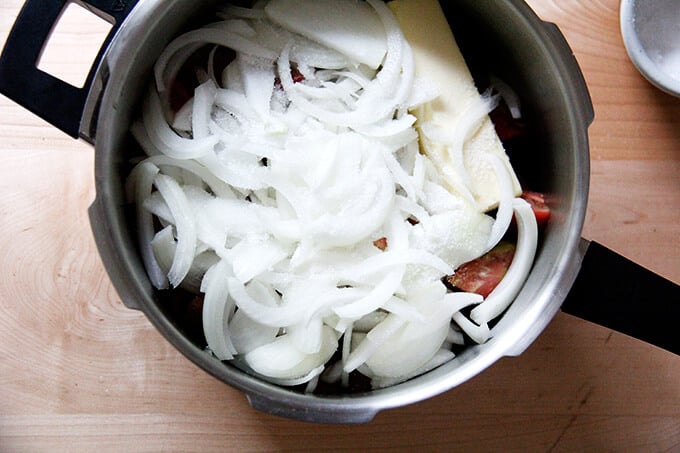 Close the lid, bring the pot up to pressure over high heat.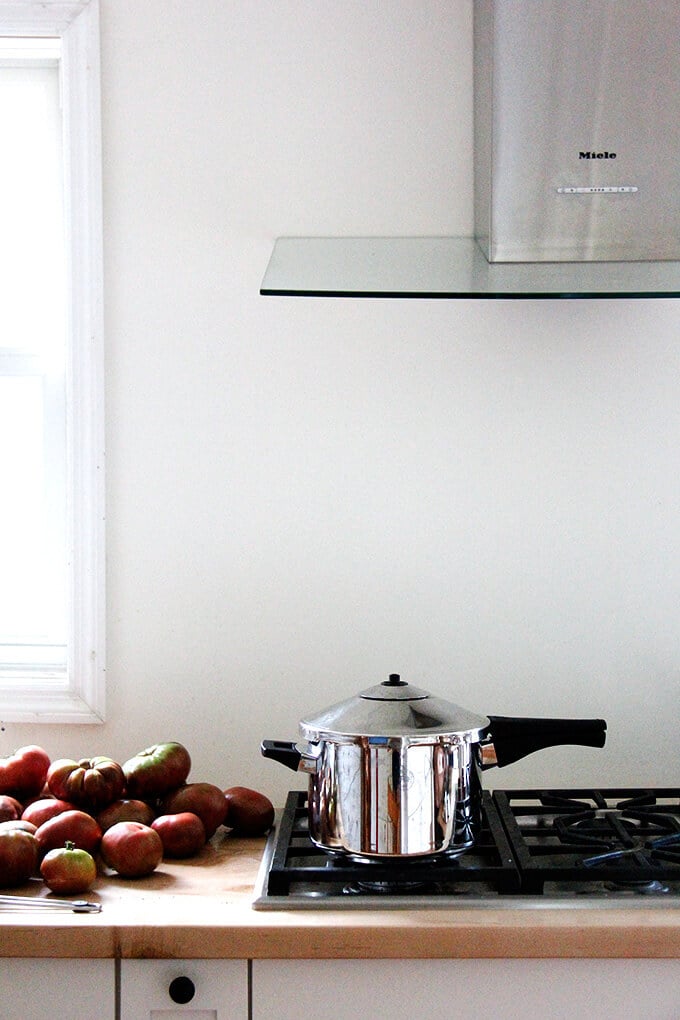 Shortly after you see two red lines…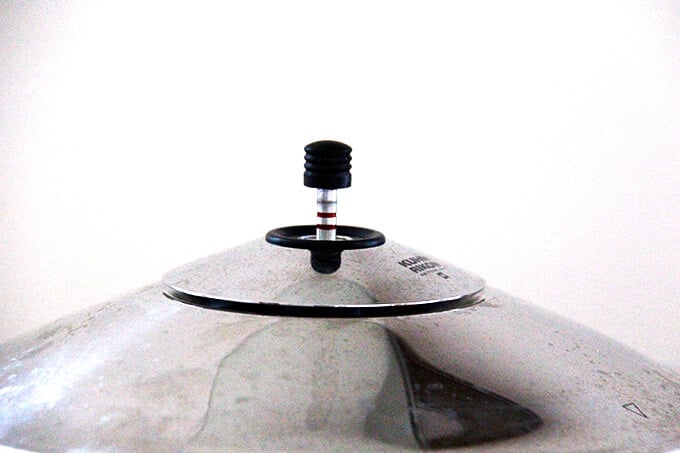 … you'll hear a loud hissing sound, which will be your signal to turn the heat down to low, which will cause the hissing to stop and the valve to drop down to reveal a single red line. Cook at this level for five minutes; then turn off the heat and let the valve release naturally, which will take about 15 minutes.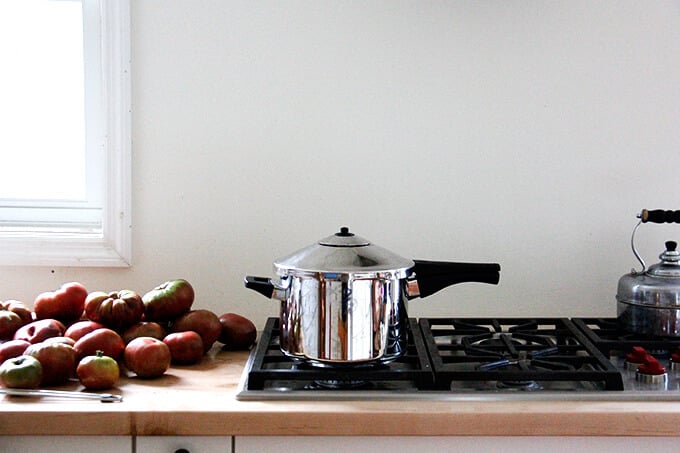 Remove the lid.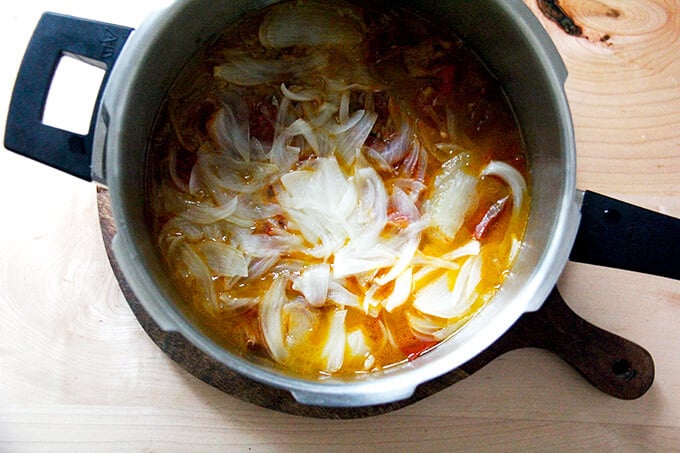 Purée with an immersion blend (or food processor or traditional blender).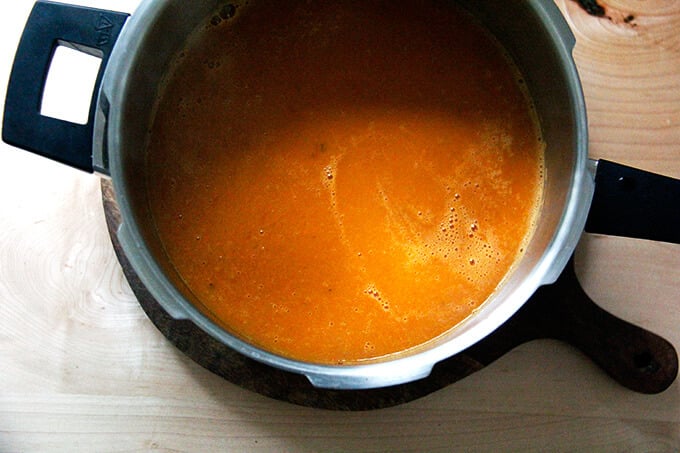 Add basil, if you wish, and purée again.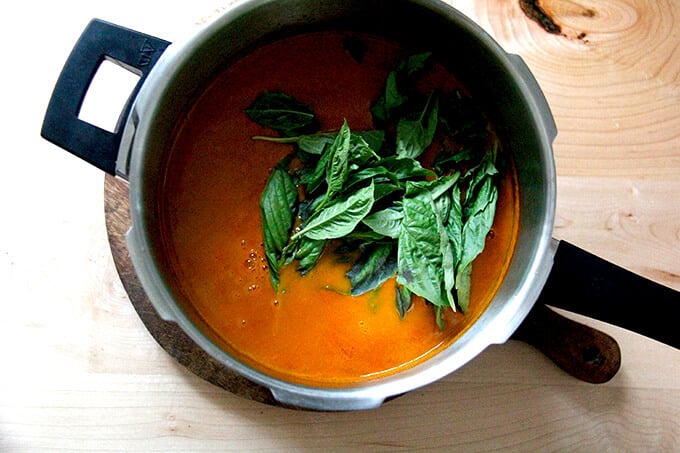 Return pan to stovetop and simmer further to reach desired consistency.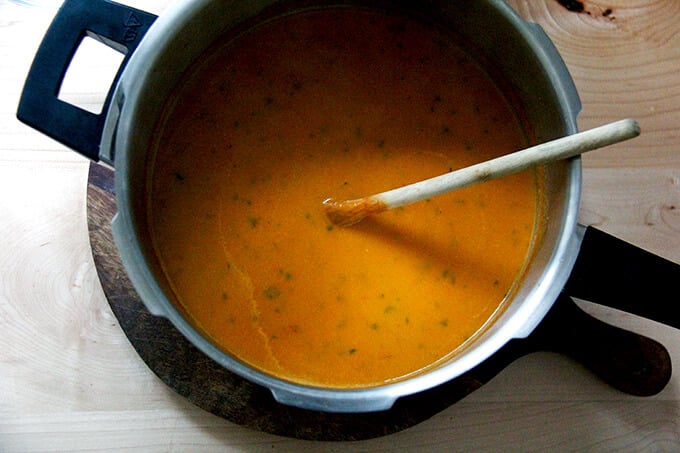 To make the involtini, find an eggplant or two.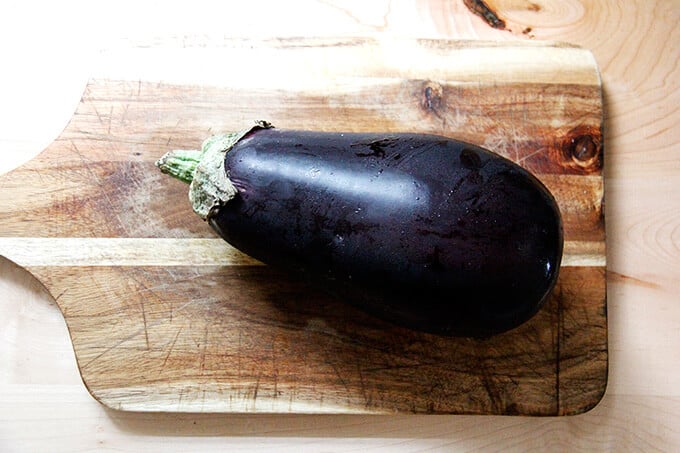 Slice it lengthwise and roast it (see recipe for details) till golden.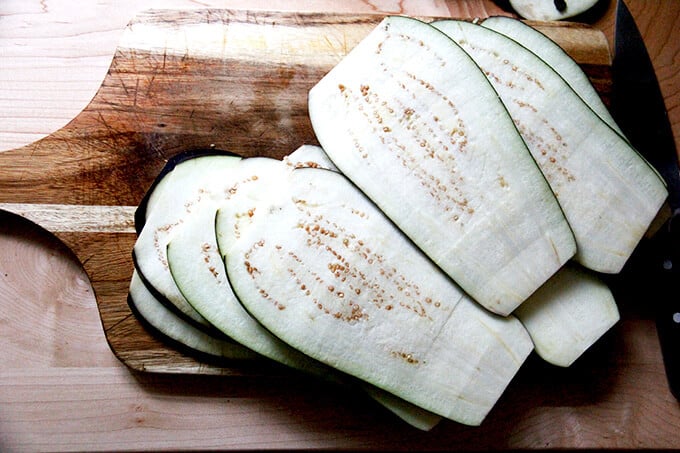 Whisk fresh ricotta with lemon zest and salt, and drop a few spoonfuls at one end of each roasted eggplant slice.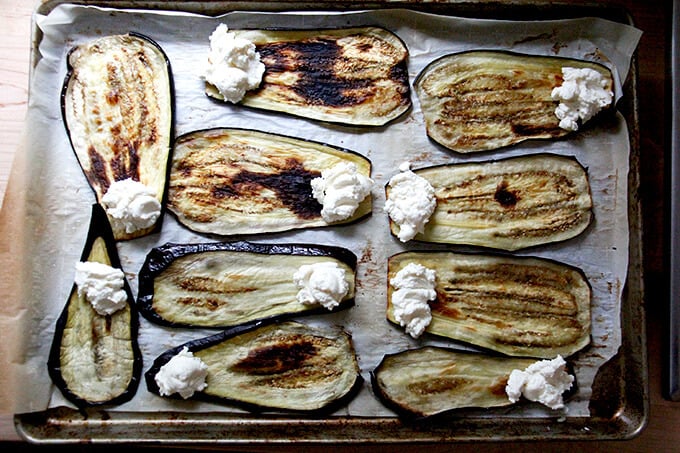 Roll into a coil and place seam side down.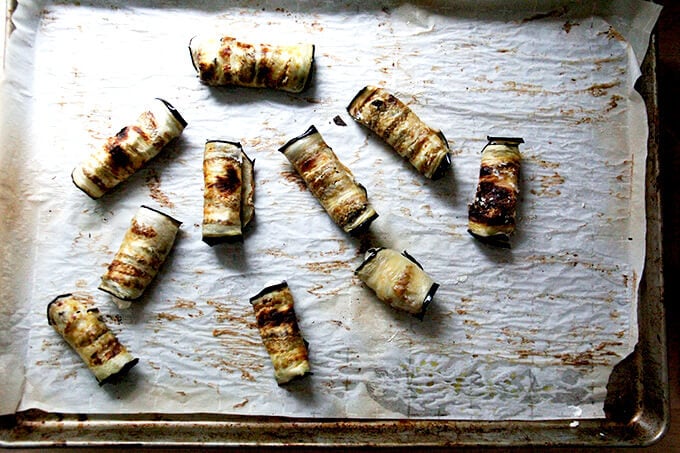 Ladle a thin layer of sauce into a gratin dish.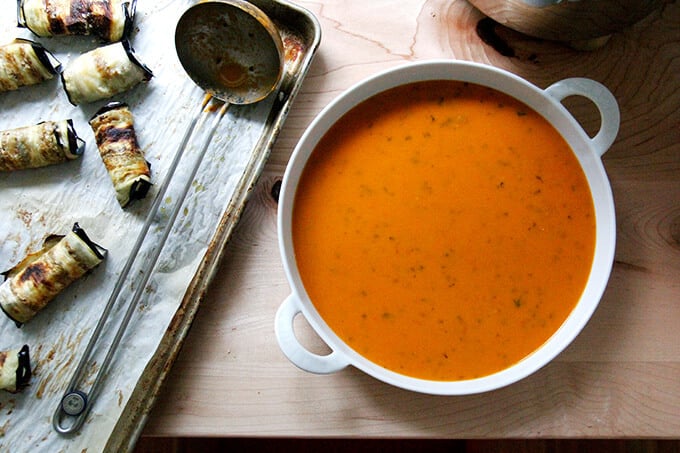 Nestle your eggplant rolls in the sauce, brush with cream or half-and-half, and bake for another 25 minutes.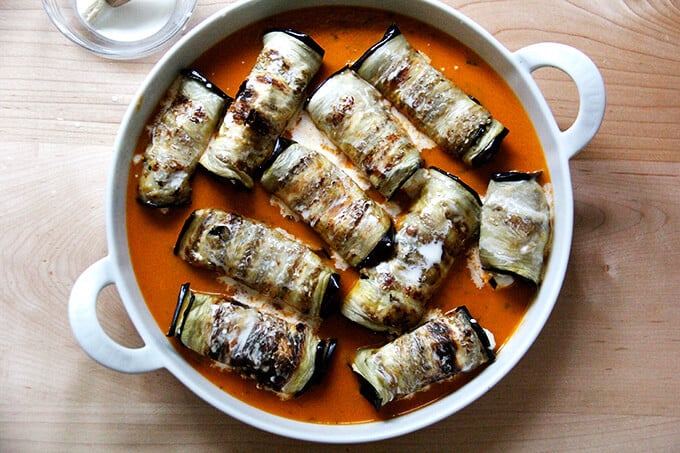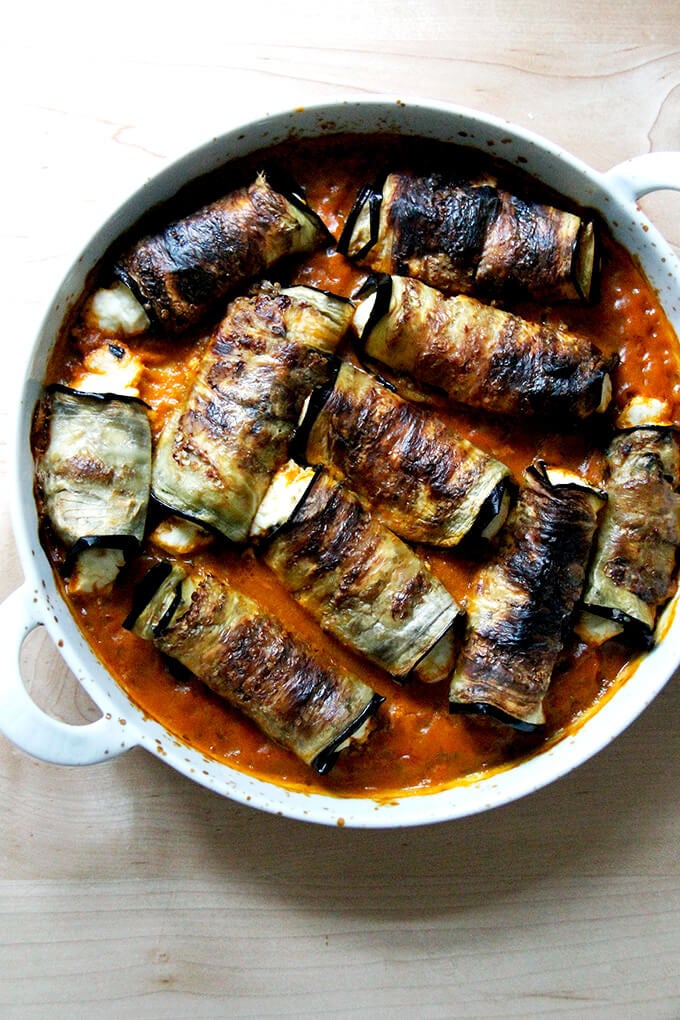 Shave some Parmigiano Reggiano over top (using your favorite peeler):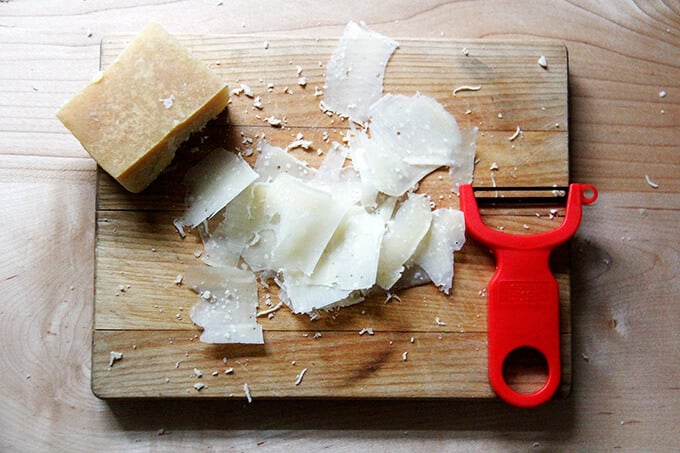 Print
Pressure Cooker Tomato-Basil Sauce
---
Author:

alexandra

Total Time:

40 minutes

Yield:

2 quarts
Description
Marcella Hazan's famous sauce takes a spin in the Duromatic® Pressure Cooker, a new stovetop pressure cooker made by Kuhn Rikon and designed by Christopher Kimball of Milk Street.
---
4.5

to

5

pounds tomatoes, roughly chopped

2

large onions, thinly sliced

2 teaspoon

kosher salt

8 tablespoons

unsalted butter
bunch basil, optional
sea salt, such as Maldon, for finishing
---
Instructions
Place the tomatoes, onions, kosher salt, and butter into your stovetop pressure cooker. Close the lid. Turn the heat to high. When the two red lines of the valve are visible, reduce heat to low—the valve should drop to reveal only 1 line—and cook for 5 minutes. Turn heat off. Let valve release naturally, which should take between 15-20 minutes.
Remove lid. Purée, with the basil if using, until smooth—I use an immersion blender for this; if you don't have one, use a traditional blender or a food processor. Sauce will be thin. Return pan to burner and simmer over low or medium heat until sauce is desired consistency. Note: keep in mind, when you use sauce in something like eggplant involtini or eggplant parmesan, it will reduce further as it cooks. More and more I keep the sauce on the thin side and reduce it as needed. Also, this recipe could easily be turned into soup by simmering it down to the desired consistency and adding a splash of cream. 
Store in quart containers in the fridge for up to a week; freeze for 3 to 6 months.
Prep Time:

10 minutes

Cook Time:

30 minutes
This post may contain affiliate links. Please read my disclosure policy.