How to Plan For A Kitchen Renovation
This post may contain affiliate links. Please read my disclosure policy.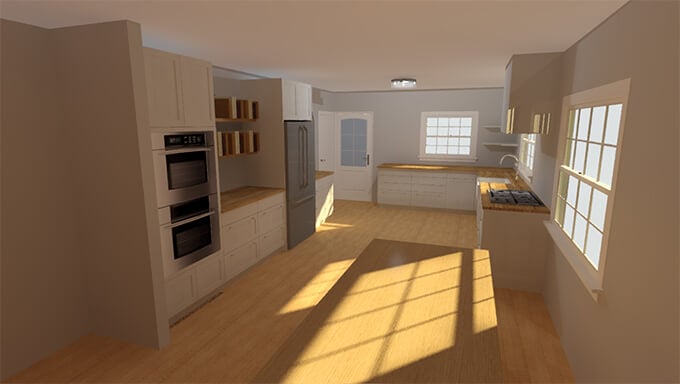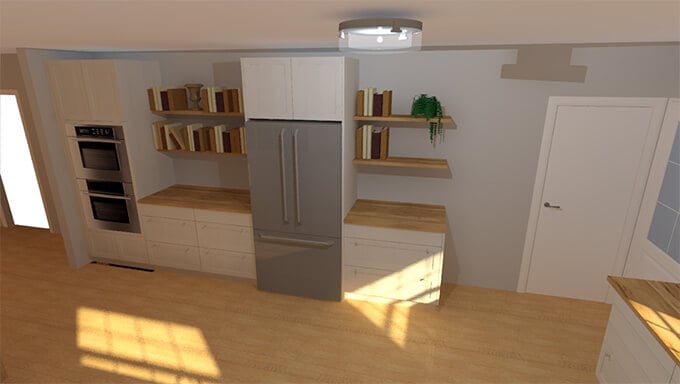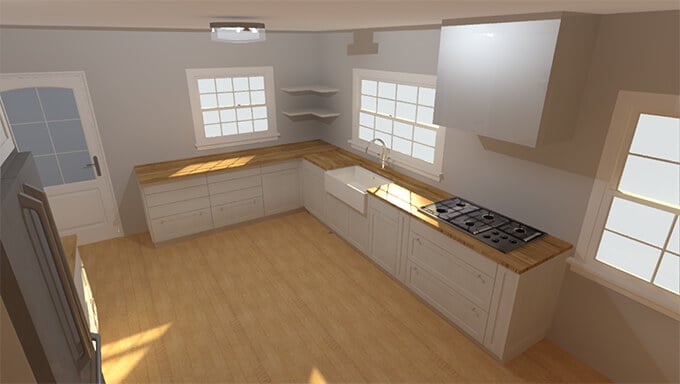 I learned many many things throughout the kitchen renovation process, and I've compiled what I can remember below. Here are a few other posts relevant to the renovation:
Preparing for a Kitchen Renovation
• Find a kitchen designer. This was news to me. I had imagined scribbling a plan on a piece of paper, hiring the contractor that gave the best estimate, and figuring out the pieces as we went along. Nope. Contractors (most, at least) will not work with you unless you have a design plan. Makes sense.
I used Hudson Kitchen and Bath and cannot say enough nice things about them. I had been in Hudson one morning several years ago, and their store front caught my eye on my way to the train station. I checked out their website and immediately felt drawn to their style. Les Craig and Nicholas Pappas came up twice to take measurements and discuss layout and returned once again to offer guidance when it was time to install the cabinets. The final design renderings of the kitchen are above.
• Before you meet with your designer, create a Pinterest Board or some sort of mood board. Here's mine: Kitchen Inspiration and Home Decorating. It's helpful to show the designers the look you're going for, and it's helpful to share your goals. I could summarize my priorities as:
Having drawers with plates, silverware, glasses accessible for the children.
Having cookbooks accessible for me.
Pull-out trash and recycling.
• Hire a contractor. Larry and Bill Cunningham came highly recommended by friends, and we can't say enough good things about them. They showed up on time every morning; they cleaned up before leaving; they stayed on schedule; they were thoughtful and meticulous. If you live locally and are thinking about having work of any kind done, call them.
• Get rid of stuff, if you can, or move it. In the months leading up to the renovation, I cleaned out my cabinets, channeling, as best I could, Maria Kondo. It felt really good to give away cooking gear I wasn't using as well as plates and platters and other things that sat around unused. I also invested in three metal shelving units from Lowe's, which I set up in the basement—I know having this sort of space is a luxury, but these shelves have been so handy: I use them to store both cooking equipment I don't use very often as well as pantry items: dried beans, flour, canned tomatoes, spices, granola ingredients, muesli ingredients, etc.
Pick out your appliances. The contractors will not need the appliances themselves immediately, but they need to know dimensions and specs to prepare walls/ducts (?? I don't really know) appropriately. I used a local company, Marcella's, for the appliances I needed: an oven, cooktop, and hood. Both the double oven and hood were floor models, so I got a wee break in the price. We did not need to replace our fridge and dishwasher.
Pick out countertops (and shelves, if applicable). I found a local company, Alexander Butcher Block, to make our countertops and open shelves, which are made of maple. I had heard mixed things about butcher block counter tops — that you can't put anything too hot on them; that you can't cut on them; that, especially around the sink, mold will destroy them. The thought of mold worried me a bit, but after learning that ABB installs sink cut outs every single day and that in all the years they've been in business, they've never had an issue,  I was sold. I'm so happy with my decision. For one, I've never had countertops that I could put hot pans on anyway, so there was no change for me there. Second, I wouldn't want to cut directly on the countertops anyway.  Third, I absolutely LOVE them.
Pick out sinks and faucets. I chose this farm house sink and faucet. Love them. Highly recommend the grate insert.
Lighting. I bought six of these 4-inch canned lighting from Home Depot. Encouraged by my mother, everything is on a dimmer. I was so tempted to find a cool pendant lamp to hang above the sink, but I was worried I would hate it in a year. That said, this is something else to consider when planning a renovation … I find lighting so tricky.
Flooring. My kitchen designer recommended Adirondack Wood Floor Co. I wanted something similar to the wide planks in my aunt and uncle's home in VT. I chose reclaimed heart pine. Keep in mind the lead time for reclaimed (or any) flooring can be 6 to 8 weeks or longer. Also, the floor boards need to acclimate to your home for about a week before they can be installed.
Knobs. I chose these. They cost $0.93 each (at the time).
Brackets for open shelves: I found these from Smokestack Studios on Etsy. Love them.
Details: Know that you can add inserts for your drawers — cutlery dividers, plate dividers, pan dividers, etc. — after your kitchen is complete. It took me a little while to figure out exactly which inserts I wanted, and it was nice to have time in the completed kitchen before making those decisions. I did, however, decide ahead of time that I wanted a spice drawer, a pull-out lazy Susan, pull-out trash, and vertical dividers above my ovens for pans, cooling racks, cutting boards, etc.
A few other thoughts:
If you have children and are worried about how they will fare, don't—they'll think it's the best thing ever.
Be prepared for many areas of your house to be turned upside down. We stored cabinets in our dining room for at least a month; we stored the flooring in our living room for about as long.
Set up a temporary kitchen somewhere in the house. We set up our coffee pot, Nespresso machine, a pair of mini gas burners, and a small oven on a large table in our dining room. We ate lots of instant oatmeal, cereal, and Ramen noodles, but we also cooked. The gas burners allowed me to boil water for pasta and make kimchi fried rice; the oven, small as it was, allowed me to make chicken with shallots and mustard, crispy tofu and broccoli, Joanne Chang's egg sandwiches, and more. Doing dishes in the bathtub gets old really fast, but before you know it, the whole process will be over, and you'll be so, so happy. You can do it. 🙂 🙂 🙂
Cabinets in the dining room: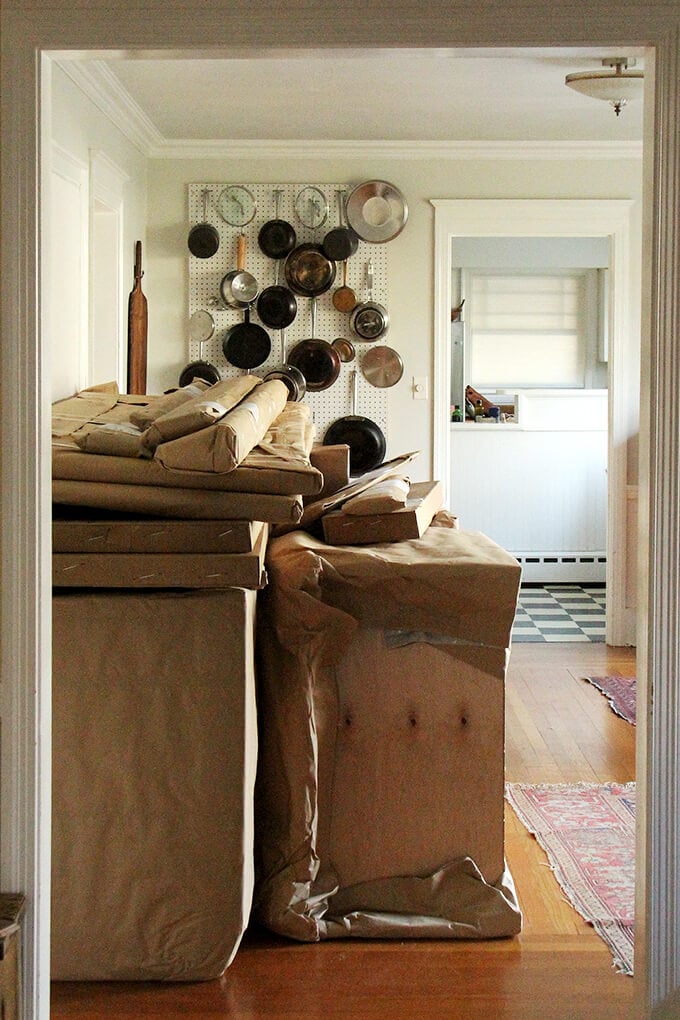 Flooring in the living room: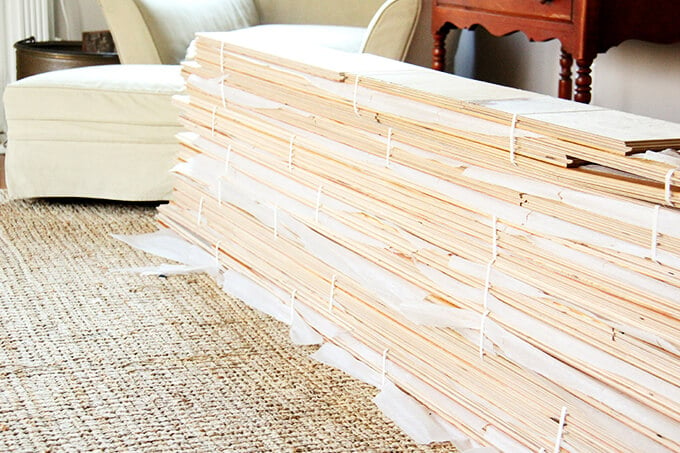 Dining room wherever:

This post may contain affiliate links. Please read my disclosure policy.