Kitchen Reveal
This post may contain affiliate links. Please read my disclosure policy.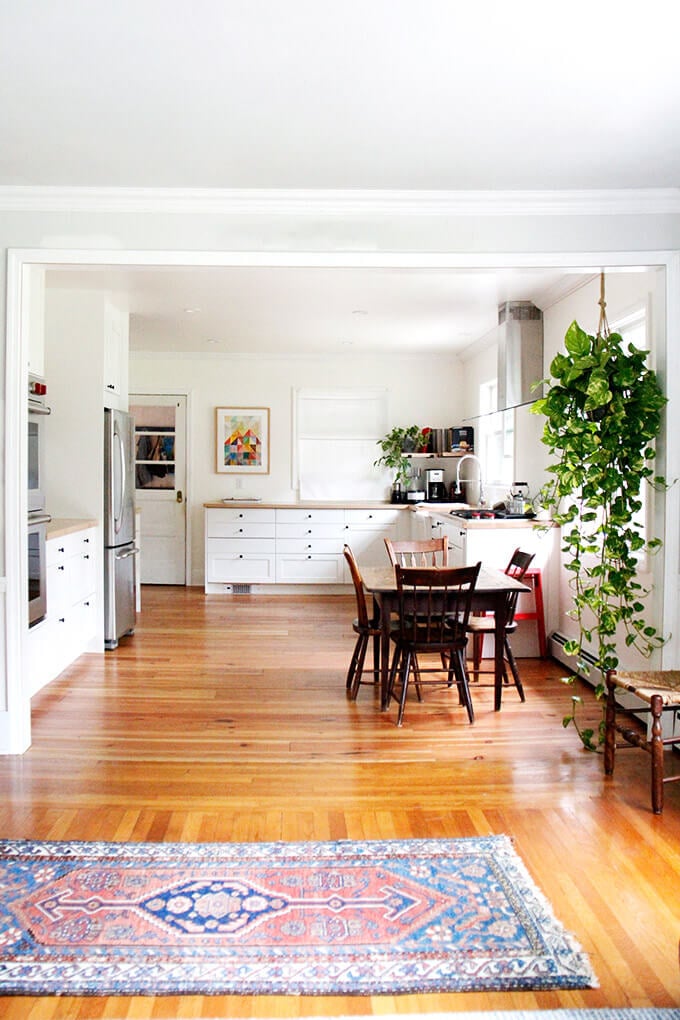 In early December last year, renovation on my kitchen began. Many many people found it odd that I chose to undergo such a process right before the holidays, and looking back, though perhaps it would have been easier to try to schedule the renovation for the summer, I have to wonder: Is there ever a great time to renovate?
I don't really think so. And we survived! And can I tell you something else? Something that's hard to admit as a food blogger? My big revelation: the holidays, at least with kids my age, are not about the food. Given the doing-dishes-in-the-bathtub situation, I made very few of my favorite holiday recipes, both sweet and savory, and my kids didn't suspect a thing. For Christmas morning, in place of something yeasted and time consuming, I opted to make something very simple: King Arthur Flour's Doughnut Muffins. My kids couldn't have been happier. Christmas night, we spent in a hotel WITH A POOL, and again, my kids couldn't have been happier. And just when I thought they couldn't get any happier, they got to spend a week with their cousins in CT—again, it's not (all) about the food with these little ones.
OK, so at last, here's the final kitchen! I've been meaning to get this post out for months. I was waiting for drawer inserts and other finishing touches, and I'm still waiting for a few other little things, but before too much more time passes, I figure I just better get this thing out.
The priorities for us when designing the kitchen were:
• the children: having drawers with plates, cups, silverware, napkins, etc. accessible for them.
• me: enough shelves to house my (growing) cookbook library.
• trash and recycling: a pull-out setup, which is standard these days, was a must.
There are links to appliances, companies, inspiration boards, etc. below, and for a more in-depth look into the renovation process, check out these posts:
1. How to Prepare for a Kitchen Renovation
2. Kitchen Before
3. Kitchen Demo
Links:
Kitchen Designer: Hudson Kitchen and Bath 
Contractors: Larry and Bill Cunningham
Cabinets: Wood-Mode
Cabinet Inserts (knife block, drawer pegs, utensil dividers): Wood-Mode
Knobs: Flat Black Mushroom Cabinet Knobs
Flooring: Reclaimed Heart Pine from Adirondack Wood Floor Co.
Countertops and Shelving: Alexander Butcher Block
Brackets for open shelving: Smokestack Studios
Sink: Blanco Apron Front Kitchen Sink
Cooktop: Wolf 36″ 5-Burner
Double Oven: Wolf M Series
Hood: Miele Range Hood
Lighting: Halo 4-inch Recessed
Pinterest Inspiration Board: Kitchen Inspiration + Home Decorating
Plants: Ward's Nursery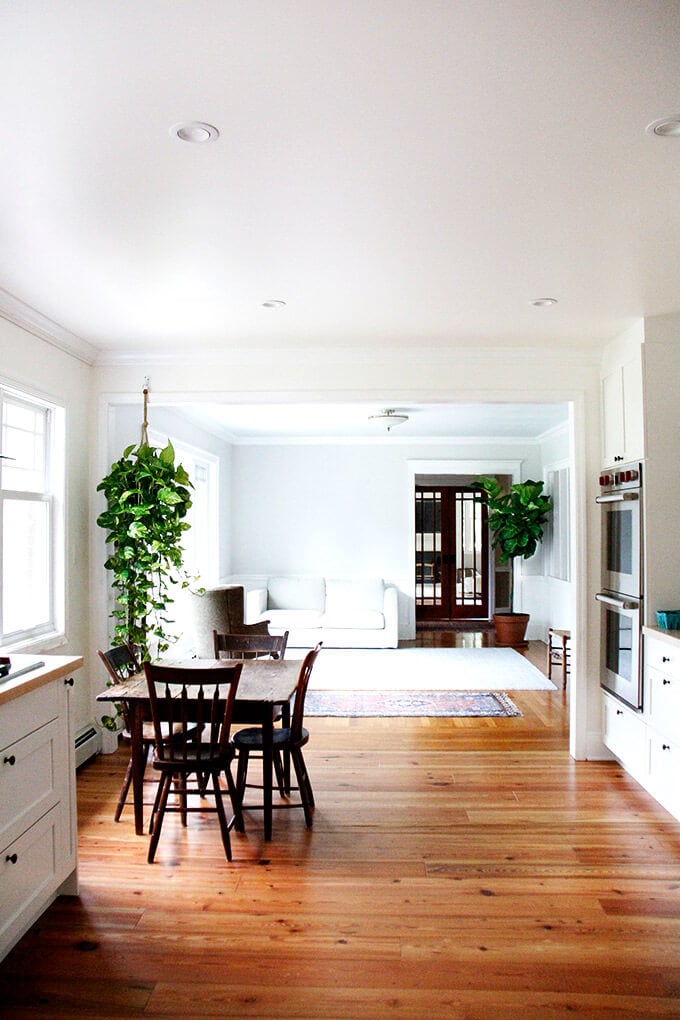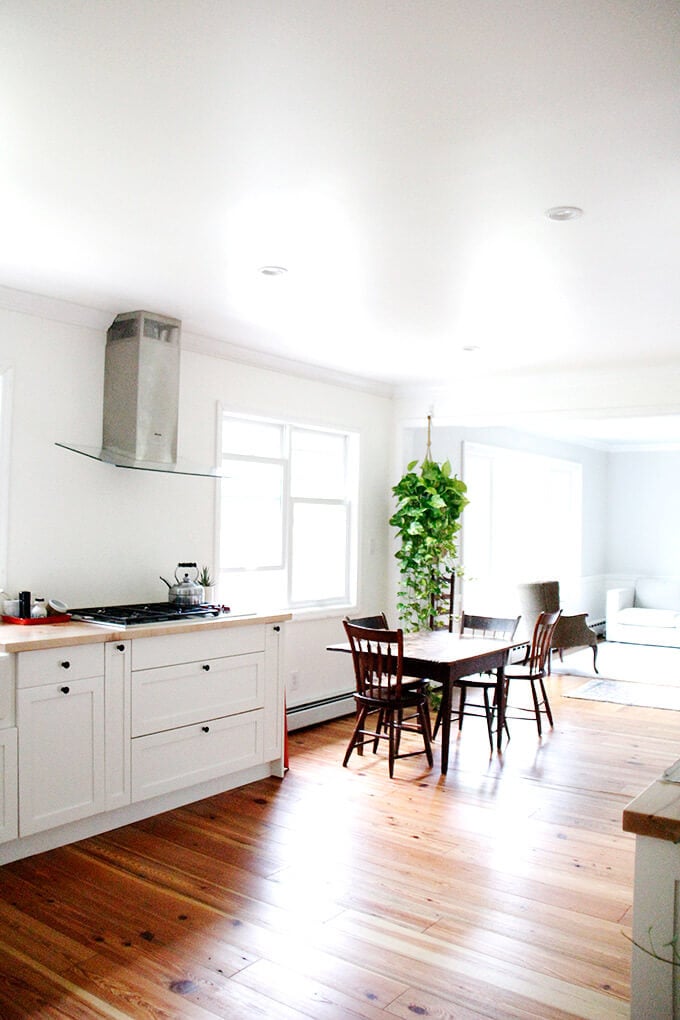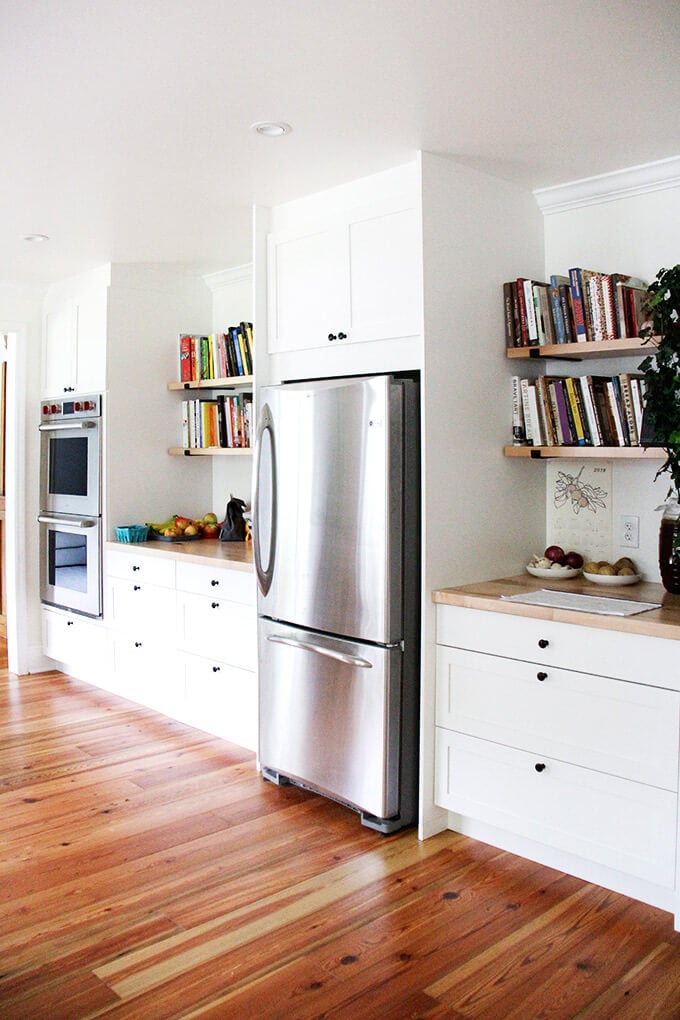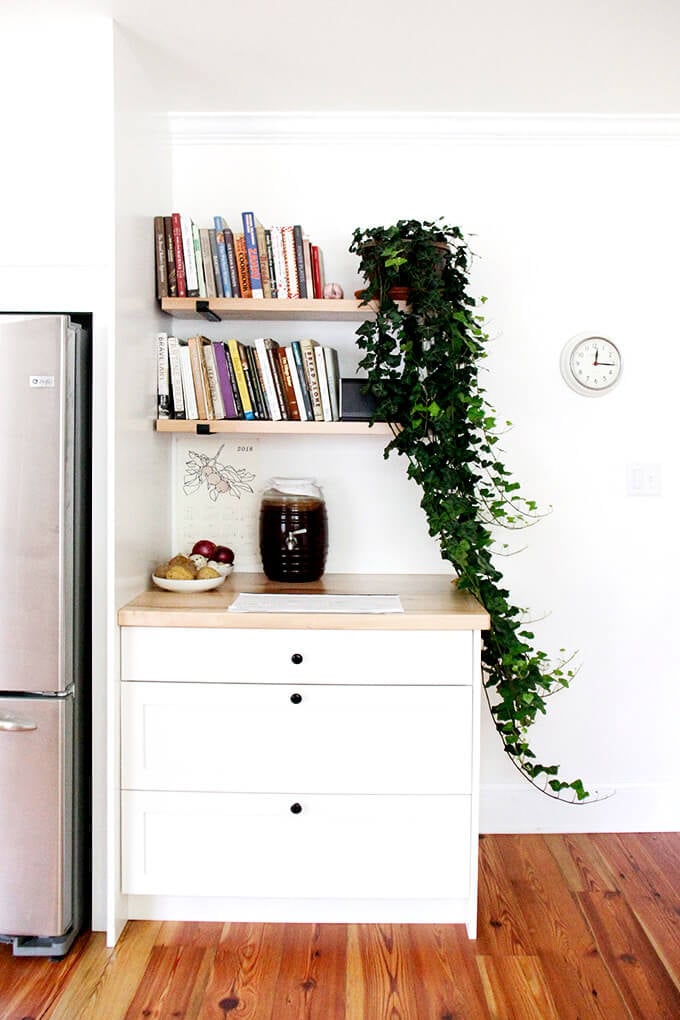 I reframed one of my dad's paintings using Framebridge. I love Framebridge—have used them many times to frame photos for gifts. I love the Marin frame.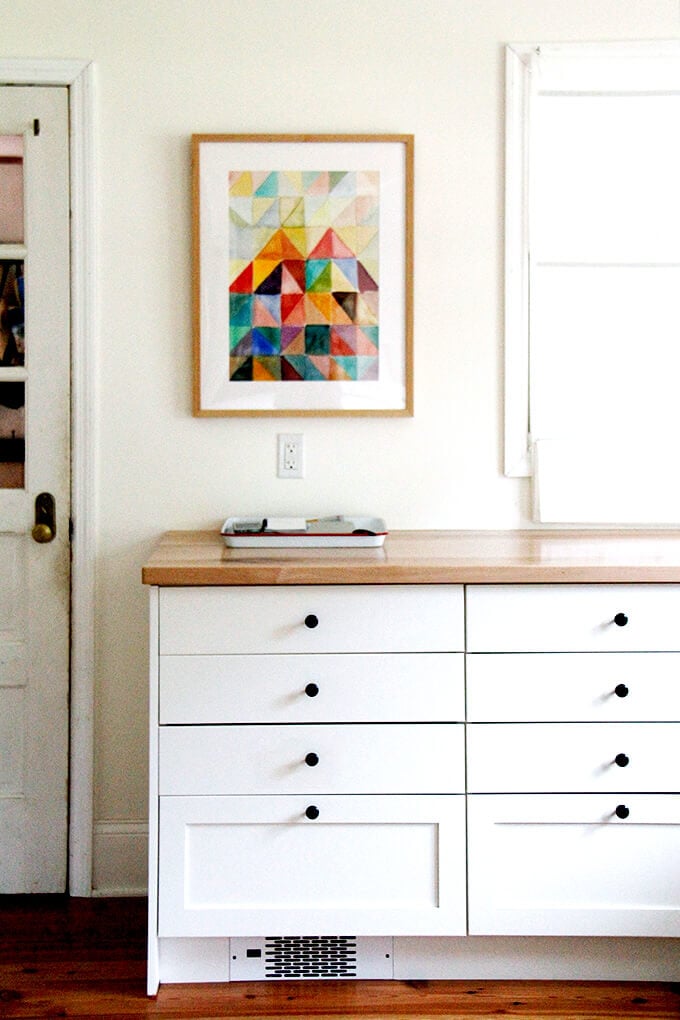 Still thinking about adding another corner shelf above this one. It was in the original design plan, and I think we're going to do it — we have the shelf — but part of me likes how it looks with just one. What do you think? Add a corner shelf? See the design renderings on this post.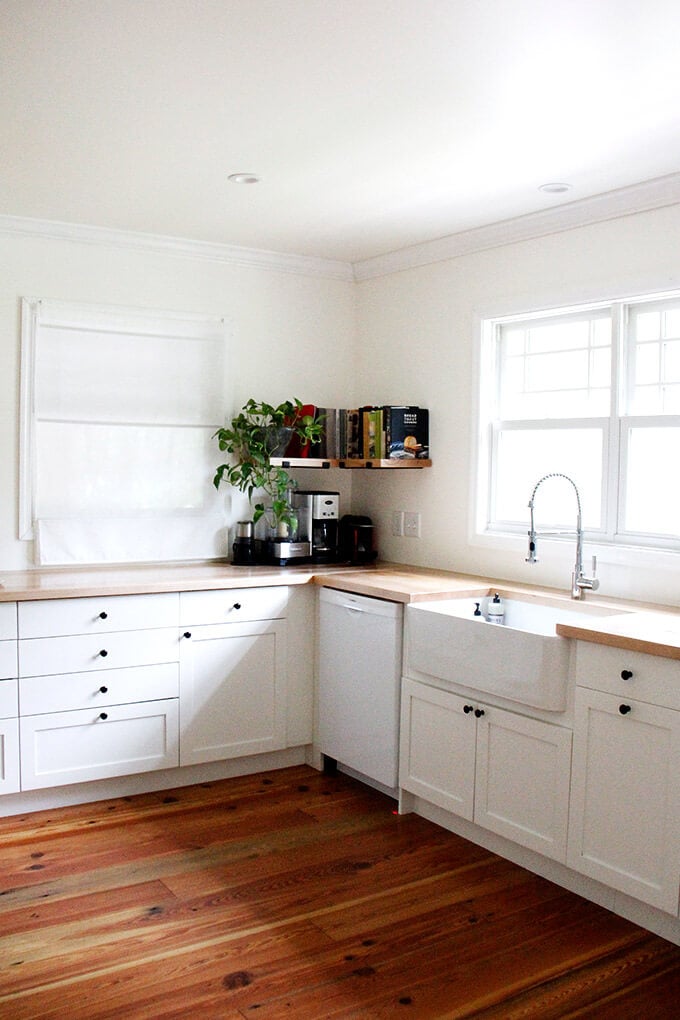 I needed some sort of step stool to keep handy to allow the kids access to the sink and me the cabinet above the fridge. I love how this one stands upright when closed. I found it at the Hillsdale General Store Home Chef.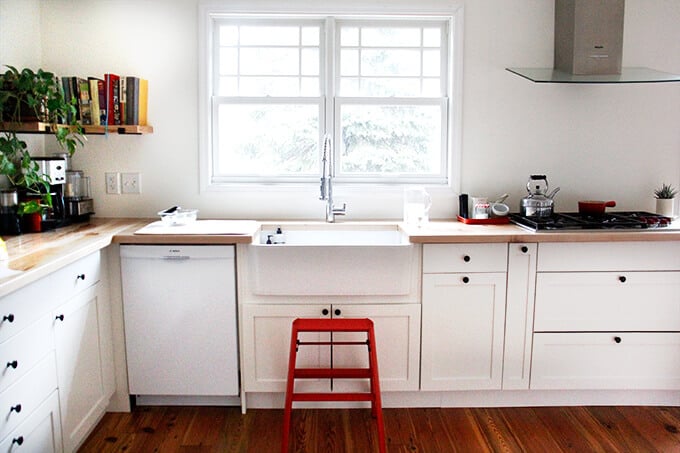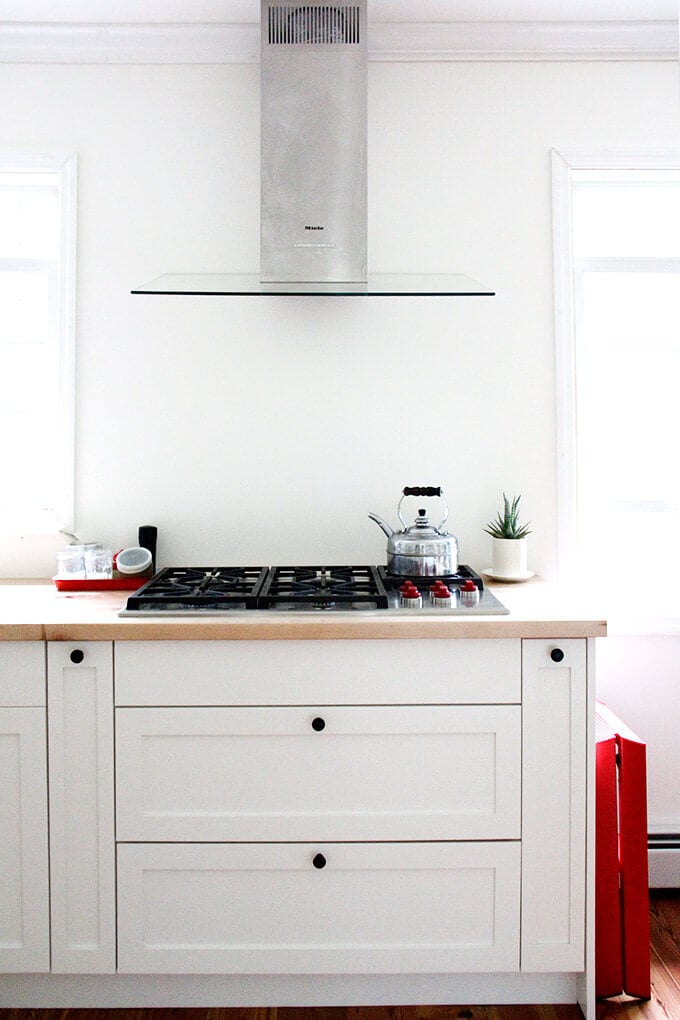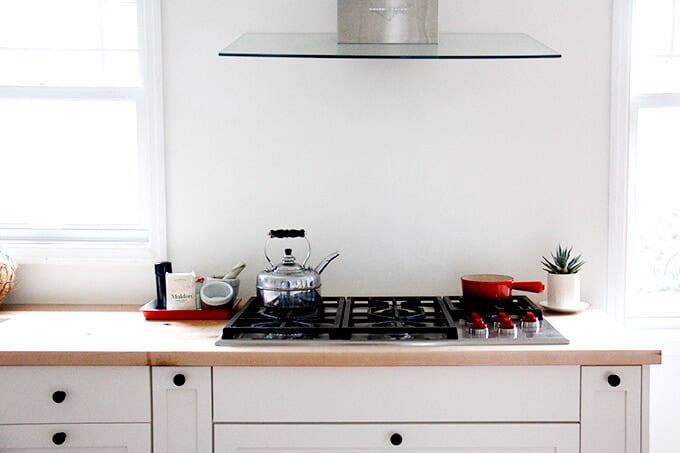 I read about Falcon Enamelware trays in one of the Remodelista books, and I thought they might be nice to organize all of the various jars and condiments I keep out on the counter. I absolutely love them.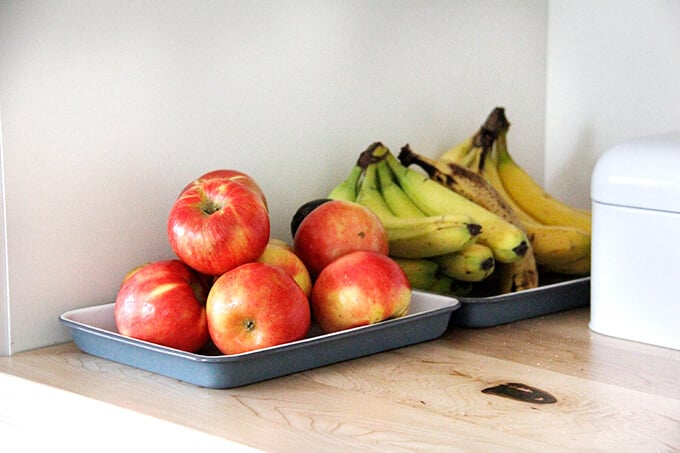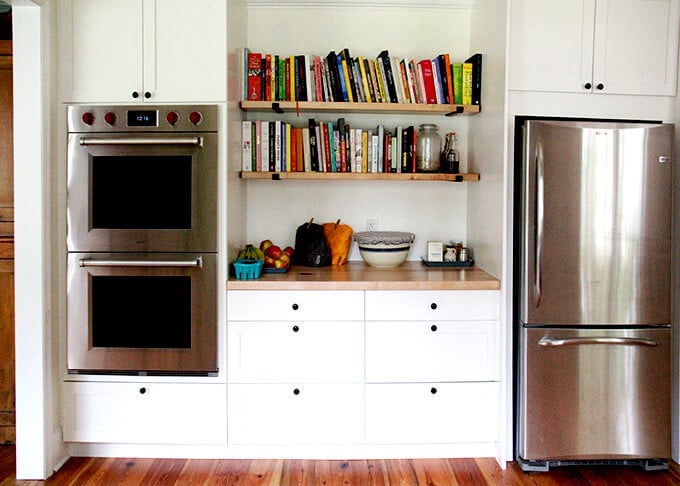 My kitchen, no matter its state, feels empty when these two jars are not filled. On the left: Bircher muesli, which Ben and I eat every day for breakfast. On the right: granola, which my kids eat every day for breakfast. (Incidentally, I recently added notes to this recipe because we go through it so quickly: make a double batch, use grapeseed oil, decrease the oven temperature, bake longer, don't stir …)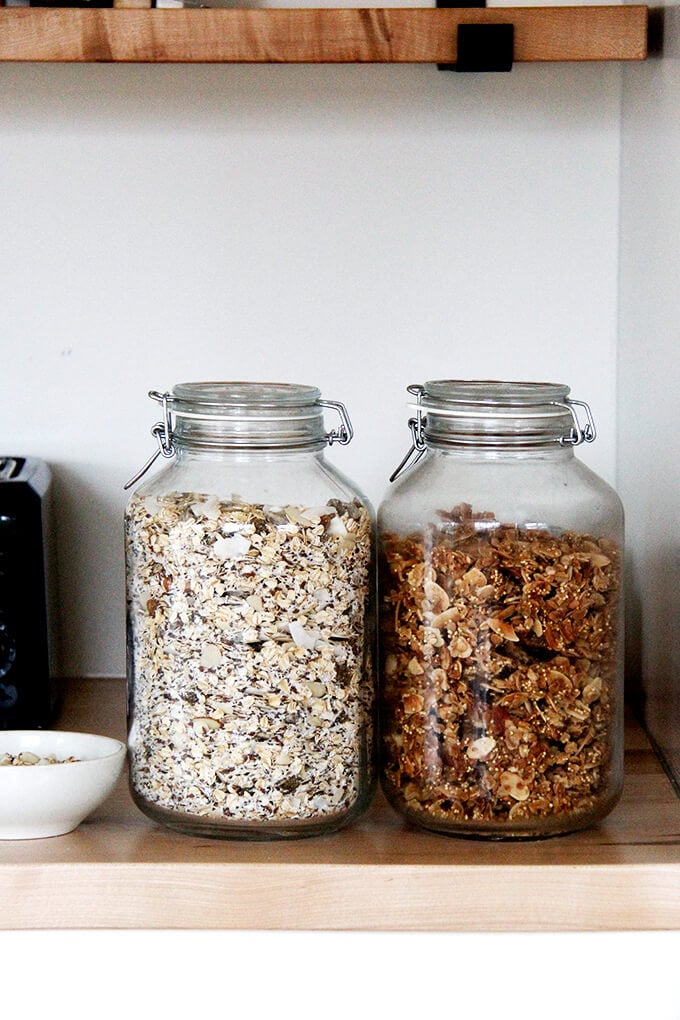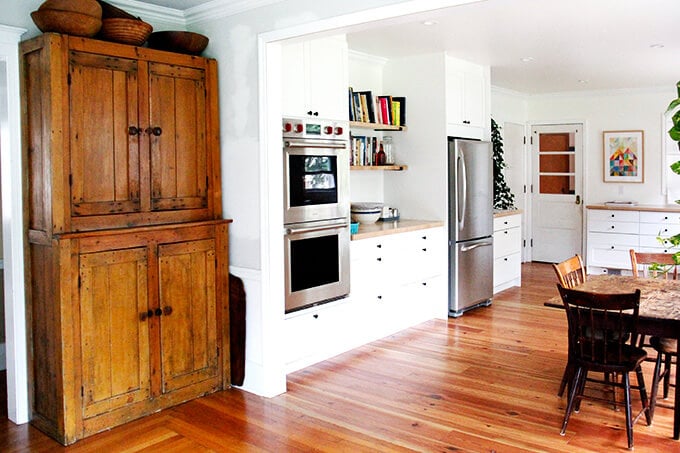 My new favorite way to store bread: Uashmama bags (washable paper bags).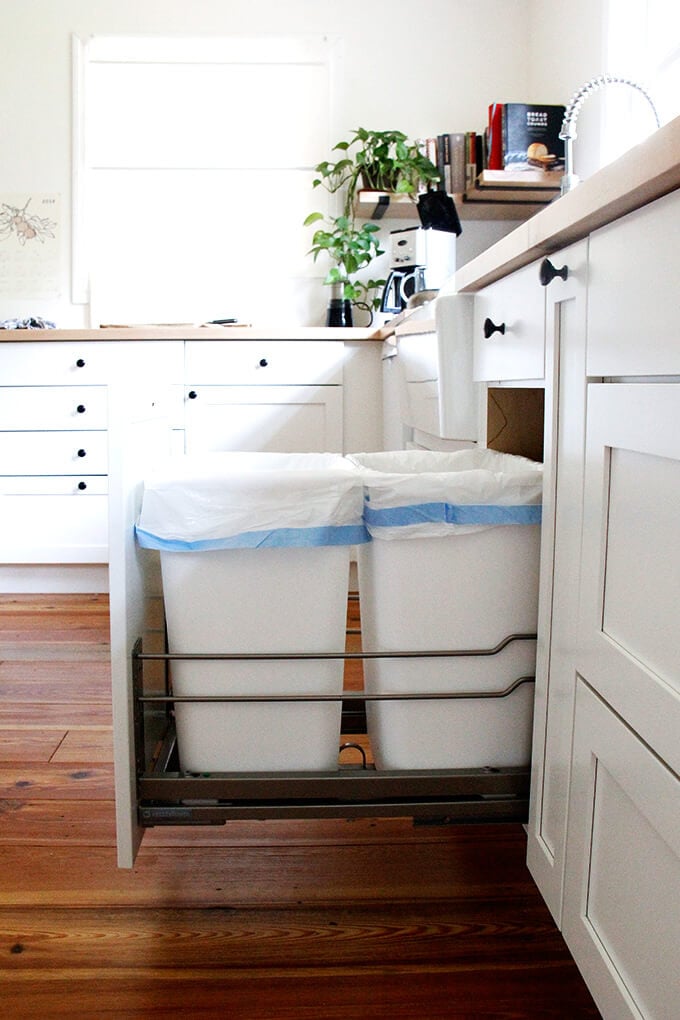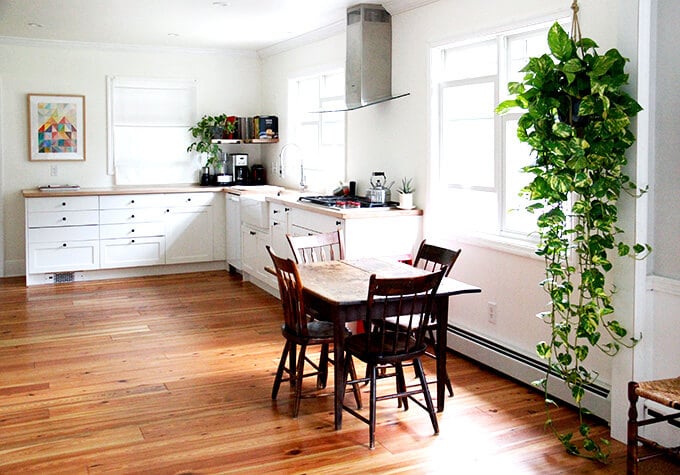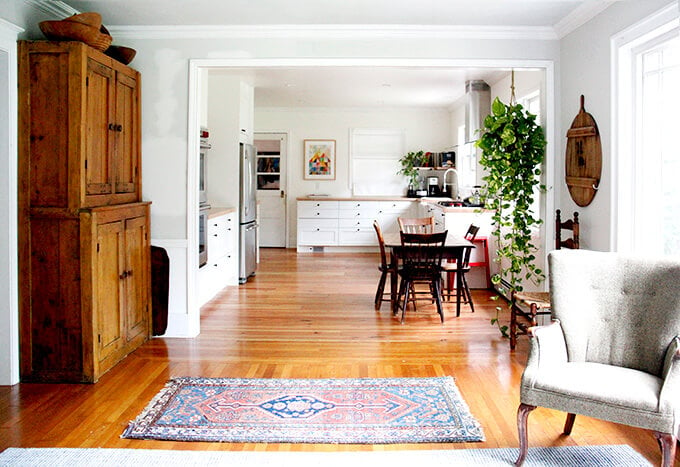 Love this cabinet above the oven—so handy: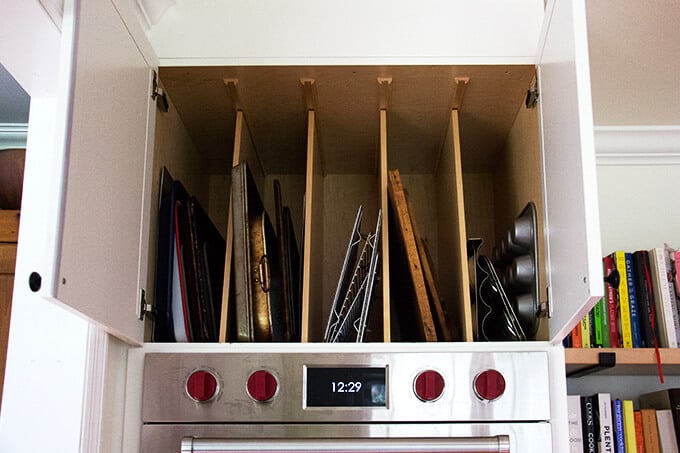 We have these pegs dividers in two of our deeper drawers: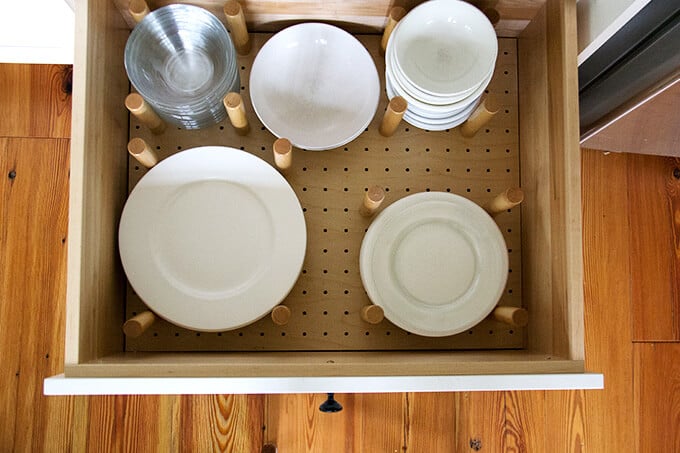 Love my spice jar insert: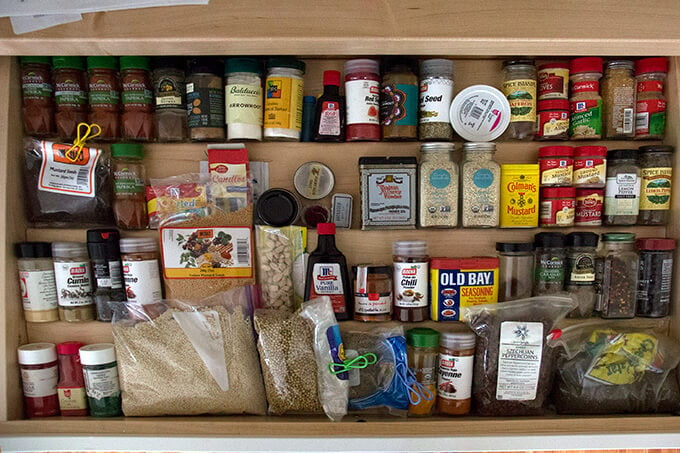 We have this utensil divider in 4 drawers — love it.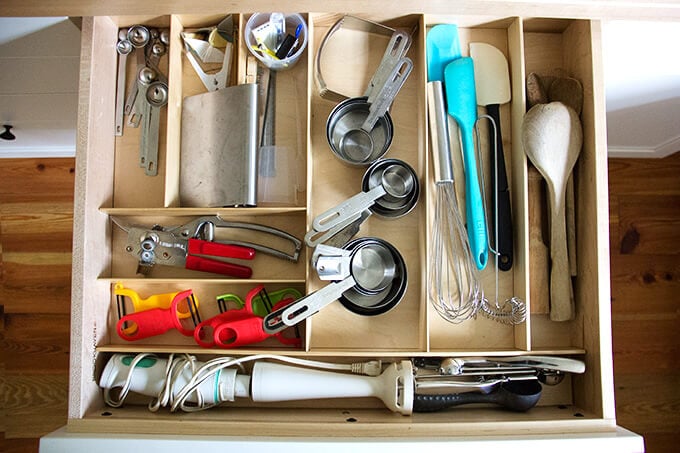 We even use it for our junk drawer to organize the chaos … everyone keeps a tube of Desitin in the kitchen, right?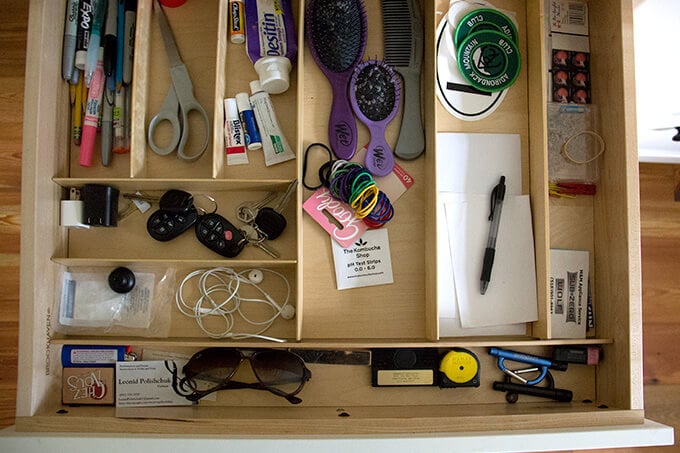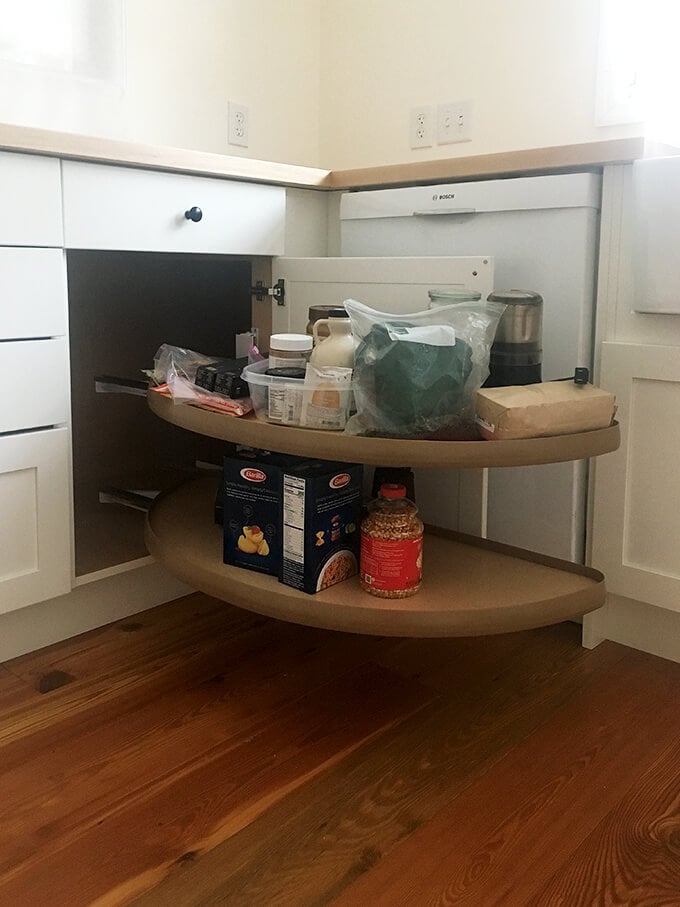 Pull-out lazy Susan (love!).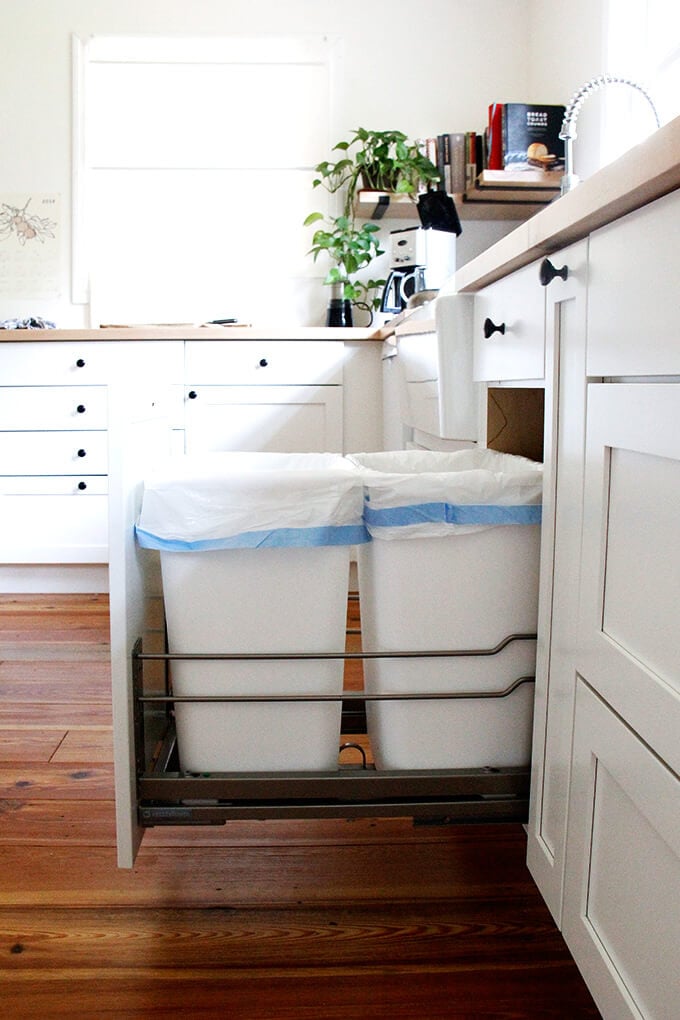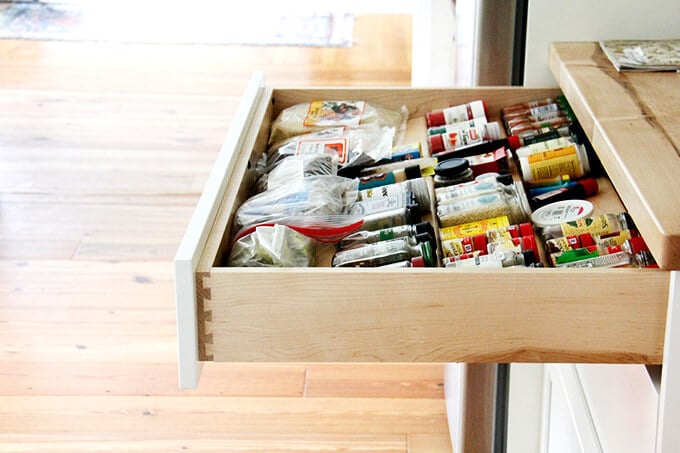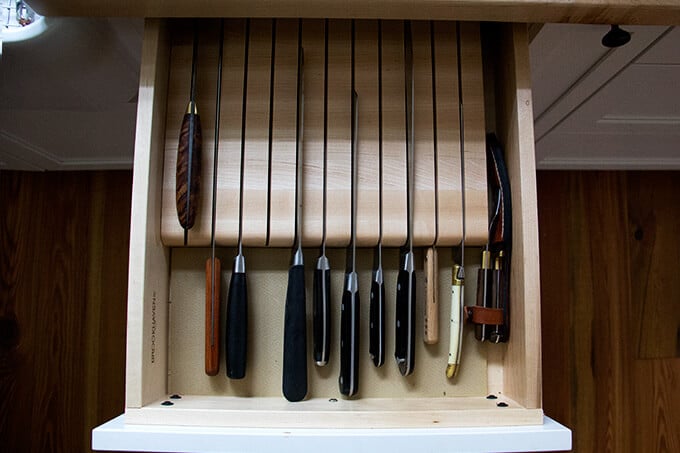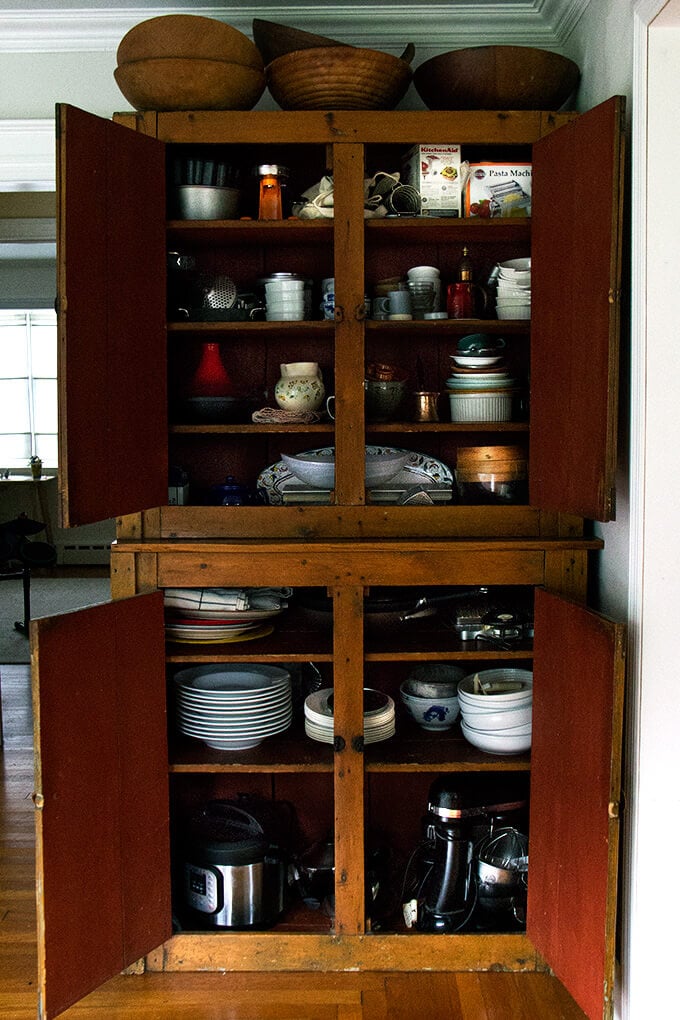 This post may contain affiliate links. Please read my disclosure policy.