Roasted Poblanos Stuffed with Corn, Quinoa, and Monterey Jack
This post may contain affiliate links. Please read my disclosure policy.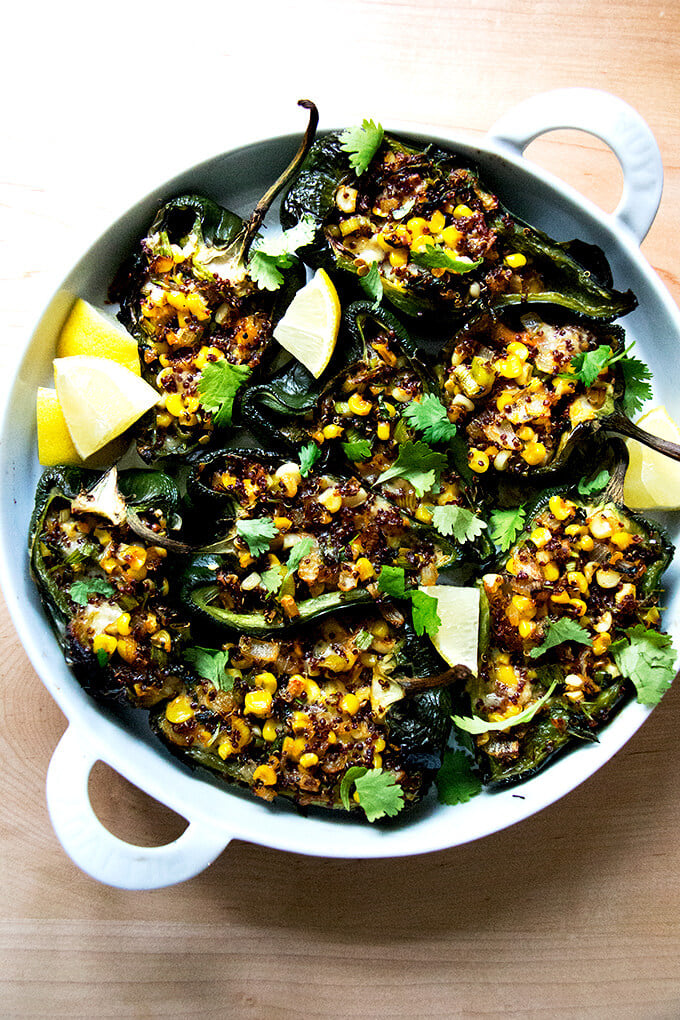 This past Sunday morning I made a quick trip to the Schenectady Green Market in search of Tuscan kale and was relieved not only to find it — thank you Barber's Farm! — but also to see so much late-summer produce still on the stands: bell peppers, corn, eggplant, tomatoes.
Friends, I am 100 percent ready for butternut squash lasagna and cabbage soup and balsamic-roasted Brussels sprouts, but I am not quite ready to say goodbye to so many of my seasonal favorites, namely corn and peppers.
I've had this recipe from Leigh Belanger's My Kitchen Chalkboard bookmarked since the book came out this past spring, but I've only just gotten around to making it, which is a shame because it's such a good one!
It's simple and quick, too: char poblano peppers in a dry skillet; halve and seed them; fill with a mixture of sautéed onions, corn, quinoa, scallions, a minced hot chili, cubed cheese, and smoked paprika; transfer to the oven and bake for 25 minutes or until the cheese is bubbling and just beginning to brown.
Once you make this once, you can adapt the filling recipe as you wish. I'm envisioning keeping the base elements and flavors the same—quinoa, some sort of good melting cheese, a smoky seasoning—but as the year moves on, adding some seasonal touches: roasted butternut squash and onions? Finely sliced kale or cabbage? Shredded Brussels sprouts? The possibilities are endless.
But for now, while the local corn is still arriving at my little Co-op, this one's getting made without change on repeat. Also: the stuffed peppers can be made ahead! Store them in the fridge in a covered vessel, then bake as needed—how nice, right?
PS: Another favorite, crowd-pleasing pepper recipe: Veggie-Loaded Stuffed Bell Peppers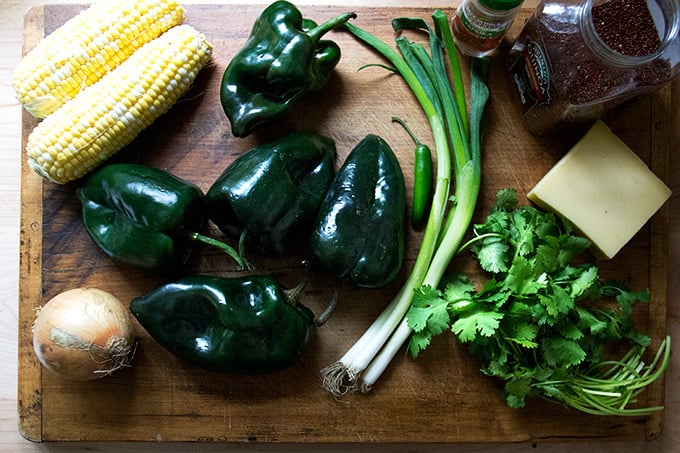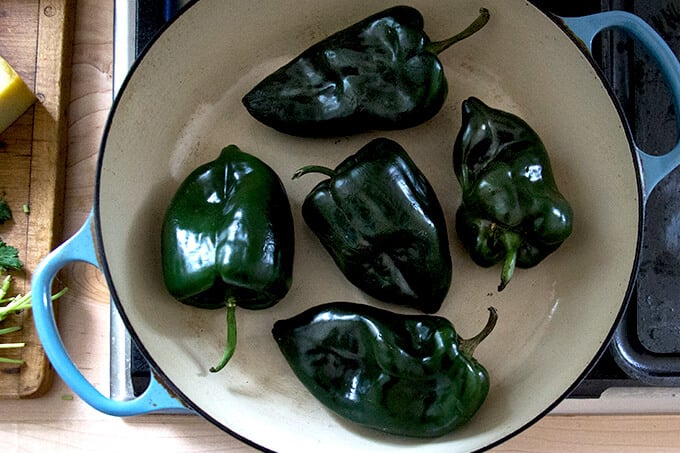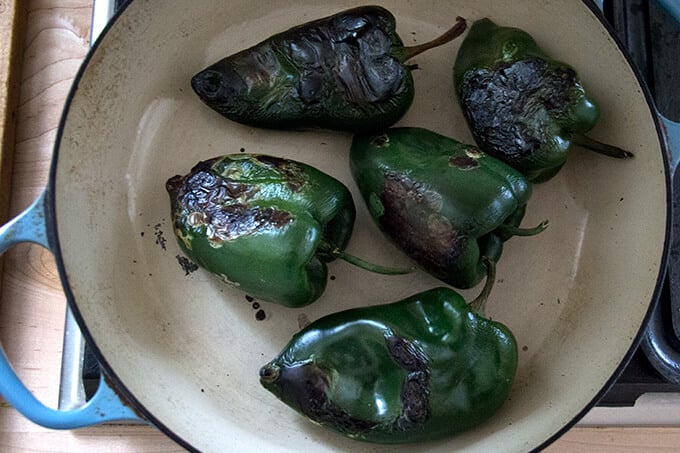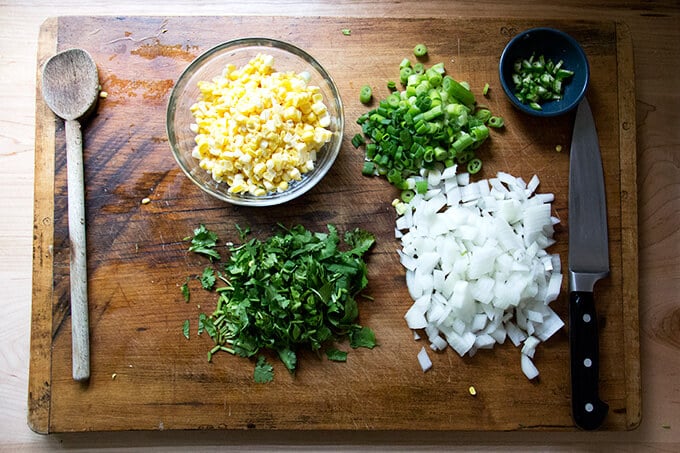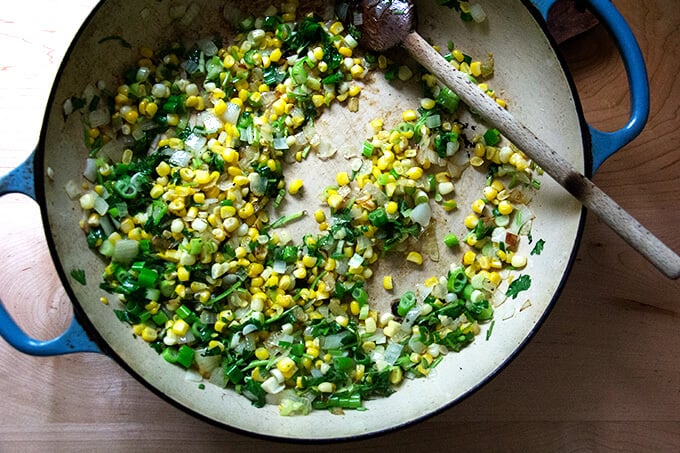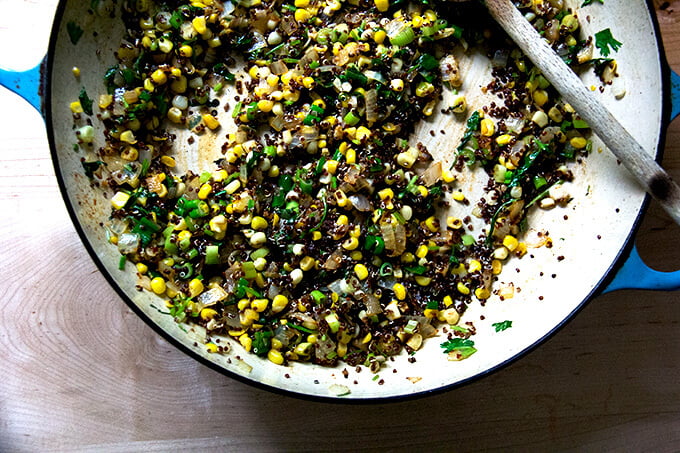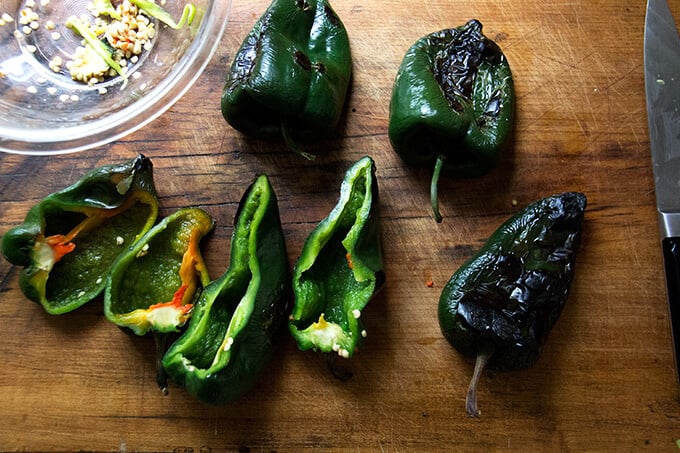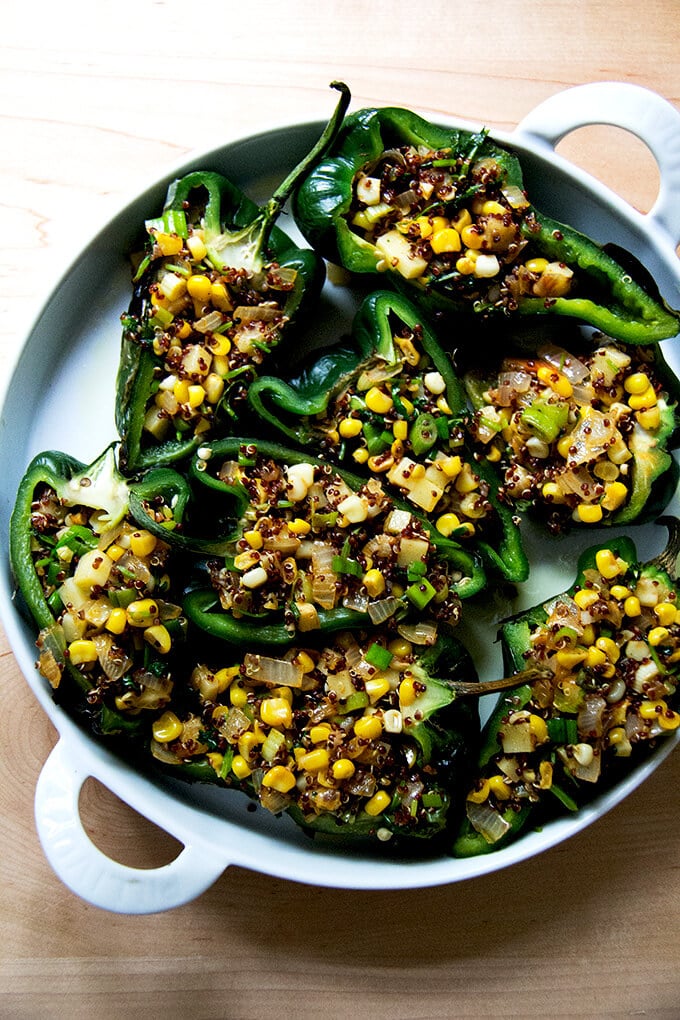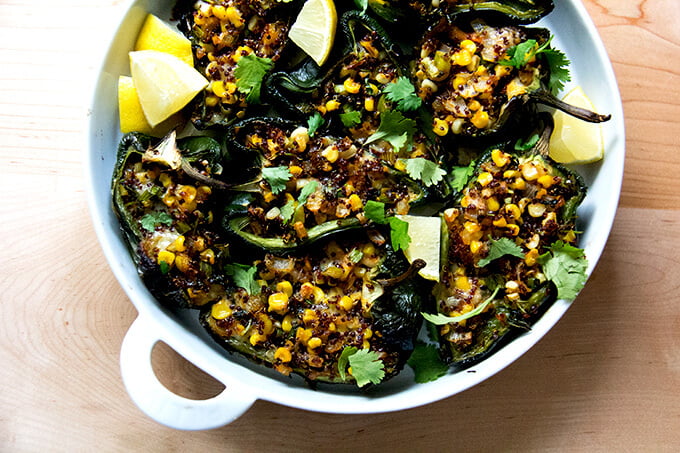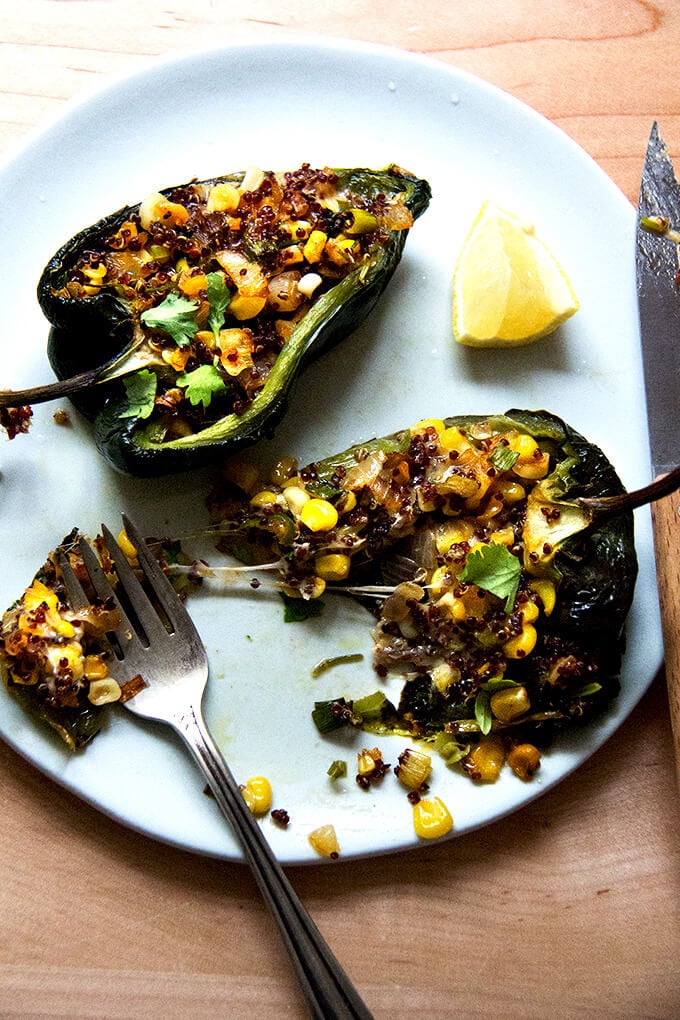 Print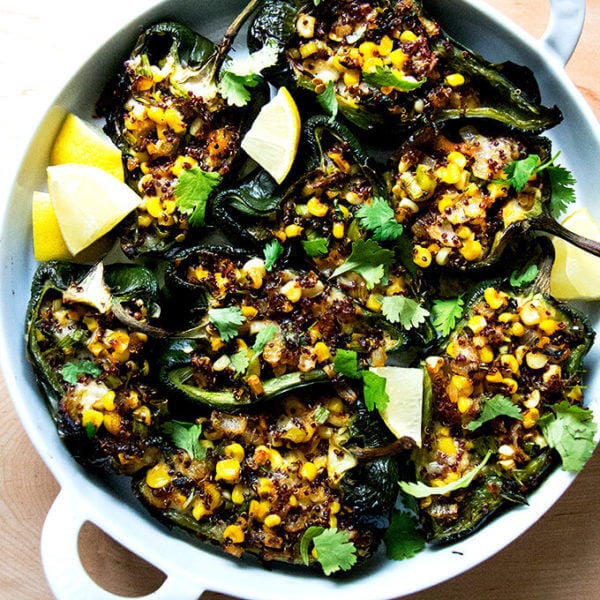 Roasted Poblano Peppers Stuffed with Corn, Quinoa, and Monterey Jack
---
---
1/4 cup

uncooked quinoa

5

poblano peppers

1

to

2

tablespoons olive oil

1

onion, finely diced

2

ears corn, kernels stripped from cob

1

hot chili, seeded and finely diced

3

scallions, thinly sliced (I use nearly all of the greens)

4 oz

Monterey Jack cheese or Gruyère or whatever you like, cut into small cubes

1/2 teaspoon

paprika—I like using smoked Paprika here

1/2 teaspoon

kosher salt, plus more to taste

1/2 cup

chopped fresh cilantro, plus more for serving, optional
lime wedges, for serving
---
Instructions
Heat oven to 400ºF. Bring a large pot of water to a boil over high heat. Boil quinoa for 9 to 12 minutes or until done. Drain through a fine-meshed sieve. Set aside.
Place a large, dry skillet over high heat. Add the peppers and cook, turning every so often, until they've blackened in spots on each side. Set aside to cool. Halve the peppers: cut through the stem for a pretty presentation. Pull out the seeds and discard.
Add 1 to 2 tablespoons oil (or just a big glug) to the skillet and keep at medium heat. Add the onion, and sauté for five minutes or until soft. Add the corn, hot chili, and scallions. Turn off heat. Stir to combine. Add the cooked quinoa, cheese, paprika, and salt. Stir to combine. Taste. Adjust seasoning with salt to taste. Set aside.
Spoon the filling into the peppers. If you are serving these later in the week, store tightly covered until ready to bake.
Bake until the cheese is bubbling, 20 to 25 minutes. Serve hot and garnish with cilantro and lime.
Prep Time:

25 minutes

Cook Time:

25 minutes

Category:

Dinner

Method:

Oven

Cuisine:

Mexican
Keywords: poblano, peppers, stuffed, quinoa, corn, Monterey Jack, gluten-free
This post may contain affiliate links. Please read my disclosure policy.