Peach (or Pluot) Cobbler with Hot Sugar Crust
This post may contain affiliate links. Please read my disclosure policy.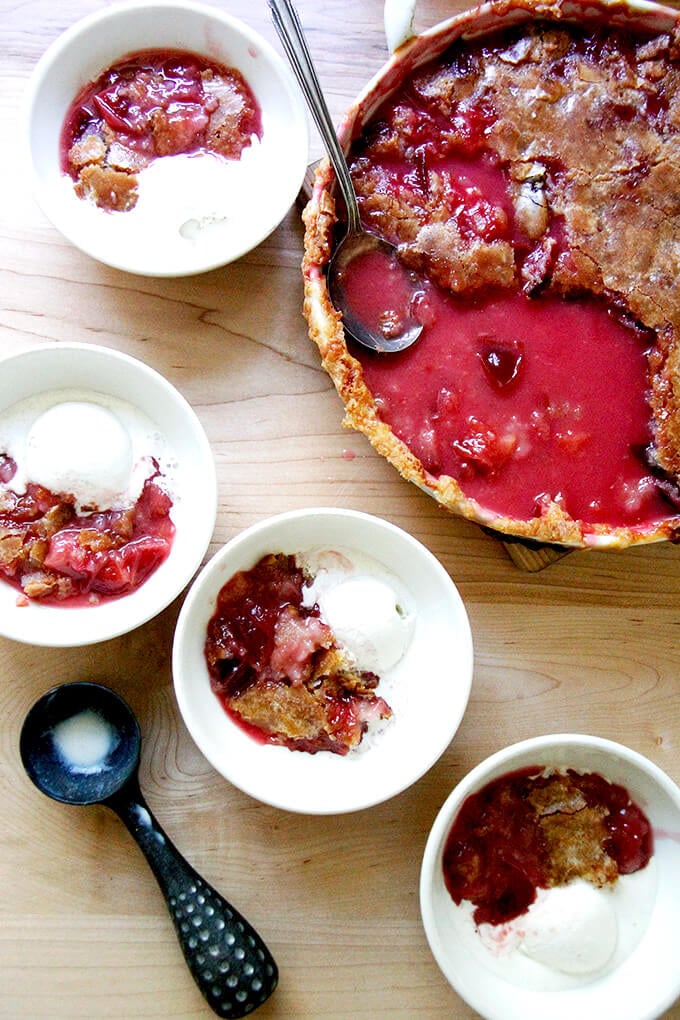 Kristen Miglore's Genius Desserts arrived at my door at the end of August, and about five minutes later, I found myself at my Co-op buying peaches, the cobbler with hot sugar crust calling my name.
The peaches, unfortunately, were rock hard, and for a minute I considered putting the experiment on hold until the peaches ripened. I decided instead to compromise: I would use the rock-hard peaches immediately, but halve the recipe to minimize waste in the event of disaster.
Much to my delight and surprise, after 80 minutes in the oven, the peaches softened beautifully and not an iota of fruit or crumb was wasted. The following weekend, Labor Day, I made the full recipe, dividing the batter among two pans, using peaches—ripe this time— in one, pluots in another. And this past weekend, I used Honey Crisp apples. I brought the cobbler to a small get together with friends, where, as melting vanilla ice cream pooled around the stewy, sugar-crusted fruit, it was met with rave reviews.
Phew! I've been trying to get this cobbler post out for weeks, and I feared it would have to wait till next summer, but this recipe continues proving to be both versatile and forgiving—any number of fruits at any level of ripeness seem to work; scale the recipe up or down as needed.
Did I mention it's easy, too? When using stone fruit, there's no need to peel: the cut fruit go right into the pan with a little lemon zest, juice, and nothing more—there's no thickening agent; just fruit. The batter is a mix of softened butter, sugar, a nice amount of salt, baking powder, flour, and milk. It comes together in about 5 minutes.
Note: This is not a traditional cobbler. For one, the batter is not at all biscuit-like (made with cold butter cut into flour, mixed with cold liquid) and cannot be cut into discs and dropped neatly over the fruit. Second, it employs a curious method:
Kristen writes: "Only after smoothing on a layer of batter and dusting the top with sugar do you encounter the uncomfortable step of sloshing hot water over the top of your lovely cobbler." As the cobbler bakes, the water steams away, and "a dainty crust forms, blanketing the cake and saucy peaches like a sheet of Bubble Wrap, begging to be popped."
The crust is so, so good—upon removing the cobbler from the oven, it's nearly impossible not to tap a spoon into to send cracks rippling across its surface. The crust is very thin and light, unlike many recipes of its kind, and the cobbler as a whole is on the delicate side: a thin layer of bubbling fruit topped with a shatteringly crisp crust. It's really lovely.
Friends, I've included the full recipe for the peach cobbler below and the half recipe for the apple cobbler on the next post. And I hope to share more recipes from Genius Desserts this fall — so far, I've made Maida Heatter's East 62nd Street Lemon Cake, which was a huge hit with kids and friends alike, and Cook's Illustrated Blondies, which I had made and loved shortly after Kristen first wrote about them. They are just as good as ever.
Friends, as you know, I am a huge fan of Food52 and Kristen Miglore, whose writing is as enjoyable as her recipes—I look forward every week to her Wednesday column, which never fails to make me laugh, to teach me something, to make me rethink something else, or to get me scribbling down a grocery list. Genius Desserts, a combination of greatest hits — think: Dorie's World Peace Cookies , David Lebovitz's Chocolate sorbet — and new surprises, is no exception.
UPDATE: GIVEAWAY IS CLOSED. WINNER IS DEBBIE HALTZMAN. I'VE EMAILED YOU. Friends, I have an extra, author-signed copy of Genius Desserts, which I would love to give to one of you. Do you have an all-time favorite dessert? Let me know in the comments. For the giveaway, U.S. residents only (sorry, Friends from afar!!).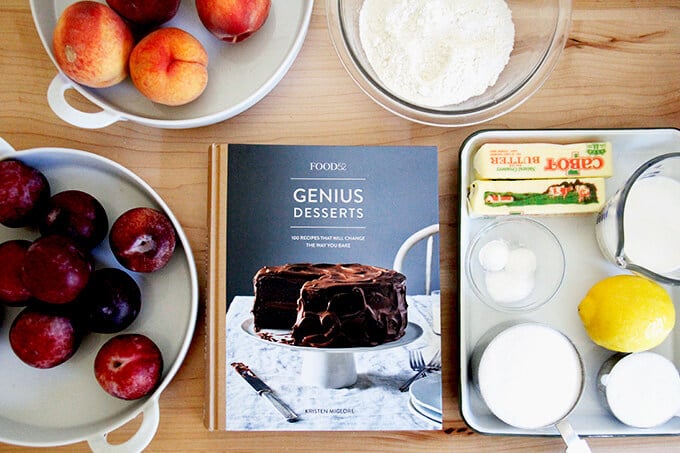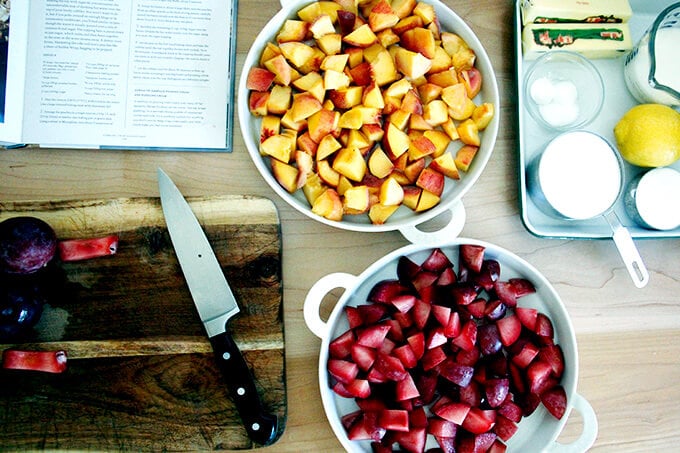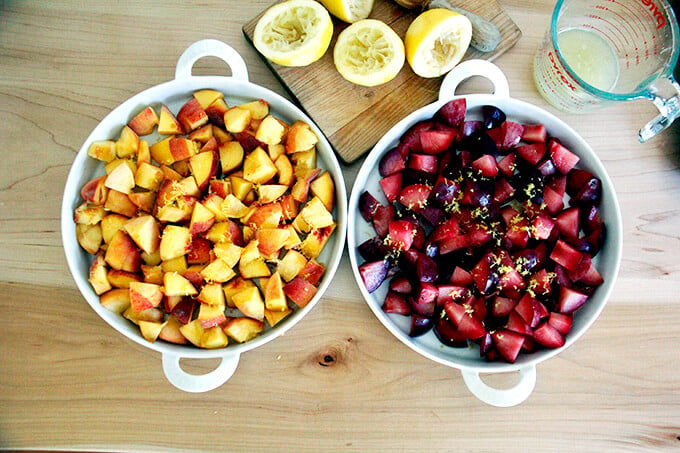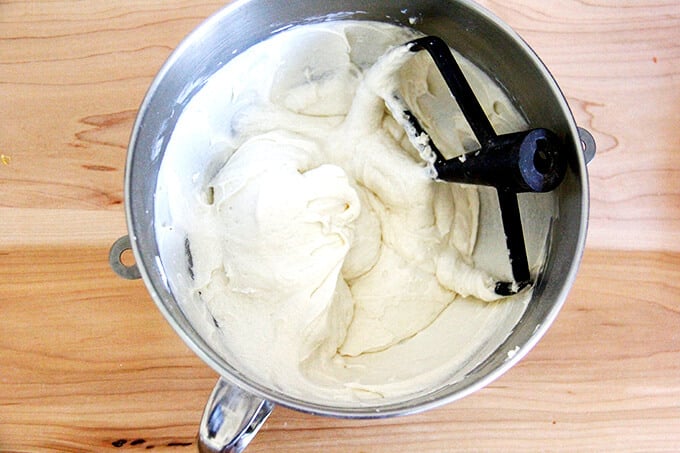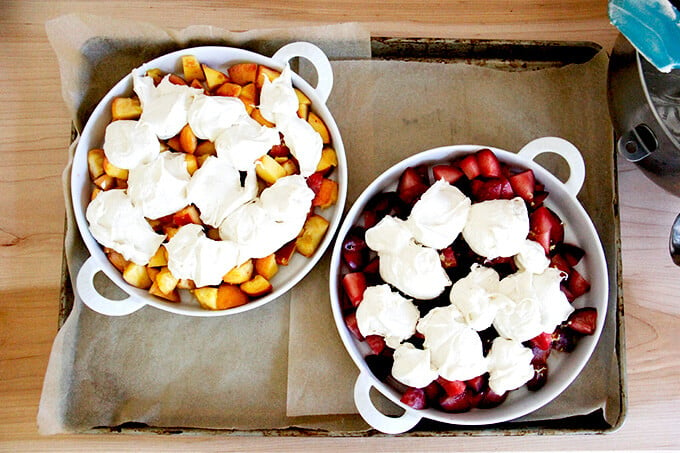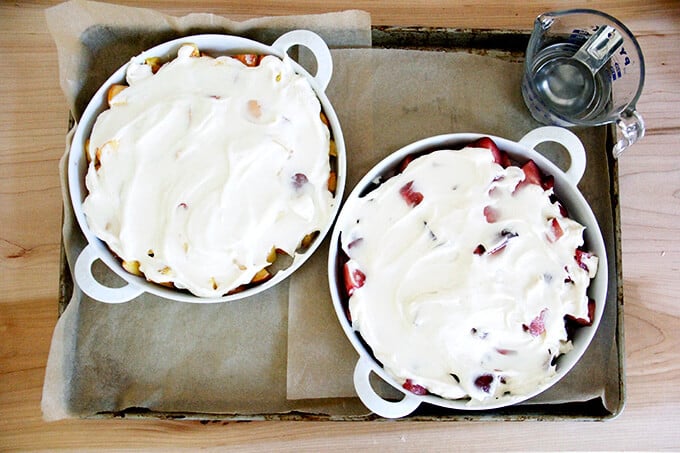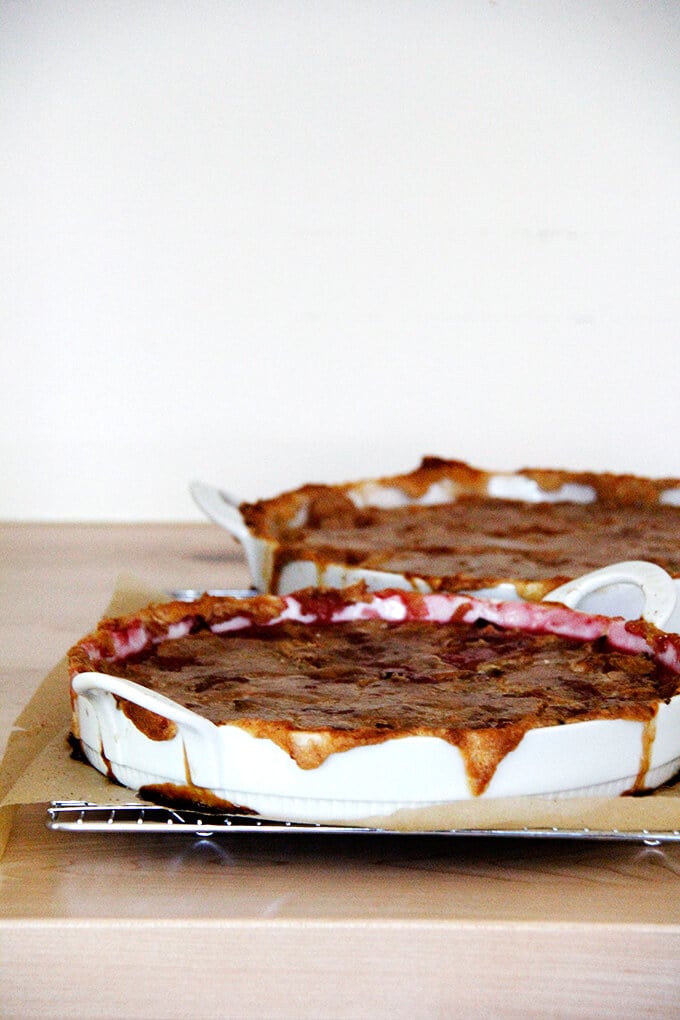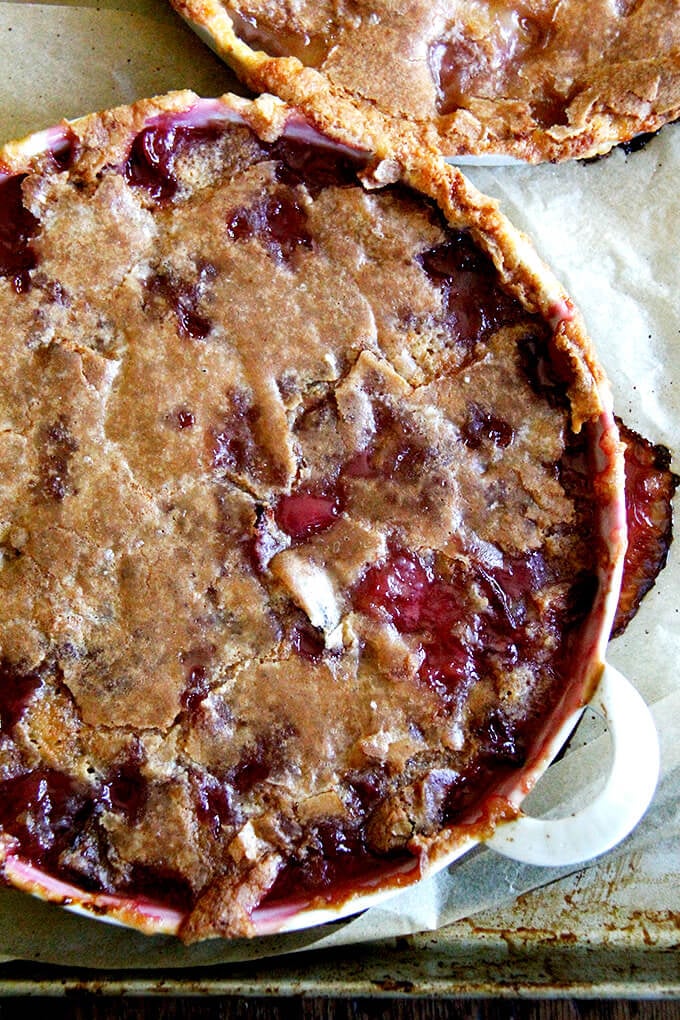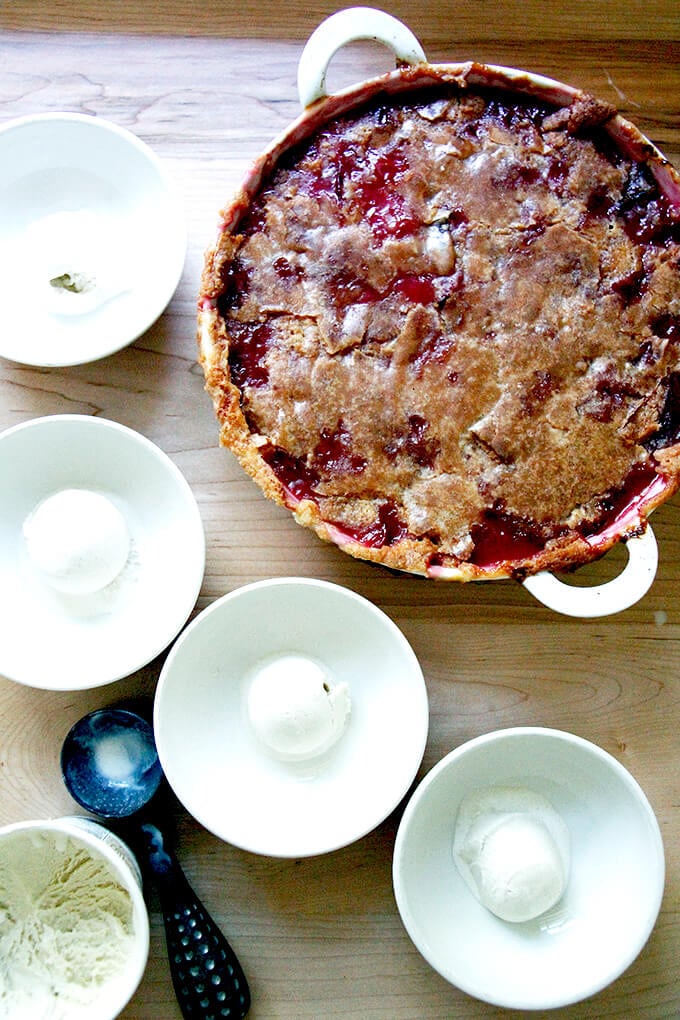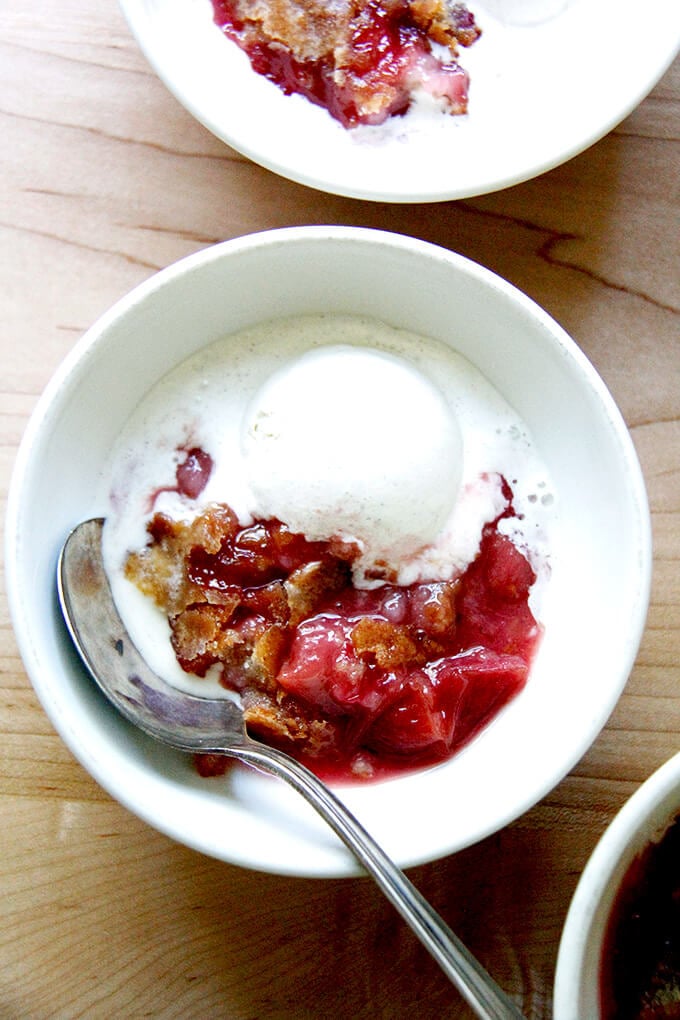 Print
Peach (or Pluot!) Cobbler with Hot Sugar Crust
---
---
10

 large, ripe peaches (about

4 1/2

pounds / 2kg) or pluots or other st

one

fruit, pitted but not peeled, cut into 1-inch (2.5cm) chunks

1

 large lemon

1/2

 

cup 

(110g) unsalted butter, softened

2

 

cups 

(400g) sugar, divided

1 1/2

 

cups 

(190g) all-purpose flour

2

 

teaspoons 

baking powder

1

 

teaspoon 

kosher salt

3/4

 

cup 

(185g) whole milk

1/2

 

cup 

(120g) hot water
Heavy cream or ice cream, for serving
---
Instructions
Heat the oven to 350°F (175°C), with a rack in the center. Line a large rimmed baking sheet with aluminum foil or parchment paper.
Arrange the peaches in a 9 by 13-inch (23 by 33cm) or two 10-inch pie plates or other similar-size baking pan or gratin dish. Using a zester or Microplane, zest about 2 teaspoons of lemon zest evenly over the fruit. Cut the lemon in half and squeeze about 1⁄4 cup (60g) of lemon juice over the top.
In a stand mixer fitted with the paddle attachment, cream the butter and 1 1/2 cups (300g) of the sugar on medium speed until creamy but sandy, about 1 minute. Add the flour, baking powder, and salt and beat on medium speed until all the flour is incorporated and the mixture is evenly crumbly, about 30 seconds more. Scrape down the sides of the bowl. With the mixer on low speed, slowly pour in the milk. Increase the speed to medium and beat until the batter is light and fluffy, about 2 minutes.
Scoop the batter in about 6 large blobs over the peaches. With an offset spatula or the back of a big spoon, carefully spread the batter evenly over the fruit.
Sprinkle the remaining 1/2 cup (100g) sugar over the batter. Drizzle the hot water evenly over the sugar, using it to melt the sugar topping.
Set the pan on the foil-lined baking sheet and bake the cobbler until the top is golden brown and cracked, 70 to 80 minutes. A toothpick stuck in the topping should come out clean or with just crumbs clinging—be sure to check in a few places.
Let the cobbler cool for about 30 minutes to firm up. Serve warm, scooping it into big bowls and pouring a little heavy cream over the top. Refrigerate any leftovers airtight.
Prep Time:

20 minutes

Cook Time:

80 minutes

Category:

Dessert

Method:

Oven

Cuisine:

American
Keywords: cobbler, sugar, crust, hot, stone, fruit, peach, pluot, apple, dessert
This post may contain affiliate links. Please read my disclosure policy.